Nordstrom Anniversary Sale 2018 Preview, Catalog and Shopping Tips!
With just a few weeks to go, the Nordstrom Anniversary Sale 2018 preview is officially here! I picked up the 2018 Nordstrom Anniversary Sale catalog this week and already started planning out my purchases. And I'm here to help you do the same!
Nordstrom Anniversary Sale 2018 Dates
This year, the 2018 Nordstrom Anniversary Sale kicks off July 12-July 19 for Early Access. 
What's Early Access? It's for cardholders exclusively, and it means you'll have the chance to shop items before they sell out!
I always buy during Early Access so I can get first dibs on the best items. Plus, you earn $20 in Nordstrom Notes (money to spend at Nordstrom again!) for every 2,000 points. Get your card here.
Public access for the 2018 Nordstrom Anniversary sale runs from July 20-August 5.
If you shop Nordstrom Anniversary Sale items between these dates, you'll be able to pre-purchase brand-new fall items at a discounted price! It's my favorite time of year to stock up on new fall finds and replenish my wardrobe with basics. In this guide, I'll share with you my best tips for how to shop the Nordstrom Anniversary Sale.
Anxious to get a peek already? Download the catalog here! 
Nordstrom Anniversary Sale 2018 Preview & Sneak Peek
2018 Nordstrom Anniversary Sale Boots Under $100
There's a slew of cute boots on sale for under $100! I'm particularly eyeing this Vince Camuto bootie, which comes in black, grey and a mustard color.
I'm also eyeing these Stuart Weitzman slouchy boots, which are dropping down to $489 from $775 during the sale. And the white boot is here to stay! It's probably one of the hottest fall fashion trends. For that, I'm into this Marc Fisher bootie.
Nordstrom Anniversary Sale Shoes
And not a boot but worth mentioning, I'm obsessed with this Vince mule, which comes in both nude and black! I'm tempted to buy both pairs, they're the perfect fall staple and you can easily start wearing them now since they're open toe! Such a good find.
Keep up with all things #Nsale by signing up for my mailing list and you'll also get a free e-book! 
I also picked up some Tory Burch sandals at the sale last year; I spotted some this year too! They come in white, black and brown and are down to $149 going up to over $225 after the sale. I've worn the pair I bought during last year's sale like crazy!
2018 Nordstrom Anniversary Sale Baby & Kids
I spoke with someone at Nordstrom who let me know the Nuna WILL be on sale! There will be a Maxi-Cosi car seat on sale, too. Last year, I picked up some Freshly Picked mocs for the baby so I am keeping an eye out for those, too!
Nordstrom Anniversary Sale Splurge Pieces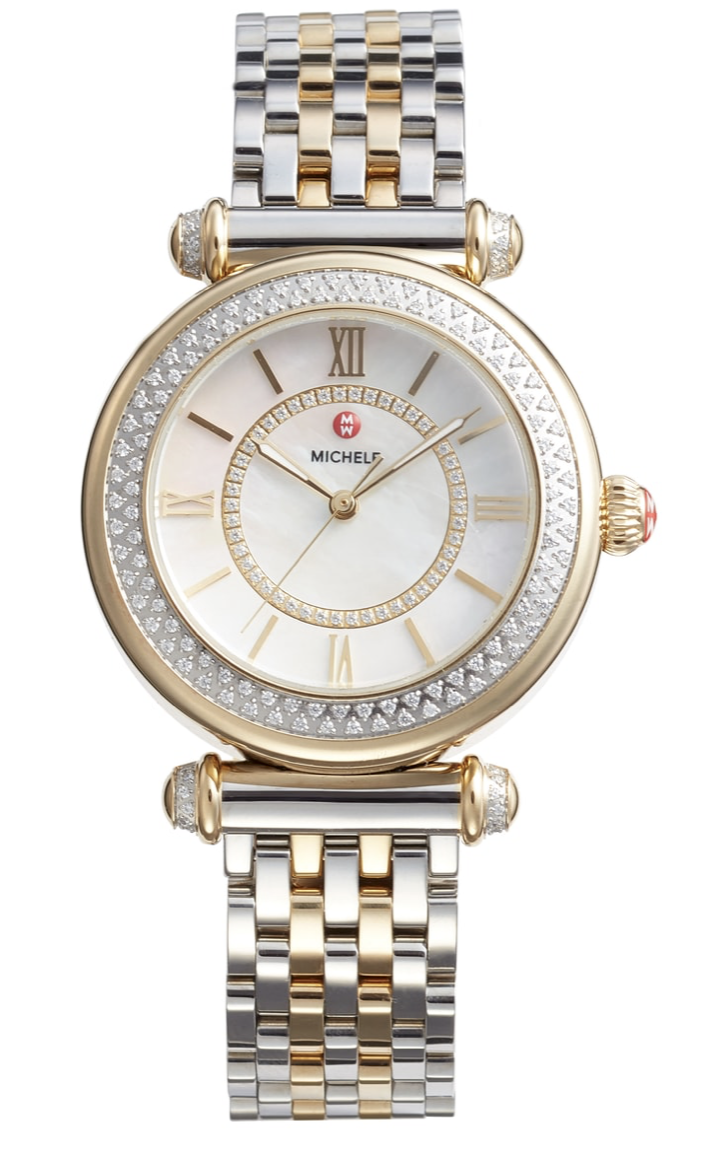 Go big or go home is the name of the game here! If you're looking for just one fabulous, luxurious, amazing buy, look no further than this MICHELE Caber Diamond Bracelet Watch, which is down from $2,695 to $1,799. It features a mother of pearl dial and 186 hand-set diamonds. I mean, it's gorgeous. This deal may just be too good to pass up!
There's another MICHELE watch coming up on the sale too, for under $1,000!!!
I also spotted Tom Ford sunnies under $300; Gucci sunglasses under $300 and Balenciaga, too.
How to Shop the 2018 Nordstrom Anniversary Sale
Make a plan: If you don't know what you want, it can be overwhelming! I always have an idea of what I want and the categories I'm looking for.
Follow bloggers: I'll be posting regularly during the sale; sign up for my newsletter, follow me on LiketoKnow.it and keep up with me on Instagram where I'll be posting updates and try-ons. You should do this with all of your favorite bloggers!
Shop Early Access: If you want the best picks, you'll want to be the first in so get your card so you can shop early!
Pick a Splurge Piece: This gorgeous MICHELE diamond bracelet watch is down more than 60%!!! That's a splurge worth considering if you're in the market for a fantastic timepiece.
---
I hope you've enjoyed my Nordstrom Anniversary Sale 2018 Preview! What items are on your shopping list this year? Remember to sign up for my newsletter to stay up-to-date on the best finds throughout the sale!
More Nordstrom Anniversary Sale Posts:
Nordstrom Anniversary Sale Sneak Peek