Top 22 Best Purchases of 2022
Here are the best purchases from 2022 including fashion picks, home, beauty, kitchen essentials and more. Enjoy!

More of a video person? Watch the video below + subscribe to my channel!
I tried Static Nails for the first time in 2022 to give myself an at-home manicure and I was super impressed!
This pop-on manicure is totally worth all the rave! They were so easy to put on, the quality was great and they lasted around 10 days.
What I liked most about Static Nails is how natural-looking they are; if you regularly get Dip, gel or acrylic nails they can be quite thick. Static Nails, however, are THIN yet STRONG. You can buy from the website or Ulta.
2022 was the year of the Stanley cup. But I couldn't bring myself to spend so much on a darn cup + I heard it leaked and wasn't worth the hype.
Enter the Simple Modern Tumbler, which I heard was a better-than-Stanley dupe. I instantly loved it!
It includes a straw, a sleek minimal design and loads of pretty colors. My water stays cold overnight, just as good, if not better, than my YETI!
If you're in need of hair oil (and you should definitely be using hair oil as part of your hair care routine) you may want to try Olaplex hair oil.
A little goes a long way with this product! It's great for hydrating ends.
4. iPad Mini
I have had iPads for years but on a whim this year, I decided to go for the Mini. I am totally a convert! I use my iPad so much more now and love it for reading as it's a much more portable size.
The iPad mini is also much easier to take along with you so I use it significantly more than my other iPads.
I've been wearing these Ugg boot lookalikes from Amazon every single day since they entered my home! They're so cute, so soft, so comfortable.
They are really nice quality and worth it if you can't find Ugg minis or want to save some money. I'm literally wearing them while writing this post–I just love them!
Putting "magic" in the title of this Kerastase product is key. The Kerastase 8H Magic Night Serum hydrates hair overnight while enhancing shine.
I was worried it would be like putting oil on my hair but it didn't change the texture of my hair at all and was incredibly light!
This is another must-have for anyone's hair care routine.
We love hosting, and while wine charms can be cute, I loved this idea of everyone getting to use actual markers for their wine glasses!
They wipe right off and it's an excellent way to keep track of your wine glass.
If there is just one fashion basic you buy from this roundup, let it be the Reoria halter tops!
These seamless tops come in both crop and bodysuit styles. I recommend sizing up in the crop top version so it's a bit longer (it's also better if you have bigger breasts).
I own this top in 3 colors–it's that good! It's a must-have layering piece, especially if you're working on a spring capsule wardrobe.
I am somewhat new to CBD products which can help with anxiety, sleep and stress. I decided to try out Equilibria earlier this year and now feel it's a must-have product.
My three favorites at the moment are the drops, the calming melts (excellent if you want a quick way to relax, like before flying) and the massage cream.
The latter is really great for muscle aches and pains. I was injured in a car accident a few weeks ago and the cream has been a lifesaver!
You can use my code MARLENE15 for 15% off your first order!
Yup, I added seasoning to the list! That's how good this 2022 purchase was.
Dan-O's makes excellent seasonings that are low sodium, all-natural and sugar-free. These are excellent if you're watching your blood pressure, sugar intake or doing Keto.
PRO TIP: It's even good on eggs! I dust the Original seasoning on eggs (any style) or even a pasta with olive oil. It's excellent on all proteins, too.
Let's just file this one under "things you didn't know you needed" because that's exactly what this is.
This massage gun comes with a carrying case and a whopping 15 massage heads!
It has more than 26,000 5-star reviews and has been really incredible in helping with my recovery.
If you have kids, and you have stairs, then you need a stair basket!
It's cute and the easiest way to round up items that need to go upstairs. It makes cleaning up before guests arrive a breeze!
This pullover hoodie has been a wardrobe staple this fall and winter! It's soft, really nice quality and easy to throw on with anything.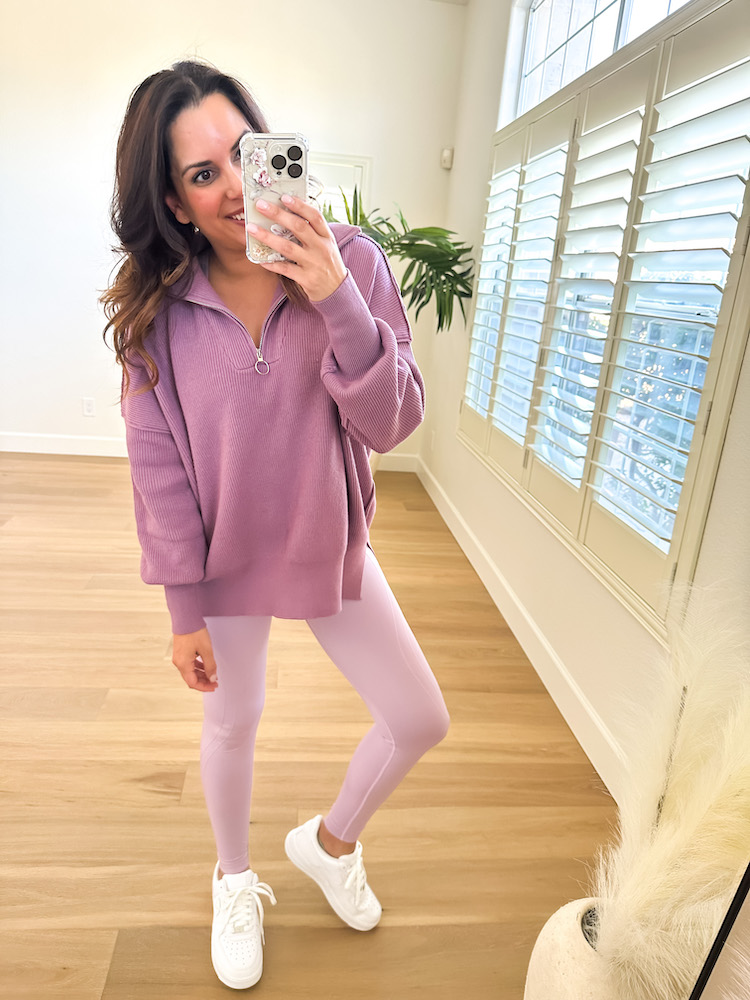 I often pair it with leggings like these for an easy, everyday outfit idea!
I'm not a coffee person (please don't come after me) but I do love making loose-leaf tea every morning. Dealing with tea bags or loose-leaf tea steepers, however, leaves much to be desired.
This Tea maker, however, makes life a total breeze! Just brew it in the tea maker and set it over your cup. It strains the leaves for you so you won't have to deal with steepers or leaves!
The Carlotta pant is literally the PERFECT pair of white pants! The quality is incredible and the tailoring is perfection.
The pants are also not see-through and lined in a satiny-silkly feeling fabric. I will definitely be wearing these for years to come!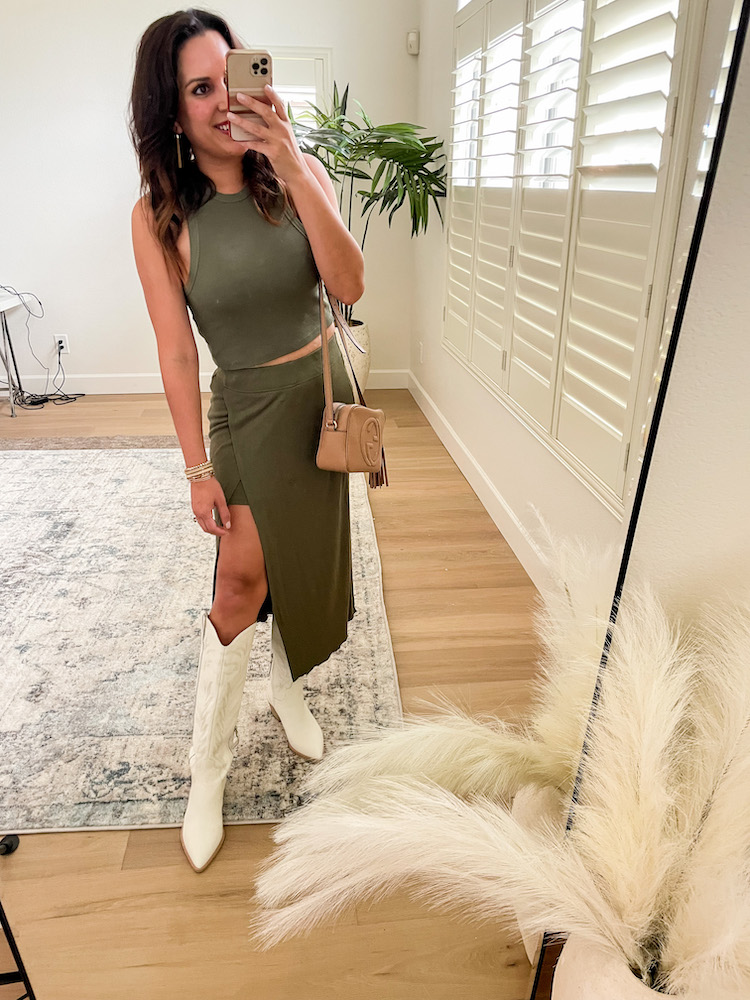 I didn't realize I would like the western boots trend so much, but it turns out it works really well with my wardrobe!
These Dolce Vita cowboy boots are cute, comfortable and always get me a ton of compliments. It's easy to create a ton of cowboy boots outfits with these!
This rice dispenser was a bit of a splurge, but it's basically become one of my kitchen essentials!
You can use it to dispense other sorts of dry goods as well, and it just looks beautiful in our new kitchen.
The 2022 bag of the year may just have been the Lululemon Everywhere belt bag. Problem is, it's hard to come by!
If you've been on the hunt for a Lululemon belt bag dupe, this Amazon find is a great pick. It's spacious, cute and I've been wearing it like crazy!
Makeup eraser isn't exactly new, but for some reason I had doubted it was good. Now, I'm totally a convert!
While I don't use makeup eraser on a daily basis, it's great for travel and nights where I don't feel like doing an intense night-time skincare routine.
They are excellent at removing makeup before cleansing your skin!
The Bev hat, or wine hat as I like to call it, is definitely a must-have if you enjoy a glass of wine outside!
Simply pop the hat over your wine glass to prevent any pesky bugs from flying into your glass of vino.
Last year, I bought my husband this projector for his birthday and it's been such a great family investment!
Yes, it is a little pricier than other home projectors but the quality is excellent and it's very noticeable.
We use this for at-home movie nights, outdoor movies by the pool and have even set it up outside to play movies in the neighborhood for all the kids to enjoy. I highly recommend it.
22. Lady Dior
I purchased my dream bag in 2022 and even though I didn't think I'd use it a ton, it's actually gotten quite a bit of use in my regular rotation!
If you love this look but want to save on purchasing brand new, I recommend going the pre-loved route. I actually found mine in excellent condition from Fashionphile!
What were some of your favorite purchases of the year? Let me know in the comments!