I Bought an Hermès-Inspired Bracelet to See What All The Fuss Is About
So I bought an Hermès inspired bracelet on Amazon.
Lately, I feel like I keep seeing designer-inspired pieces for less on Amazon and I wanted to check things out for myself.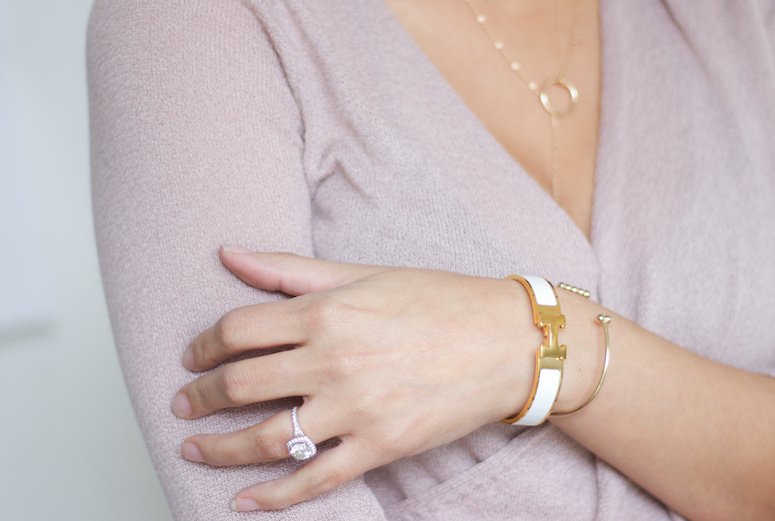 So I ordered this white buckle bracelet, which is inspired by a similar bracelet made by Hermés, but at a much more affordable price!
It retails for less than $20 on Amazon, while an authentic Hermes Clic H bracelet is a cool $600.
---
Don't have Amazon Prime yet? Get a FREE 30-day trial here.
---
Are Designer Dupes Worth it—and Legal?
I just want to clarify one thing first right off the bat: A dupe is not the same as a counterfeit designer item. A dupe is a piece that's "inspired" by the original, while a counterfeit product is pretending to be the actual product.
A counterfeit item really hurts the fashion industry. In short, it's when someone says it's Louis Vuitton but it really isn't.
A dupe, or designer-inspired piece is someone just making something super similar. Make sense? 
In a way, we wear dupes every single day. Fast fashion, by definition, is really a lot of dupes inspired by designer originals. I'll leave it up to you to decide whether or not you think this is o.k. as I know this can inspire a lot of "OMG but it's not real so why buy it?!" reactions or "Who cares I like it and I can actually afford this one!"
And for the record, this is my first designer-inspired purchase. All of my luxury designer fashion items are 100% authentic.
---
RELATED: The Best Amazon Sweaters Under $50
---
My Amazon Hermès Clic H Bracelet
I ordered the bracelet in white, which is like a pearly white with a pretty gloss sheen. You can see from the Hermès website that it's also got a nice pretty sheen to it.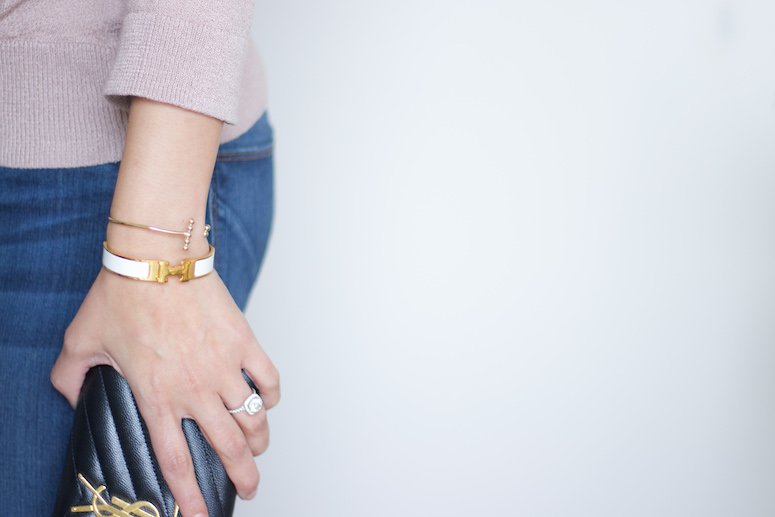 When it arrived, I was honestly surprised it was packaged in…an Hermès orange box! It even has a little "Made in France" emblem on the side. The packaging, in fact, is the same as the original.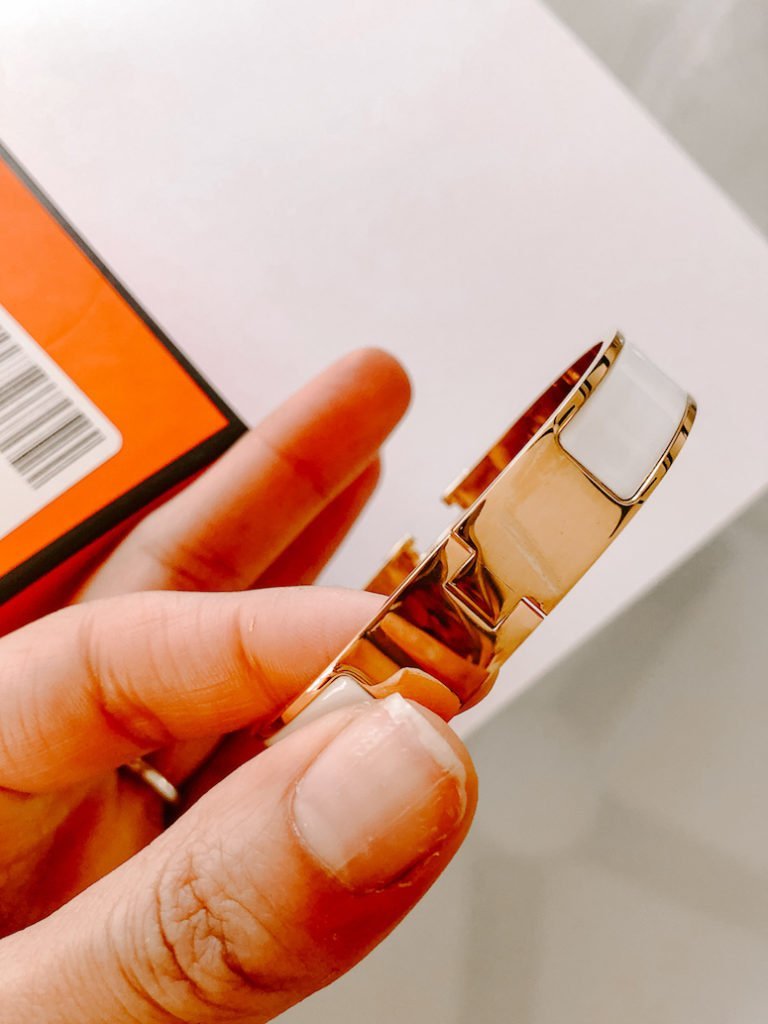 What's not as lovely is that there's a big plastic barcode taped on top of the box. I could've done without that. I decided to scratch it off to take these photos and guess what was underneath? A big fat Hermès logo.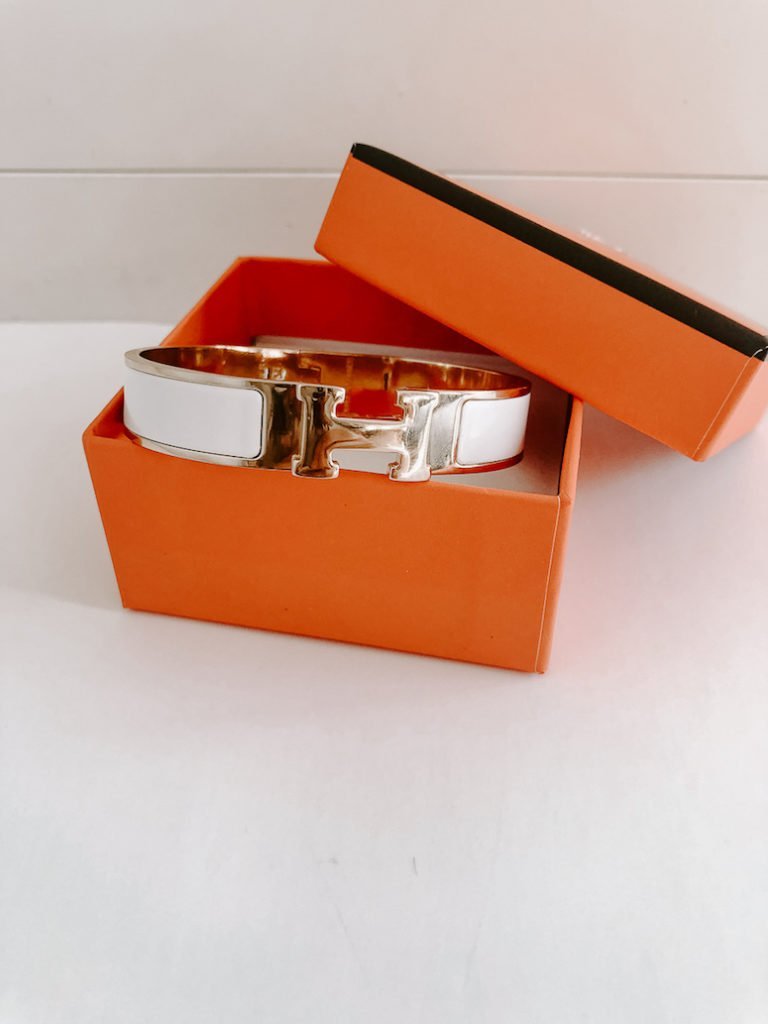 Another surprise? The inside of the bracelet actually has "Hermès" etched inside of it. I was not expecting it as the listing doesn't say anything about this bracelet being inspired by the brand.
It also clearly says "Made in France" on the inside of the bracelet.
Ok, so honest thoughts….
It's really pretty. No scratches, beautiful condition, and, quite frankly, looks just lovely.
It's a cute accessory and comes in all the colors the designer bracelet comes in: pink, red, orange, black, white, and more. I believe about 14 colors in all.
The bracelet also comes in the 12mm and 18mm versions. And, at this price, you could buy a few and stack 'em! Seriously, ladies, it's under $20!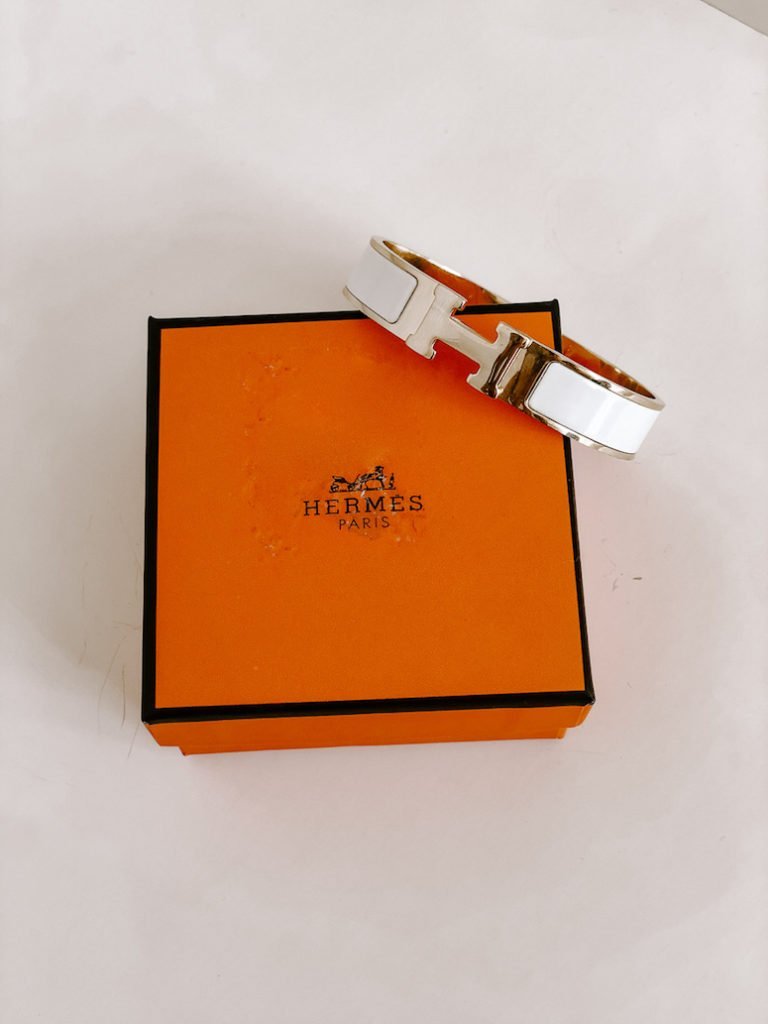 I've seen a few gals stacking them with cable bracelets similar to the David Yurman ones! The weight of the bracelet is on par with the real thing. And, I've been wearing it!
Like this post? Pin me, please!
---
What do you think? Have you tried any of the Amazon designer-inspired pieces? Let me know if you'd like to see more like this in the comments below!