Planning your family photoshoot for the holidays? It's upon us, but getting everyone's outfits together can be a total source of stress!
Here, I've rounded up 5 cute and easy-to-pull-off family photoshoot outfits for the holidays from some of our old holiday cards.
Whether you're headed out to the desert or thinking of doing a casual photoshoot at home, one of these ideas is sure to inspire you!
Matching Christmas Suits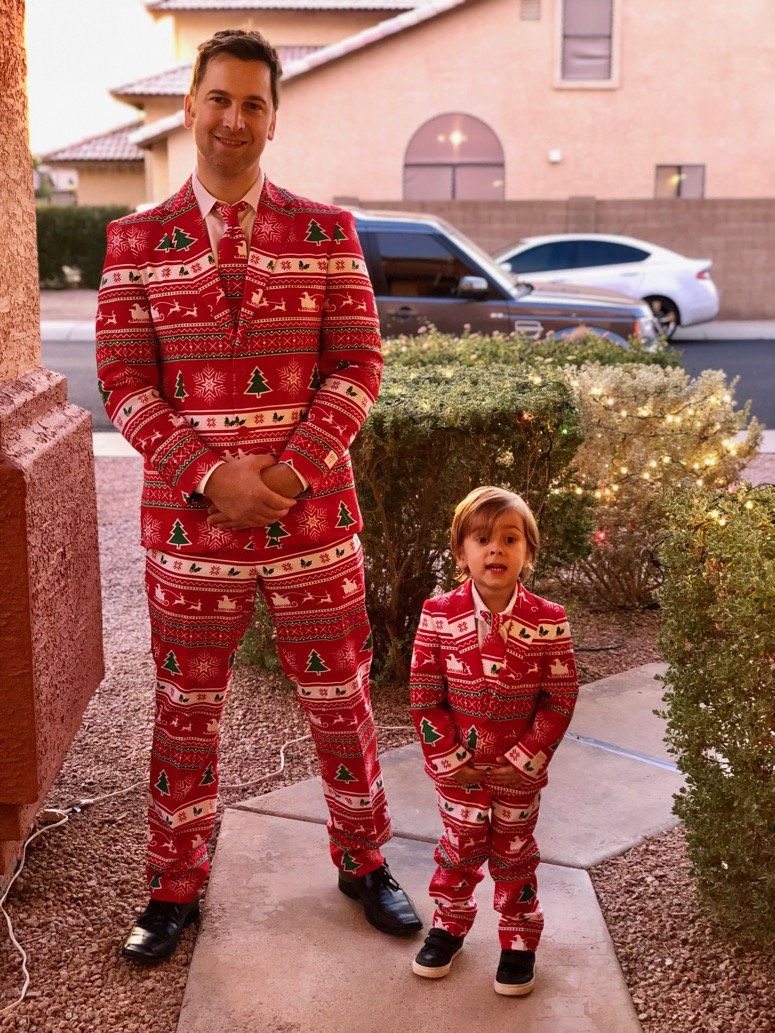 How cute do the guys look in their matching suits?! They wore these matching Christmas suits to one of our holiday parties a few years ago and it's been a tradition ever since.
In fact, my husband and I wore some matching ones together, too! It's becoming a fun and silly holiday tradition.
Glam Holiday Outfits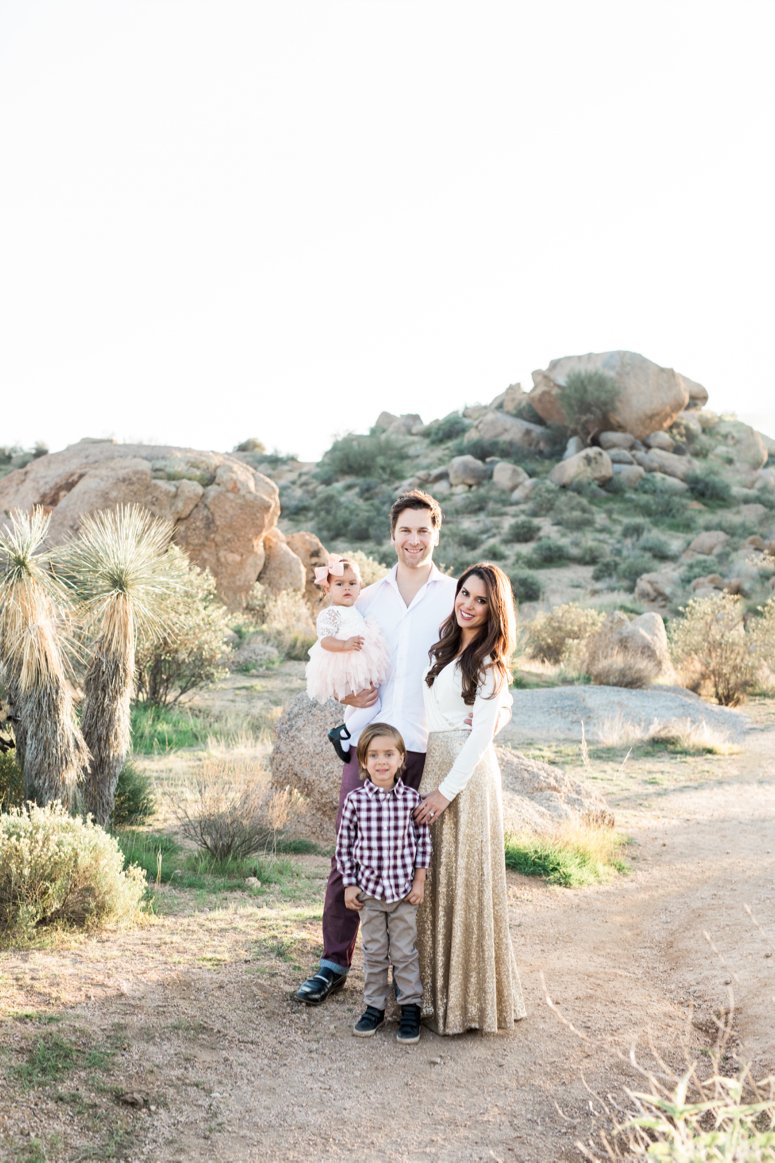 The year before these family Christmas photos, I was super lazy and we did PJs at home (see below). When I did these, I figured it was time to step it up and go glam!
This sequin skirt is actually a rental from Rent the Runway. It's so fun for holiday family photos or even engagement or wedding photos! I styled it with this top.
M is wearing this dress from Amazon and I went with a cream, gold and marooon color palette. You can see more of these photos in this post.
---
RELATED: What to Wear for Family Pictures Outside
---
Matching Christmas Pajamas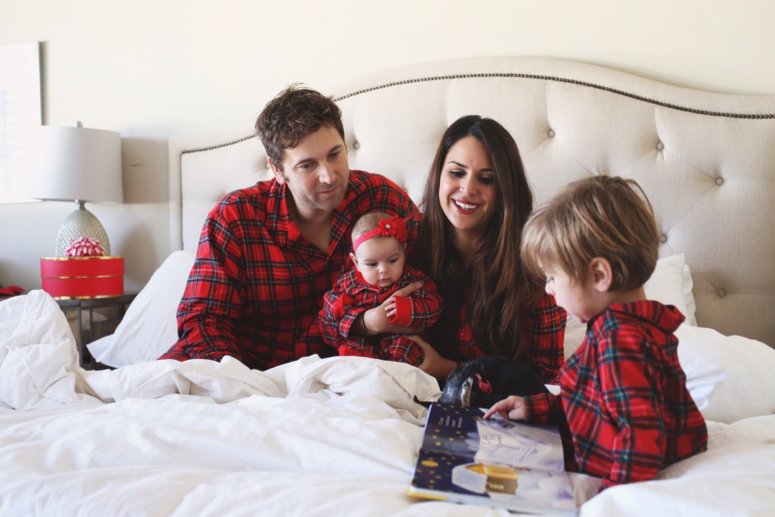 The year I had the baby, I was exhausted and absolutely in no mood to plan family photoshoot outfits for the holidays!
That's when it occurred to me to throw on these matching jammies and call it a day. It was fun, casual and a nice way to do something different. You can see the holiday card here.
---
RELATED: The Best Marching Family Christmas PJs for 2019
---
Casual At-Home Outfits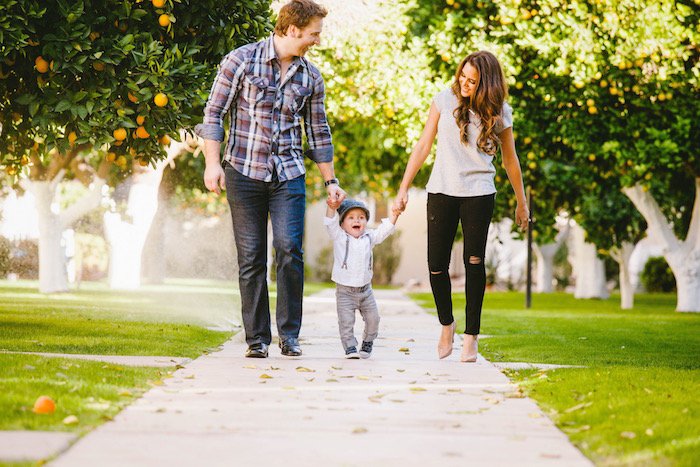 When S was two, we decided to do a full lifestyle shoot at home. I wanted him to one day be able to see the first home he grew up in and how we celebrated Christmas.
It was nice to do something casual, so we just went with outfits we'd normally wear, cute jeans and tops. And a little extra style for with heels, a cute leather jacket and a hat for the baby.
You can see more of these photos here.
Festive Christmas Skirt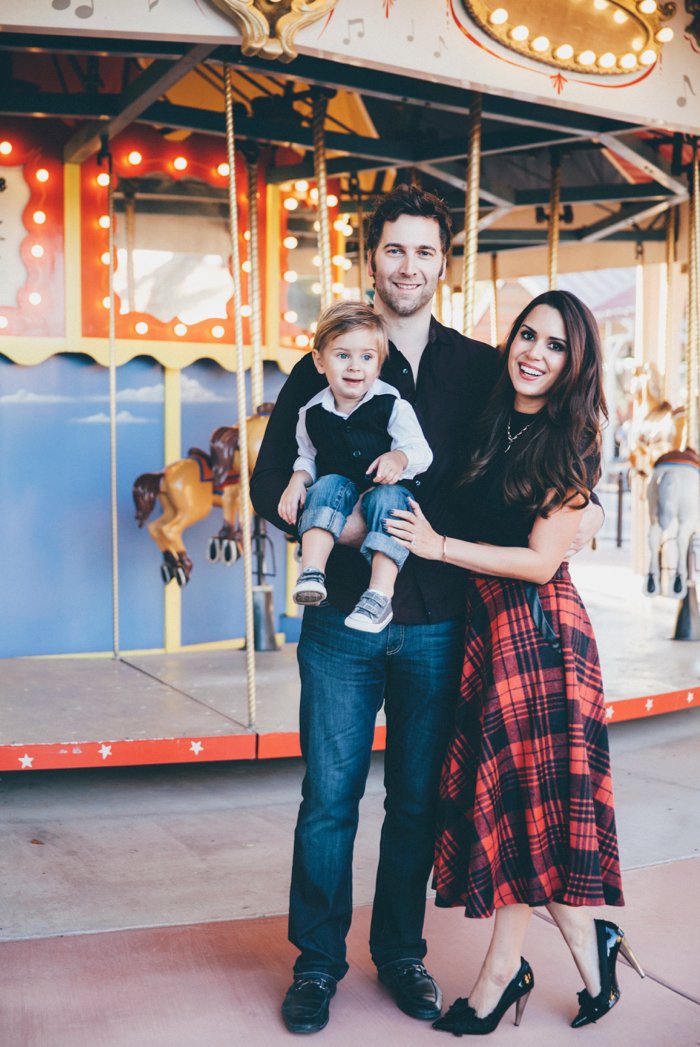 I had a vision for this photoshoot: Embrace the Christmas spirit! And for that, I couldn't resist this beautiful plaid skirt, a fab Amazon find.
I've worn this skirt a few times throughout the holidays, it's so fun and festive!
We shot this at the train park which had a gorgeous Christmas tree and I brought a wrapped "gift" as a prop as well. You can see more from this shoot here.
---
What do you think of these family photoshoot outfits for the holidays? Have you picked out yours yet?