21+ Ways to Wear Over the Knee Boots in 2023
Are over-the-knee boots still in style for 2022? According to Instagram, influencers and the stores still selling them, they definitely are!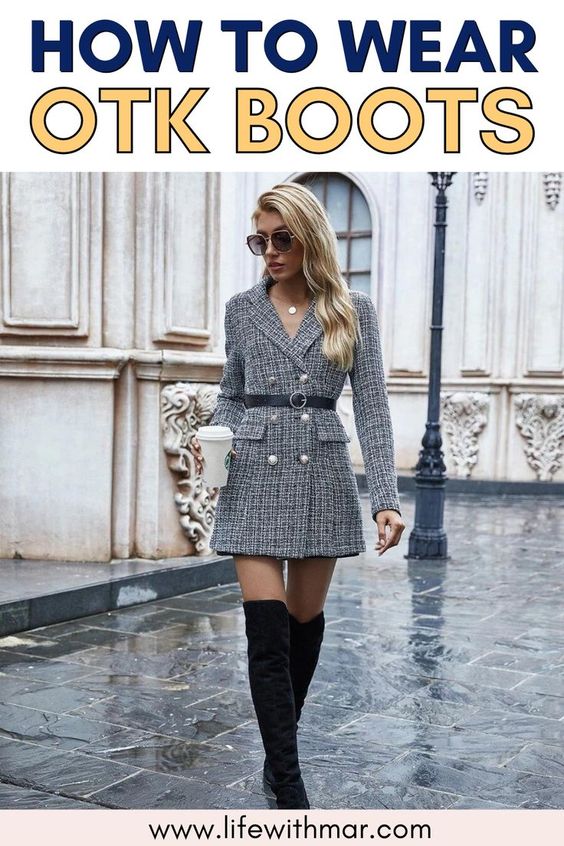 Thigh-high boots used to give a lot of people Julia Roberts Pretty Woman vibes…but that's sooooo not the case anymore.
Done right, they can actually be considered a part of everyday wear! And they're almost always a good idea paired with a short skirt or oversized sweater dresses.
If you're looking for some new ways to wear over-the-knee boots in 2022 or just bought your first pair of thigh-high boots and need some outfit ideas, you're in luck as there are more than 21 cute boots outfits in this post!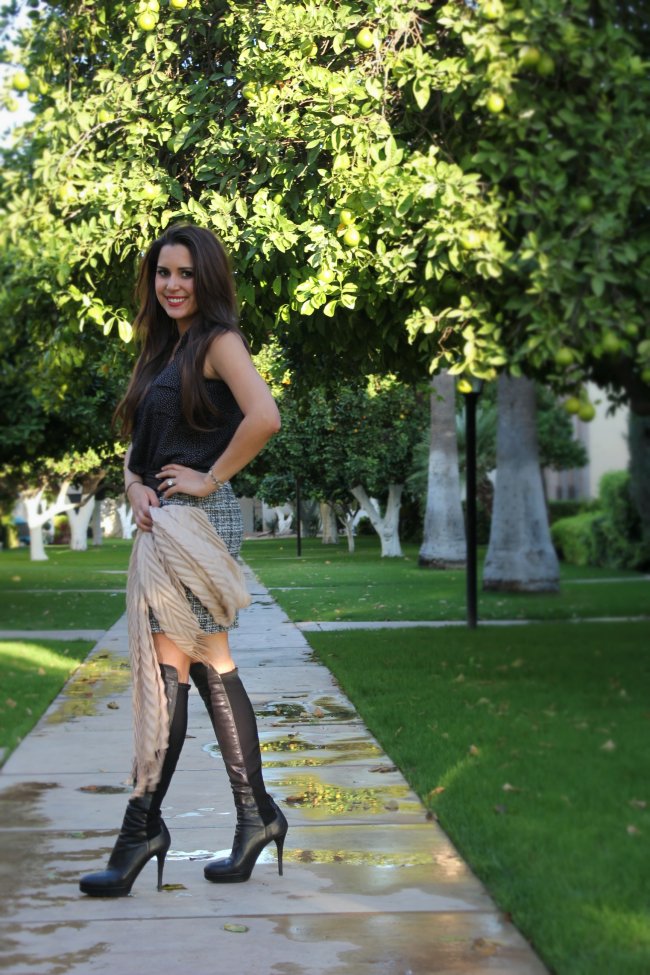 Keep reading for tips on wearing over-the-knee boots in 2022.
These outfit ideas include everything from casual outfits to cute date night looks and even suggestions on helping you buy your first pair of OTK boots.
What You Should Know About Wearing Over-the-Knee Boots in 2022
There are so many different ways you can wear OTK boots, and although boot trends are shifting toward chunkier soles (i.e. Chelsea boots, combat boots and even the cowboy boot trend) there are still plenty of cute ways to wear really high boots.
Here are a few tips to keep in mind specifically for 2022 and 2023 boot trends, and some cute thigh-high boot outfits to inspire you.
DO:
Try block heels over a stiletto
Style black boots with black tights, it's still classic!
Try slouchy boots for 2022/2023
Show a little skin between the top of the boot and your dress/skirt
Wear with thigh-high socks for comfort and warmth
DON'T:
Pick a dress or skirt with a short hemline. Pair this with heels or an ankle boot instead.
Buy a round-toe boot. They're on the outs again!
Pair thigh-high boots with a midi skirt.
Cute Over-the-Knee Boots Outfits to Inspire You for 2022 and Beyond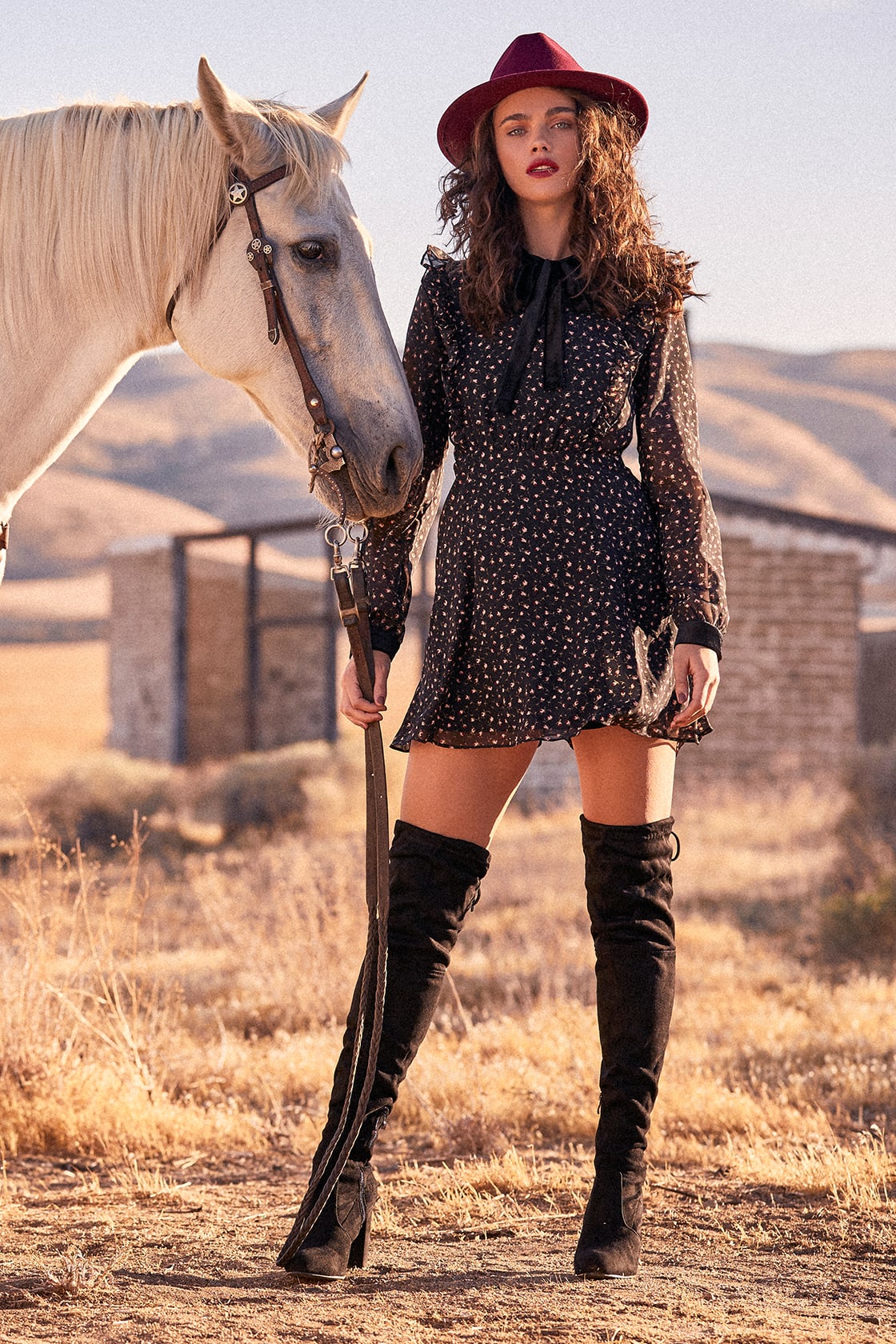 One of my personal favorite ways to wear over-the-knee boots is with a good fall dress.
These suede boots look excellent styled with this cute and feminine dress.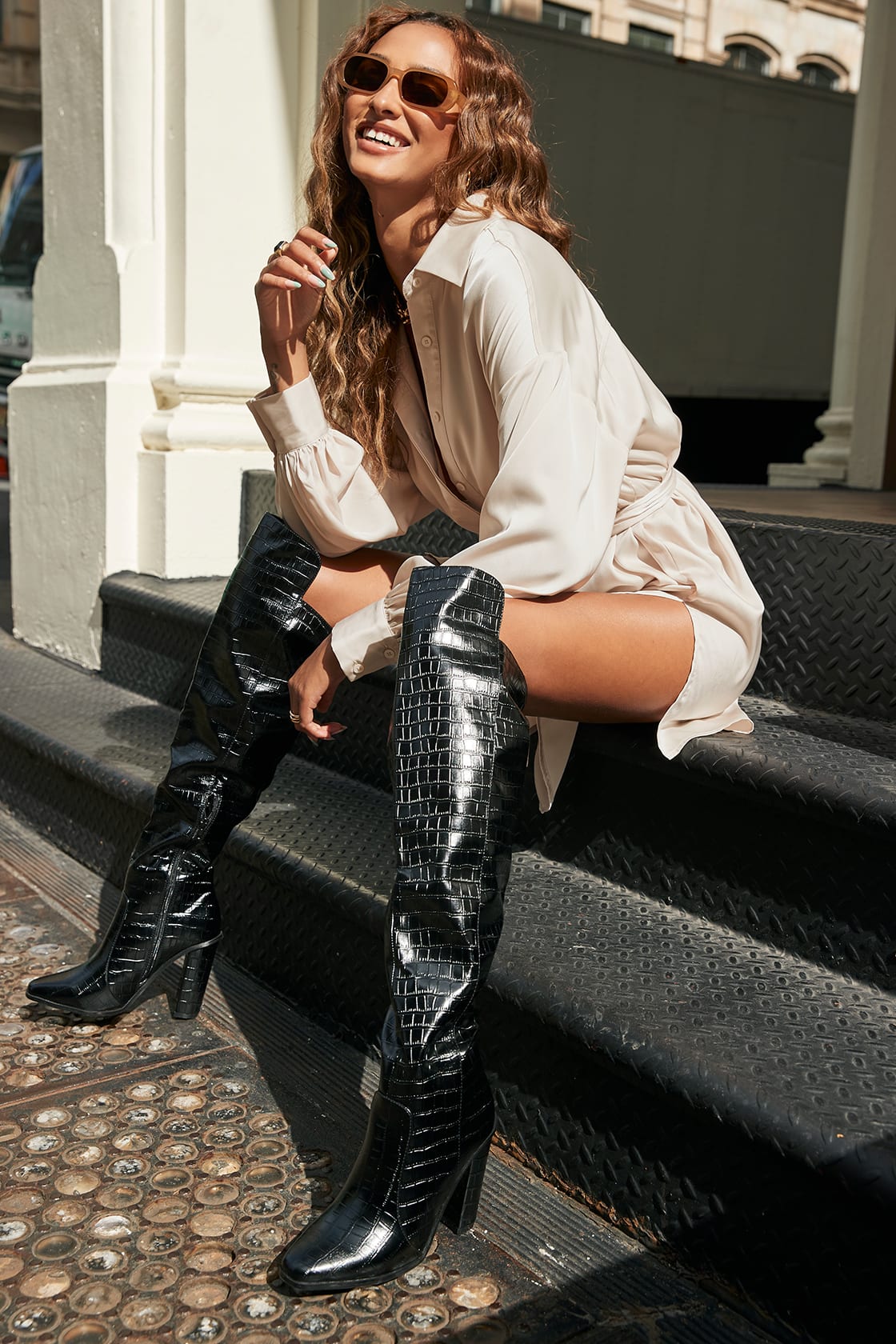 OTK Boots + Button-Down Dress
A cute button-down dress is always classic and they look great paired with beautiful thigh-high boots.
These crocodile-embossed boots surely make a statement.
Monochromatic Winter Outfit Idea
I'm loving this monochromatic look in nude tones, which is right on trend with all of the neutral colors that are big for 2022.
Style this with gorgeous accessories which should stand out against the rest of the outfit.
This over-the-knee boots outfit could even transition into spring since the entire outfit is on the lighter-colored side.
Gingham Dress + OTK Boots Outfit
OTK boots go great with a cute gingham dress. Add a belt to cinch your waist and to match the color of your boots!
If you don't own a gingham dress, you can also try belting a long, chunky knit sweater!
Over-the-Knee Boots + Sweater Dress
A knit sweater dress is a winter wardrobe must-have, and they look great styled with over-the-knee boots. You can choose a contrasting pair or go for a monochrome look like this one.
Plaid Skirt + Boots Outfit
If you've got a cute plaid skirt in your closet, pair it with some OTK boots.
You can also try this winter over-the-knee boots outfit with a classic pencil skirt or A-line skirt.
Since the skirt has a pattern, keep the top simple.
Corduroy Skirt + Boots
A cute corduroy skirt is another fall and winter essential, and it looks great styled with over-the-knee boots.
For a fashion-forward look, try mixing black and brown like this look!
This would also be a cute winter date night outfit.
A Simple Dress with Over-the-Knee Boots
If you have a sleeveless dress, you can winterize it by layering a turtleneck or long-sleeve top underneath.
Finish the look by putting on your favorite thigh-high boots like these suede over-the-knee boots.
Over-the-Knee Boots for the Holidays
Looking for a holiday outfit idea with over-the-knee boots? Try this cute fringe skirt outfit with a bold pair of red boots.
If red isn't your thing, you can also pair an all-black look like this with black thigh-high boots.
Classic Trench + Boots
A trench coat is a wardrobe classic for a reason: it never goes out of style!
Pair it with some black over-the-knee boots for a timeless look. And if you don't own a trench, you can still recreate this with a long coat for a chic look that's perfect for the winter months.
Belted Tweed Dress Outfit
Tweed is a personal favorite when it comes to winter outfit ideas; it's always classic and elegant-looking.
Try a blazer dress like this styled with thigh-high boots.
---
MORE BOOTS OUTFIT POSTS:
---
Skirt Set + Black Over the Knee Boots
Speaking of blazers, this skirt suit set is a perfect way to wear over-the-knee boots to the office. It's fashion-forward yet still business-appropriate.
PRO TIP: To keep this look office appropriate, look for a chunky heel vs. a sky-high stiletto.
Over-the-Knee Boots Outfit with Jeans
It's hard to imagine a day in which a pair of skinny jeans and tall boots won't go together! This casual outfit idea is easy to recreate with pieces you already own in your winter wardrobe.
Legging + Boots Outfit
As soon as the winter season hits, I basically live for leggings outfits. This casual look featuring an oversized sweater and all-black outfit is a great way to really highlight a pair of brown boots.
PRO TIP: Keep proportions in mind when recreating this look. In 2022 and 2023, we are still seeing a lot of crops and high-rise leggings/jeans. This outfit would not work paired with low-rise leggings
Black Jeans + Thigh-High Boots
Yes, you can style a black pair of jeans with black boots!
Break up the look by choosing a cute colorblock sweater.
You can try this outfit with an oversized sweater but for a more modern look, do a half-tuck into high-waist jeans.
Brown Over-the-Knee Boots Outfit
If you're looking for an easy, casual outfit idea that takes minimal effort, just throw on a poncho over your leggings outfit and finish with a cute pair of brown over-the-knee boots.
It's a stylish outfit that's so easy to copy and a fun way to make your brown boots pop.
Casual OTK Boots Outfit
Another casual over-the-knee boots outfit you can try is by simply styling them with a pair of skinny jeans and your favorite sweater or bodysuit.
It's probably the easiest way to wear these boots!
Any color boots will work for this look and you can also try this with different heel heights such as flat OTK boots or block heels.
The Influencer Look
If you're in need of stylish outfits with over-the-knee boots, look no further than a simple fall dress styled with boots and your favorite hat!
Try it with a long sleeve dress and don't be afraid to mix different colors like black and brown.
Print Dress + Thigh-High Boots Outfit
If you're wanting something a bit more bold than a solid-colored dress, pair your over-the-knee boots with a fun print dress.
These suede boots pick up on one of the colors in the pattern for a stylish and cohesive look.
The Black Dress + OTK Boots
One of my favorite ways to style a pair of over-the-knee boots is with a black dress.
Choose a dress that's on the longer side so you're only showing a little bit of skin.
You can also do this with a pair of opaque tights if you're looking for some extra warmth on those cold days.
The Faux Leather Skirt Outfit
A little leather mini skirt is fun and flirty and looks great paired with tall boots!
If you're wanting to look more casual, choose boots with chunky soles.
For more of a sexy look, choose OTK boots with a bit more heel height to them.
More Cute Outfits Featuring OTK Boots
When you Google 2022 over-the-knee boots outfits, you'll likely stumble upon a lot of outdated looks. So here are even more outfit ideas and tips to consider, perfect for this year and 2023!
Skinny jeans may be "out" but they still look great with OTK boots.
For a chic outfit idea, pair over-the-knee boots with faux leather leggings.
If your skirt or dress is a bit on the short side, try knee-high boots instead.
Flat over-the-knee boots and jeans are kind of done. If you don't want a heel, try a lug sole boot instead.
Don't style your OTK boots with denim shorts or biker shorts. Instead, pair your black boots with black shorts or a cute skirt.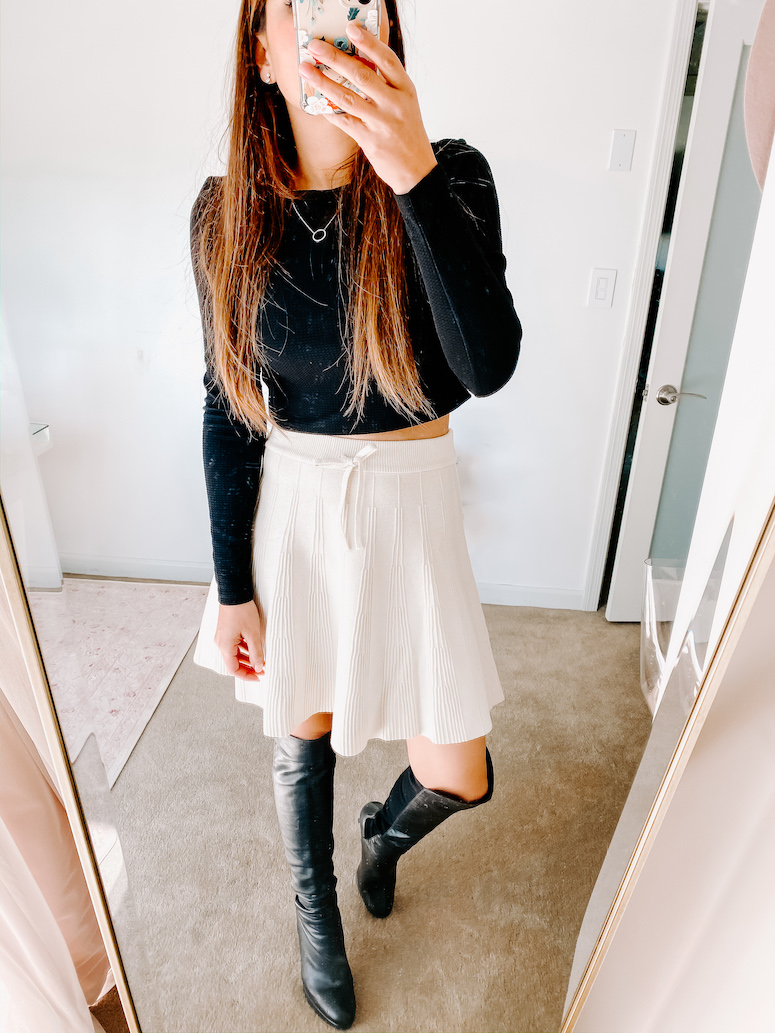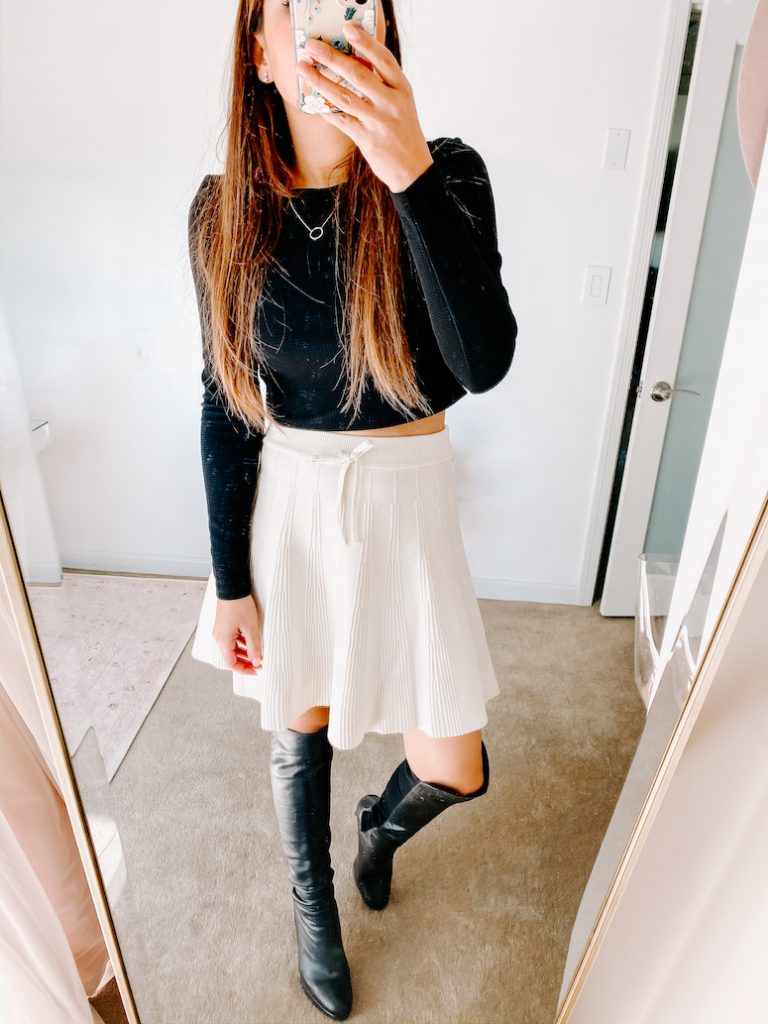 Tips for Buying Over the Knee Boots
If you're shopping for your first pair of over-the-knee boots or just want something new, here are a few tips to keep in mind.
First, choose your material. Are you wanting leather boots, faux leather or suede? The latter can be a bit more casual but you'll need to waterproof your boots if you're wearing suede in snowy weather.
Second, consider how often you'll wear them. Boots are oftentimes worth investing in since they can last for many years.
---
RELATED: 7 Fashion Investments Every Woman in Her 30s Should Make
---
I've had my pair of leather Stuart Weitzman boots for nearly 10 years, making them well worth the investment! At the end of each winter season, I take them to the cobbler to keep them in tip-top shape.
Lastly, try them on carefully! They should not be falling off or down under your knees. This may mean shopping for a boot with a more narrow or wider calf until you find the right fit.
---
I hope this post has helped inspire you to try some new over-the-knee boots outfits this winter! Do you think over-the-knee boots are still in style for 2022? What is your favorite way to style your tall boots?