True story: I always thought leopard print was kind of tacky.
I really didn't come around to the trend until about last year. Animal print like zebra I could manage. But cheetah and leopard prints? No thank you.
So why the change of heart? Honestly, I'm not quite sure. It seems like this "newish" animal print is much more refined, sophisticated and–dare I say it?–even classic looking. Which is something I never felt about this print before.
If you've come around to it as well (or maybe you've always loved it??) then you may love this leopard print skirt just as much as I do.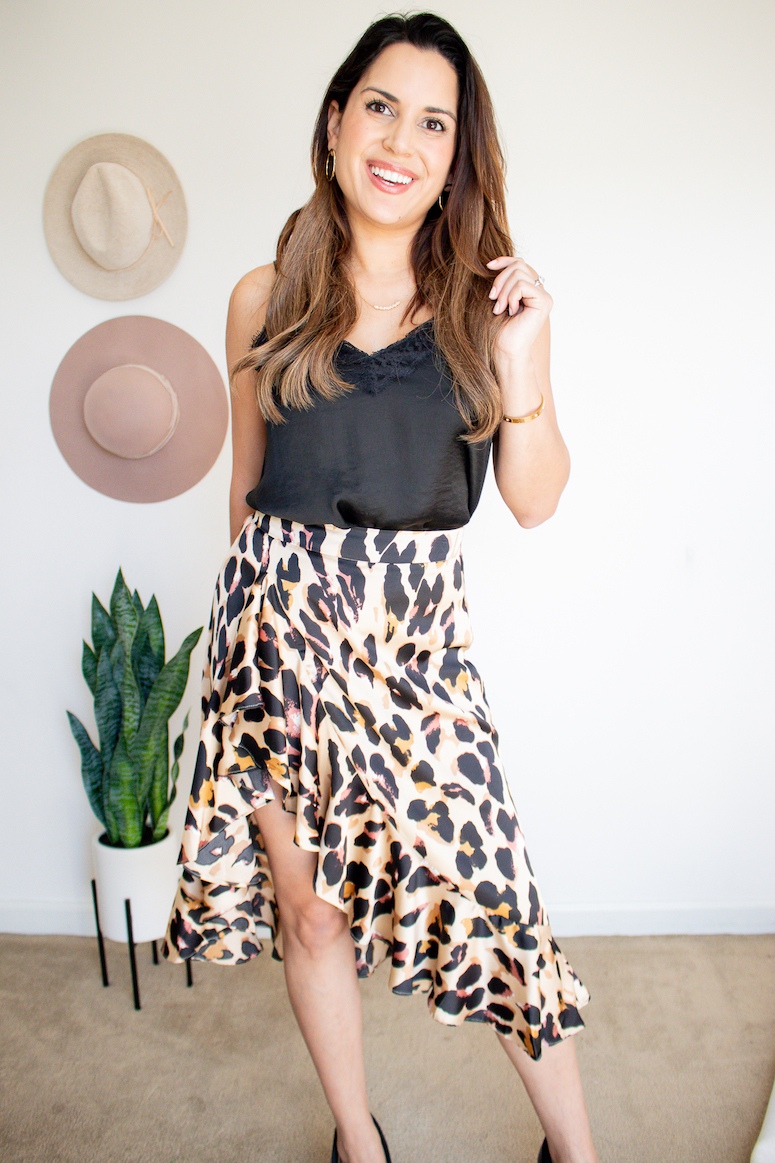 It's flirty. Flowy. Ruffly satin-goodness. Basically, everything you could want in a date night skirt.
AND…It's from Amazon!!
I've styled it three ways here for you to show you just how versatile even a sexy, slippy little thing like this could be.
Because yes, this may have been initially purchased for date night, but it can easily go beyond that….Ok, let's see what to wear with an animal print skirt.
More of a video person? Check out my YouTube video below!

Three Ways to Wear a Leopard Print Skirt for Fall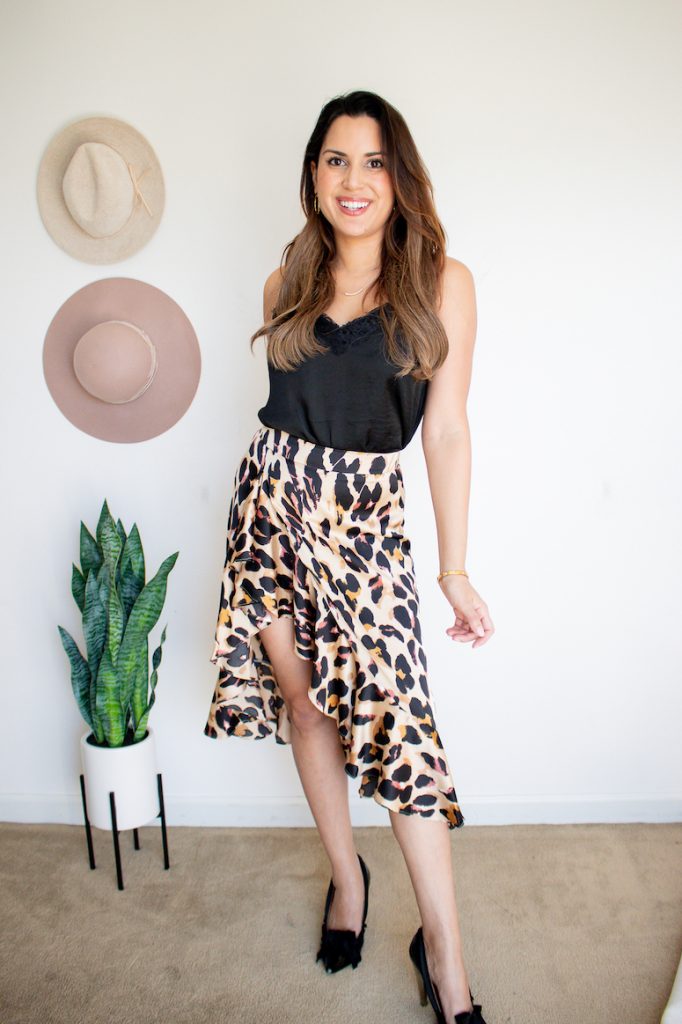 Let's call this what it is: a classic date night look. With a silky cami like this beautiful one from The Drop collection, some pretty pumps and delicate jewelry, you're ready to go! Just remember to finish off the look with a bright red lip, of course.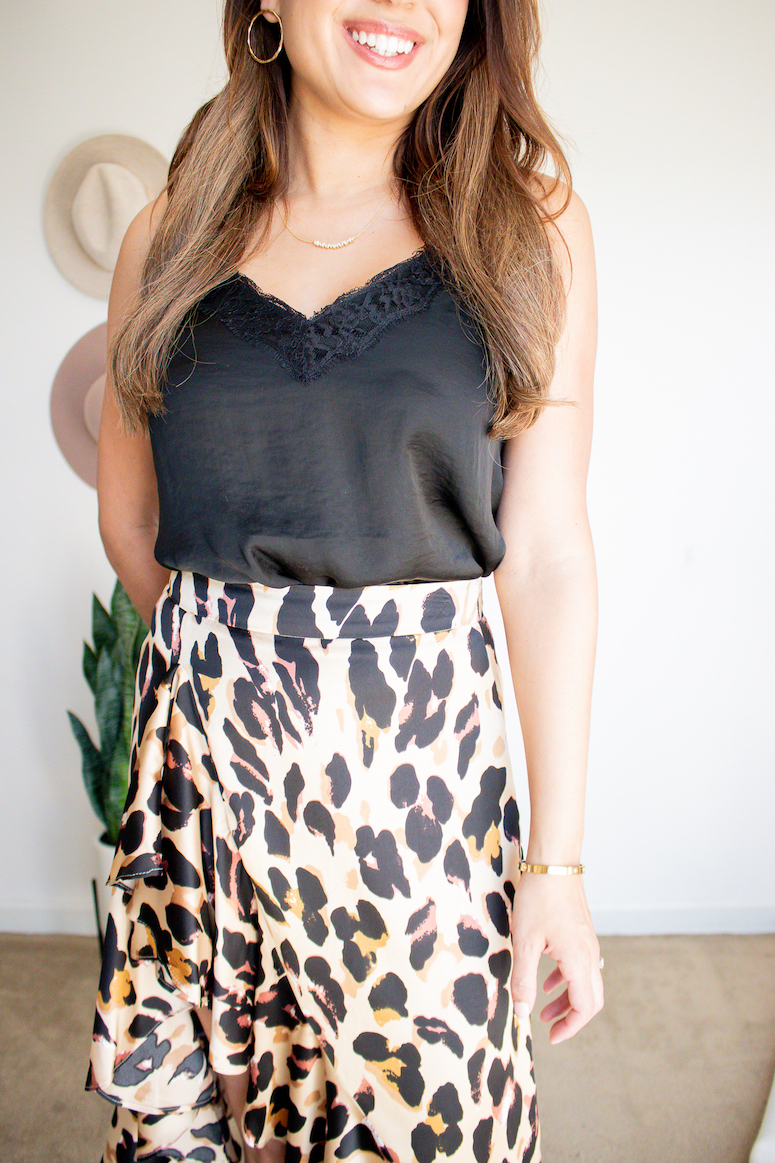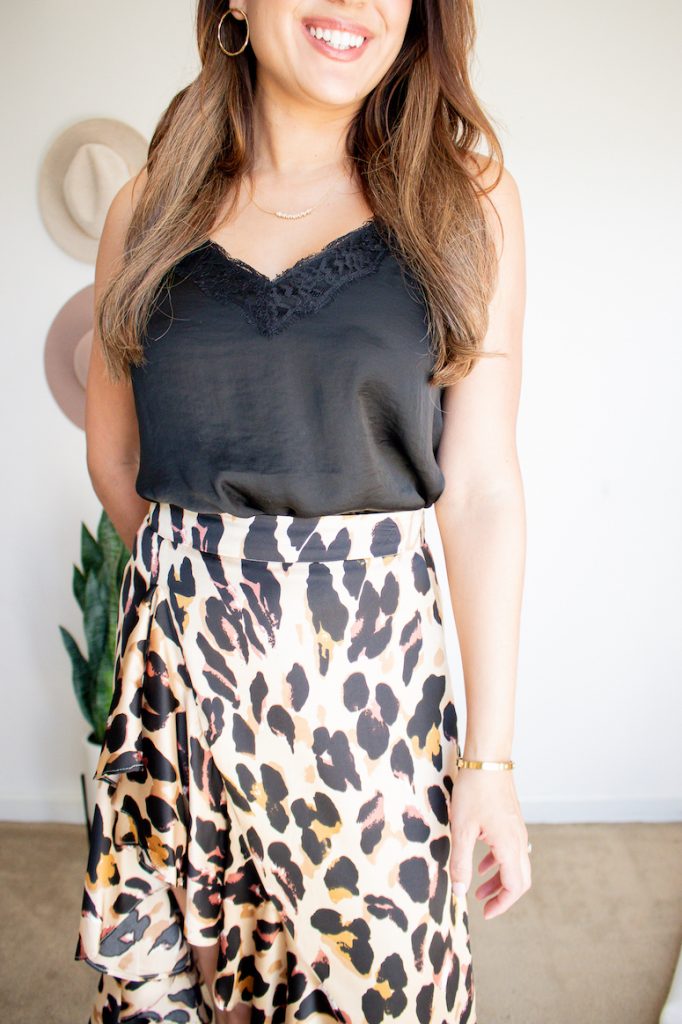 I love how this skirt shows off some leg, and it's still quite comfortable! Sizing details: TTS.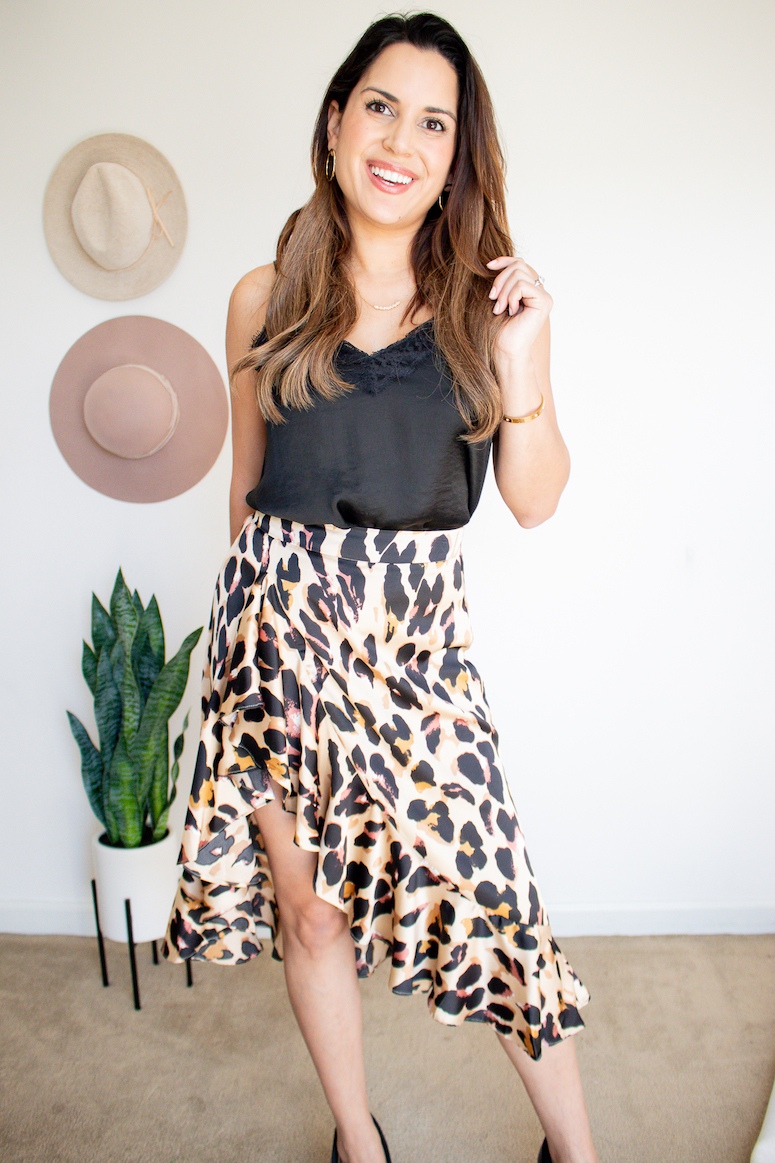 Let me also state the obvious: For fall, you would definitely throw a little leather jacket on top. If it's cold enough for that of course. My fall is nothing like that, which is why I forgot to throw it on for this photo.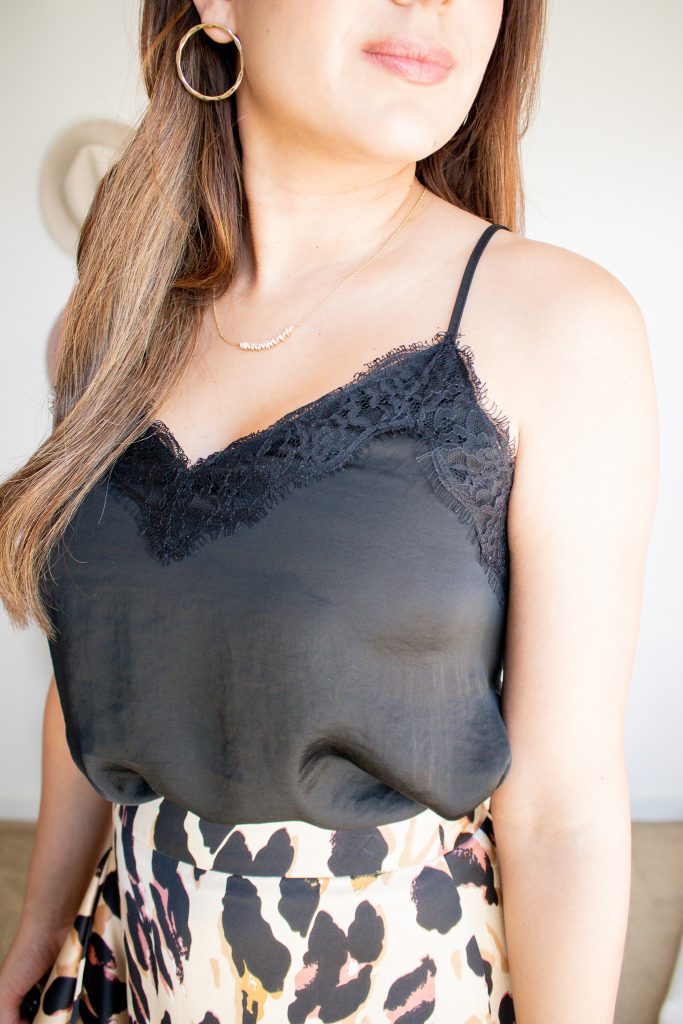 ---
RELATED: 5 Ways to Style Animal Print
---
Leopard Print Skirt Outfit with Boots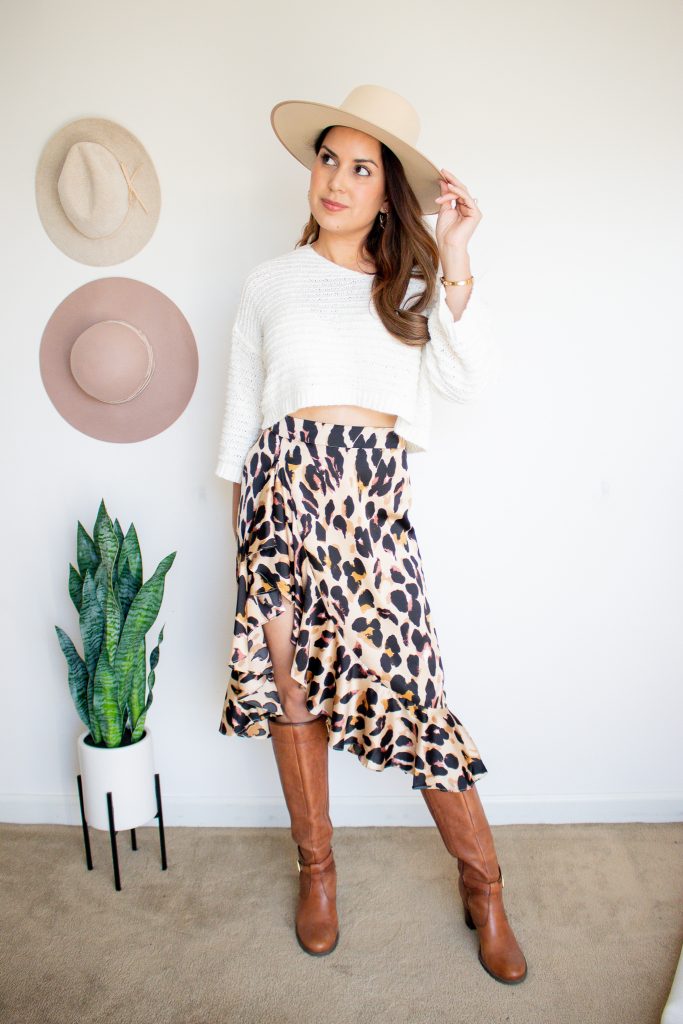 Ok, ok, I hear you…it's cold! (You're cold, I'm sweating it out in Arizona). But fine. I can see how a satin leopard print skirt wouldn't be the warmest of wear. So, let's make it an official fall and winter look by styling it with boots and a cute chunky sweater.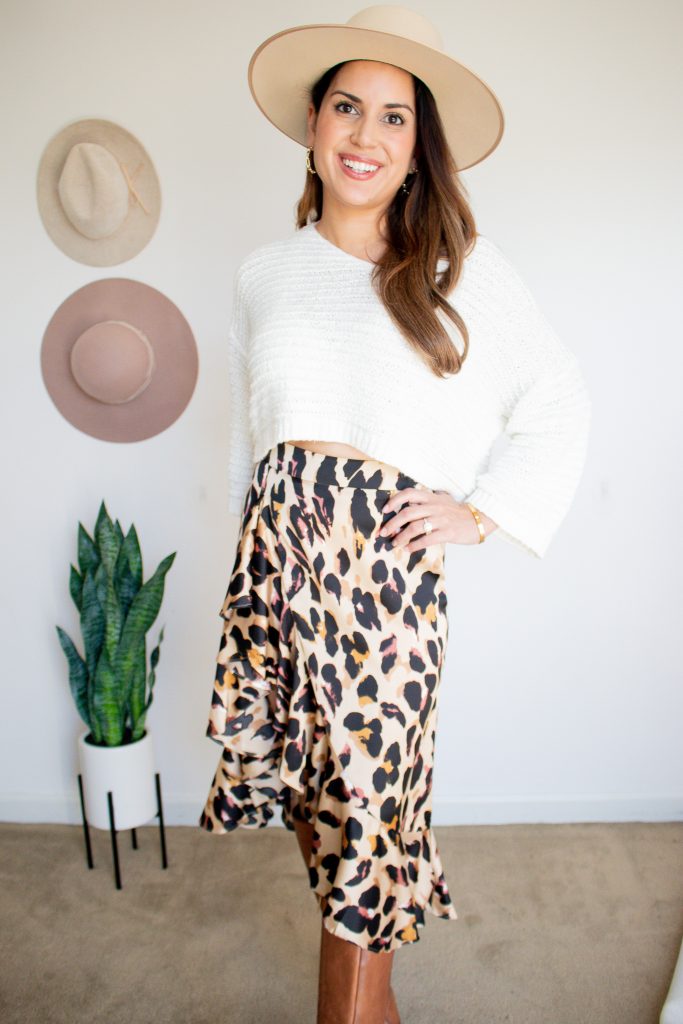 And also, a hat.
THE hat. This one is new to my collection and boy oh boy is she dreamy.
I always consider a hat a must for fall. Because, why not? It's chic. It's effortless. And it's a great way to hide dirty hair when it's a little too cold to even think about washing it. There. I said it.
A creamy-colored sweater is a nice neutral for the skirt and looks great with knee-high boots. You don't have to do a cropped sweater either; a chunky knit would look just as great!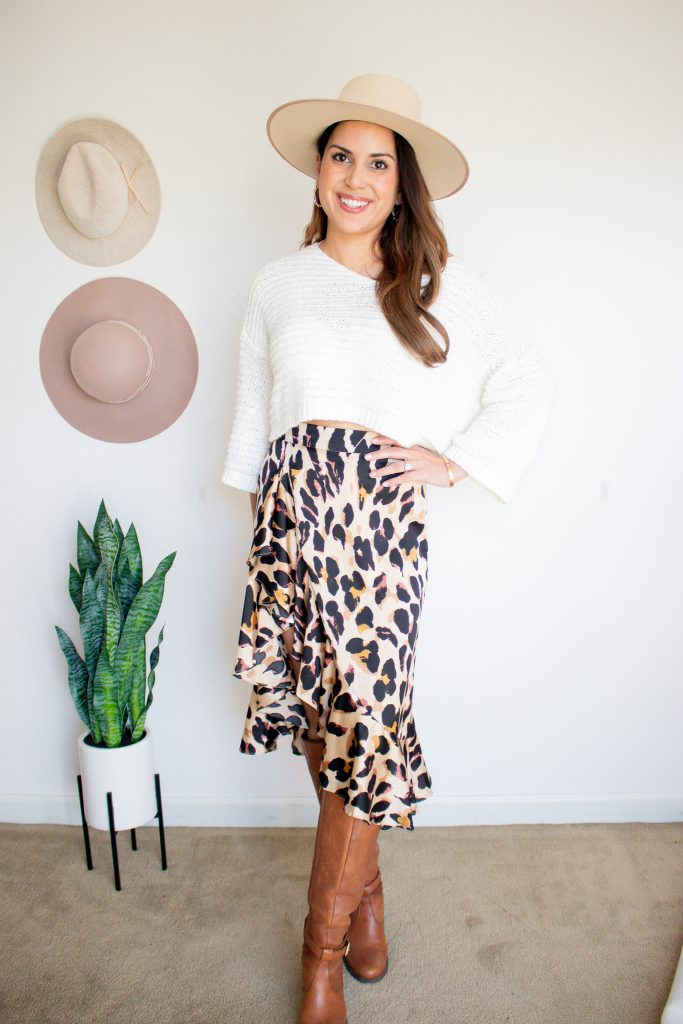 Honestly, there are SO many ways to style a leopard print skirt. And you most certainly don't have to stick to a white sweater.
So what colors can you wear with animal print? Black, white, ivory, red–get creative! This print is much more versatile than you may think. (And this subject may just merit a whole nother blog post in itself).
Crop Top with Animal Print Skirt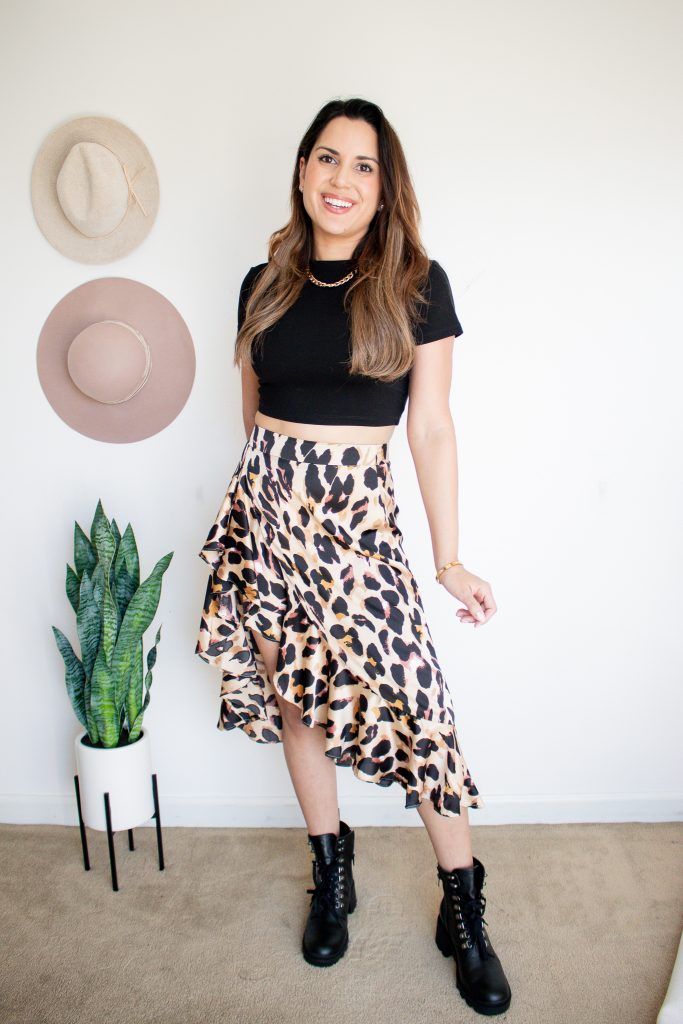 I am SO in on the combat boot trends. It's one of the very few trends I've chosen to partake in as of late and it's because I just love, love, loved my Doc Martens!
I've also had an affinity for adding some unexpected edge to an outfit, so why not pair some chunky boots with a slinky little skirt? I say, go for it!
These combat boots, by the way, were an amazing Nordstrom Anniversary Sale find and they are SO comfortable. Seriously, just try it! They're also on sale right now for 50% off!!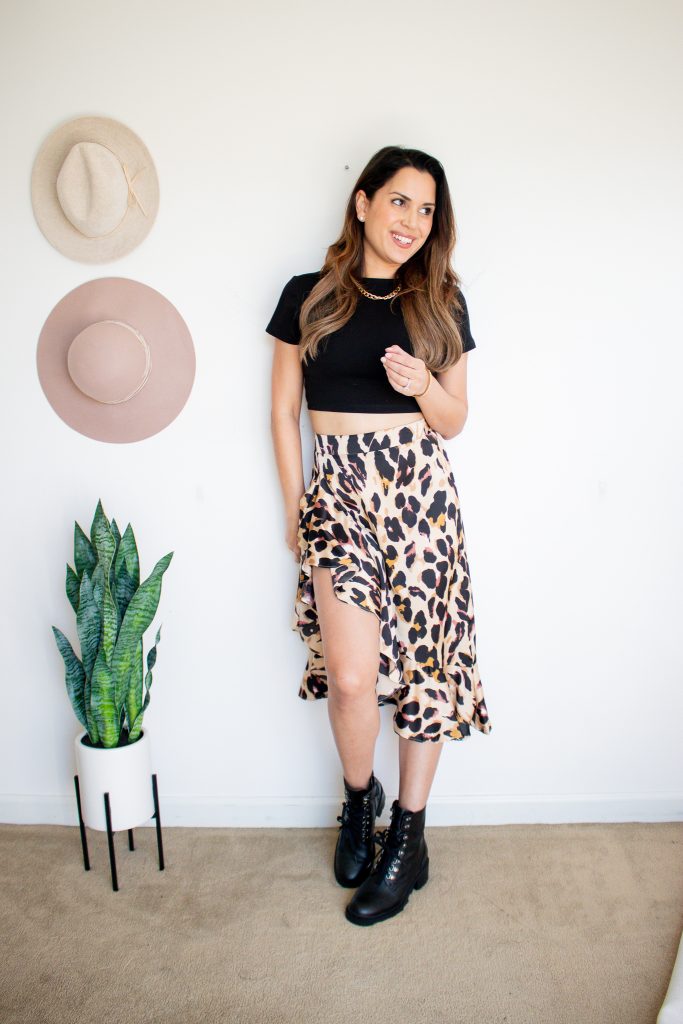 But I digress–Another easy way to wear a leopard print midi skirt is paired with a crop top.
---
RELATED: How to Wear a Crop Top if You Don't Have Abs (Yes, Really).
---
There's an entire post I just linked above sharing some of my style secrets to wearing a crop top with a skirt outfit. But I'll give away the biggest secret: just size up! This way, only a minimal amount of skin shows.
If you're not into the combat boots trend, you could absolutely pair this skirt and crop top outfit with booties. In fact, it was my first thought but I like to occasionally share the unexpected because fashion should be fun!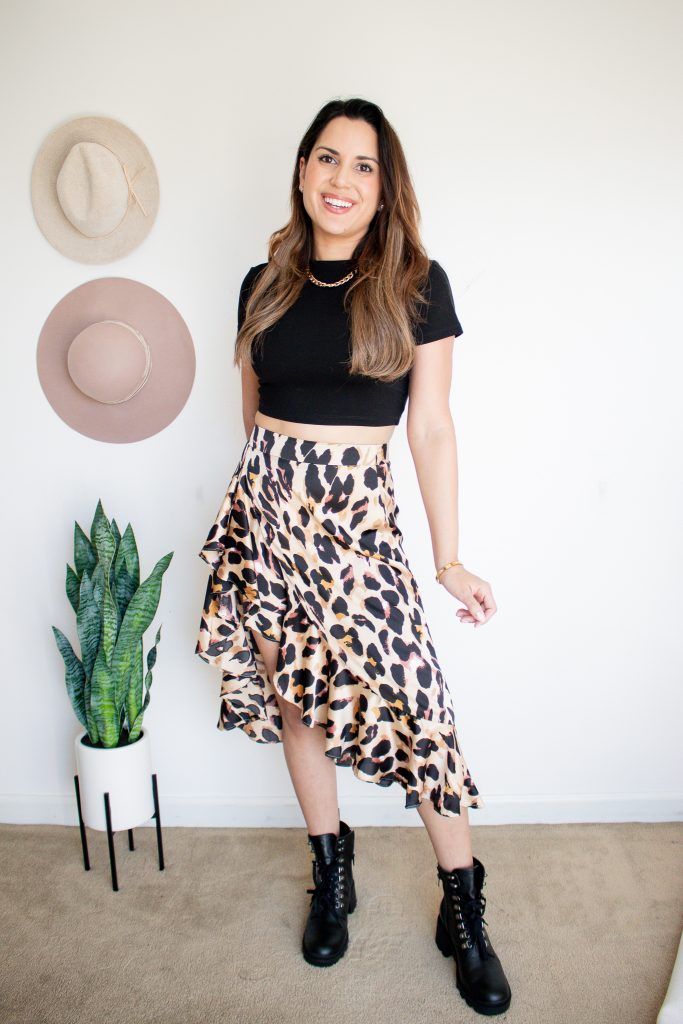 A pair of black pointy-toe ankle boots would be perfect for this.
Oh, I almost forgot to mention: This leopard skirt comes in 11 different kinds of animal print styles! And some polka dot prints, too. So if you love the look but maybe have a different print in mind, check it out!
---
If you weren't really show how you style leopard print for fall and winter, hopefully these tips helped you learn how!
Are you loving animal print skirts this fall? How do you like to style them? Let me know in the comments below!