How to Wear Ankle Boots with Jeans in 2023
For whatever reason, figuring out how to wear ankle boots with jeans can feel really intimidating.
Get it right and it feels like a "cool-girl" look. Get it wrong and you feel, well, a little less than cool…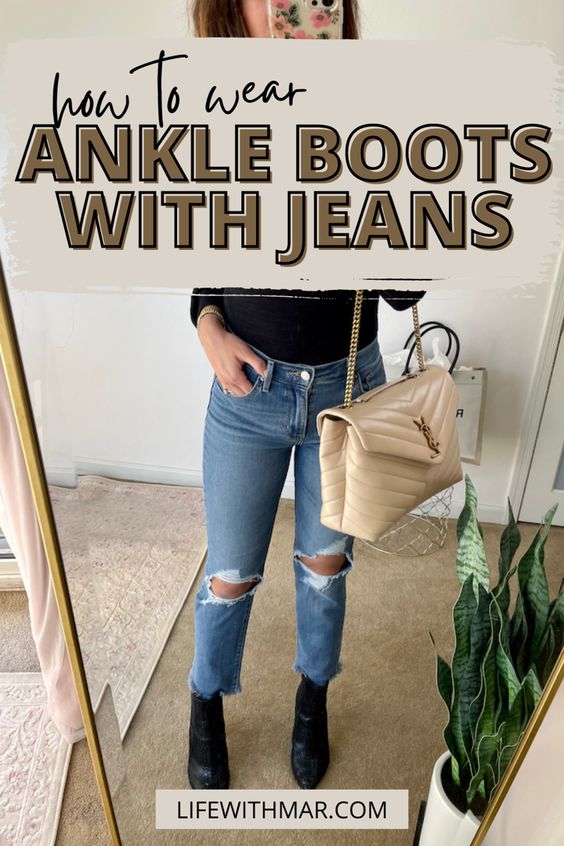 I'm kidding….BUT there are a few rules you can keep in mind when it comes to creating booties with jeans outfits, which is exactly what we're getting into in today's post.
Read on for today's ultimate guide on everything you need to know on how to wear ankle boots with jeans in 2023.

More of a video person? Watch the YouTube video below and subscribe to my channel!
Why Styling Ankle Boots with Jeans is So Confusing
When it comes to trying to figure out how to wear booties with jeans, there are a lot of variables to take into consideration. That's why it's confusing to figure out and such a tricky styling dilemma.
First, you're dealing with different types of ankle boots. Generally, that includes these three boot styles:
Short booties (these have a short shaft that don't come up high on your leg)
Medium-length booties (medium shaft)
Tall ankle boots (high shaft that comes up higher on your leg)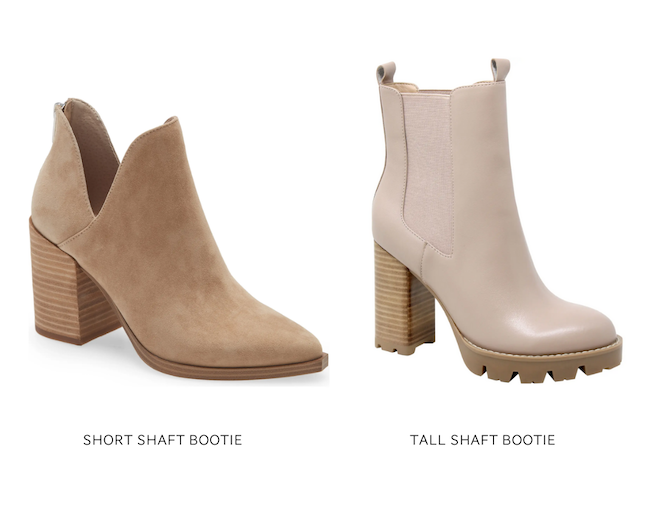 The shaft of a typical ankle boot, measured from the bottom of the shoe to the top, is anywhere from 3" to 8 ¾". As you can see, that's a big difference!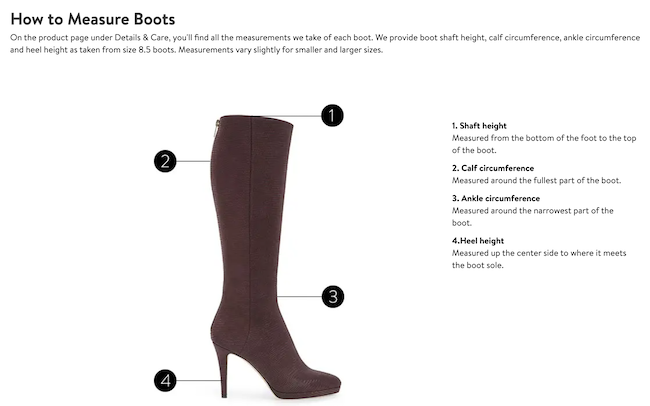 Now, let's throw the other variable into the mix: the fact that there are SO many types of jeans!
From straight-leg jeans to boyfriend jeans and yes, of course, skinny jeans, there are so many different ways you can wear booties with your favorite pair of denim.
In this post, we'll deconstruct all of the variables so you'll know exactly what your options are no matter what your jean or boot style is.
What Kind of Jeans Go Best with Ankle Boots?
Honestly, you can wear ankle boots with so many types of jeans!
I guarantee you have a look in your closet already that can be recreated from this list, so there's no need to rush out and buy something new.
Ankle boots look great with straight-leg jeans, boot-cut jeans, flared jeans and even skinny jeans.
But first, we'll start out with the most popular of choices, the skinny jean.
How to Wear Ankle Boots with Skinny Jeans
Ankle boots with skinny jeans is the first option that comes to mind for many since it's easy to recreate and you likely have a pair of skinny jeans already in your closet!
But even still, there are several different options here so let's tackle exactly how to wear booties with skinny jeans.
Pair Cropped Skinny Jeans with Ankle Boots
Cropped skinny jeans are typically a spring fashion item, but you can wear them in the fall or winter with boots!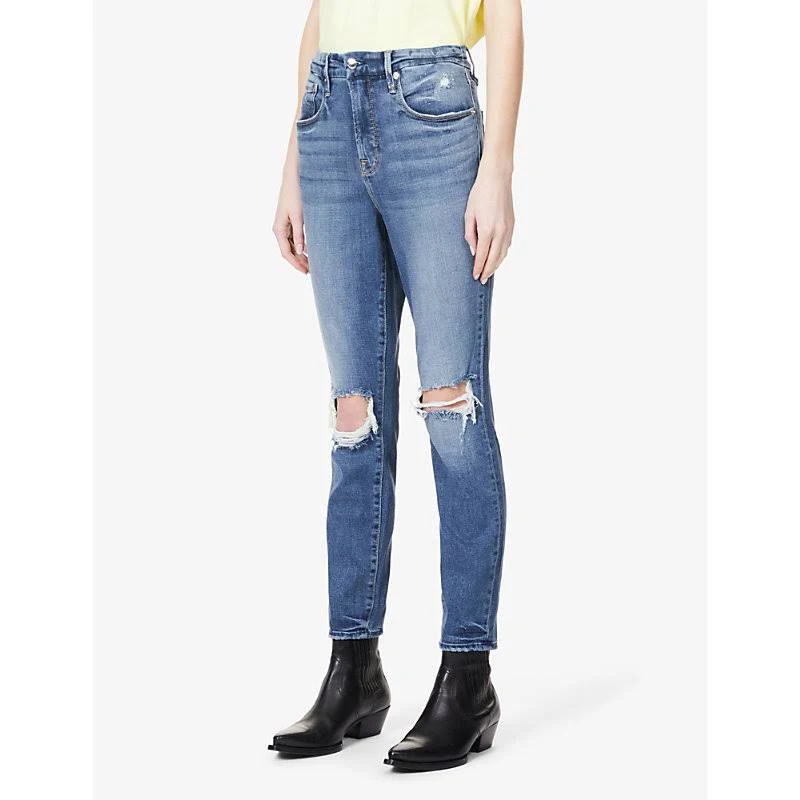 You can simply wear your boots under the jean for this look. A boot with a shorter, chunkier heel works best with this look.
If you're not a fan of ankle boots with cropped jeans but still want to wear your cropped denim in the fall and winter months, style them with a pair of chunky lug sole loafers which are still a hot 2023 shoe trend.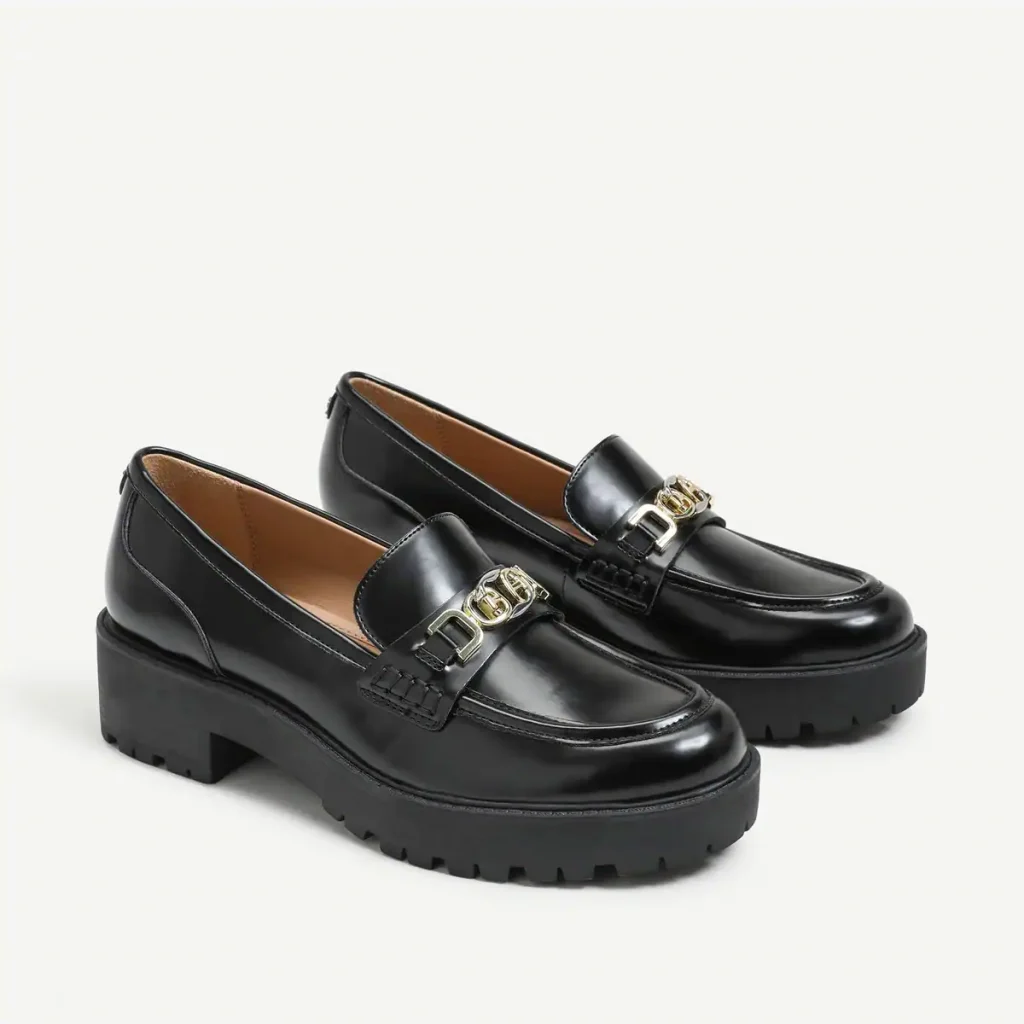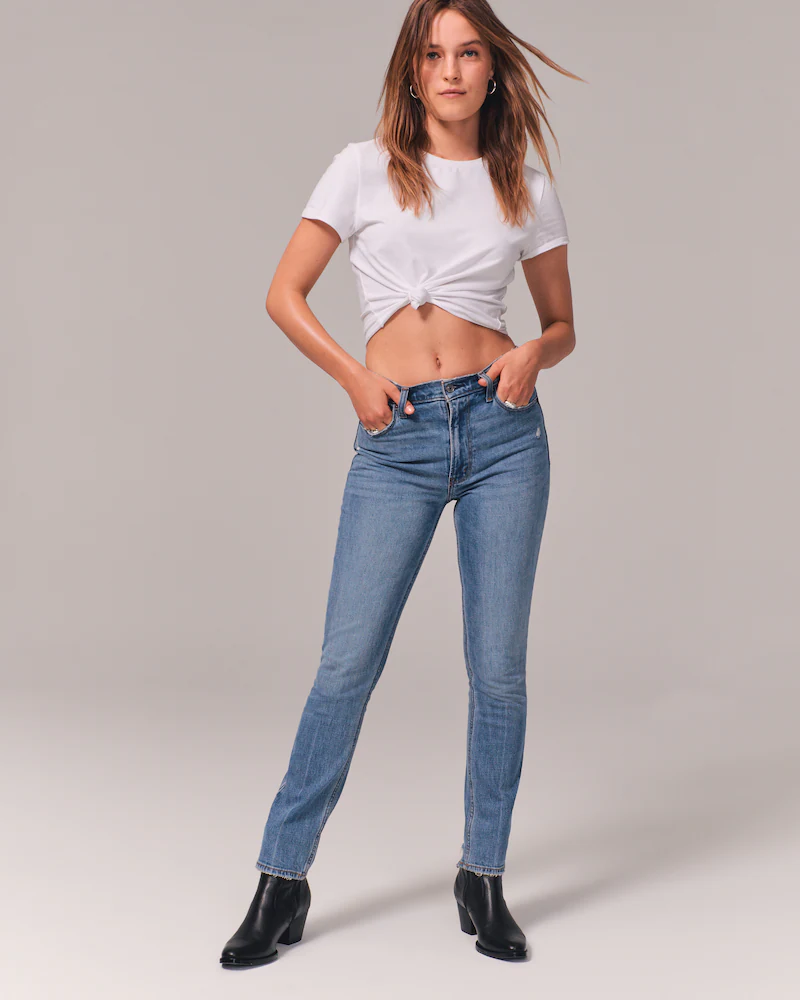 Most skinny jeans aren't nearly as skinny anymore and are closer to a straight-leg style. Again, these look great with just about any ankle boots tucked under the jean.
These Abercrombie jeans are a high-rise style and look great styled with a block heel.
For a more up-to-date look for 2023, try a straight leg-jean that doesn't hug your ankle as much. There are a few looks in this post.
Tuck Your Skinny Jeans into Your Boots
Got skinny jeans that are longer? Don't sweat it. You can tuck jeans into ankle boots. In my opinion, this look is a tad harder to pull off (and isn't a favorite) but it can be done.
You can also do this with straight-leg jeans which are really on trend for 2023.
I would stay away from a short-shaft ankle boot and wide-leg jeans as you'll just end up with too much fabric.
RELATED: How to Wear Skinny Jeans in 2023 (Without Looking Like a Fashion "Don't")
Create a Faux Cropped Skinny Jean
Another neat trick to try (and it's one of the easiest ones to do) is to simply roll your skinny jeans under so that they are a bit more cropped at the ankle.
This look works best with a bootie that has a short or medium shaft. (Yes, it's confusing because there are so many different types of ankle boots and so many different types of jeans!)
Cuff Your Skinny Jeans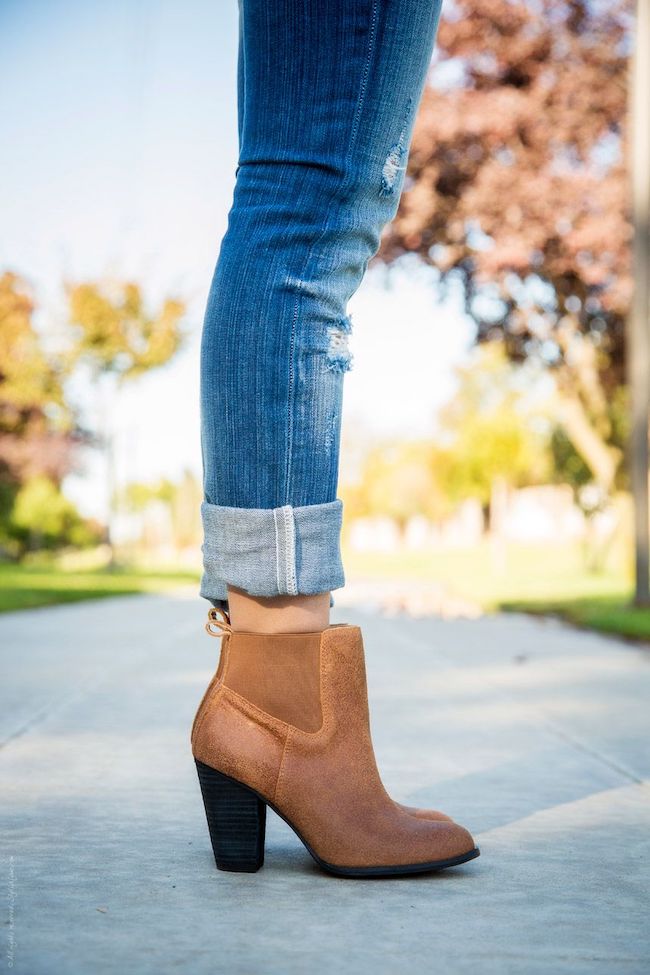 Cuffing your jeans like in the photo above used to be the go-to way to wear jeans with ankle boots.
Now, however, the giant cuff has become a bit dated.
So can you cuff your jeans and booties? Yes! It's a bit more of a roll than a true cuff. Like this photo:
Notice how the jean isn't a bulky cuff but instead slightly rolled and almost a bit messy.
This is how to cuff jeans with boots in 2022 and 2023.
This works well with flat ankle boots too, like combat boots, which are another big 2022 fashion trend.
TLDR: You can wear ankle boots with skinny jeans that are tucked in, rolled under or with a pair of jeans that hits at the ankle. The same rule applies for straight-leg jeans.
If your booties are short, don't tuck them in.
If your booties are tall, they'll look best with tucked-in skinny jeans.
How to Wear Ankle Booties with Straight-Leg Jeans
Straight leg jeans are exactly what they sound like: they aren't quite a skinny jean yet they aren't a wide-leg jean either. They are instead categorized by having a consistent leg width.
Since straight leg jeans aren't too wide and aren't too skinny, they can be worn as-is with your ankle boots making them a really easy outfit combo to recreate.
These straight leg jeans seen on Merrick's Art hit right at the ankle so you can see her short ankle booties.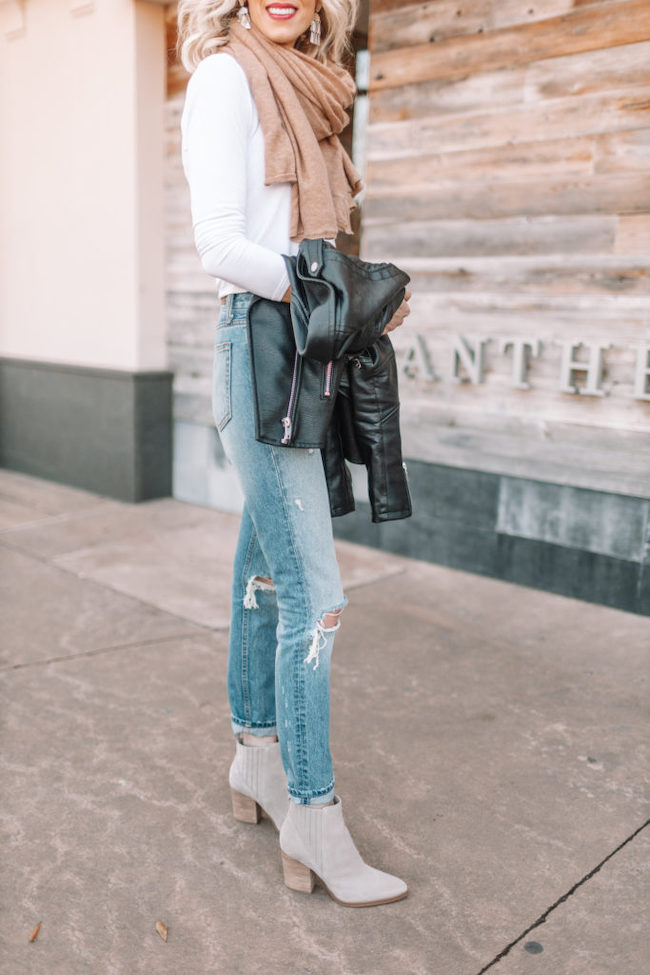 Amy from Straight A Style wears her straight leg jeans cuffed at the ankle. They're rolled just once and she also pairs them with a pair of short ankle boots.
Don't have short ankle boots? Don't sweat it! You can also wear medium and tall booties with straight-leg jeans.
---
More Boots Posts You May Like
---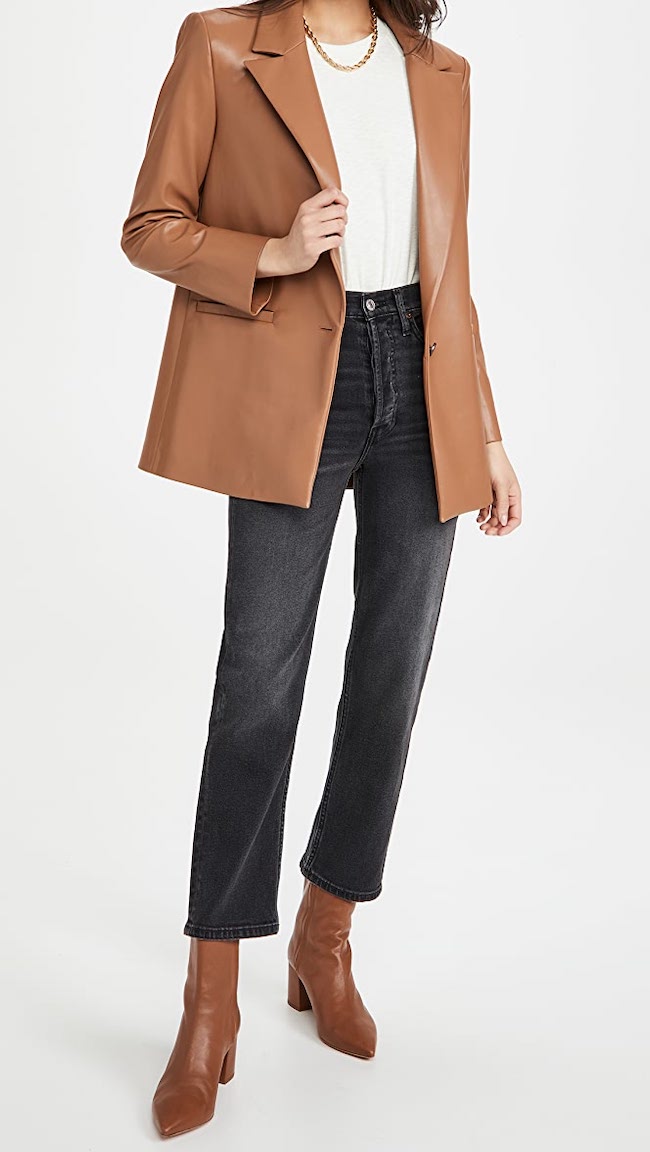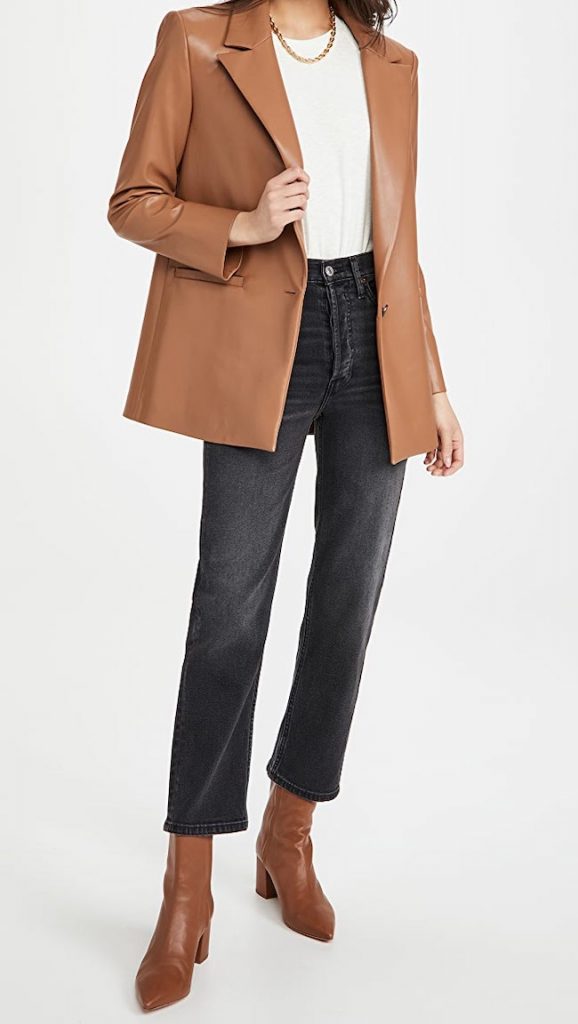 I'm loving these black jeans paired with brown ankle boots that have a medium shaft. The jeans are grazing the ankle and top of the boot.
If you have a straight-leg jean that is longer than ankle length, you can wear those with any height bootie as well.
RELATED: 60+ Cute Cowboy Outfits to Get In on Fall's Hottest Shoe Trend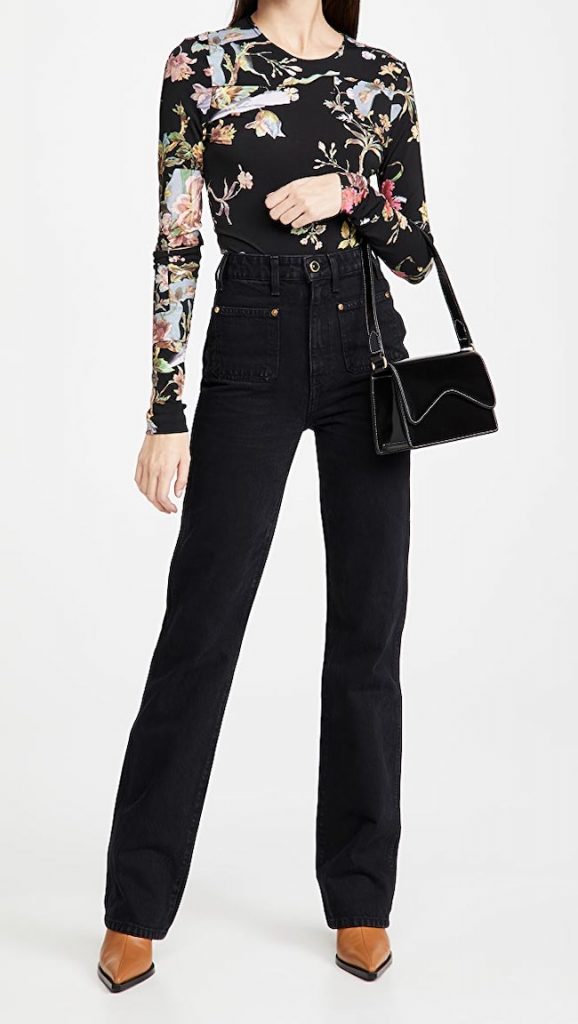 These high-waisted straight leg jeans look stylish and effortless paired with ankle boots.
---
RELATED: Are Skinny Jeans Out of Style? Here are 5 New Jean Trends to Try
---
Styling Ankle Boots with Wide Leg Jeans
High-waisted wide leg jeans are back, and I couldn't be happier! It's really such a classic look. These jeans are incredibly flattering on most body types and easy to style, too.
In fact, the "do nothing" approach is exactly how you'd wear ankle boots with wide leg jeans. There is nothing to roll, tuck or crop, just throw on any height ankle boot with your favorite wide leg jeans.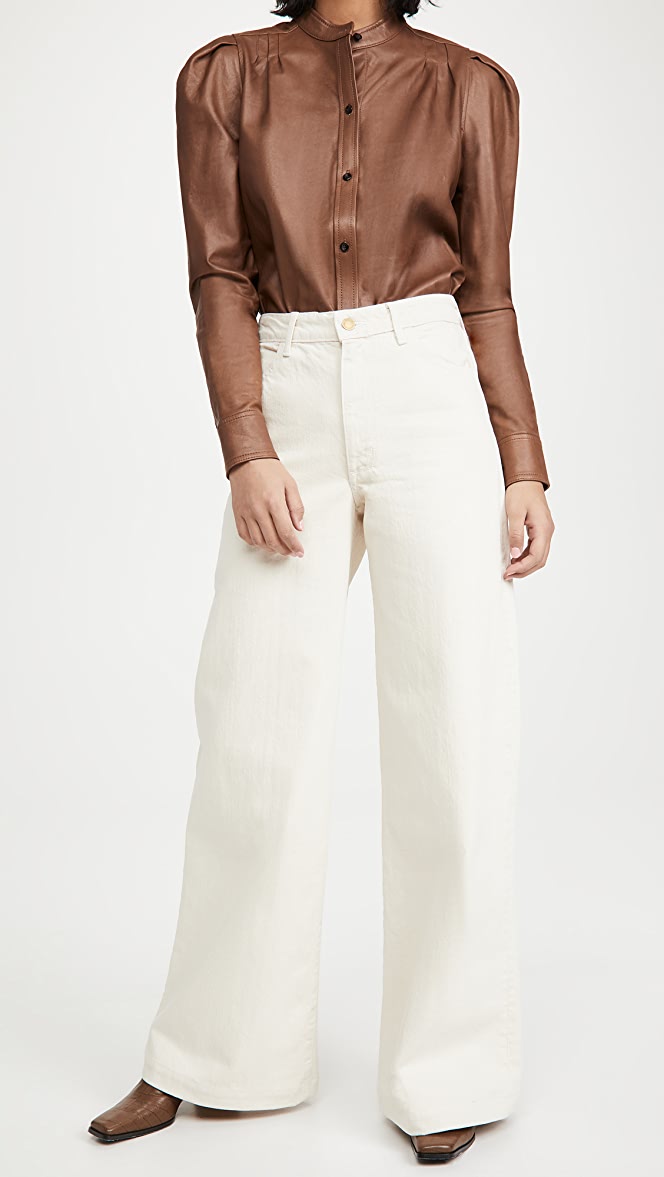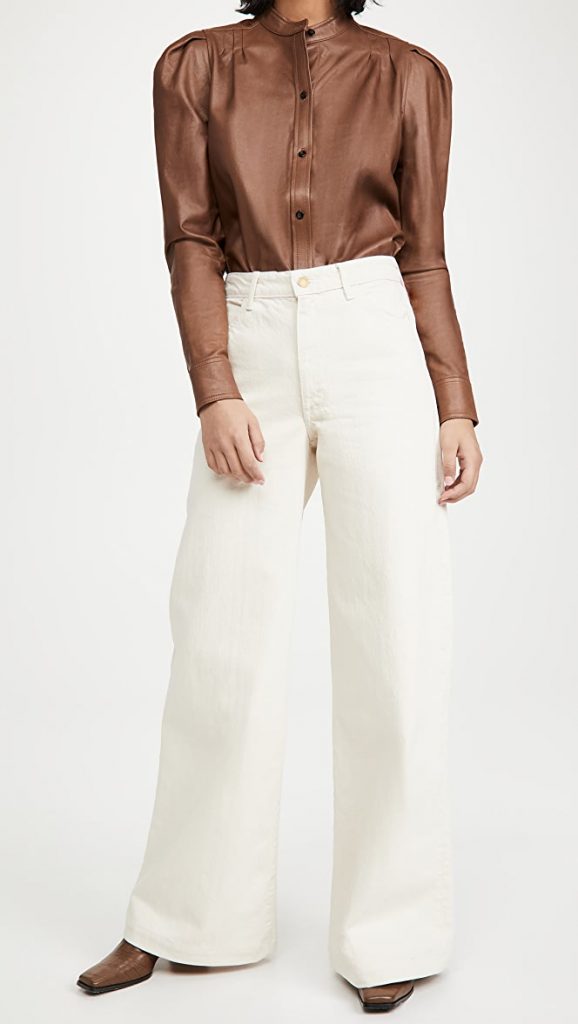 Think you can't wear white jeans with booties? Think again! This wide-leg white jean looks great paired with boots.
Pro Tip: Do make sure your wide-leg jeans hit at or around the bottom of the boot and aren't dragging on the floor.
These same styling rules apply to bootcut jeans and flared jeans, too.
Got a wide-leg cropped jean? We'll cover that more below.
How to Wear Booties with a Cropped Wide Leg Jean
One of this season's hottest fashion trends is to pair your booties with cropped wide-leg jeans.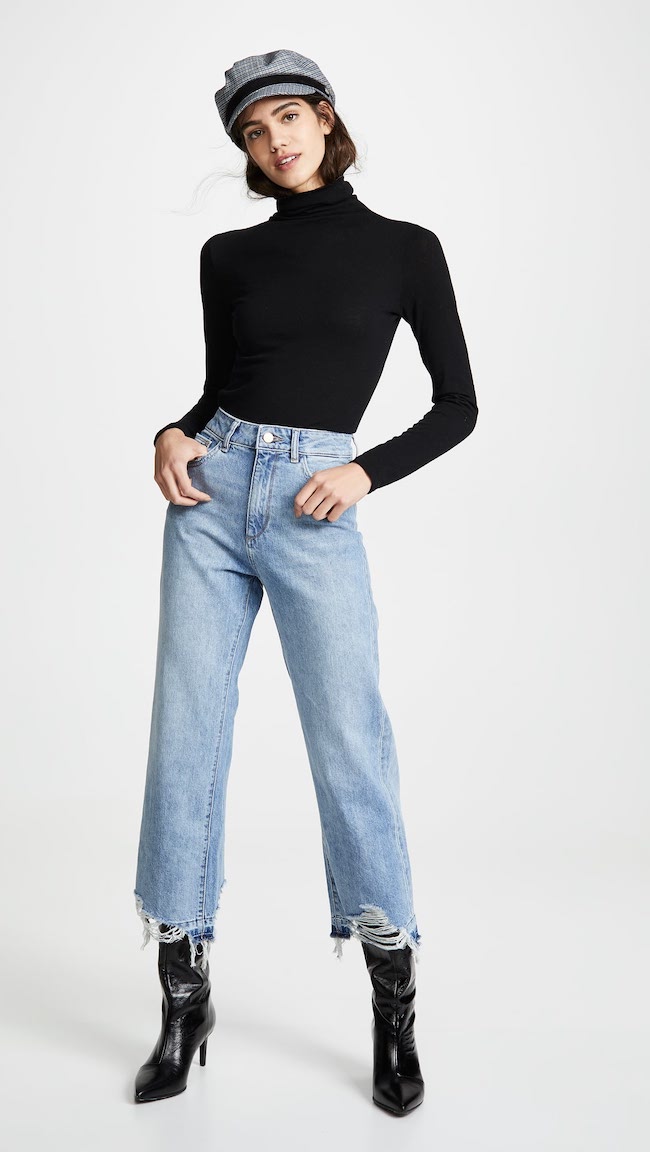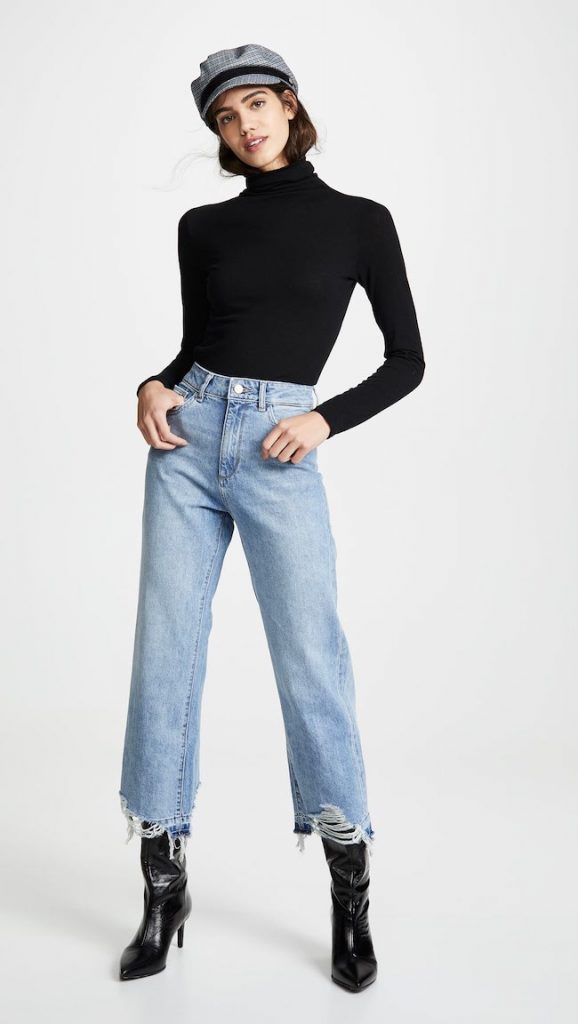 This look works really well with medium or tall ankle boots. These wide leg jeans look great paired with a kitten heel bootie and makes for a really chic look.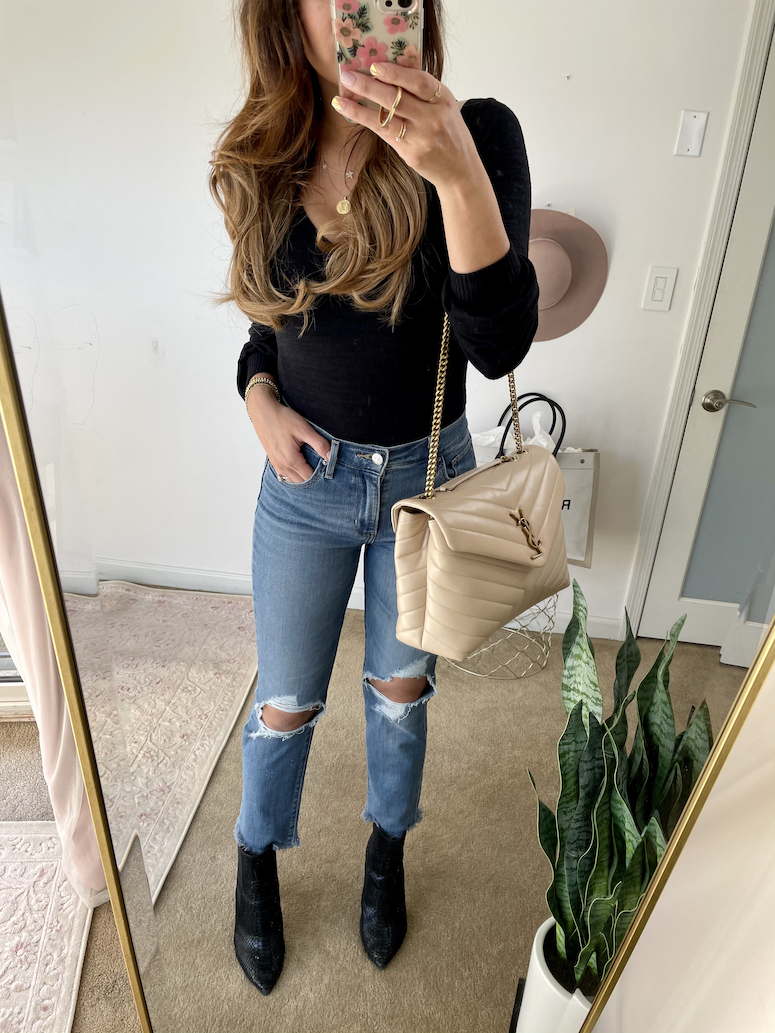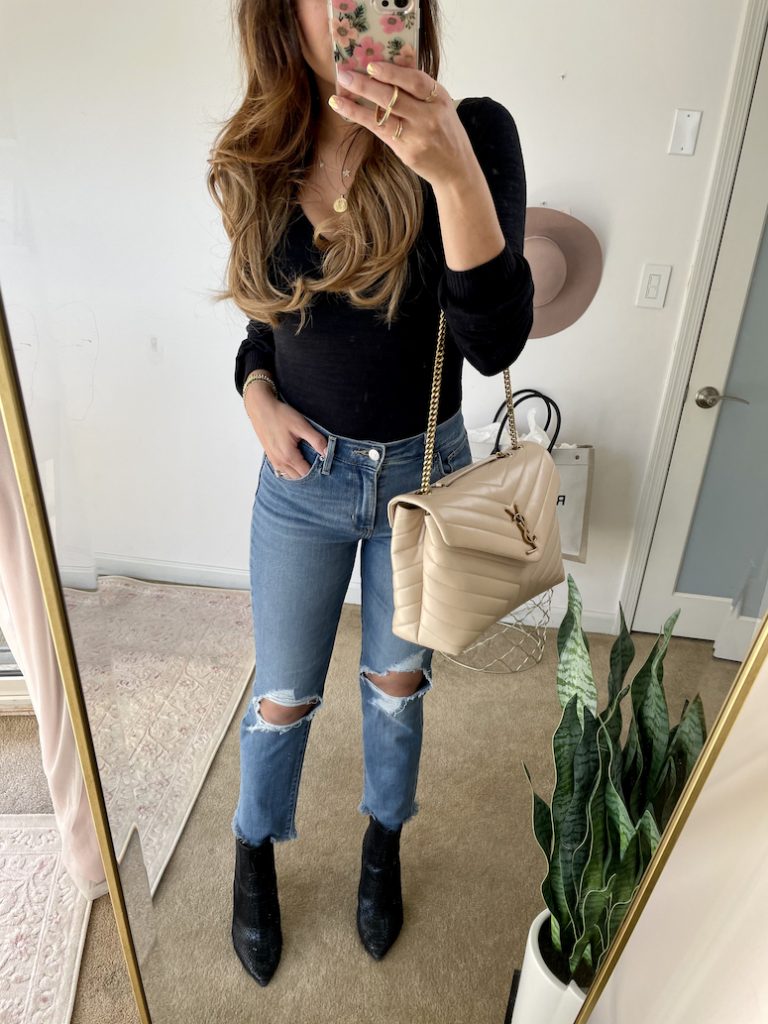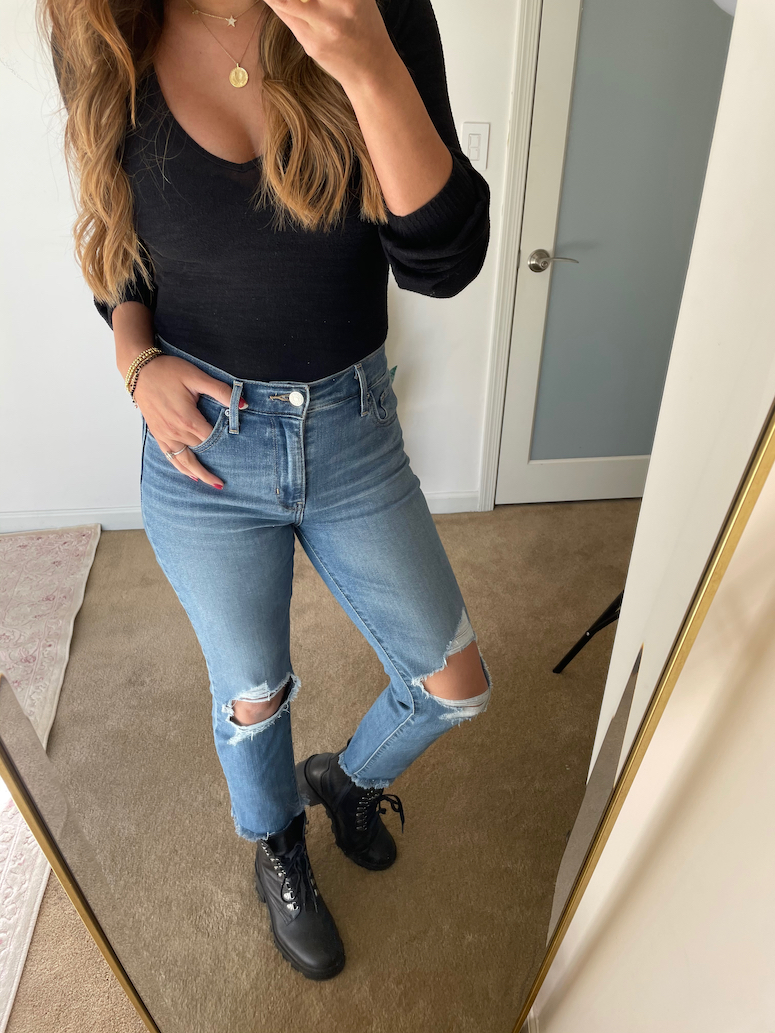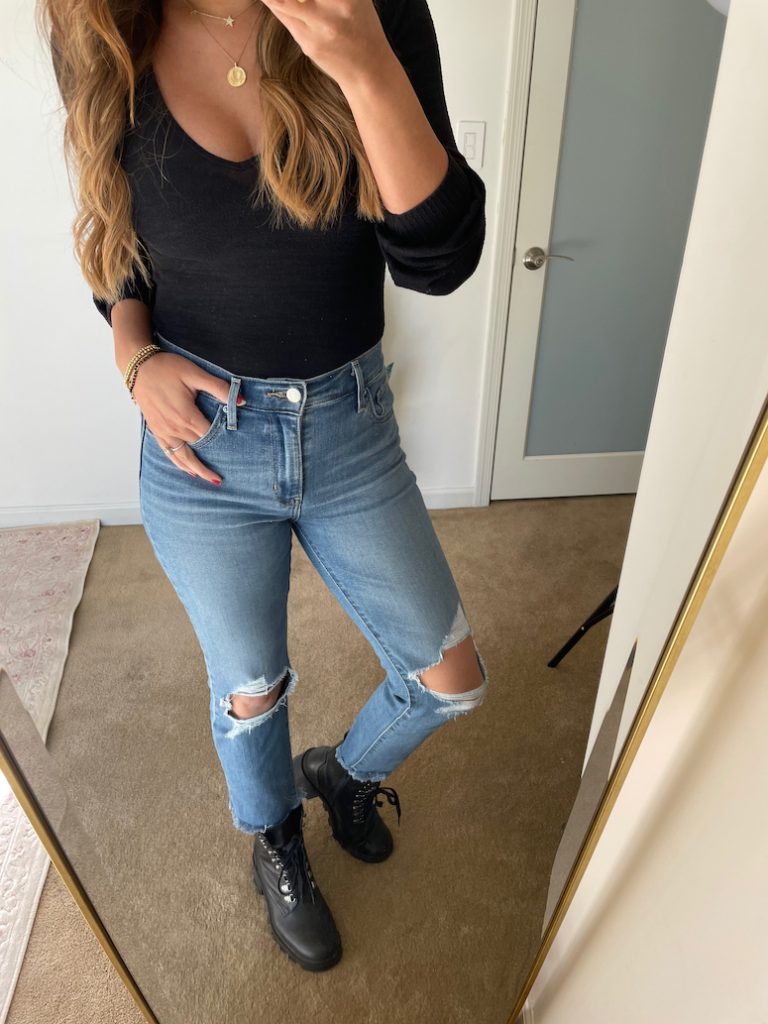 I pair my high-waisted cropped Levi's with combat boots and medium-shaft ankle boots. If you aren't into the combat boots trend, you can also do this with a flat boot.
Pro Tip: You can show a hint of ankle, but generally speaking you won't want to show too much skin so avoid these jeans with a short ankle boot.
More Ankle Boots with Jeans Outfits
Need some more ankle boots outfit ideas? Here are a few to inspire you.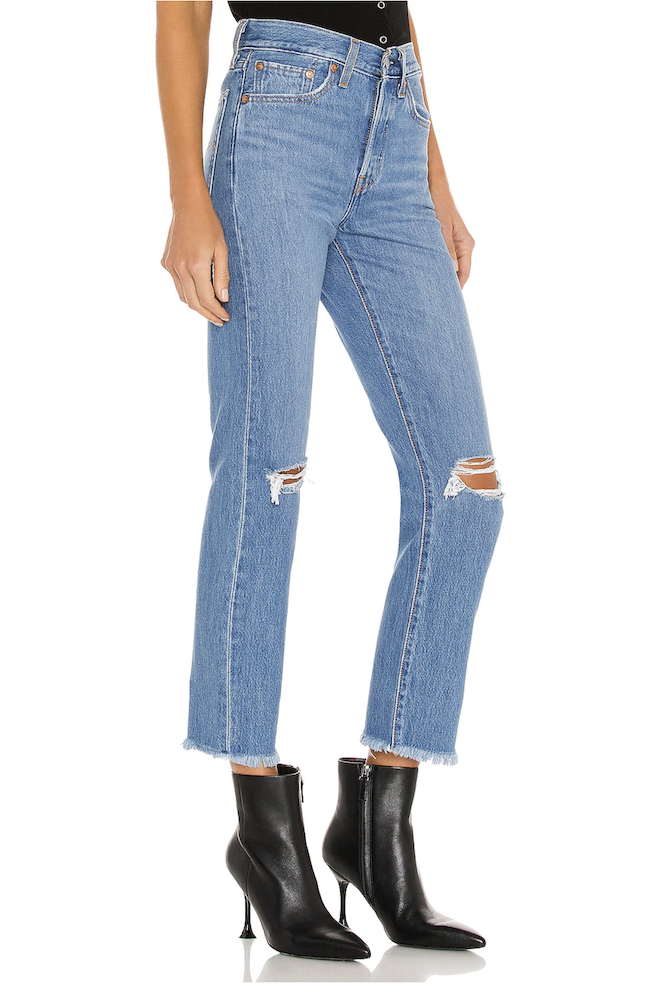 I'm loving the frayed hem of the jeans on these straight-ankle-cropped jeans. They look great paired with medium-shaft black booties and these jeans show a bit of skin.
If you don't love the fringe hem and are looking for something cleaner, try these MOTHER jeans. A bodysuit and pointed-toe ankle boots are a great way to rock this look.
Pro Tip: This is a good option to try for the over-30 set that wants to dip their toe in the mom jeans + booties trend without looking like a 20-something.
Kick flare jeans are definitely having a moment in 2023 and they look great styled with ankle boots.
Flare jeans are also hot right now and I'm loving these coated flare boot-cut jeans. They look great with a pair of pointed toe boots.
These black skinny jeans are cropped at the ankle and look great paired with patent combat boots. They'd look just as cute with a pair of Chelsea boots, flat boots or short ankle boots with a stiletto heel.
RELATED: How to Wear Combat Boots in 2022 (With Pictures!)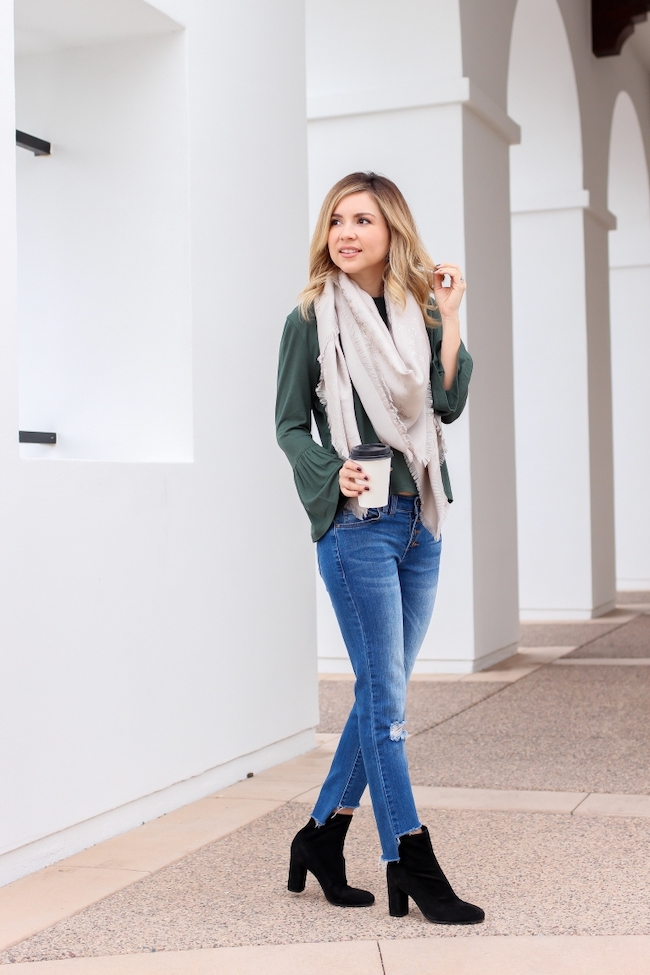 Love sock booties? Try a jean with a high-low hem like Monic of Simply Sutter blog.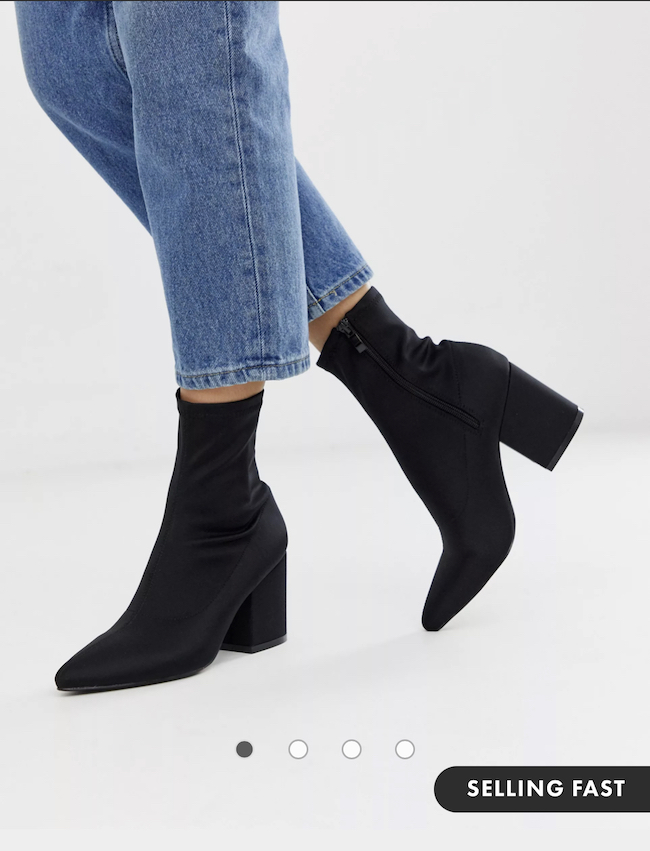 Sock boots are a fun trend to try this fall and are more of a medium shaft boot so follow the tips for styling those above! (These are on sale right now for under $40!)

---
What other style questions do you have? Let me know in the comments below + tell me what your favorite way to wear boots with jeans is!