39 White Kitchen Cabinet Backsplash Ideas That Totally Wow
If you've got white kitchen cabinets and are in need of some ideas for your backsplash, you're in luck! I've rounded up 39 white kitchen cabinet backsplash ideas that go in any kind of kitchen!
Got transitional kitchen or something super modern? There's something on this list that will inspire so let's get to it.
Black Kitchen Backsplash with White Cabinets
If you're wanting a bold look for your modern white kitchen, try this gorgeous black kitchen backsplash idea.
This modern kitchen by Sire Design features white cabinets, stainless steel appliances and a glossy black backsplash that gives a fresh and modern look to the popular white kitchen.
Whitewashed Brick Backsplash
If you're looking for a unique way to infuse your kitchen with a bit of old and newness, try this whitewashed brick backsplash idea.
The brick backsplash plays nicely with the white kitchen cabinets while the black slab behind the range adds contrast and makes quite the statement.
Patterened Tile Backsplash
Want something a tad more exciting than your basic white Subway tile? Make a statement with a patterned tile backsplash.
The light grey accents in the tile perfectly picks up the shade from the countertop color.
Thin White Honeycomb Tile
If you have a two-toned white kitchen where the upper cabinets are white and the lower ones are grey-blue or another color, you may want to keep things neutral with a white backsplash. This will ensure your tile matches both cabinets and creates a cohesive look.
---
RELATED: 7 Must-See Grey and Gold Kitchen Ideas
---
Stacked Colored Subway Tile
If you're looking for white kitchen cabinet backsplash ideas for a modern kitchen, then you'll love this bold green tile laid out in a stacked position. The white grout lines pop against the dark tile and pick up the white from the kitchen cabinets.
White Shiplap Backsplash
Are you a modern farmhouse lover? If so, then try a white shiplap backsplash for your white shaker cabinets.
Bold black hardware creates some contrast from the all-white kitchen, which also features white countertops.
You can also mount the shiplap vertically instead of the traditional horizontal planks. Liz from The Quick Journey has a great post on using shiplap as backsplash.
Popular Home Decor Posts You May Like:
Brick Backsplash
A great way to highlight those white kitchen cabinets is with a brick backsplash. This eclectic kitchen features a range of different materials from glass shelving, marble countertops, reclaimed wood beams, and, of course, the brick backsplash. It's also a popular choice in a historic home and a great way to honor old meeting new.
Bold Kitchen Mosaic Design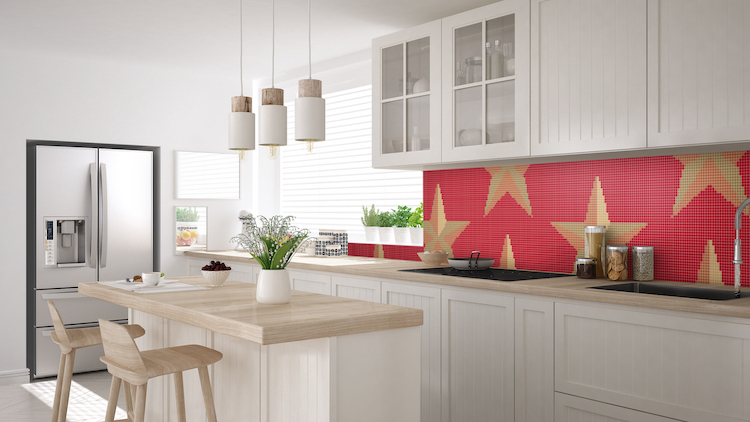 When you're looking for backsplash ideas for a white kitchen that are anything but ordinary, something bold and unique like this mosaic design by Artaic may be a good option to try. This unique pattern truly stands out against the white kitchen backsplash and works well in a more contemporary kitchen design.
White Subway Tiles
This wouldn't be a complete roundup of white kitchen cabinet backsplash ideas if we didn't include a standard subway tile. It's a popular choice for a reason and one that truly stands the test of time.
What's great about subway tile is it works for a variety of design styles: if you have a more transitional kitchen or more of a cottage feel, white subway tile will work for you!
Grey Subway Tile
An all-white kitchen certainly isn't for everyone, so add in some neutrals with a grey subway tile that picks up the grey from the kitchen countertops. It's a popular style in today's transitional kitchens and plays nicely with dark countertops.
White Subway Tile with Picture Frame
Another one of my favorite backsplash ideas for a white kitchen is to create a focal point in your kitchen with a "picture frame" a tile design typically seen above the stove. This is a great way to add some interest to an otherwise basic kitchen design. It's a stylish look and a great way to break up the subway tile backsplash.
Light Blue Backsplash Accent Trim
Add a hint of color to your white kitchen cabinets with a light blue backsplash. Some tile trim in a coordinating color breaks up the pattern.
Traditional White Marble Backsplash
When you think of an elegant kitchen, no doubt a gorgeous marble backsplash is what comes to mind. This pairs beautifully with white kitchen cabinets and is a classic look that will always be in style.
Since marble is a natural stone, each slab will have a unique pattern. And although it's often thought of as a more traditional style, it can be considered transitional, too! Your hardware, decor and cabinet style will also effect the final look and feel of your kitchen.
Colored Subway Tile in a Herringbone Layout
If you love the idea of a subway tile but want to mix things up a bit, try one with a hint of color layed out in a herringbone pattern.
The herringbone style is one of my favorite ways to lay out subway tile, and is what we did in our AirBnB kitchen renovation, linked below.
---
RELATED: Before and After Grey-Blue Kitchen Renovation
---
Neutral Tile Backsplash
If an all-white kitchen just isn't for you, try a hint of color with a neutral-colored backsplash. It's a great way to add a bit of contrast to your white kitchen cabinets without going for something stark and bold like a black backsplash.
Aqua Backsplash
The white look certainly isn't for every homeowner, but white cabinetry can certainly serve as a blank canvas to incorporate other beautiful colors into the mix like in this kitchen.
The aqua backsplash perfectly complements the bright orange appliances and the interior designer continued the color scheme throughout the rest of the kitchen with complementary accessories and decor pieces.
Stacked White Subway Tile
Looking for a unique take on the white subway tile backsplash? Try laying it out in a stacked pattern, which is a more modern take on your traditional subway tile backsplash laid out in an off-set pattern.
White Mosaic Tile
Mosaic tiles can lend a beautiful, shimmery vibe to your kitchen, which makes it a great choice for a white kitchen cabinet backsplash. The tile color itself doesn't have to be an exact match to the cabinets, just try to keep the same color tone in your white tile as the cabinets (warm or cool-toned).
Marble Backsplash with Light Veining
If you have a marble countertop, you can continue the slab all the way up the walls and go for a gorgeous marble backsplash.
This white marble backsplash features light veining, which is a subtle way of introducing another color into the kitchen. As far as kitchen backsplashes go, this one is a personal favorite! It makes for a luxe, high-end look.
Thin Long Tile
Your backsplash tile doesn't have to be matchy-matchy; what you can do is focus on a complementary tile that picks up some of the colors around the kitchen, such as the hardware and countertops.
This long thin light grey tile is a perfect example; it has hints of grey that's also seen in the hardware and countertops.
Glossy Subway Tile
Add some sheen to your white kitchen with a glossy subway tile. This look plays well with an equally-shiny kitchen countertop and is a great white kitchen backsplash idea.
White Vertical Tile
One of the most common ways to lay out tiles as a backsplash is horizontally, but you can also choose to go vertical for a totally different look!
White tile, or even shiplap as seen above, are two materials that can work as a backsplash in your kitchen laid out vertically.
Grey and White Tile
If your white kitchen is a grey and white theme, embrace that with some grey and white tile as the backsplash. The grey is subtle but seen through other areas of the kitchen like the polished chrome hardware and stainless steel appliances.
Blue Backsplash with White Cabinets
Who says you have to stick to grey or white for your kitchen backsplash? A pretty blue hue looks lovely against white kitchen cabinets. The gorgeous pattern is subtle yet adds interest in the kitchen.
Modern Concrete Backsplash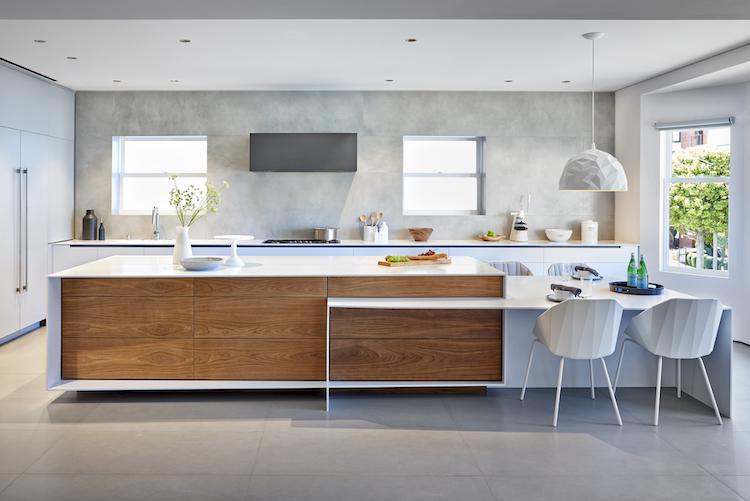 Cooking up a storm in a contemporary kitchen? Go for a concrete backsplash. This minimalist white kitchen features no upper cabinets which lets the backsplash really shine.
Neutral Tile Backsplash
If you're working with black countertops with white kitchen cabinets and not sure what backsplash idea to try, go for an in-between neutral like with this tan backsplash. It complements both the warm white cabinets and the black counters nicely.
White Subway Tile with Trim
If you find white subway tile as a backsplash a bit overdone, add a pop of color with a fun trim. This is a fun way to introduce some color into your kitchen, even when you're working with white cabinets and tile.
White Herringbone with a Picture Frame Statement
There are so many white kitchen backsplash ideas that can be fun and exciting, even if they're subway tile! Two quick easy ways to add a modern twist is to choose a new layout, such as herringbone, and incorporate a patterned statement tile in a picture frame above the stove. The combination is modern and adds some interest to a basic white kitchen.
We did a herringbone layout in our AirBnB kitchen renovation.
Shimmery Grey Subway Tile
Even the finish of your backsplash tile can make a big impact on your kitchen. Case in point, this shimmery grey subway tile. The effect is like a beautiful silver finish that compliments the white cabinets beautifully.
Different Tiles Paired Together
A lot of people consider a white kitchen as a blank canvas, which means you can pretty much choose any backsplash idea! You can even try two different tiles, as seen here. One is more of a pattern and the other is a white vertical tile. This works best on different walls, or even different rooms such as a butler's pantry.
XL Subway Tile
Another white subway tile to try is getting an extra-long tile. It's a bit more modern than the traditional size tiles and still a classic look that looks great in this transitional kitchen.
Square Colored Tiles
If you like the idea of a different shape than usual, try a beautiful square tile in a light hue. These light blue tiles work well with the darker blue shade seen on the kitchen island. They're a subtle way of bringing in some color to an all-white kitchen.
Marble Subway Tiles
In our personal kitchen (you can see the white kitchen renovation here) we went with a marble-looking subway tile similar to this look. It works really well with white kitchen cabinets and grey countertops as the colors in the tile beautifully marry the colors in the kitchen.
---
RELATED: Transitional White Kitchen Before and After Renovation
---
Black and White Tile Combo
Get creative in the kitchen and try two tiles! This look stacks a black tile on the bottom and a white tile on top for an interesting combination that's totally custom. The black tile blends well with the black countertops just as the white tile blends well with the white upper cabinets.
White Honeycomb Tile
The honeycomb tile is a fun and modern shape to try; it's great if you want a white backsplash but are looking for something a bit different! This look is modern and also seen in more boho and eclectic kitchens.
Marble Backsplash with Deep Veining
If you love the look of a marble backsplash that continues straight up from the countertops but also want to make a statement, look for a slab with deep veining. The look is gorgeous and works well with all of the gold hardware and lighting fixtures, even though the veining is a dark grey! Don't be afraid to mix and match your colors.
Square Subway Tiles
How many different ways can you really do subway tiles? The answer is, a lot! Another fresh take is to go for a square tile laid out in an offset pattern.
Mosaic Earth-Toned Tiles
If you have a warm white kitchen, then earth tones will work great as a backsplash idea. The colors in your backsplash should also pick up colors around the room as seen here, like in the furniture, decor or even the flooring.
---
I hope this post helped you find some amazing white kitchen backsplash ideas! Which look is your favorite? Let me know in the comments below.