10 Fall Kitchen Decor Ideas You'll Totally Love (And, they're Easy!)
This year has pretty much felt like a long-ass Groundhog Day. It's insane that we're even thinking about decorating for fall!
But now that Labor Day has come and gone, and I can pretty much smell cooler temps, I've got fall decorating on the mind.
This weekend, I popped by T.J. Maxx and picked up some fall kitchen decor, which inspired me to share even more fun and easy fall kitchen decor ideas!
These ideas are all easy ways to spruce up your home a bit, without breaking the bank or investing what ends up being storage clutter. Enjoy!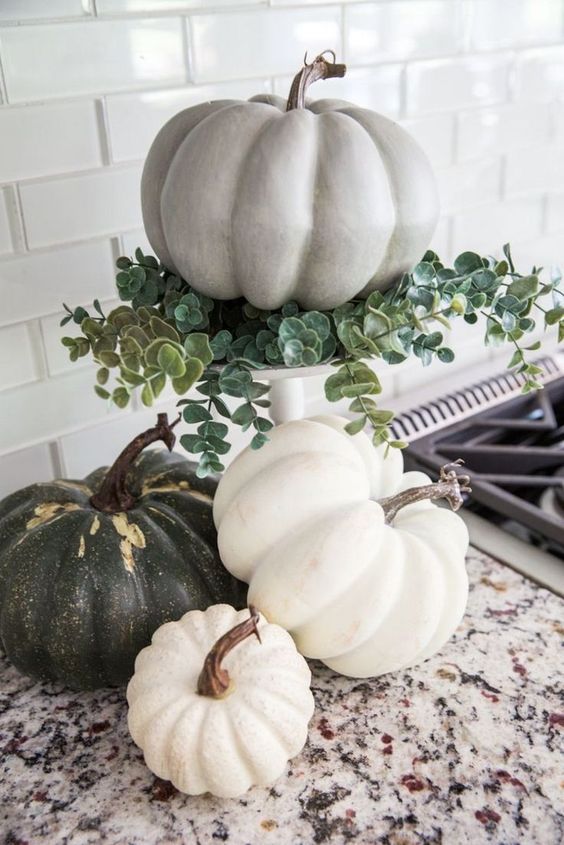 Who said pumpkins have to make a statement! This look perfectly goes with the rest of the kitchen decor in the home, and you can do it with real pumpkins, too!
Rather with decorating with your typical bright orange pumpkins, consider grabbing a few that fit with the color scheme of your kitchen decor.
If you can't find any that match, consider purchasing craft pumpkins and painting them yourself!
You can grab craft pumpkins pretty much anywhere from your local Michael's to Amazon of course.
What's more, this can be a fun fall project to get the kids in on, too!
I love this subtle look featuring beautiful fall foliage with color-coordinated pumpkins on the kitchen island. It's sophisticated yet simple.
What's more, the glass vase is something you can use year-round. Simply swap out the fall foliage for spring flowers when the seasons change.
The pumpkins are also not matchy-matchy. While they complement each other in color, they don't have to be exactly the same.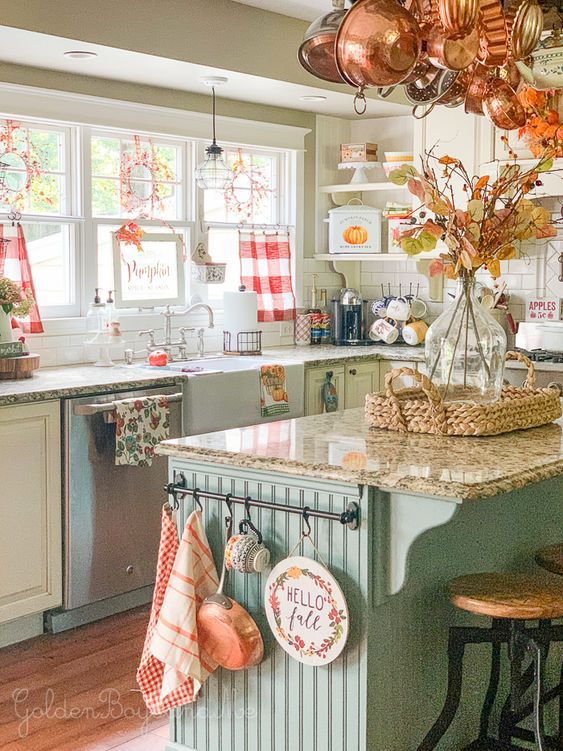 When fall kitchen decor comes to mind, you likely think of alll the fall colors! This rustic look embraces just that, and I love how even the copper pots become part of the decor.
To get the look, shop for tea towels and decorative dishes in a fall color palette that mimics the look of the changing leaves.
If you have windows in your kitchen like this, you can easily decorate them with hanging fall wreaths!
Even the cafe curtains become part of the decor since they all into the color palette.
The large vase in the center is also something you can use year-round with a simple swap of the foliage.
---
RELATED: Easy Yet Modern Thanksgiving Tablescape Ideas
---
If you want something a bit more understated yet modern, update your tray with some wheat grass and a pumpkin. The earthy colors say "fall" and it's a small way to enhance your kitchen.
What's more, like many of these other fall kitchen decor ideas this tray setup is something you could use year-round. Simply swap out the pumpkin for another seasonal decor piece.
I also like to swap out the kitchen candle as well for something a bit more seasonal.
This Harvest Spice candle from Target not only looks pretty, it smells like all-things fall.
---
RELATED: Chic & Cozy Fall Front Porch Ideas
---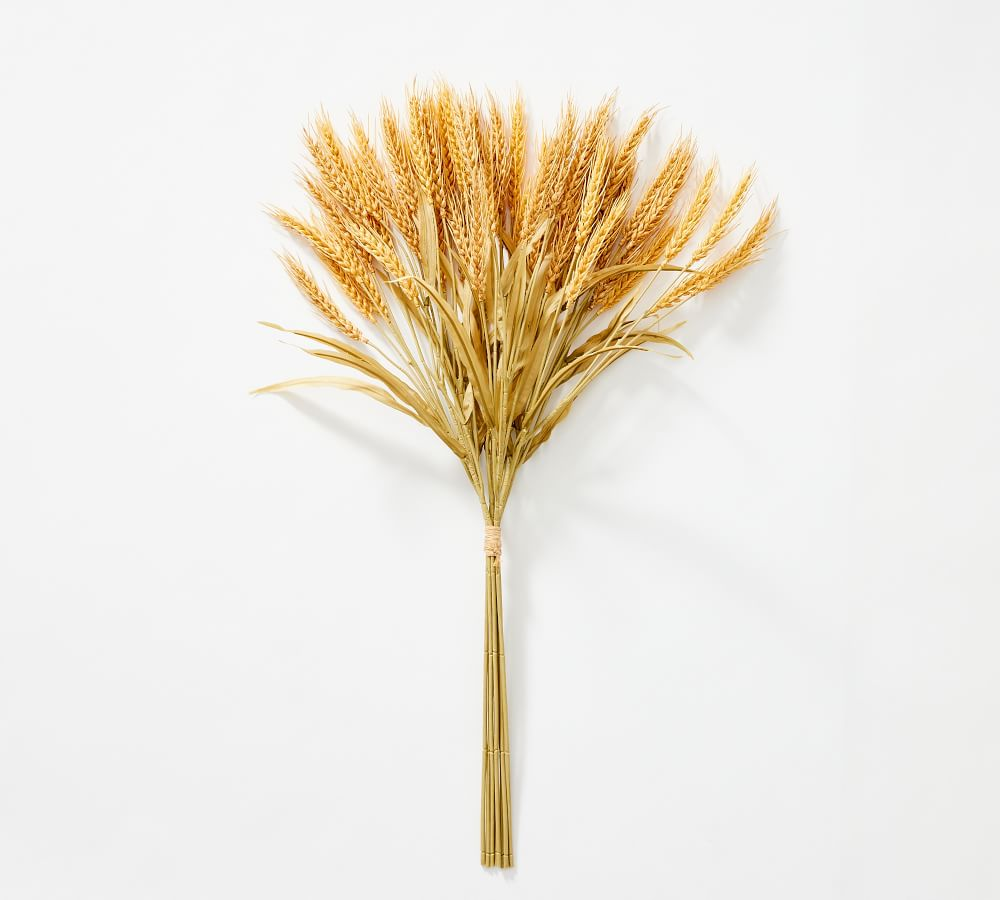 Use a faux wheat bundle like this to get the look.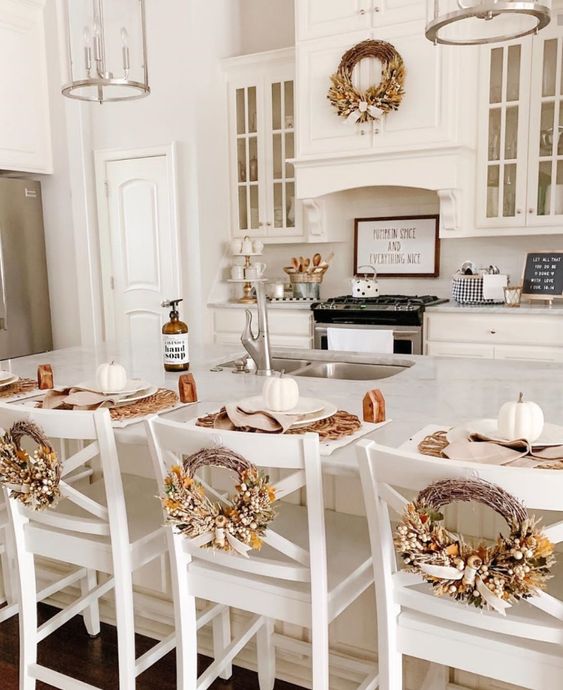 If you want to go all out with your fall kitchen decor, decorate the stools with beautiful wreaths!
This look definitely makes a statement, and the coordinating wreath placed on the kitchen hood ties it all together quite nicely.
I like to shop at Hobby Lobby, Etsy, Michael's and even Amazon for small seasonal wreaths like this.
If you are more of an in-person shopper, you'll find plenty of options at Home Goods and TJ Maxx.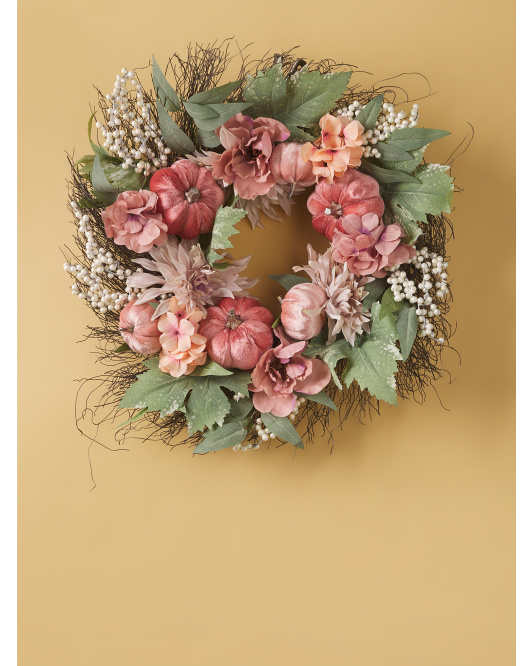 I picked up two of these purple pumpkin wreaths at Home Goods last year and they're lovely! I love the feminine pink and purple color scheme, but also that they have a fall feel.
These wreaths are a steal at under $30 and would also look great at the front door or to decorate a powder room.
Love fall front door ideas? You may like these fall tin door decor ideas.
---
RELATED: 30+ Halloween Party Printables
---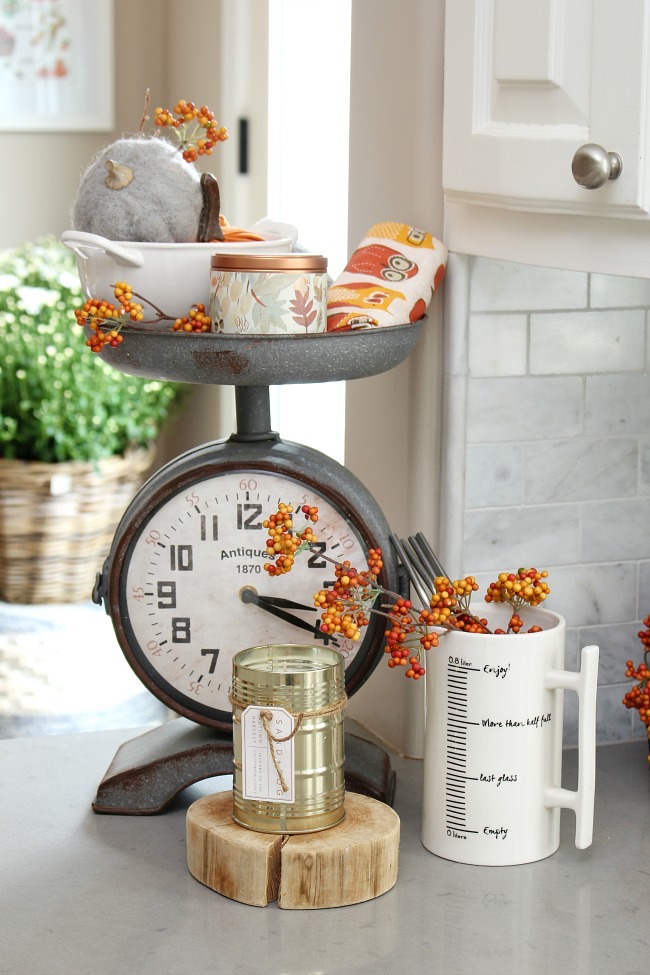 You can easily create a cute little vignette in your kitchen with some antique items, things you already have around your kitchen and a few pieces of fall foliage.
Pro tip: You can find fall foliage like this just about anywhere! Even your local Dollar Tee is likely to have a few affordable sprigs.
Take advantage of that dead corner in your kitchen by creating a beautiful fall setting! This look uses beautiful fall flowers with kitchenware that you can use as well.
Either a round tray or a round cutting board work well here.
If you love the pumpkin bowl pictured, this one is an excellent lookalike!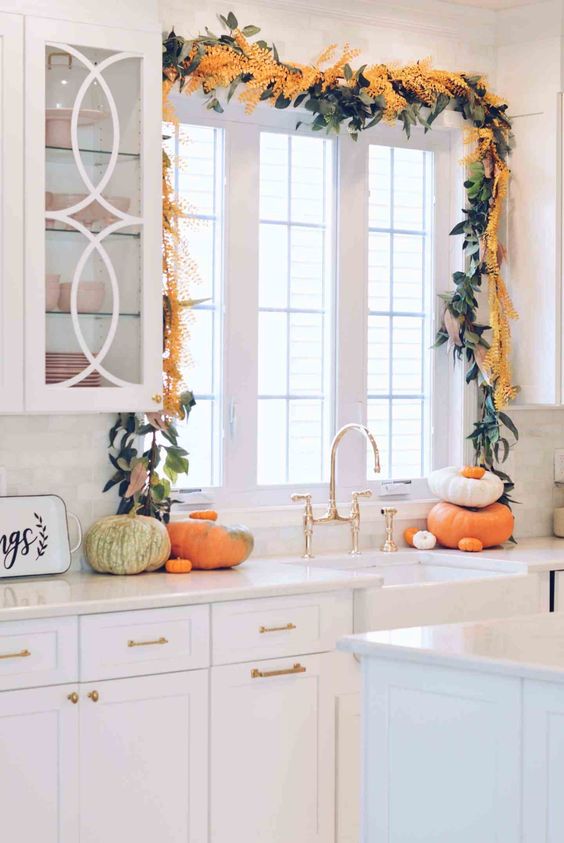 Garlands don't need to be limited to railings and fireplaces; this one looks gorgeous hung above the window in the kitchen! It brings in color to this bright white kitchen in a subtle way, and is an easy decor idea to pull off.
Finish off the look by surrounding the garland with pumpkins. A few real ones should do the trick!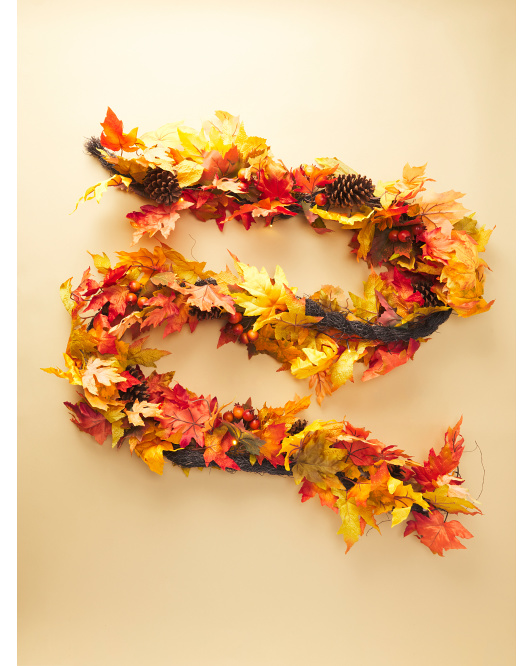 I found a similar fall garland at Home Goods. This one has lights and would also look pretty on a mantel!
For the actual pumpkins, I prefer to buy real ones. Look for some with character and funky colors to spice up the look.
Go glam with a stunning fall floral centerpiece. This look ties in well with the wreaths and brings the eye right to the center of this stunning kitchen.
It's also surrounded by miniature pumpkins which really brings in the fall theme.
If you're intimidated by the idea of putting together your own fall floral arrangement, there are plenty pre-made to get the look without any DIY skills.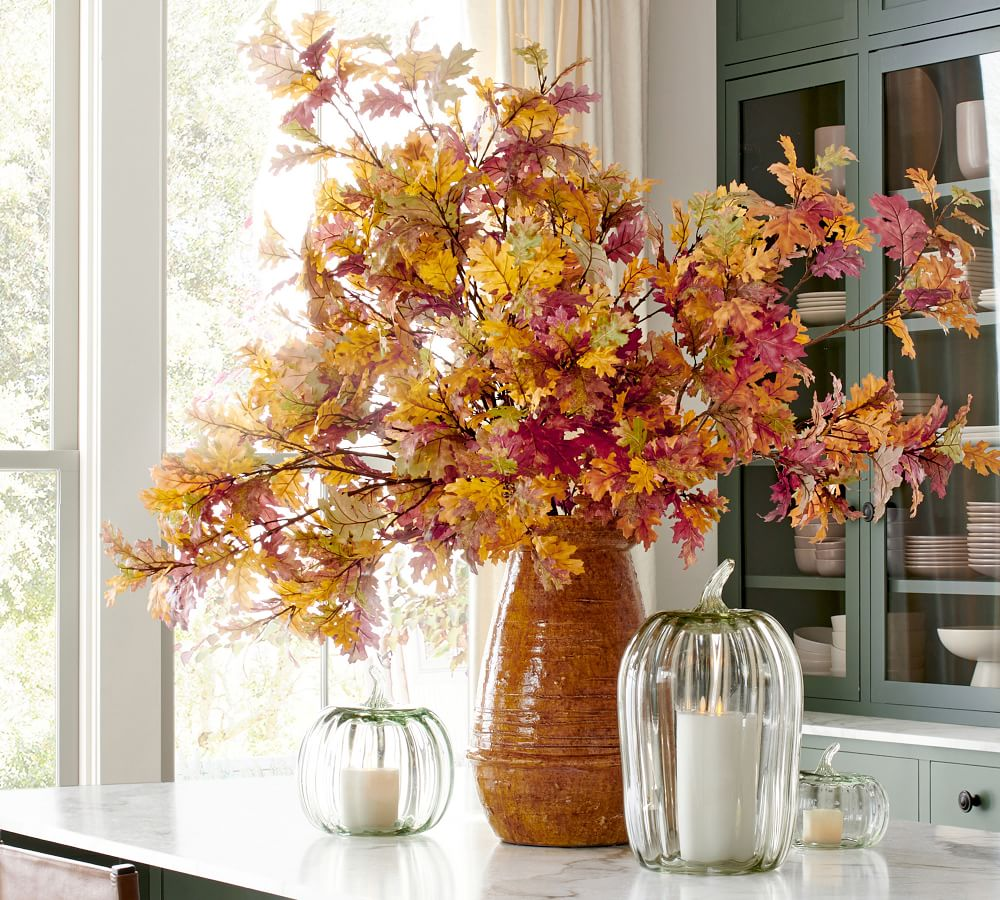 These stunning faux florals from Pottery Barn would make a statement in any home. Just add them to your favorite vase and you've got the perfect fall centerpiece!
If you prefer to keep things light and bright, this white and gold kitchen is a dream.
White and neutral-colored pumpkins bring in the fall feel, without changing up the overall aesthetic of this kitchen.
To get the look, you can easily get some white craft pumpkins and spray paint the stems in metallic gold.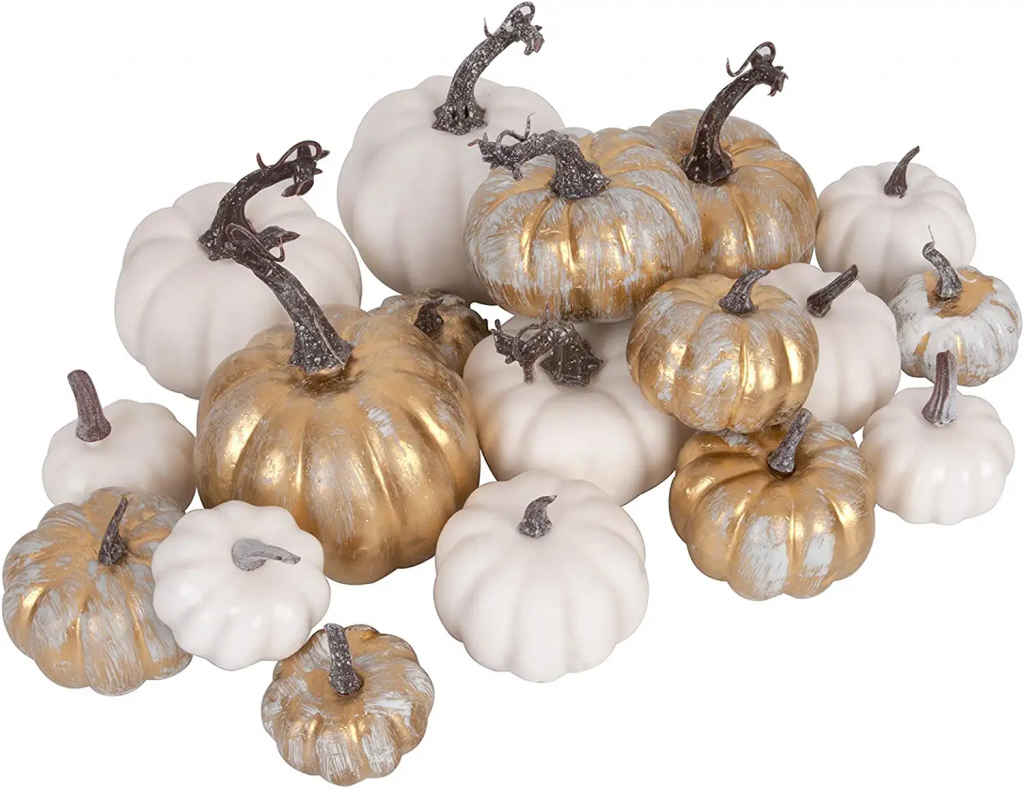 This 18-piece set from Amazon is also super cute and an affordable way to decorate your kitchen for fall.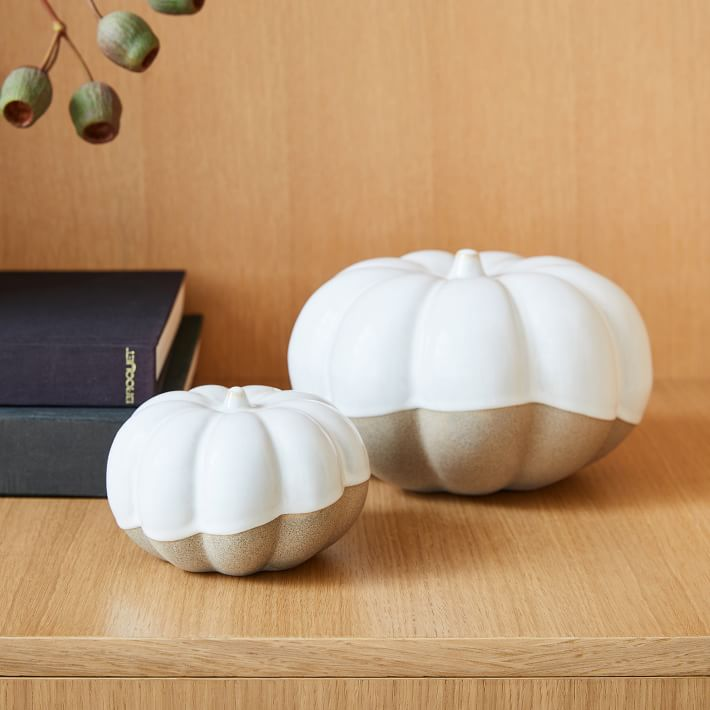 These half-dipped pumpkins are also really cute and have a more modern feel to them.
---
What are some of your favorite fall kitchen decor ideas? Do you decorate your kitchen for the changing seasons? Let me know in the comments below!