30+ Best Halloween Party Printables For The Spooky Season
Before you know it, Halloween will be here! And with that, a full spooky season of fun parties and events. You'll probably need a Halloween party printable or two, so I've rounded up some of the 30+ best Halloween party printables in this post.
Bonus: Most of them are free printables! Happy Halloween and don't forget to share this post with a friend!
Halloween Printable Activities for Kids
Everyone loves scavenger hunts! This Halloween scavenger hunt printable is so much fun. You can use it the entire spooky season and little ones are sure to love it.
If you're looking for a great Halloween activities for kids, try this free printable Halloween haunted house! This Halloween DIY project is a great way to keep the kids engaged this October.
Another cute free Halloween printable is this treat box. You can use this to decorate at home or in your kid's room!
Forget to grab a pumpkin carving template? Grab this free one to help decorate that Jack O' Lantern.
If you're looking for more, you'll love this list of pumpkin carving stencils.
If you have young kids at home they're sure to love this cute Halloween bat printable. It's charming and a little less scary than a lot of other Halloween decor!
Need some Halloween activities? Check out this printable activity book. This is also handy if you're hosting a kids Halloween party this year and are looking for great kids activities.
These free printable Halloween craft for kids is super cute and a great way to get kids crafty this Halloween season!
Speaking of hosting a Halloween party, why not play some games?! This free printable Halloween charades games would be a spooktacular blast.
The older kids in the house will love these free printable Halloween coupons.
These spooky Halloween printable masks or perfect for the littlest ones in your house. And, they're a free printable download!
Halloween Party Printables
If you need an adult Halloween party printable, look no further than this modern printable drink list.
These cute cupcake toppers are edible! Grab these Halloween ghost cupcake toppers to impress your guests.
Between planning costumes to planning Halloween parties, it can be a busy season! Get organized with this printable Halloween planner.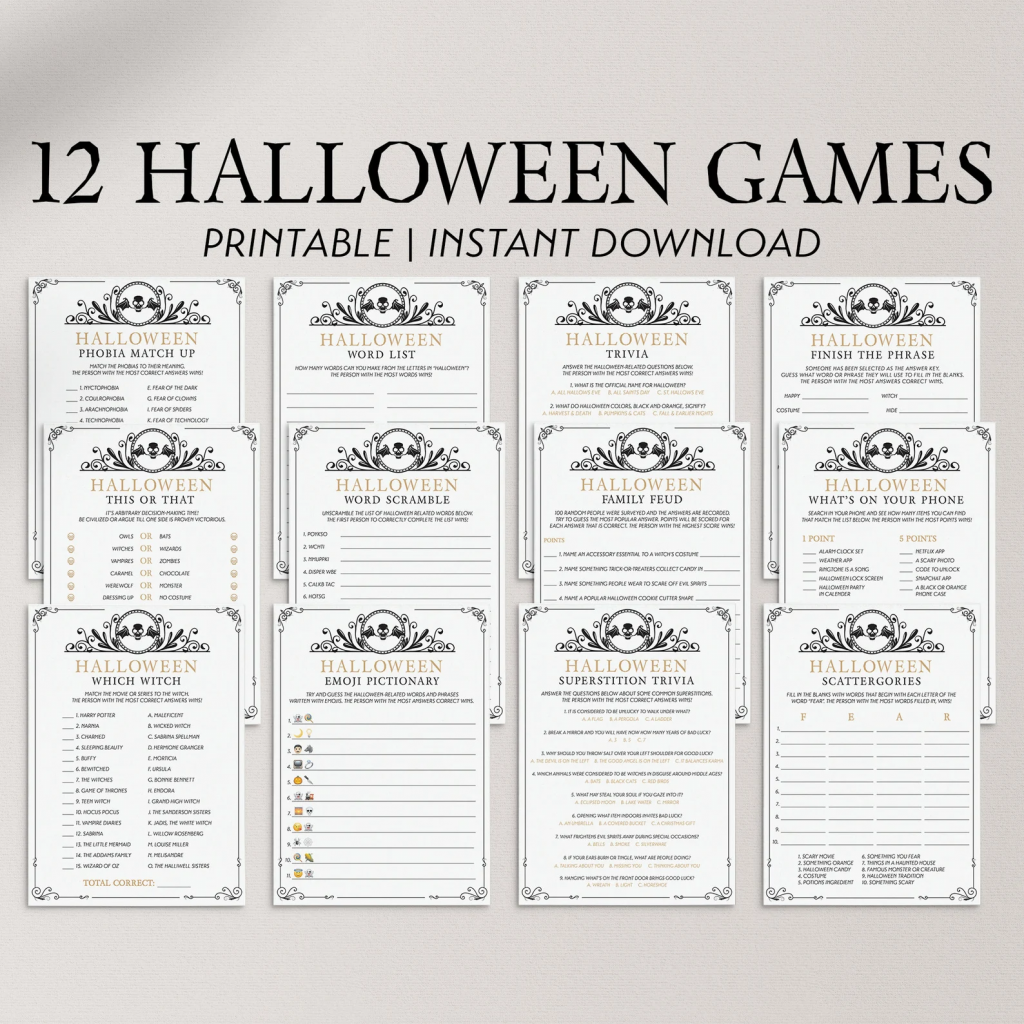 If you're hosting a Halloween party this year, you could probably use some entertainment. This set of printable Halloween games would be perfect to entertain a crowd for some Halloween fun.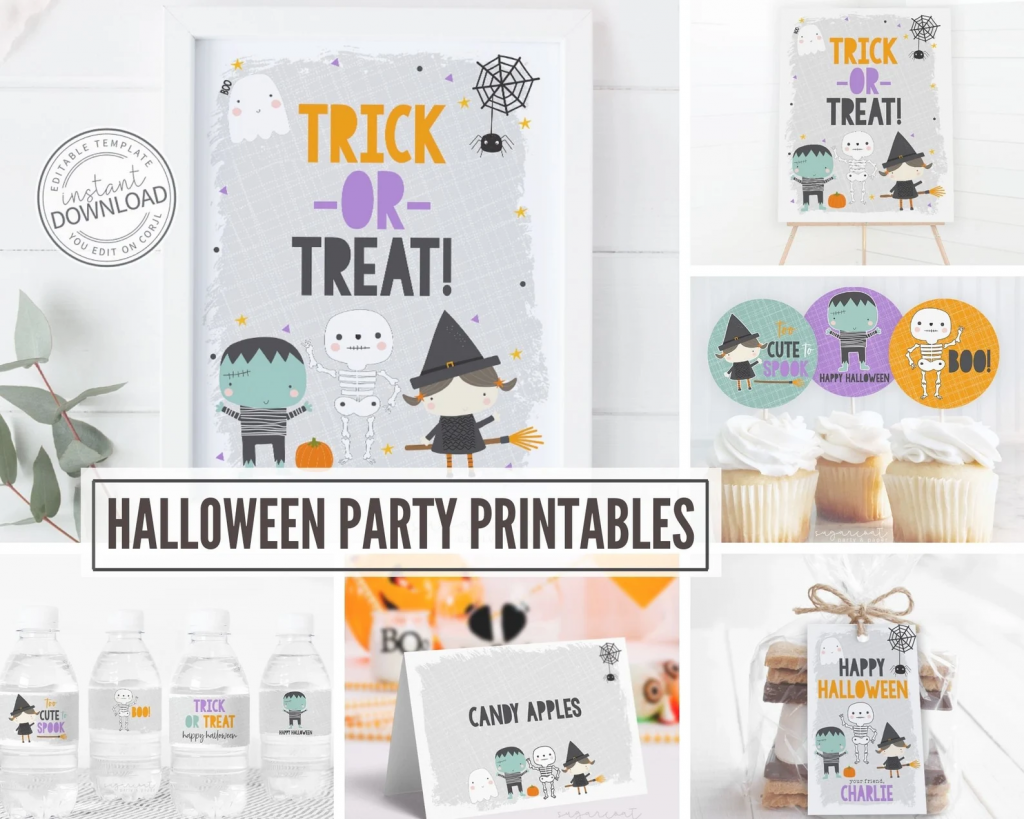 This set of fun Halloween party printables includes everything you need to host the cutest party! From a themed gift tag to labels for your water bottles it has it all. And, it's an instant download!
Printable Halloween Decor for Parties
These spooky cupcake toppers are an easy way to top off your sweets and decorate that dessert table.
Another easy Halloween decor idea is these creepy potions! Grab these printable labels to decorate your jars.
For an upscale Halloween party, grab these printable Halloween party invitations.
For something a bit more gothic, try this printable Halloween party invitation that's easy to edit yourself!
Want to write the wording yourself? Check out these ideas for cute Halloween poems for invitations.
The "You've Been Booed" Halloween trend isn't going away! Grab these printables to get in on the neighborly fun.
RELATED: 13 Spooky Halloween Booed Printables You and Your Kids Will Love!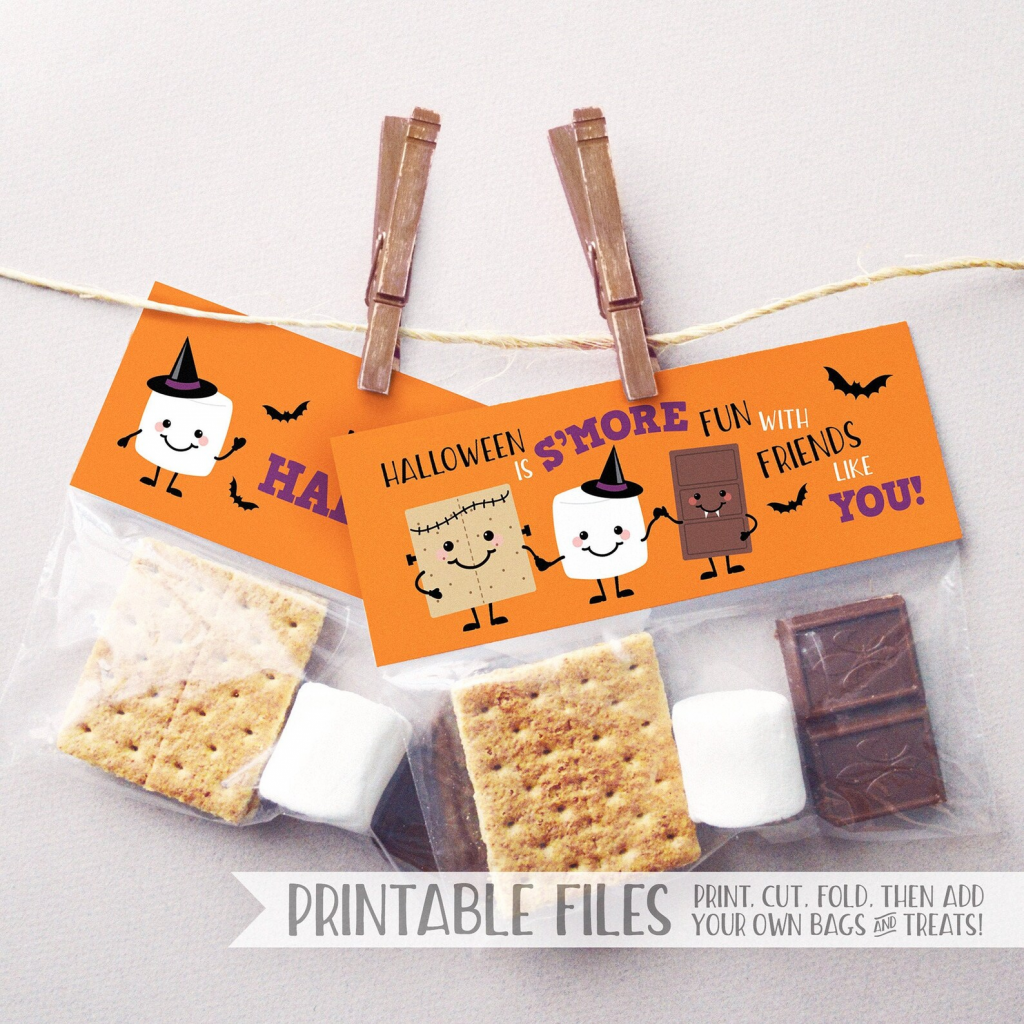 How cute are these Halloween party favors?! These treat bags are easy to put together and a fun way to delight your guests at that Halloween celebration.
Consider an at-home Halloween movie night with the kids, but make it festive! This Halloween popcorn box printable is all you need.
Halloween Party Printable Decor
An easy way to decorate your home for Halloween (or any holiday) is swapping out your frames with some festive printables!
An easy way to decorate your kids room for Halloween is with these colorful wall part printables.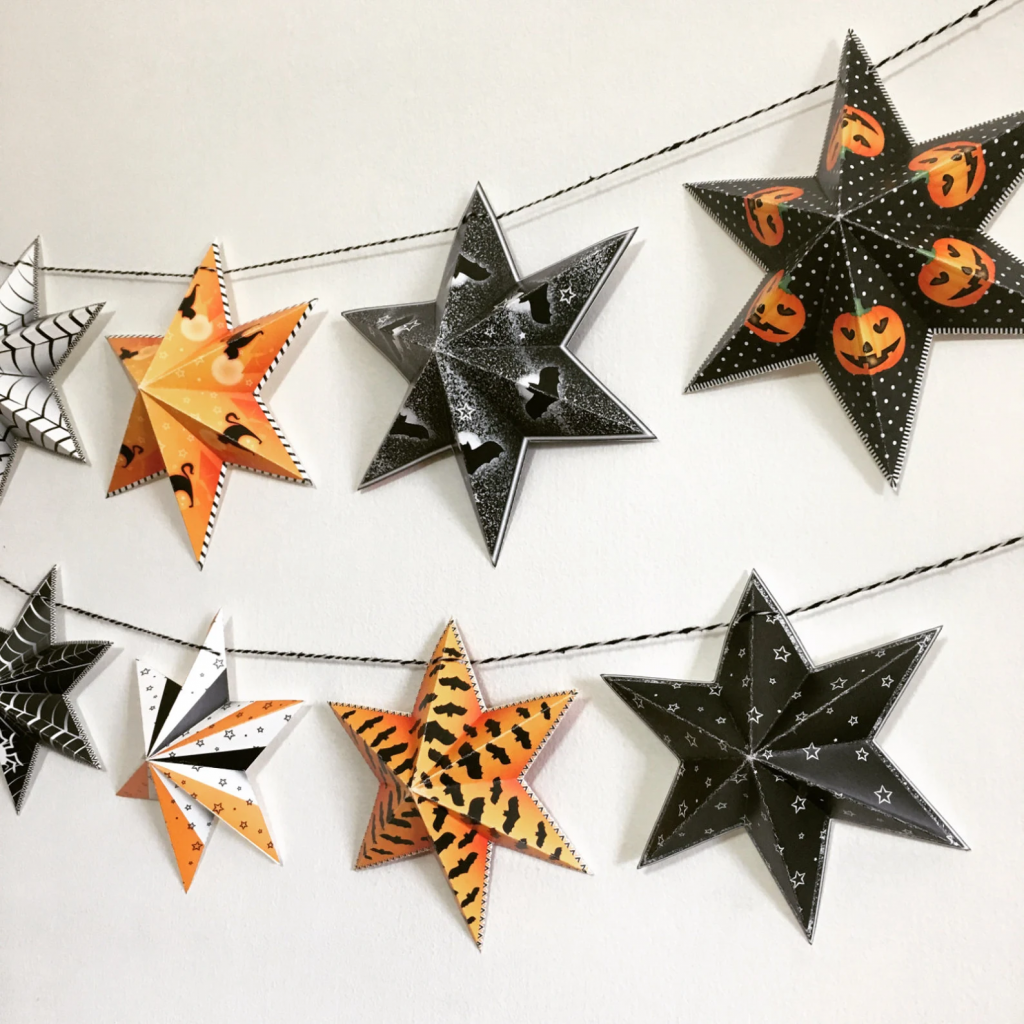 This DIY printable Halloween banner is perfect whether you're hosting or sprucing up your home decor for the season.
If you need some free printable Halloween decorations, try these Halloween bats!
Need a printable banner for Halloween or some free Halloween decorations? Check out the roundup above for loads of festive Halloween printables.
For a chic Halloween party, try this party printable on your food table. It's an easy way to elevate your decor.
If you need a complete Halloween party printable kit, try this set! From Halloween photo booth props to gift tags, it's the perfect way to decorate your party
How cute would this free Halloween printable sign look in the kitchen? It's a great way to decorate your kitchen for fall.
RELATED: 10 Fall Kitchen Decor Ideas You'll Totally Love
Update your home decor for Halloween with this set of free Halloween printables–wall art edition! Just pop them into a frame and you're done.