Boo baskets are a fun Halloween tradition perfect for sharing the Halloween spirit with friends, family and your whole neighborhood!
Not sure what Boo baskets are? Here's the DL: You and the kiddos create a basket of treats filled with Halloween goodies and leave it on your neighbor's front door step. Don't forget the sign that says: "You've been BOOed!" 
It's such a fun way to kick off the holiday season and a total hit among the family, especially if you've got young kids!
The trick is to leave a note with the basket that says "We've been BOOed" as well, so that neighbors can share their Halloween boo baskets with those who haven't received one yet. 
If you're looking for a fun Halloween activity, this one definitely fits the bill! So grab the kiddos and start planning some cute boo baskets.
To help with your Halloween basket, check out these great Halloween booed printables to make Halloween booing a breeze!
Printables for Boo Baskets
You've Been Booed Spider Set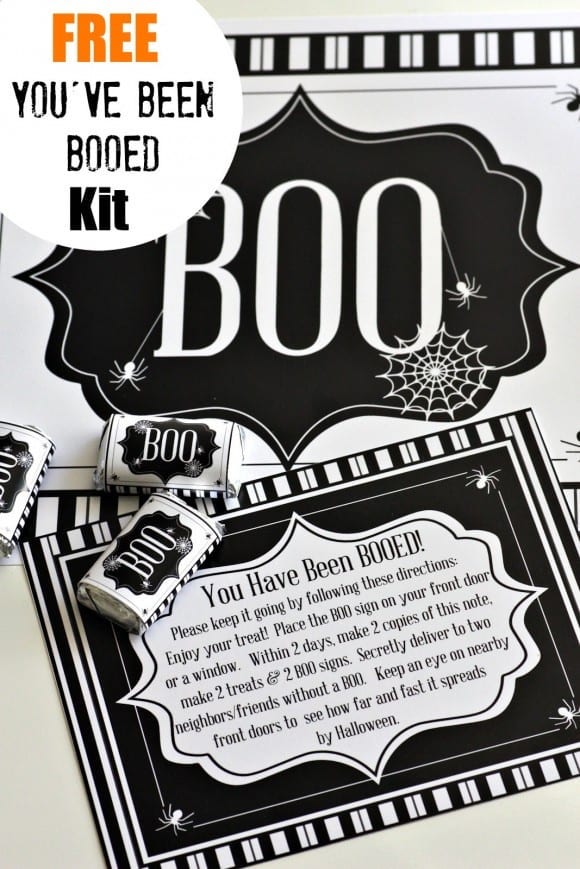 A boo bucket can be fun and colorful, so why not offset that color with some elegant Halloween booed printables that have a black-and-white color scheme? The spiderweb accents are perfect for the Halloween theme without being over the top!
This DIY Booed printable includes instructions for making your own treat bags and mini chocolate bar wrappers, too!
Halloween Booed Gift Bag Kit
Not the DIY type? This Halloween Booed Gift Bag Kit includes everything you need, and is just $3! You can snag this at Target; just fill with some fun treats, leave it on your neighbor's door and you're good to go! Get it here.
You've Been Booed! Free Printable With Instructions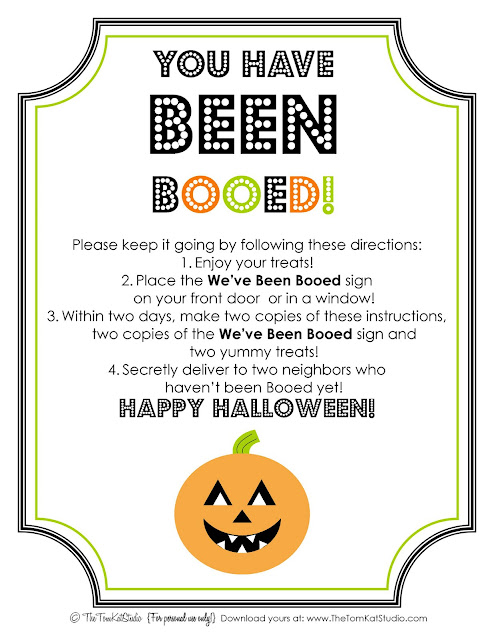 When it comes to free printables for boo baskets, you won't want to pass up this fun monster-themed printable with instructions! This printable set is a free download and includes the sign as well as instructions for the recipient. The latter is a "must" since this is a newer trend and a great way to get the entire neighborhood involved!
You've Been Free Booed Printable Sheets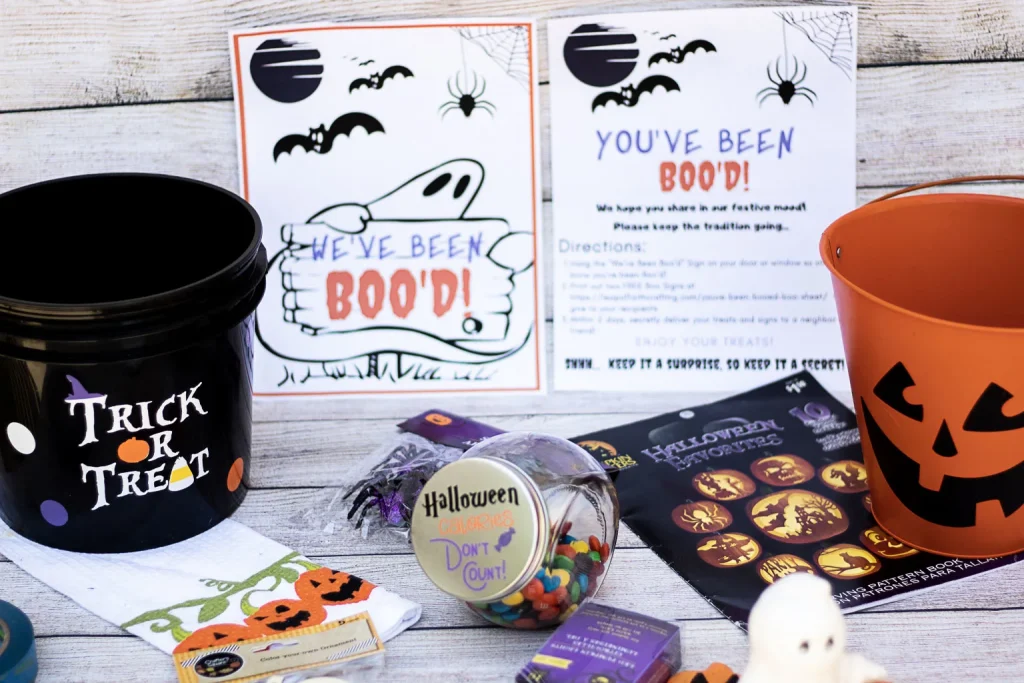 Spread some Halloween cheer with these free printable Booed sheets that come with some spooky illustrations and even instructions that include a link to the printable so that your neighbors don't have to hunt for their own! 
In this post, Amy also shares how they easily put together their basket of Halloween treats with items from Target or Dollar Tree!
Orange and Black Booed Card Kit
This You've Been Booed Kit from Amazon includes 4 pieces to make your new Halloween tradition a breeze! Simply add in your favorite party favors and candy. Shop it here.
You've Been Booed Door Hangers
If you're looking for something more unique, why not consider this boo basket door hanger! This printable PDF can go right on the doorknob, perfect for times you're trying to be sneaky and planning a doorbell ditch!
---
RELATED: Fall Kitchen Decor Ideas You'll Totally Love (And, they're EASY!)
---
Vintage Inspired Free Printables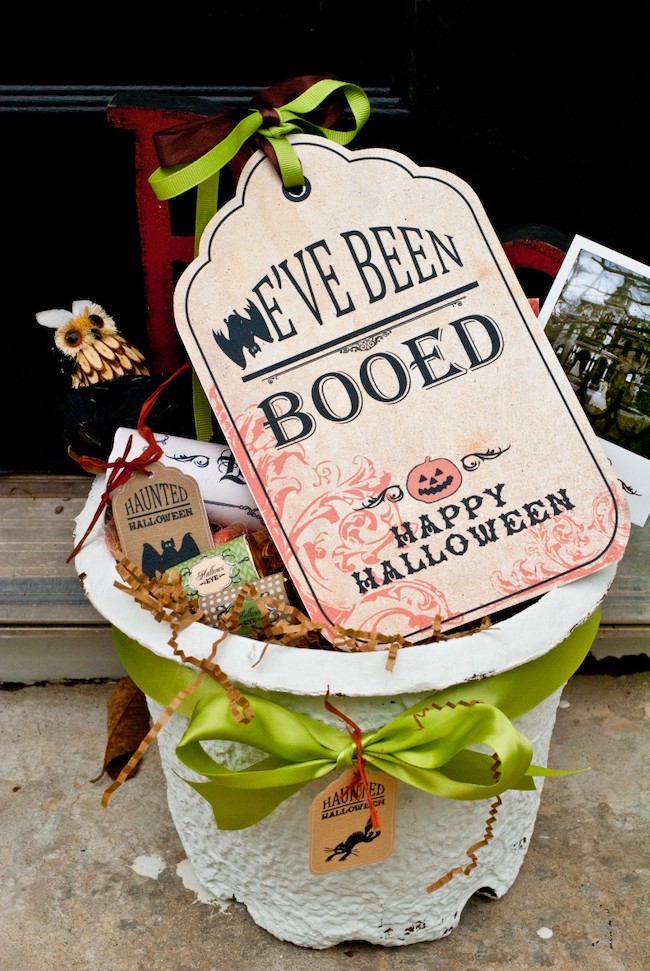 Let the neighbors know you've been Boo'ed with this free printable door tag! I love the vintage-inspired look on this free Halloween booed printable. It's perfect for creating a basket that is welcoming and inviting while still capturing the good ol' Halloween spirit. 
Halloween Ghost Booed Printable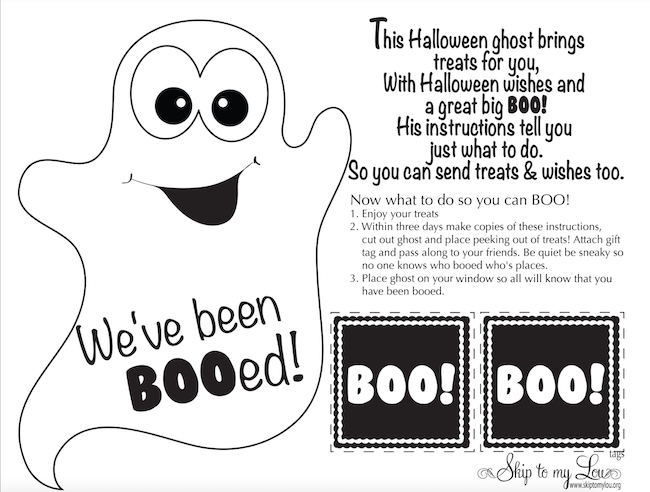 My kids love a good friendly ghost illustration, and this one is no exception! This cute cartoon ghost pairs well with any type of boo basket for a spooky and fun Halloween surprise.
Halloween Treat Boxes and Boo'd Cards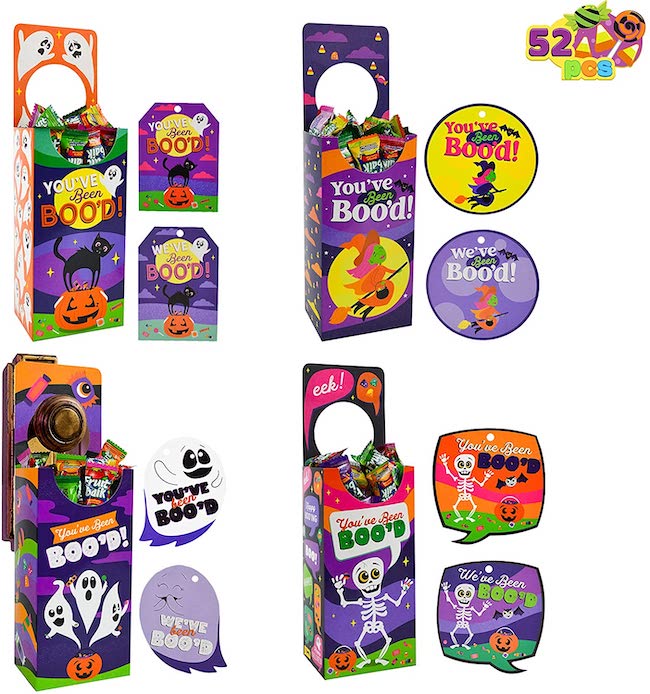 Planning on surprising several neighbors? Then try this set of Halloween goodie bags! You can add candy to the door hangers and include the Boo'd cards as well. This is probably as easy as it gets! Shop it here.
We've Been Booed Free Printables Set
This is a no-nonsense printable that gets straight to the point and includes instructions, making it ideal for families who aren't familiar with the tradition yet! Gift this to unsuspecting friends so they can get in on the Halloween fun, too!
Cute Ghost Halloween Booed Printables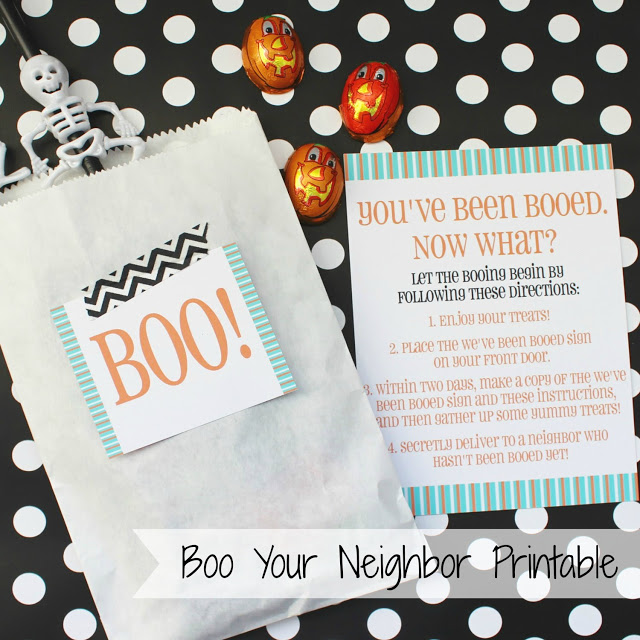 This colorful teal printable is eye-catching, fun and perfect for any boo gifts. There's also a printable tag that comes with instructions.
Ghostly You've Been Booed Free Printable Set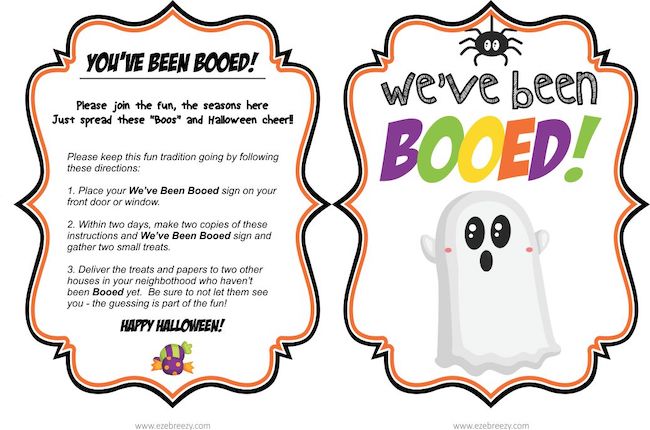 Another fun sign with a cute ghost, eye-catching colors–and of course, instructions that will help your boo basket giftee learn the ropes of the tradition. This one has a fun but somewhat complex cut-out shape, so you might want to take over safety scissor duty from your little ones.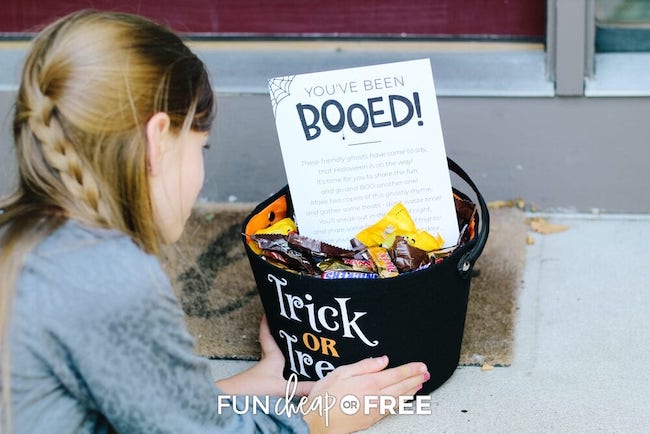 This printable is simple and to the point without neglecting the Halloween charm! It has clear instructions and will fit easily in any basket.
If you're looking for a fun tradition to try out with your kids this Halloween season, start putting together a boo basket! It will be a "scary" good time!
---
I hope this blog post has helped you find some fun Halloween printables! Do you or your neighbors exchange a Halloween Boo basket? Let me know in the comments below!