How to Wear Combat Boots in 2023
I LOVE the combat boots trend for women. It's comfortable, it's cute, it's casual. It's a great go-to mom shoe.
In fact, ever since I got my combat boots I've worn them nearly every day of the week! Yes, they're that good, that comfortable and that easy to style.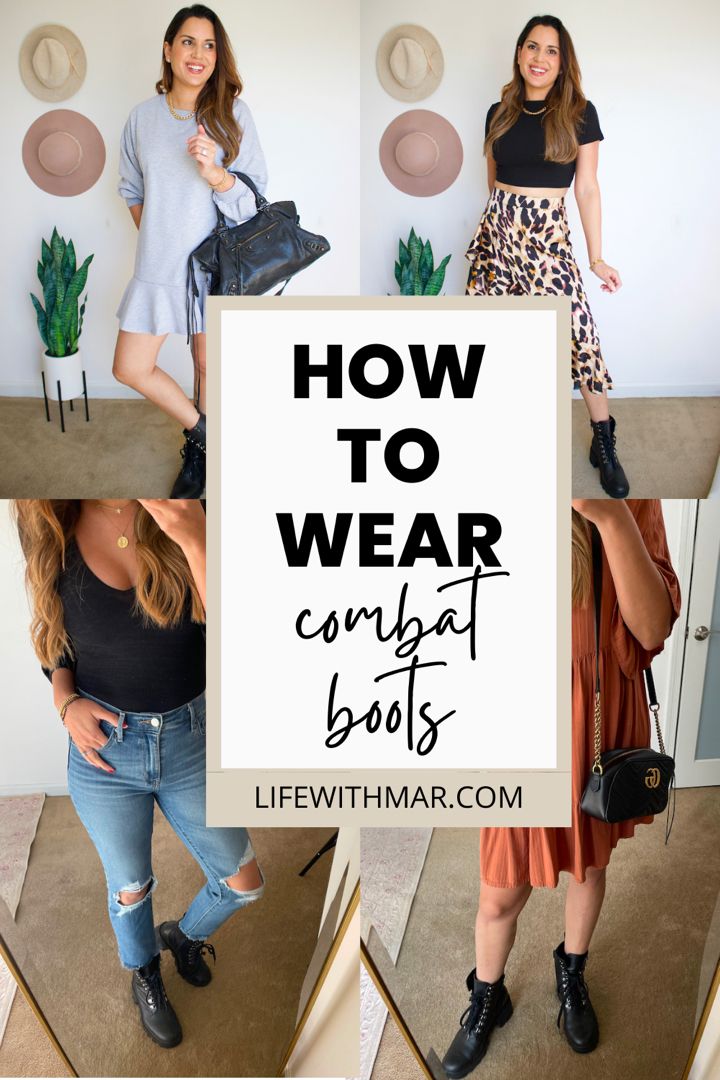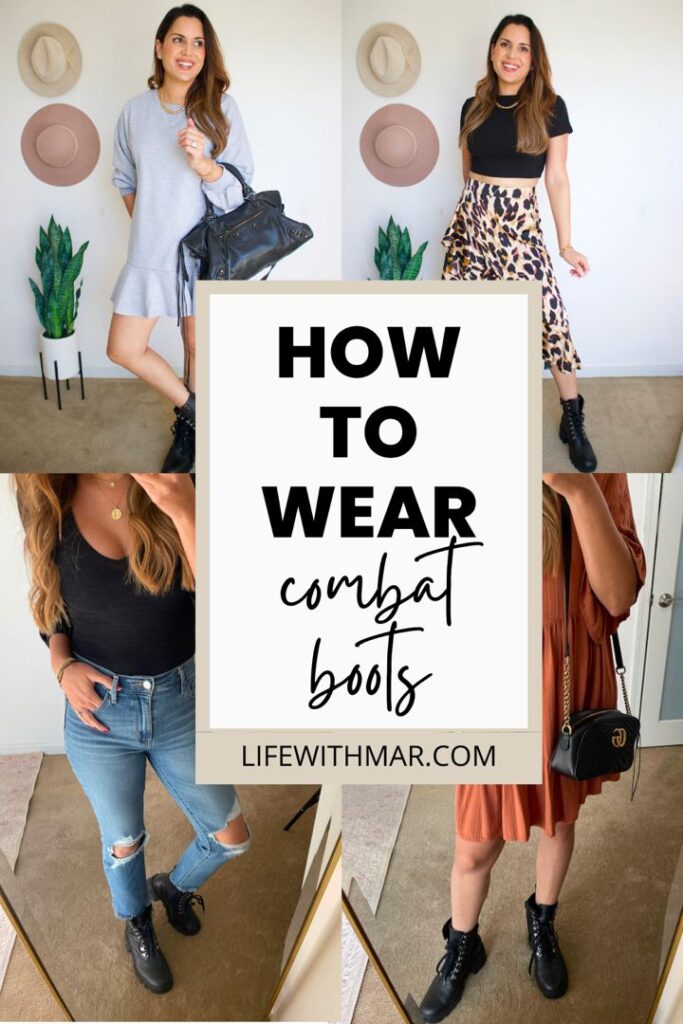 If you aren't on the combat boots bandwagon yet, let this post convince you. Because of all the reasons above. And because they're badass. Go ahead, brush off those Doc Martens if you still have them!
Here, I'm sharing exactly how to wear combat boots in 2022. Yes, you can wear them with jeans, you can wear them with dresses…heck, you can even style combat boots with skirts. Here's how.
More of a video person? Check out my YouTube video below.
Combat Boots Outfit with Jeans
No need to overcomplicate this look, you can totally wear combat boots with jeans.
This look is fashion-forward if you go for a high-waist cropped flare, or a cropped straight leg jean.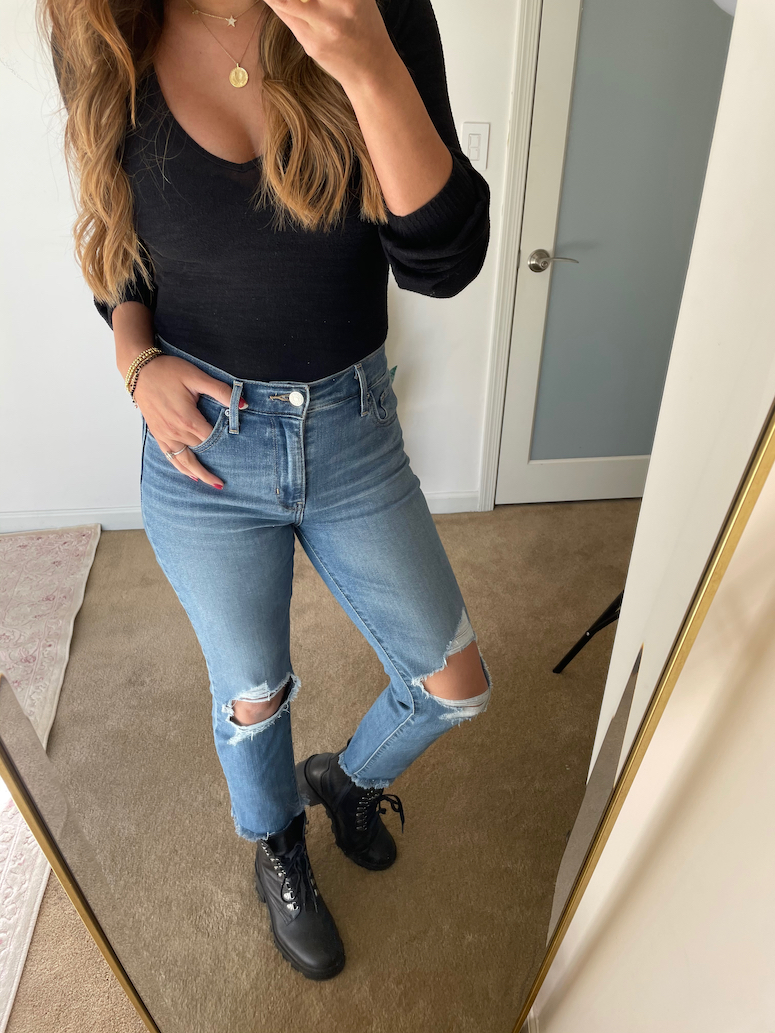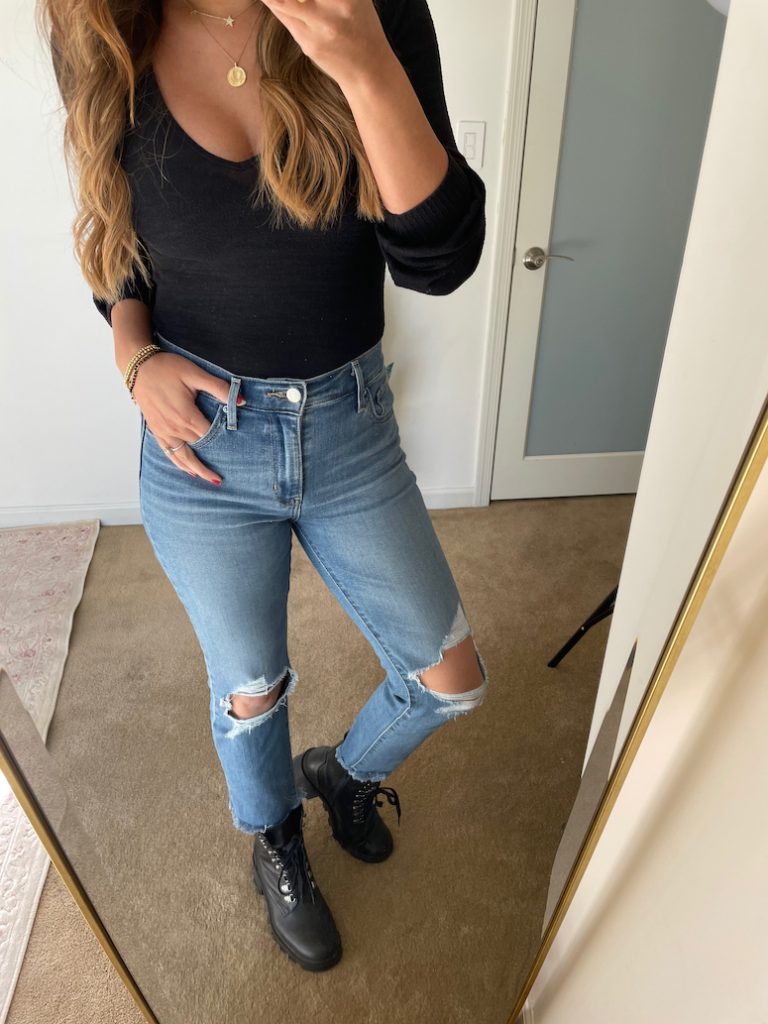 I styled mine with a basic bodysuit and it's an easy everyday look. No fuss, no muss!
Another cute way to wear combat boots with jeans is to cuff your jeans. Hint hint: this is a great way to work with the jeans you already own!
PRO TIP: Ideally, you'll want a bit of a break between your jeans and the boot. I'd give this same style tip if you were wearing any kind of ankle boot with jeans. So take stock of your jeans and their lengths and then go from there.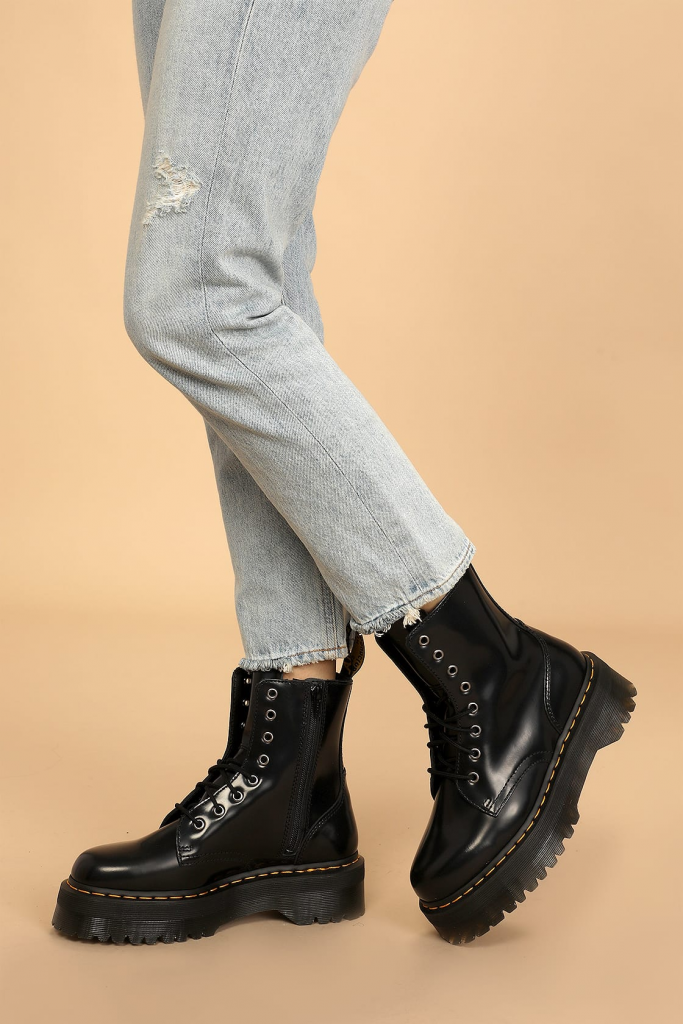 Do You Tuck Jeans Into Combat Boots?
If you're wanting to wear combat boots with skinny jeans and they aren't cropped, you would tuck them in. However, ideally, they aren't LONG skinny jeans where you end up with a bunched-up look.
More Boots Outfits Posts You May Like: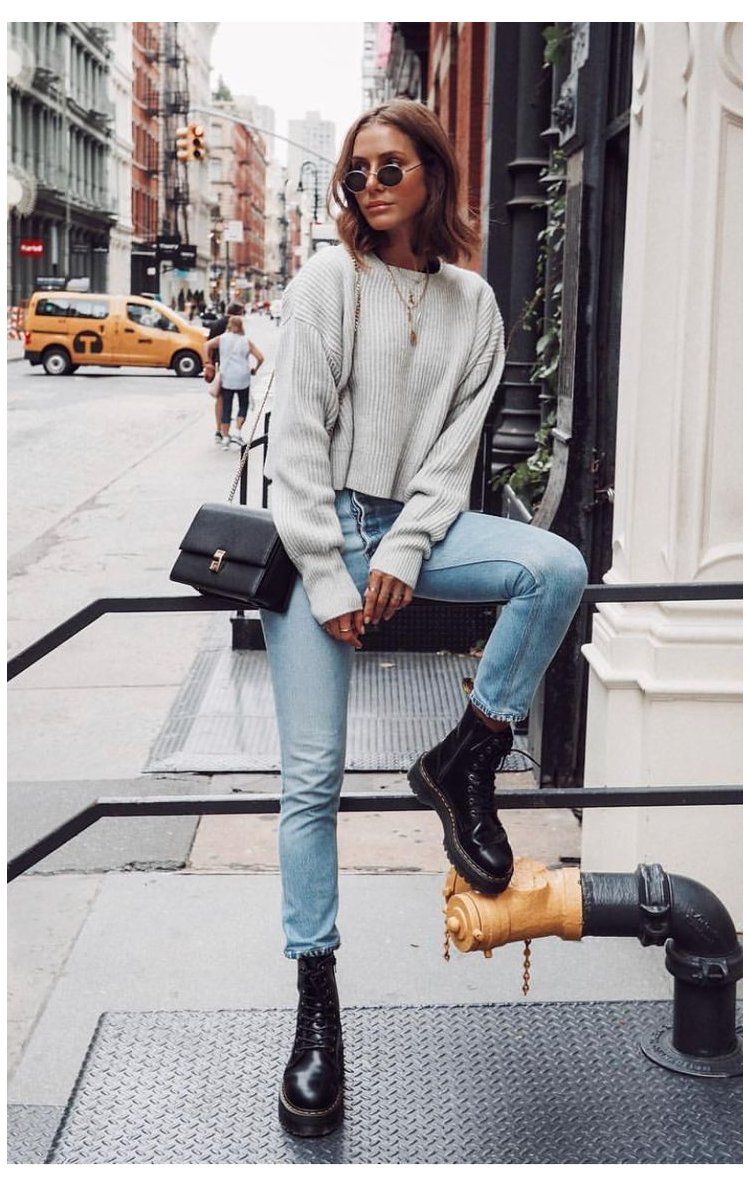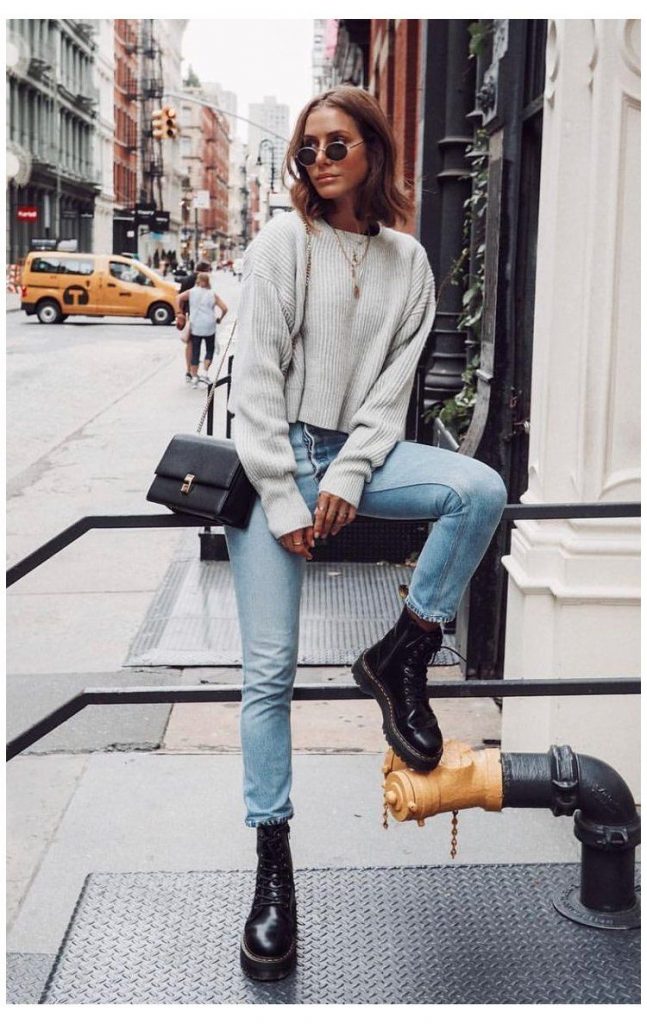 It really doesn't matter the cut of jean you choose: combat boots look great styled with skinny jeans, flares, straight leg, cuffed jeans, basically all of them!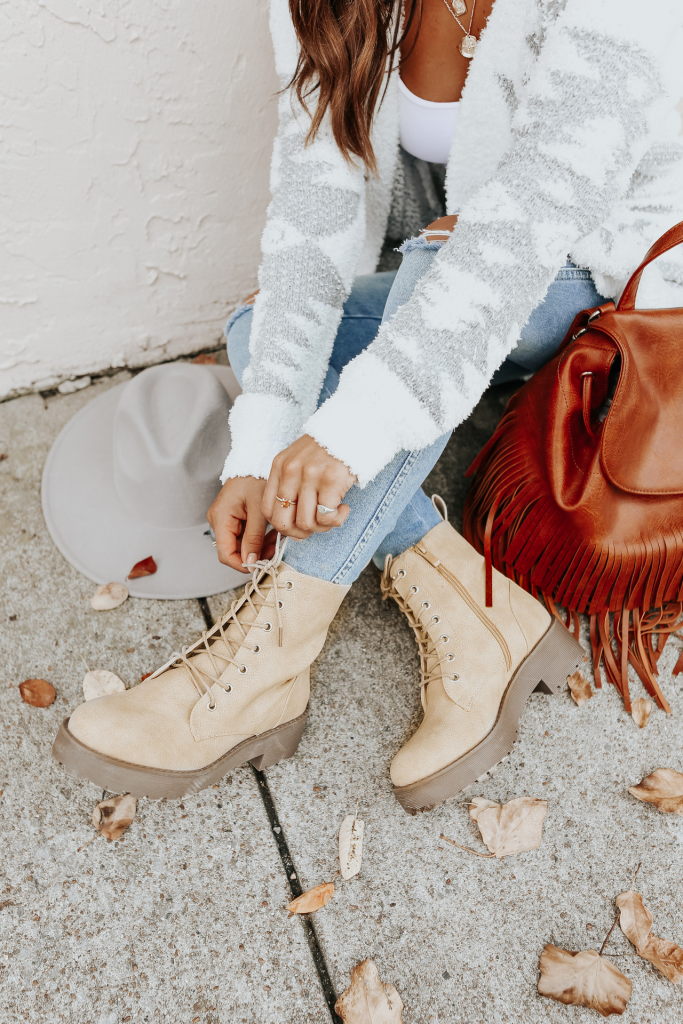 If they're a tad too long, tuck them in. If they're definitely too long, try a different pair of denim.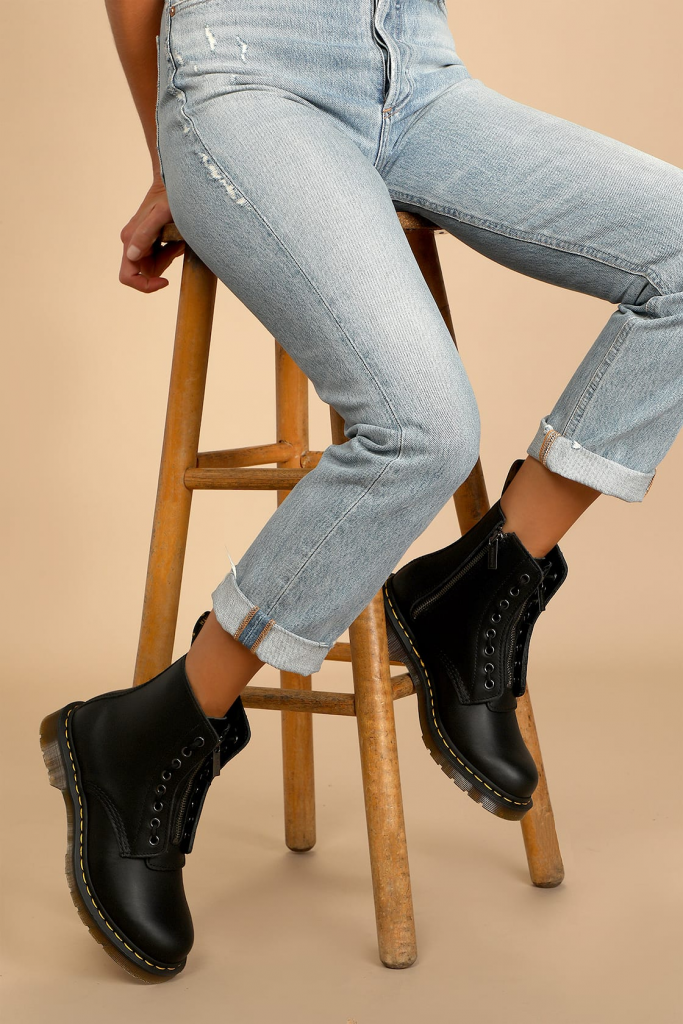 Another trick you may want to try is to cuff your jeans. This way, you show a bit of ankle and don't have to fret over your jeans being too long.
How to Style Combat Boots with Dresses
If you aren't sure what to wear with combat boots, try a dress!
I LOVE combat boots worn with dresses. It's unexpected, fashion-forward and an easy look!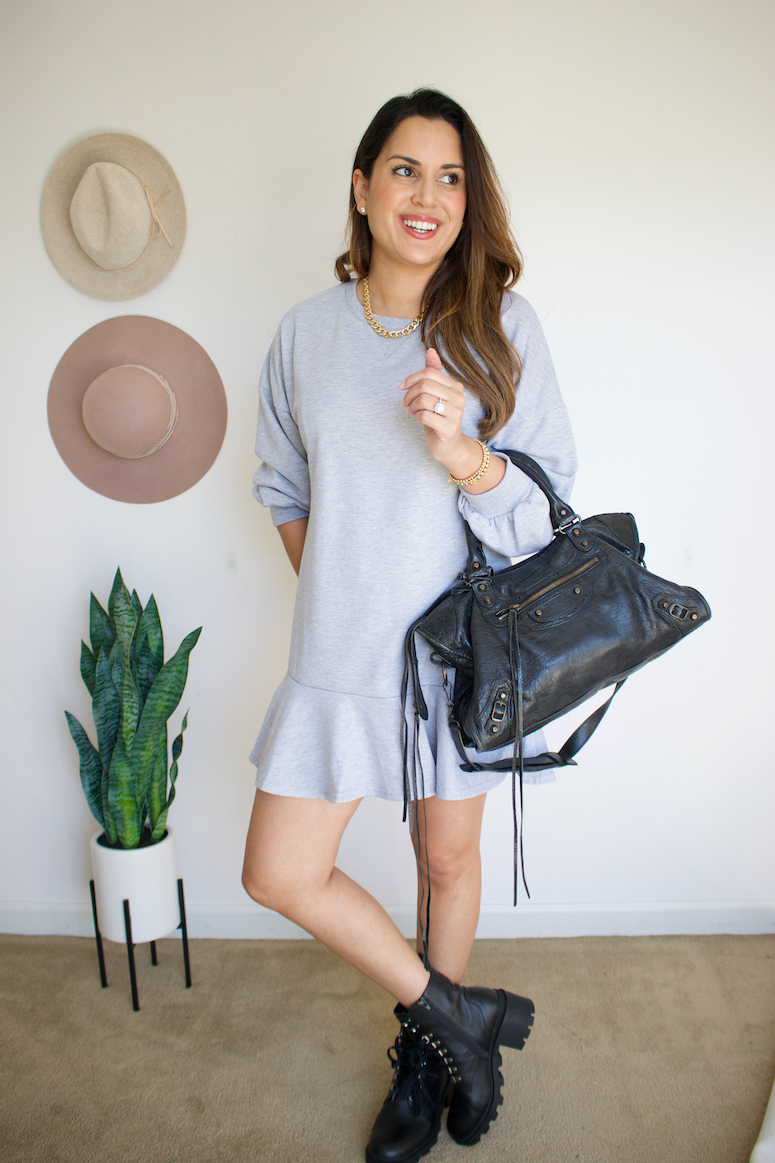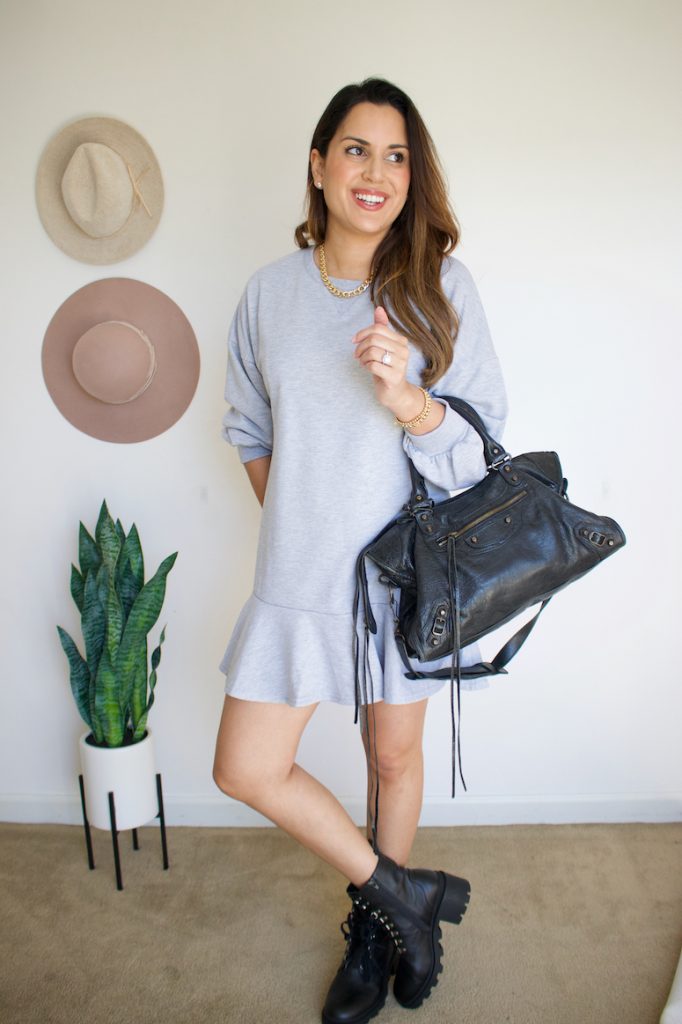 Try it with a ruffle dress like this; the flirty feel of the dress is a nice contrast to the grungy boots. Since this dress is a sweater-like material, it's an easygoing casual look.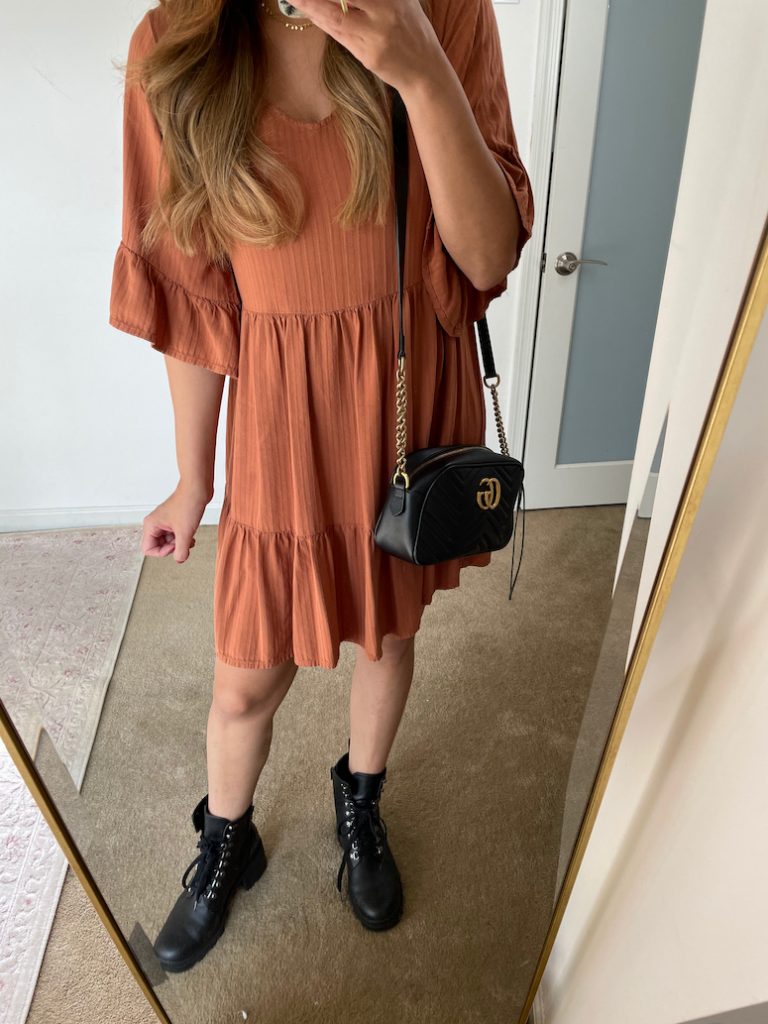 I've also done combat boots with everyday dresses. And this is an easy way to transition to spring and summer fashion, too. Just pair your combat boots with short fall dresses, sans tights or jackets, and you're good to go. More on that below!
Maxi Dresses are Made for Cute Boots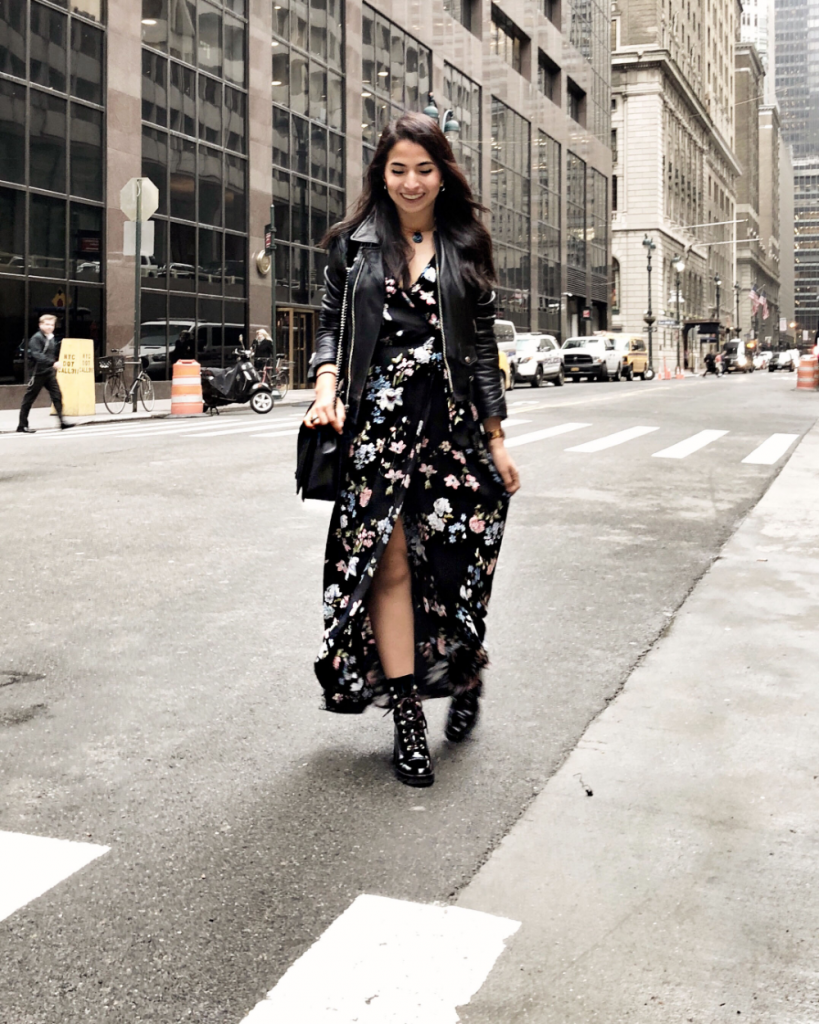 If you've got a long maxi dress with a big beautiful slit, try it styled with your combat boots! It's fun, sexy, unexpected and another one of my favorite ways to see this worn.
This floral Amazon dress is a super-easy way to pull off this look (I have it in 2 colors!).
It's a bestseller and you could go for a fall-color print for fall/winter or style this dress with white combat boots in the spring/summer.
---
RELATED: How to Wear a Romper with Boots without Looking Ridiculous
---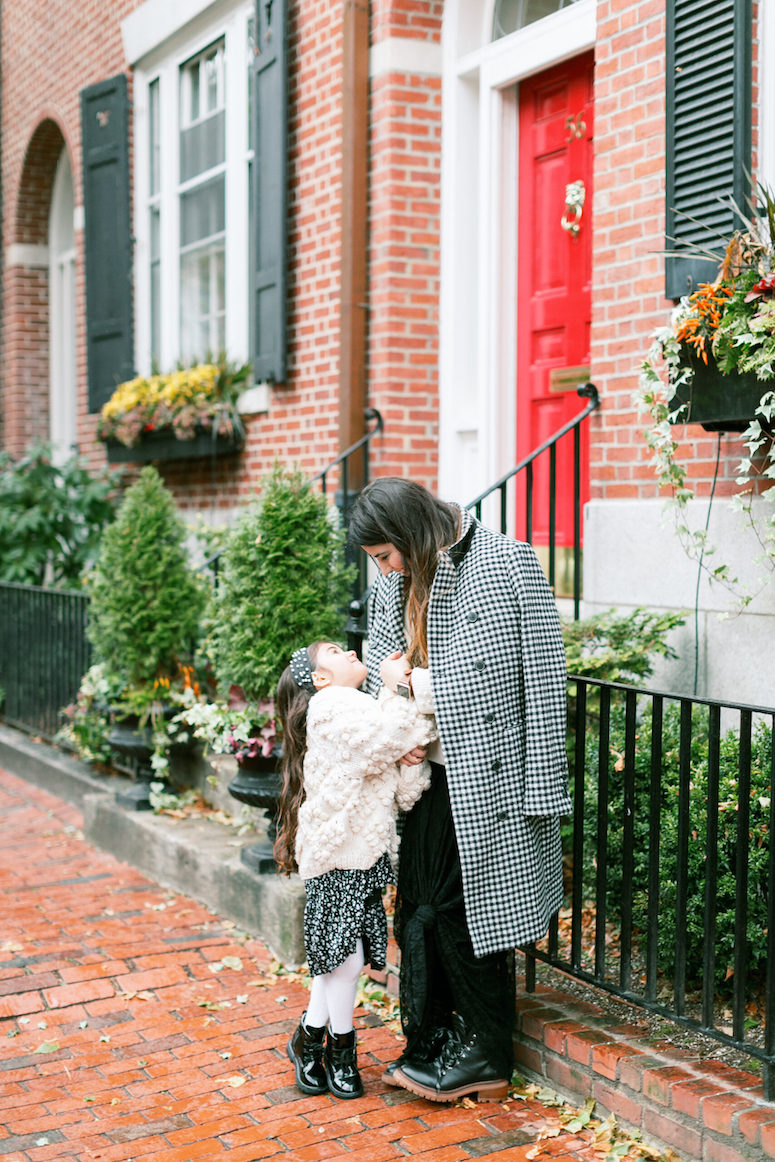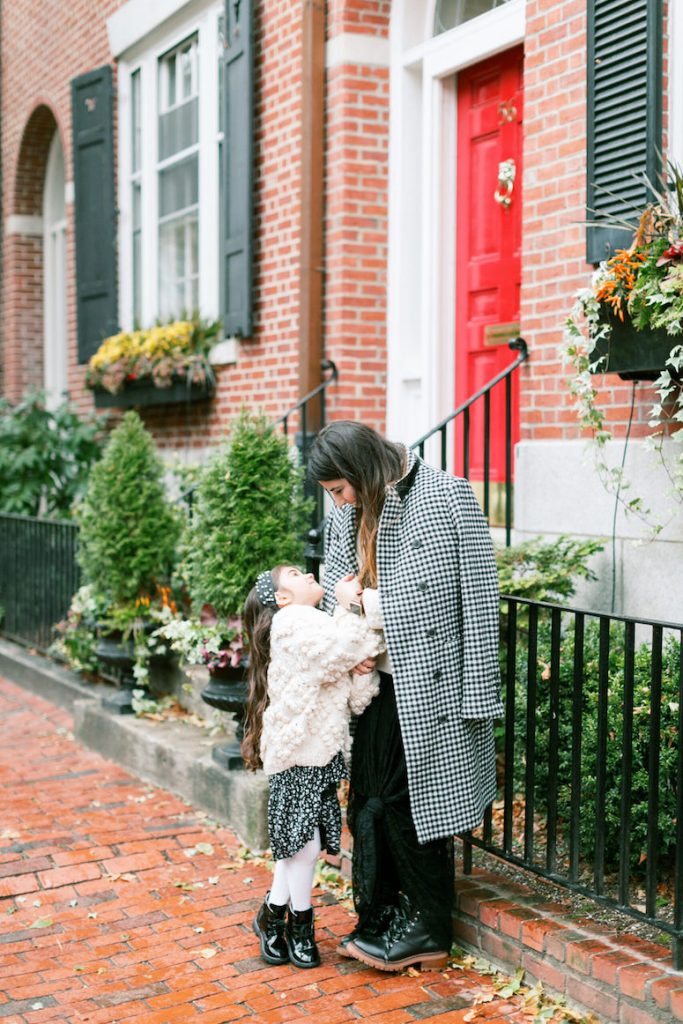 Lexi from Glitter Inc. wears hers in the winter with a chic winter coat. She's fashion-forward and can run after her cute little girl!
How to Wear Combat Boots with a Skirt
Skirt outfits. Yes, you can even do these shoes with your skirts! I think it's kind of a cool-girl look.
They look great with little leather skirts, pencil skirts, even midi skirts.
Try it with a black skirt and black tights; this is a fun way to wear combat boots from day to night.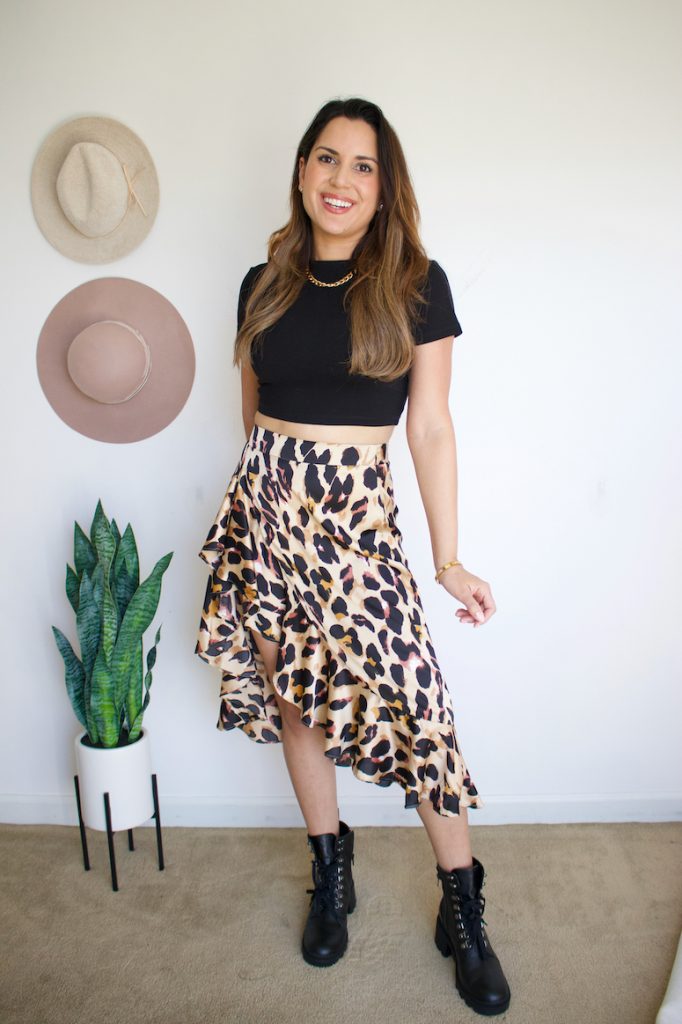 I even paired my combat boots with this leopard print skirt outfit; again it's a nice play on textures as we've got a satin-y, ruffly, flirty skirt paired with a grunge boot. But, it works!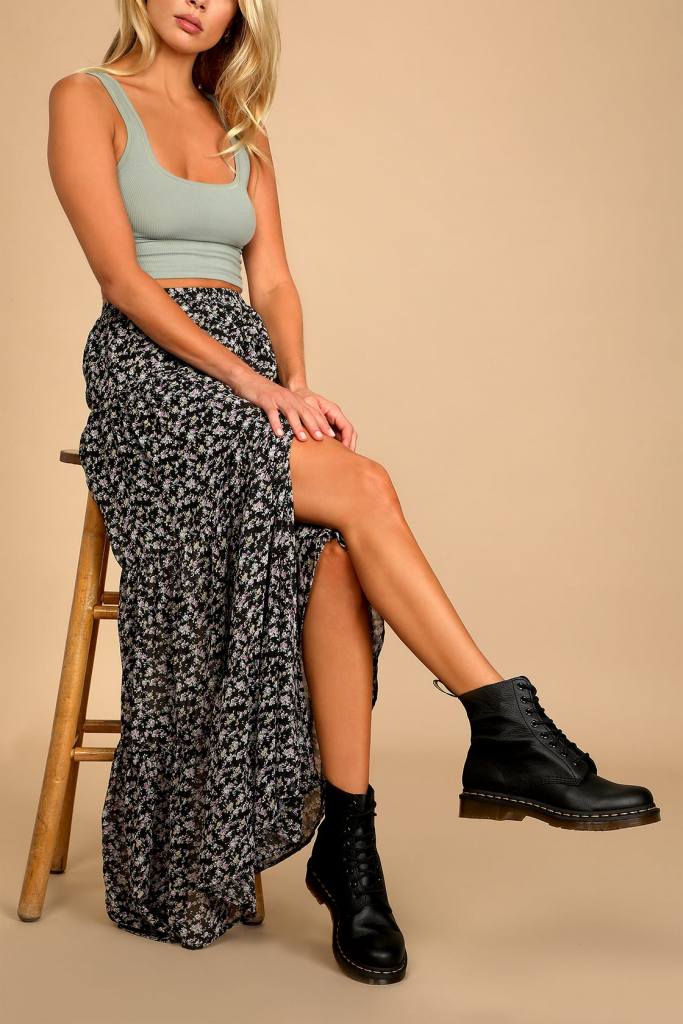 I wouldn't wear combat boots with a full skirt; this is just a bit too prim, proper and pretty for a chunky shoe like this.
The Obvious One: Combat Boots Outfits with Leggings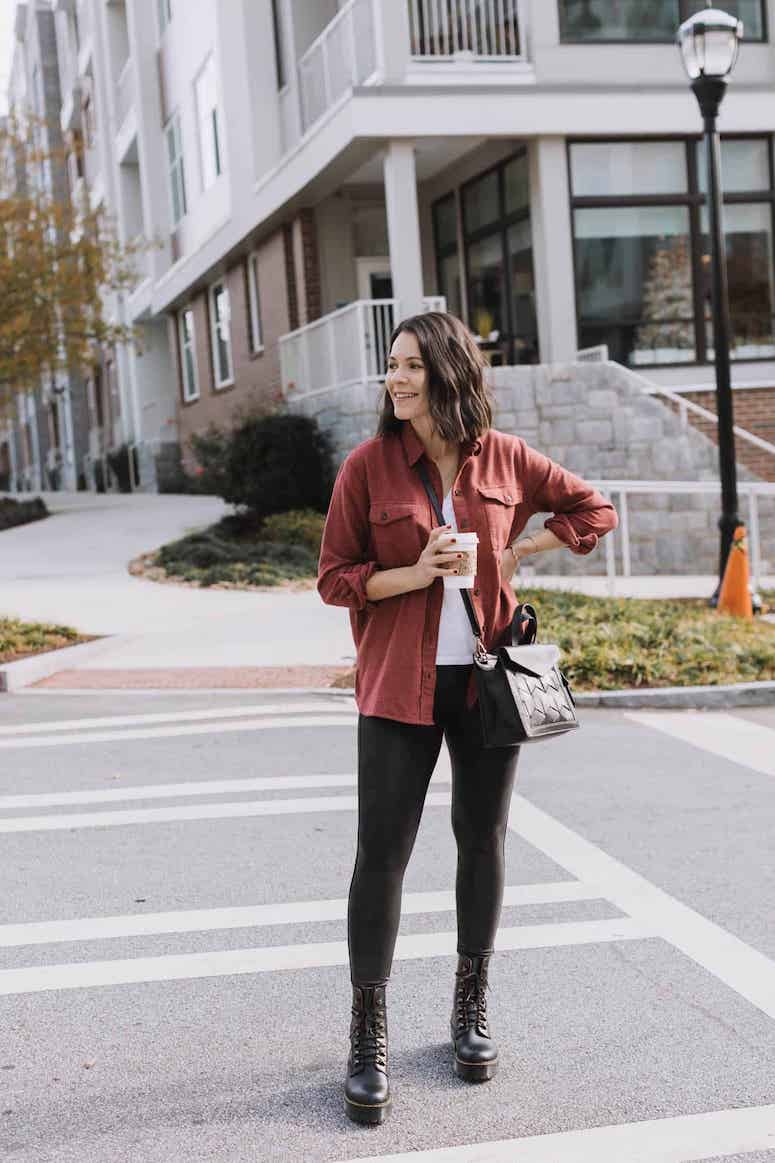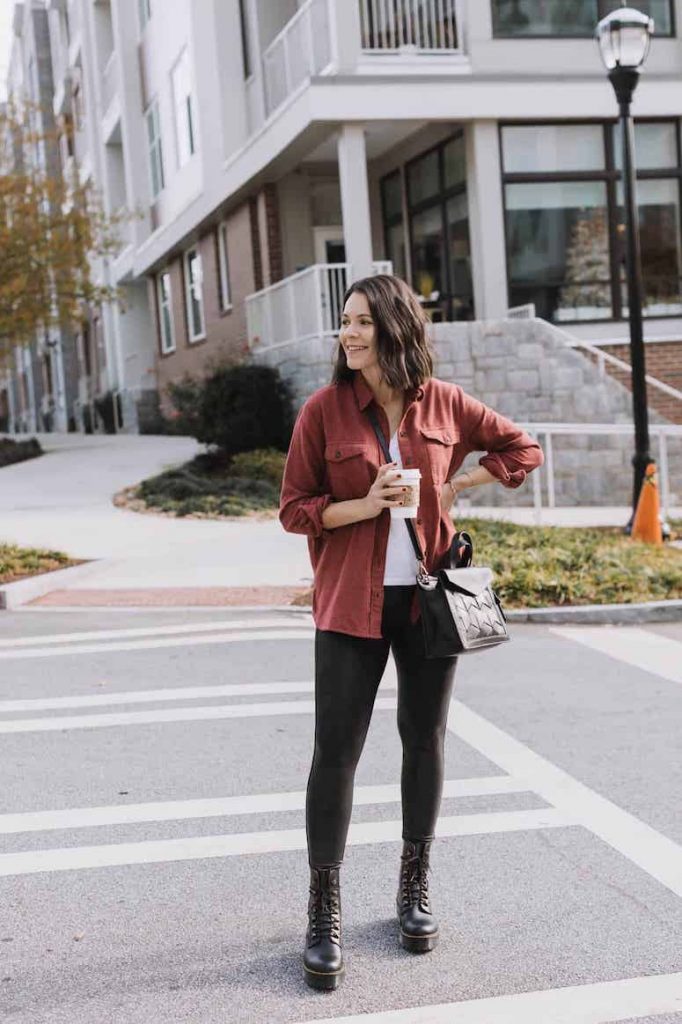 Probably one of the most obvious ways to style combat boots is with leggings. Faux leather leggings, (hello, Spanx!) are going to be one of the best–and easiest–ways to wear these. And you know I'm all about easy outfit ideas around here.
Prop tip: If you're going for the Spanx and under 5'4", order petite. Mine are NOT petite and there is SO much bunching when I try to wear these with ankle boots.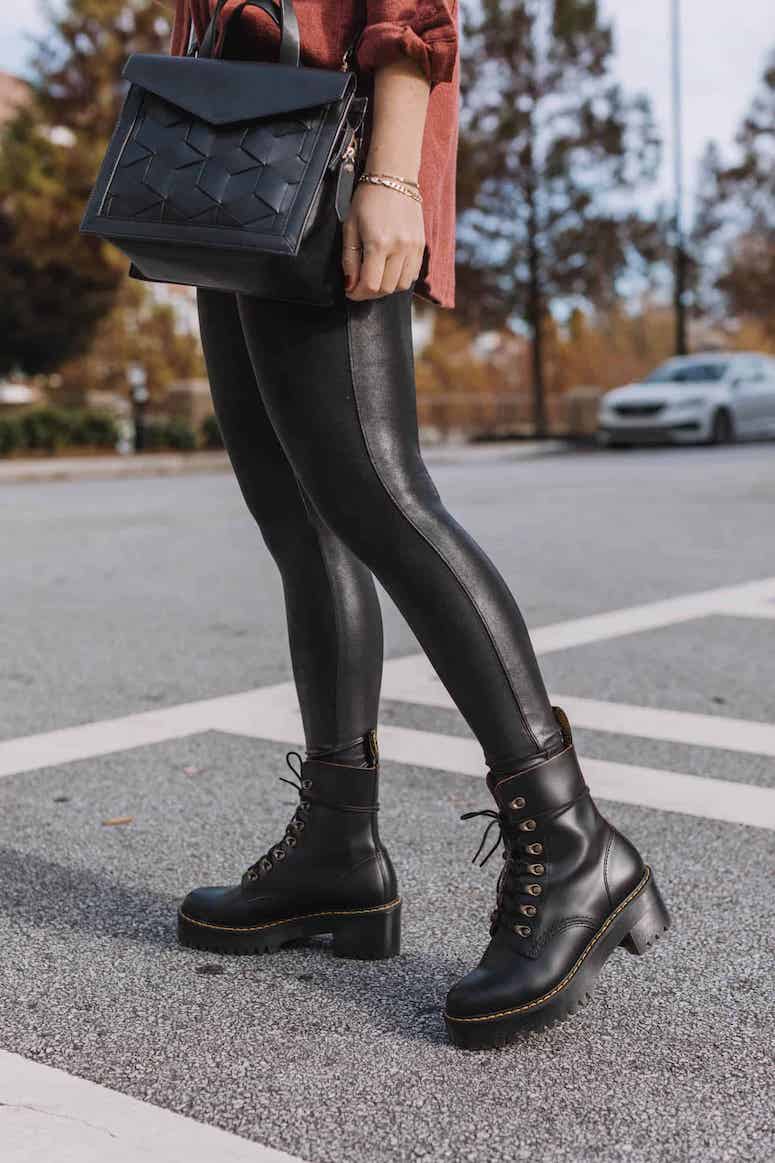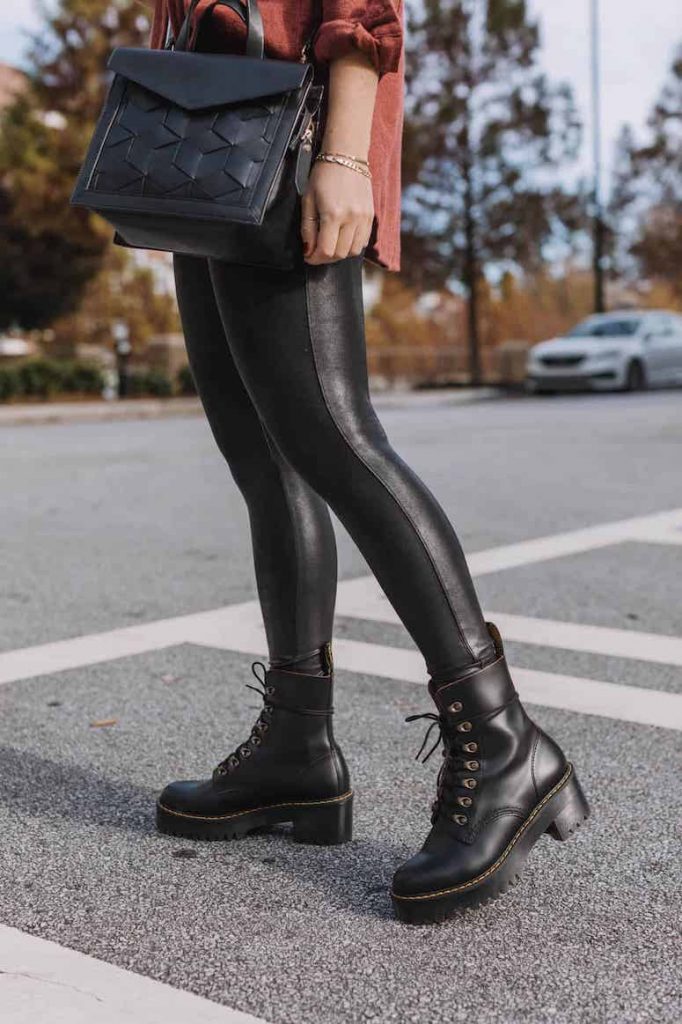 But back to these leggings outfits. Jessica from An Indigo Day gets it right with faux leather + some seriously cute Doc Martens. And see? No bunching!
The boots and leggings combo looks great with basically anything: tunics, sweaters, jackets, tons of layers. Pretty much whatever you want.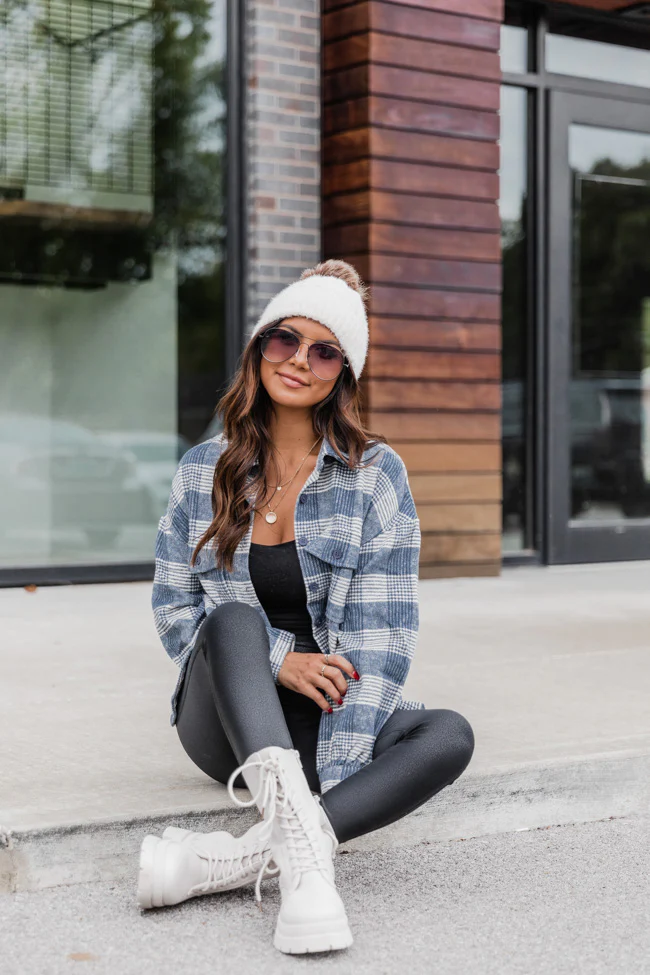 Don't complicate this. Combat boots and leggings are a natural go-to. Throw on a basic tank and your favorite shacket and you're good to go.
But Can You Wear Combat Boots in the Spring/Summer?
Why yes, yes you can! I mean, you saw looks with skirts and dresses, right? So yes, you can definitely wear them in the summer.
This shorts and boots outfit from Top Knots & Pearls looks fashion-forward and smart. Remember when I said all-black never fails? This is what I mean!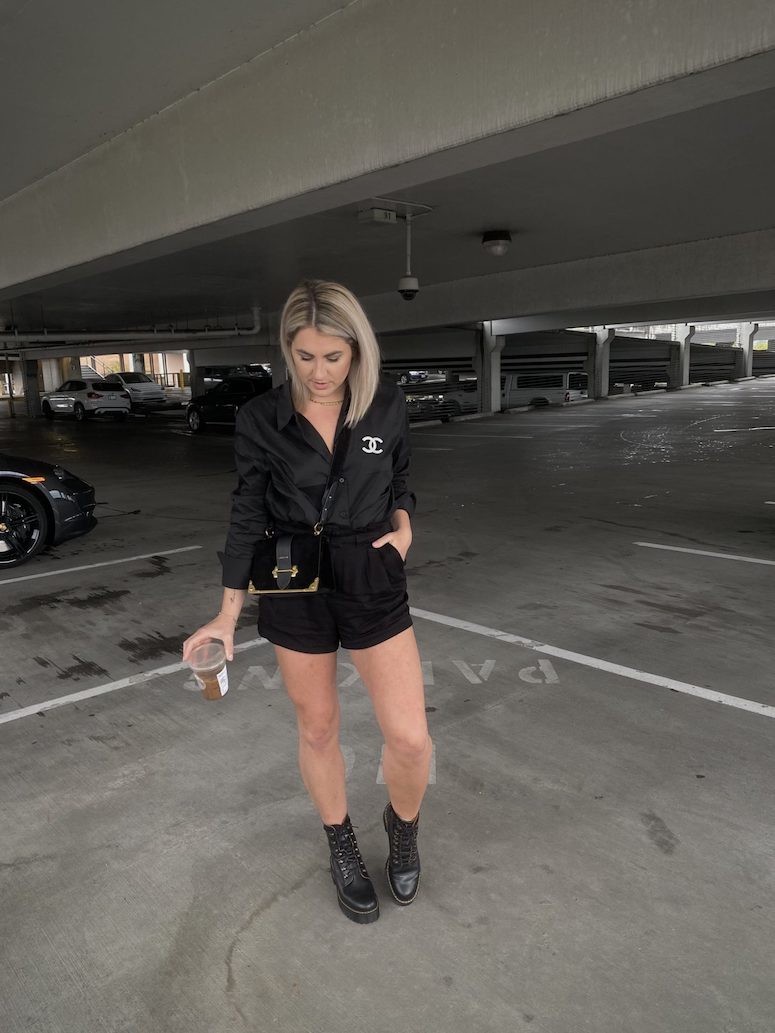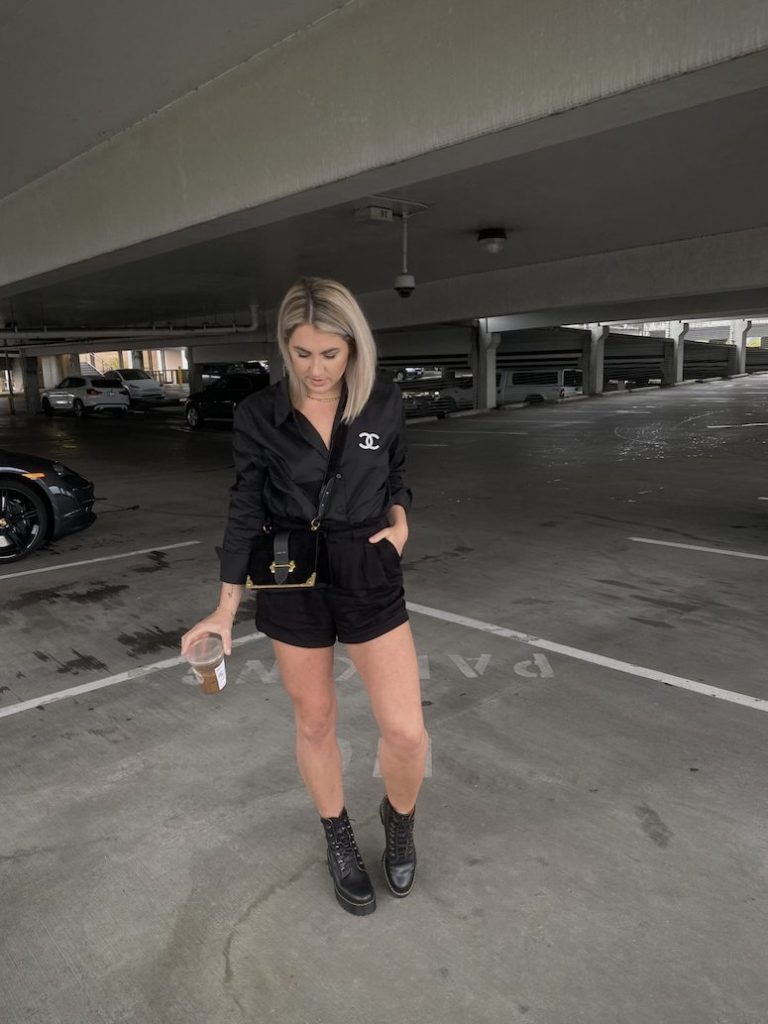 These boots look great with high-waisted shorts and skirts. Think grungy, distressed looks, they're super cute! And you can do this with your favorite band tee if you're into that kind of thing.
It's not my personal cup of tea; you'll likely see me in a bodysuit and combat boots since I'm not the graphic tee type. BUT, I will admit it's a cute look for 20-somethings.
Speaking of 20-somethings, and 30-somethings and 40-somethings and 50-somethings….YES you can wear combat boots if you're in your 40s or 50s. They're SHOES and I'm sure you remember how popular these were in the 90s.
I absolutely LOVED my Doc Martens which, yes, are back in style with all of the other combat boots. So have fun with this trend, I think it's cute and fun across all age groups.
You may want to consider a pair of white combat boots if your spring and summer wardrobe is a bit more on the pastel side.
Show Me the Boots!
Unfortunately, my exact boots are out of stock! BUT, I did round up some other cute ones to try.
If you aren't quite sure if this shoe trend is for you, you may want to dip your toe with a pair that doesn't have a huge chunky sole.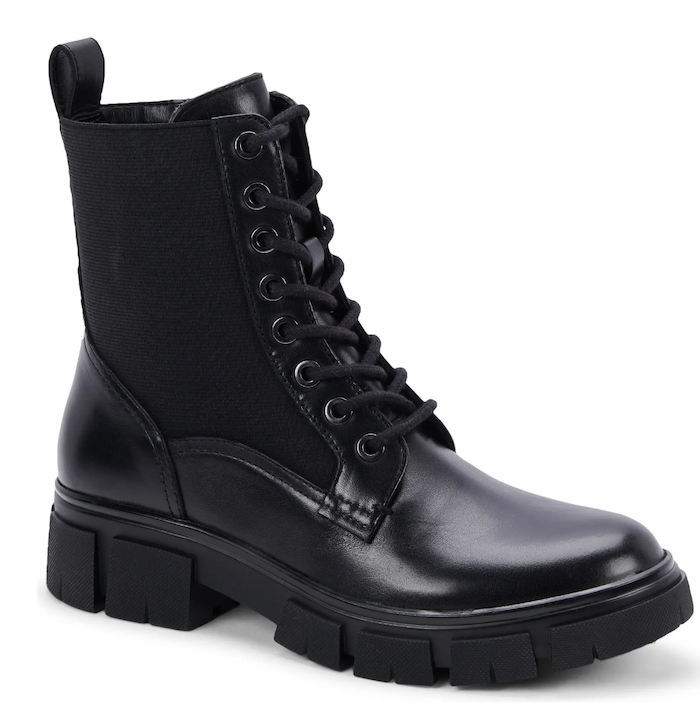 This waterproof combat boot doesn't have a huge sole,and it comes in 3 color options!
Feeling something classic? As I mentioned, Doc Martens are back, and still so cute! They're comfortable, great quality and come in a ton of colors, too.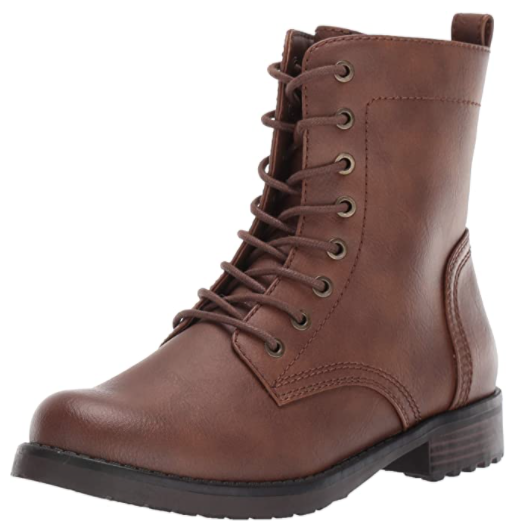 Another way to try this trend is to go the budget route and see if you like it; these Amazon boots are under $40! Plus, they come in both black and brown.
Even More Styling Tips
For a more relaxed look, don't button them all the way up. I leave mine slightly undone.
Try a pair of socks when wearing your combat boots with leggings to break up the boot.
An all-black look always looks chic
Keep it interesting by mixing textures; try patent combat boots or leather boots with tons of texture in your outfit
---
Alright so tell me, what do you think of the combat boots trend? Let me know your favorite way to wear these in the comments below!