40+ Of the Cutest Maternity Outfits for Pictures
Shopping for a maternity photoshoot or baby shower outfit is such a special occasion! We all want to love our maternity photos because they capture such a precious time that we'll want to look back on for the rest of our lives.
But even with that pregnancy glow, it can be hard to feel comfortable in clothes during pregnancy. To make it a little easier for you, I've gathered a list of some of the cutest maternity outfits for pictures to inspire you for that photoshoot.
Simple and Flowy
The quintessential maternity gowns that you really can't go wrong with is anything lightweight and flowy.
This look is so perfect for a maternity photoshoot because it is comfortable, flattering, shows off your baby bump, and translates so beautifully on camera.
You can go short or long, style it with heels or bare feet, add fun accessories or keep it simple. No matter what, you know you'll have a gorgeous photo.
Baby Blues
I am loving this tiered blue dress for a spring maternity session! The high neck creates a really beautiful silhouette and it would be great for more casual photos.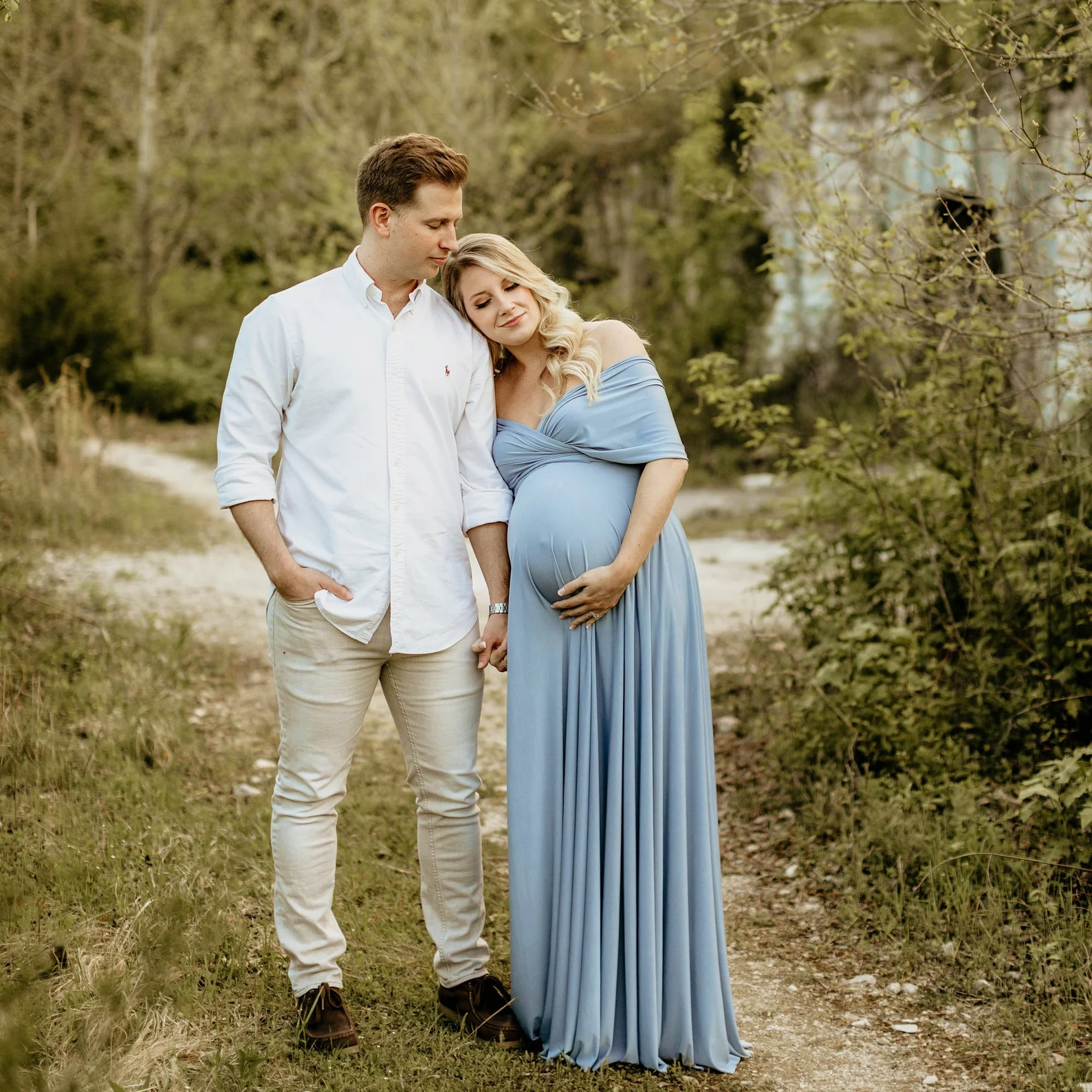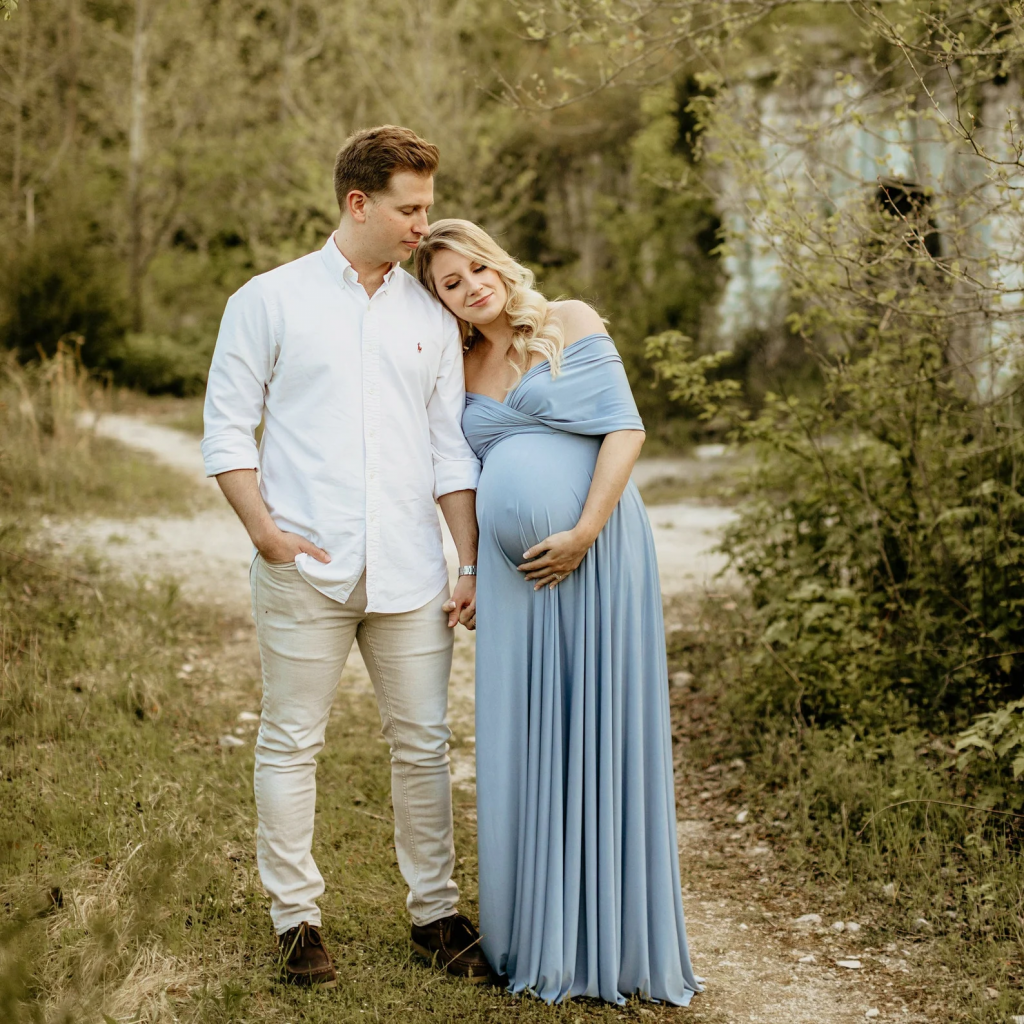 This stunning piece is extremely versatile as it allows you to adjust the neckline in so many ways. It can be styled as an off-the-shoulder dress, halter, bandeau, and more! Plus, the stretchy, soft fabric will be lightweight and comfortable for long shoots.
This blue off-the-shoulder dress is simple and so sweet. Reach for something like this to create an effortless look for your maternity pictures.
I am absolutely loving the silhouette of this pleated, chiffon maternity dress (it comes in a handful of gorgeous colors).
This dress is a great option because it is stunning on its own while also being simple enough that you can really have fun with accessories or your partners' outfit!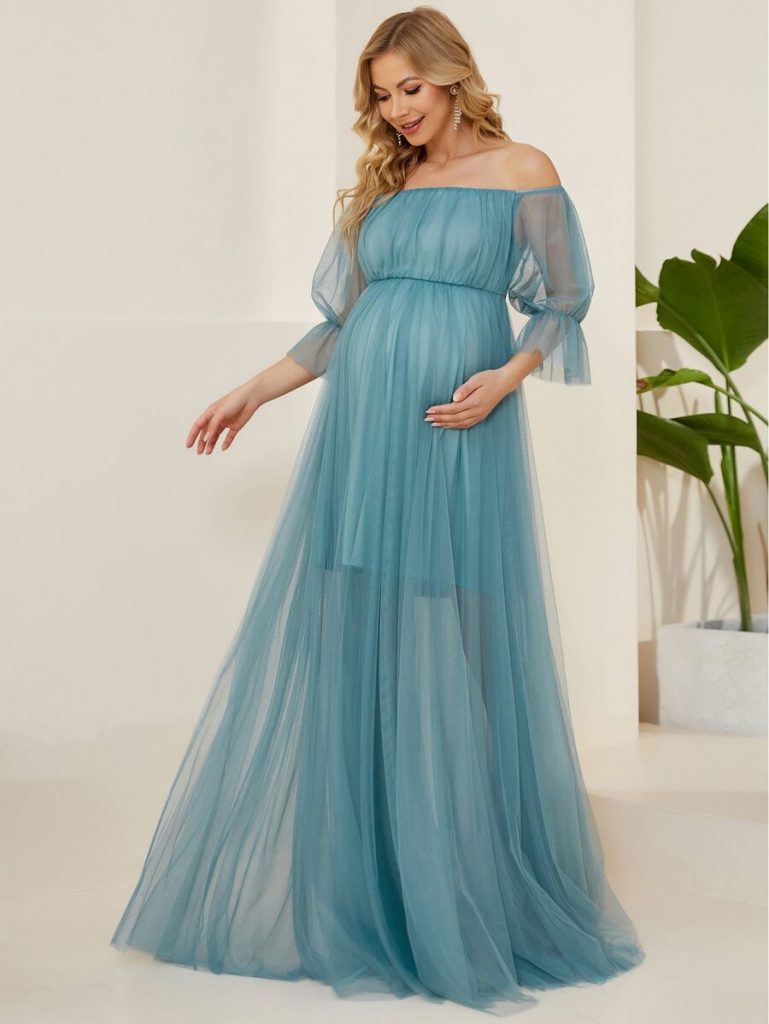 This dress looks like it is straight out of a fairytale! I would style this piece with white, silver, and crystal accessories to play up the royal elegance look.
The dress is also offered in deep burgundy and burnt orange, both would be great for fall maternity photoshoots!
Feminine Pinks
These dusty rose halter dresses are simple and would be beautiful for a photoshoot in any season (just click the photos to shop each dress).
I would create a chic look with these pieces by styling them with neutral accessories and gold jewelry.
They are also more of a casual outfit that can work for other events like a wedding guest dress outfit!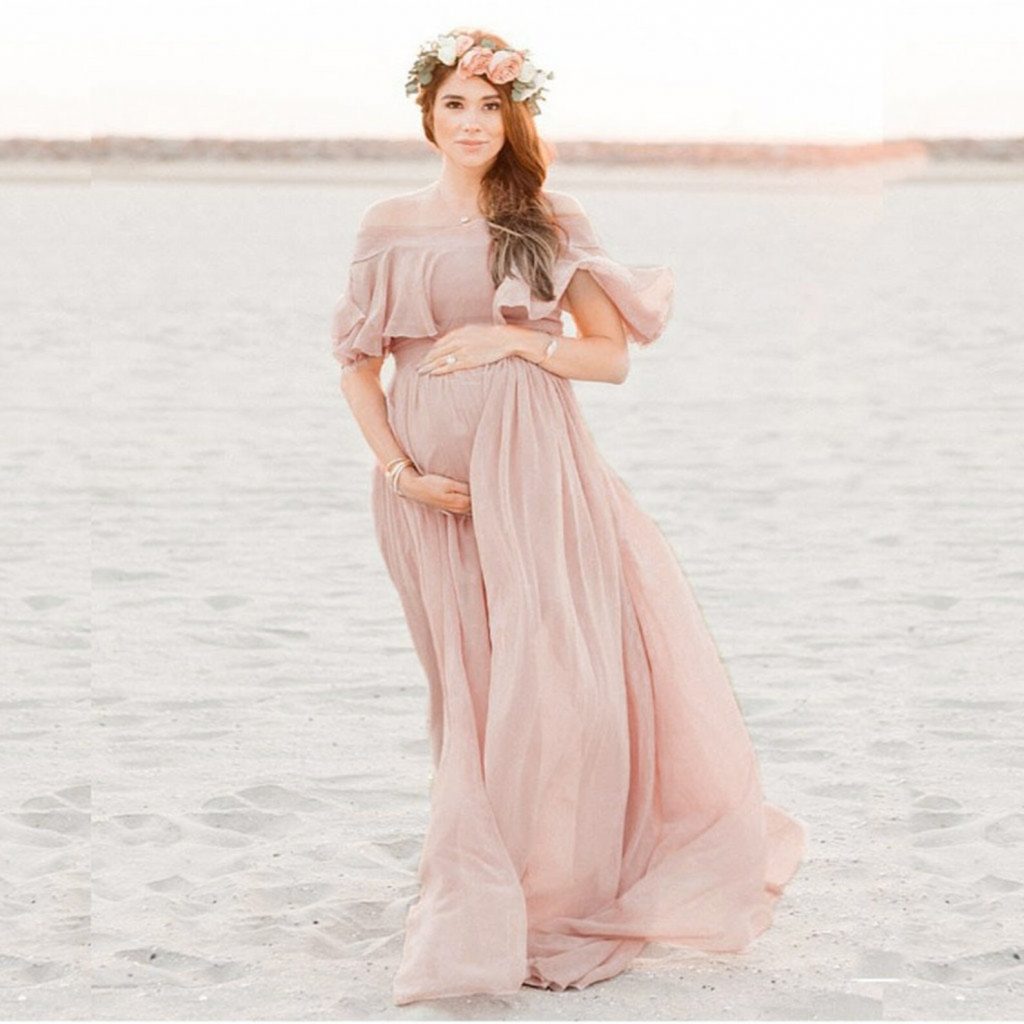 I am loving the soft look of this chiffon maxi dress. The color and the off-the-shoulder fit will create a pretty, feminine look in your maternity photos.
I wore this gorgeous pink ruffle dress for our tea party baby shower when I was expecting our daughter. It's from ASOS maternity, which has tons of great maternity outfits for pictures and maternity fashion.
A long dress like this one is always a gorgeous look for a maternity photo session. This soft pink piece has so many girly features I love, lightweight chiffon, pretty draping, and stunning lace details.
Wrap Dresses
Wrap-style dresses like these are going to be flattering on everyone and super comfortable. They are great for long photography sessions, especially in the summer!
Off-the-Shoulder Maternity Dresses
For a lace option that is a bit more understated, go for a boho-inspired maxi dress like this one. The delicate lace paired with the off-the-shoulder neckline creates a beautiful, ethereal look.
For a casual, effortless look, this tiered off-the-shoulder dress is perfect.
The elastic neckline will be comfortable to wear for long photoshoots, and the rayon blend the dress is made from will feel lightweight and breezy!
This gorgeous, jewel-toned maxi dress would be perfect for a fall maternity photoshoot. To create a more playful look, pair it with blush-colored accessories and gold jewelry.
Here is another gorgeous flowy, chiffon dress to consider! This maternity photo shoot dress features a high-cut leg peekaboo giving this piece a flirty twist that I love.
Something Special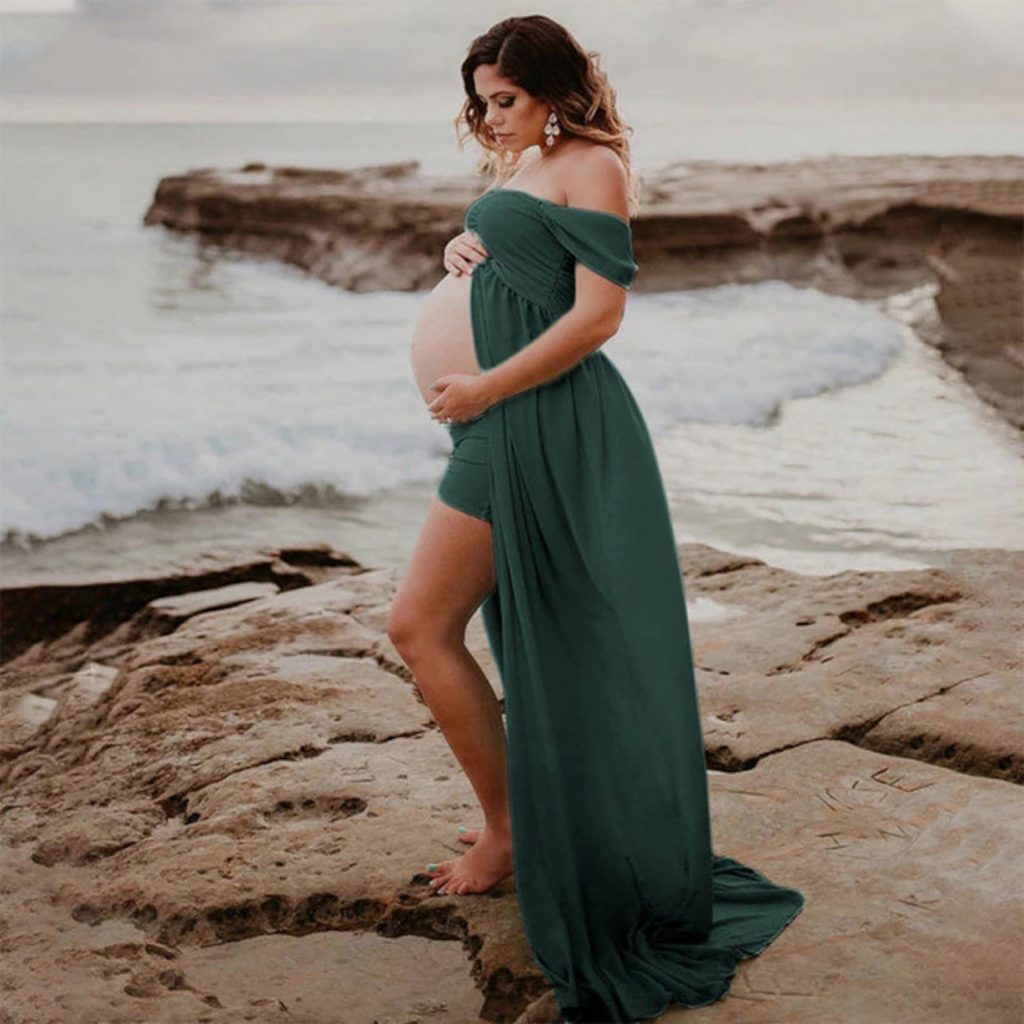 Reach for a piece like this flowy off-the-shoulder dress if you are torn between showing your bump and keeping it covered.
The design of this dress allows you to open the front to highlight your baby bump or keep it closed. Something like this will be great for versatility with posing!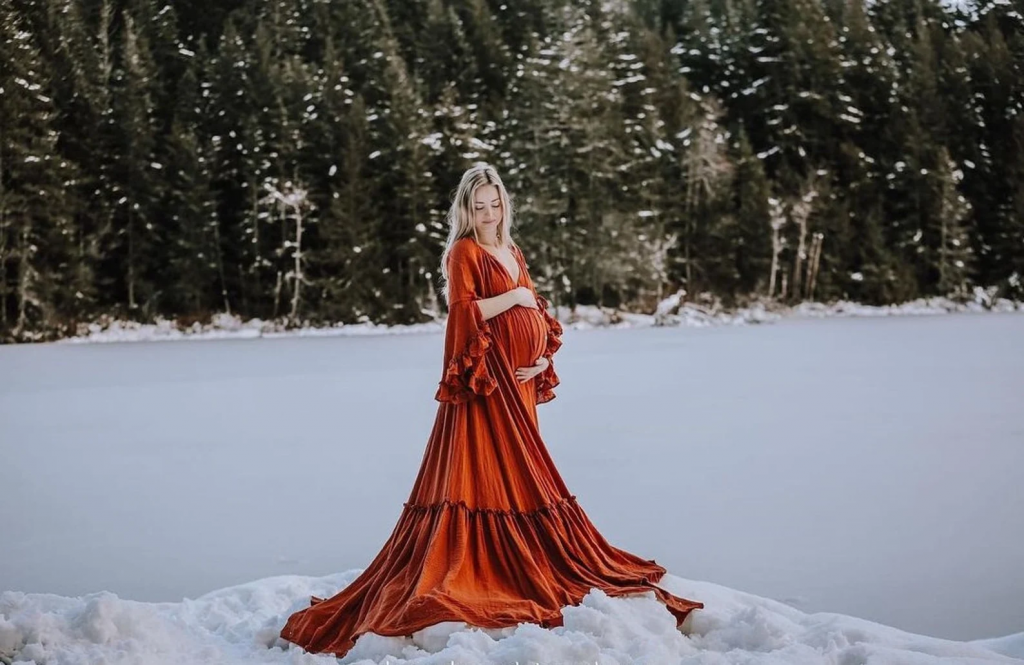 The beautiful rust color and dramatic length of this dress make it truly eye-catching. An option like this is a great idea if you prefer more coverage because of the flowy, tiered style of the dress.
This piece is stunning on its own, so I would keep it simple with accessories and let the dress shine! The color is also a gorgeous contrast with the snowy background making it perfect for outdoor photos.
White and Angelic
An all-white look can be really beautiful for a maternity photoshoot. It definitely creates a dreamy, angelic aesthetic, especially with floor-length options like these.
The balloon sleeves and tulle on this beautiful maternity dress create an ethereal look that will come across beautifully in photos!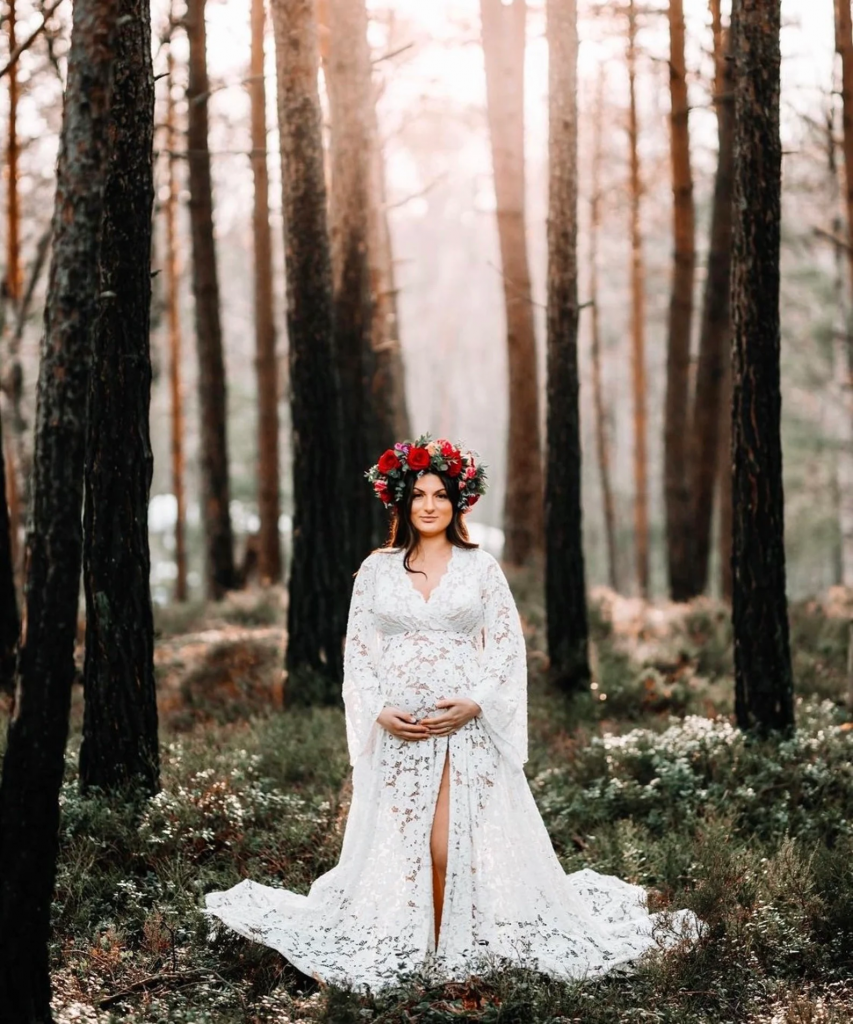 I am in love with this boho maternity dress. The train on this dress is unique and creates a really elegant look. The flower crown definitely completes this look!
If you want something a bit more traditional, try something like this white lace dress. The lace detail on this dress is so pretty, and it really creates a classic, clean look.
Dramatic and Chic in a Bodycon Dress
I love the idea of turning up the drama for a maternity look! A look like this would work well if you are hoping for some stunning black and white shots. A fitted dress like these pieces make for a classy, sexy vibe.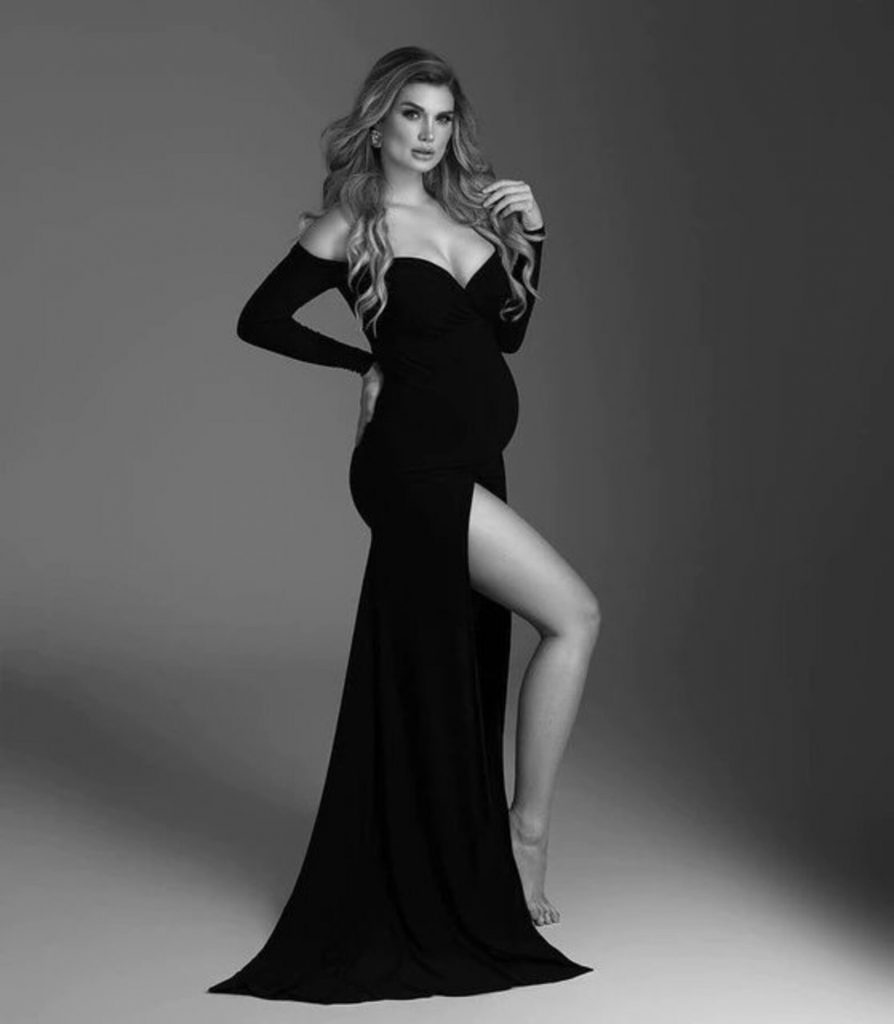 I absolutely love these black, off-the-shoulder dresses for a classic but dramatic look! These pieces create instant elegance while making sure you look and feel sexy with the peek-a-boo leg detail.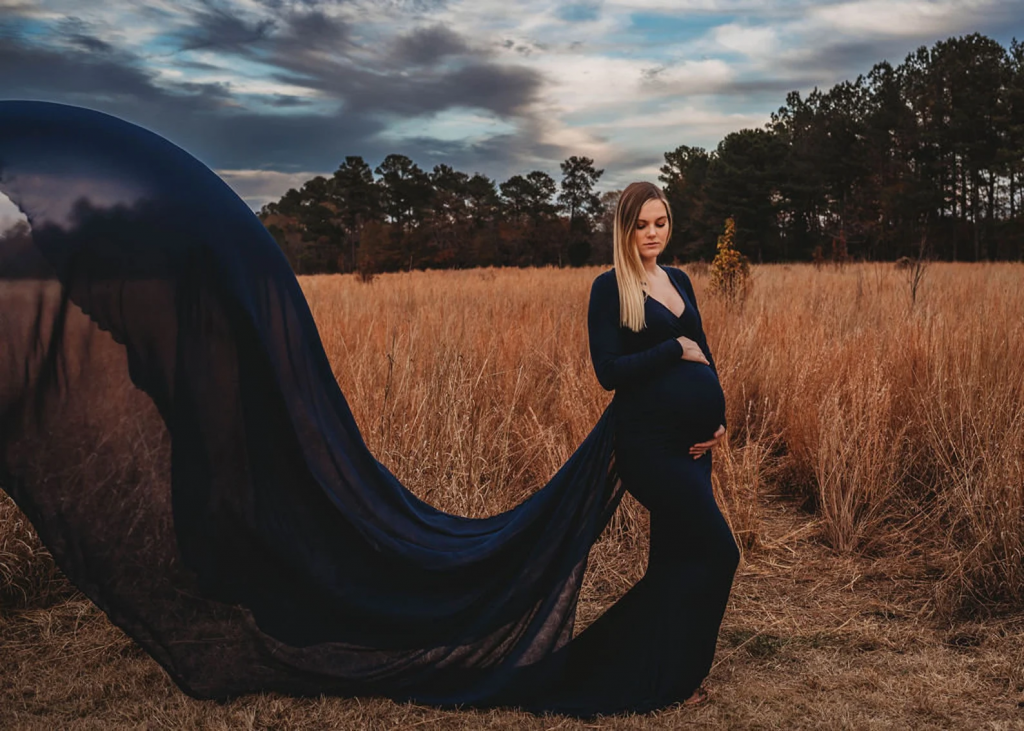 For a simple, yet dramatic look, reach for something like this navy body-con dress. I love this fitted maternity dress because it keeps you covered and feeling comfortable, but shows off your beautiful curves.
More Photoshoot Outfit Ideas:
Floral Maternity Dresses
You really can't go wrong with a floral print maxi for a maternity shoot. These looks are timeless, feminine, and are a great alternative to solid colors.
If you're going for an ultra-feminine look, try something like these floral maxi dresses. The pink floral print is as girly and soft while the lightweight fabric creates a beautiful silhouette.
Don't be afraid of really leaning into color. These yellow maxi dress options are bright, fun, and playful! They would look really special for a summer maternity photoshoot.
I wore this longsleeve floral print maternity dress for our family photos announcing our second baby. It was casual yet perfect for a pregnancy announcement.
I love this wrap-style floral maxi dress because it gives you the option to adjust the fit with the tie waist. The pleated skirt also adds to the comfort of this dress, giving you the freedom to move in it.
This flutter sleeve wrap dress is flirty, fun, and feminine. I love the embroidered floral details because they are unique and really give the dress an elevated boho feel. I would go with a dress like this for any outdoor spring or summer photoshoot!
Here is another floral maxi dress option that is more on the subtle side. This darling piece would be so fun styled with cowboy boots, gold accessories, and a trendy wide-brimmed hat.
Glam and Sparkly
For those of us who live for glitter and sequin, a maternity photoshoot is the perfect opportunity to go all out!
Don't be afraid of doing something fun, and over the top for your photoshoot. With bolder pieces like these, be sure to carefully consider your photoshoot location as a busy background could clash with more intricate pieces.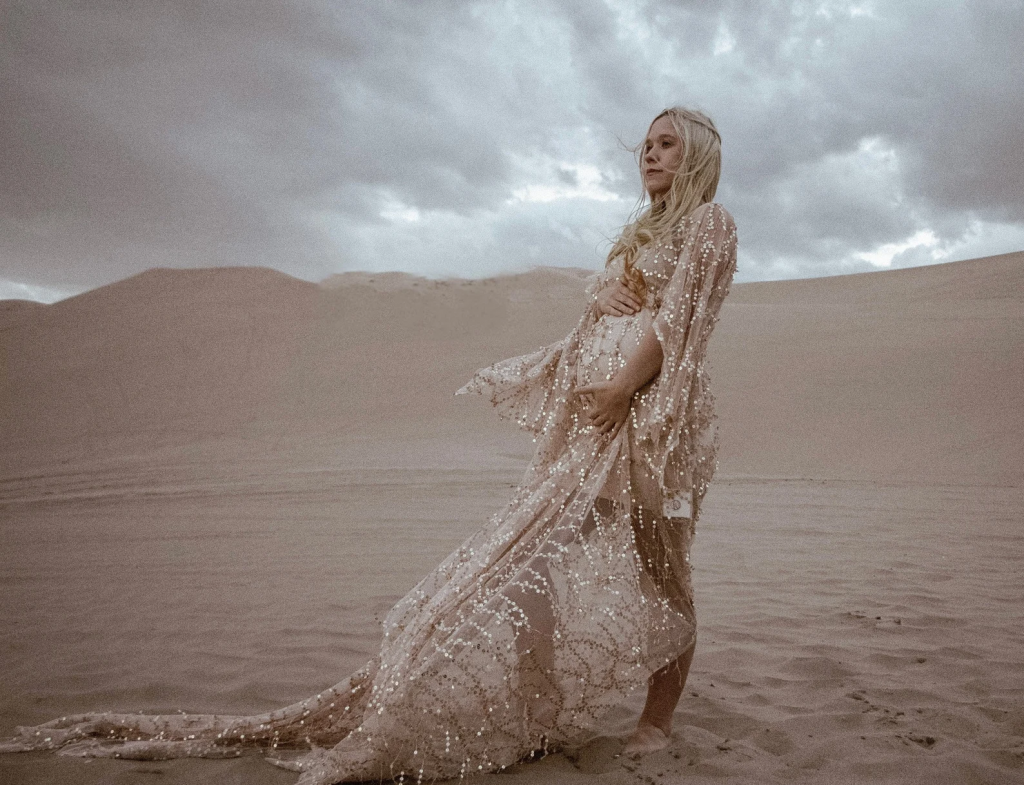 For the soon-to-be moms who need a touch of glamour in their life, try this stunning sequin maternity gown.
This piece is covered in a gorgeous sequin detail that will definitely make your maternity photos come to life.
I love it because the draping of the dress provides coverage to help you feel comfortable, without being too covered up.
How stunning is this gold sparkly dress?! A piece like this is all you need to create a gorgeous maternity photoshoot look. I would keep it simple when it comes to styling, with gold stud earrings and soft waves.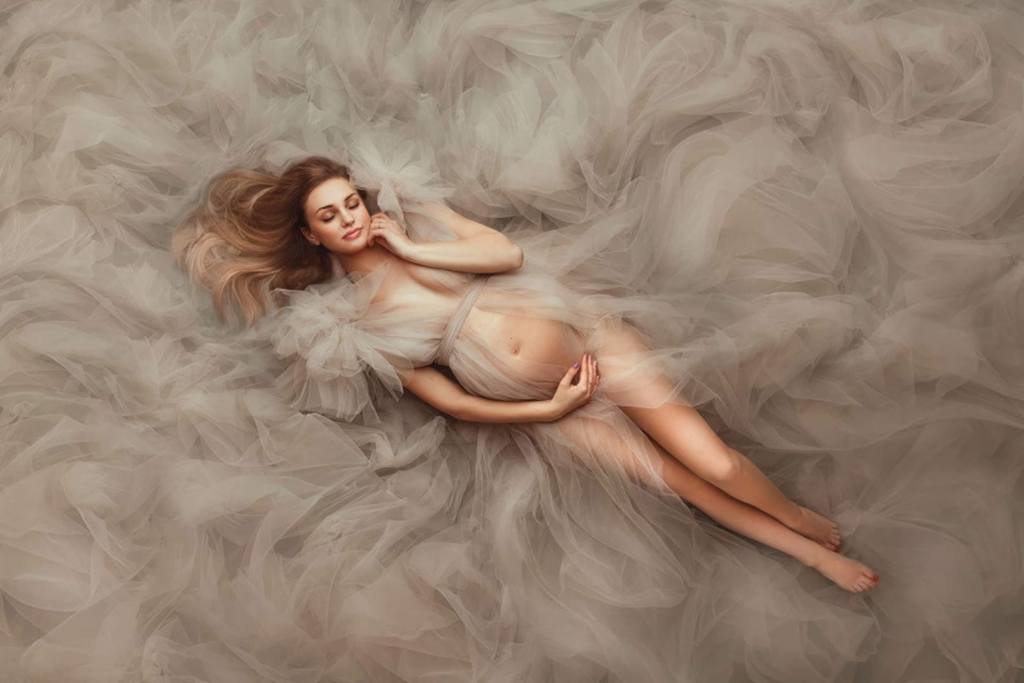 This sheer tulle dress is over the top in the best way! A piece like this is all you need to create a unique and very special look for your photoshoot.
Play around with the tulle and make it your own by adjusting the waist and neckline and show off that beautiful belly.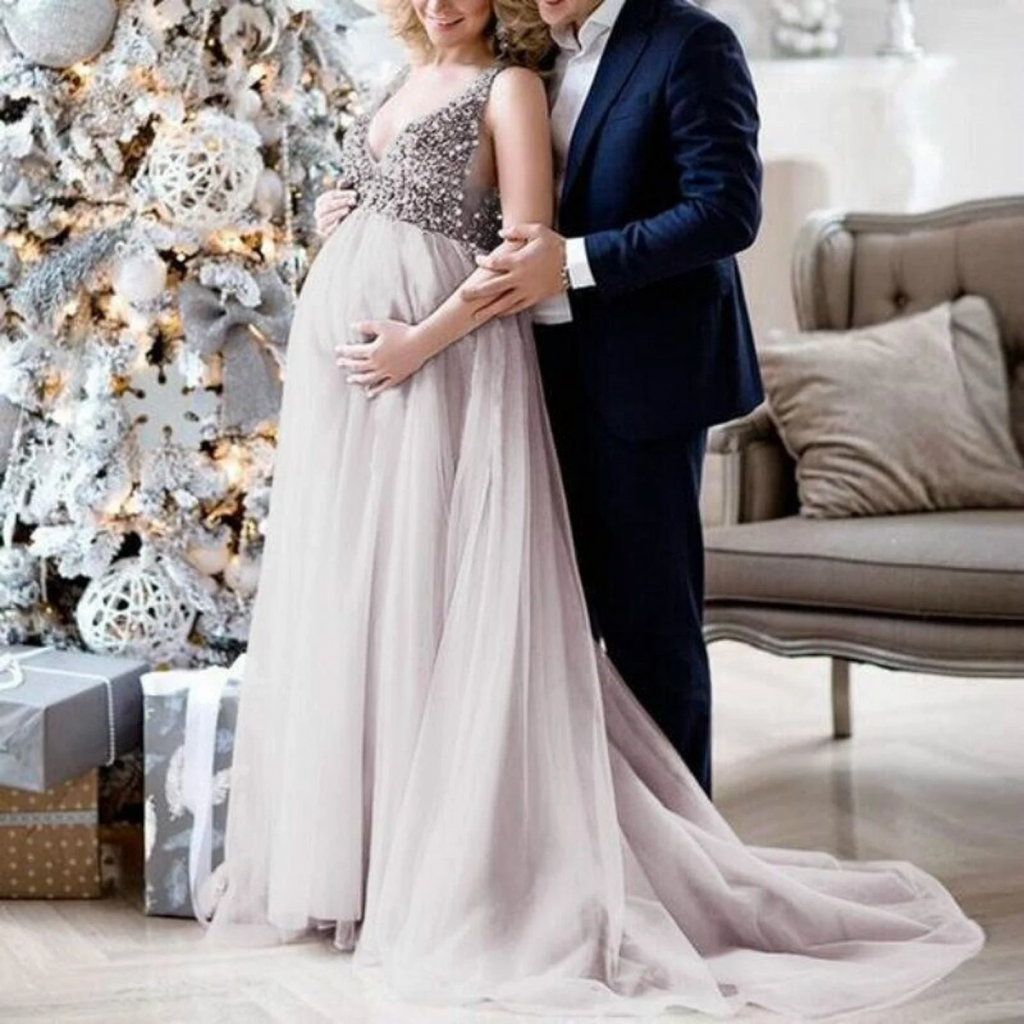 For a dressier look, choose something like this floor-length, chiffon maternity photoshoot dress. It gives instant elegance with the long skirt and train and a touch of glamour with the sparkly details and plunging neckline.
These sequin dresses would also look great if you are doing a Christmas maternity photoshoot!
I love this unique, tulle dress for any mamas-to-be that really want to stand out in their photos.
The delicate details are ultra feminine and whimsical. What better time to go for such a special look like this one than your maternity photos!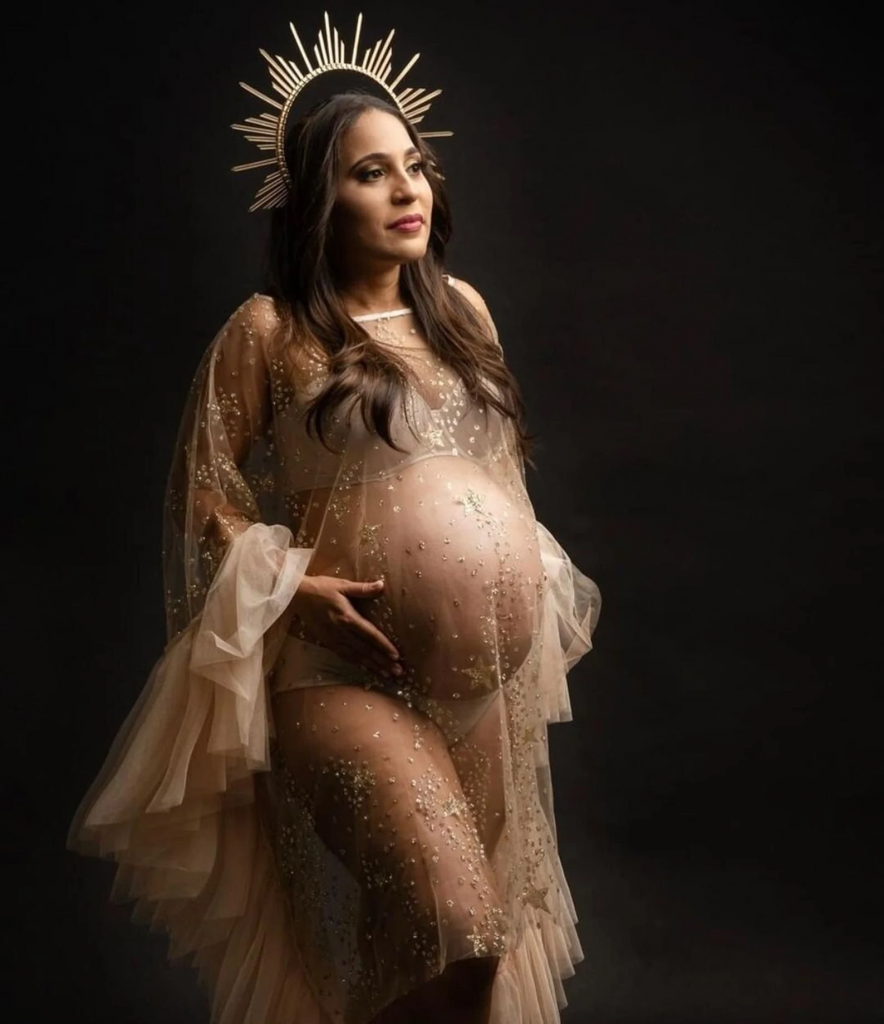 Show off that beautiful bump with this gorgeous, sheer dress with delicate overlay detail.
It can be worn on its own or over a lingerie set for a natural look that shows off your bump, or layered over a simple slip dress for a similar vibe with a bit more coverage.
Choose something like these tulle dresses if you're going for a glam look! Flowy dresses are always gorgeous options for a pregnancy photoshoot.
This one comes in many colors and you can really customize it with different belts to change up the look.
Try a beaded sparkly belt like it is styled here, or go for a satin ribbon or leather braided belt for a softer, more casual feel.
This lace maternity dress is obviously an absolute showstopper! The train of this dress creates a luxurious, ethereal aesthetic that is to die for. If you're looking for a boho maternity dress, this one would be a nice option to try.
Two-Piece Sets
Keep your look fun and trendy by choosing a two-piece set. Now is the time to show off your beautiful baby bump!
For those who want to show off their baby bump in a fun, glamorous way, something like this two-piece set is a great option. I love the way the length of the dress adds a layer of drama that will look stunning on camera!
This gorgeous two-piece skirt set in light blue is lightweight and breathable, so it will keep you cool and comfortable throughout your shoot! Pair it with neutral or white accessories for a clean, bright look.
More Tips for Maternity Photoshoot Looks
I know there can be a lot of pressure when planning a photoshoot during such a high-stress time. Here are a few tips to help you stay calm, organized, and focused on the excitement of your new addition!
Browse social media to find photos from your location and photographer. This can help you get a feel for the lighting and colors you will be working with during your shoot.
Book your shoot during the third trimester so you have a more visible baby bump.
Include your family members! Especially if this isn't your first child, the family photos can be really nice.
Your professional photographer may already have a wardrobe full of gorgeous maternity photoshoot dresses to choose from!
I hope this post has helped you gain a little inspiration for your maternity photoshoot outfits!
---
What questions or concerns you have when it comes to styling your maternity looks? Any favorite maternity boutiques that you love to shop? Let me know in the comments below!