19 Best SKIMS Dupes To Get the Look for Less
If you love the look and feel of SKIMS but not the price tag then you'll love this roundup of the best SKIMS dupes to help you get the look for less.
Known for ultra-stretchy, ultra-soft fabrics and some of the best shapewear in the fashion world, Kim Kardashian's SKIMS line of basics, underwear and bodysuits has exploded in popularity in recent years.
Whether you're looking for a lookalike SKIMS bodysuit or eyeing a SKIMS dress, we've scoured the web for the most popular SKIMS alternatives. Keep reading to shop them all!
Skims Bodysuit Lookalikes
When it comes to shapewear, one of the best places to start is with a good bodysuit. These bestsellers will help you get the look for less.
Starting off strong with a dupe for one of the most popular SKIMS pieces, the Seamless Sculpt Thong Bodysuit, is the SHAPERX Bodysuit on Amazon!
This is a great wardrobe essential because it really has it all: it snatches your waist, acts as a bra, and creates no panty lines! It also has adjustable straps and is suitable for all body types.
This Amazon dupe is $47.99, a fraction of the price of its Skims counterpart. Plus, it often goes on sale!
With more than 23,000 4-star reviews, this is definitely the top pick for a Skims bodysuit look for less.
Another cult favorite piece from SKIMS, the Fits Everybody Cami Bodysuit, can be found for a much more affordable price with the Almere Essential Adjustable Sleeveless Contour Cami Bodysuit.
This simple bodysuit is a layering staple that can be worn year-round. At this price, it's easier to justify getting this bodysuit in every color!
This halterneck bodysuit is the real deal! I've talked about this high-neck bodysuit from Amazon dozens of times because it's THAT good.
The price is AMAZING and it comes in so many colors (I own 4 of them!). It comes in a bodysuit or crop top version. If you're bustier, I recommend going up one size.
This piece is a perfect dupe for the SKIMS Fits Everybody High Neck Bodysuit, it's flattering, comfortable, and seamless!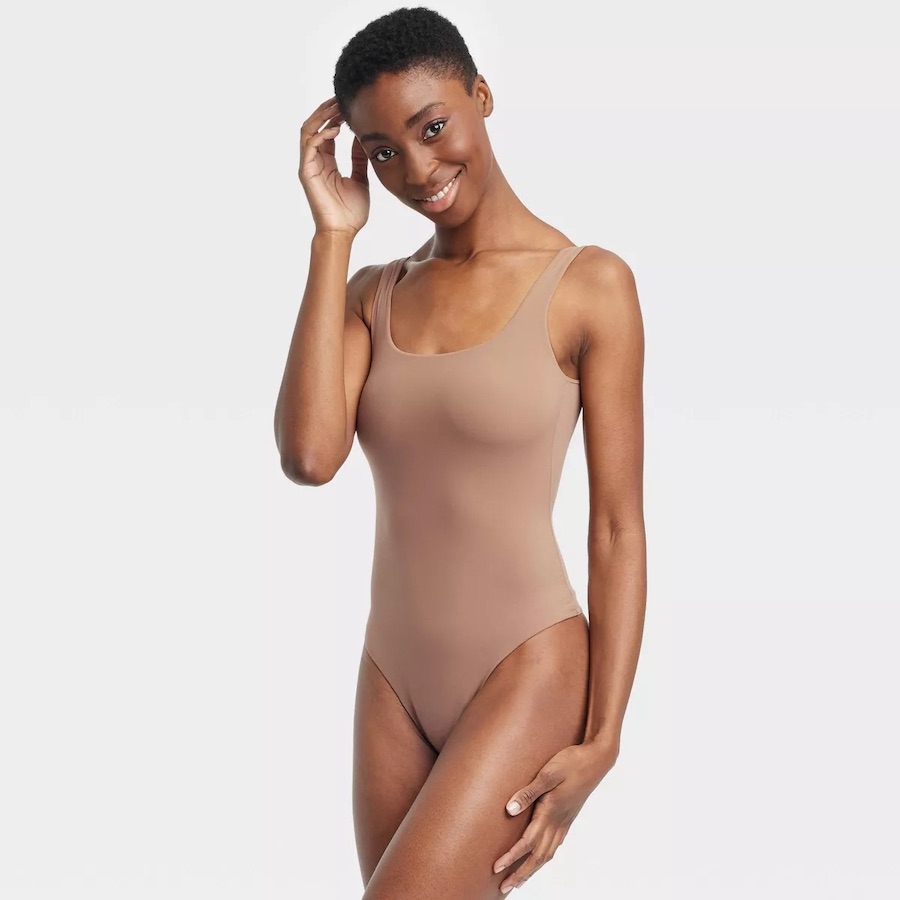 This Auden bodysuit from Target is an absolute steal at just $20. It has a soft stretchy fabric and is made from a combo of spandex and nylon.
Another layering piece I love is this Short Sleeve T-Shirt Bodysuit from Amazon. This one is a great dupe for the SKIMS Fits Everybody T-Shirt Bodysuit.
The fabric is really similar to the Fit Everybody line from SKIMS because it's stretchy and super soft!
There is also a long-sleeved version of this bodysuit; I own it and love how soft and flattering it is.
Best Skims Alternatives Tops
Layering tanks and tees in neutral colors are absolutely wardrobe staples. Here are a few SKIMS lookalike options to try.
I love it when chic essentials like these cropped ribbed tank tops come in packs of multiple! This is such a good deal at 3 tanks for $26, and the quality does NOT disappoint.
These tanks are super similar to the SKIMS Cotton Rib Tank, but this affordable substitute is arguably more flattering thanks to its square neckline. The reviews speak for themselves!
One of my personal favorite collections from SKIMS is the Cotton Jersey collection. This Abercrombie Tee feels just as soft and cozy! And, it's at a fraction of the price.
I love this Los Angeles Apparel Tee because it fits and feels just like the SKIMS Fits Everybody T-Shirt. The fabric in this piece is made from nylon and spandex, so the stretchy fit and smoothing detail make it a wardrobe essential.
This color is a perfect match to the very popular "bone" color from SKIMS.
Speaking of color, if you're looking for a SKIMS Amazon dupe, this tee is a great one to try.
It's an excellent lookalike SKIMS Fits Everybody T-Shirt and is offered in SO many gorgeous colors.
If you're like me and not ready to say bye to the summer of Barbie outfits, this pink shade is a must.
This pack of 3 Long Sleeve Tops is yet another amazing deal on Amazon I came across! These are a great dupe for the Skims Fits Everybody Long Sleeve T-Shirt, so perfect for fall!
Personally, I think I will be living in this long sleeve tee come winter. They come in so many colors and you really can't beat it at $35 for 3!
---
RELATED: 11 Best Cartier Bracelet Dupes That Look Just Like the Real Deal
---
Best Skims Dress Dupes
If you are on social media at all, you've seen the Skims Soft Lounge Slip Dress everywhere this year! And because it's such a classic piece, it isn't going out of style anytime soon.
This slip dress on Amazon is the perfect way to get this look for less and one of the best dupes on this list. This viral dress will be a great layering piece in the cooler months, so you'll be able to use this year-round.
Similarly, I had to share an amazing dupe for the long sleeve version of this Skims dress! The Verdusa Women's Long Sleeve Square Neck Maxi on Amazon comes in a variety of beautiful colors and has a lovely stretch to it, making it super flattering.
This ribbed midi dress is another one of my favorite Amazon finds recently! A dupe for the Skims Cotton Rib Tank Dress, this piece may be a new wardrobe essential!
What I love about this piece is how easy it is to dress up or down. Pair it with a cardigan and sneakers for a casual weekend look, or dress it up with gold strappy heels and a fun bag for date night!
Skims Lounge Set Dupes
Skims is well-known for comfort fabrics, so we couldn't leave out a selection of SKIMS lounge sets. The real deal is pricey but luckily, there are plenty of other affordable alternatives to try!
Another ultra viral set from Skims recently is the Cotton Rib Boxer and Cotton Plunge Bralette lounge look. The total for this Skims set comes to $70 – so I was obviously excited to find this Amazon lookalike for only $30!
According to the reviews this piece is lightweight and comfortable, perfect for at-home workouts or a lazy day lounging on the couch!
This dupe for the Skims Cozy collection is an instant favorite for me! The Fixmatti Women's Fuzzy 3 Piece Sweatsuit is a fraction of the price of the SKIMS version, and just as cute and comfy!
This fabric is similar to the very popular Barefoot Dreams blankets. I love that you can mix and match this 3-piece set so you can be cozy in all types of weather. This set will also make for an amazing gift this holiday season.
---
RELATED: The Best Barefoot Dreams Blanket Dupes + Cardigan Lookalikes
---
SKIMS Bras & Panties Looks for Less
Moving on to some of SKIMS' most loved items, let's talk bras! The Naked Scoop Bra from Skims is highly rated due to its wireless comfort and seamless look. Luckily, the Maidenform Pure Comfort Bralette offers the same things at a fraction of the price!
This is truly a perfect everyday bra. It feels like you're wearing nothing, but supports and smooths like a bralette!
For a bra option with more versatility, I love this low-cut, seamless bra on Amazon as a dupe for the Skims Naked Plunge Bra. This one is very similar to the Naked Scoop bra, but provides a 'V' cut shape for lower necklines and a bit more support.
The SKIMS Fits Everybody Thongs are very popular for good reason! They're super comfy, totally seamless, and come in a variety of colors. That is why I love this pack from Amazon, as they give the same fit and feel! This pack of 6 is $20, while the SKIMS version are $18 for each pair.
The MINDD Womens High Rise Shaping Brief at Walmart is a great substitute for the Skims Fits Everybody High-Waisted Thong.
If you've been wanting to try a panty that doubles as shapewear, this is a great place to start! These are very high-waisted, giving a smoothing and shaping effect that is perfect for layering under fitted dresses.
These come in a wide range of color options and you really can't beat it at $35 for 3!
---
I hope this list of SKIMS lookalike pieces for less has helped you find something you love!