Honest Caraway Cookware Review From a Regular Home-Cooking Mom
After a year of test-driving this set, I'm sharing my honest Caraway cookware set review in this post.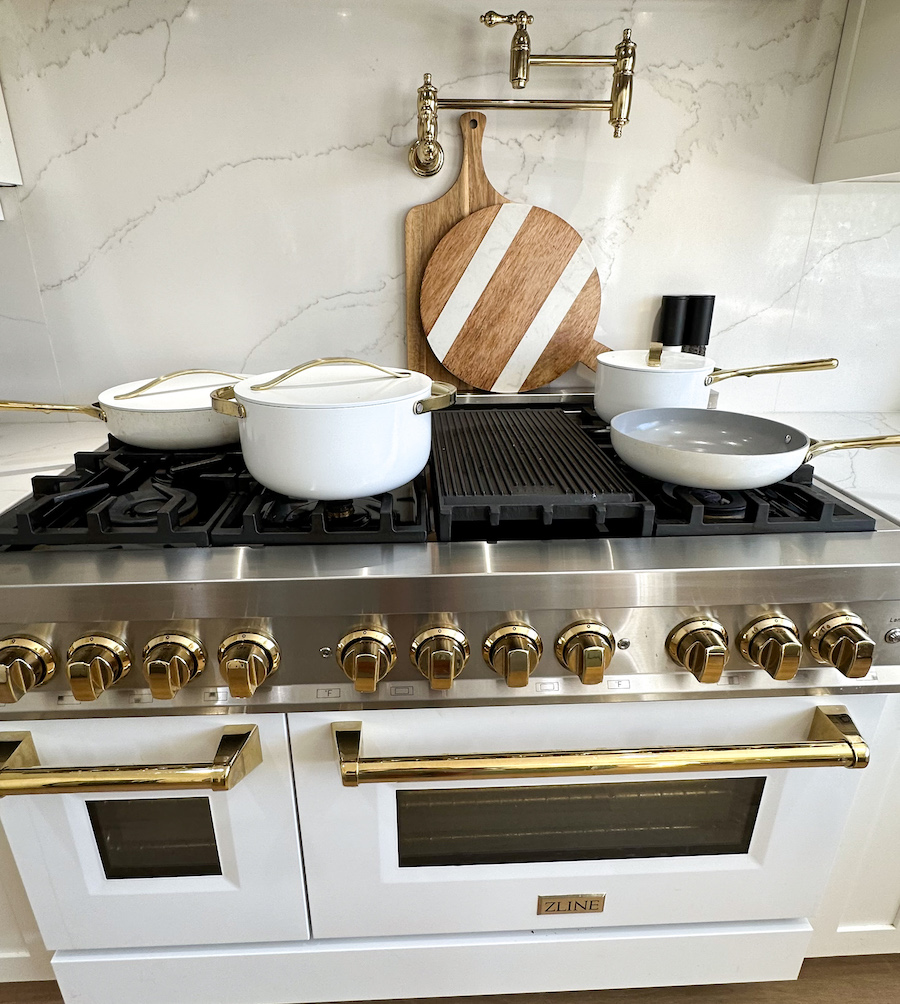 Why? Well, you're probably wondering, is Caraway worth it? After all, it's not a small investment for nonstick pans!
This pretty, luxury cookware brand has quite the reputation and influencer following.
If you've ever landed on the site, it's hard to escape the ads of the crazy-gorgeous cookware, which also boasts being nonstick and healthier than other cookware.
But….does it live to the hype? Is Caraway Cookware legit? Read on for my unbiased, honest review, written by a regular home-cooking mom of 2.
(I was not compensated for this review and Caraway does not know that I'm writing this).
I'll be scoring the pots and pans in the following categories:
Aesthetics
Quality & Durability
Cooking Performance
Care & Maintenance
Read on for the full review and final score!
What's So Special About Caraway Cookware?
Caraway is best known for two things:
First, its gorgeous cookware in a variety of fun colors that make the set totally Instagram-worthy.
Second, their use of non-toxic ceramic coating, makes the pans non-stick, without all of the toxic chemicals pots and pans made with Teflon are known for.
If you're a home cook like me, then you know at least a few non-stick pans are a must in the house.
From the perfect eggs to, well, just about anything else, nonstick pans just make life a bit easier.
And if you can get healthier non-stick, like what Caraway offers, why not?!
(There are other Caraway products like the bakeware sets, but this review is focused solely on the pots and pans).
I've been cooking with my All-Clad set for years and to be honest was pretty skeptical about whether or not Caraway was legit or if Caraway was worth the hype.
TLDR; I really like them. Read on for my honest review sharing all of the Pros and Cons of Caraway's cookware set.
Caraway Has Nailed Aesthetics
Caraway has made us lust for pretty cookware. Who knew that was something I even wanted?!
They've taken a seemingly everyday household necessity and turned it into something glam-worthy.
The pots and pans come in fun, cheeky colors, and luxe versions as well for the modern home cook.
And they're a fun way to show off your personality and make a statement in the kitchen.
Is that something you really need? Probably not.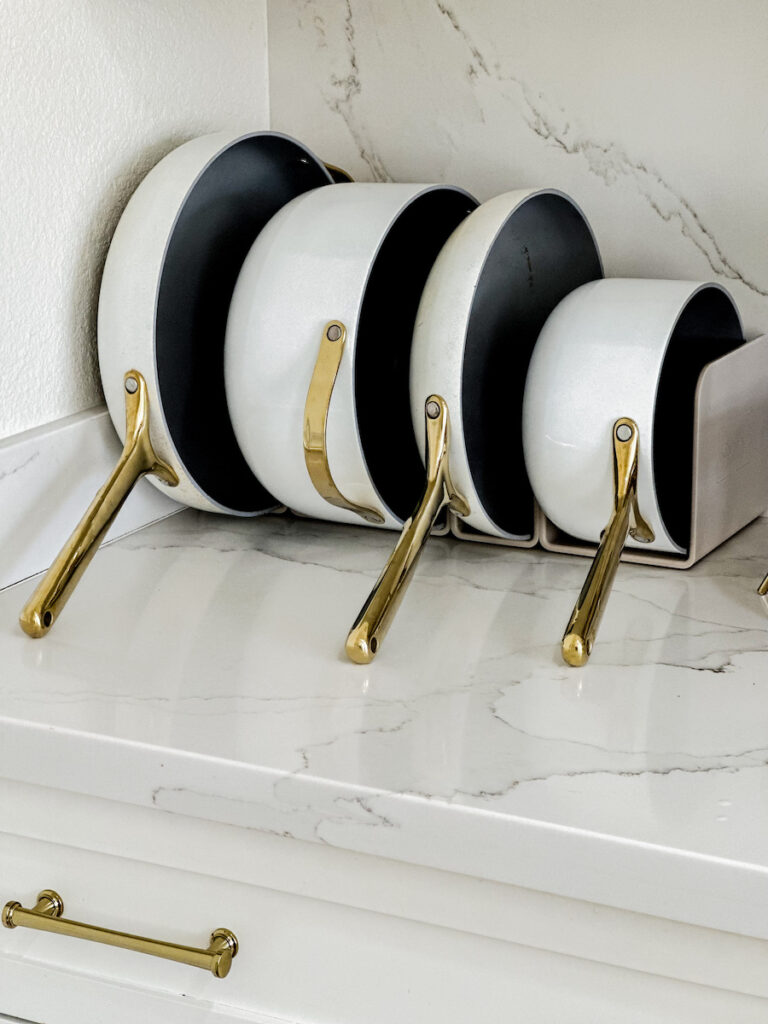 But the pots and pans are so pretty I'm able to do something I've never thought I would before—actually keep them out on display.
No digging into the cabinets to reach for them, just easy access and a simple way to decorate your kitchen.
Final Rating for Aesthetics: 10/10
Quality and Durability
I tested my Caraway cookware for a little over 12 months before writing this honest review.
I felt like just a few months wasn't enough to really know if these pots and pans would stand the test of time.
The good news is, they have.
The pans are made of a non-toxic ceramic coating free from PFAS and heavy metals. They're nonstick yet able to withstand heat of up to 550 degrees.
Thus far, my Caraway set is performing just as they did when I first got them a little over a year ago.
Final Rating on Durability: 10/10
Cooking Performance
It's really easy to cook with Caraway cookware.
I was extremely skeptical at first and considered this set "cookware for dummies" with the logic that real chefs use stainless steel All-Clad.
But that's also the beauty of Caraway. It's easy and nothing sticks.
The heat holds higher than other cookware and cleanup is a breeze.
What's more, you have to use a lot less oil than with stainless steel cookware so you end up cooking healthier meals.
The only drawback on cooking performance is that it's recommended you only use these on a low to medium setting (no high heat!). In other words, be patient.
Stick to low to medium heat as anything higher than that can start to wear away the nonstick coating.
Final Rating for Cooking Performance: 9/10
Caraway Cookware Maintenance and Cleaning
Here is where things get a little hairy, and why I was hesitant to recommend Caraway at first: it's impossible to keep these pans looking as gorgeous as they do in everyone's Instagram photos.
First, they're white.
This is my bad. I wanted a white and gold set to match my white and gold kitchen.
Terrible idea.
In retrospect, I 100% do not recommend grabbing the white Caraway cookware set unless you want to drive yourself nuts trying to keep them clean.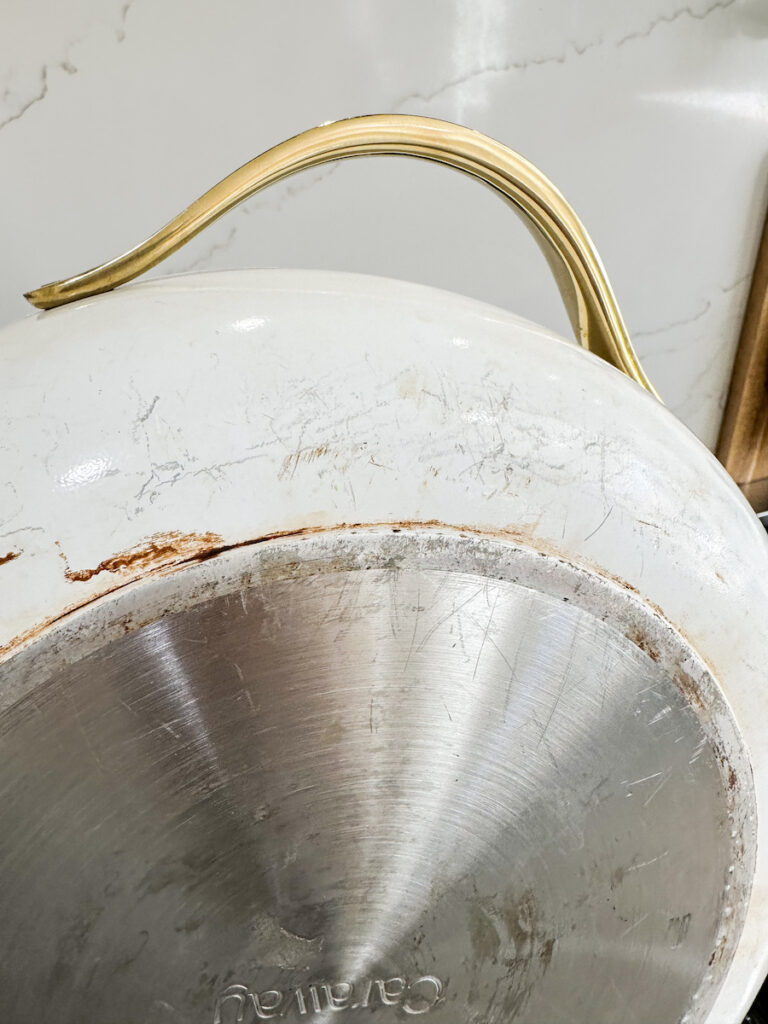 The bottom of the pan scratches easily. And they are constantly stained.
This drives me insane and is just not worth the hassle to try and keep them in their original condition!
Yes, you can use Barkeeper's Friend and a soft sponge (no abrasives) to clean these up. It works quite nicely and rather quickly.
I do this on occasion. But, let's be honest; I'm a busy mom of two, I don't have enough time to be doing this on a daily basis nor do I want to.
And, as you can see from the photos, they scratch rather easily. I babied them quite a bit in the beginning and was so disappointed at every visible scratch and scuff.
They still perform but let's be honest: part of Caraway's lures is its aesthetics and they just don't hold up.
The next issue that drives me mad is it is recommended that you hand wash these pans.
HAND WASH.
Yes, they wash like a dream. It's SO easy.
But we are not a hand-washing family. Nobody has time for that around here.
This really deterred me from using these pans at first or even recommending them. I felt like I had to baby them and that really bothered me.
But a few months after owning them, I was talking with a friend who also owns (and loves) her Caraway cookware set. She said she does put them in the dishwasher!
This changed everything for me.
Once I got over the fear of babying them so much, I started using them more and more.
And while it's still highly recommended that you hand wash them, they do just fine in the dishwasher.
This may affect how long they last, but they've lasted a year thus far. I will be sure to update this review if that changes.
FINAL RATING for Maintenance: 5/10
Daily Cooking with Caraway
Non-stick is really only great for certain foods. And while my non-stick does the job for the majority of the meals I cook for my family, this isn't a set I would turn to if I wanted to get a good sear on a steak.
That's not really the pan's fault. A non-stick is a non-stick, it isn't meant to sear.
Just don't think this will be your end-all-be-all pans as they're marketed to be.
A well-rounded kitchen needs a variety of pots and pans beyond just non-stick, even though I find myself using these pans on the regular.
The Worst Parts of Caraway Cookware
This wouldn't be a well-rounded honest Caraway cookware review if we didn't talk about some of the negatives!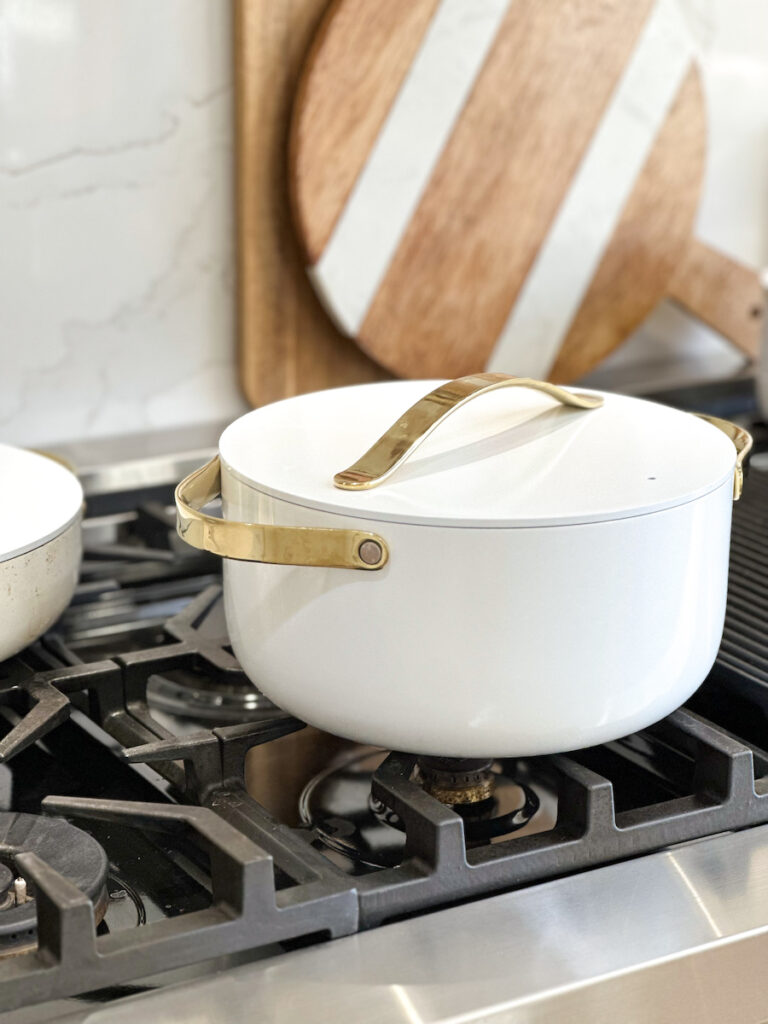 Let's start with the most obvious: they're a bit on the pricey side for non-stick pans.
As I mentioned, I registered for an All-Clad set for my wedding. This set has lasted me more than 10 years!
In fact, they are meant to last a lifetime. Yes, really.
Mine have. And they look good as new.
Perhaps that's unfair, it's not an apples-to-apples comparison as All-Clad is a completely different product than nonstick pans.
And this isn't an All-Clad vs. Caraway review.
My point in bringing it up is the price point of a full Caraway set is $595; you can get an All-Clad set for $899 and they will last forever while Caraway will eventually need to be replaced.
In fact, the average lifespan of ceramic cookware is anywhere from one to three years. That's pretty short for such a premium price tag!!
The other biggest con is that Caraway feels high maintenance. I highly regret ordering them in white and don't want to hand wash them all of the time.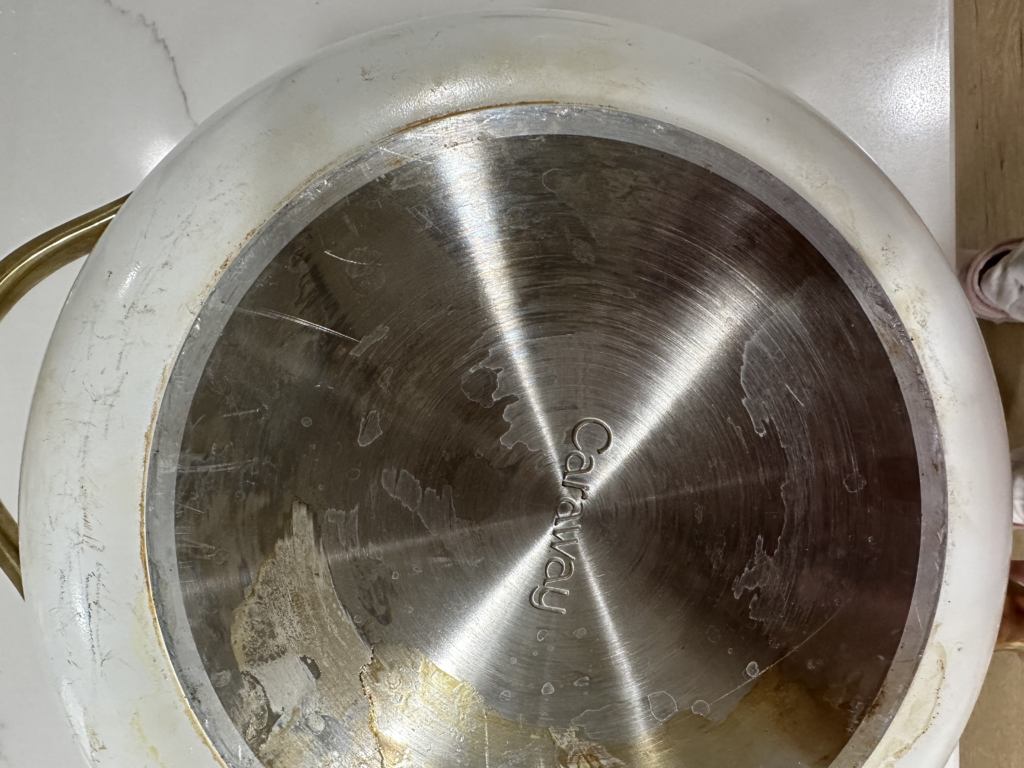 Despite babying them, they have chipped rather easily which is disappointing.
And since one of the main selling points about these pans is their aesthetics, it's disappointing that the aesthetics just don't last.
You can't use metal utensils with these pans or cook with high heat either.
Finally, those gold stainless steel handles may be beautiful but beware—they get really hot when you're cooking so don't touch them!!!
TLDR; You'll need to use oven mitts, silicone utensils, and a non-abrasive sponge to correctly care for caraways' cookware set.
Is Caraway Cookware Worth It?
Prior to writing this review, I had a friend come over and ask me about my Caraway cookware set.
I told her I liked them but wasn't quite convinced I loved them yet.
A few weeks later, I kept thinking about our conversation…because I had realized I was using these pans every. single. day.
I have owned and cooked with my All-Clad set since 2012. I swear by them. And yet, it turns out these Caraway pans have become my daily driver.
Was I wrong about what I had said?
The truth is that once I realized we could put Caraway in the dishwasher, and that I would stop obsessively trying to keep them in pristine condition, I found myself using these pots and pans constantly.
They're just easier to cook with and use and clean.
I cook with my Caraway set nearly every single day.
Despite my snobbiness preconceived notions that only chefs use stainless steel and therefore it's superior, nonstick really does have a place in our homes, particularly for the home chef.
If you're a busy mom like me, these are amazing.
TLDR; I would 100% repurchase some Caraway pans once they've run their course.
FINAL FINAL RATING: 34/40
What Caraway Bundle is Best?
If my budget only allowed for one of these pans, assuming you already have stainless steel and a cast iron in your arsenal, I would recommend going for the frying pan or the Sauté pan instead of the full set.
It's the most versatile and, as I mentioned, pretty much a daily driver around here.
While the Deluxe Cookware set is excellent and includes the organizers (which I love), you could easily get away with just owning the Sauté pan (my favorite) and/or the frying pans.
It's not like you need to boil pasta in a nonstick pot. You can use anything for that. And rice cooks better in a pressure cooker vs Caraway pots.
On the flip side, if you're investing in those three pans, you're already out $330 for just three pans. It's not that much more to go for the complete set and get them all.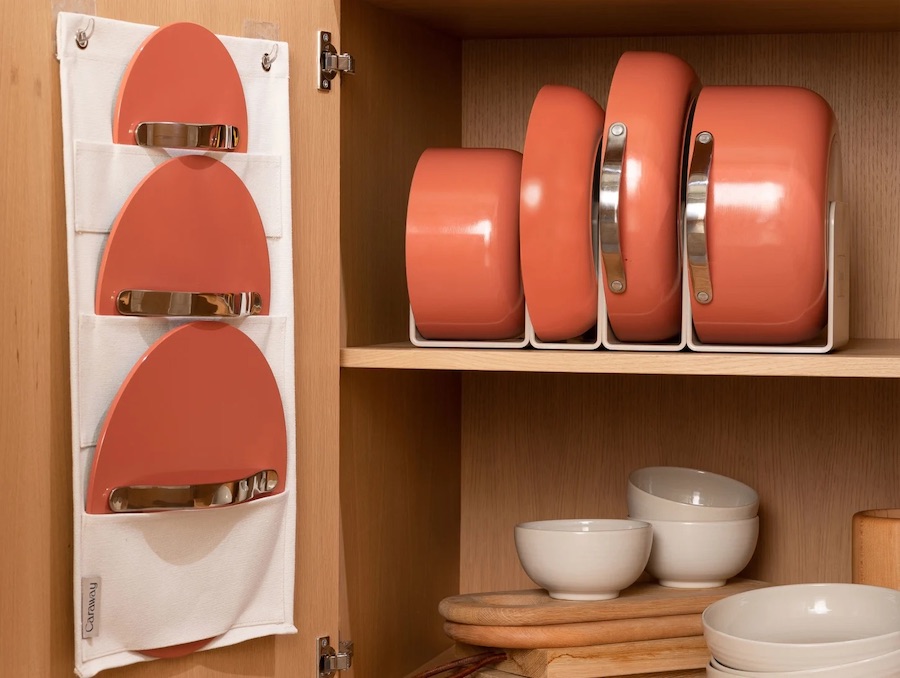 The storage system that you get with the Deluxe set is really great; I do really like the magnetic pan racks which allow for easy storage and access. There's also a handy canvas lid holder perfect for organizing lids.
And you can store the lids on the inside of a cabinet. It's these small thoughtful things that I really love and appreciate.
Caraway Cookware Coupon Codes & Where to Buy
You can buy Caraway Cookware directly on their website. They occasionally have promos so be sure to sign up for my mailing list as I do alert my subscribers!
Caraway Cookware is also available on Amazon and I've seen the frying pans at my local Target.
There are also a few exclusive special edition colors, which I love, at Crate & Barrel.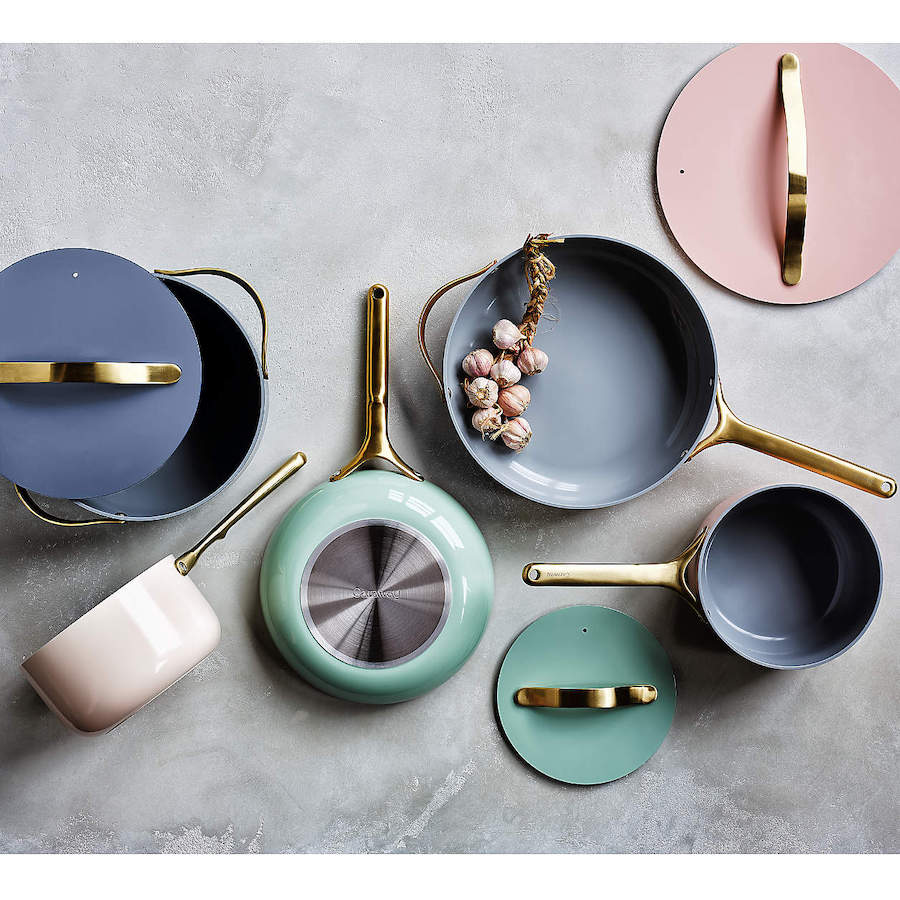 Expect a Caraway Cookware Prime Day discount as well. This is usually 15-20%.
Caraway Reddit Reviews
As usual, the Caraway Cookware reddit reviews are a mixed bag.
Some users are calling the pans "absolute garbage" while others say they like them for certain uses.
As I mentioned, in my personal experience they have held up for at least a year. I will update this post next year or the following if anything changes.
Also, when needed, I would likely repurchase the sauté pan as that one is my favorite. (I would not repurchase the entire set; I just don't need it nor feel that it is worth it to me.)
As far as negative reviews, Caraway does put quite a bit of emphasis on how to care for the pans to extend longevity. I don't expect these to last as long as my All-Clad pans but from what I've read, it sounds like that may be par for the course when it comes to ceramic cookware.
Caraway Cookware Dupes
If you've read this far (go you!) and still want to try them out but are nervous about the price point, here are a few Caraway Cookware dupe recommendations:
Sam's Club Member's Mark 11-Piece Cookware Set
This is as close as you're probably going to get to a Caraway Cookware dupe. The price point is great at under $160 for an 11-piece set!
There are 12 colorways to choose from, many of them just like the Caraway colors with gorgeous gold handles. The reviews are quite positive as well!
Beautiful by Drew Barrymore 12pc Ceramic Non-stick Cookware Set
Walmart has a gorgeous line of ceramic cookware with their Beautiful by Drew Barrymore ceramic cookware set.
The 12-piece collection is available in 4 colorways with gold handles and it includes some trivets, too.
The reviews are also positive on this set with a 4.3 rating.
---
Have you tried Caraway Cookware? What has your experience been like with the set?