Chic & Cozy Fall Front Porch Decor Ideas You'll Love
As the weather gets cooler, it's the perfect time to create that cozy, warm, inviting energy in your home–and the front porch is a great place to start!
After all, it's the first impression for your guests and sets the tone for the rest of your home.
Not sure where to start? Keep reading for some gorgeous and inspiring fall front porch decor ideas.

natural & moody
For this aesthetic, it's all about texture, deep colors, and natural elements.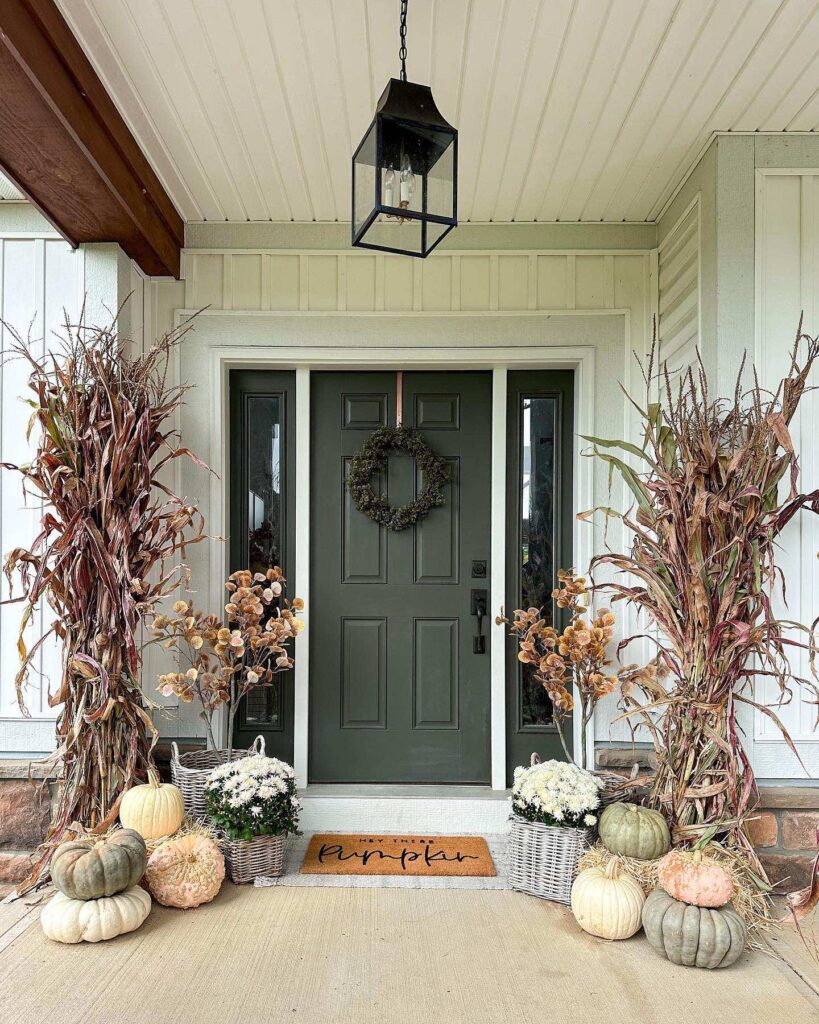 This stunning front porch decor really highlights the beautiful deep green color of the front door.
This look can totally be recreated with any dark-tone front door!
I love the use of lighter shades of green to really highlight the features of the home.
One of my favorite front porch design hacks is layering a textured cloth mat under your doormat. This adds texture, color, and depth!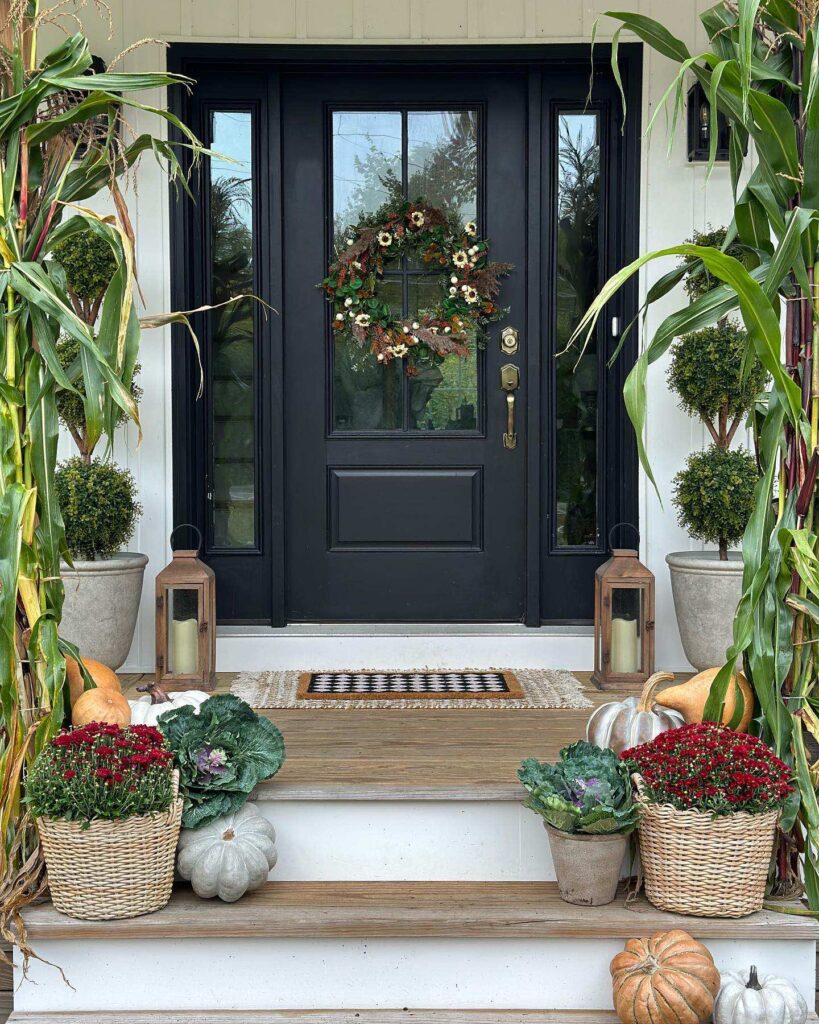 This home is another great example of using natural elements to create a beautiful front porch.
Don't stop at pumpkins and florals–try adding produce, potted plants, cornstalks, and hay bales to add unique dimension to your home this fall.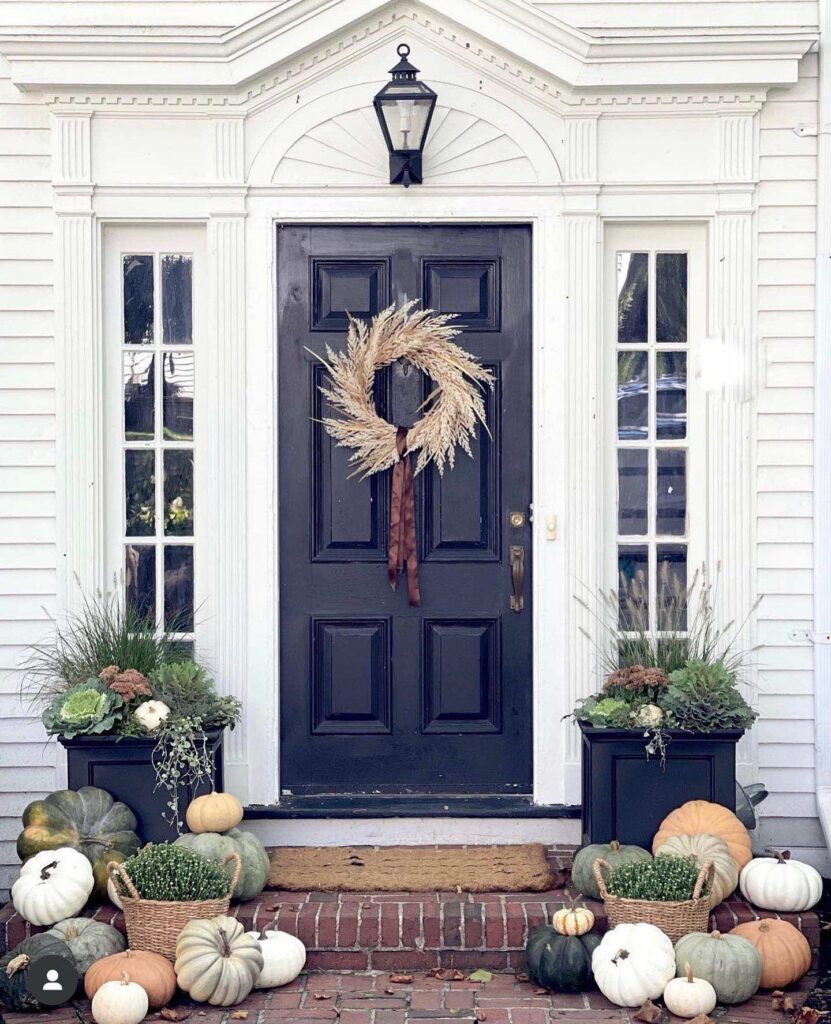 I love the simplicity of this front porch look. Accumulating a bunch of pumpkins in different sizes, colors, and textures takes your front porch from Halloween into Thanksgiving easily!
Don't be afraid to play around with a simple wreath to create something that fits your style perfectly.
I love the way they added a satin ribbon here to really elevate the door.
Try adding textured fabrics or natural elements such as dried fruit, pinecones, or wood to create a unique piece.
Play into the colors already featured on your porch to make them feel special for the fall season. These black rocking chairs are gorgeous statement pieces, so why not highlight them!
I love the way this creator brightened up the black aesthetic on her porch with this textured wreath.
RELATED: 10 FALL KITCHEN DECOR IDEAS YOU'LL TOTALLY LOVE (AND, THEY'RE EASY!)
light & bright
If pastels and a clean aesthetic is more your vibe, you'll love these next few ideas!
Just because it is fall, doesn't mean we have to leave the light and bright colors behind.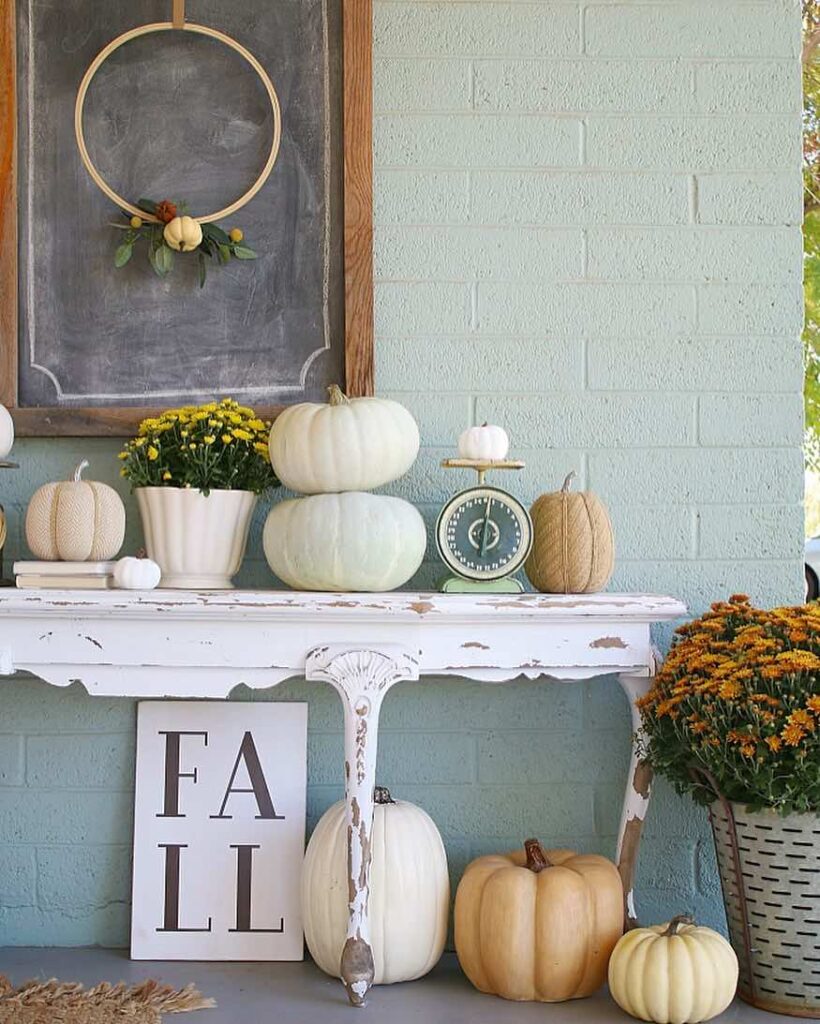 How charming is this rustic fall-themed table decor? If you have a large front porch with blank space you want to fill, a table is a great way to add height and dimension to the space.
It also adds a whole new realm of possibilities for decor. Think small vases, books, candles and, of course, pumpkins.
The chalkboard is another aspect that adds a lot to this look with its texture. Plus, you can customize this all year long by changing up the decor for each new season.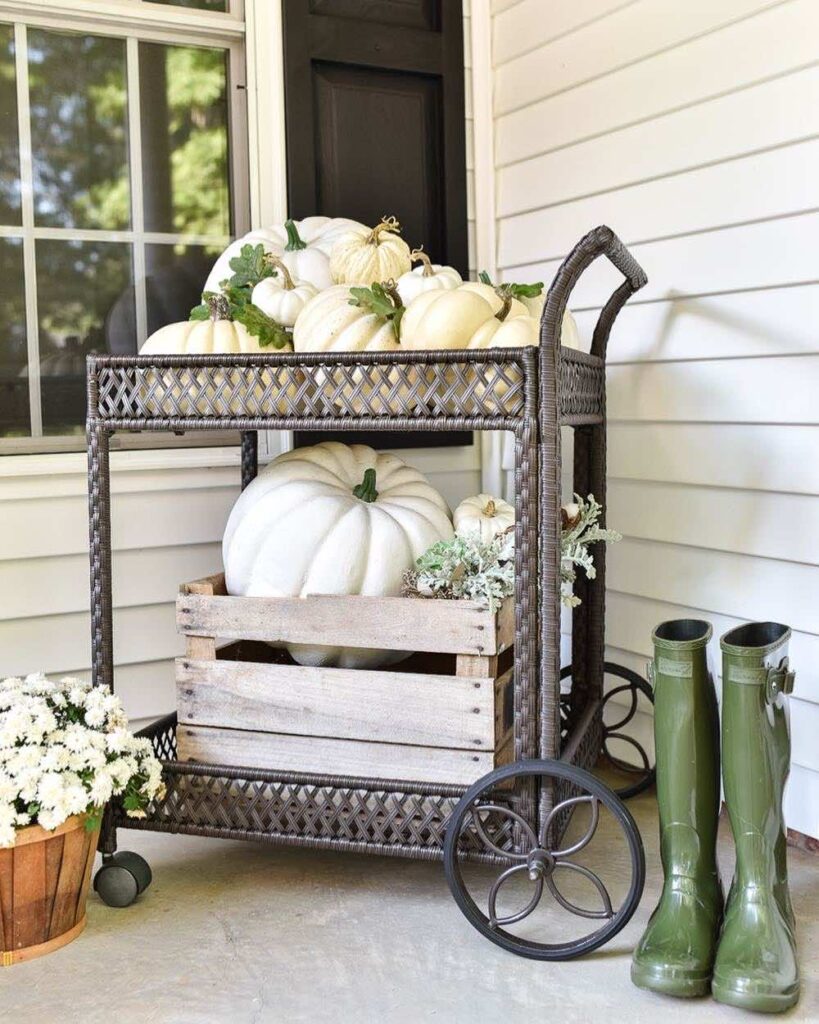 Adding a bar cart to your front porch is another idea I love! This is especially cute for a modern farmhouse aesthetic.
This creator did a great job making a bright white look still feel like fall by incorporating olive green.
The flowers and foliage make this color palette perfect for the fall season.
---
RELATED: 19 Gorgeous Neutral Thanksgiving Tablescape Ideas
---
beautiful fall jewel tones
A great way to create that classic, timeless fall feeling is by using rich colors to add a special pop of color to your home.
The next few photos show so many ways you can incorporate color into your fall look!
This dark cherry red may be one of my favorite fall tones. It's festive, bright, and pairs perfectly with white, navy, and gray!
Lining each side of your front porch steps with florals is such a simple way to immediately elevate your entire front porch. It makes quite the statement with guests, to.
Creating these pots could be such a fun fall activity for you and your littles, or make it easy and buy pre-potted mums in your favorite jewel tone.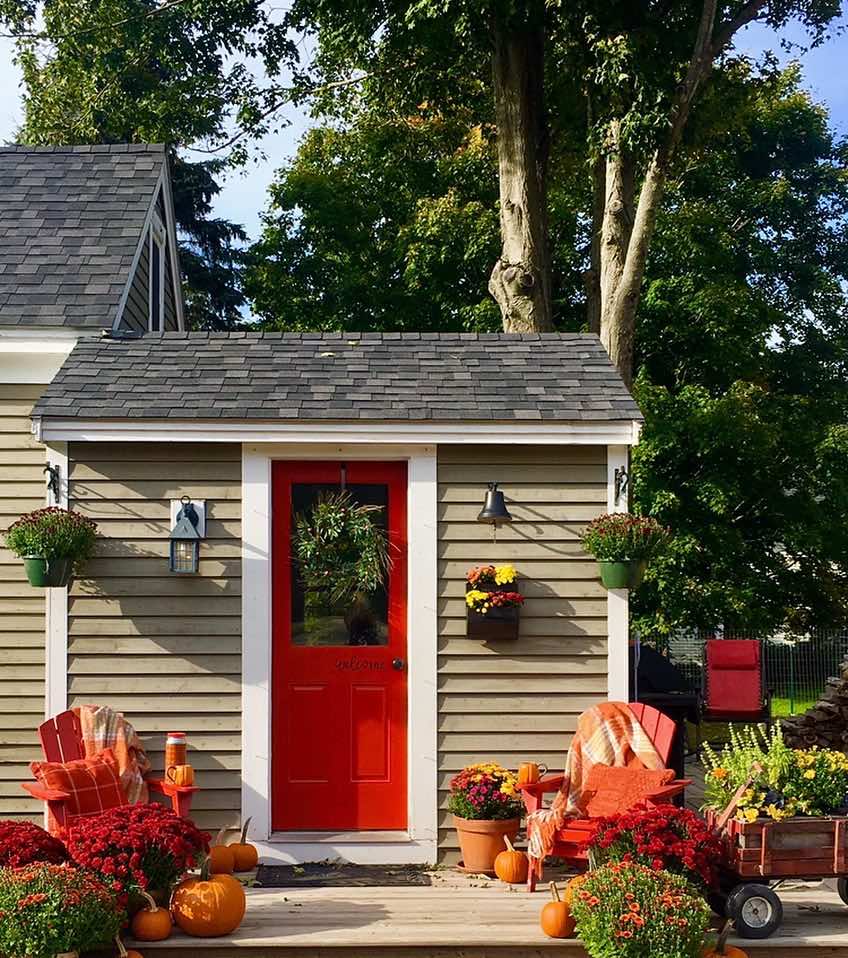 Something about a red door just screams holiday season. If you're lucky enough to have one, highlight that beautiful color! Any sunset color is going to look beautiful with red, so have fun with yellows and burnt oranges.
I love the use of blankets here to really create a fall vibe! If you live in a dry climate, try adding pillows and blankets in plaid and knits to your seating.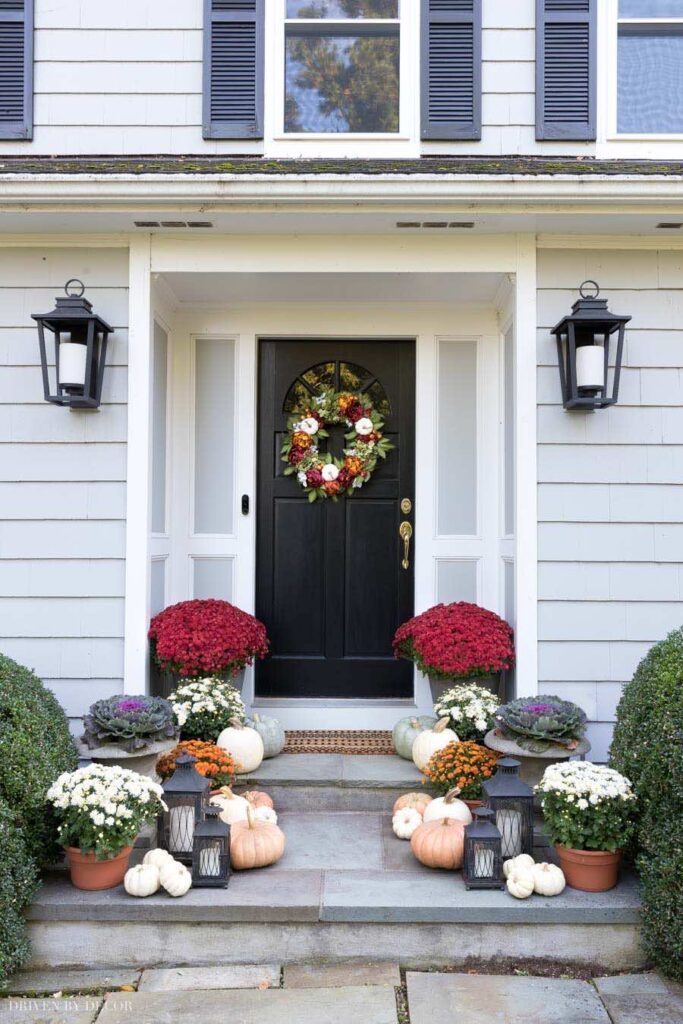 My favorite thing about this look by Kris from Driven by Decor is the way the colors featured on the steps are also highlighted in the gorgeous wreath she has on her door!
This is a great trick if you want to do a colorful look as it ties it all together.
Mumms, pumpkins, and even cabbages in fun planters create a beautiful layered look.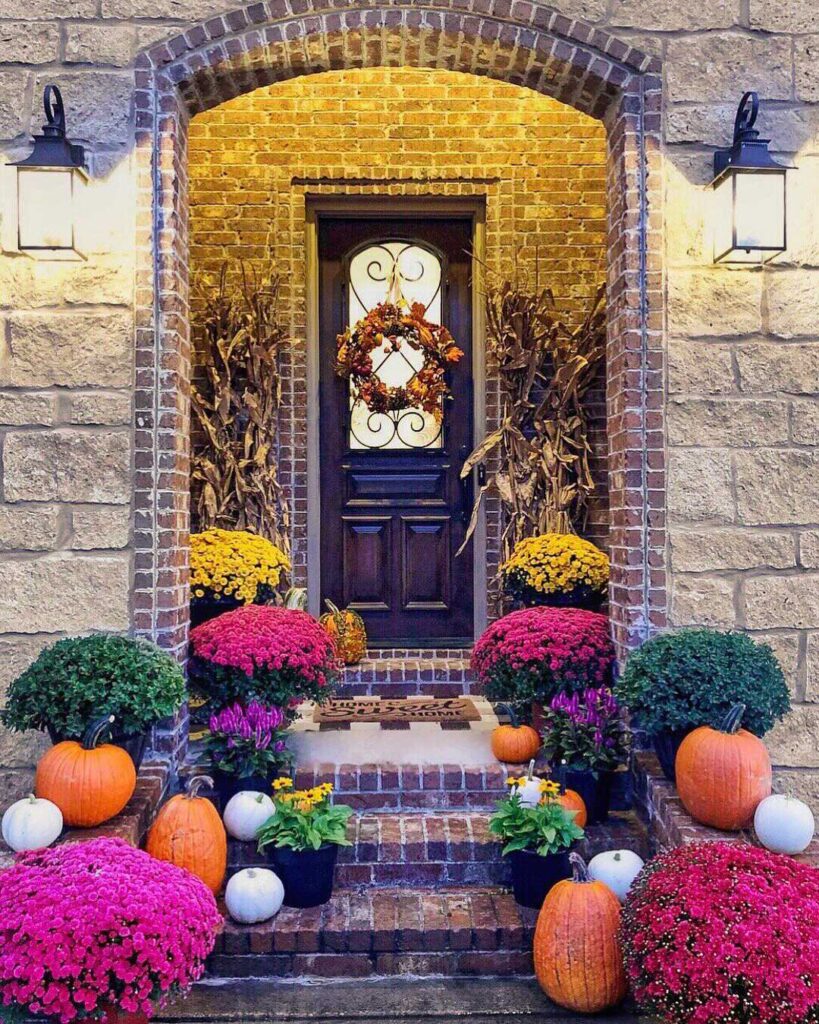 These gorgeous front porches show that you can incorporate as many colors as you like in your fall decor!
Have fun with this idea and use colors you may not expect in a fall color palette.
This creator uses a pop of bright purple and it totally works!
Be sure to pair your choice colors with deep fall tones to create a beautiful look.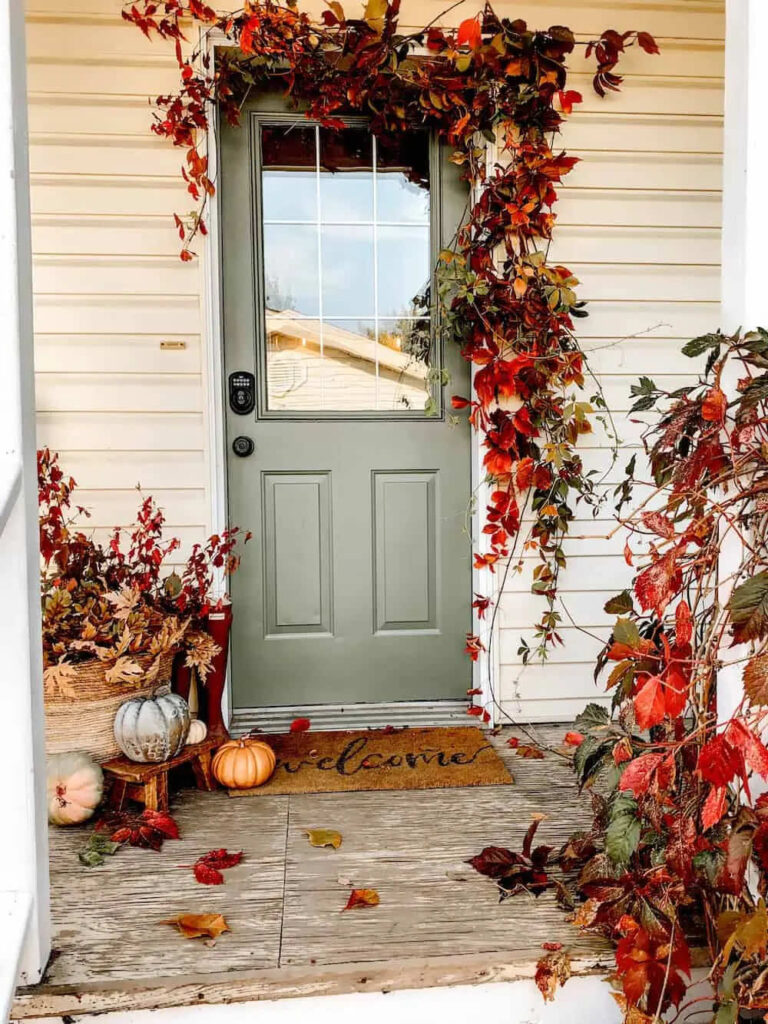 On the topic of color, this look is a great example of the most classic of colors for fall. This is a no-brainer as the trees around you will already be displaying these beautiful shades of red, orange, and brown.
The door framing piece used here is such a fun twist on the classic wreath look. You can easily DIY this or use faux fall foliage to create a whimsical, natural look like this one!
RELATED: How to Create a Gorgeous, Modern Thanksgiving Tablescape
warm, cozy neutrals
One of my favorite color palettes for the fall season are warm shades of brown, beige, and camel.
It's a timeless look that is always inviting!
Below are some gorgeous ideas for incorporating these cozy colors into your fall front porch decor this season.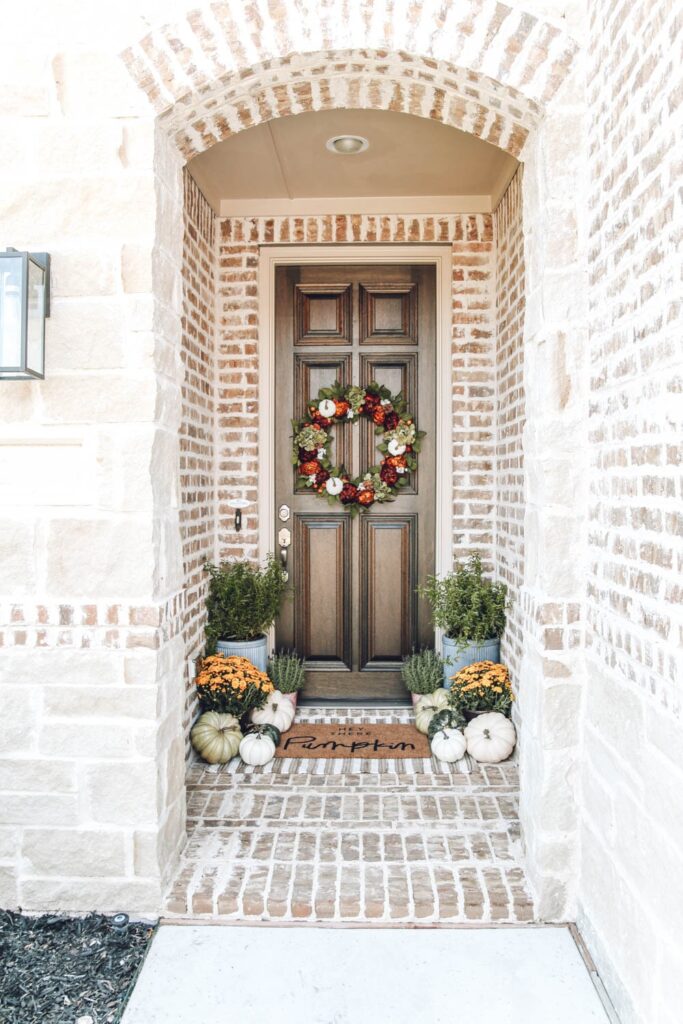 If your home features brick in any way, it is the perfect backdrop to creating a beautiful entryway to your home.
This look keeps it simple, because the texture of the painted brick stands out so much on its own.
Adding that pop of burgundy in the wreath really creates a strong focal point and adds just the right amount of color.
This creamy, muted look is absolutely stunning. What makes such a simple design look so interesting is the way this creator brings your eye up the stairs to the front door by intentionally layering her pieces.
If you have a wide staircase like this one, add more elements as you approach the front door to create a more obvious pathway. This not only creates a welcoming look, but it adds a lot of interest to a big space.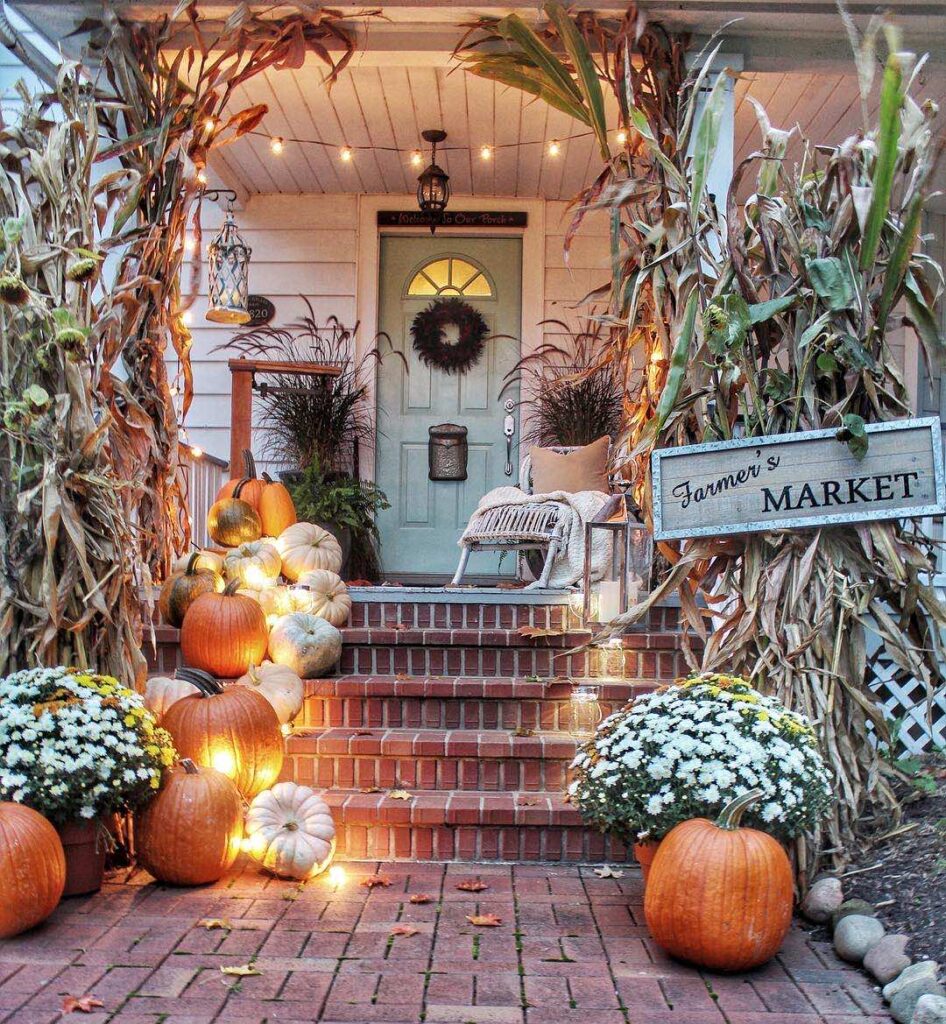 This beautiful home shows a more maximalist look with its decor, and I LOVE it. The natural elements work together so well and it really creates a whimsical, magical vibe that feels cozy and welcoming.
My favorite detail here is the use of string lights. You don't have to save these for Christmas decorating–they can add a magical element to your decor all year! Hide them between pumpkins or pots of flowers for an elevated look.
SHOP the Look: Fall Front Porch
If you're more of a black thumb than green thumb, you can get any of these looks with artificical plants!
Depending on where you live, pumpkins may also not be realistic (we can only leave ours out for 48 hours since it's too hot and the desert wildlife will come by and eat them!!)
Here are a few items to help you get the fall front porch look:

---
I hope these fall front porch ideas have inspired you to decorate your home this season!