How to Create a Gorgeous Modern Thanksgiving Tablescape
It's never too soon to think about your Thanksgiving (or Friendsgiving!) decor, as sometimes I've waited until a little too close to the holiday and come to find out things are sold out!
If you're looking for some ideas and inspiration for your own gorgeous modern Thanksgiving tablescape, keep on reading as I've got a few for you!

Embrace Metallics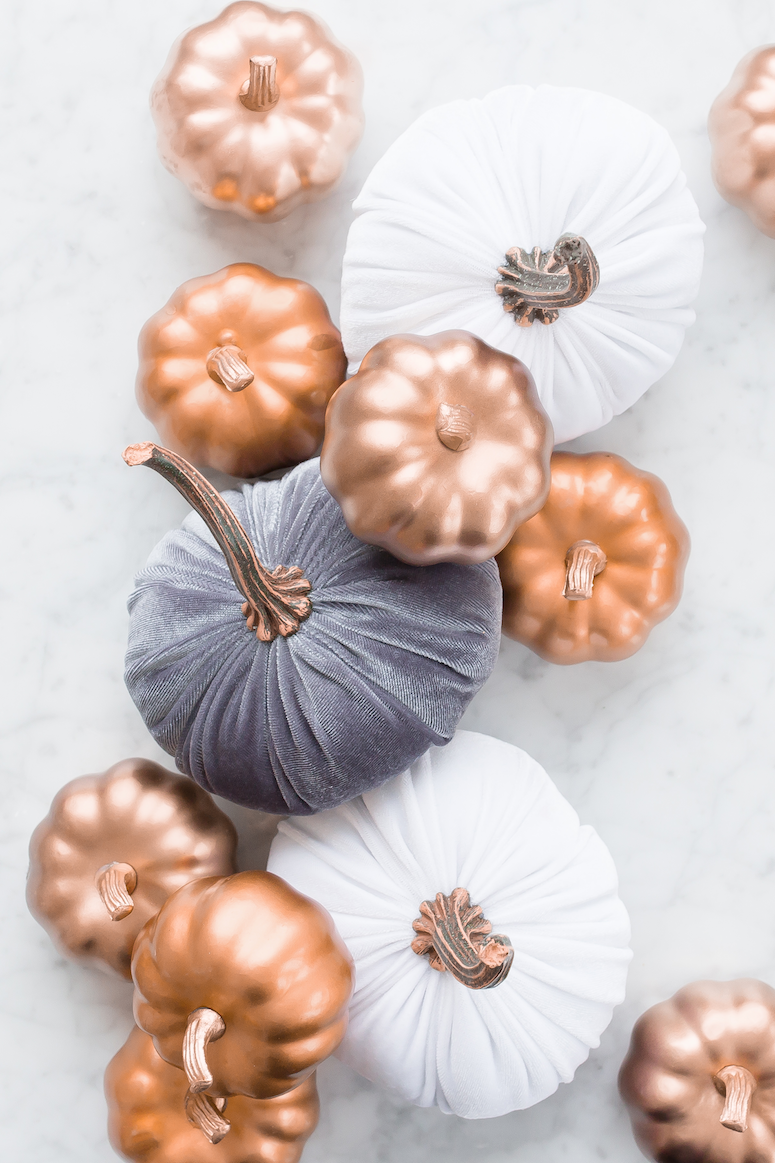 No one said you had to stick to an orange/cream/black color palette. Try some metallics instead!
Some metallic pumpkins are a cute way to add a modern element to your Thanksgiving table. And you can decorate with them around the house, too.
I'm not a DIY person myself, but I'm quite sure some pumpkins from Michael's and a bottle of spray paint can work wonders for this. I also spotted some metallic pumpkins on Amazon and Hobby Lobby, too!
---
RELATED: Chic & Cozy Fall Front Porch Ideas
---
Keep it Simple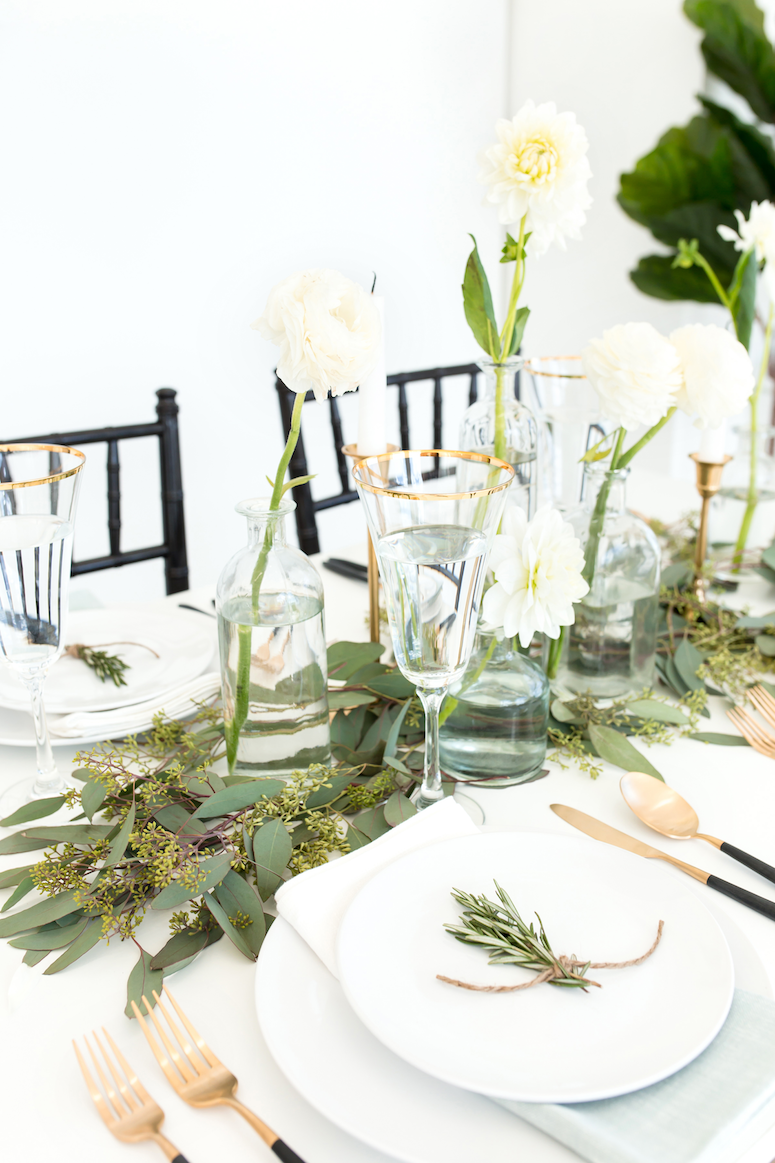 Something about the holidays screams clutter. I'm looking at you, Christmas tree that's about to fall over in decorations!
There's definitely something refreshing about minimal Thanksgiving decor.
I love the idea of keeping it simple and adding just a few Thanksgiving-themed decorations, like pumpkins and fall foliage.
---
RELATED: Fall Kitchen Decor Ideas You'll Totally Love
---
Try Neutrals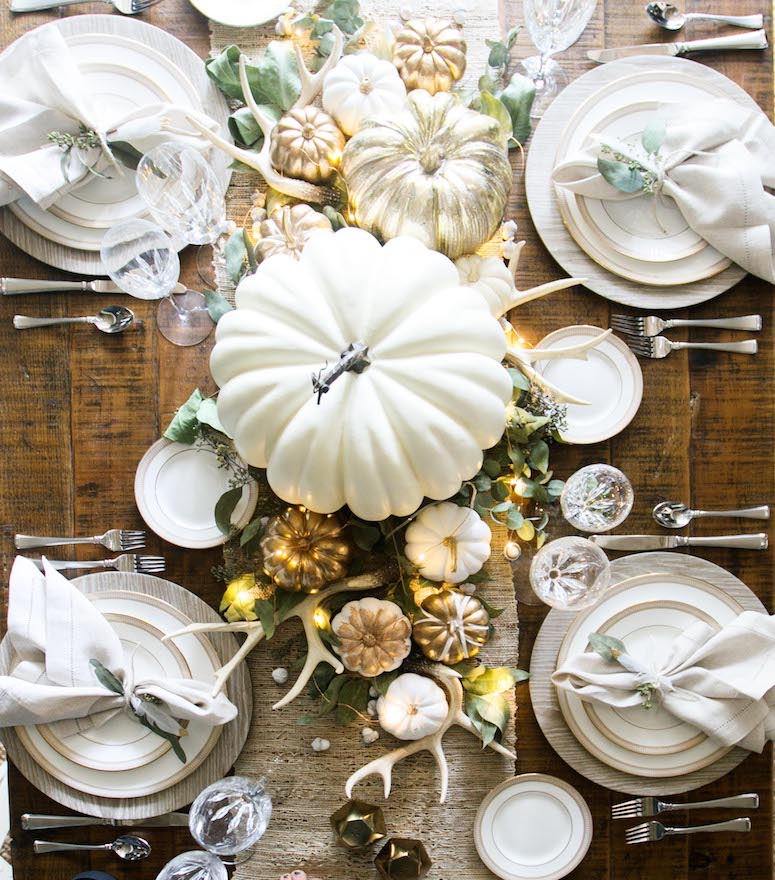 Living With Landyn & Landyn Hutchinson. Photo by Lindsey Grace Photography
I love the way Living with Landyn decorated her modern Thanksgiving tablescape in a palette of layered neutrals. It's understated yet so elegant!
Another bonus is that when you're working with a neutral palette like this, you're able to easily re-use a lot of the decor items. So you're not stuck wondering what to do with all of your seasonal storage goods!
A burlap runner, gold and white gourds and some white antlers will help you get the look.
---
RELATED: 19 Gorgeous Neutral Thanksgiving Tablescape Ideas
---
Consider Black and White
Black and white decor is definitely having a moment, so it's no surprise this trend, which makes anything instantly modern, has landed on holiday decor, too.
Black and white with a touch of gold is modern, elegant and quite timeless, like this place setting by Giggles Galore. It's a gorgeous non-traditional Thanksgiving tablescape idea and, just like with neutrals, you could easily re-use a lot of the items.
The best part of a modern Thanksgiving tablescape is that it's really about keeping it simple.
Classic colors and items that can be re-used are an easy way to get that non-traditional look. And I love ideas that can help you get more mileage out of your investments.
Gold chargers can be used for Thanksgiving, Christmas and again at Easter! (I used gold chargers in this black, white and gold holiday tablescape).
---
Are you planning a non-traditional Thanksgiving tablescape this year? And even if you aren't hosting, do you decorate your table? Let me know!