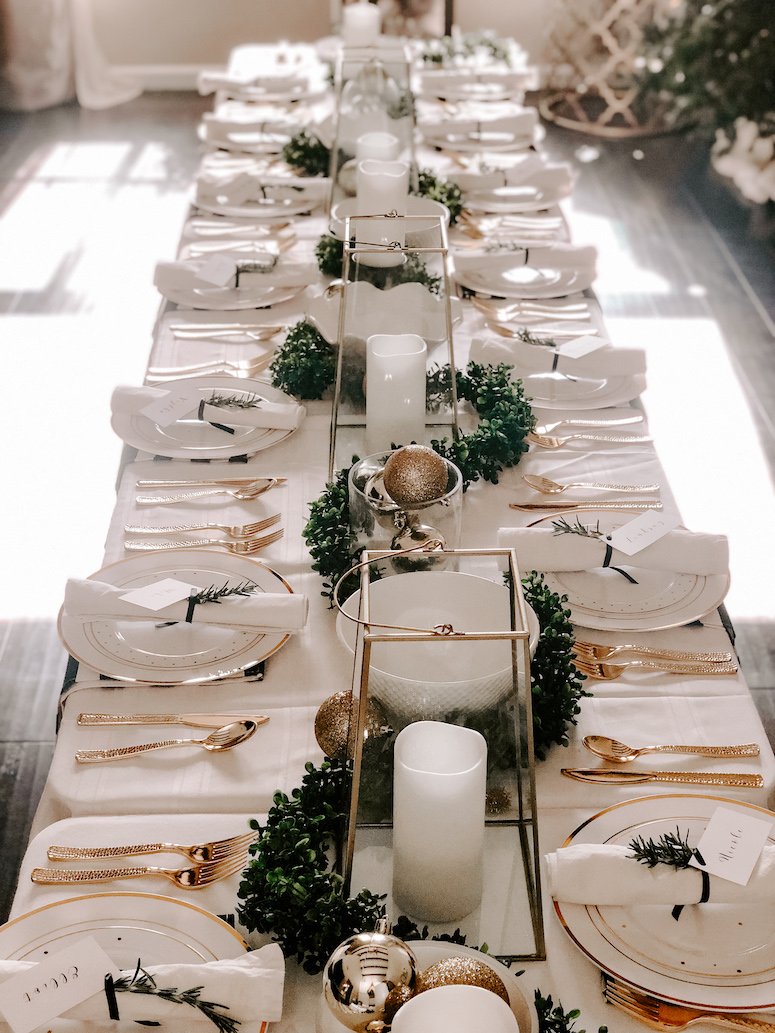 Oh my goodness, this holiday season has been a whirlwind! I put together this black, white and gold table setting for our annual Slava this year and thought I'd share as it would also make a great New Year's Eve tablescape idea! 

We had 20 people over for our annual Slava dinner, you can see previous years here and here. In case it's your first time hearing about it, it's a Serbian tradition passed down in my husband's family which commemorates the day Christianity was introduced to the family. 
Each family has a different Patron Saint; ours is St. Nikola so our feast falls on December 19 each year. 
When you have that many people for dinner, it needs to be kept simple. Which is totally possible to do while still being elegant. 
Although I've really loved the silver tablescape we've done in years past, this year I wanted to shake things up by adding some glam gold and black accents to the mix.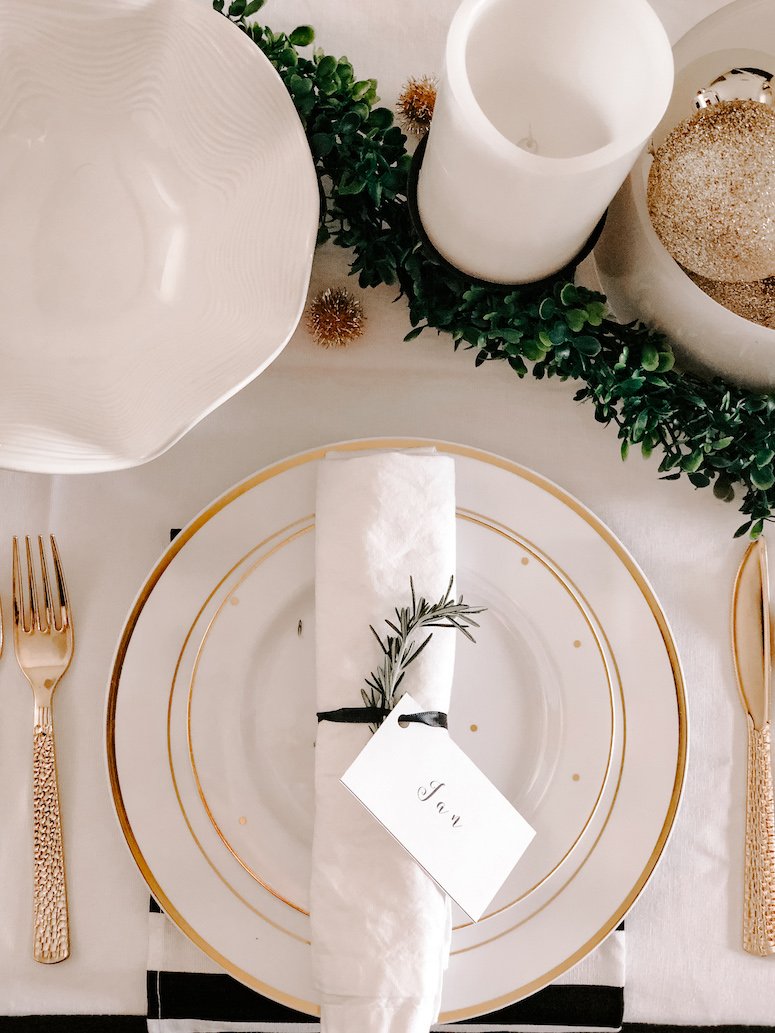 To get the look, I used the same white tablecloths I've always had and these napkins. I really wanted black and white striped napkins and found these on Oriental Trading for a great deal! 
The reviews say not to wash them, so I set them under the plates as a decorative element and placed the actual napkins on top of the plates. 
[convertkit form=829021]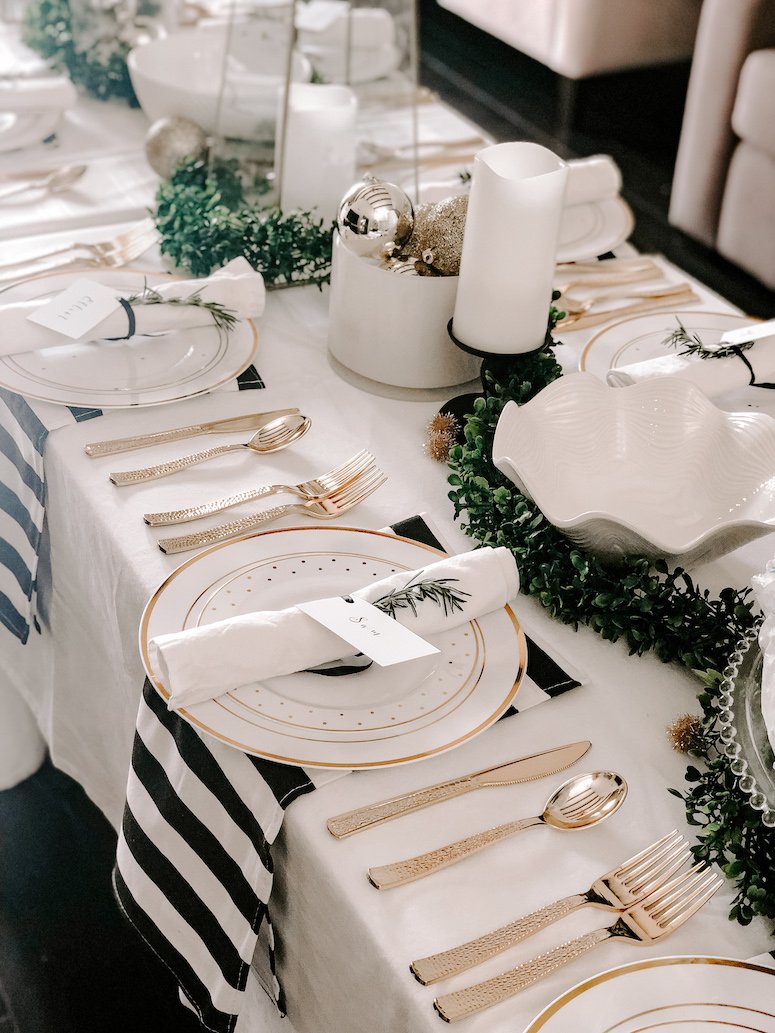 Speaking of which, I got some gorgeous plasticware this year! I used these Sugar Paper plates from Target and plates like these underneath. It made cleanup a breeze and the table still looked really nice. 
Since our Slava took place during the holidays, I knew I wanted to sprinkle a few ornaments on the table and some greenery into the mix. I used actual rosemary for the napkins and placecards, which is free, smells great, and adds a nice elegant touch. I also added three boxwood garlands (similar here and here).  
When all was said and done, it was fairly inexpensive to pull together this black, white and gold table setting. It can be easy to go a bit overboard for the holidays, but keeping it simple is really key, as well as re-using your items.
RELATED: Holiday Entertaining Secrets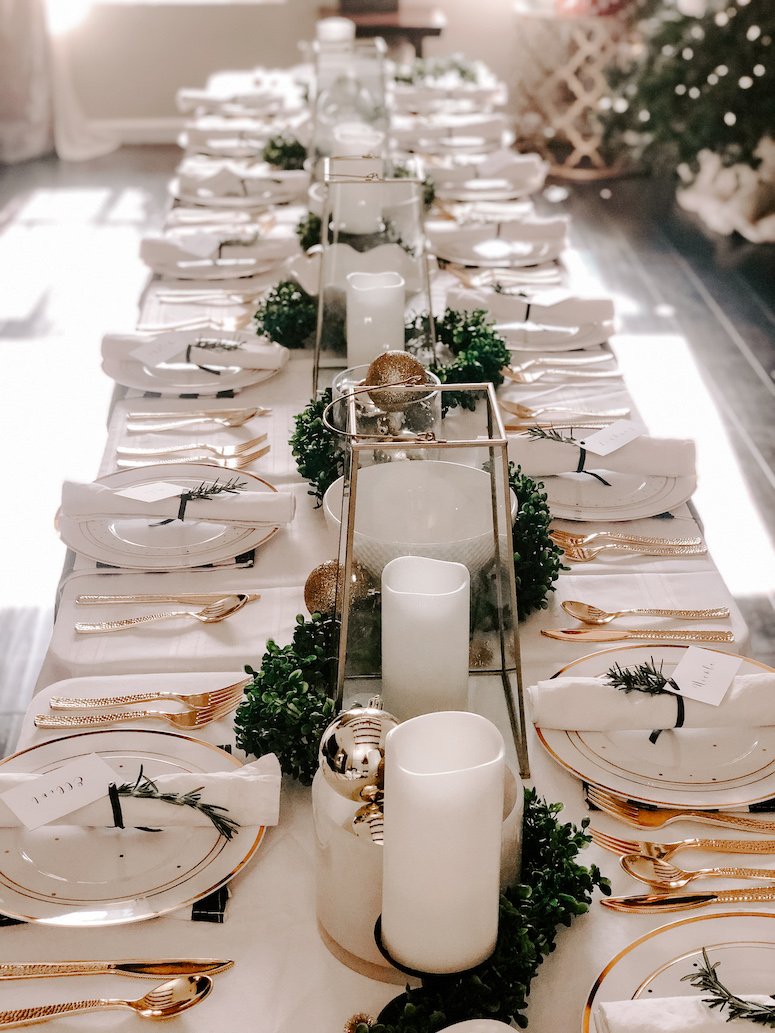 I use the same white napkins and white tablecloths every year, and I also have a set of plates from IKEA I typically use. The black and white napkins were $16 and the garlands were also inexpensive but made such a big impact! 
These tables are also quite narrow, and people were eating and drinking on them, so it's important not to overcrowd. 
Overall, I was pretty happy with how easily it came together and that we got to shake things up a bit this year!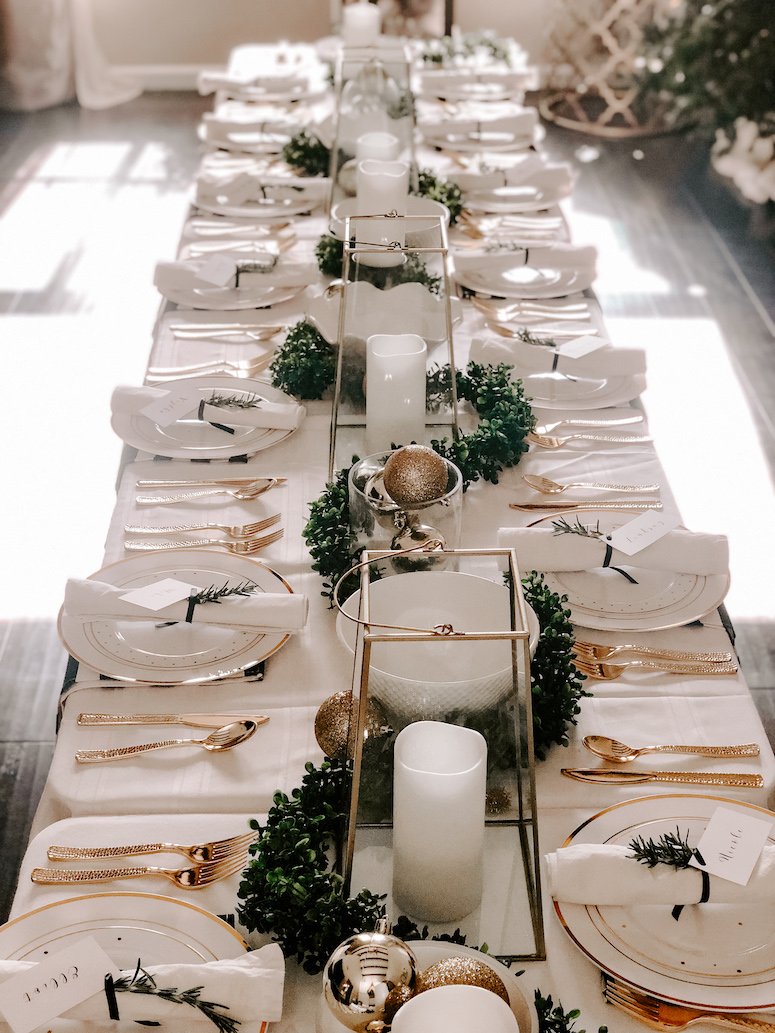 Are you hosting any holiday dinners this year? Let me know what you think of this black, white and gold table setting below! 
EXPLORE MORE IN ENTERTAINING