How to Create An Easy Yet Elegant Dinner Party Table Setting
I put together this easy yet elegant dinner party table setting when staging our vacation rental for our recent photoshoot.
It was fall when we shot this, but the neutral colors and shimmery metallics lends itself well to a winter or even a spring dinner party!

If you're looking for something that's easy to put together yet elegant, this is it. A lot of these items are easy to re-use as everyday items or more casual affairs.
Gold chargers are great to have on-hand for seasonal use, or even when throwing milestone dinner parties like an anniversary celebration or 40th, 50th birthday party.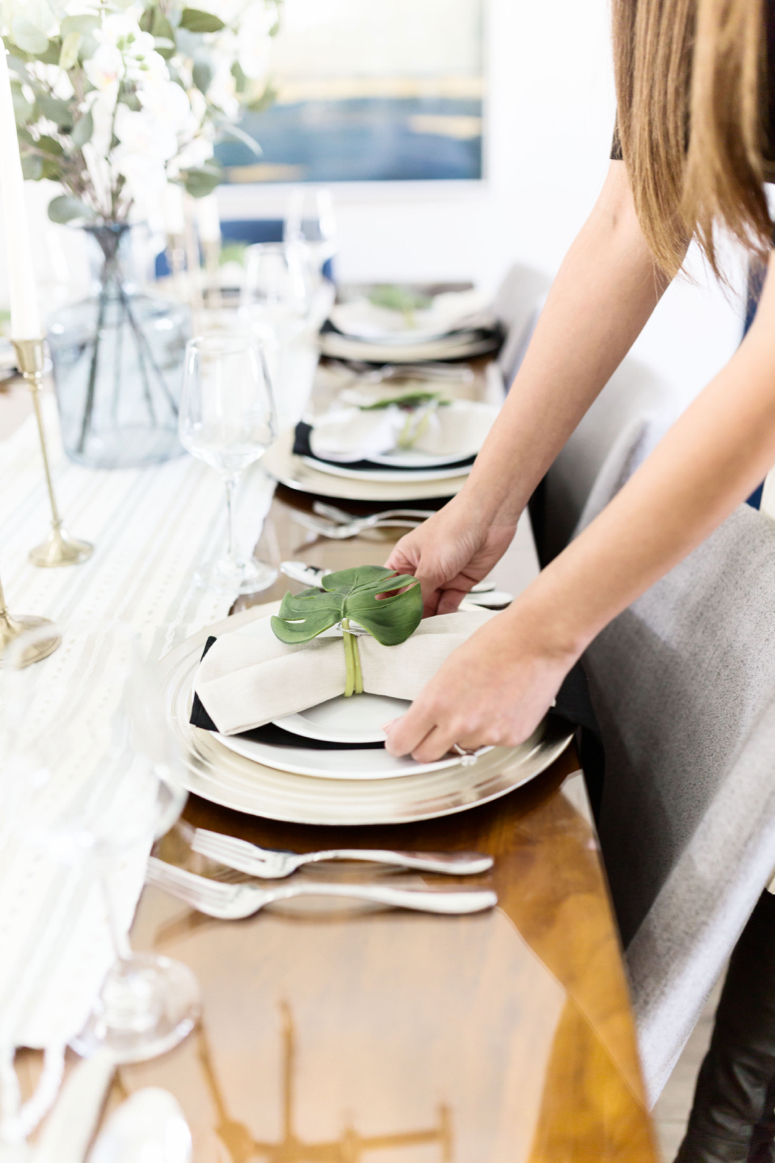 These particular ones are from Pier 1; they're called "Champagne" and they can easily go with either silver or gold because they are a lighter gold tone with less yellow.
If you're looking for a true, yellow-gold charger I've also spotted some here.
For this shoot, I used everyday white plates. It makes the table a little more casual when paired with linen napkins, also an everyday item.
There are also black napkins for some bold contrast; you can get some at Pier 1 and I also used them on my black, white and gold tablescape last year.
---
RELATED: An Elegant Black, White & Gold Holiday Tablescape
---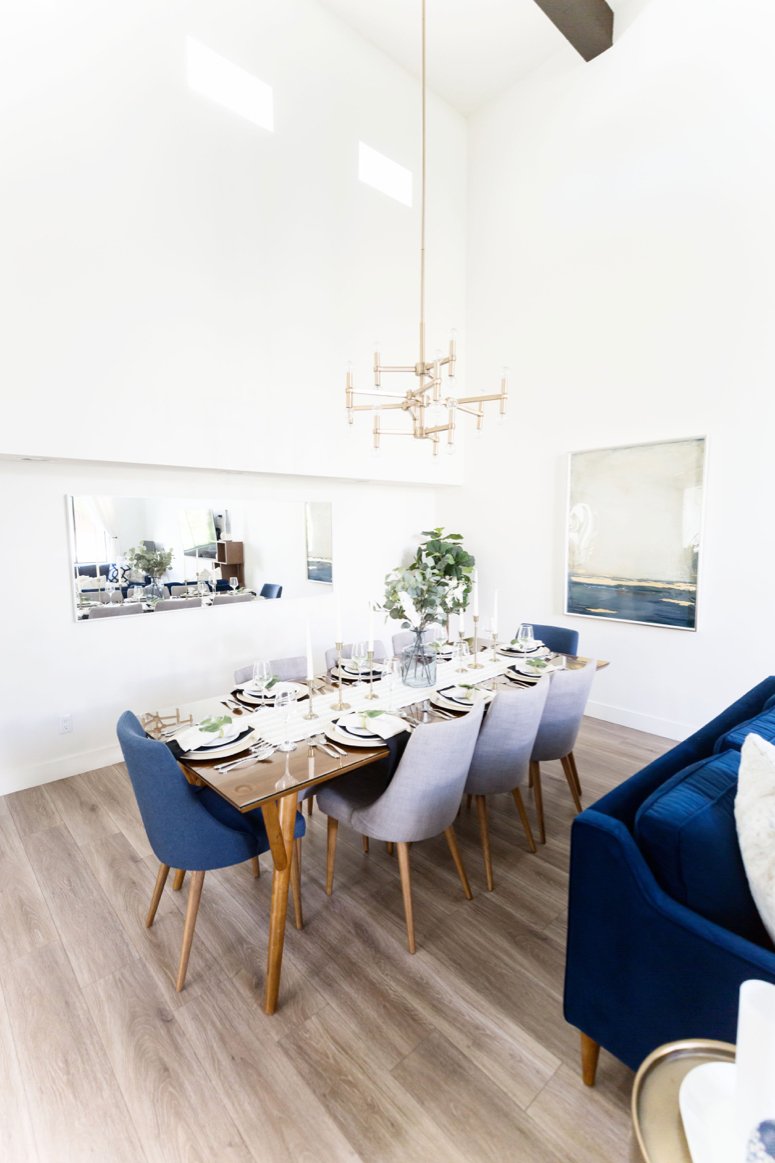 This neutral table runner has gorgeous metallic threads running through it; it's subtle, which is what I like most about it. Just a hint of sparkle that can be holidayish—or not! I actually leave this runner on the table year-round.
That's what I like most about this dinner party table setting; it really doesn't require a lot of outside purchases. You can use a lot of what you already have on hand to make it come to life!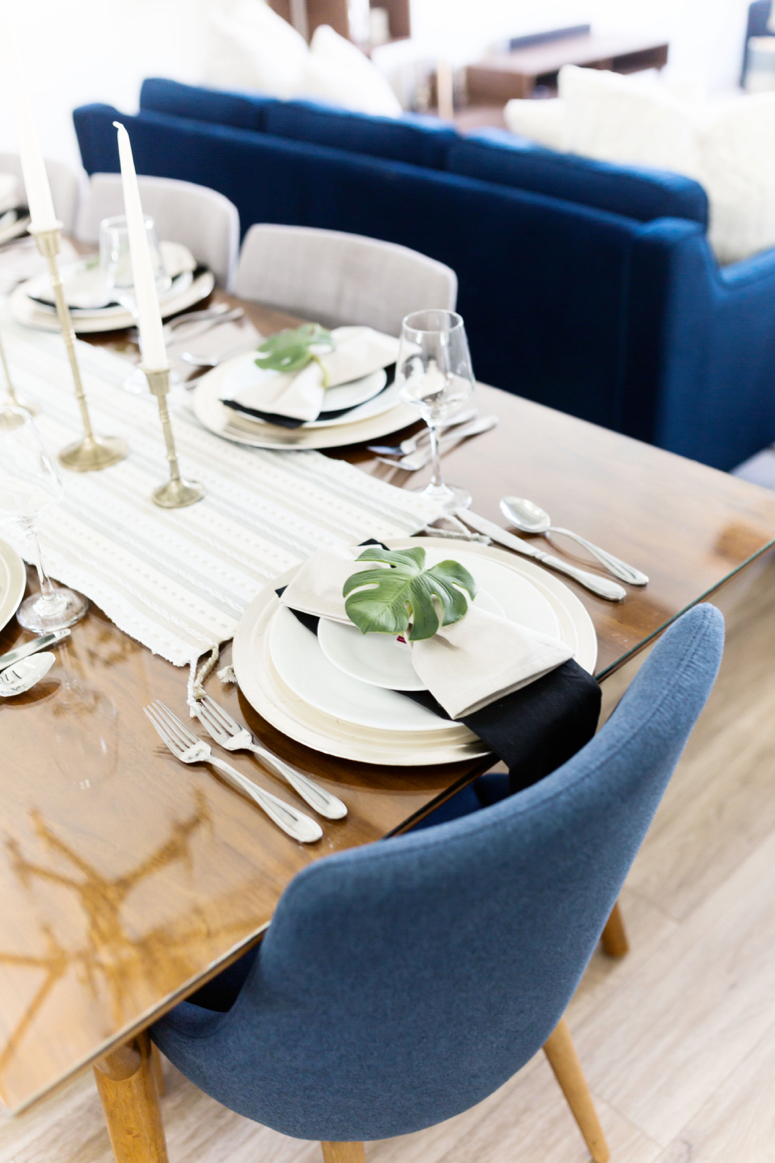 My favorite piece are these napkin rings (sold out) but I found similar ones here. They would be perfect for a tropical party, too! And when it comes to neutral table settings, I think it's nice to add some greenery.
The candlesticks are from Target, and now in my personal home. They're quite lovely and add some visual interest in varying heights to the table.
For the holidays, I would add a few ornaments sprinkled on the runner, nothing too crazy.
---
RELATED: How to Create a Modern Thanksgiving Tablescape
---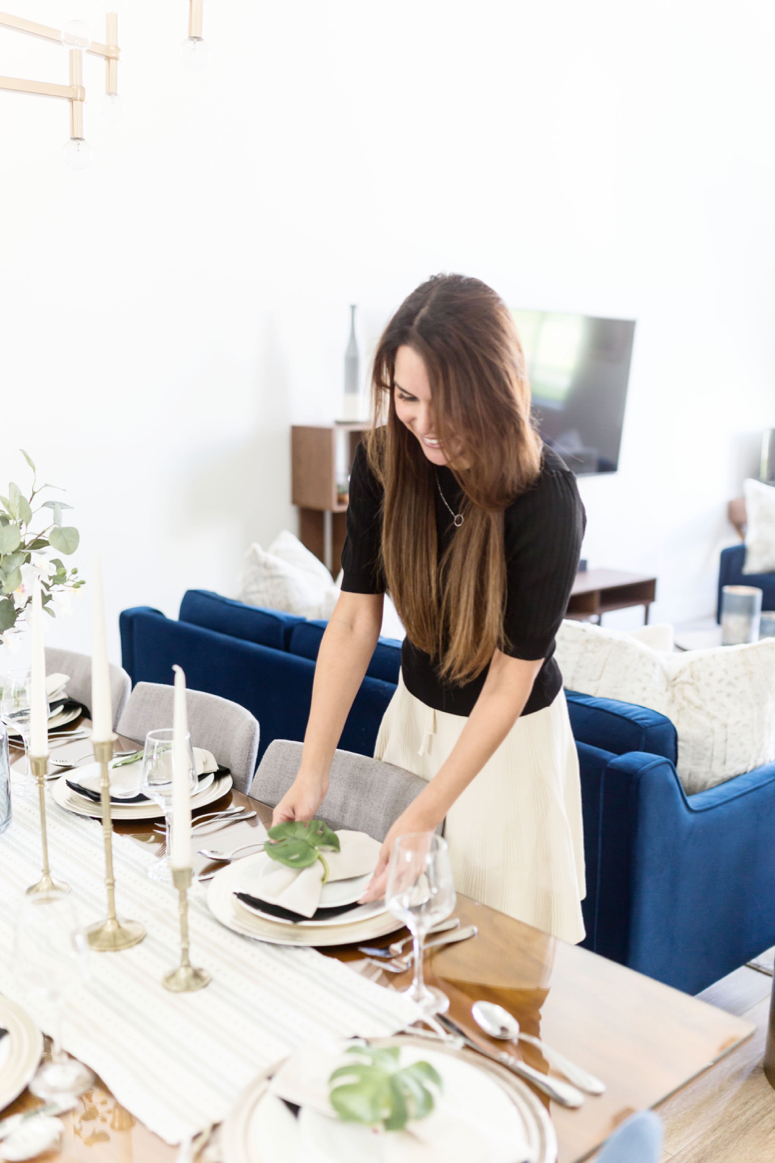 Pro TIP:
It's nice to decorate along the runner but don't go overboard on your dinner party table setting because then you'll have a TON to remove when the food actually goes on the table!
This is simple, yet elegant, and practical too. It's enough to make your guests feel like you are elevating the experience for them, but not so over the top that the table is packed full of stuff.
Dinner Party Table Setting Tips
When it come to your flatware, don't overload your table. Only put out what guests will actually need and use.
That typically means two forks (one for appetizers and one for dinner) and maybe 1-2 spoons, but not both if it's not needed.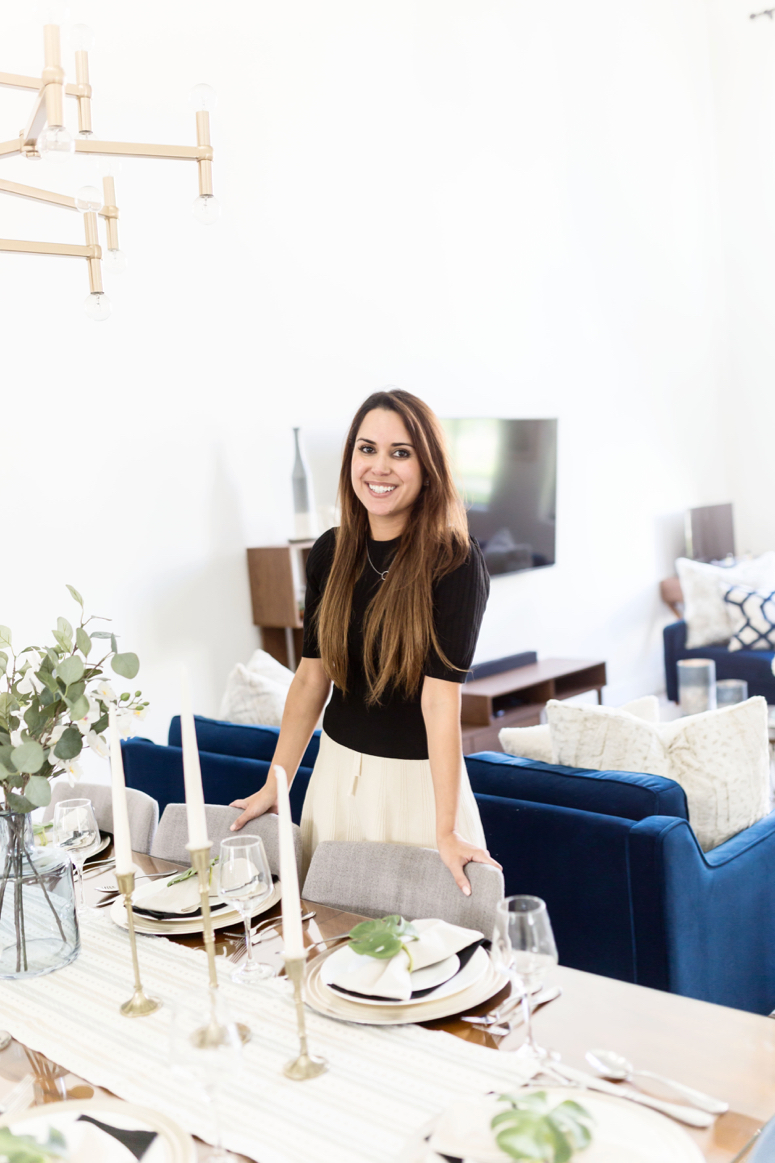 If you're not having soup, leave the big spoon off the table. You can include a little one for anyone who may want to add some sugar or creamer to their after-dinner coffee.
In my experience, many guests are afraid to use the napkins when there's napkin rings or name cards attached. So be sure to let them know it's ok! Or if you prefer they use one color over another, let them know.
Here are a few more tips so you have a stress-free dinner party experience:
Set the stage the night before so you're not rushed last-minute
It's ok to mix metallics, my flatware is silver and chargers are gold!
Re-use items you already own; no need to buy all new stuff every party
Don't overload the table, sometimes less is more
Always add fresh flowers or greenery if you can, it brings the table to life
Room Details
Photos: Life Created
---
Do you entertain a lot during the holiday season? What are some of your tips for easy and elegant dinner party table settings?

EXPLORE MORE IN ENTERTAINING