19 Cute Outfits with a Red Skirt
A red skirt can be sexy, but it can also be super intimidating to pull off. So how do you wear a red skirt without it overpowering your whole outfit?
Believe it or not, it's actually a pretty versatile color! Given all the different shades of red, there are plenty of ways to wear a red skirt, no matter your personal style.
Is there only one time of year you should wear red? What colors should you be pairing with your red skirt? Is there anything you shouldn't be wearing with a red skirt?
Today, I'm here with a boatload of inspiration to help you learn how to wear a red skirt.
These skirts come in block colors, floral patterns, rusty reds, deep reds, and bright reds- you name it!
Here are 19 ways to wear a red skirt, and look flawless while doing it.
Colorblock with Hot Pink
One way to wear a red skirt you may not of thought of is to pair it with bright pink! While neutrals and black is typically what comes to mind to most when styling red, it actually looks quite nice with hot pink or even bright orange.
This set comes with a matching top and is super cute for spring and summer. I love the overall feminine look. Talk about vacation-ready!
Embrace the Drama
A red maxi skirt can be a dramatic look, so why not embrace the drama! This gorgeous red leopard skirt looks great paired with a black top and matching black boots. Yes, red looks great as an animal print! Especially on this gorgeous long skirt.
Fall Ready with Neutrals
If you're not one for bright red, try a rusty red skirt with a pattern like this one. Style it with neutrals like a cream-colored sweater, ankle boots and matching hat. The oversized sweater and short skirt work well together. This is a great example of how red skirts can make casual outfits if you want!
Classy Ruffles
One of the best ways to wear a red skirt is with white! And this satin skirt is a great example.
Remember, red doesn't have to mean bright red, there are loads of different shades on the spectrum. Case in point, this gorgeous rust red skirt with flirty ruffle detail.
The rust red plays well with tan-colored high heels and a solid white top.
Office Chic
Think you can't wear a red skirt to the office? Think again! I'm loving this faux leather red pencil skirt. Pair this knee-length skirt with a ribbed knit sweater for an office-appropriate look.
PRO TIP: Stick to darker hues for this look to work. Selecting the right shade of red makes all the difference when wearing red to the office!
Date-Night Ready
Red skirts are definitely sexy, so go ahead and embrace that and wear one for your next date night! This red pleated skirt features a sexy slit. Pair it with black for a classic color pairing.
Go Long with a Red Maxi Skirt
This red maxi skirt makes the perfect summer statement. Pair it with a cropped white halter top and some wedges for a look that could easily stay home or work for that beach vacation.
---
RELATED: How to Wear a Maxi Skirt: The Ultimate Guide
---
Two-Piece Skirt Suit
Skirt suits are right on trend, so it's no surprise to see a fun red skirt suit. This can be worn with a white button-down shirt as shown. Or try a lace cami in a cream color.
Here's another take on the suited look. This red mini skirt looks great with a red blazer and black bralette, which is right on trend for 2022.
Vacation Ready
Headed to the beach or a European vacation? Try this red skirt with the matching red top. It's a perfect outfit idea for travel that's no-fuss, no muss. Throw on a hat and cute sandals for total vacay vibes.
---
RELATED: The Best Color Shoes to Wear with a Red Dress
---
Holiday Ready
This plaid red skirt is absolutely perfect for the holidays! I pair mine with a simple black crop top and black ankle boots. If you don't like the crop top look, you can also do this with a black cami, black blouse or even a knit sweater.
I also wore this skirt for our family holiday photos a few years back and loved the overall look. Bonus points: it also has pockets!
With a Sweater + Boots
A pleated midi skirt is a wardrobe classic. For the fall season, grab one in red! This red skirt outfit featuring ankle boots and a sweater is so easy to recreate. For a fun Valentine's Day outfit idea, try a pink sweater!
Wear a Summery Red Skirt
Red skirts can totally be worn in the summer months, too! This cute matching set is perfect for travel or a brunch with friends. Style it with sandals for a totally casual look.
---
MORE SKIRT OUTFIT POSTS YOU MAY LIKE:
---
Red + Denim
A red skirt with a chambray shirt or denim is absolutely a classic look and oftentimes the easiest option. In this case, the chambray top acts as a neutral so it pairs perfectly with this red mini skirt.
If you love this idea but don't have a chambray top, you can also style your red skirt with a white top and denim jacket.
Go for a Casual Summer Look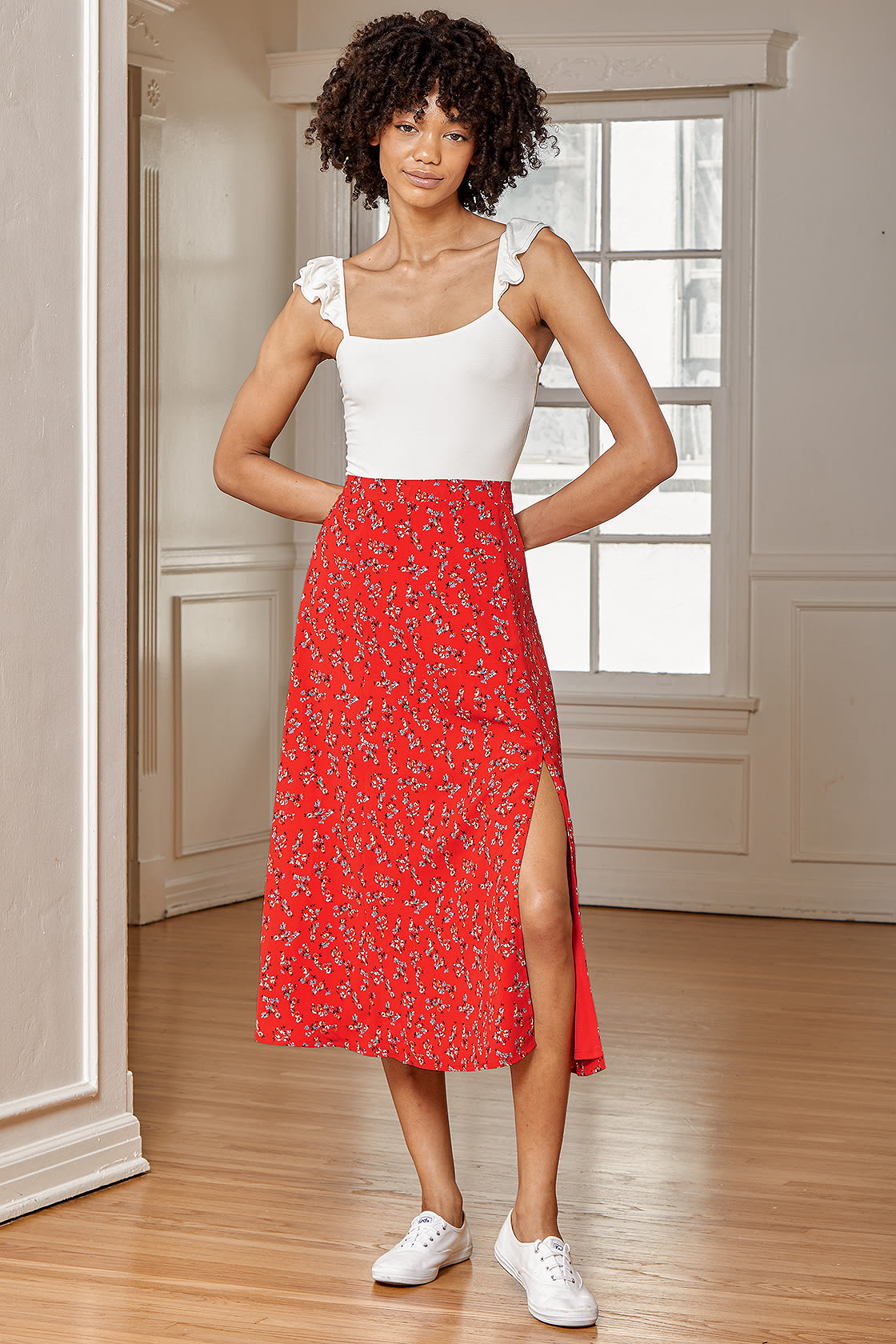 If you love midi skirts then you'll love this red midi skirt featuring a small floral print. This can easily be styled as shown with a white shirt and white sneakers. Or, throw on a jean jacket during the spring months.
You can also easily dress up a red midi skirt with cute sandals or wedges.
Try a Red Plaid Skirt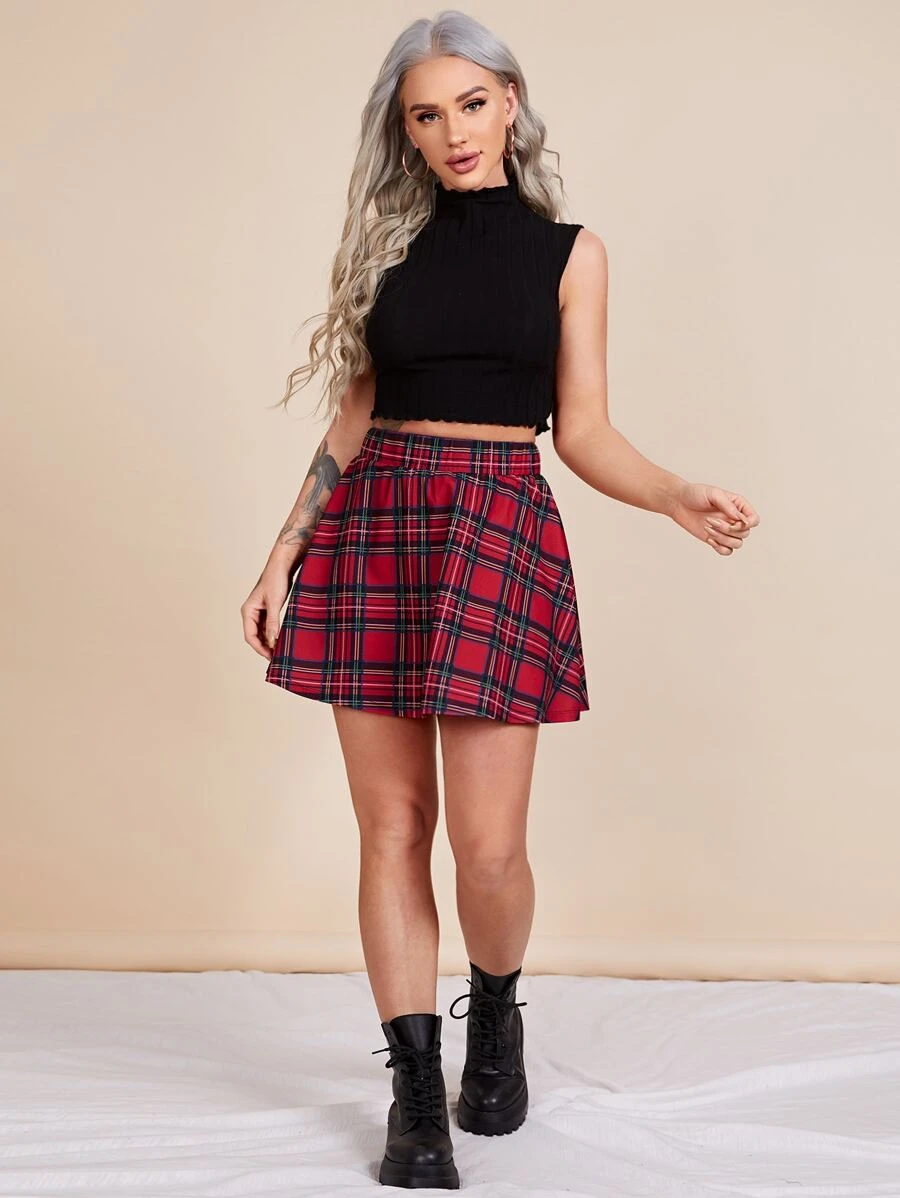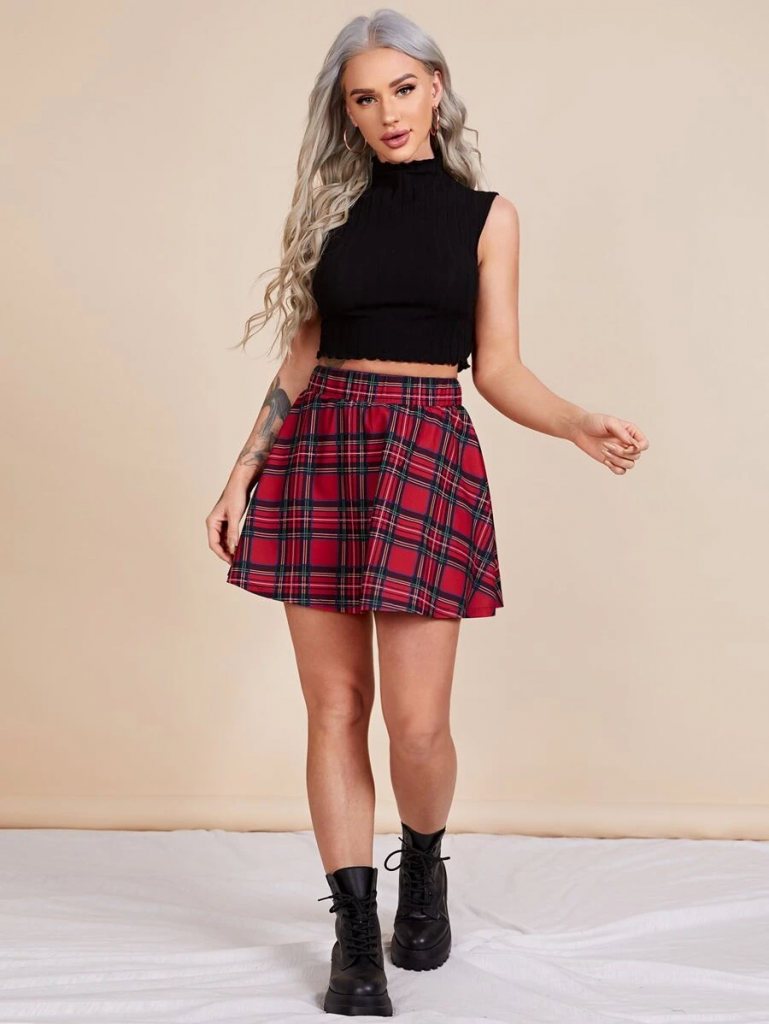 The '90s just called, they want us to know that grunge still looks amazing. This plaid skirt is fun and preppy, and definitely digs into the Y2K fashion trend. You can style it with combat boots as seen here or try cute sneakers and an oversized sweater.
Go for Polka Dots
Polka dots are one print that will virtually never go out of style! So it's no surprise to find so many cute red polka dot skirt options. This red floral print skirt has a matching crop top option. Or, you can wear it as shown with a cute white blouse.
---
As you can see, there are so many different ways to wear a red skirt! What is your favorite way to style a red skirt? Let me know in the comments below!