Skater skirts are my favorite type of skirt to wear. They're typically shorter than a full midi skirt and have an A-line style, so they're incredibly flattering on so many different body types.
In the spring and summer months, skater skirts tend to be my go-to outfit. They're much breezier than throwing on a pair of jeans and fit with my feminine aesthetic.
They're also endlessly versatile and I love how easy they are to dress up or down.
If you're looking for some ideas on how to wear skater skirts, I've rounded up plenty of outfit inspo for you.

What is a Skater Skirt?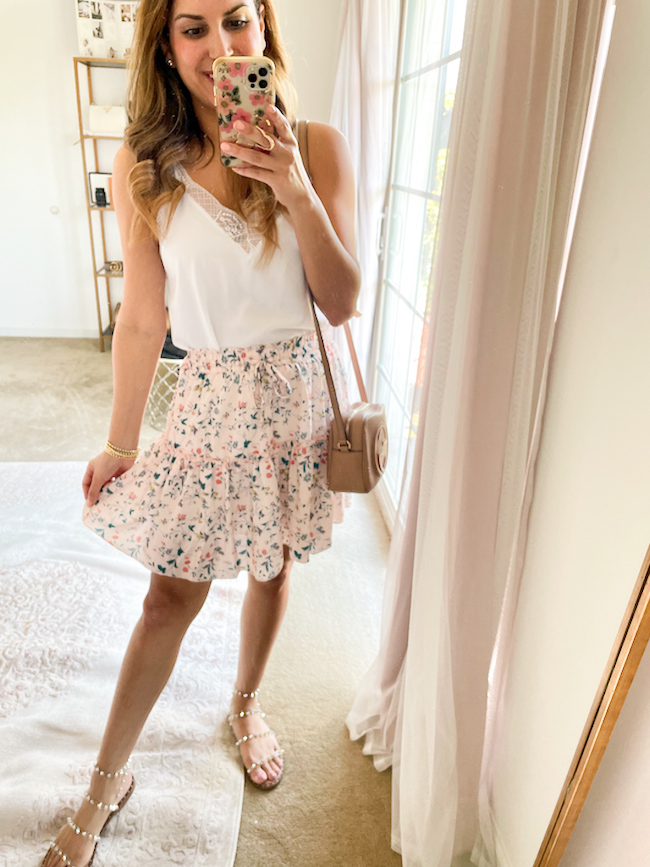 Skater skirts can also be called circle skirts—and you don't need to know anything about skating to rock one of these.
They typically have a wide waistband that sits exactly on the wearer's true waist. And they come in a bunch of different styles from pleated to more flat.
What they always have is a slight flare, which creates a perfect circle when it's laid out flat.
Here are some of the different types of skater skirts you're likely to find and how to wear them!
The Classic Skater Skirt
You're probably familiar with this classic style of skater skirt: the waistband is typically a bit thick and the skirt has a slight flare to it.
This is the most basic type of skater skirt there is, but it's a classic style.
This classic skater skirt is usually a mini skirt, with the hem reaching the upper-middle thigh. A classic black skater skirt is a versatile garment and an essential in any all-year-round wardrobe but they come in so many other color options, too.
They can be worn casually, as seen in the image above, and work great when paired with a slouchy knit sweater tucked in.
Alternatively, you can just as easily dress up your classic skater skirt by pairing it with a crop top and a pair of high heels.
The Pleated Skater Skirt
Pleated skater skirts are becoming more and more popular in the world of fashion. This is probably thanks to the cute yet sporty element that they add to every outfit.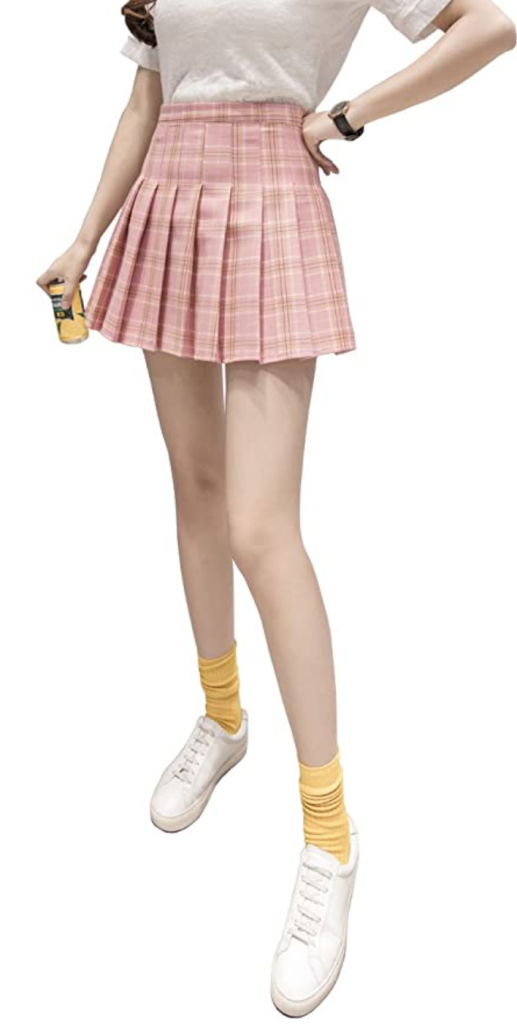 This style of skater skirt is often also referred to as a tennis skirt– which is why they look so great with a varsity-style sweatshirt and chunky sneakers. This particular one linked here comes in a ton of solid colors, too!
If you feel like this look is a bit on the young side, I hear you. Luckily, there are other ways to wear a pleated skater skirt, especially if you are over 30 or over 40….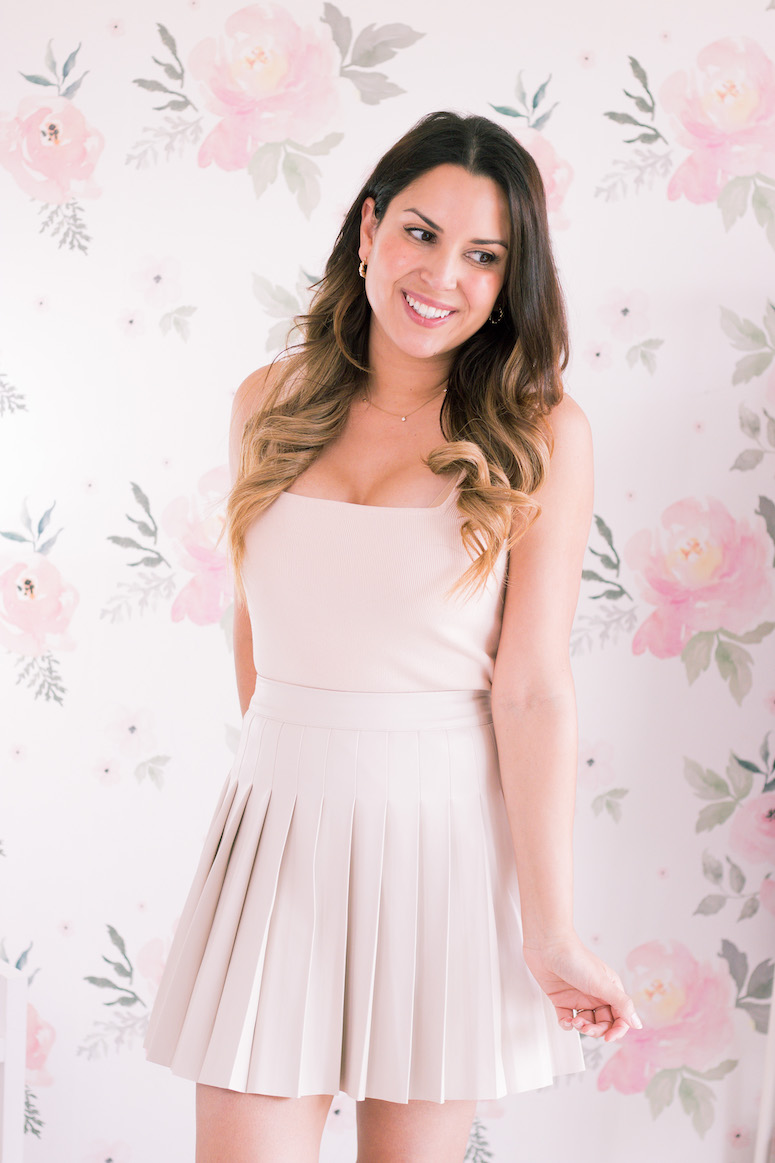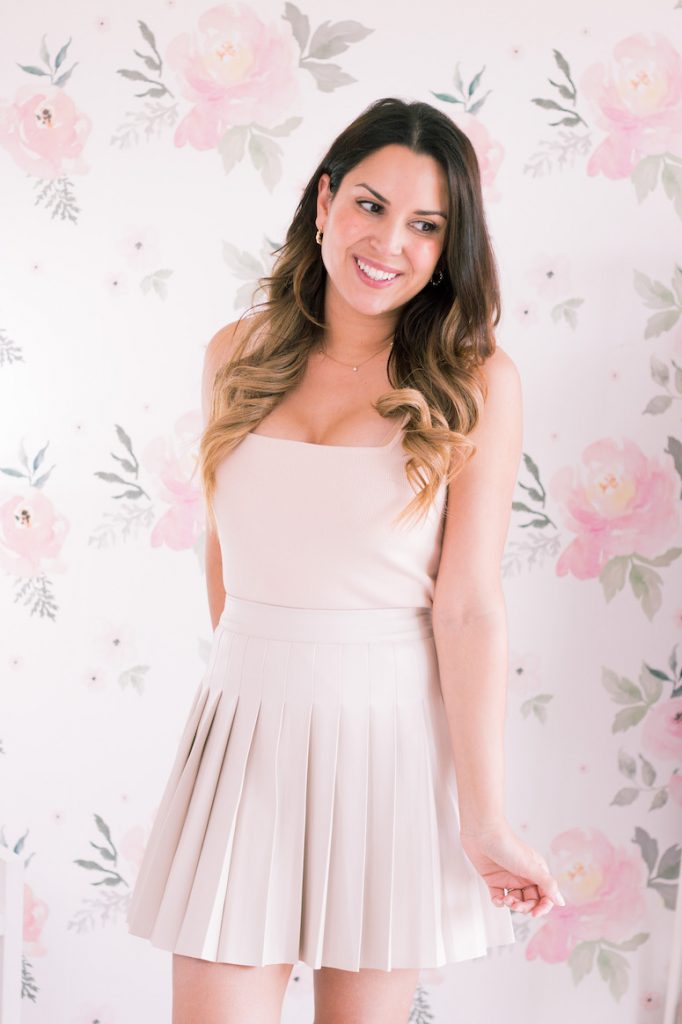 This vegan leather pleated skirt can be easily dressed up so you won't look like you're wearing a schoolgirl uniform. Try a lace cami or bodysuit for a more grown-up look instead of a button-up cardigan. Heels, instead of socks and sneakers, will also dress up this look.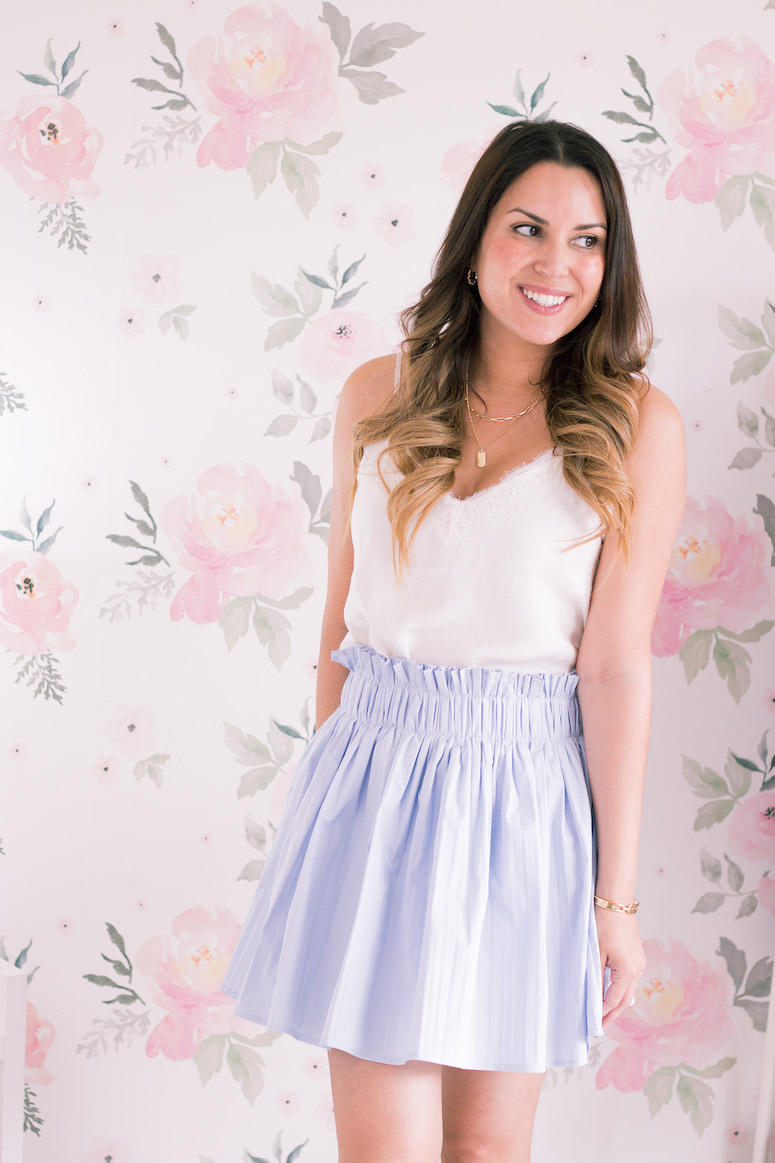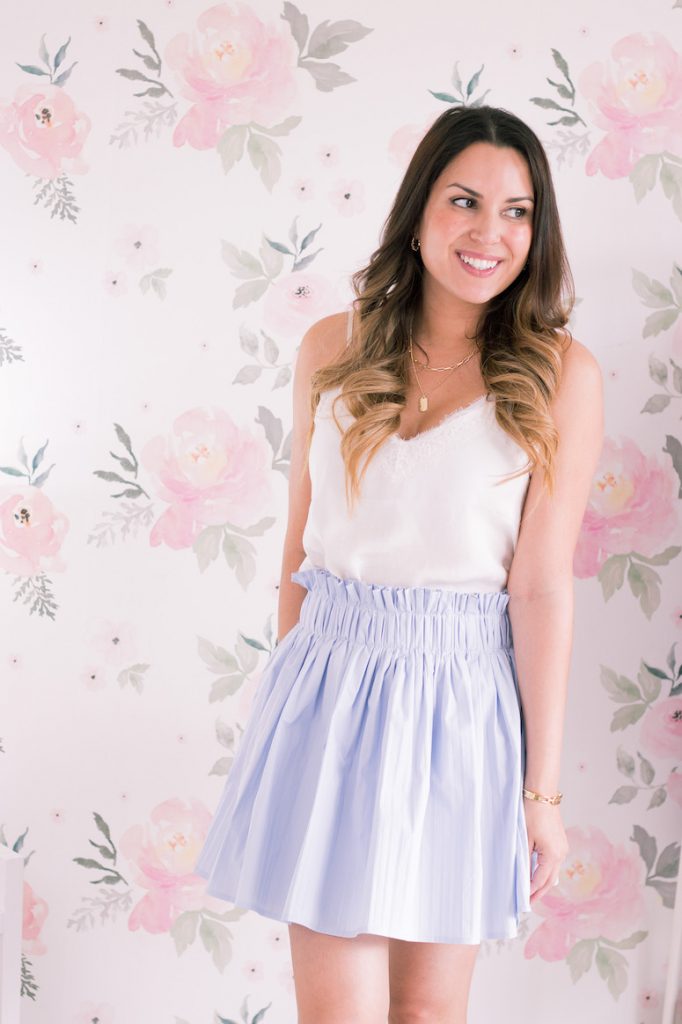 I always get a lot of compliments when wearing this blue pleated skirt, it's really stretchy and somewhat of a statement piece! It is definitely a fun and flirty style for the spring and summer months and looks excellent paired with studded sandals.
---
More Skirt Posts You May Like:
---
Wearing a Skater Skirt in the Summer
Like I said above, you can pretty much guarantee to catch me in skater skirts in the spring and summer months. They're easy to style and breezy for our hot summer months.
Style your skater skirt in the summer with a lace cami or a crop top. I also love to pack skater skirts for vacation as they're easy outfit ideas that don't take up a lot of luggage space. Skater skirts are also excellent for transitioning from day to night!
A-line skater skirts usually rest slightly above the knee, so they work with my everyday mom style, too.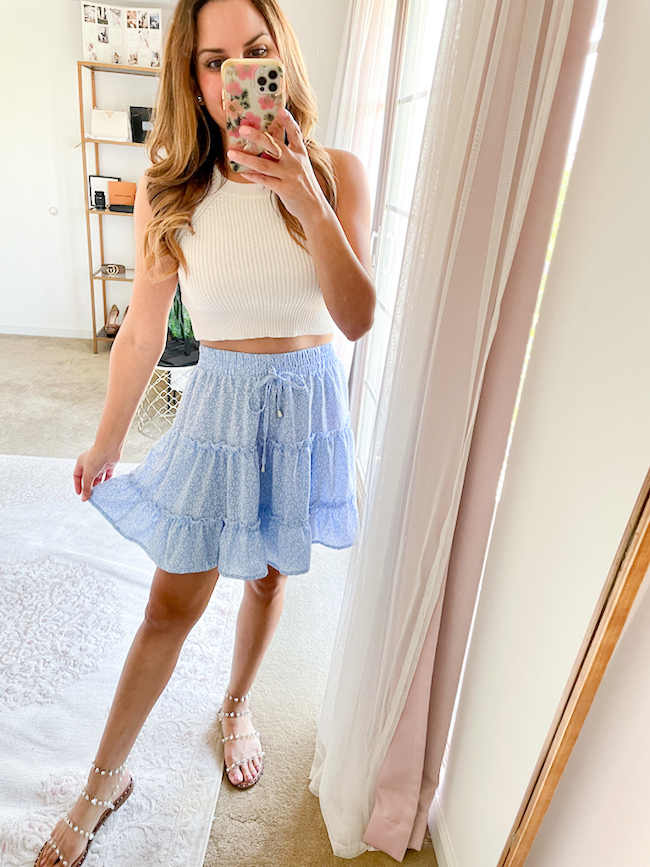 This print skater skirt is a spring Amazon find that I own and have purchased in several prints! it looks great with this halter crop top and studded sandals. If you're off to brunch or something nicer, throw on a pair of wedges.
The Floral-Print Skater Skirt
Speaking of spring and summer months, embrace the season by trying a pretty floral-print skater skirt. They're flirty, feminine and a more modern way to rock the skater skirt trend.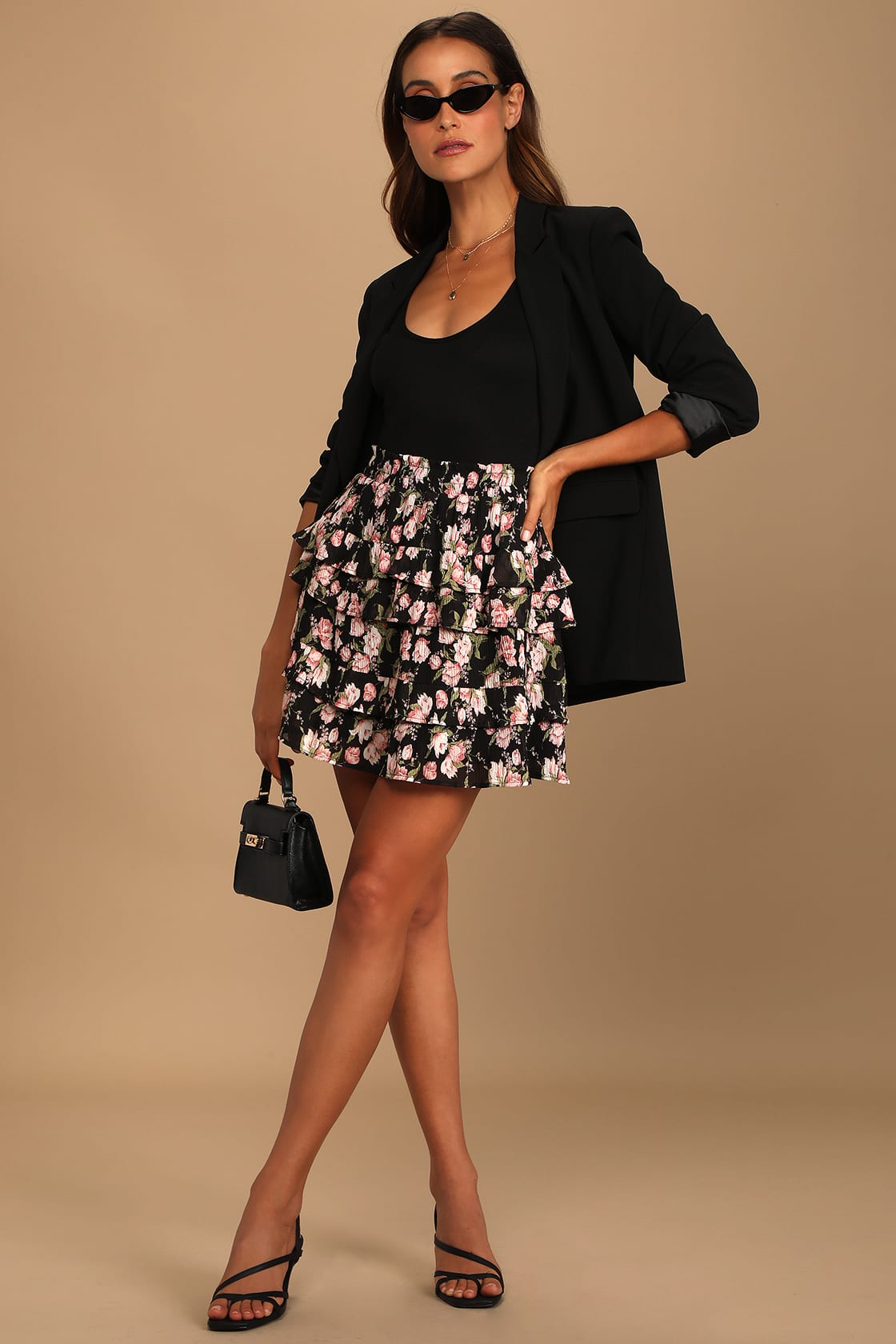 If you didn't think you could wear a skater skirt at night, try a darker floral print like this skirt, paired with a black blazer. It looks chic and fashion-forward.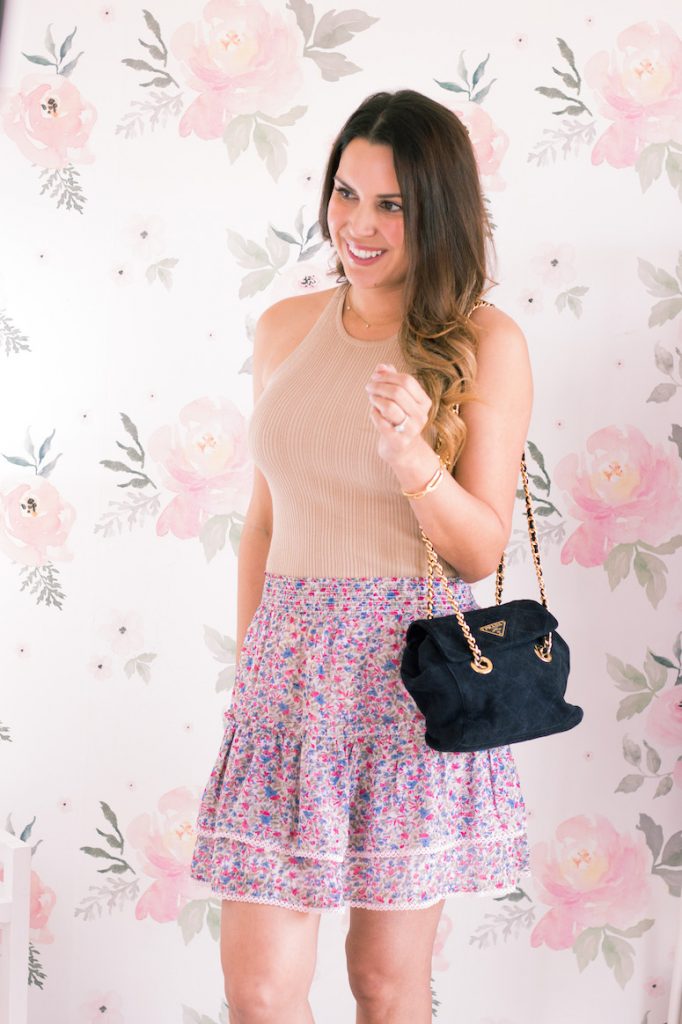 I got this floral-print skirt last spring and it's been on repeat. It's easy to style with a bodysuit or a top that picks up on one of the colors of the print.
The elastic waistband is wide and stretchy and it also has a tiered skirt style.
How to Wear a Skater Skirt in Winter
While cute little tennis skirts look adorable on a hot summer days, you'll be pleased to learn that skater skirts are a cute fall outfit idea, too!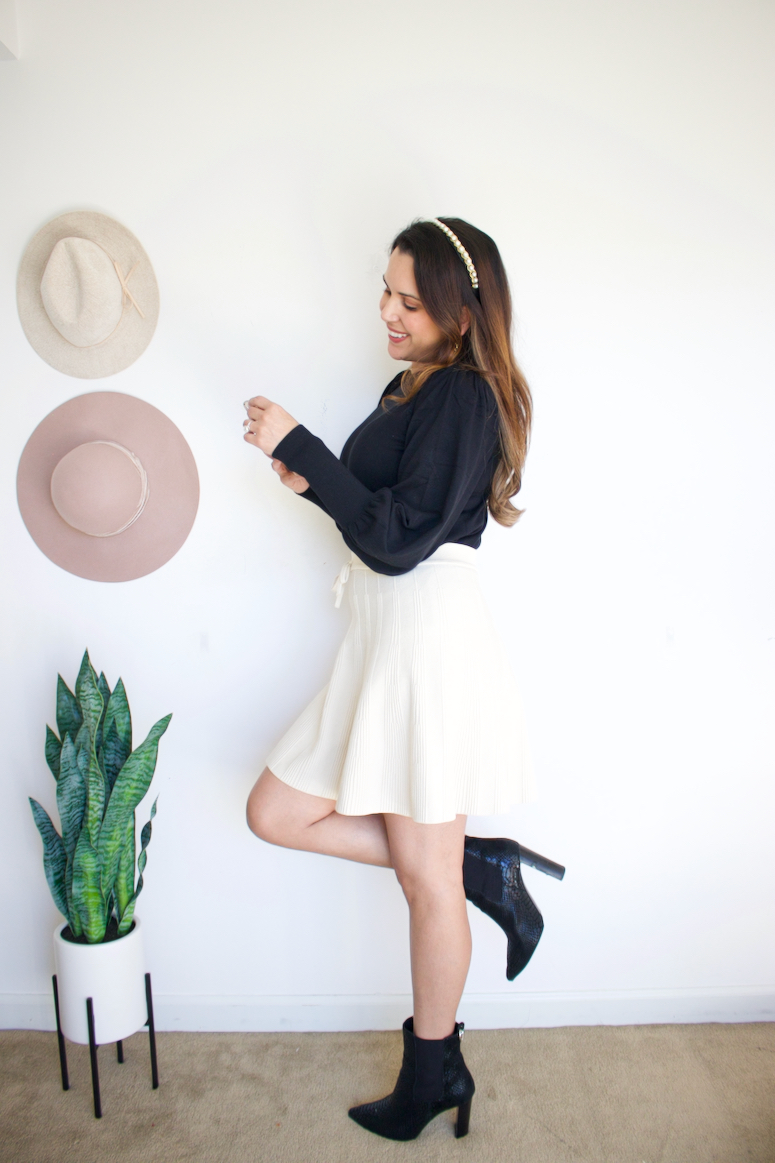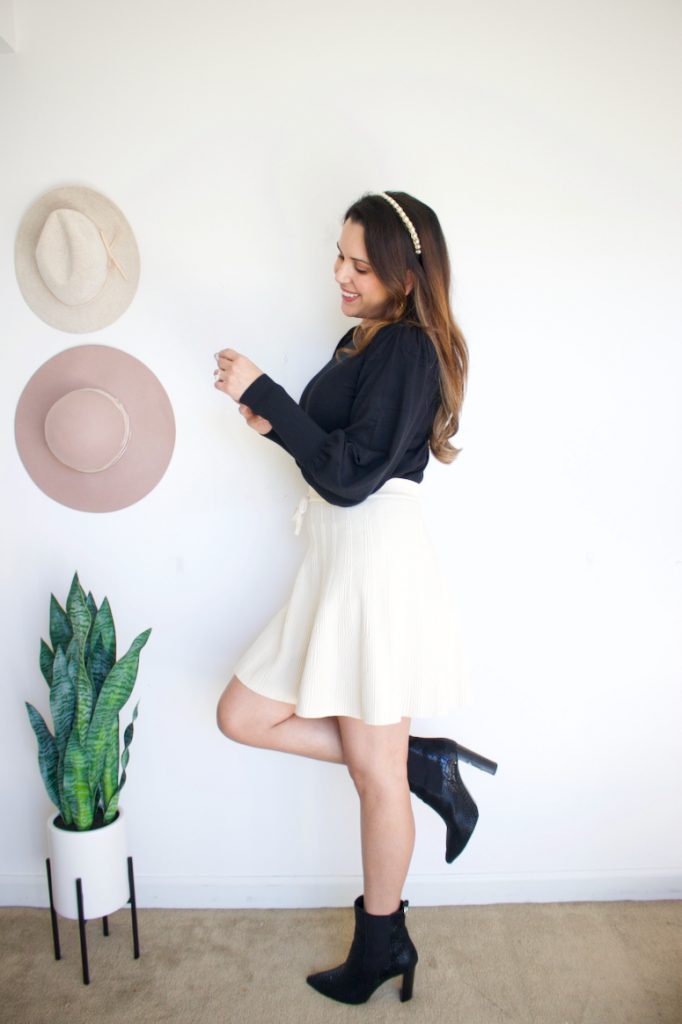 Pair your skater skirt with a sweater and your favorite ankle booties to instantly transition this look into the fall season.
This cream-colored skirt is a great example of an option you can easily wear year-round–no matter the season!
A slight or full tuck of the sweater keeps the skirt in focus. Just be sure not to choose a sweater that's too bulky when recreating this look.
Finish the look by styling with your favorite fall hat, scarf or both!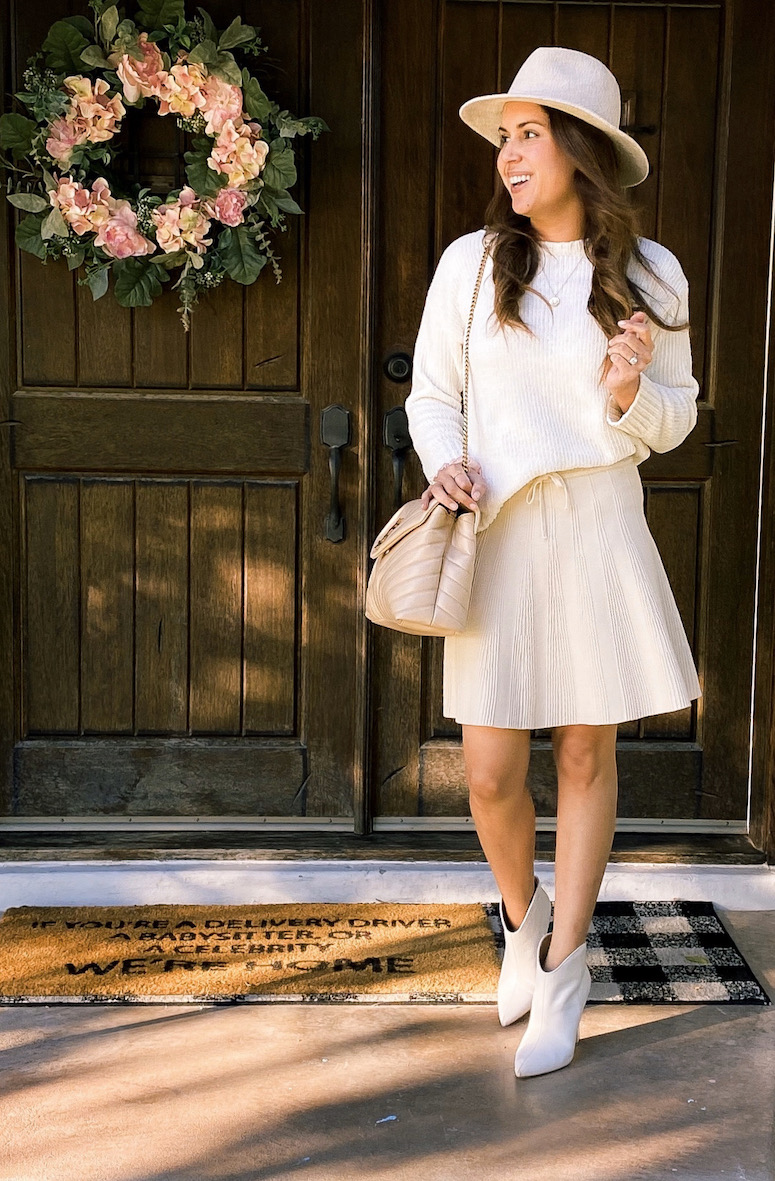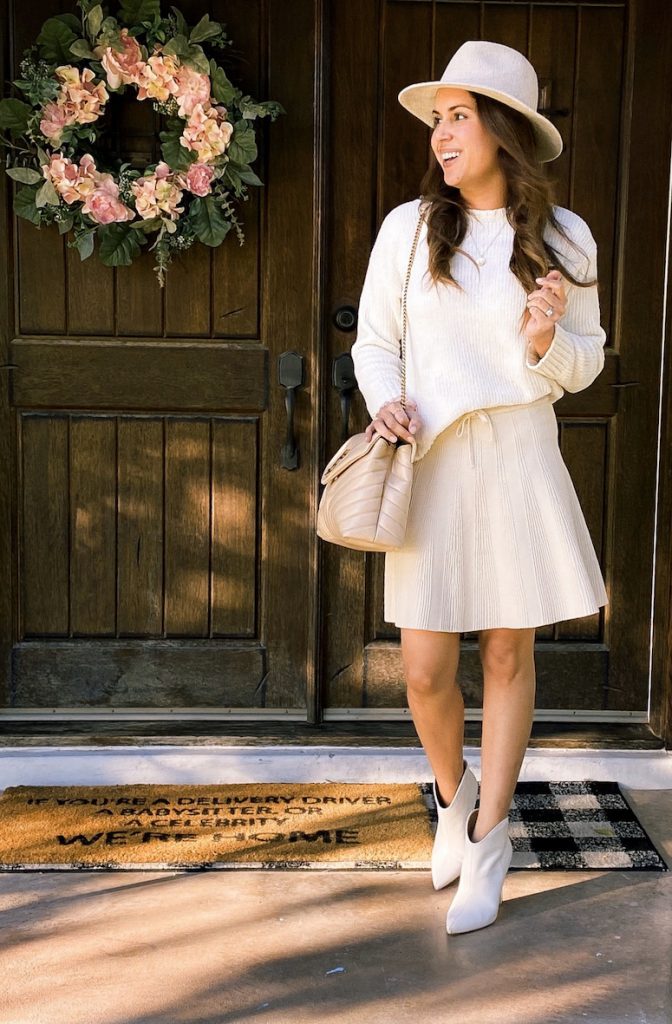 You can also try a monochromatic look like this. A half tuck on the sweater is all you need and again, just pay attention to how bulky it is. This look is great if you're looking for an outfit idea for transitioning to fall fashion.
Leather Skater Skirts
If you're looking to channel your inner rock chick, try a leather skater skirt. Often made from vegan leather, these faux leather skirts are right on-trend.
I love how leather skater skirts look when worn with all-black outfits, it's a look that can easily work for day or night.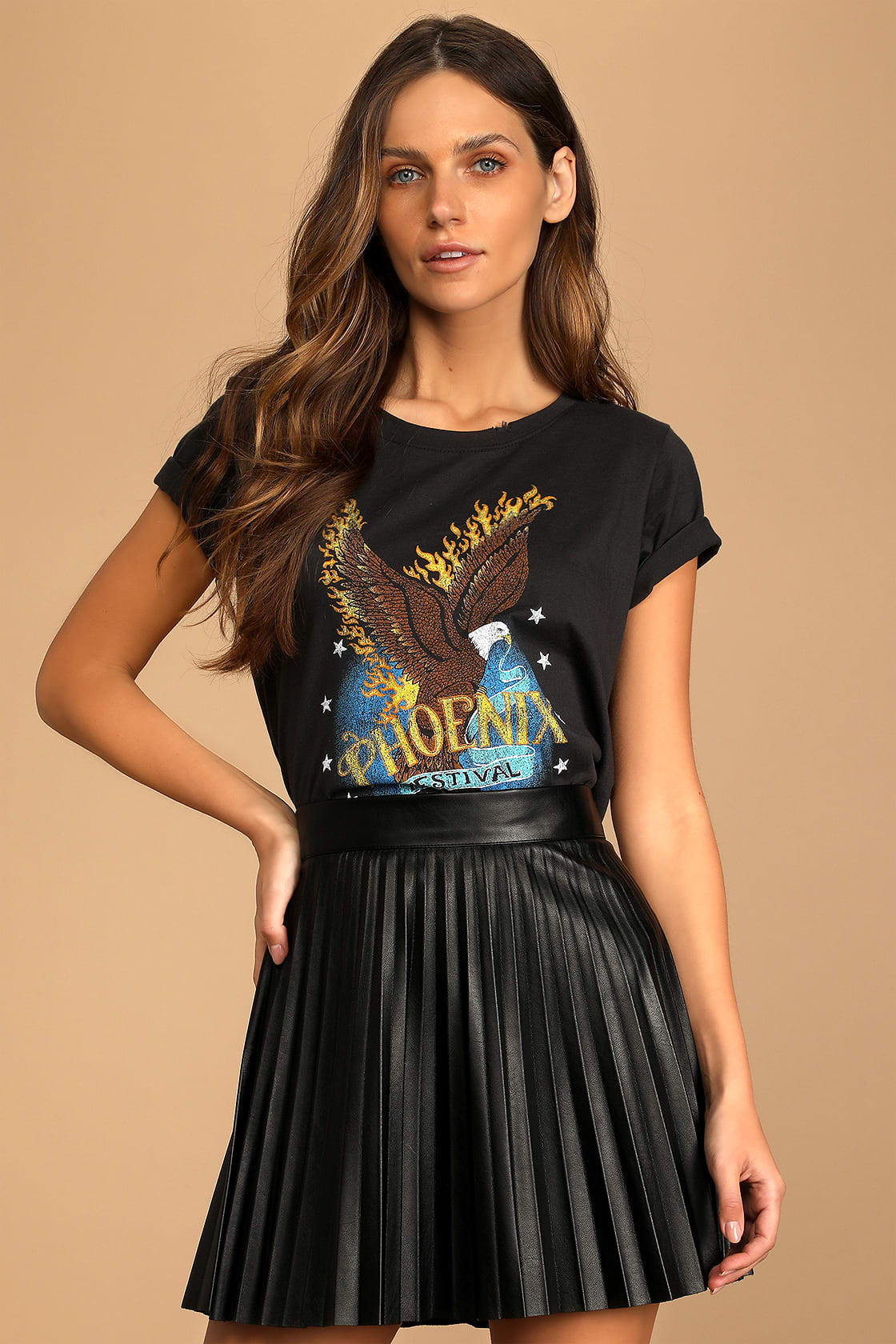 This leather skater skirt is in a pleated style and can be worn with a T-shirt and sneakers. It's cute and flirty yet somewhat grungey.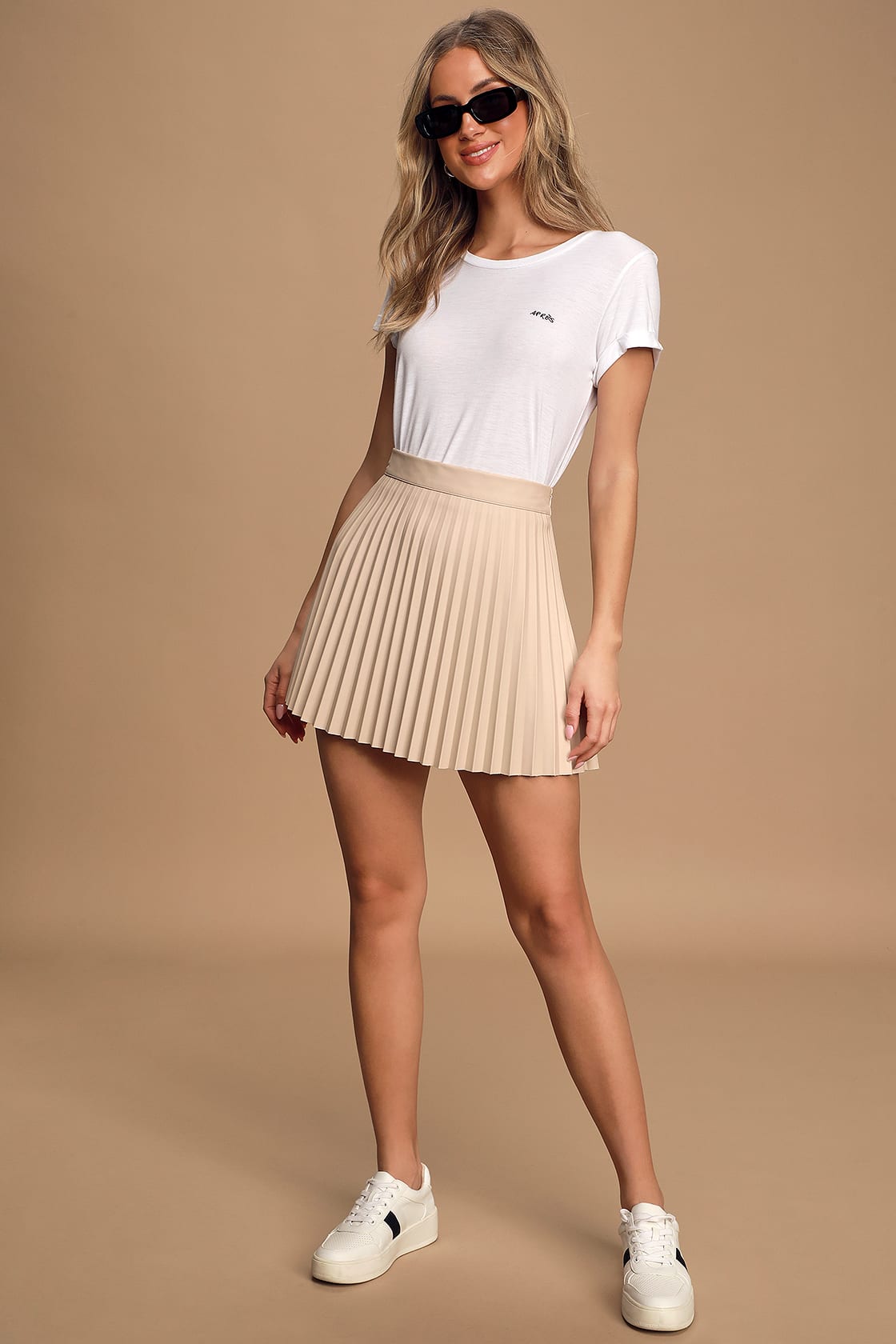 Not a black leather type of person? It also comes in a beautiful beige color. It's the same skirt I styled above with a blush top! Be sure to size up on this one as the elastic is not very forgiving.
---
What do you think of skater skirts? How do you like to style them?