I've Tried Dozens of Cute Loungewear Sets–These Are the 10 Best Pieces
Fall 2020 is here and friends, it's time for some cute loungewear.
When the pandemic hit and quarantine loungewear became a thing, I will fully admit I didn't get it.
I already worked from home and had plenty of cute and comfy casual outfits. But….now that it's getting cool outside, stylish loungewear sets are becoming a must.

As always, I did the work for you and am rounding up some of the best loungewear for women, including cute matching sets, and short sets, so you can be cozy in style.

More of a video person? Check out the YouTube video below and subscribe to my new channel!
But first…what's considered loungewear?
Loungewear is kind of a fancy way of saying "cute sweatpants" or even jogger outfits.
I like to define joggers vs. sweatpants as a more streamlined, tailored look. Whereas "sweatpants" are often thick, baggy and generally unflattering. (I talk about it more in this joggers YouTube video and this blog post on how to style jogger pants).
Loungewear, which includes joggers, sweatshirts and comfy tops, goes by that same definition: they're not exactly pajamas because you can wear them out of your house, but they're not as uncomfortable as jeans and a tee.
(Styling loungewear is a whole nother thing that we can tackle in another post!)
So, yes, by definition you're basically buying sweatpants or tracksuit outfits like we did back in the Juicy Couture days. But loungewear sounds so much more sophisticated, right?
They say, "I'm intentionally lounging in something fabulous yet comfortable" vs. "I've completely given up on life".
O.K. so now that that's covered, here are some of the cutest pieces I've found for fall 2020.
Nordstrom BP Loungewear Sets
One of my favorite matching loungewear sets is this B.P. one I snagged at the Nordstrom Anniversary Sale.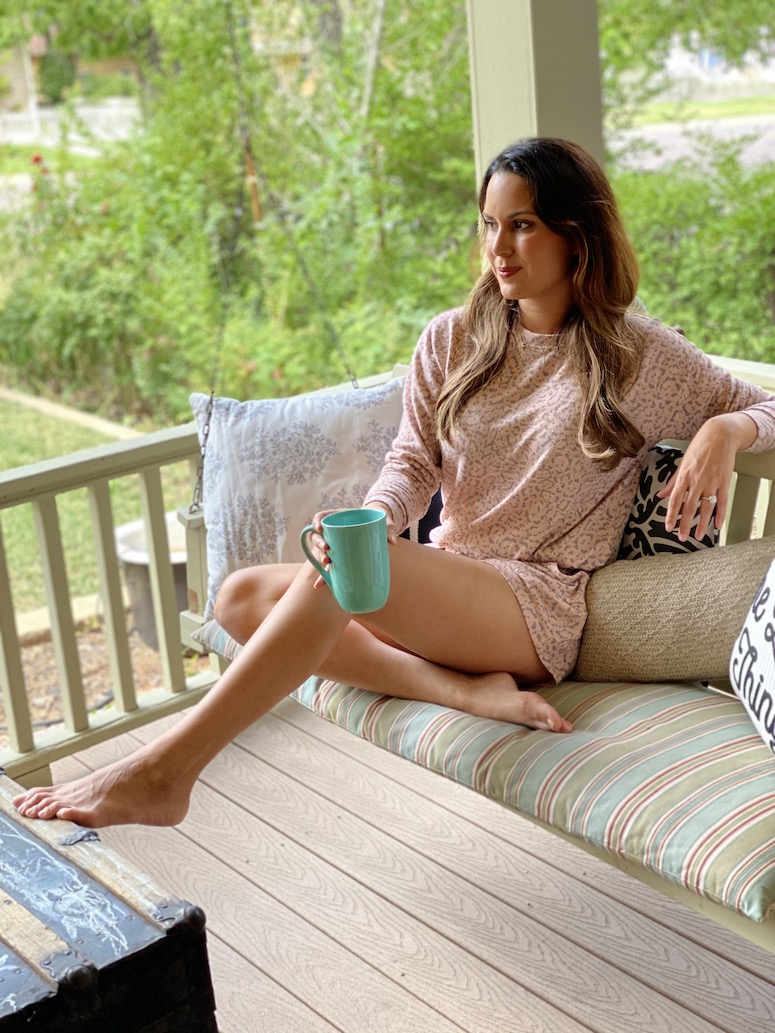 This set is actually sold as separates, which makes it great for mixing and matching!
I've worn the shorts alone with a tee– this one from Caslon is one of my current faves to pair with them–and you could easily layer it under the sweater if you live in cooler temps.
Being sold as separates means you can buy the top or shorts in whatever size is best!
I sized up to a small in the shorts so they would be wider on the thighs and longer in length, and kept my regular XS in the top.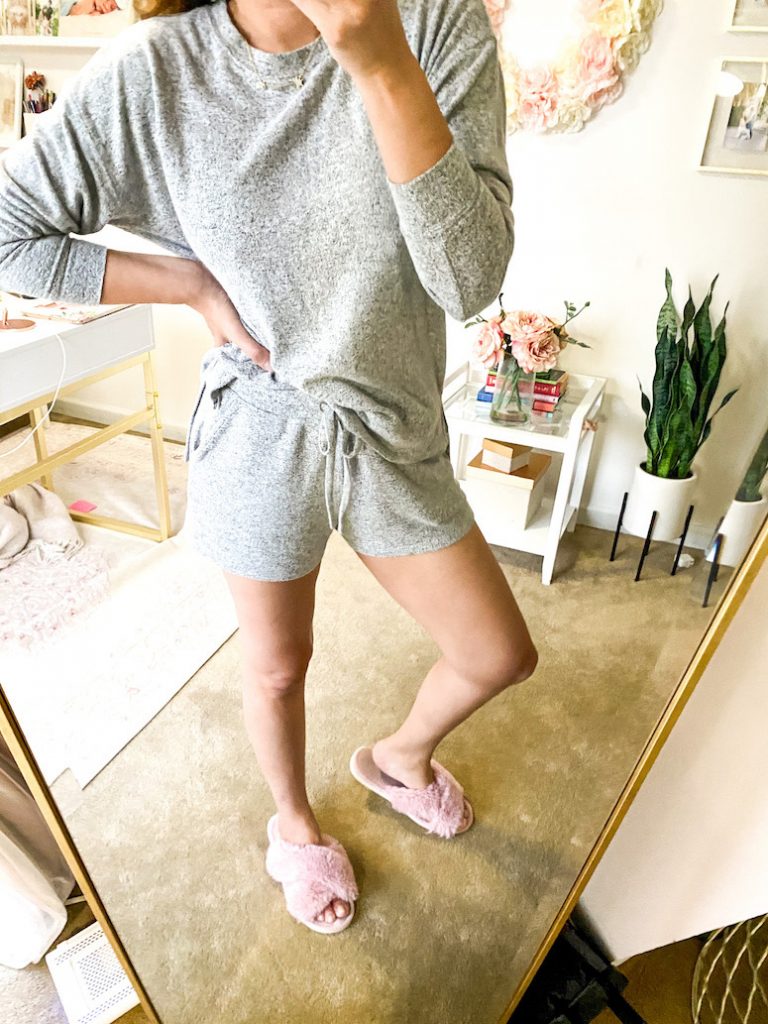 The material is incredibly soft, which is why I bought it in both leopard print and grey, too. I've worn them endlessly and think they are absolutely worth it!
Cute & Comfy Set from Chicwish
This matching loungewear set from Chicwish is another favorite and a great example of how chic and stylish loungewear can be!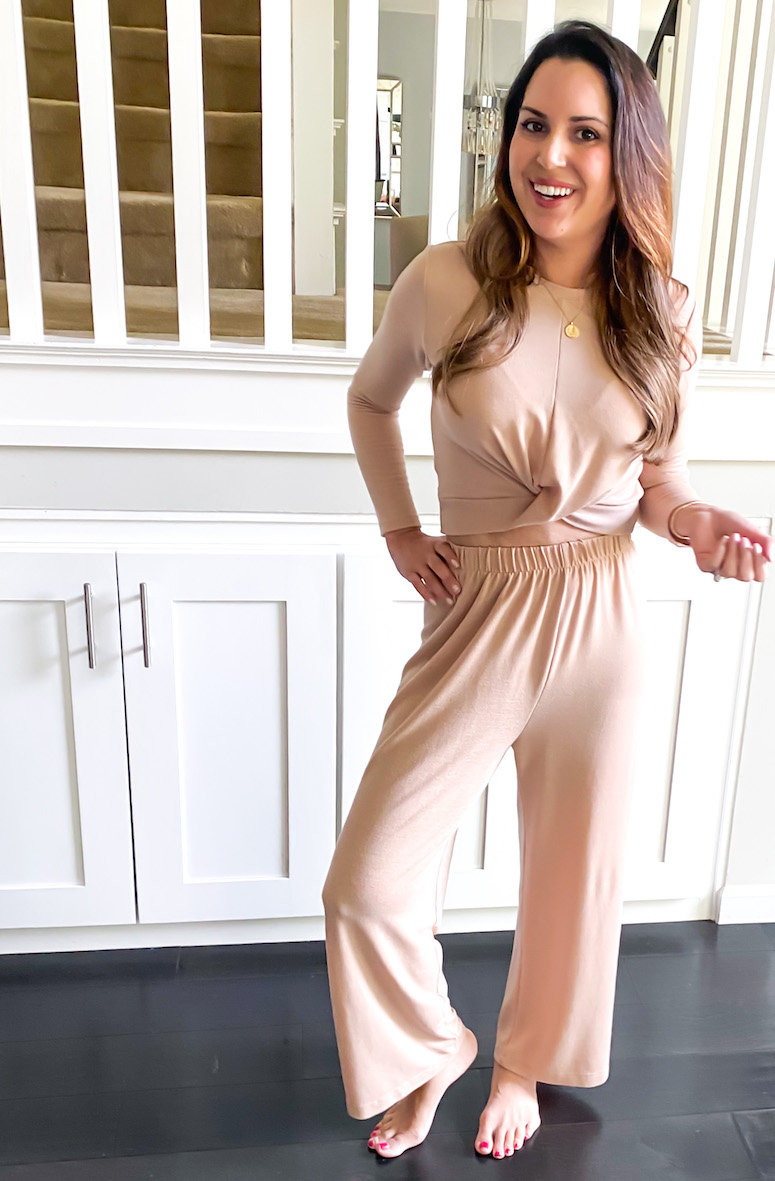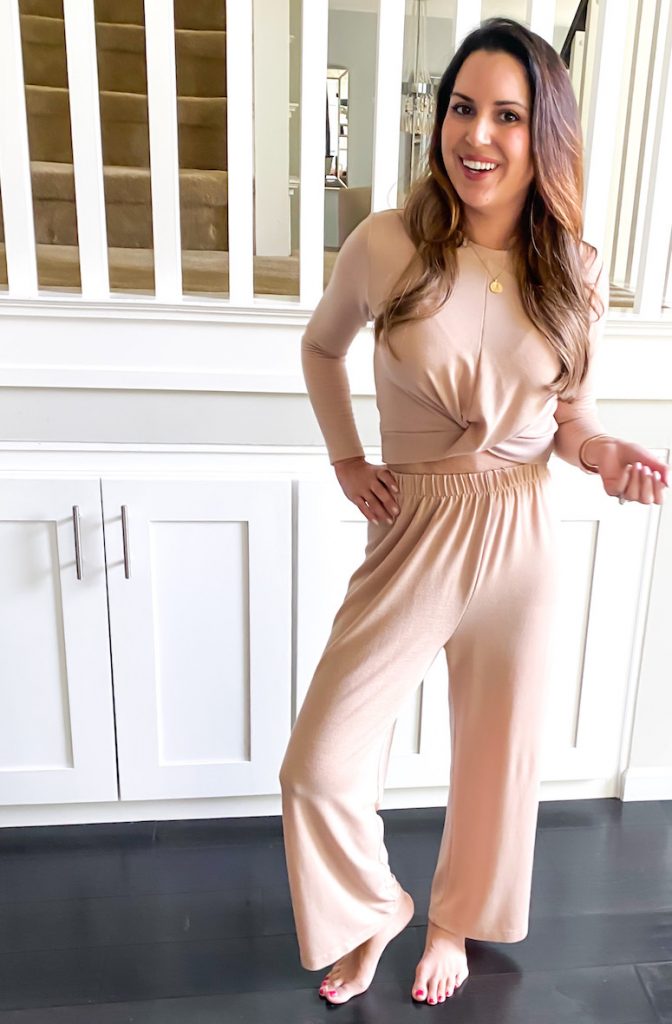 It's comfy enough to wear around the house but cute enough that you could get away with wearing it out.
That's the major difference between loungewear and pajamas: you wouldn't wear your pajamas outside of the house, whereas you could, and still look stylish, with a cute loungewear outfit.
They're upgraded comfy clothes, and let's be honest, we are all here for that!
This two-piece set also comes in grey and is under $50. It features an elastic waistband on the pants that I wear high-waisted to not show as much skin.
It's comfortable and flattering and I don't feel like I'm "dressed down" at home wearing it. That's my other favorite thing about getting cute loungewear sets: you'll feel put together and comfortable, too!
This is also a great example of a suitable work from home loungewear set. The top is cute enough to wear on a Zoom call with a nice necklace and earrings. No one will know how comfortable it is!
---
RELATED: 5 Ways to Wear Black Joggers and Look Stylish AF
---
Adore Me Joggers & Lounge Sets
If you're in the market for some good quality loungewear, this matching set from Adore Me is a great pick.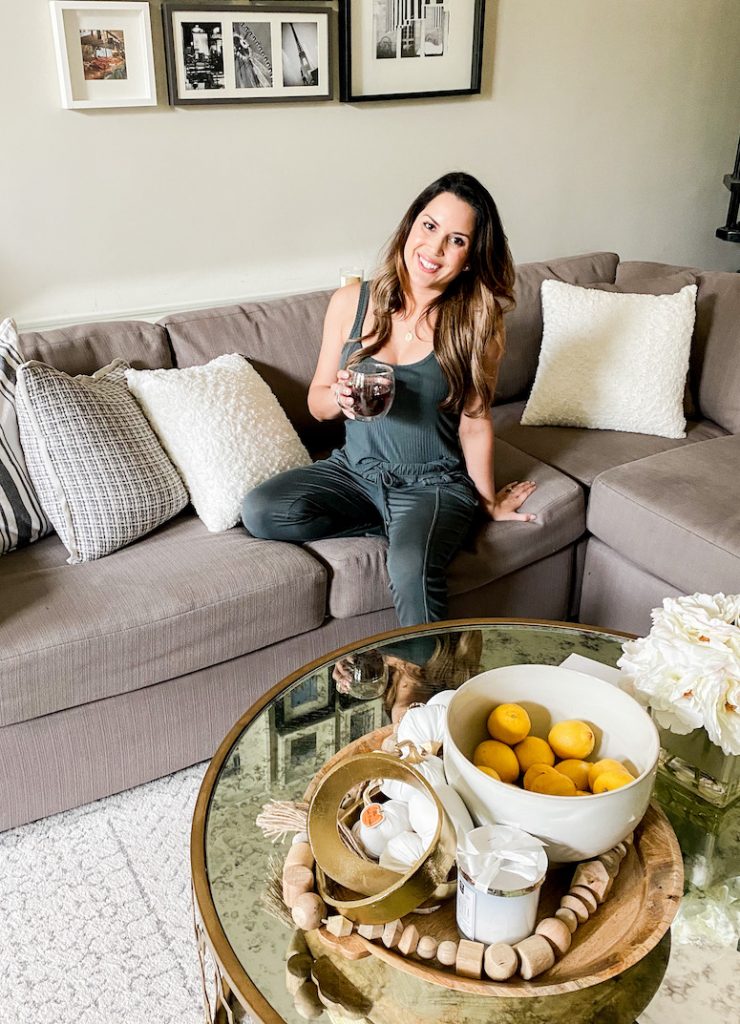 It comes in this army green color as well as another color and the material is super soft, an essential criteria for me when it comes to my comfy clothes.
The great thing about choosing loungewear sets is that you can definitely mix and match so you get more wears out of your outfit.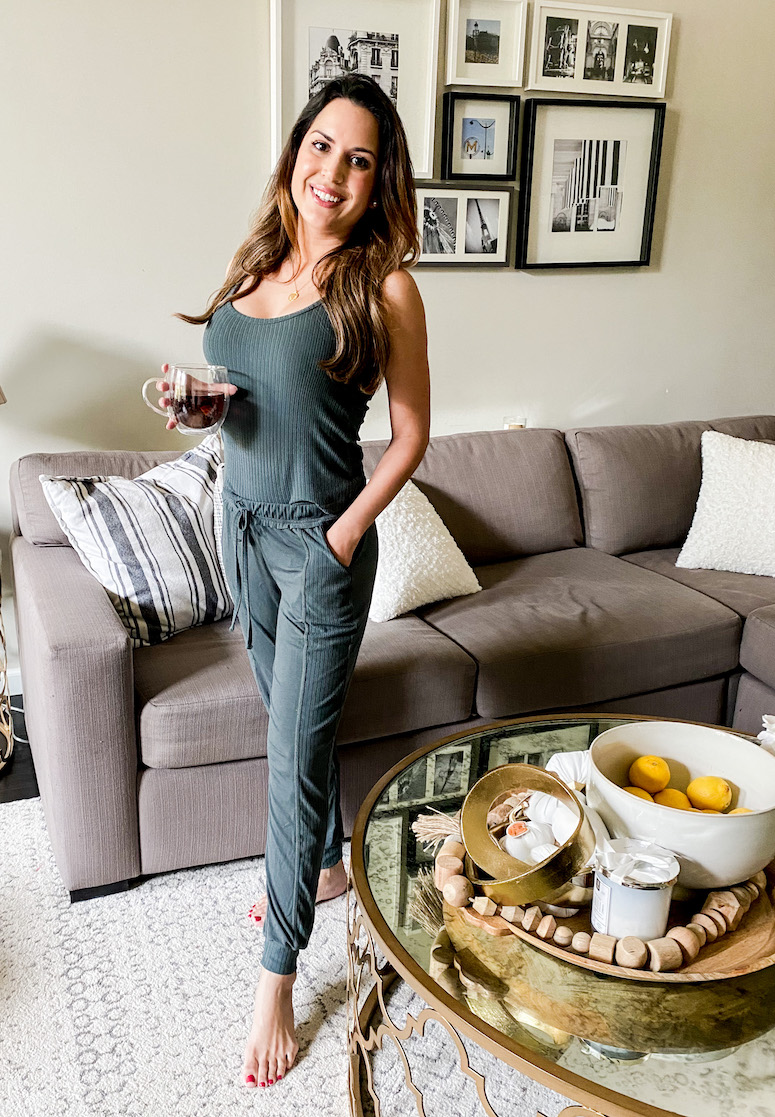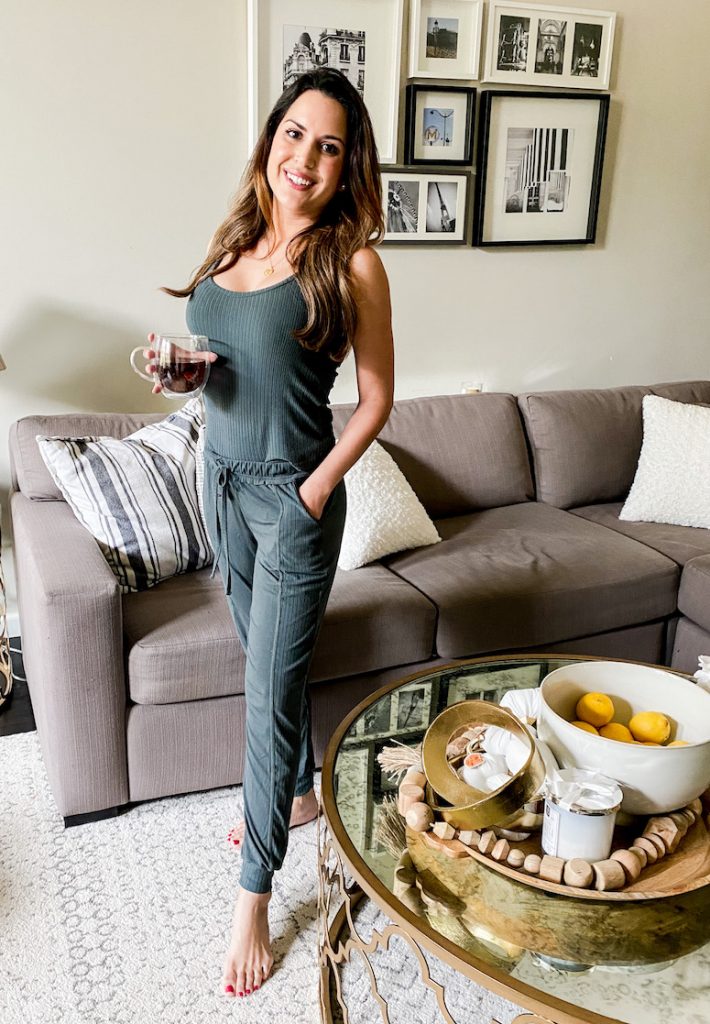 I've worn these pants with other tops, and vice versa. They're an elastic waistband and have pockets, too! The length also hits just right (I'm 5'4" for reference and wearing a size small.)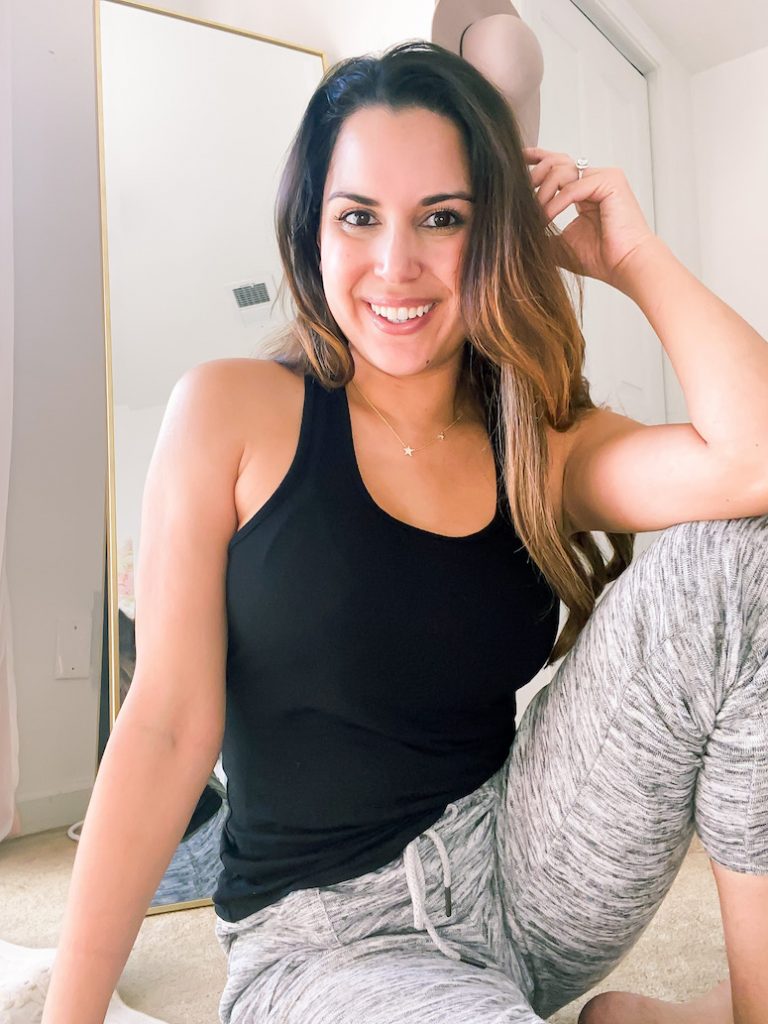 Another Adore Me pick is this joggers and tank set. I will say, the joggers do bunch on the bottom for me and tend to be a bit long, but they are soft and comfy and great for lounging around the house.
I love that they come with this black racerback tank (also super soft) which I've worn with so many other things. It makes it a really versatile outfit!
This one comes in three color options and runs TTS.
LUNYA WIDE-LEG PANTS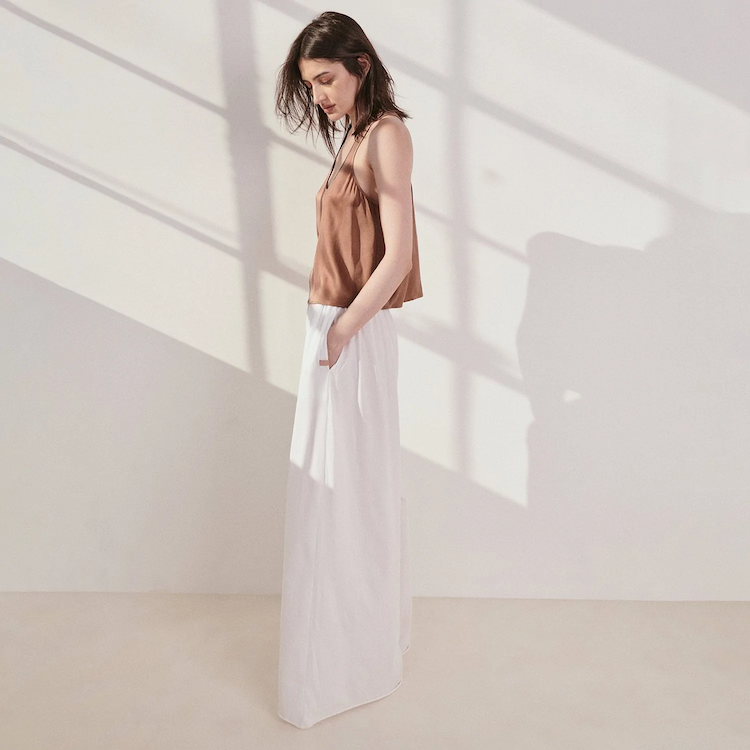 I just got these Lunya-wide leg organic pima cotton pants and let me just say…..I CANNOT take them off.
When I say they are on repeat, I mean they are on REPEAT!
They are incredibly soft and feel oh-so-luxurious. I have them in black and wear them multiple times a week.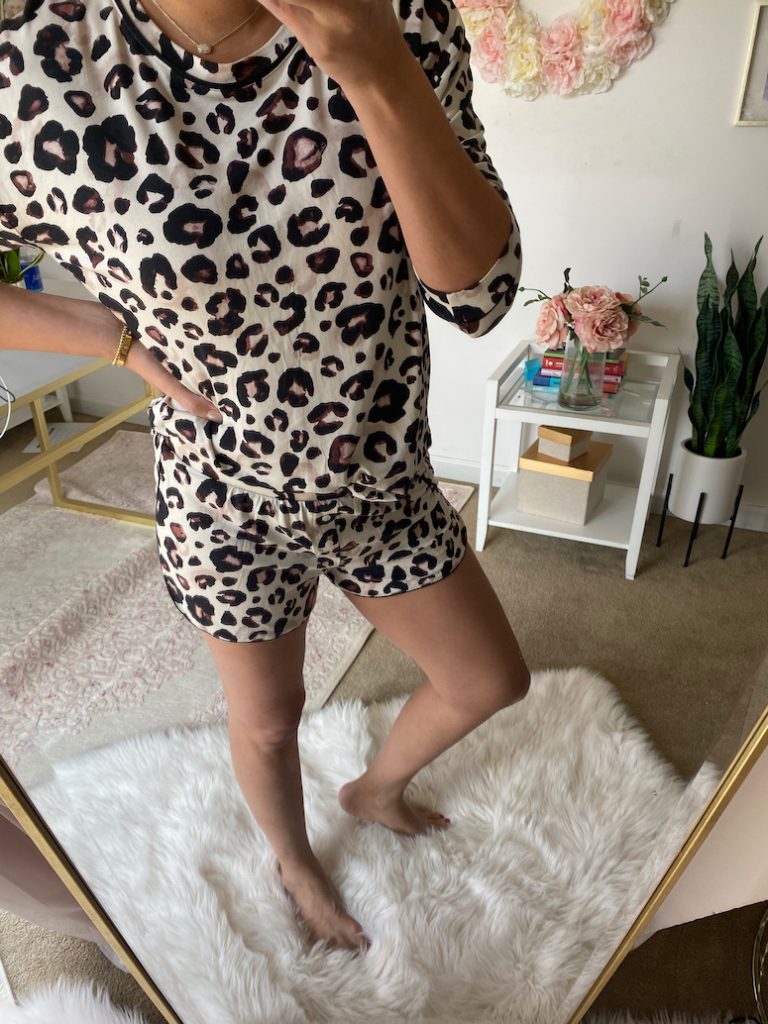 I am obsessed with the fabric used in a lot of the Stars Above pajamas from Target, they are exceptionally soft and cozy.
This leopard print set is under $25 and runs TTS (wearing XS). It also comes as a pants set as well if you don't want shorts!
Also from Target…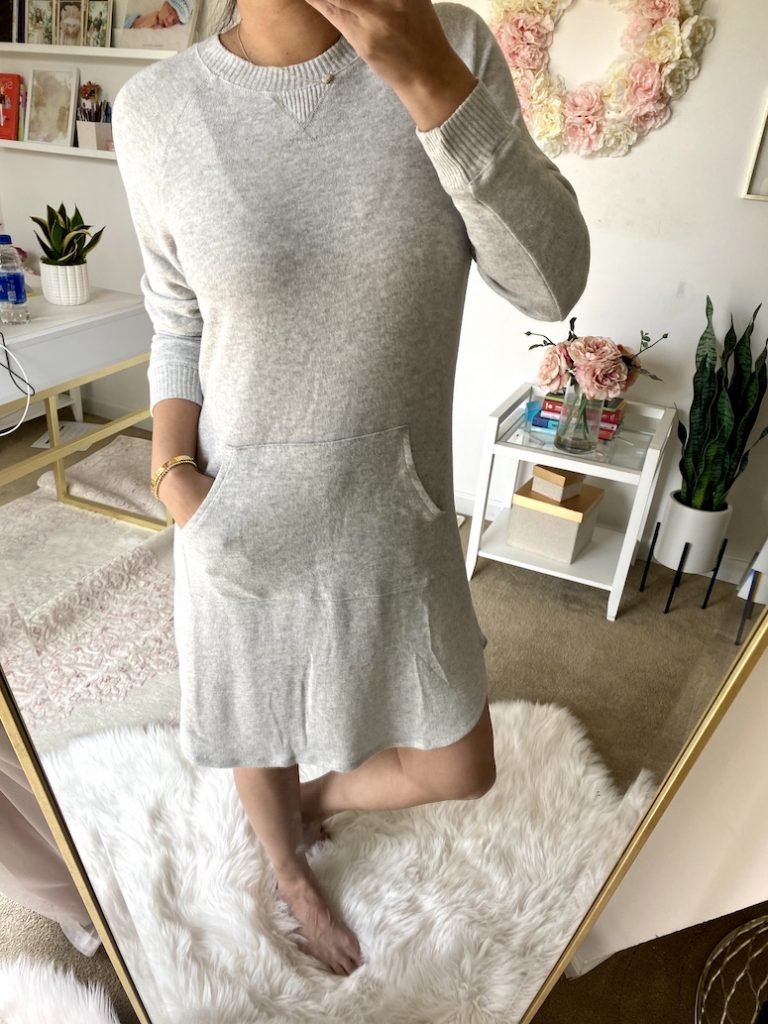 I wear this nightgown around the house with warm fuzzy socks, typically knee-high ones to keep my legs warm.
It's under $20, comes in a dark grey as well and runs TTS.
The Best Loungewear on Amazon
I will probably put together a completely different post rounding up the best loungewear on Amazon, but in the meantime I have a few picks to share with you.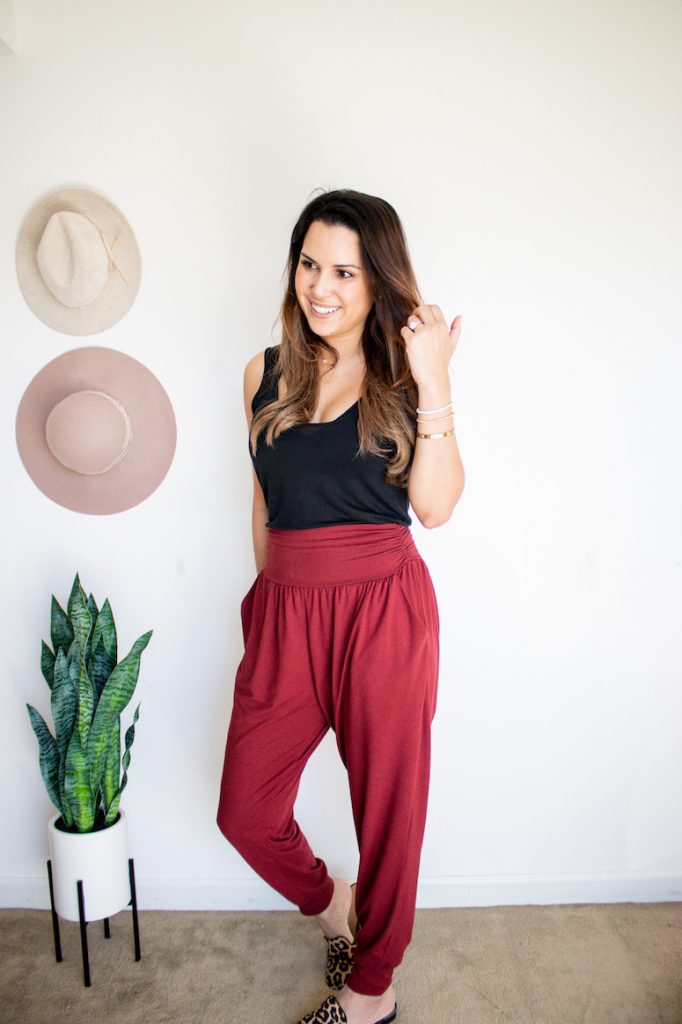 These high-waisted yoga pants are SO good. They come in 18 colors and prints, run TTS and are definitely the perfect combo of comfy and cute.
I've styled them a few ways, with a crop top or a tucked-in tank. And, they're definitely stylish enough to wear out of the house. They're yogawear, after all.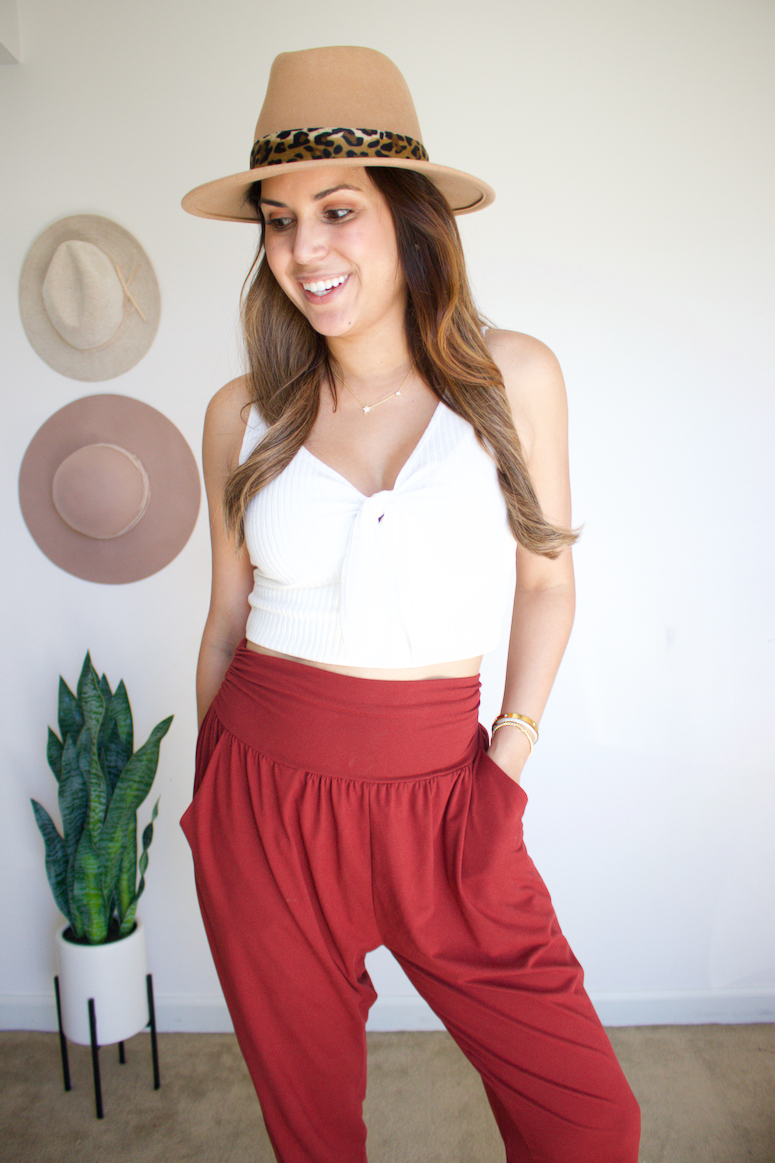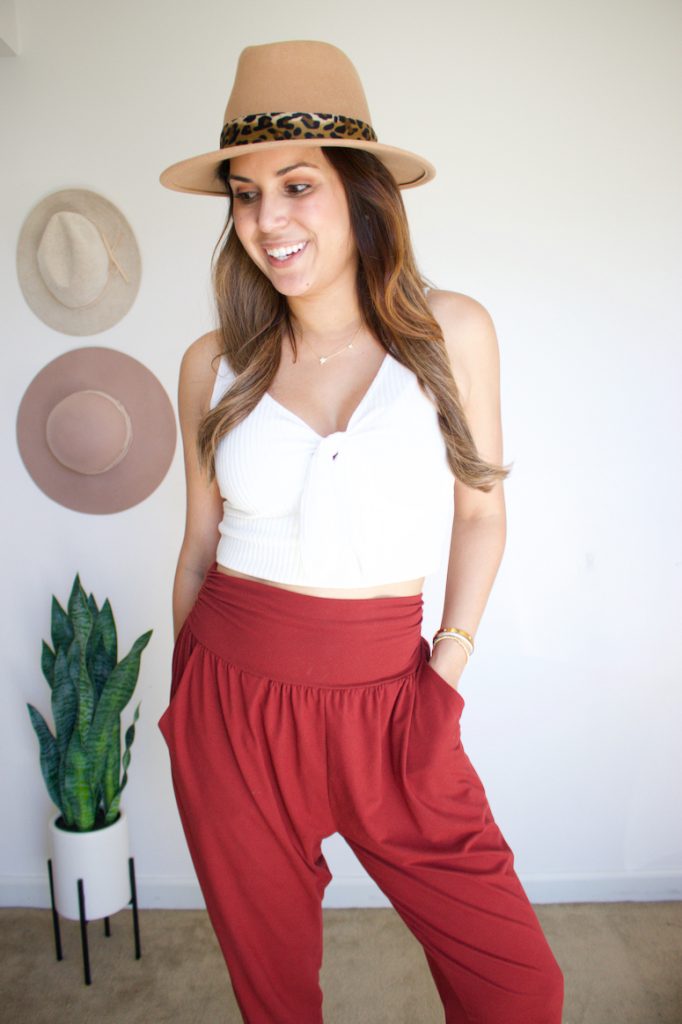 These pants have been worn on bike rides with my kids and, of course, around the house!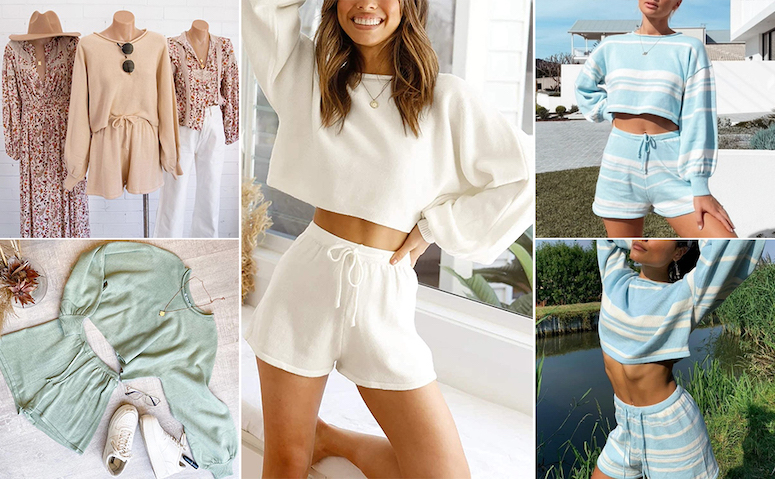 Currently in my shopping cart is this two-piece loungewear shorts set. It's currently on sale under $30 and on Prime, so quick shipping!
It's got a 4.5 star rating and comes in 9 color options + 4 cute striped color options!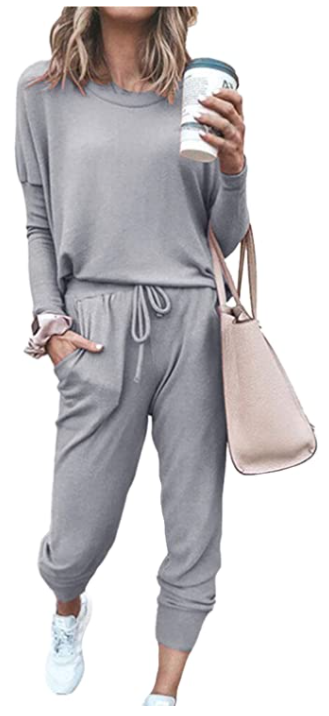 I'm also eyeing this two-piece jogger and longsleeve sweater set. It comes in 12 color options, including a few prints, and 4 sleeveless options, too.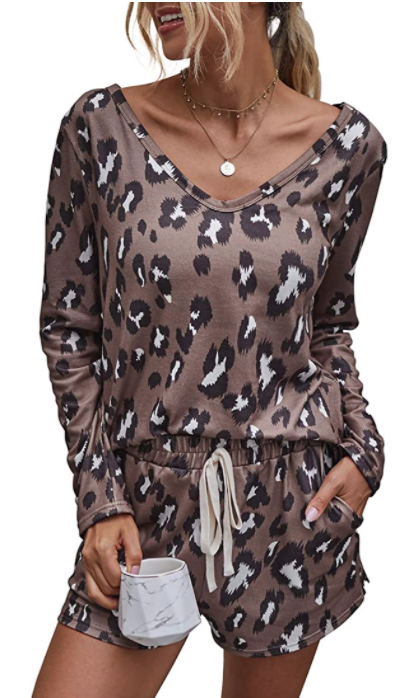 Lastly, this shorts set is SO cute and comes in a billion prints. O.K., it comes in 42 options including solid colors, tie-dye prints, animal print and pant/shorts versions as well.
Plus, with nearly 900 positive reviews, it's a good bet. And, added to the shopping cart!
---
Have you purchased any cute loungewear for fall 2020 I need to know about? Let me know in the comments below!