Let's face it, we all have a ton of jewelry laying around on our dressers, nightstands, bathroom counters – really, anywhere that it will fit!
So, instead of scrambling to find your favorite earrings every morning, try some of these creative jewelry storage ideas.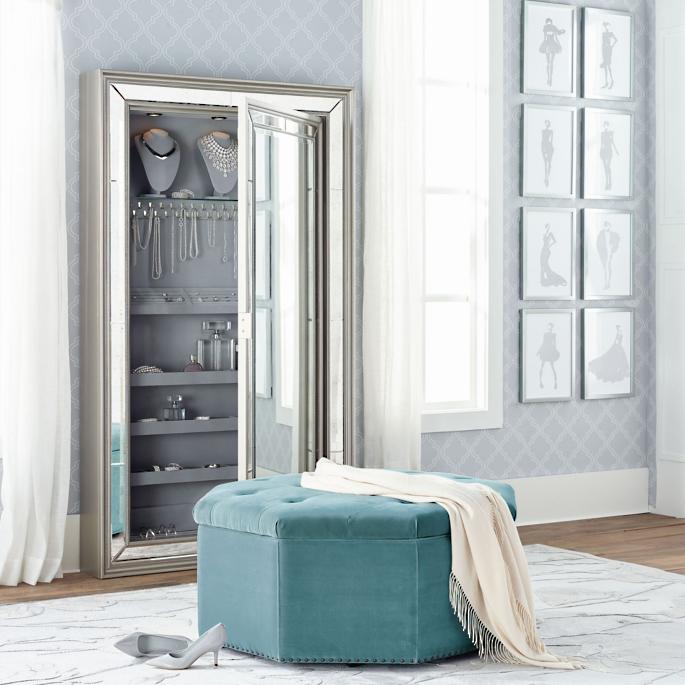 Let's lead with my favorite, this absolutely gorgeous and luxe Loren Jewlery Storage Mirror by Frontgate.
If you have the space for it, or one of those absolutely epic walk-in closets, this piece is gorgeous.
It's currently on sale and even has some secret storage spots too! Interior LED lighting ensures you can find your favorite pieces any time of day.
Want your pieces on display? This eclectic Driftwood jewelry organizer from Etsy is a lovely find.
This piece is made-to-order so you can customize your hook size , ringing material and Driftwood branch size and thickness.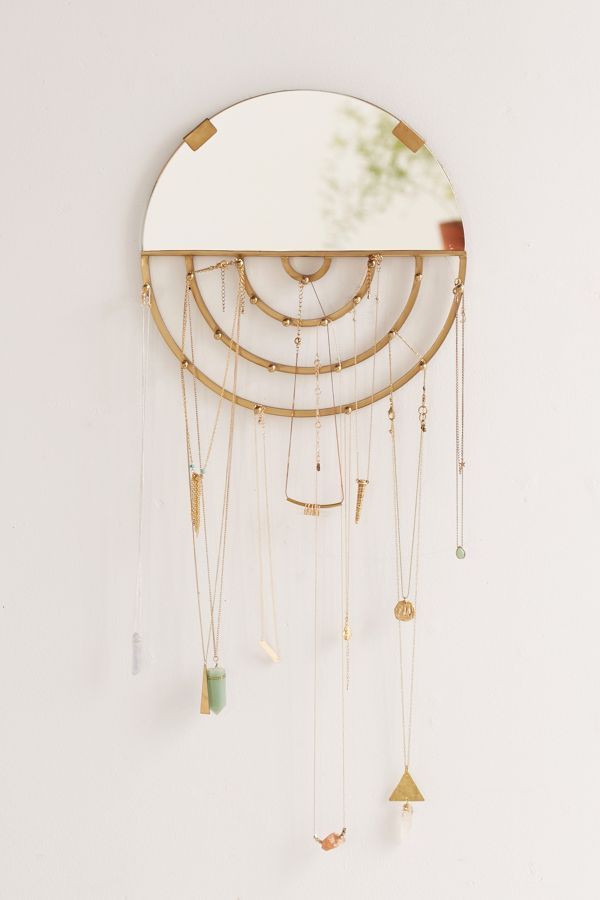 If you love jewelry storage ideas that do double duty, you'll love this mirror/art piece/jewelry organizer from Urban Outfitters.
It's under $30 and comes with more than 10 hooks for your organizing your necklaces, rings, bracelets and more.
If you aren't sure what is the best way to store jewelry, a mix of both wall-mounted and tabletop stands may be for you.
I love this Trigem Tabletop Jewelry stand, which would look gorgeous on any vanity or dresser. This one is from Anthropologie, but you can also find it at Target.
---
RELATED: How to Organize Your Makeup Like a Total Pro
---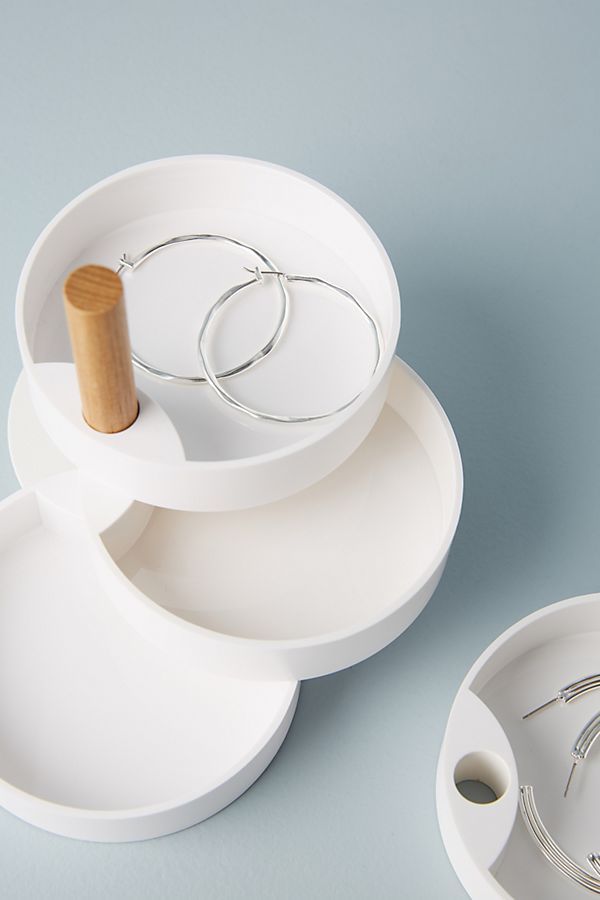 This tiered jewelry tray closes which is a cool way to keep things neatly stored and organized.
---
RELATED: How to Organize Your Clothing for Wardrobe Bliss
---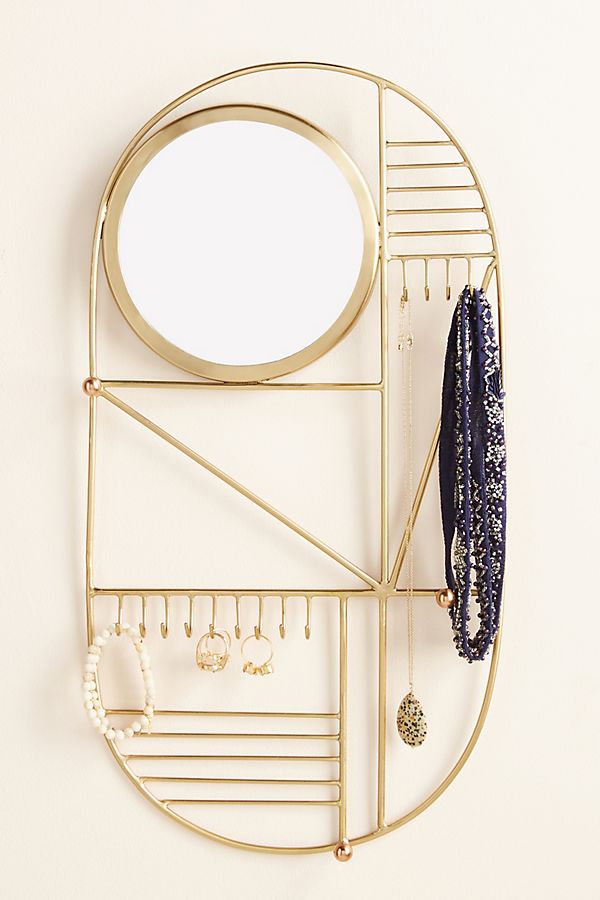 This Idris jewelry organizer from Anthropologie is the perfect jewelry storage solution for small spaces.
You can hang it on a wall and take advantage of the mirror and space for your rings, bracelets and necklaces, too.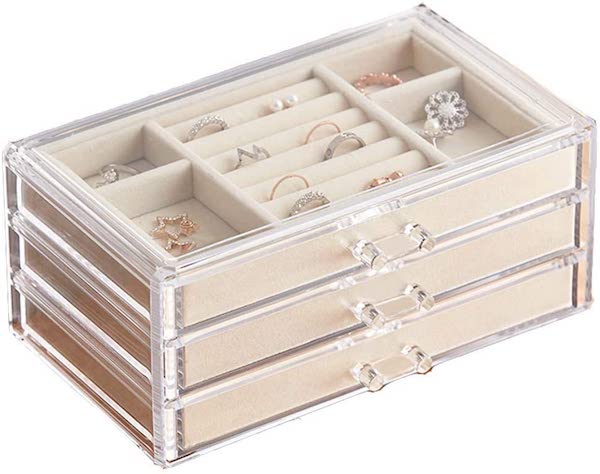 The HerFav Jewelry Box features three drawers of storage and a velvet-lined interior. It would look great on a dresser or vanity and has a cute modern look to it.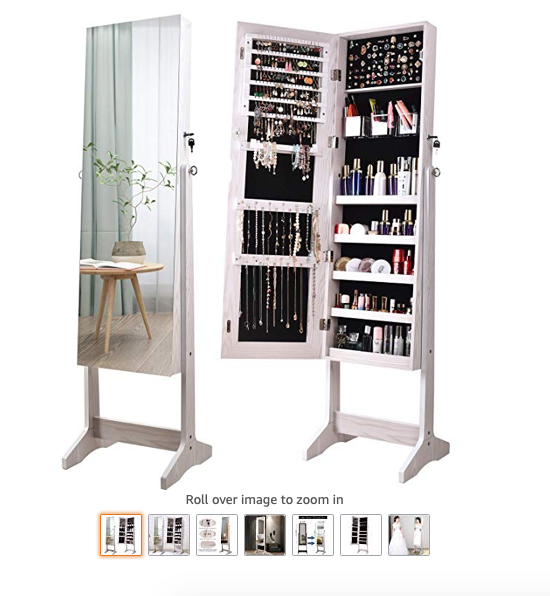 One of my favorite ways to organize jewelry is with a standing jewelry armoire that also doubles as a full-length mirror!
I have one super similar to this one I found at Home Goods and it is one of my favorite ways to keep all of my accessories organized.
This one from Amazon comes in brown and white and is a great price! Typically under $115 with Prime 2-day shipping.
---
RELATED: The Best Jewelry Organizers from Amazon
---
Better Homes and Gardens
This DIY jewelry storage solution via Better Homes and Gardens is a fun way to show off your pieces and decorate your room.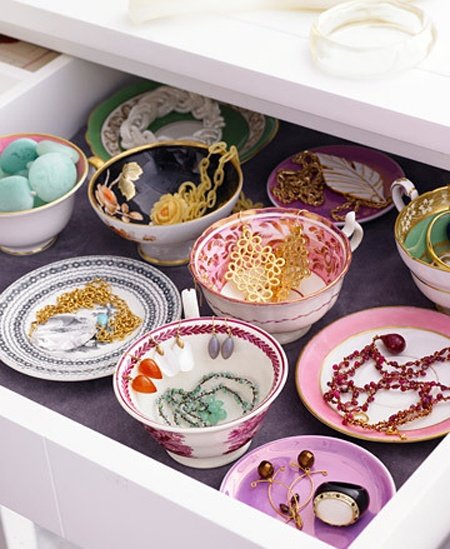 Looking for a DIY jewelry organizing solution? I love this inspiration from Social Bliss featuring eclectic cups, plates and containers stored in a drawer.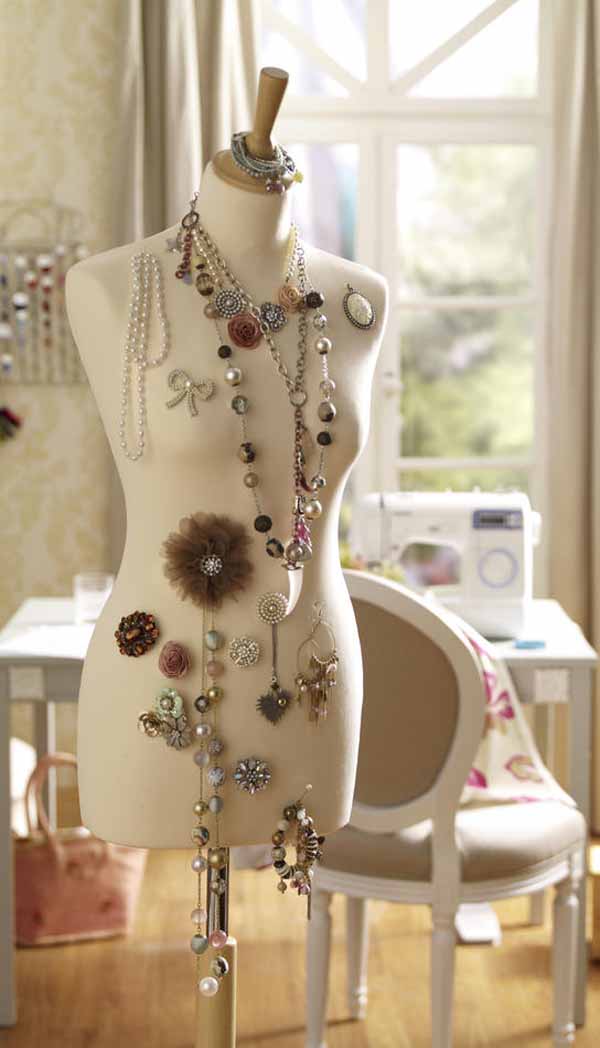 DIY Enthusiasts
Who says you have to have something specifically made to store your jewelry? This fun idea via DIY Enthusiasts puts your baubles on display using a Dress Form.
More Jewelry Storage Ideas and Organizing Tips
How you organize your jewelry really depends on what you prefer, your storage space and how many pieces of jewelry you have.
There are loads of solutions from wall-hanging pieces to in-drawer or in-closet organizers to displaying your jewelry on the vanity.
And let's not forget jewelry boxes, too!
I personally use and recommend a mix of multiple types of jewelry storage. I have:
IF I had the room for it, I would love an in-closet jewelry storage solution. But this is the current setup of what works for me.
---
Now tell me, what do you use to organize and store your jewelry? Are you a fan of jewelry boxes or do you like to keep it all on display?