The Best Jewelry Organizers from Amazon
Looking for the best jewelry organizers from Amazon? Look no further, I've rounded up some of the very best here!
And if you are obsessed with shopping on Amazon just as much as I am, be sure to follow my Storefront where I curate some of the best fashion, beauty and home decor finds.

The Absolute BEST Jewelry Organizers from Amazon
LED Jewelry Armoire Organizer
If you need a lot of storage capacity, this jewelry armoire is a fantastic way to go. You can mount it to the wall, use the full-length mirror and enjoy plenty of storage for your accessories.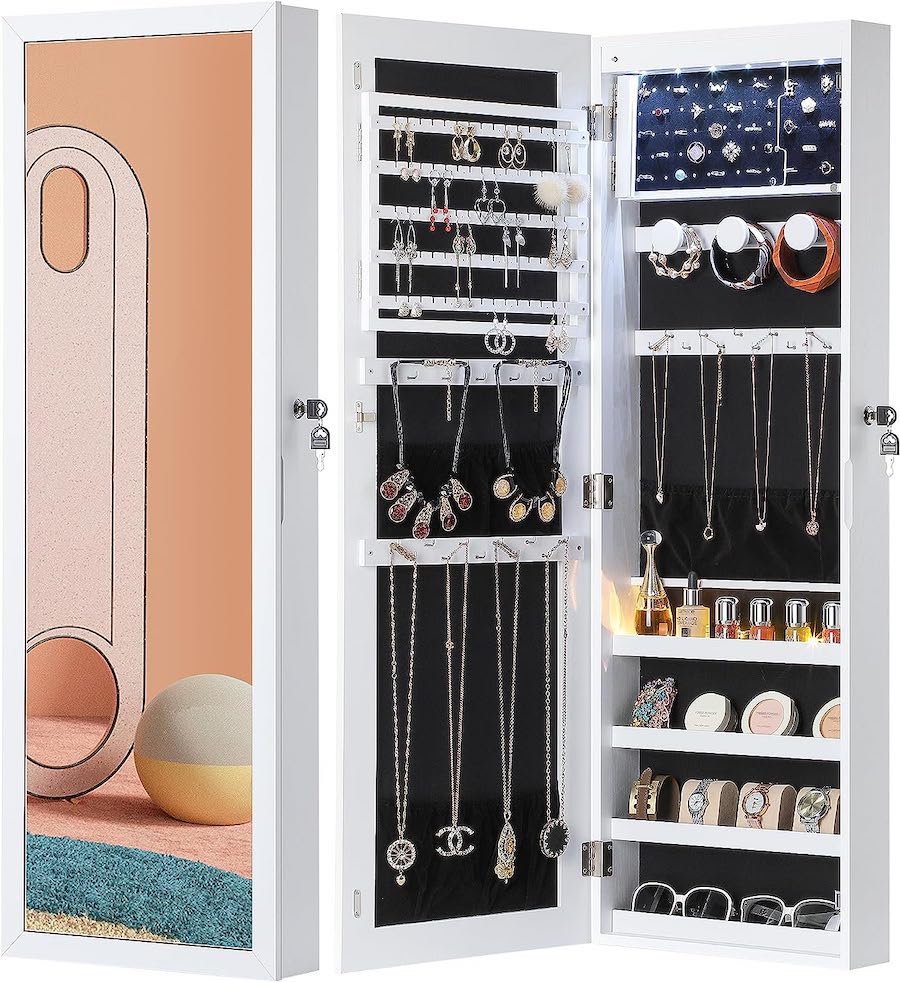 This jewelry organizer from Amazon includes a key to lock it up, LED lights and tons of hooks for your necklaces, stud earrings, bracelets, rings and more.
Best Choice Products Hanging Jewelry Armoire
Save floor space with this hanging jewelry armoire! In addition to the full-length mirror it opens up and has an additional mirror inside.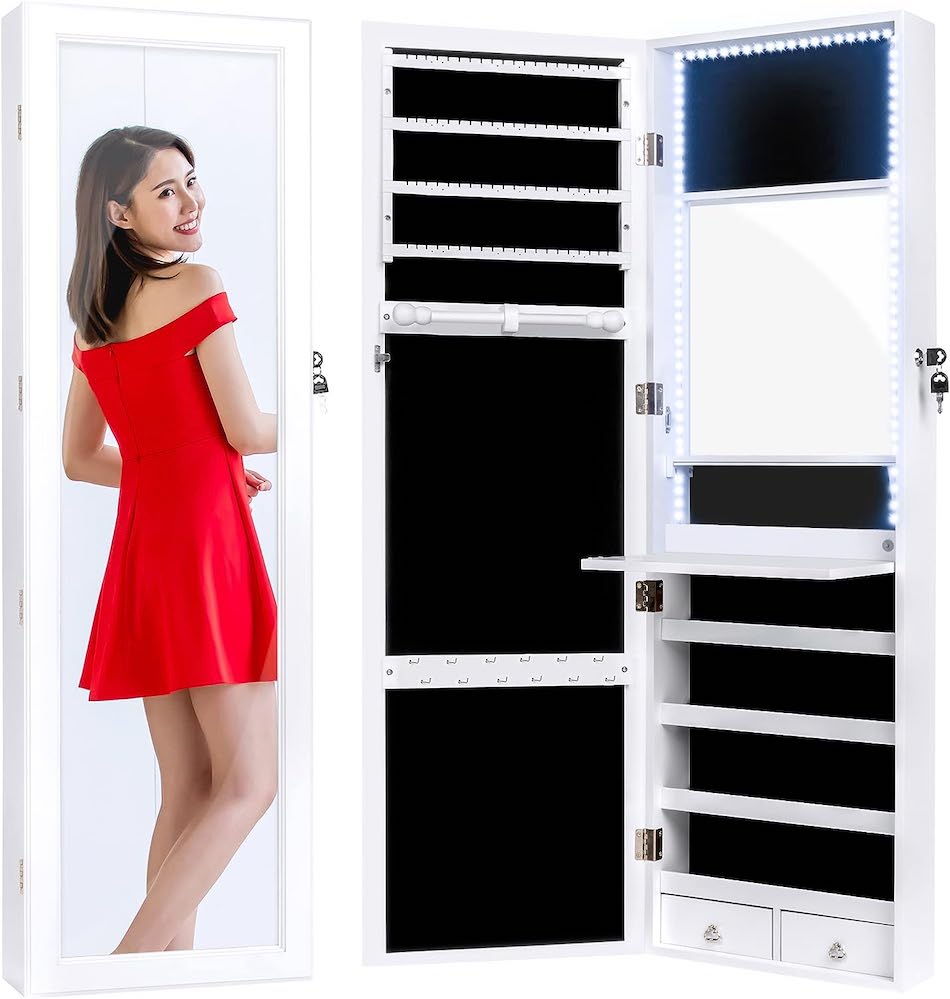 It also features LED lights and plenty of space to hang and organize all of your accessories.
Vlando Jewelry Tray
I've been eyeing the Vlando jewelry tray for a while; it features multiple stacking trays that are perfect for jewelry storage on your dresser.
It's a beautiful faux leather material that's sure to look lovely displayed in your closet, on your vanity, or on your dresser.
HerFav Acrylic Jewelry Box
Another one of the best jewelry boxes on Amazon is this clear acrylic one. It features three drawers, a velvet interior and beautiful clear exterior so you can easily see all of your jewelry at a glance.
There is also a transparent grey color option and it's a great buy, typically priced at under $30. Check the current price here.
---
RELATED: 11 Creative Jewelry Storage Ideas
---
Rotatable Tray Organizer
This rotatable tray organizer for your jewelry features 4 small trays for you to store your rings, bracelets and more.
This is a great solution if you only need to store a small amount of jewelry and like the idea of something that looks unique. It comes in white, pink, black and is generally priced under $15.
Hanging Jewelry Organizer
This hanging jewelry organizer is another great solution for tabletop storage, especially if you have a lot of bracelets and necklaces you'd like to keep from tangling!
The white and brass gold detail make this a sleek and modern pick and it can accomodate plenty of necklaces.
Umbra Stowit Jewelry Box
If you want something a bit more neutral and modern, then you'll love the Umbra Stowit Jewelry Box. This one features several hidden compartments in a sleek and modern design that will look right at home in your room.
You can opt for the white/ natural tone; white and nickel or black and walnut.
Songmics Jewelry Box
One of the prettiest and most traditional jewelry boxes from Amazon on this list is the Songmics jewelry box. This one features three drawers and a velvet interior. A glass top allows. you to peek inside and see your baubles.
This one comes in white with gold handles; black with silver and grey with silver hardware.