35+ Best Amazon Fashion Influencers to Follow
Finding cute clothes on Amazon isn't exactly easy. But one thing that can definitely help is following Amazon Influencer Storefronts who curate all of the best finds for you!
Here, you'll find the best Amazon Fashion influencers to follow to help make shopping on Amazon a breeze.
Just head to their page, click the "Follow" button or have fun browsing through their curated picks.
These Amazon influencer Storefronts are an easy way for influencers to curate their favorite finds, and it's definitely one of the best ways to make shopping on Amazon easier.
Whether you want to watch the best Amazon Live influencers, prefer short Reels/TikToks, curated collages or photos, there are lots of ways to engage with these successful Amazon influencers.
Enjoy!
Wait, What are Amazon Influencer Storefronts?
Select social media influencers are invited to join Amazon's influencer program.
This is not the same as becoming an Amazon affiliate; only top-tier influencers are invited into the Amazon influencer program where they can curate a personal Storefront.
Just because you are part of Amazon associates doesn't mean you're part of the AIP.
Storefronts are a great way for an Amazon influencer to curate their favorite products from Amazon all on one page! And there are a lot of ways to shop from a Storefront.
You can choose to browse through Idea Lists, photos, collages and video content, too.
Some influencers also participate in Amazon Livestreaming, which you can also see and shop through the Storefront.
Marlene from Life with Mar
This wouldn't be a proper list of the best Amazon Fashion influencers to follow if this blog's storefront wasn't included!
Follow Marlene for feminine fashion, everyday outfit ideas, classic style and home decor finds for Millenial women.
Aside from curated Lists that get updated almost daily, you'll also find photos, curated collages and Amazon Live videos. There's also a YouTube channel for even more outfit ideas.
Shea Whitney
Popular YouTuber, Shea Whitney has curated a super helpful Amazon storefront. She is one of my favorite content creators and is incredibly successful within the Amazon influencer program.
Shea shares everything from fashion finds for women to gadgets, home decor, gift ideas and more. She is a top Amazon influencer to follow.
Jen Adams of Interior Designerella
Amazon fashion Queen Jen Adams is another of my favorite Amazon storefront follows! Jen is a really popular fashion influencer sharing Amazon fashion finds for women.
Not only does she feature some of the best classic Amazon finds, she never fails to throw in some really fun options for when you're shopping to make a statement!
Check out her Instagram reels for some serious Amazon outfit inspo.
Teresa Caruso
If you love the neutral aesthetic you will love Teresa Caruso's Amazon storefront.
A fun way to shop her page is through her popular social media channels that show her Amazon finds in action, as well as styling tips.
This storefront is a go-to for luxury-feeling home finds and cute accessories!
Swift Wellness
Swift Wellness has another amazing Amazon storefront with everything from daily fashion and loungewear to home products to camping essentials.
Consider this storefront your one-stop shop for the best affordable Amazon finds!
Maegan Wren
Maegan Wren's Amazon storefront is full of the cutest baby, fashion, and lifestyle finds. Her adorable style really shows through the lists she's curated on her storefront.
I recommend her storefront for any moms out there who do not have time to search for beautiful everyday necessities at great prices.
Maegan features full reviews on her Instagram account, so be sure to check that out for more info!
Carin is a lover of all things pink and neutral! If you're into super girly, feminine finds, you'll want to give her a follow. She also has a really popular YouTube channel and her own online boutique.
This creator features some great fashion finds from Amazon that are perfect for mixing with higher end pieces. She is a favorite influencer of mine to follow as I just love her girly aesthetic.
Mar Torosian
Mar Torosian's storefront features a little bit of everything! She shares amazing sales and deals through Amazon, so I love checking her page out when shopping on the app!
Be sure to visit her Instagram for some fun reels on how to style her Amazon finds.
Ashley Jenna New York
This influencer storefront is great for shopping new trends. Ashley Jenna New York shares tons of great affordable dupes for designer trends so you don't have to break the bank to stay up-to-date on what's new in fashion.
Her Instagram is a great place for styling tips as well, check out her reels!
Marissa from Diamond Girls Diary
Marisa from Diamond Girls Diary has an excellent Amazon storefront if you love all things casual style. She shares super cute everyday fashion finds that are perfect for moms on the go or anyone trying to shop affordably.
Sarah Kathryn
Follow Sarah Kathryn on Amazon and Instagram for chic, everyday fashion finds and mom lifestyle essentials.
She is a taller blogger so a perfect follow for those who are taller and interested in fashion! Check out her Instagram stories for awesome Amazon deals as well.
Graceful Glam by Danielle
Danielle from Graceful Glam has the perfect Amazon storefront for anyone who loves pink! Her finds are feminine, fun and trendy.
Danielle uploads a lot of helpful videos demonstrating and trying on items so you can shop with more confidence.
Amanda Kruse
This creator's storefront is filled with Amazon pieces for any occasion. She features great fashion finds for the whole family.
One of my favorite features on her storefront is her travel lists, definitely check them out for any of your upcoming trips!
Tabitha Hawkins
Tabitha Hawkin's Amazon storefront is a must-follow for any mom. She tries out and shares amazing home and lifestyle products that will make your life so much easier!
You can also find other great favorites on her storefront such as cozy fashion and activities for kids.
Tracy from the Fashion Sessions
Tracy from the fashion sessions is another influencer with an Amazon storefront full of staple fashion favorites.
The other thing I love about her storefront is the amazing kitchen finds. If you are a lover of food and fashion, you will love Tracy's Amazon picks.
Chapple Chandler
Chapple Chandler's Amazon storefront has such a beautiful, unique aesthetic. This is a great one to follow if you love affordable home finds that feel elevated and unique.
Chapel is also a mom of little ones, so she has great recommendations for kids' essentials!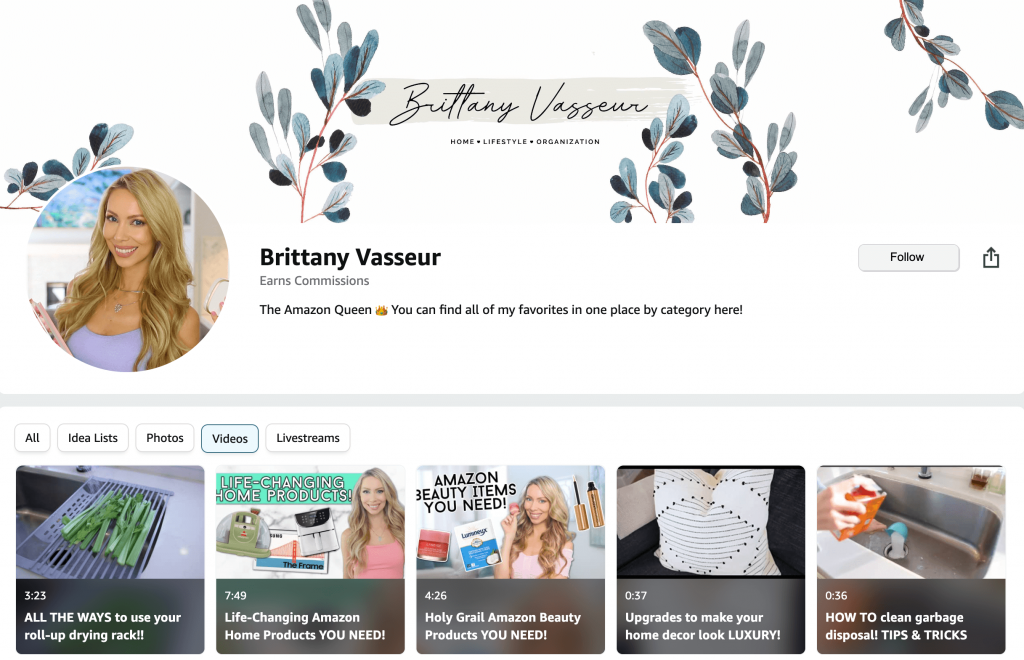 Brittany Vasseur is another popular YouTuber who shares a ton of cleaning and organization hacks along with neat Amazon products and fashion favorites.
She also Livestreams on Amazon and is a mom of two young kiddos.
RELATED: The Best Mom Fashion Bloggers to Follow for Serious Style Inspo
Funmi Ford
Funmi Ford's storefront is filled with fun and unique fashion finds and trends. I really love her bold fashion sense.
Her Instagram has so many beautiful inspirational pics, as well as helpful videos about products that she shares. I definitely recommend giving her a follow!
Chelsea Pearl
Chelsea pearl has created such a fun lifestyle vibe on her Amazon storefront. She also livestreams and posts fun daily finds and home essentials.
Katie Life in the Fancy Lane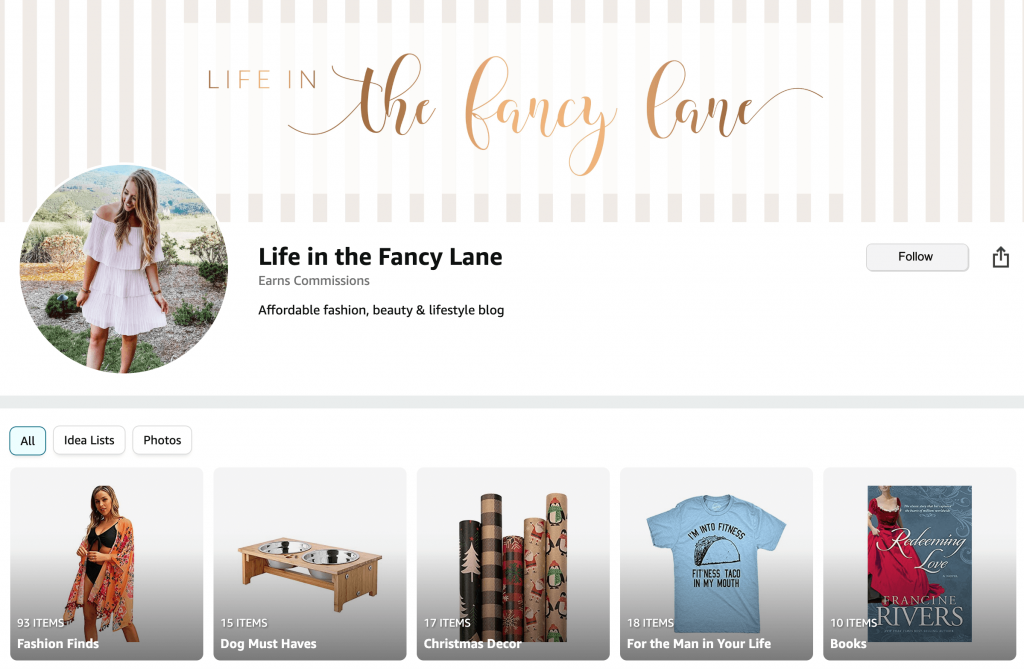 Check out Katie Life from Life in the Fancy Lane's Amazon storefront for a long list of the cutest Amazon fashion pieces. She also shares some lifestyle favorites from gift-giving ideas to pet mom essentials.
Erin from Moody Wife
Blogger Erin from Moody Wife blog has some of the cutest everyday style. I highly recommend following her on Instagram for everyday outfit inspiration.
Head over to her Amazon storefront to shop all of her looks. If you love all things fashion, especially petite style, then you'll really love this storefront.
Aline Lowry
Elaine Lowery is another excellent Amazon fashion influencer to follow and has an Amazon storefront you'll love.
If it helps you to see try on when shopping online, check out her TikTok, where she shares many Amazon fashion finds and how to style them.
Meghan Sisco
This creator's Amazon storefront is such a fun follow! Meghan Sisco is an influencer, dog mom and boutique owner who shares some great basics as well as trends on her storefront.
Browse through her photos on her Instagram for daily outfit inspiration.
Fashionably Jen
Fashionably Jen shares a little bit of everything on her Amazon storefront. She has some great pics for affordable everyday fashion, too.
Queen of Sleeves
If you love color, you'll love the bright and beauitful finds on the Queen of Sleeves Amazon storefront! Shop her lists by season or occasion, you'll definitely find some beautiful, fun pieces.
Bailey Headrick
You may have seen some of Bailey's popular TikToks or Instagram Reels on her Amazon finds. If you haven't already, definitely check out her Amazon storefront to shop her cute looks.
She shares some super unique home and holiday pieces as well.
Lisa123Marie
Lisa Marie is a must-follow Amazon storefront for any petite fashion lovers.
She posts a lot of try-on videos and photos to her socials so you can see the pieces in action before making a purchase yourself. This is such a helpful feature and another reason why you'll love this storefront.
Small Town in Stilettos
This storefront from Small Town in Stilettos has some great finds including fashion, beauty, and other fun girly accessories. She is from the Midwest, so you know she has some perfect cozy weather staple pieces on her lists!
Adriane Gweyn
Adrian Gwen it is another must-follow for all moms. Definitely check out her storefront to find Mom life essentials from basic wardrobe pieces to home organization!
She's super active on her storefront so definitely check out her photo and video reviews as well as her Amazon livestreams.
Leslie Haas
This creator has such a chic style, and it really shows through her Amazon storefront pieces.
Her finds range from casual everyday pieces to looks for holidays and special occasions, so definitely check her out when you're looking for any new pieces!
If you're looking for pieces that are on-trend, I highly recommend checking out Tiffany's Amazon storefront. Her style is so fun and trendy from her outfits to her home decor.
RELATED: How to Find Cute Clothes on Amazon
Arin Solange is a blogger and influencer with a beautiful Amazon storefront full of great recommendations for home decor, DIY items, and other lifestyle essentials.
This should be one of your go-to storefronts for all things home-related!
Paige De Sorbo
Paide Desorbo's Amazon storefront is a great one to follow for recommendations on trendy outfits! As you can see by her gorgeous Instagram pics, she puts together the cutest pieces for statement outfits.
Give her a follow for more chic, stylish recommendations.
Shop Dandy
Danielle from Shop Dandy is another one excellent one-stop-shop Amazon storefronts. Her fashion pieces are definitely a huge draw but her girly style also shows through her home and lifestyle lists, too!
Lauren Wolfe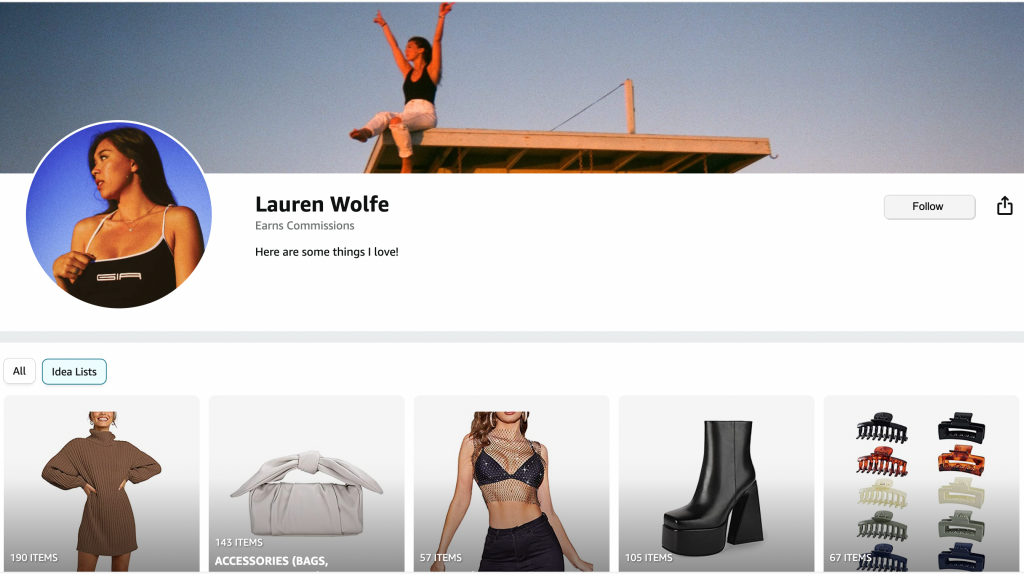 Popular TikTok creators like Lauren Wolfe also have Amazon Storefronts. Her page has a strong mix of fashion and beauty products. She is especially popular among Gen Z.
I hope this list of the best Amazon fashion bloggers to follow helps you find some great pieces on Amazon.
There are so many items on Amazon that it can be super overwhelming when shopping for cute outfits. These are some of the best Amazon influencers to follow to hopefully make shopping easier for you!