I've been working on styling our kitchen these last few weeks and had to share some of these Amazon kitchen essentials with you!

Amber Hand Soap Set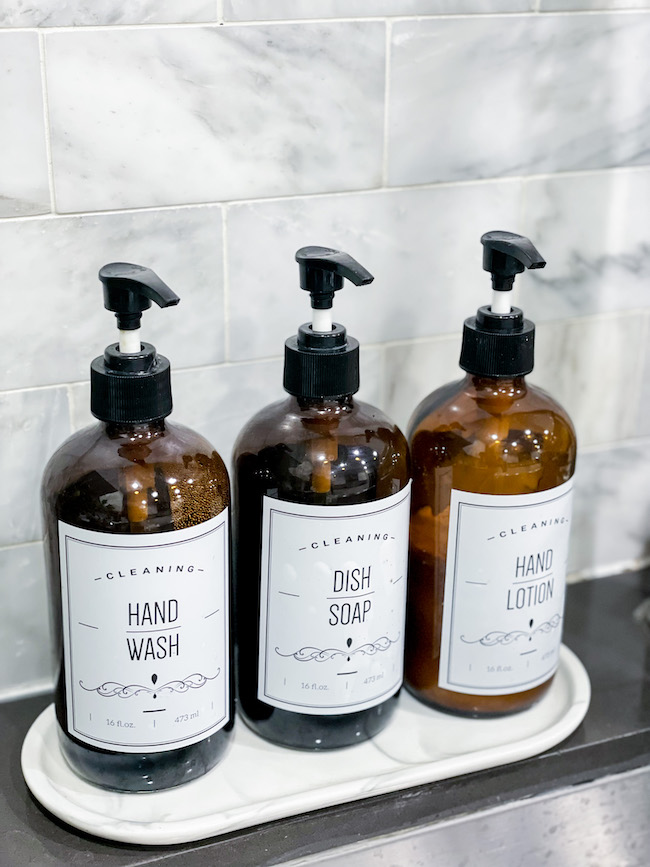 I bought this Amber bottle hand soap set from Amazon the other day and it instantly made my kitchen more stylish.
The bottles come with the labels, so you don't have to buy them separately! They're also a pretty good size and fit SO much.
Mine hold hand soap and dish soap but you could also do lotion if you prefer. At under $20, they're a pretty great find! I put them on this soap dish.
---
RELATED: These Amazon Home Decor Finds are Customer Faves–and I Tried them All
---
Fridge Organizers
These clear fridge organizers are perfect for corralling all of the random things in your fridge!
Since using them, I've found my fridge is significantly less cluttered. This set is typically priced under
Mini Vacuum
This mini vacuum was a TikTok buy, but it's definitely an Amazon kitchen essential!
It's so easy to pick up little crumbs, especially when you're cleaning up after kids. It's under $15 and one of my favorite Amazon buys this month.
---
RELATED: Pretty Pantry Inspiration & Organization Ideas
---
Utensil Set
If you're looking for a gorgeous utensil set, look no further than this white and gold one that also comes with a holder and matching measuring spoons, too.
Pantry Labels
I recently bought this set of cursive pantry labels and they are absolutely gorgeous!
They come in several font types and collections, too. You'll get HUNDREDS of labels to pretty up and organize your pantry and I love the way it looks.
Glass Canisters
Speaking of prettying up your pantry and kitchen, these glass canisters are airtight and look good enough to go on your counter or in your pantry space.
PIN ME FOR LATER!