Did you know you can get a custom-made T-shirt for just $25 from Amazon?! I made one!
If you're curious if the Amazon Made for You Custom T-shirt is worth it, that's exactly what you'll find in this review.
In this post, I'm going to take you through the ordering process and give you a full review on the fit, fabric and quality of Amazon Made for You custom T-shirts.
More of a video person? Watch the YouTube video below!
What are Made for You T-Shirts?
Like the name implies, these are custom T-shirts for men and women on Amazon and they're just $25! You can customize the:
Fit
Fabric
Neckline
Sleeve length
Color
Label
This is awesome for anyone who has short or long torsos, a big or small bust, or really you just want your own T-shirt your own way.
I'm going to take you through the ordering process below and share what I got when I ordered my custom Made for You T-shirt.
Step 1: Open the Amazon Mobile App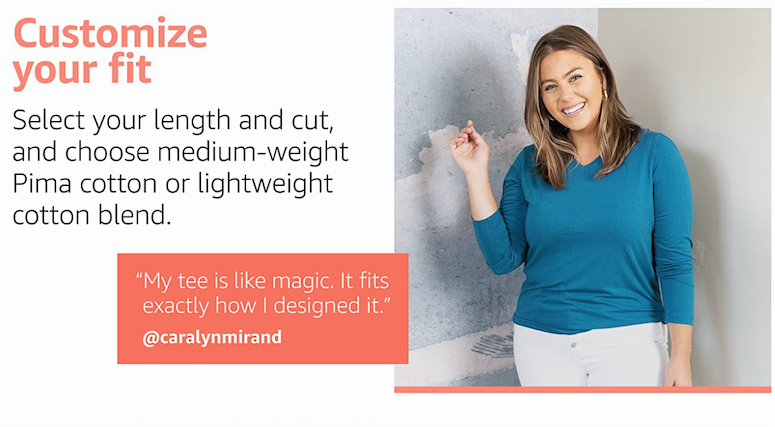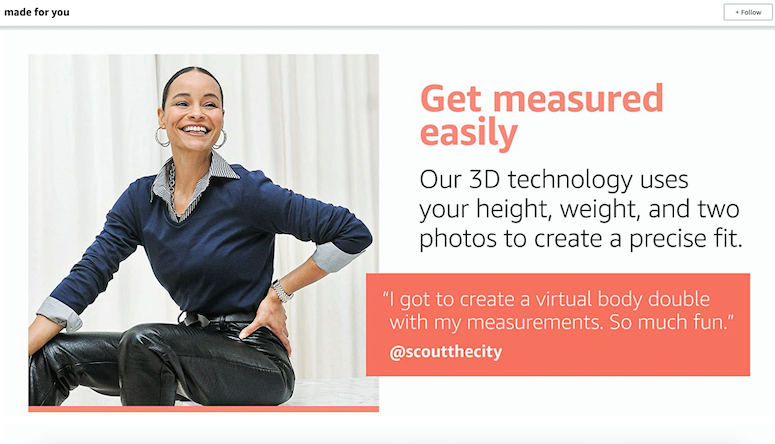 You won't want to do this on your desktop computer as you need to include two photos of yourself that you take on your cell phone.
Click this link from your phone and you'll be taken to Made for You T-shirt page.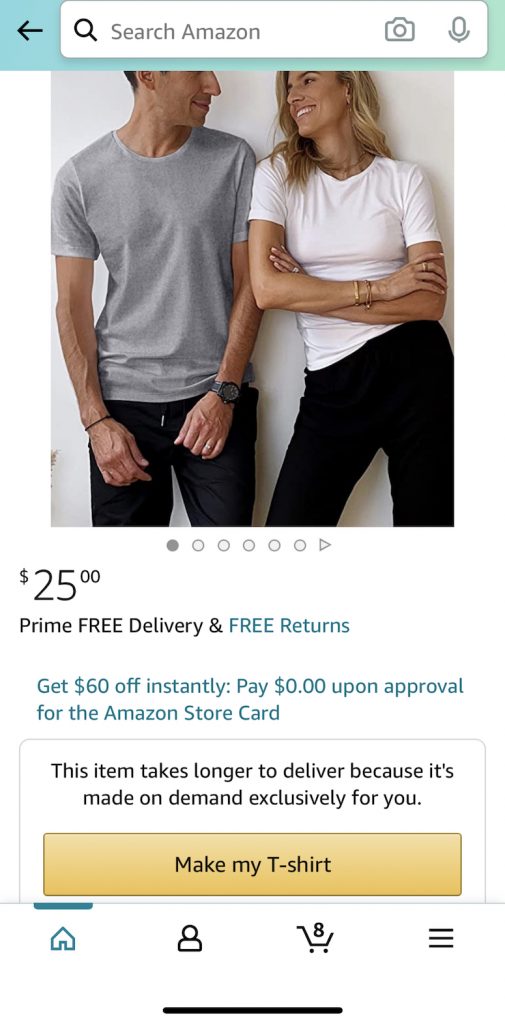 You first make your model. Put in your height, weight and take two photos. This will generate a 3D model to show you what your T-shirt may look like on you.
It sounds creepy but it's actually kinda fun! You even get to customize your model's skin color.
To take the photos, put your phone on the floor and take on photo facing the camera and another to the side.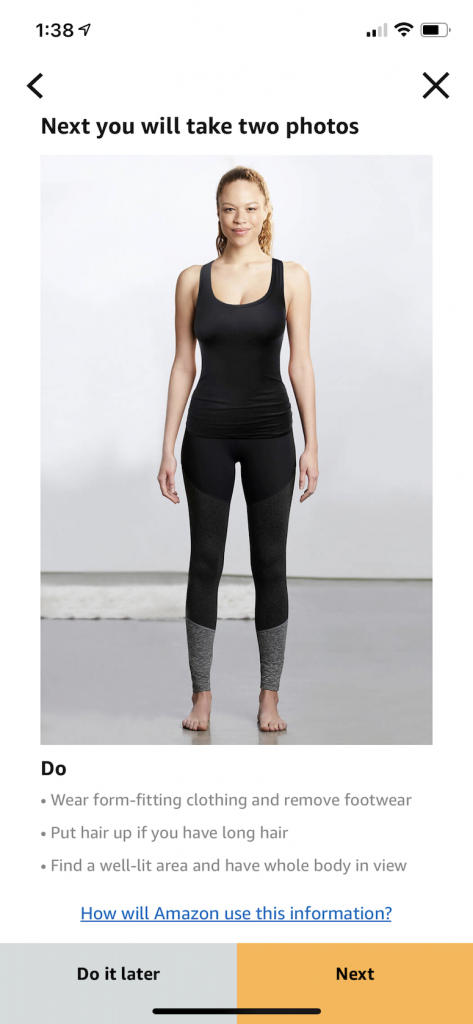 Yes, it's a super unflattering angle. But don't worry, it's just for the purposes of creating the 3D model and no one is going to see the photo.
Make sure you're working form-fitting clothes and pull your hair back. I just leaned my phone against a mirror and chose a blank white wall.
Step 2: Customize Your T-Shirt!
Now comes the fun part, choosing all of the little details!
First, choose the fabric and color. There is a medium-weight cotton fabric that's made out of 100% Pima cotton. It's described as durable with a slightly thicker feel.
The second option is the lightweight tri-blend fabric; this is the one I chose for my custom t-shirt since I live in Arizona and prefer lighter fabrics.
Next, you'll get to choose from 8 colors. Currently, they offer:
Cloud white
Jet black
Crimson red
True navy
Soft coral
Teal blue
Forest green
Heather gray
I ordered black in the Tri-blend fabric.
Step 3: Choose Your Length
You get three options during this part: short, medium or long. I love this part because it's great if you have a short or long torso, or if you want a T-shirt for a specific reason.
If I wanted a T-shirt for leggings, for example, I'd go for the long. Or if I wanted a T-shirt to tuck into high-waist jeans or skirts then I'd probably choose short.
For this T-shirt, I chose the medium length.
Step 4: Customize Your T-Shirt's Fit
Do you want slim fit, classic fit or a relaxed fit?
This part is pretty neat because the 3D model you made shows how the different fits will look on you. I chose a slim fit for my T-shirt.
Step 5: Choose Your Neckline & Sleeve Length
Are you into V-necks or more of a crewneck person? If you opt for a V-neck, you can also choose from a regular V or a Deep-V. I went with the latter.
Next, you can choose between short sleeves and long sleeves and finally customize your label.
This last part is so fun! You can have your name, or whatever you want, sewn into the neckline.
Step 6: Order Your Amazon Made for You T-Shirt!
All set? Add to cart! Mine came surprisingly fast, in just a few days. And if you don't like it, there are free returns.
So, how did it turn out???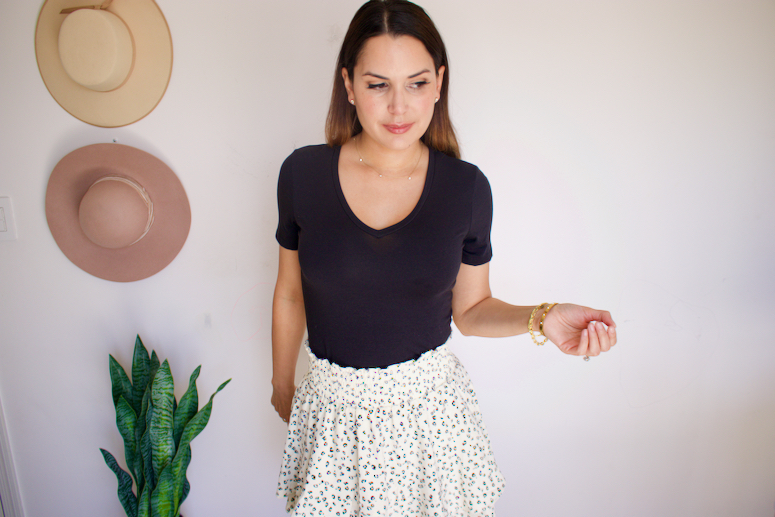 I love mine! The fabric is SO soft, but not too thin. I ordered the lightweight fabric in a deep V-neck and medium length. And it's exactly what I got.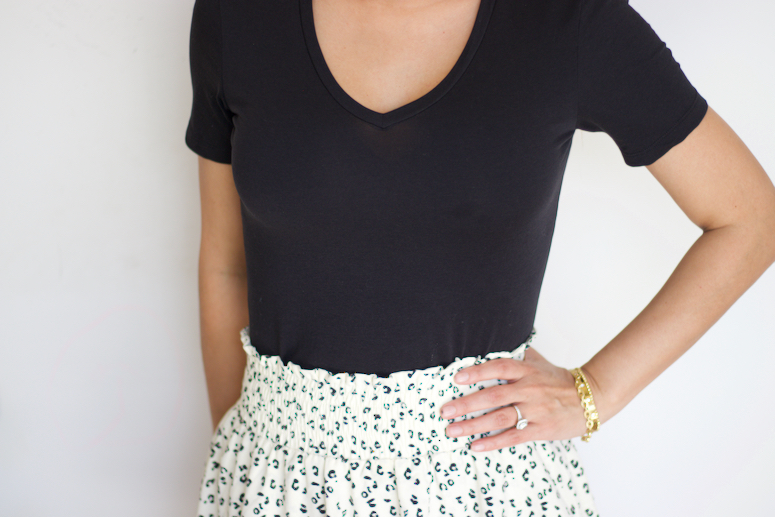 The length is great, in-between like I ordered, and even though I got slim fit, it's not tight at all. I was worried it would be too tight or too sheer but that wasn't the case at all.
What surprised me most was the fabric quality, which is very good. And, it's just $25!
If you order again, you don't have to go through the entire process again; your settings for height, weight and model are already saved so you can get more T-shirts in different styles.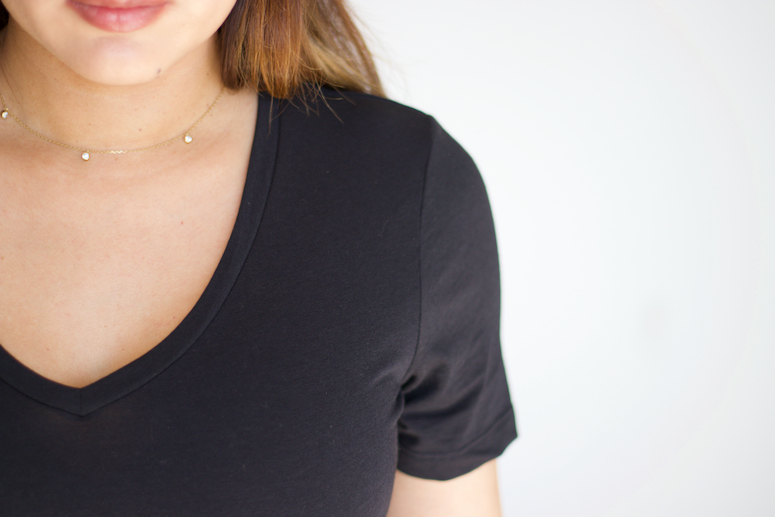 Final Thoughts
The T-shirt is great! It's exactly what I ordered and I would definitely order one again.
If you're curious about trying it, there's nothing to lose since there are free returns. And it's something I would consider in the future if I want a shorter or longer T-shirt.
Hopefully in the future, there are even more options like sleeveless tops and other blouses.