WTH is Athflow? Everything You Need to Know About the Athleisure 2.0 Trend.
According to Pinterest, Athflow is the new Athleisure.
Um, ok.
Personally, I wish they would've named it something that rolls off the tongue a tad easier. But apparently Athflow it is and athflow is here to stay.
So what is athflow clothing exactly?
Outfits that are easy, breezy, comfortable and go from your at-home office Zoom meeting to a yoga sesh in a jiff.
Basically a hard-to-say, fancy new word to encompass the work-from-home fashion lifestyle you've already been living.
Be sure to scroll to the bottom as there's an exciting giveaway opp for a chance to win $1,000!
Athflow Fashion Defined
According to Pinterest, athflow is:
"When athleisure meets elegance – that's athflow. Flowy trousers, casual jumpsuits and oversized outfits will replace athletic clothes as the new go-to loungewear. Athflow is professional enough for the 'office', stretchy enough for the yoga mat and comfy enough for the sofa."
Athflow clothing tends to include:
House dresses
Flowy pants
Matching sets
Soft, cozy fabrics
Knits
And, I'm betting you already have plenty of athflow in your closet! I went searching and found I did.
Here are some athflow clothing and outfit ideas to inspire your shopping.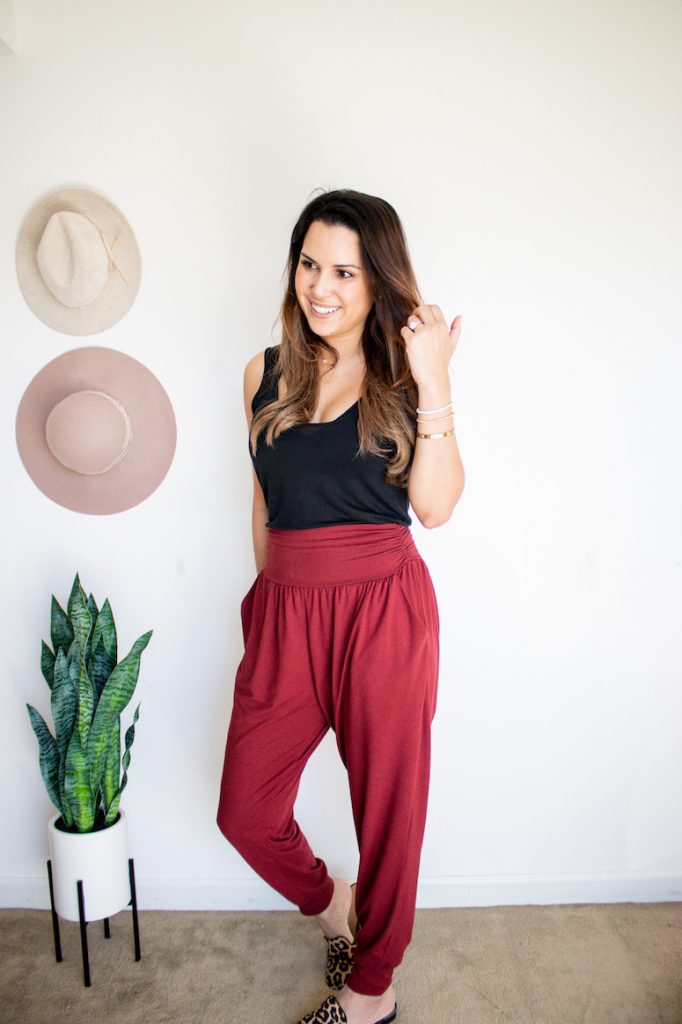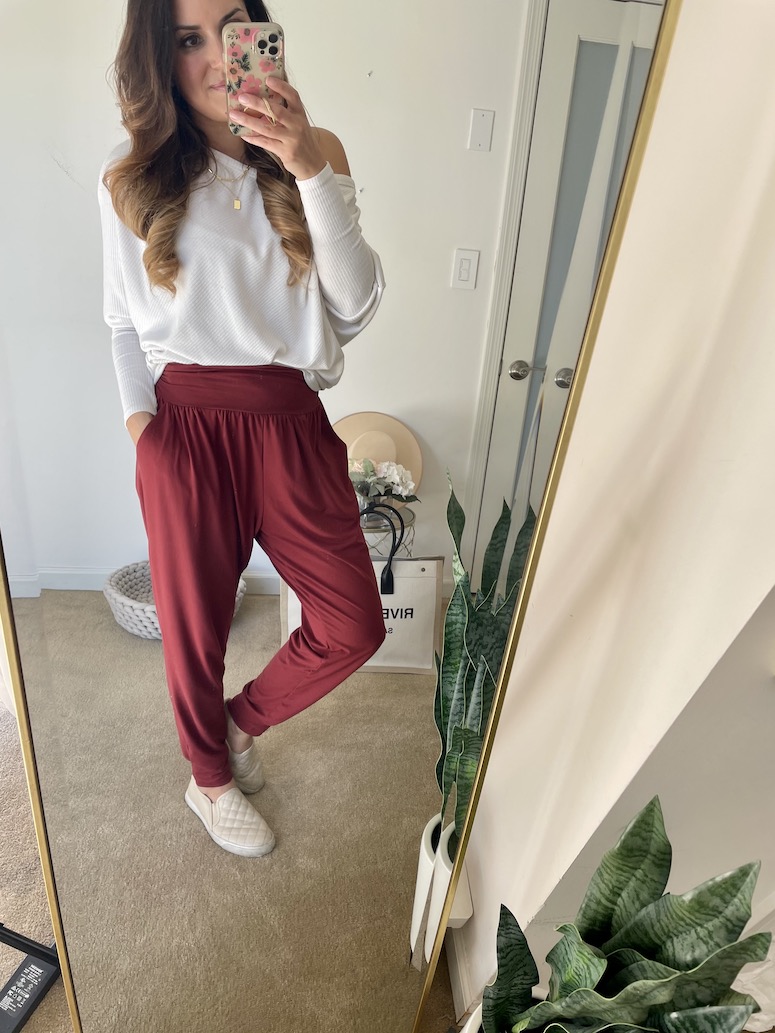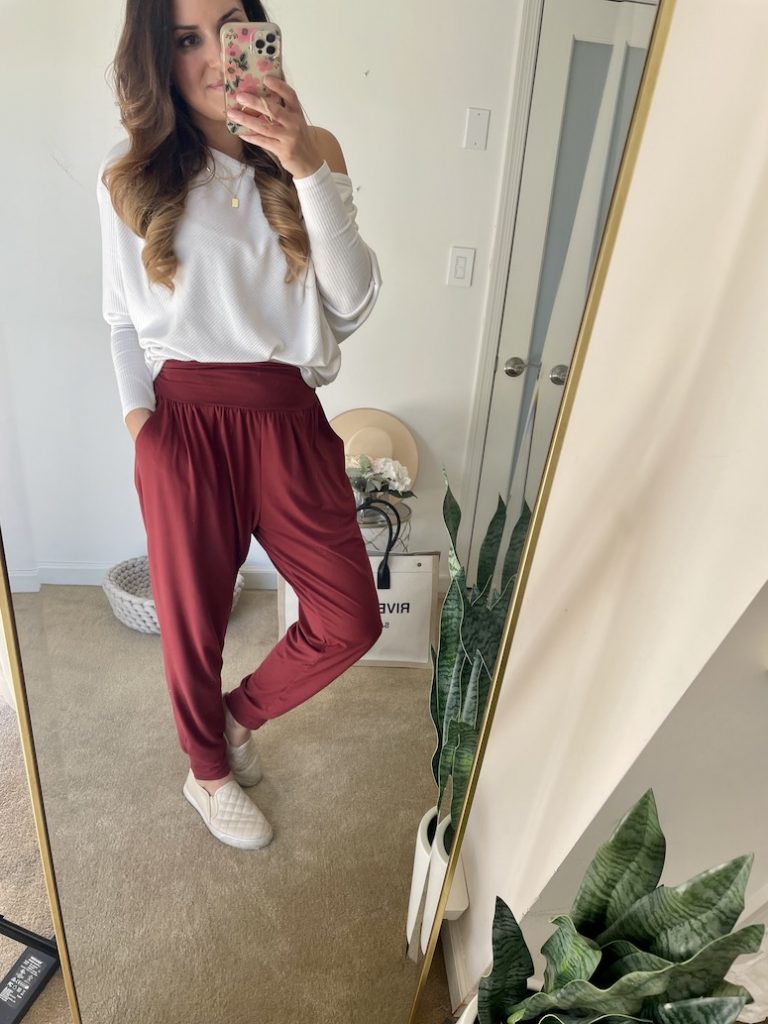 These Amazon harem/yoga pants, for example, that I've posted about several times are the perfect athflow example: they're flowy, comfortable and can be worn for an at-home meeting or to hit the yoga mat.
This matching Abercrombie set is another athflow set (who knew?!) and a bestseller. It's cute, comfortable, matches and is oh-so-cozy. 
It looks put together enough you'd wear it out in public without feeling like you're in dumpy sweatpants.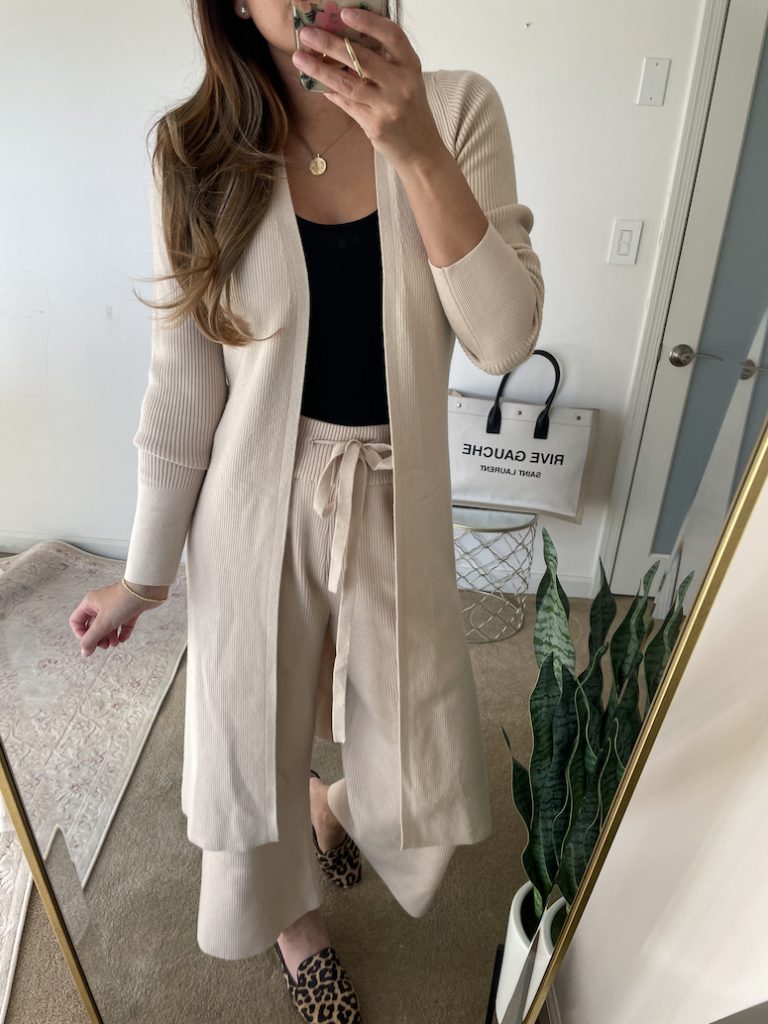 And, it's incredibly soft. One hallmark of athflow clothing is soft fabrics and oversize fits. This outfit encompasses both.
You can buy the long duster, cropped pants and crop top as separates. 
RELATED: I Tried On a Bunch of Loungewear and These are The Best Pieces
Here are a few around-the-web Athflow outfits to inspire you:
This matching set is giving me all the cozy vibes. It's a Pinterest find so I unfortunately do not have the link but it's oversize, cozy and definitely embodies the athflow aesthetic.
Another great matching set is this waffle top and legging set from Nasty Gal. 
This one comes in cream, black, teal and nude and is currently on sale for under $40.
Looking for something a bit bolder? Try this graphic print, which also comes in grey. This matching set is also priced under $40.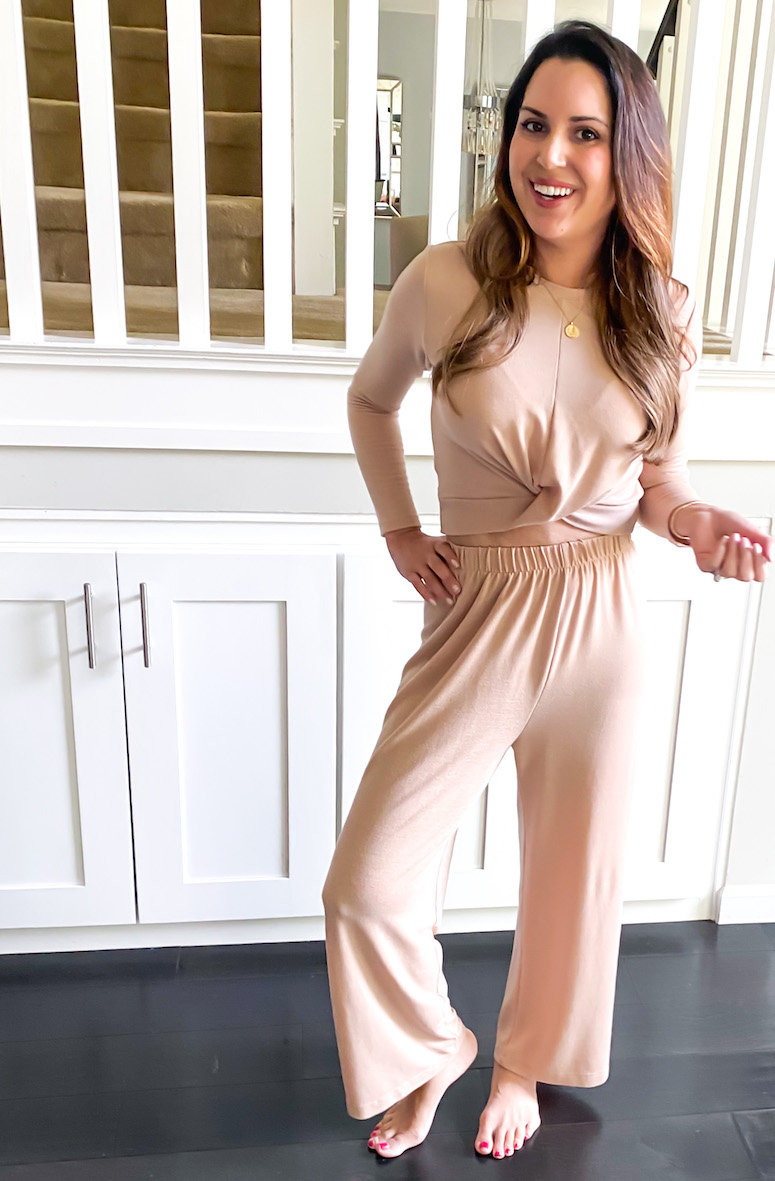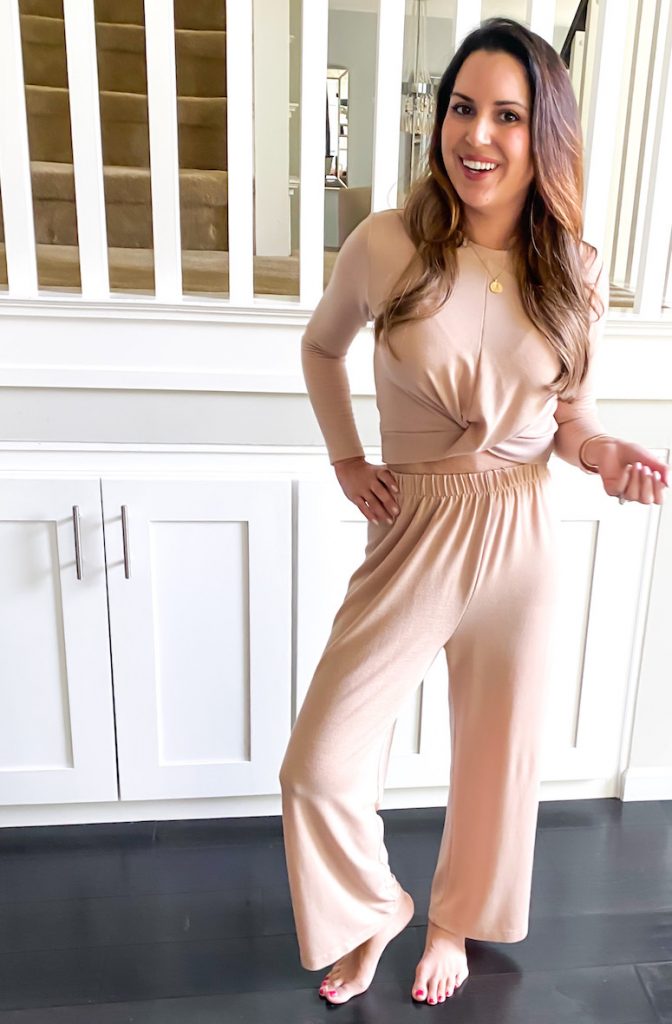 This Chicwish matching set is another personal favorite. It's cute, comfortable and looks put together enough for work yet the elastic waistband makes it a comfy fit.
It's currently on sale for under $50, runs true to size and also comes in grey.
Cute Athflow Wide Leg Pants
Wide leg pants are definitely a hallmark of the athflow aesthetic, but you probably won't come across any if you're searching Google since the term hasn't officially caught on yet.
Instead, try search terms like:
Palazzo pants
Wide leg pants
Your outfit doesn't have to be matchy, matchy either.
These cropped knit pants are a great athflow example. They're soft, cozy, loungey and slightly oversized without looking sloppy and baggy. 
Styled with loafers, the outfit looks sophisticated and expensive. You would never guess these pants are under $30!
These palazzo pants from Amazon are another fun pick. They're typically priced under $20 and come in 20 color options!  
They're also 4-star rated with over 1200 reviews.
---
Love Amazon finds? Check out my curated storefront here. 
---
For a summery pick, I'm loving these wide-leg pants. They come in 7 print and color options and are typically priced under $25.
House Dresses
Call me fashion-forward (or call me a sweaty mom living in the desert) but I have been a house dress worshipper for many, many years!
House dresses are my go-to; they're comfortable, cute and casual enough to be at-home while making you feel put together.
What makes a great house dress? For me, I look for these 3 things:
Can't be clingy
Soft fabric
Easy to style
Are you seeing a pattern? Athflow is EASY. And COMFORTABLE. Because that's what we're all craving right now.
This Amazon dress is a fab house dress. It's cute, comfy and has plenty of room.
I typically wear it with these sandals if going out and knot it at the bottom for a more fashion-forward look. 
And, it has nearly 31,000 reviews!! It comes in several colors and runs true to size. Get it here.
Target is one of my favorite places to shop for house dresses. Again, they're easy-going, a great price point and look nice at-home or if you're headed out for errands.
This one comes in 8 prints and is under $25. 
I have teamed up with an amazing group of bloggers to give YOU a chance to win: a $1,000 Amazon Gift Card or PayPal Cash this Valentine's Day!
Simply enter below by completing the rafflecopter. You'll receive one entry per completion. This giveaway is open to the U.S. and Canada only and runs until EOD 2/15. Winner will be announced here. Good Luck!
Void where prohibited. By entering the giveaway you acknowledge that you are agreeing to complete each task, which involves following, liking and subscribing to newsletter's.
a Rafflecopter giveaway
---
What do you think of the Athflow trend? Is it something you're already wearing and a fan of or are you over comfy at-home styles?