I Spent $350 on T-Shirts at Nordstrom. These are the Best Picks.
I used to be in the camp of "A T-shirt is a T-shirt" but that's so not true. A T-shirt that's well-cut and fits well will give you that effortlessly stylish look.
In fact, T-shirts are an essential layering piece and building block for any wardrobe. Now I stock up on several of my favorites in multiple colors and you should, too!
In this post, I'm trying on and comparing 9 T-shirts from Nordstrom to show you the absolute best picks.
The breakdown includes sizing details, fabric, fit, pricing and overall quality to help make your shopping a breeze.
Sizing note: I'm 5'4″ and typically take a small or XS in tees. I'm a 34D and wearing this T-shirt bralette in all of the photos.
More of a video person? Check out my YouTube video below and subscribe to my channel!
Best T-Shirts from Nordstrom
Details: Out of all of the T-shirts in this try-on, the Halogen V-neck tunic was definitely the softest. The fabric is incredible and the price is right under $30!
Price: $29
Size: Runs TTS, wearing size XS
Colors: 6 Options
Fabric: 95% Tencel modal; 5% Spandex
The sleeves are a bit on the longer side as well as the overall length of this shirt; it's definitely more of a tunic length (which would be perfect for leggings) than a typical T-shirt.
It also has two slits on the side, which makes it easy for trying into a side knot. Because of the length though, this one isn't as easy to front-tuck as some of the others.
The Tencel fabric also means this one is cool to the touch, and it's pretty stretchy as well.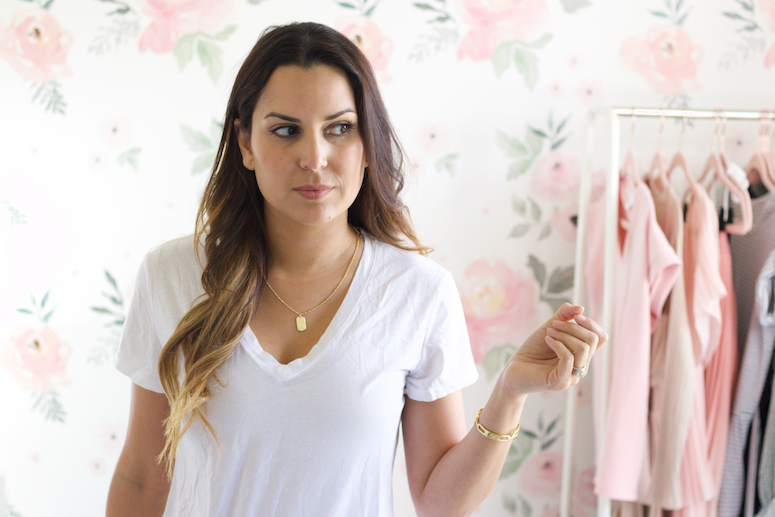 Details: Splendid makes excellent basics, and this Splendid V-neck tee is no different. They tend to be a bit on the more expensive side when it comes to a T-shirt, but they also tend to be a better fit.
Price: $48
Size: Small
Colors: 3 (black, grey and white)
Fabric: 52% cotton; 48% modal
This Splendid V-neck is right under $50. The border is thicker than some of the other T-shirts in this post, and it is a relaxed fit.
I was happy to see that even though I grabbed this tee in white, it isn't see-through and the fabric doesn't look cheap. It also has enough length to tuck it in, but isn't so long that it's awkward.
You'll also notice that the sleeves are a bit more on the relaxed-fit side. It doesn't have much stretch so I'm not sure how the shape would hold up over time.
Details: This rag & bone tee clocks in at $90, making it the most expensive T-shirt out of this roundup. It also happens to be my least favorite! Stock is running low on this one so if it's to your liking, get it now.
Price: $90
Size: Wearing small, runs TTS
Colors: 3 (black, white, grey)
Fabric: 100% cotton
This Nordstrom T-shirt is on the thicker side both for the fabric and the neckline detail.
The fit was good, but the fabric wasn't very soft. For the price tag, I wasn't impressed at all. And even if it was cheaper, it just wasn't as soft as I like my T-shirts to be.
That being said, the reviews are pretty great! The length was also good and I liked the fit on the sleeves better than the Halogen or Splendid T-shirts above.
---
RELATED: I ordered a $25 custom-made T-shirt from Amazon. Here's what I got.
---
Details: The Frame V-neck T-shirt was easily one of my favorites. I love the modern cut and oversize sleeves. And, it was soft, too.
Price: $85
Size: TTS, wearing XS
Colors: 3 (very low stock)
Fabric: 100% Peruvian Pima cotton
This one is also long enough to tuck and just has this effortless cool vibe. If you're looking for the best T-shirt for women that's also a bit different, this one is a great choice.
The biggest drawback, of course, is definitely the price tag. It comes in at $85 so is definitely a premium buy. The T-shirt is made of Peruvian Pima cotton and is a bit more of a relaxed fit.
I really loved the AllSaints tee, the raw edge finish on the sleeves and twisted neckline is modern and fun.
Price: $40
Size: TTS, Wearing small
Colors: 3 (black, white, grey) limited stock
Fabric: 100% cotton
This one fits true to size but is running low on stock so scoop one up quickly if you like it. I did keep this one in my wardrobe and think it looks great tucked in or out.
I recently wore it to travel with a pair of black joggers for a relaxed look. It definitely has an edgy feel to it if you're looking for a woman's T-shirt that's a bit less "basic".
One thing to note: the sleeves do look like they were cut by hand with fabric scissors. If you're not into this look, this T-shirt may not be for you.
---
RELATED: The Best Basics from Amazon Every Woman Needs
---
The Nordstrom Everyday V-Neck T-shirt is a great everyday basic. It's a classic women's T-shirt and it's under $20!
Price: $19
Size: Size up for a more relaxed fit (wearing XS)
Colors: 7
Fabric: 51% Tencel modal; 51% Pima cotton
When I ordered, I didn't realize the description said "snug fit" so I would definitely recommend sizing up for a more relaxed fit.
This one was the second softest shirt out of all of these women's T-shirts and it comes in a ton of colors. The blend of Tencel modal fabric and Pima cotton makes it soft, stretchy and cooling, too.
If you're looking to stock up on several basics in different colors, this one is definitely a good bet.
The length hits right at the hits so you can easily do a tuck.
If you're looking for the best T-shirts from Nordstrom for women, no doubt you've come across the Madewell Whisper Cotton V-neck tee at some point. This one is a classic, fits well and is well-priced!
Price: $19.50
Size:
Colors: 4 (frequently goes on sale)
Fabric: Lightweight slub cotton
I've had this T-shirt in my wardrobe for several years now and it doesn't disappoint. It is very lightweight and definitely more on the "casual" side when it comes to T-shirts.
The fabric itself is a bit on the see-through side, which is why I mentioned it as more of a casual basic. The length can be a bit longer than some tees so order petite if you want to be sure it's shorter.
This one has held up pretty well over the years, though I did notice a small moth hole the other day. At some point, all my T-shirts get this so it's lasted pretty long! It isn't as soft as some of the other T-shirts (Nordstrom brand, Halogen and AllSaints) but it is cute and comfy.
This Caslon rounded V-neck T-shirt is another I've had in my wardrobe for a few years now. It's very similar in all ways to the Madewell pocket tee, but it features more of a rounded neckline.
Price: $19
Colors: 23+ colors and prints
Size: Small (relaxed fit)
Fabric: 60% cotton; 40% modal
This one is soft, comfortable and relaxed. Again, it's more on the casual side with a semi-see-through fabric. Although the tees are similar, I end up reaching for both for different outfits. This Caslon T-shirt is softer than the Madewell and is less of a classic cut.
I know this is a roundup of the best T-shirts from Nordstrom for women, but I thought I'd include two Amazon options since you are all such Amazon fans!
Price: Under $20 for two-pack
Size: Small (I should've sized down)
Colors: 30+ different solid and pattern options
Fabric: 56% cotton; 38% modal; 6% Spandex
The Amazon Essentials V-neck tees came in a two-pack; I got one in grey and one in pink. The fabric is definitely one of the softest of this bunch and very stretchy. There are more than 24,000 reviews for it at nearly 5 stars!
It's also a much thicker fabric than many of these other T-shirts, so if you want something that's not see-through in any way, these would be a great bet.
Finally, if you're looking for something custom, the Made for You custom-fit T-shirts are just $25! You can read my full review and try-on here.
Sale
Amazon Essentials Women's Classic-Fit Short-Sleeve V-Neck T-Shirt, Pack of 2, Black, X-Small
CLASSIC FIT: Close but comfortable fit with easy movement.
COTTON JERSEY: Cut from light-weight cotton jersey with natural stretch and breathability, making for a comfortable and soft wardrobe staple.
EVERYDAY CASUAL: Rounded crewneck, short-sleeve t-shirts.  Mix and match prints and styling.
DETAILS: Four-pack: Two items feature a knot detail at front hem. Three and five-packs: All items feature straight hems. Tag-free neckline for added comfort—because nothing should get in the way of play.
LENGTH: Knot detail styles are designed to cover the waistband and sit at high hip. Straight hem styles are slightly longer and sit at low hip.
Final Thoughts
Having a collection of solid T-shirts has made getting dressed (and feeling fashionable) SO much easier. I work from home so I need my clothes to be cute, comfy and versatile. So cute T-shirts are essential!
Choosing the best is somewhat subjective; some people want thicker, others (like me) prefer something super lightweight and a bit more on the relaxed-fit side. That being said, here's the final rundown.
The best T-shirts from Nordstrom include:
---
I hope this helped you choose your next T-shirts! Let me know in the comments below where your favorite everyday tees are from.