How To Wear Pink Skirts | 29 Gorgeous Outfit Ideas with Pink Skirts
On Wednesdays we wear pink, right? No wait, we wear pink whenever we want!
A pink skirt can be a stand-out statement piece or a lovely part of any outfit. It's feminine, flirty and definitely timeless.
Now sure how to wear pink skirts? From long to midi to short pink skirts, I've got you covered!
Here is how to wear all types of pink skirts in style.
29 Outfits with Pink Skirts
Pretty Pink Mini Skirts
A mini skirt is a great date night outfit, and a pink miniskirt is no exception!
I love this tweed miniskirt from Chicwish, which looks great styled with this white knit top.
I've also styled this same tweed skirt with a white lace cami and high heels.
Miniskirts look just as great with high heeled sandals as they do a cute ankle boot. If it's still cold, try a cropped short cardigan layered over your tank or cami.
Ruffled Pink Skirts
Pink skirts are inherently romantic, add in some ruffles and tiers and the look is oh-so-pretty!
This pink ruffled skirt is an Amazon find that looks great with a lace cami or lace bodysuit.
---
RELATED: Spring Skirts & Dresses Guide
---
For something a little more on the nude/blush side, try this pink ruffled tiered skirt from Lulu's. It runs true to size and looks gorgeous paired with this black blouse and wedges.
More Skirt Outfit Posts You May Like
Another way to wear pink skirts with ruffles is to try a tone-on-tone look like with this look from Revolve. The skirt looks excellent paired with a matching top that has beautiful puff sleeves for a romantic and flirty look.
Pink Skater Skirts
Skater skirts are a staple item in a wardrobe, but pink skater skirts are a little harder to find.
But this pink skater skirt from Amazon is cute and casual and would look great paired with a casual tee and sneakers.
Looking for something a bit more statement-making? Get inspired with this monochromatic hot pink skirt outfit.
It's bold, bright and definitely sure to turn some heads.
Patterned Pink Skirts
Pink patterned skirts are a classy way to spice up any look. And it's a great way to dip your toes into wearing a pink skirt, without being in an all-pink look.
Since the focus of this look is the pattern, go for a solid-colored top.
Still not sure how to wear a pink skirt that's floral? Pick a color that's integrated into the skirt's pattern.
This floral skirt, for example, looks great paired with white, nude, pink or even blue since it makes up part of the pattern.
Pink Pleated Midi Skirts
Pink midi pleated skirts are all the rage at the moment. They can be dressed up or down in any way, whether it's with a white blouse and heels for a wedding or sneakers and a denim jacket for a walk around the park.
---
RELATED: How to Wear a Skater Skirt Any Time of Year
---
This pink ombré skirt is one of my favorite finds of the moment. It also comes in solid colors if you're not into the ombré.
The skirt is lined and really well-priced under $40! It looks great styled with sandals and a lace cami.
---
RELATED: 19 Gorgeous Ways to Wear a Midi Skirt
---
Pink A-line Skirt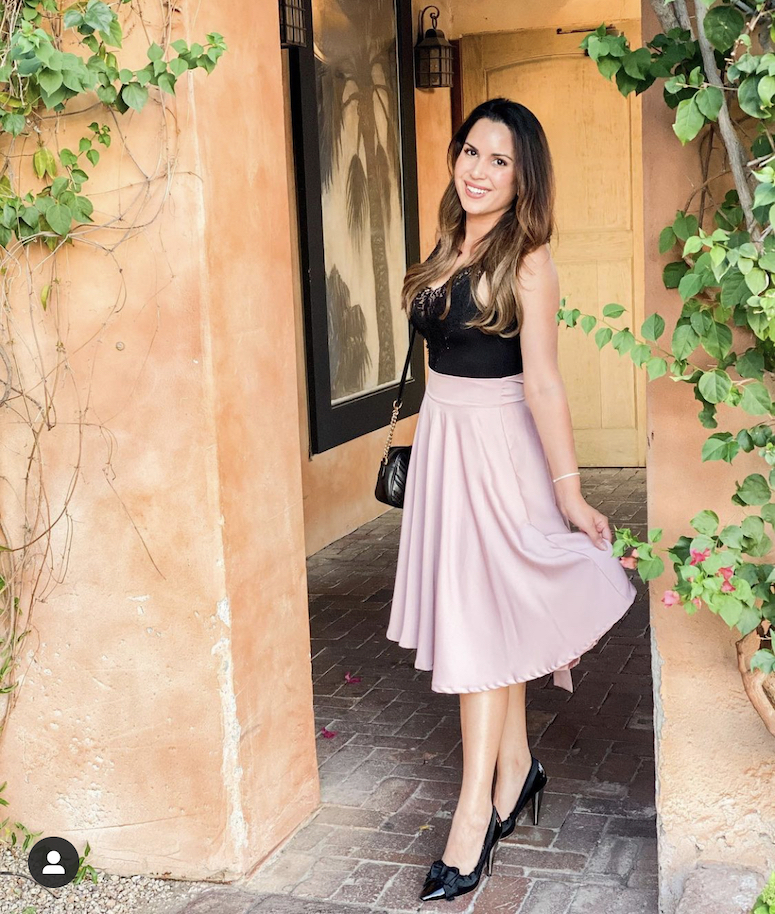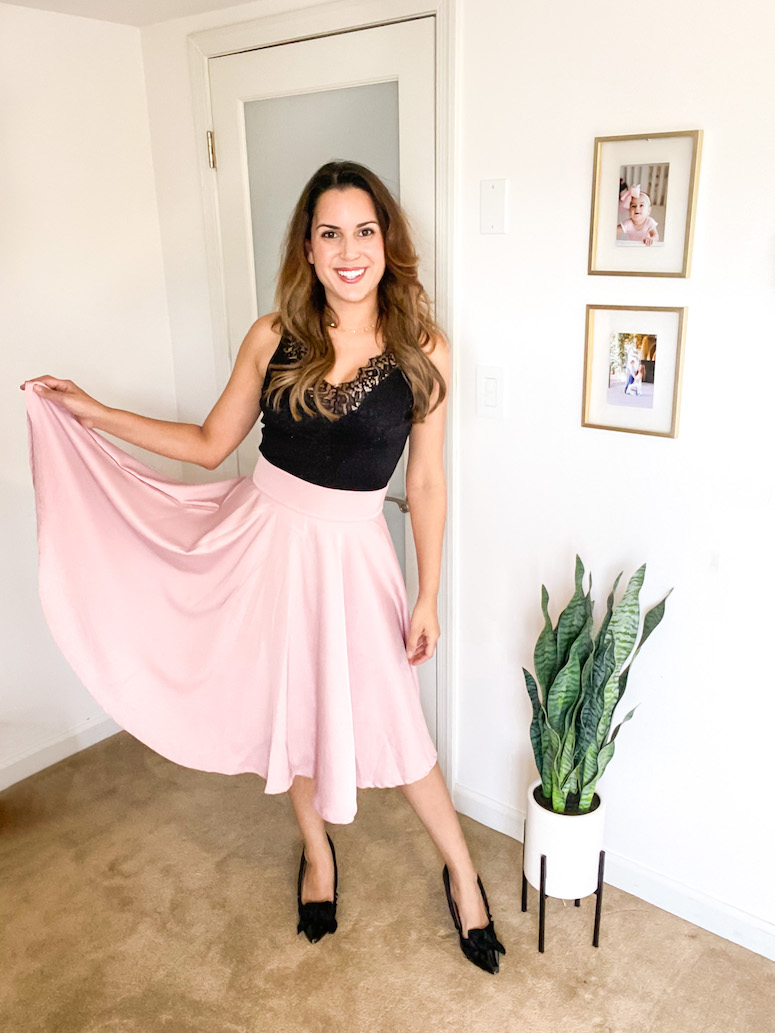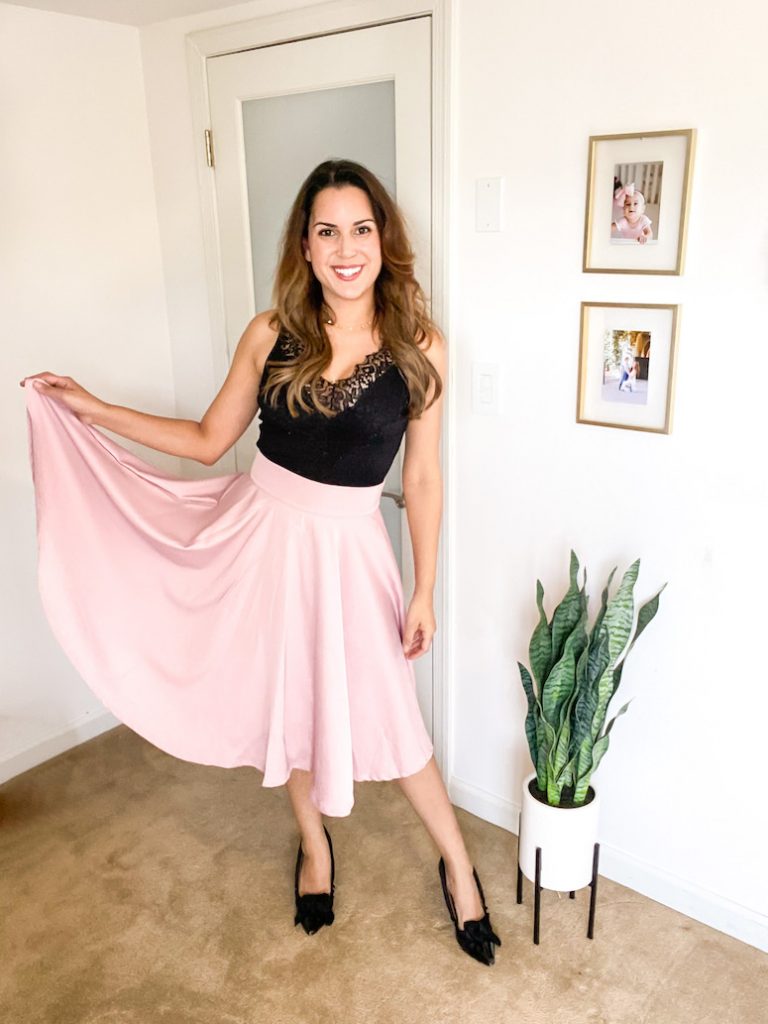 A-line midi skirts are some of my favorite skirt outfits. They're classy, timeless and universally flattering.
The A-line cut cinches the waist and since the skirt is full, the effect is oh-so-pretty and ladylike.
I often wear this pink A-line skirt with a bodysuit and pointy-toe heels.
Pink Tulle Skirts
There are so many ways to wear pink skirts, and tulle skirts are no exception! In fact, this combo is one of my favorite outfits with pink skirts.
These are definitely for the girly-girl and they sure make my girly-girl dreams come true.
I love this pink tulle skirt from Chicwish. I paired with a lace crop top and the prettiest bow sanals. It's perfectly pink and girly!
For an effortless look, try a pink tulle skirt paired with a plain white tee. It's a great go-to that will never go out of style.
If you are looking for something more romantic or even a date night look, wear your pink skirt with some beautiful, dainty heels and a soft sweater.
Another great way to wear a pink tulle skirt is to go bold by mixing in some black. A black leather jacket brings in some unexpected edge but you could also try a striped black and white top like this look.
Some of my favorite pink skirts are from Chicwish; they're good quality and oh-so-gorgeous! Check them out below and click the images to shop:
Pink Maxi Skirts
Pink maxi skirts make a statement, plain and simple. You could go for a patterned pink skirt or a plain one. Either way, both options are gorgeous.
Style your pink skirt that's patterned like you would the short patterned skirt and choose a color that's featured in the pattern.
Wearing a solid-colored maxi? White, cream, black and pink are all complementary colors.
A floral maxi skirt like this one would be a great wedding guest outfit. It looks gorgeous paired with sandals and a solid white blouse.
If you're headed to a fancy brunch or bridal shower, wear this pink skirt with an off-the-shoulder top and statement necklace.
---
RELATED: How to Wear a Maxi Skirt
---
You can also wear a pink skirt with nude heels like I did with this crushed velvet purple/pink skirt.
If you want to go bold, forget the old fashion rule that pink and red don't go together and give it a go!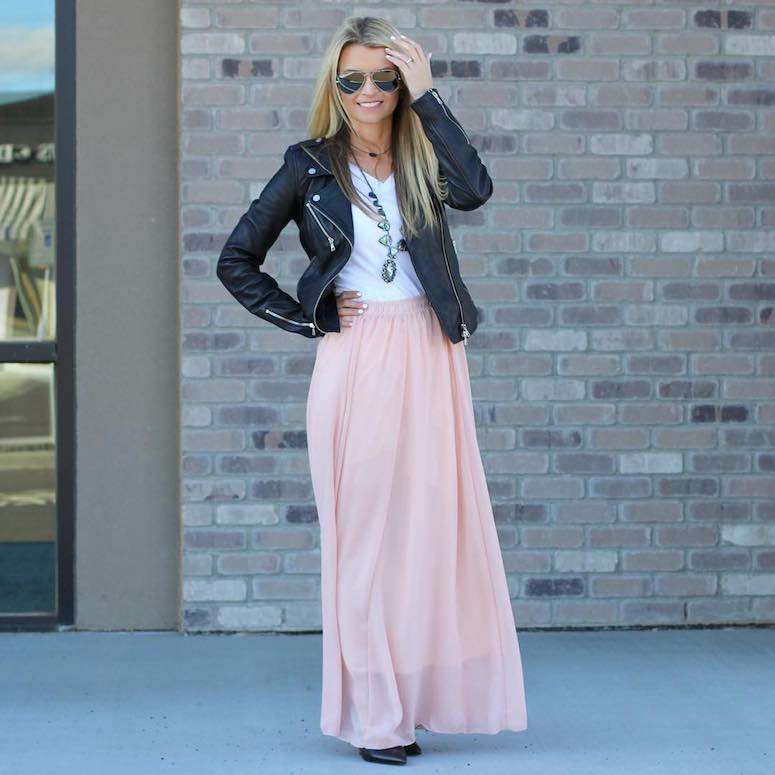 Want to keep it simple? Yes, you can wear a pink skirt with a basic tee and little leather jacket–even a maxi skirt!
This high-waisted maxi skirt is a gorgeous option for those who like the flowy, feminine look.
Or, you could pair it with some sandals and tuck in any type of top for a boho summertime look.
A solid color pink maxi skirt is easy to dress up with a nice blouse and nude sandals.
Side note: I own this exact skirt in the photo (in yellow) and it is every bit as gorgeous in real life as in the photo. It's absolutely dreamy!
Pink Pencil Skirts
I can't talk about outfits with pink skirts and not include the classic pencil skirt.
Knee-length pencil skirts are slimming and hug the body in all the right places. They really do an amazing job of creating curves.
Not all pink skirts have to be bright or pastel pink. Muted pink tones are oftentimes just as flattering.
This skirt has a slit, so it's evening-appropriate. But without the slit, you could even wear a pink pencil skirt to the office.
Wear a pink pencil skirt with a matching crop top for a fun date night or girl's night out look.
---
RELATED: Fall Skirt Outfits to Recreate this Season
---
Satin Skirt Outfits
Satin skirts were a huge trend last year, and they're still going strong for this year, too!
Try a pink satin skirt with a loose sweater.
This look is chic, effortless and right on trend.
You can do this with a pair of dainty sandals or some ankle boots for an edgy look.
Want to shake things up a bit? Try a graphic tee with boots or even white sneakers. It's a fun way to wear a pink skirt by mixing the unexpected.
And if you're going for a sexy date night look, try a lace cami or even a crop top. It's a sexy way to wear this look.
This pink skirt is under $30, so it's an inexpensive look to recreate!
Hot Pink Skirts
I can't talk about all the ways to wear a pink skirt and not include hot pink skirts–even though they're almost in a league of their own!
For hot pink skirts, it really feels like go big or go home. These skirts are for those who feel most comfortable breaking the boundaries of fashion by being as bold as possible.
You can wear literally any color top with a hot pink skirt – whether it's yellow, blue, green, or even a red! If you like the idea of a red or orange top, I recommend going for a super bright one.
This monochromatic hot pink outfit is giving me sexy Miami night vibes. You could also pull this off with a white tied top if you didn't want to get the matching one.
Black is an obvious way to wear a hot pink skirt because it simply works! Both are bold yet pair so well together.
Of course, you can wear neutral colors with a hot pink skirt as well. I like pairing a hot pink skirt with a black, white, or monochrome striped top to put all the focus on the skirt.
Remember when you're thinking of ways to wear your hot pink skirt, bold and bold always goes together. This means that even an unexpected color like pink or purple works because they're bright and bold together.
Final Thoughts
So, there you have it! Multiple different ways to wear a pink skirt. As there are so many types of skirts available, you can't really go wrong with creating a cute outfit.
As you can tell, pink skirts are extremely versatile. They can be matched with bold, patterned, or neutral colored tops and virtually any type of shoe to create an informal or formal look.
Pink skirts are a fun way to express style and to create new looks, so get creative! You don't have to stick to the obvious choices of black, white or nude tones.
Want even more skirt outfit ideas? Check out my YouTube video below and subscribe to my channel!
Which one of these outfits with pink skirts is your favorite? Let me know in the comments below!