5 Ways to Wear Black Joggers in 2023 (Because We're Still Not Over Them)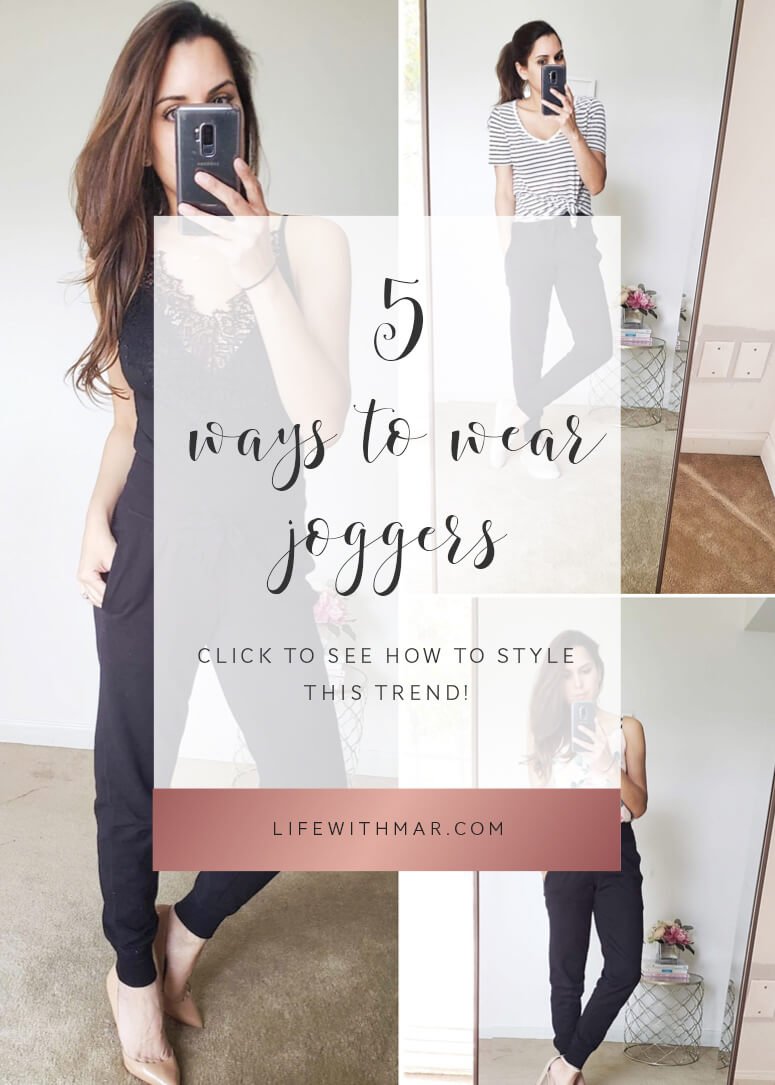 This winter was the longest AZ has ever had. And thus, began my quest for the perfect pair of black joggers.
Yes, I'm calling it a quest considering the fact that I ordered FIVE different pairs before finding the right ones!
But, I finally found them and they were so worth the wait.
Black joggers are so versatile, it's essential to have a great pair you love! There are so many ways to wear black joggers that I consider them a wardrobe staple no matter where you live.

More of a video person? Watch the YouTube video below and subscribe to my channel.
Need some ideas? Here's how to style joggers, five different ways!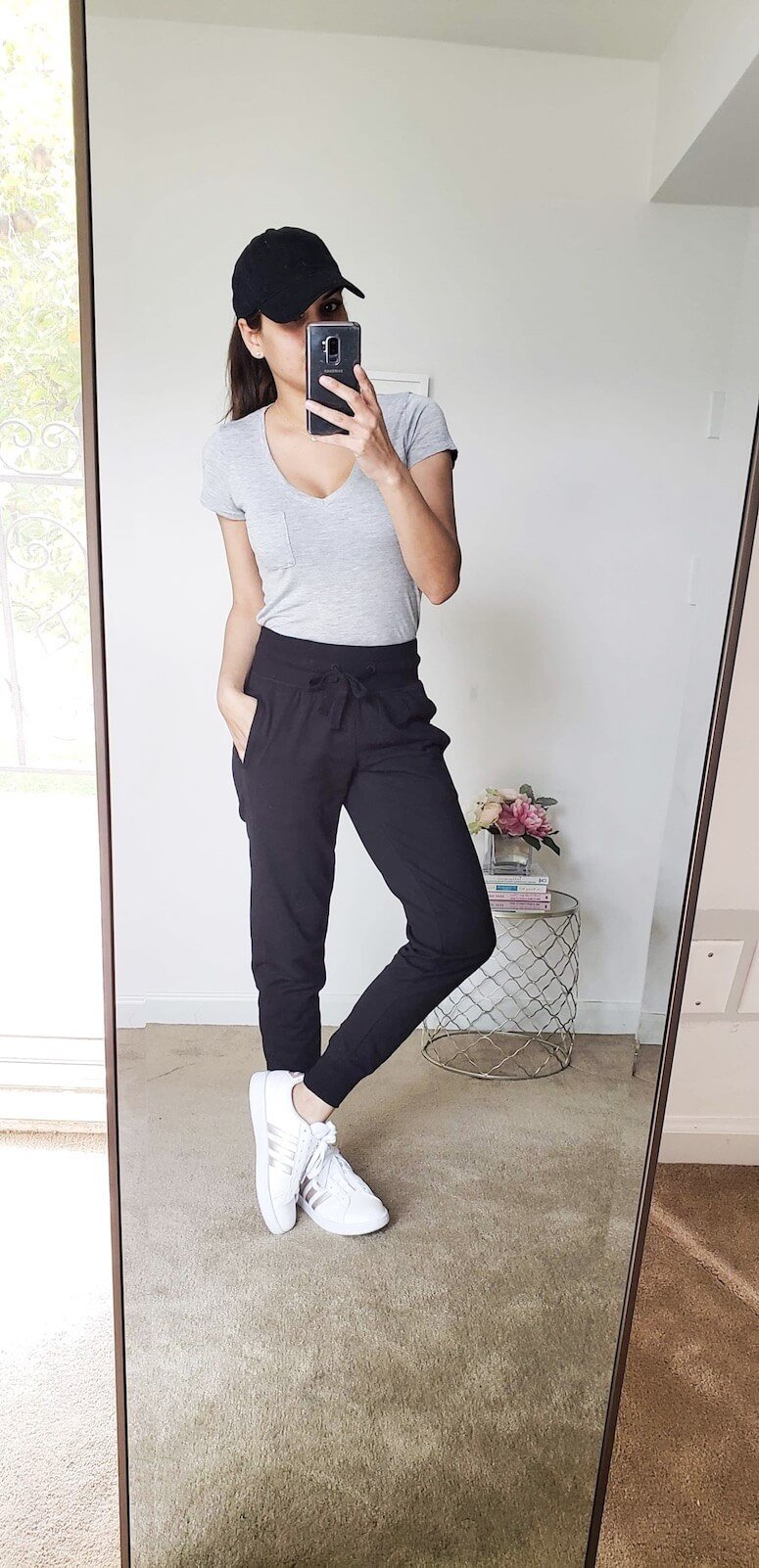 The Most Popular Way to Style Black Joggers: #Momstyle
Probably the most common way I style joggers is for weekending with cute sneaks, a hat and a tee!
I fell in love with these black joggers because they're perfectly tapered (i.e. they don't look sloppy) AND they're high-waisted! So you can easily top in a tee like my Paige top.
---
RELATED: Favorite tees from Nordstrom under $50
---
I just got these Adidas sneaks and they're probably the most comfortable sneaker I've ever owned! 
This rose version sells out a lot, but I found at pair at Nordstrom Rack and they're on sale under $50 with just a few sizes left!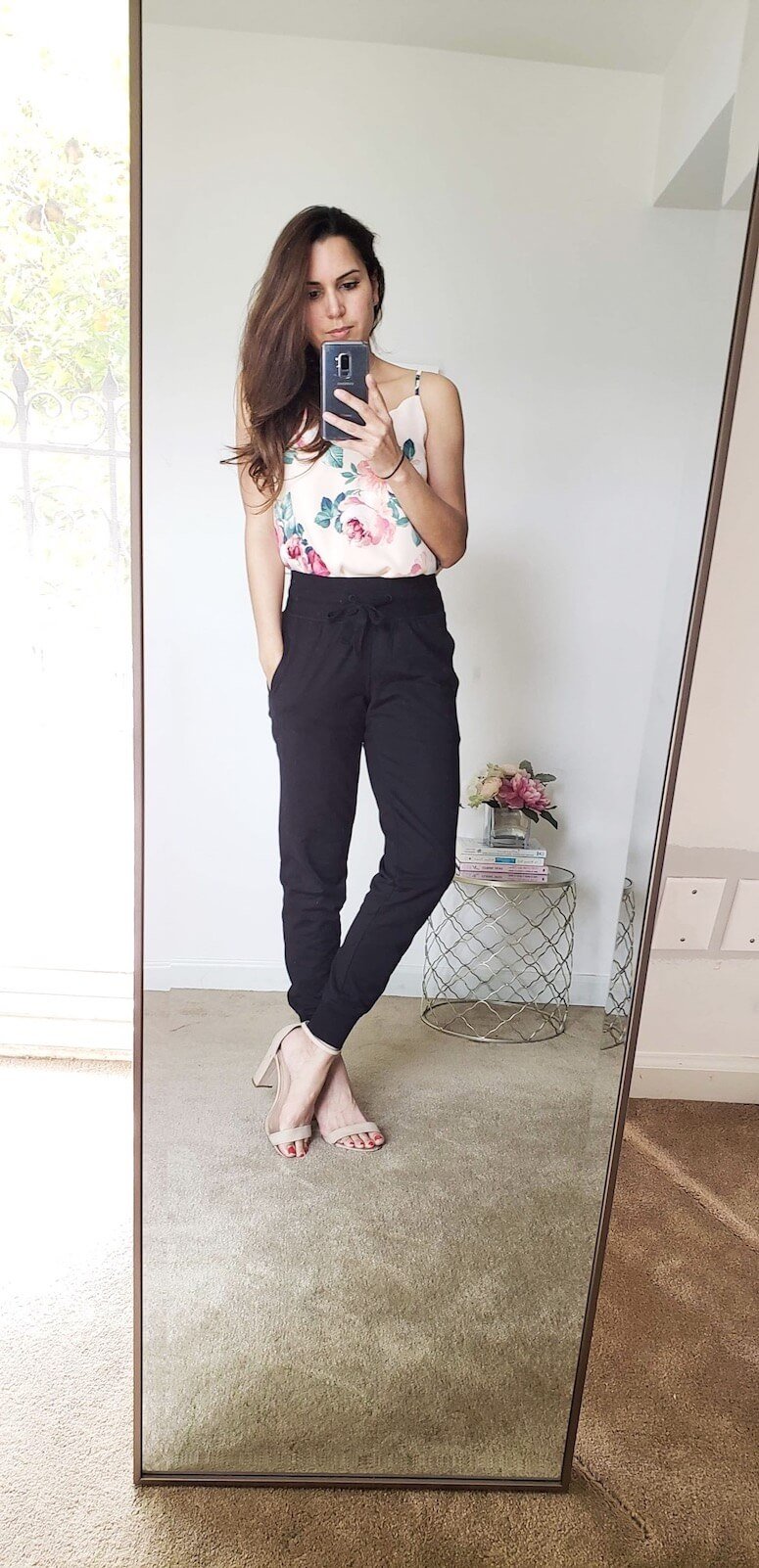 Dress Up Your Black Joggers
Black is so versatile! That's why we all love that little black dress as a wardrobe staple. Likewise, even though these jogger pants are comfy AF, you can still dress them up.
Try a tucked-in cami like this one (on sale and in 20 color/print options!). A simple, classic heel elevates the look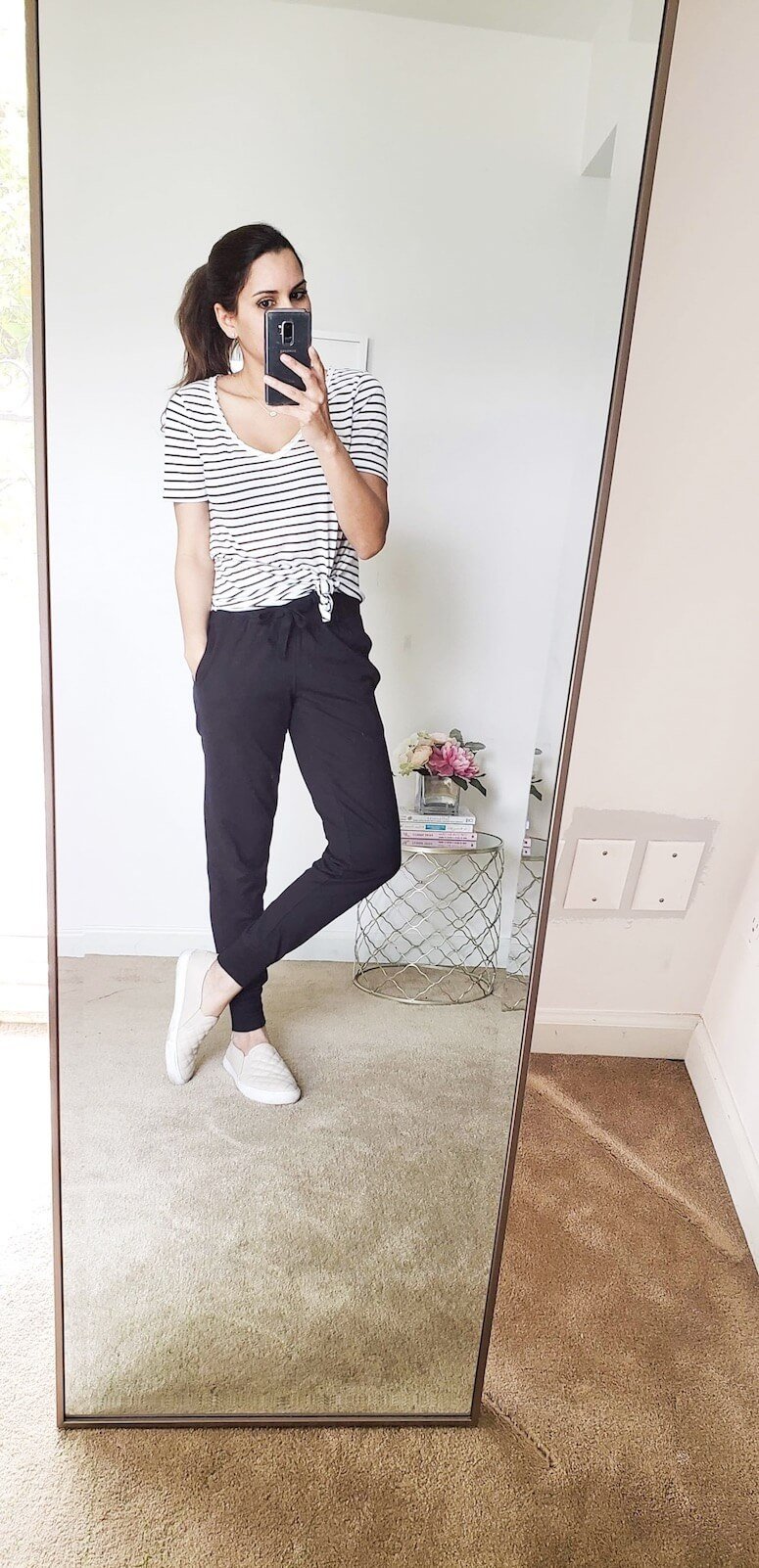 Another Way to Pair Joggers with a Tee
If you're not feeling the tucked-in tee, try tying a knot. It's a simple style trick that makes the "pants and a tee" look not as basic.
To get the look, I like these BP tees since they're a bit on the longer side it's easier to create a knot. Plus, they're cheap at $15, so you can't go wrong!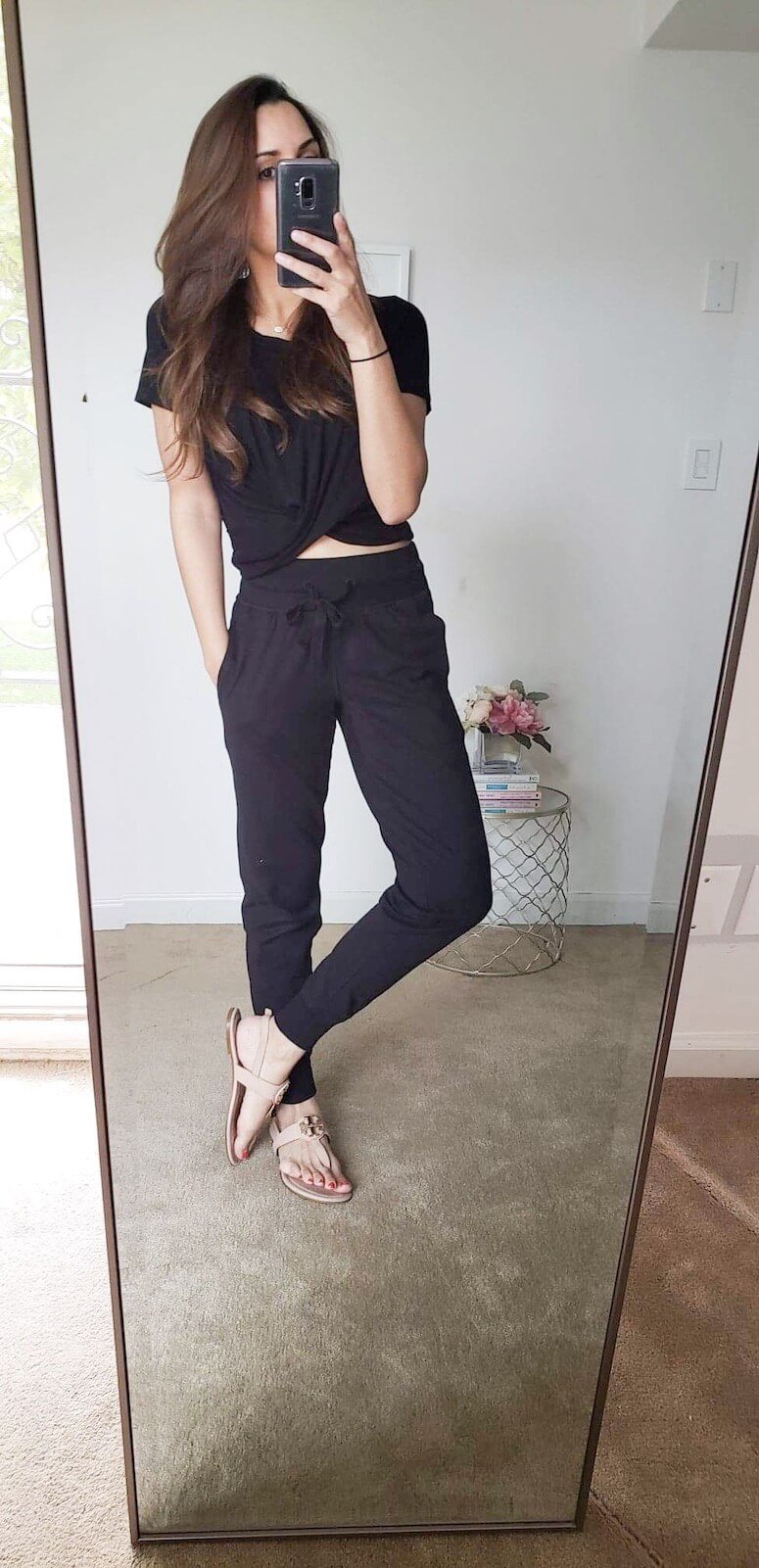 How to Style Joggers with a Crop Top
Another reason I love these high-waist joggers? You can pair them with a crop top!
When they're high-waisted like these, they only show a bit of skin and it's a cute and casual look.
---
RELATED: How to Wear a Crop Top When You Don't Have Abs
---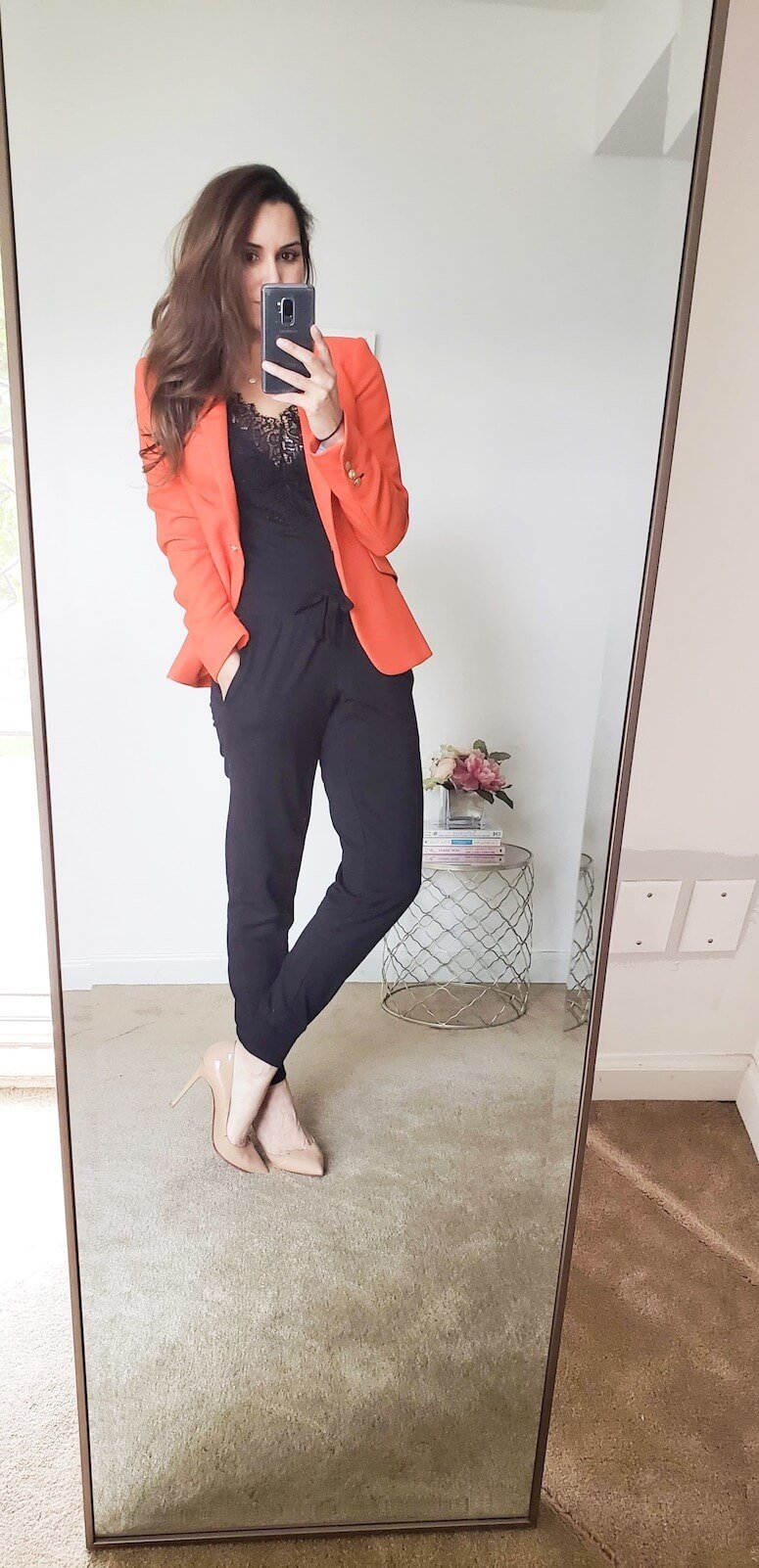 How to Style Joggers with a Blazer
I work from home so I'm all about outfits that can go from work-at-home-comfy to office chic. With black joggers, you totally can!
Style your joggers with a black bodysuit and top with a blazer.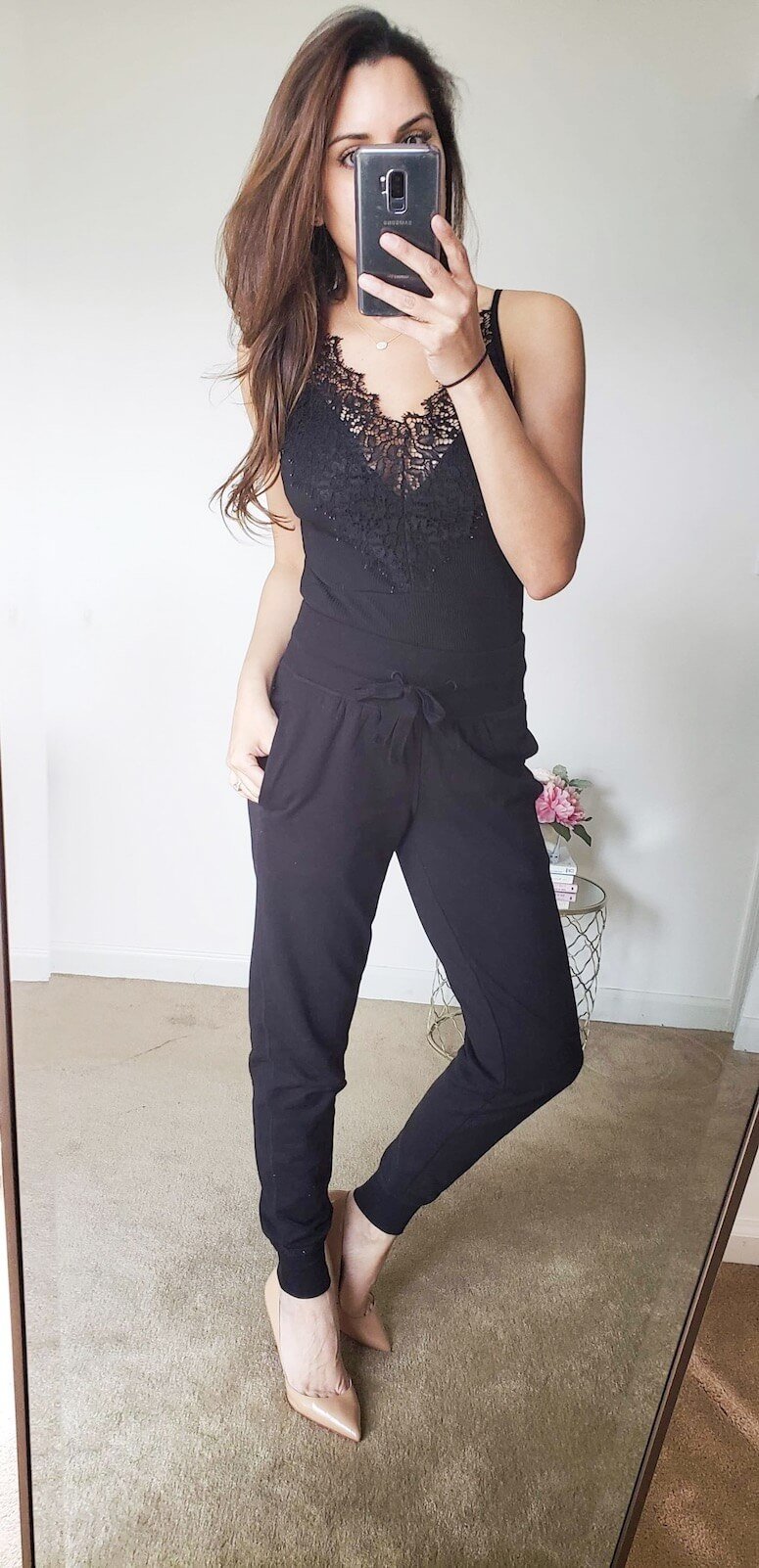 For this look, I went with an orange blazer to add a bold color, but any color works for this black-on-black look.
And yes, you can totally style your joggers with heels!
Before settling on these black joggers, I tried some from Target, Amazon and another pair from Nordstrom Rack that didn't work.
---
The key to finding a great pair of joggers is all in the fit; if you get that wrong they end up looking sloppy and dumpy
How to Find Cute Black Joggers
Unfortunately, my last pair of black joggers ripped so I had to find a new pair. These are more comfy at-home lounge-style, but if you can I recommend you also get a pair that's closer to a trouser material. They're incredibly versatile and great if you work in an office!
For now, since I'm at home, I needed some that would keep me cozy on a rainy day, comfy running errands and that I could easily dress up.
I hope this post has helped you figure out how to style joggers, there are so many ways to wear them!
Like this post? Pin me, please!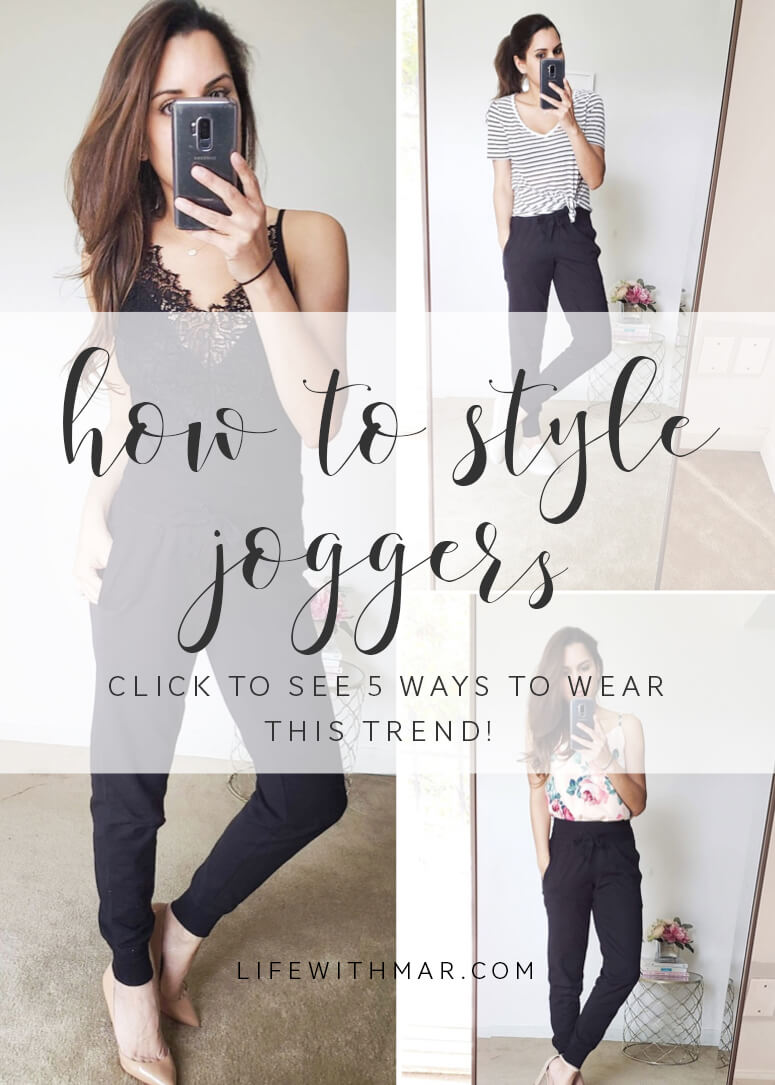 How do you like to style your joggers?
Linking up with: Rosy Outlook Blog & Seeking Sunshine.
Links à la Mode: fashion roundup by Independent Fashion Bloggers
SPONSOR: Shopbop, SUNDRY, Rebecca Minkoff Bags, Golden Goose Sneakers, Eywasouls Malibu, macgraw, Polly Plume, Vacation Style, Brilliant Bags, Sporty Sandals, Men's Maison Kitsune