Heading to an amusement park soon? Here are some cute theme park outfits to help you pack for that vacation!
What to Wear to an Amusement Park
We recently got back from Legoland and SeaWorld, it was our first time taking the kids to an amusement park!
There's a lot of planning that goes into a trip like this, and I'm not just talking about the logistics like figuring out parking, which place actually has decent food and which overpriced gift stands to avoid while strolling by with the kids.
I'm talking about outfits. Because a cute theme park outfit was definitely on my mind. After all, you need to feel good and be comfortable which means striking the perfect balance between cute, comfy and practical.
In this post, you'll find plenty of great options on how to put together a cute theme park outfit.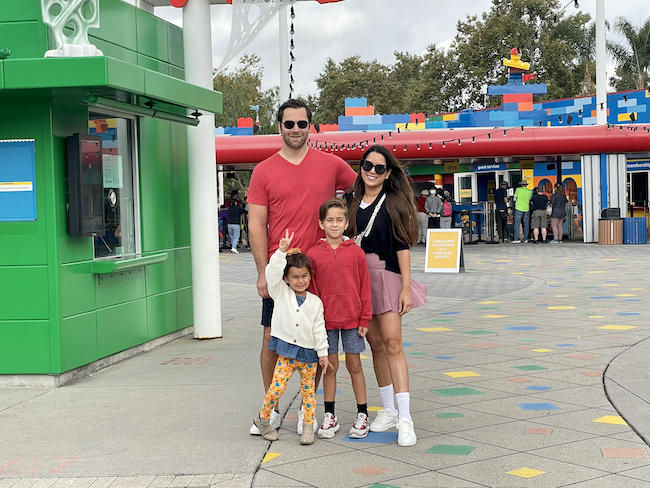 Figuring out what to wear to an amusement park also meant needing to re-think my usual go-tos of cute skirts and dresses because they aren't exactly meant for roller coasters and water rides. Great for pictures? Definitely. Great for getting soaked on a spinning inflatable raft? Not so much.
If you're looking for some ideas on what to wear to an amusement park, read on for outfit suggestions, what I wore, and plenty of theme park outfit ideas, no matter if you're going in the fall or spring.
Re-Consider Skirts and Dresses
Skirts and dresses are great fun, but not something you want to wear when climbing in and out of thrill rides. Thankfully, you don't have to forego skirts entirely if you know the right trick.
You know I love my skirts, so I actually went with this cute tennis skirt, which has shorts built-in, for our day spent at Legoland.
I brought along this hat, layered a long-sleeve top over this cropped tank and, paired it with these white sneakers. This would be a great amusement park outfit for the summer months, too.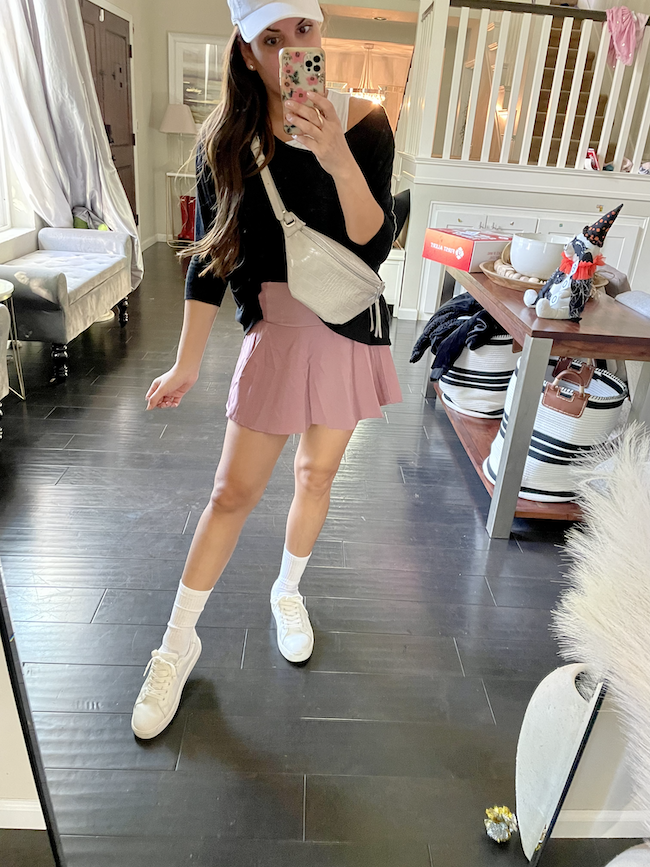 If you really want to wear jeans, consider the time of year and if you're doing water rides as denim gets wet and heavy. I would normally advise against jeans, unless it will be cool and you definitely won't be hopping into any water-themed rides.
Jean shorts in the spring, however, could be cute! Just be mindful in the summer months about wearing too-short shorts as some rides can get hot and you don't want to burn your legs.
Do: Stick to skirts with built-in shorts (tennis skirts) or outfits with leggings and joggers
Don't: Wear skirts or dresses made from long or flowing fabric
Fall Theme Park Outfit Idea
Looking for some easy outfit formulas? I've got you covered!
Leggings and a simple tee are a great fall theme park outfit idea. This works into the cooler spring months, too!
Layer with a cute denim jacket and hat for sun protection. I love this YSL belt bag, it's chic and practical to help stow your cell phone and other loose articles. Don't forget to pack a pair of sunglasses!
Another great amusement park outfit that's comfortable would be to swap out the leggings in this look for a pair of joggers. I am currently loving these super comfy joggers, which are stretchy and super soft.
Cute Amusement Park Outfits for Summer
A cute top with denim shorts is a cute theme park outfit for summer. Be sure to look for breathable fabrics or something like a loose flowy tank that won't stick to you when you're sweating in the hot summer sun.
If you love the biker shorts trend, a graphic tee + biker shorts is another good option for a summer theme park outfit. You could even transition this type of look to fall with one of this season's shackets.
Pro Tip: Skip the white shorts as they can get dirty, stained or wet after a whole day at the theme park.
Dress in Layers
Layers are important, whether you're traveling only with adults or you're bringing the kids along. Bring a light jacket or sweater you can tie around your waist so that you can put it on if you get cold. California is especially known to have cool mornings and evenings with warm afternoons.
Make sure it's something that easily ties around the waist for convenience; if you'll be traveling with kids, make sure their jackets tie around the waist as well. If there's a possibility you'll encounter rainy days, consider a hoodie or rain jacket.
The best layering pieces under your outerwear include tees and tank tops; try not to layer over bulky pieces like thick knits or ruffly tops.
Also, remember to stick to layers that you can take off and on with ease.
Do: Dress in easily removable layers
Don't: Wear layers that you can't take off in public (such as thermal leggings underneath regular pants)
Take a Hands-Free Bag
You will definitely need your hands free at an amusement park! Bag options to consider include a belt bag (aka fanny pack!); a small backpack and crossbody bags.
A great backpack is ideal when you want to fit more items. I took both a backpack and belt bag for maximum storage.
This belt bag from Amazon's Drop collection is excellent. It comes in several color options and has been my go-to as of late. It works with so many outfits that I find myself using it sometimes even for non-amusement park trips.
I also grabbed this light, minimal backpack from Target. A few other options I like include my favorite Gucci Soho crossbody bag; it's light, casual and a workhorse.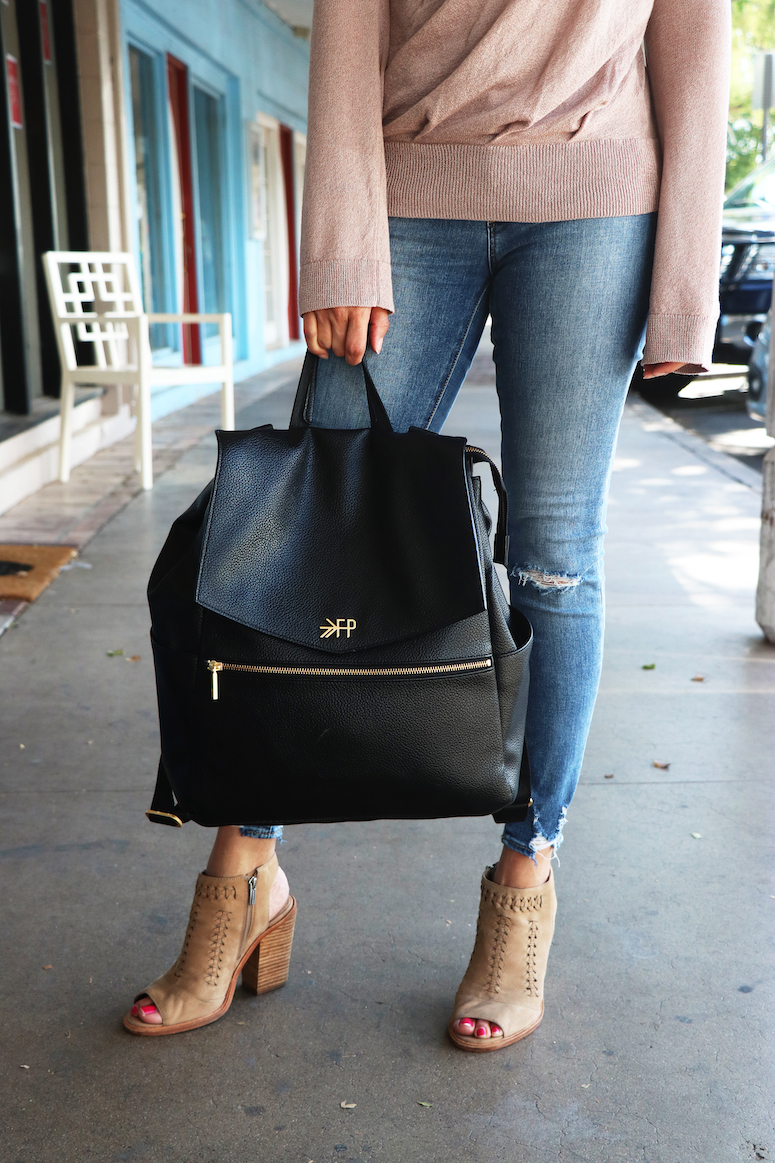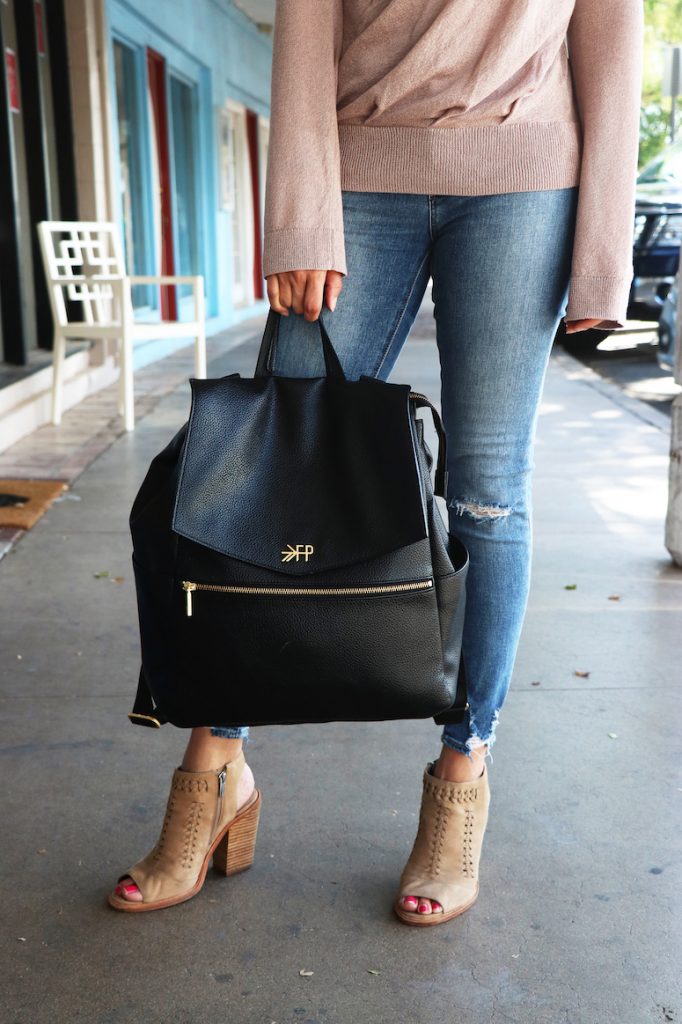 If you're traveling to a theme park with small kids (babies) then you'll need more of a heavy-duty backpack. For that, my favorite go-to is the Freshly Picked backpack. It fits SO much, is stylish and has excellent diaper bag backpack features you'll need.
In general, belt bags and backpacks are your best options, but crossbody bags can be considered if you'd rather go with a more traditional purse or don't need a ton of kid stuff with you.
---
RELATED: The Absolute BEST Diaper Bag Backpacks
---
Wear Comfortable Shoes
Do not skimp on good walking shoes! Your feet will thank you at the end of the day. White sneakers are really popular right now, so this one is easy. Golden Goose, Vejas or even plain white sneaks like my Sam Edelman are great go-tos.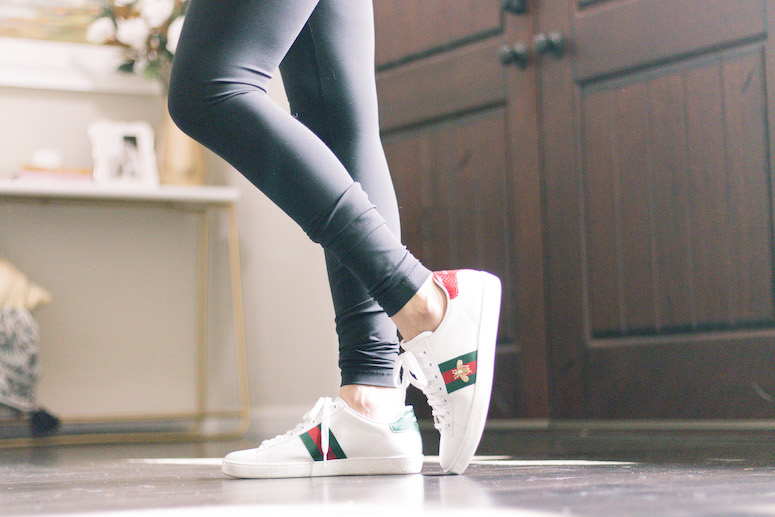 While tennis shoes are definitely the way to go, consider also bringing some water shoes if you're headed to a water park.
If you prefer flats, consider some cute boots in the fall months. And if you're set on wearing sandals, just be sure they have plenty of support for a day full of walking.
PRO TIP: Say "no" to flip flops as they can come loose and fall off during roller coaster rides!
Protect Your Hair & Face
It doesn't matter if you're going in the winter, if you'll be out in the sun all day you'll want to protect your face and skin!
I highly recommend wearing a baseball cap and bringing cheap sunglasses. It's also a great way to not have to worry about your hair if it gets messy on a roller coaster or water ride. Make sure it has an adjustable strap so that you can make it snug before hopping onto faster rides.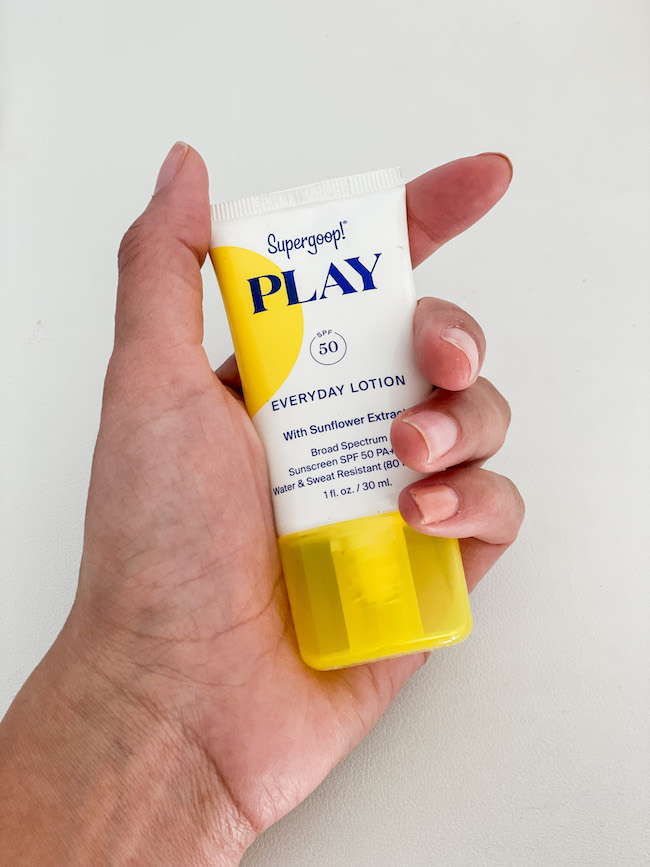 Also, do not forget to bring your favorite SPF! Right now, I'm loving Supergoop! Play sunscreen for the whole family.
For on-the-go sun protection, this refreshing resetting mist from Supergoop is excellent and small enough to fit in a mini backpack or small crossbody bag.
What to Wear to Walt Disney World Resort
I'm probably going to have to write a separate post on what to wear to Disneyland and Disneyworld, but that's because a trip to the Magic Kingdom is the perfect time to, well, add a little Disney whimsy to your outfits!
Yup, that means breaking out the mouse ears and cute Disney-themed outfits. You'll see plenty of kids dressed up as their favorite character and grownups getting in on the fun with Star Wars or Harry Potter-themed looks at the Disney parks.
Be sure to sign up for my mailing list so you're the first to know when that post goes live!
More Tips on What to Bring to an Amusement Park
What else do you need to bring to an amusement park? Check out this list on what to pack and make sure it's in your bag!
Bring good sunscreen with a high SPF (we like this one)
Hand sanitizer (The park provides but it's very drying. I love this one from Biossance)
Snacks for kids
Cleaning wipes (for wiping down seats, etc)
Portable phone charger
First aid kit (for the ultra-prepared)
Cheap sunglasses for everyone (I like this brand for designer-inspired)
Refillable water bottle
Stash these travel ponchos if there's a chance of rain
Oh, and one more tip… do NOT wear a white shirt if you plan on going to a water park or getting on water rides. It will be see-through!
---
I hope this post has helped you with ideas for what to wear on your next theme park trip! What are some of your favorite tips and outfit ideas for the theme park?