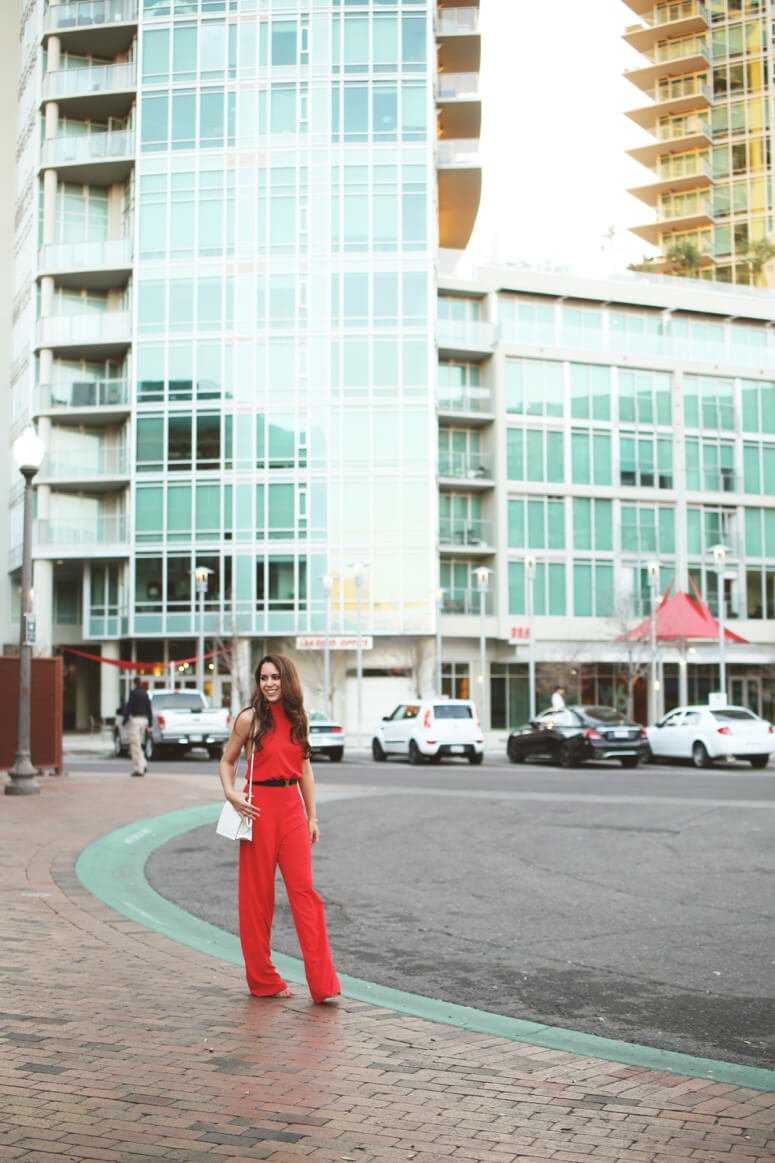 When I was in high school, I hated color. My mom (who always knows best) would try to show me beautiful bright things that would make me cringe.
Cheery yellows, bright cerulean, poppy pink and, of course, red. I would always shrink away and pick something grey or pastel instead.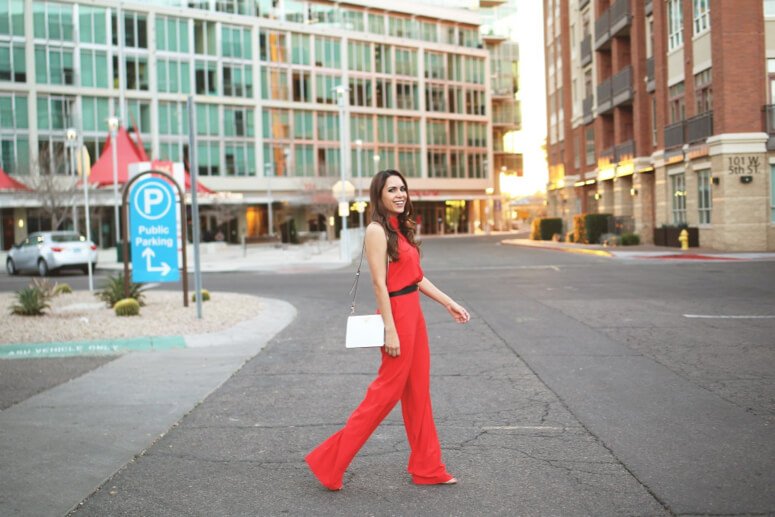 She was right, of course, as she's always had an innate fashion sense. As for me? I just wanted to fit in.
The idea of standing out in such a way—in a bright bold, head-turning color—made me feel so so uneasy.
I realize now that it was me, not the color, that was the problem. My own fears and insecurities and all-around being uncomfortable in my own skin that kept me away from color!
When you think about it, that's just plain silly. But I also know I'm not alone in this feeling.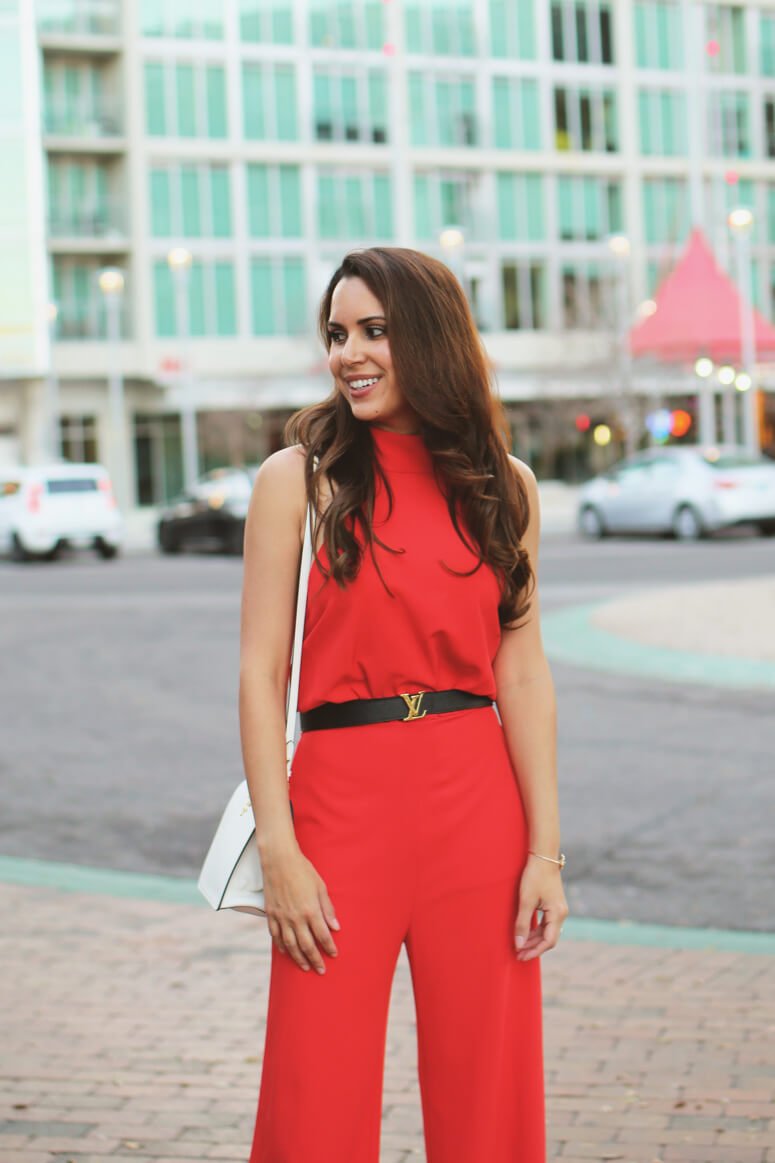 Color can empower you, and it can alter your mood, your vibe, how you're perceived in the world.
Being unafraid to stand out says something–and that was absolutely something I wasn't ready for at a young age.
Now, my wardrobe is still a lot of naturals: black, white, grey and soft colors are part of my every day uniform. But, color is welcome, too.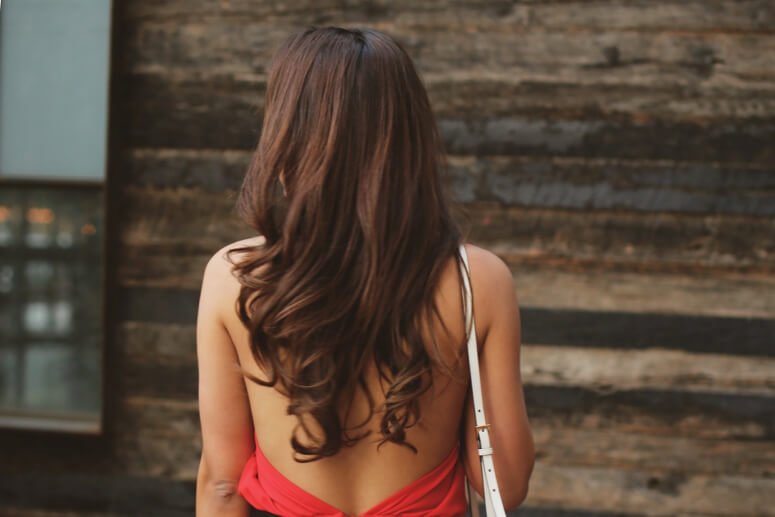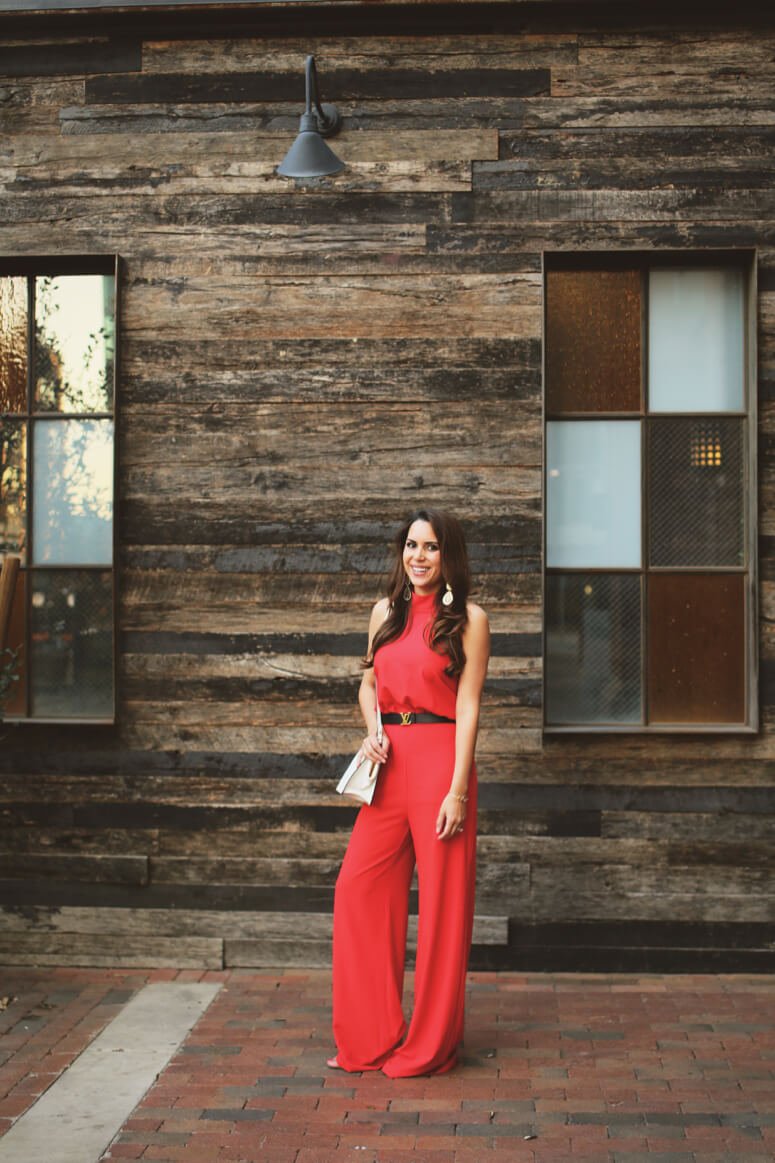 I'm sure it has to do with age and confidence. Something that you can only gain with time. But if you've ever felt like color or the fear of "standing out" has steered you toward neutrals, I challenge you to give it a try this spring!
There's something beautiful about just owning color. Whether it be an all over red jumpsuit like this or a bright red lipstick.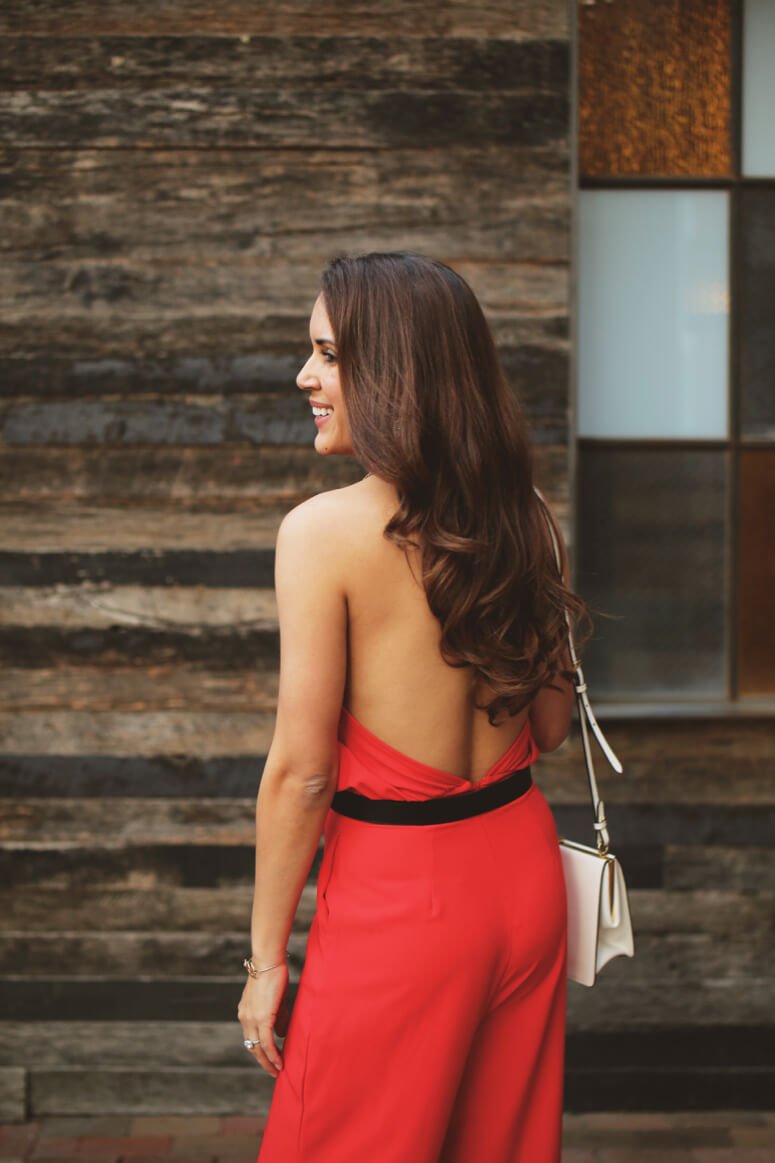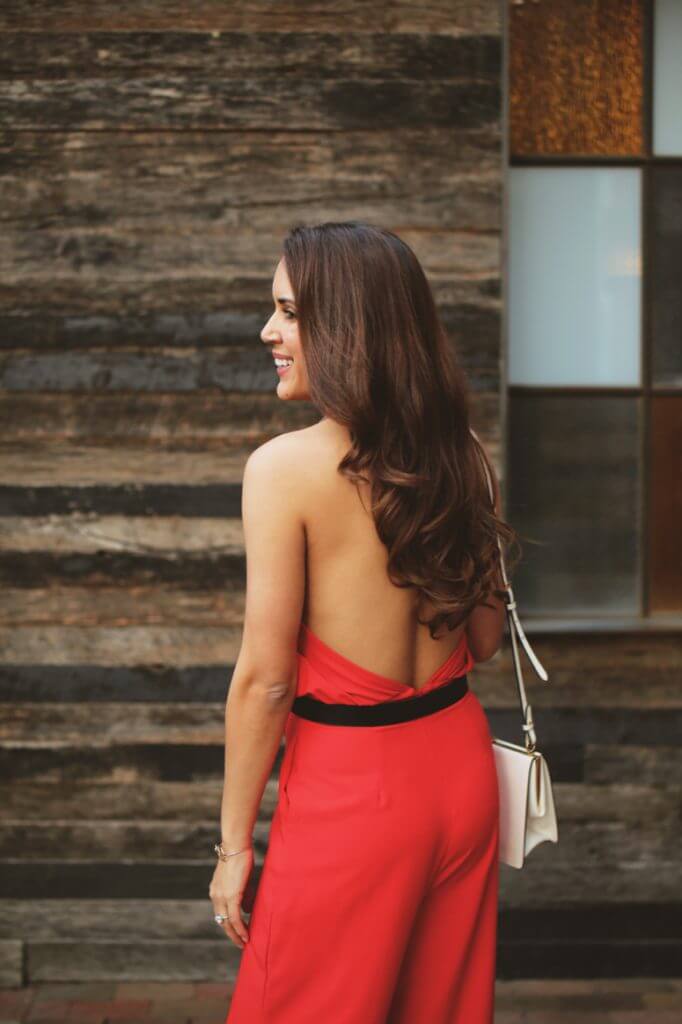 You can choose a statement piece or accessory, too, and dip your toes into the idea.
Whatever you choose, I encourage you to try a little color this season, it's fun and not-so-scary! Once you get used to it that is.
This red halter jumpsuit I actually purchased for a Valentine's Day date (and then never wore it.) It comes in 7 colors and is so flattering with the high-neck and low, exposed back! I may get one in black, too, as it's pretty much a wardrobe staple. And, a few softer colors like blush pink.
You can get it at Lulu's or Nordstrom.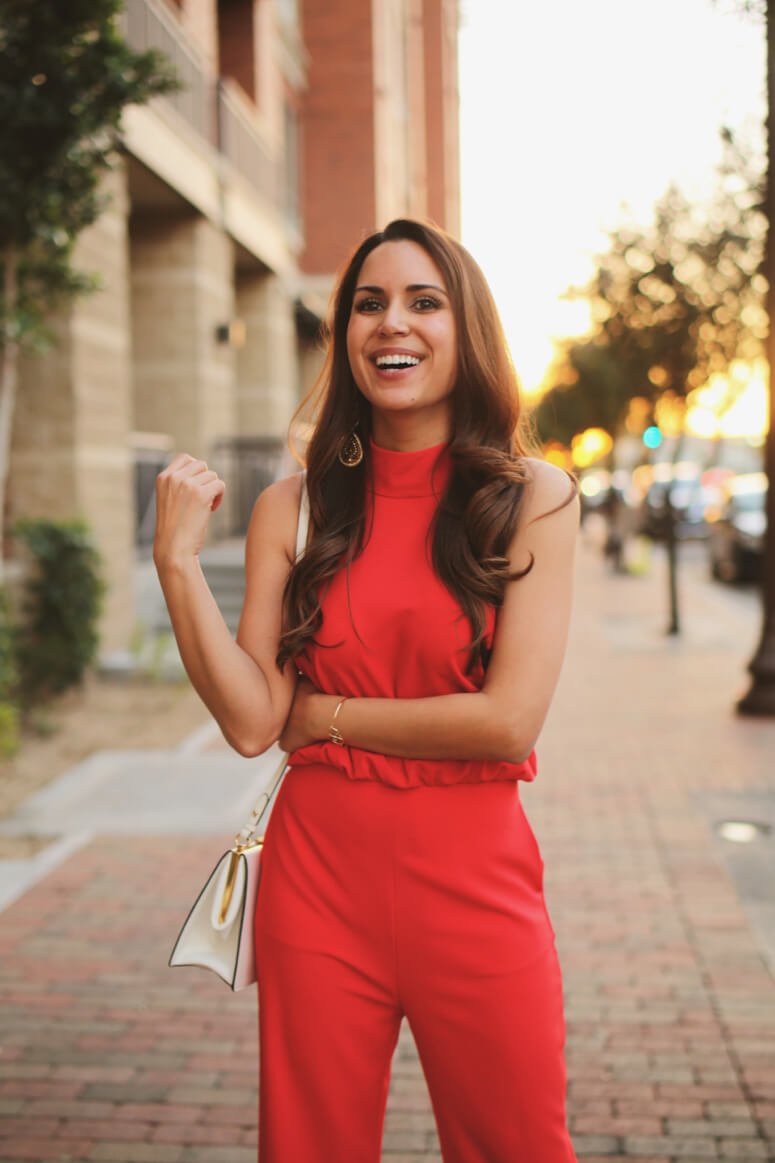 I styled it with my reversible Louis Vuitton belt, just to add a bit of something-something. It does run long (I am 5'4 and wearing a size small) so if you're on the shorter side like me you may need to hem it a bit.
This red jumpsuit is a keeper since the cut is so classic; you could wear it to a summer wedding or a date night, too.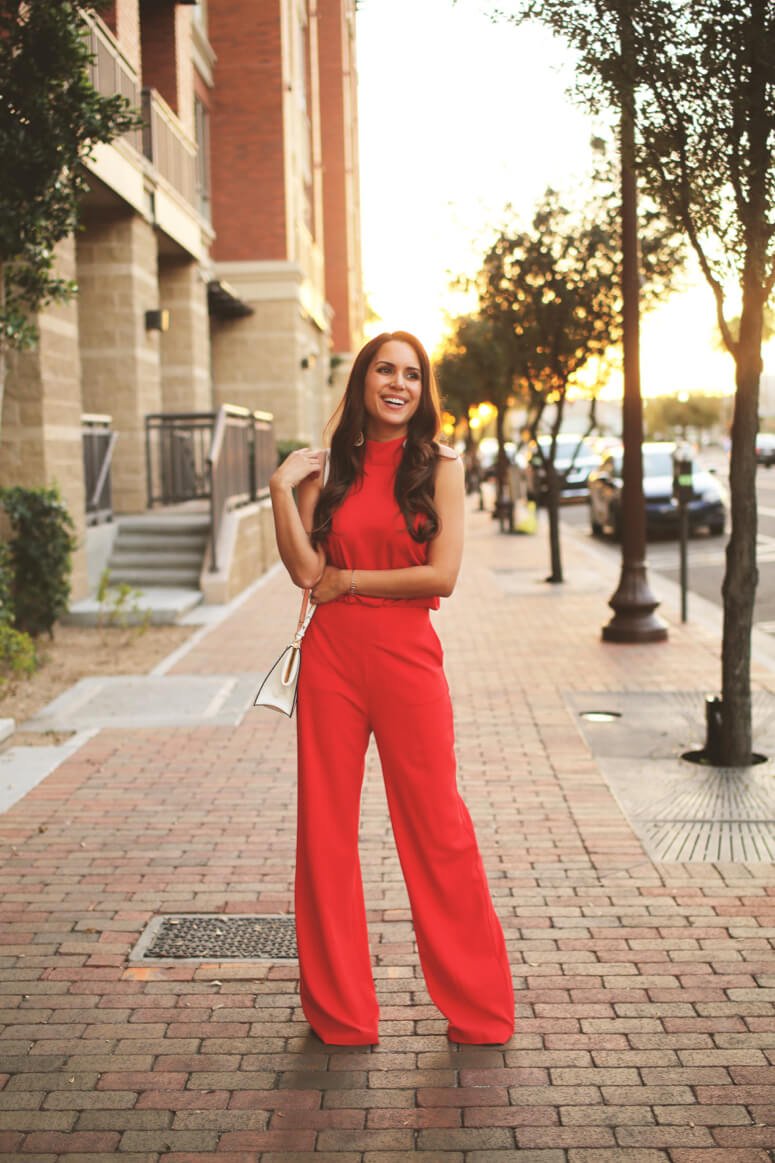 Or, on Friday…because now that I'm older, wiser and not as fearful of color, red can be rocked just about any day.

---
Tell me: How do you feel about the color red? Do you wear bold colors or steer away from them??
[mailerlite_form form_id=1]
Photos: Andi Marie Photography
Linking up with: SeekingSunshine | RosyOutlookBlog.com and JerseyGirlTexanHeart
This article was featured on Links à la Mode weekly fashion roundup by Independent Fashion Bloggers. Want to start your own fashion blog? Find out how here.
More fashion articles:
SPONSOR: Shopbop, Rag & Bone, alice + olivia Clothing, Fila Shoes, Ellery, Mateo, Gray Matters, Matching Sets, Clutches, Flip Flops & Sporty Sandals, Men's Double Rainbouu