If you love cozy, chances are you've had your eye on, or are considering, a piece from Barefoot Dreams. This luxury brand is pretty much synonymous with crazy-soft and luxurious pieces.
But is the Barefoot Dreams cardigan really worth it? Here's what you need to know.

Barefoot Dreams is well-known as purveyors of cozy-chic: from cardigans and throw blankets to incredibly plush baby blankets, robes and more, there are some seriously soft and beautiful pieces!
It all started in 1994 as the founder, Anette Cook, wanted to create an elevated children's line. And, with babies in mind, she sought out indulgently soft and luxurious fabrics that were gorgeous, too.
Fast-forward to today and the family-run company includes a collection with everything from children's goods to clothing, blankets, robes, menswear and womenswear, too!
O.K. So What About the Barefoot Dreams Cardigan?
If this is your first foray into the brand, the Barefoot Dreams cardigan may be the first place to start. It's well-loved among fashion bloggers, makes great gift ideas and is always available during the annual Nordstrom Anniversary Sale.
In fact, that's why I'm writing this post in June–as the 2020 Nordstrom Anniversary Sale nears, it's time to consider whether or not this cardigan is worth it!

All the Dirty Details
I got my first Barefoot Dreams cardigan at the Nordstrom Anniversary Sale a few years ago.
I fell in love with the soft material and went with the Barefoot Dreams CozyChic Lite cardigan in an ombré color.
The cut is especially flattering and is an easy way to add some effortless style to pretty much any look. And, since it was on sale, I was able to snag it at a much more affordable price point!
This cute fall cardigan is the softest thing in life.
My son loves to cuddle with it, I love to cuddle with it. And it's an easy layer to just about any outfit.
When I'm working from home, I can just throw on jeans, a top and a cute cardigan like this one. These days, I'm all about cardigan outfits.
Depending on the color you're eyeing, or style, you can oftentimes find Barefoot Dreams cardigans on sale. I found this selection at Nordstrom priced under $100!
And since it's fall in AZ, this is really just about all I need to stay warm and stylish.
Every year one of these insanely-plush fall cardigans goes on sale and it always sells out! This year I was sure to shop early and add it to my shopping cart immediately. I love the ombré look and it comes in fade-to-chocolate (like mine) and fade-to-black, too.
I like to have a variety of cardigans in my closet: long ones, short ones, plush ones, thin ones. Drapey ones, solid-color ones, print ones and long ones, too. Need an easy outfit formula? Just add a third piece like a cardigan!
Barefoot Dreams CozyChic Lite Circle Cardigan
Last year, I added another Barefoot dreams cardigan to my collection with the CozyChic Lite Circle Cardigan.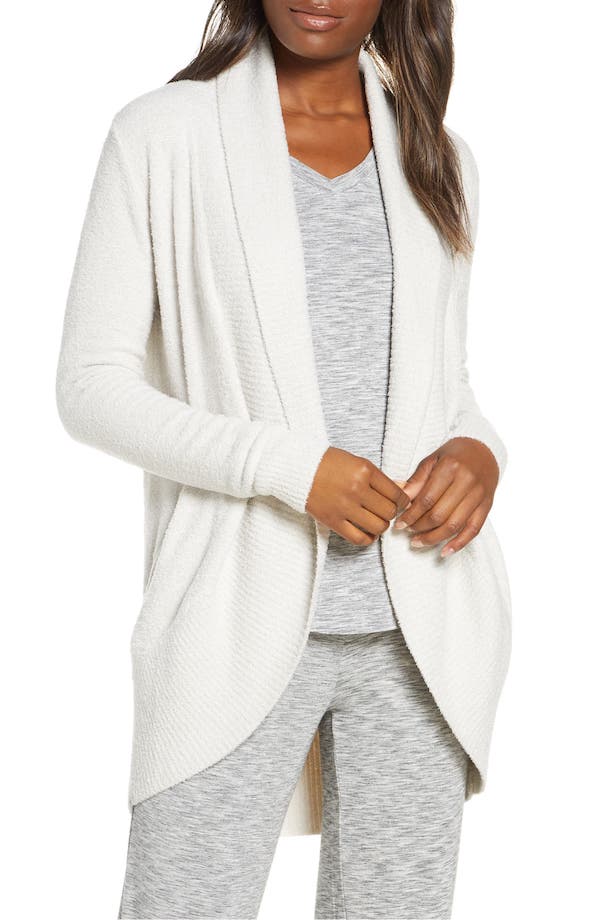 I wanted to try a different style and this one did not dissapoint.
This one is a tad more casual in its shape and style, but just as wearable as the CozyChic Lite. It comes in several different color options and some of them do go on sale!
Barefoot Dreams Cardigan Sizing
Should you size up for the Barefoot Dreams cardigan?
I'll be honest, oftentimes I prefer to size up when it comes to comfy, plush sweaters for that oversized look and feel. But in this case, I recommend keeping your normal size.
My Barefoot Dreams CozyChic Lite cardigan and the Circle cardigan are both in a size small/medium. It's plush enough that I don't need an "oversize" fit and since it has a nice cut and shape you'll want it to look just right instead of large.
What to Wear with the Barefoot Dreams Cardigan
You might feel weird wearing something comfy enough as pajamas outside of the house, but the style of these cardigans is absolutely made for outdoors, too!
I wear these cardigans around my house, typically kept in my office for when the cold a/c is blasting or on cool winter days.
They're also great over PJs around the house or, with jeans, leggings or a tee in the winter.
I do not typically style these cardigans with dresses or skirts, due to their length.
---
RELATED: Cute Cardigan Outfits for Spring
---
Barefoot Dreams Review: Final Thoughts
If you made it this far, or skipped to the end, then yes, I do believe the Barefoot Dreams cardigan is worth the splurge!
It's pricey, so I recommend getting it on sale if you can.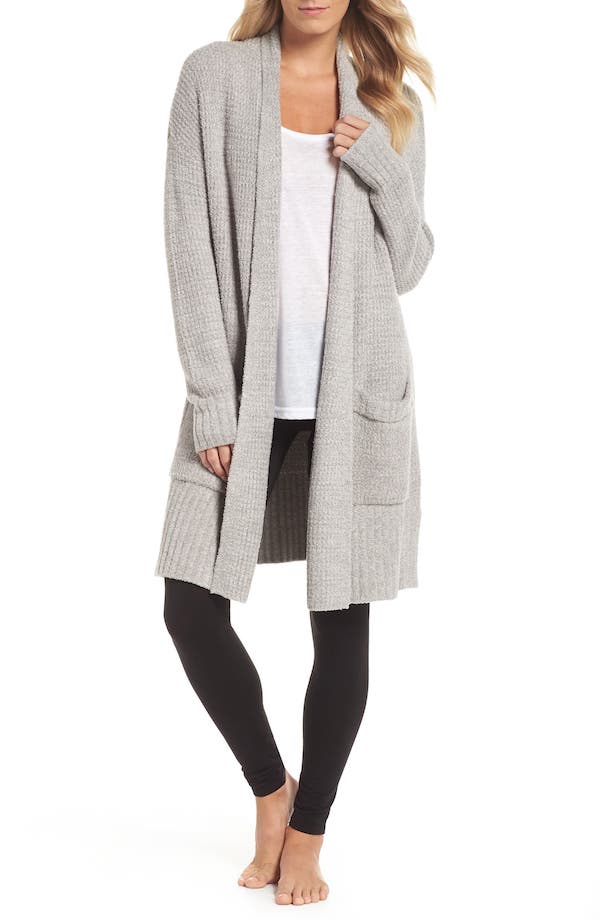 Next on my list, I am eyeing this Barefoot Dreams CozyChic Lite Long Weekend cardigan. It is casual and will look great with leggings and a tee all winter long.
There are also plenty of home items to love on, too! And I always recommend these are great, luxurious gift ideas.
---
Have you tried Barefoot Dreams sweaters in the past? Which one is your favorite?