AirBnB Kitchen Transformation: Our Grey Blue Kitchen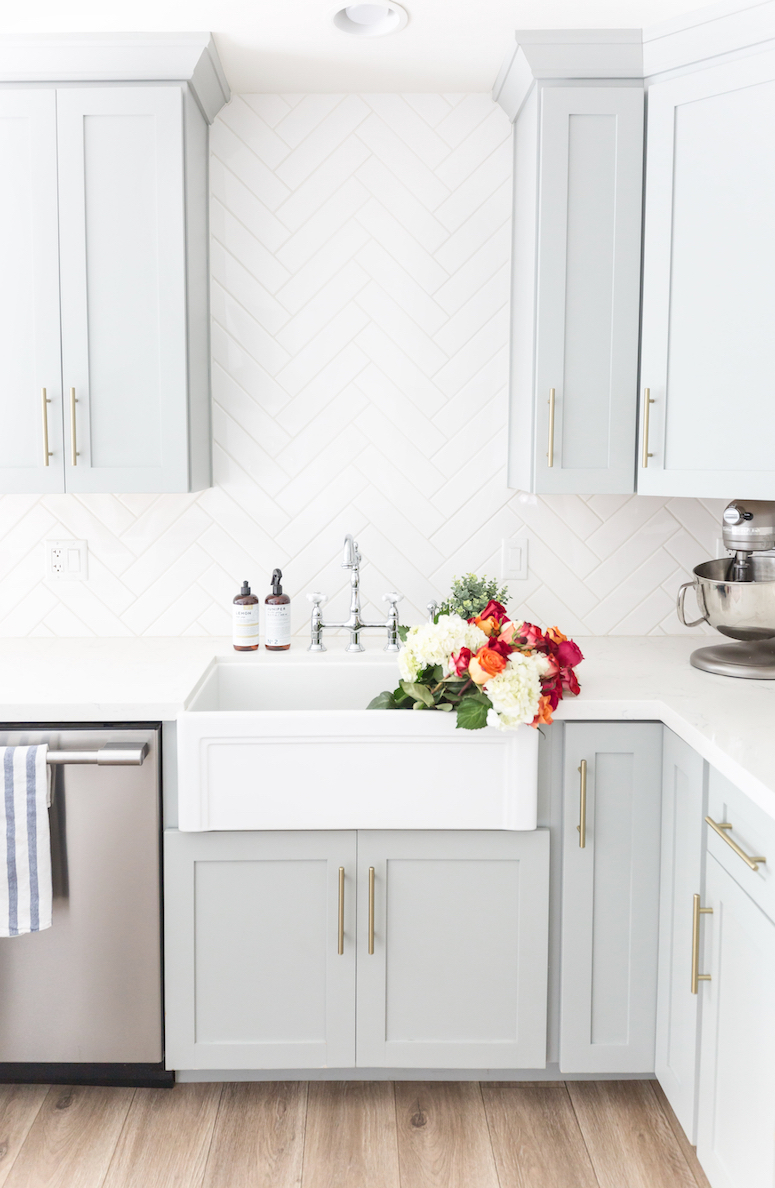 I don't know if you'd call this a grey blue kitchen. Or a blue grey kitchen. Or maybe even bluish grey? At any rate, it's grey with a hint of blue. And exactly what I had in mind for this kitchen renovation.
This isn't the first time we've tackled a kitchen renovation (you can see our personal home kitchen renovation here, the inspiration behind this kitchen here and the living room renovation here.
It is, however, the first time I've done custom paint on cabinets and I'm SO happy we did it!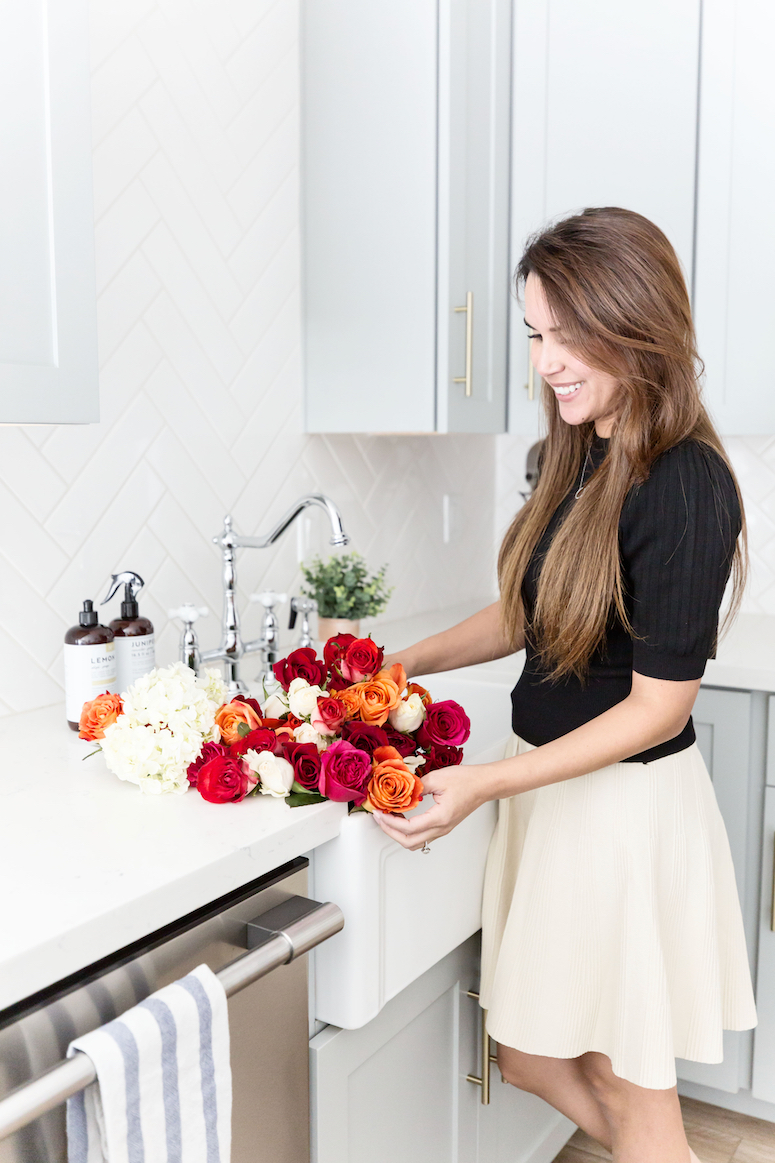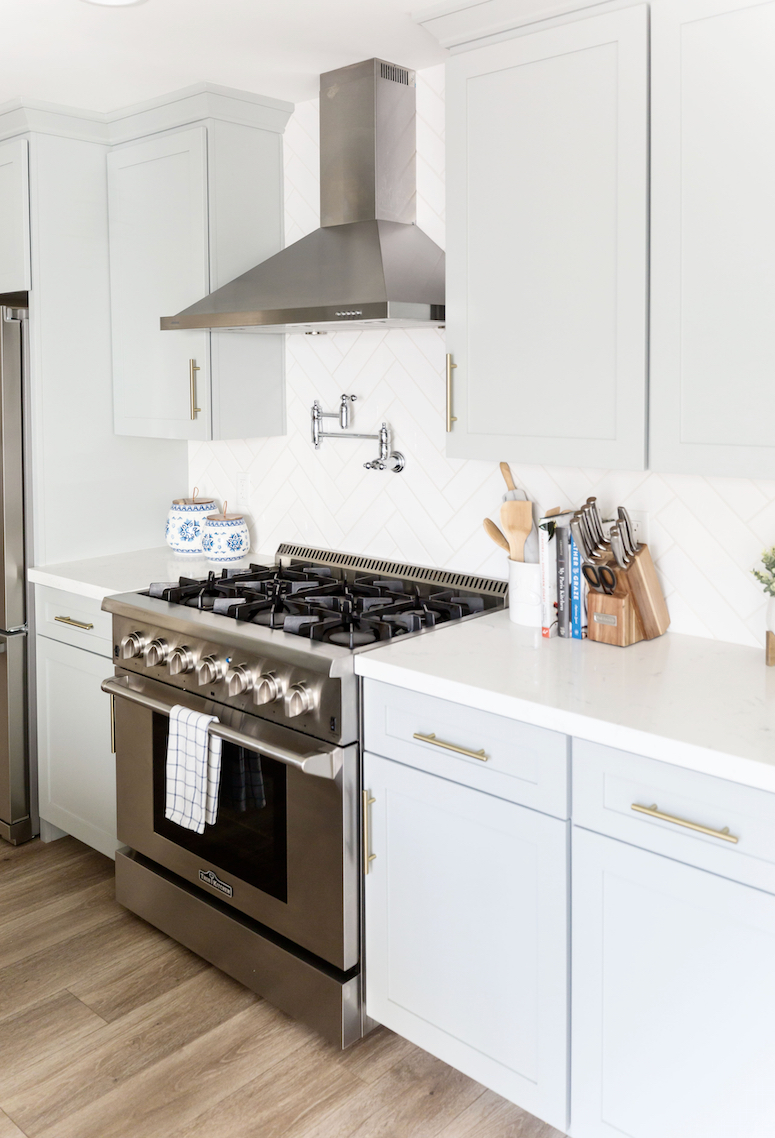 Gutting the Kitchen and Laying It Out
The floorplan in our vacation rental pretty much mirrors the floorplan in our personal home. So we definitely had a good idea of what we were going to do to this kitchen going into it.
But, there are a few slight differences and we had to consider the use of the home as well. Mainly, this was meant to be a vacation rental to accommodate a lot of guests so that meant planning accordingly.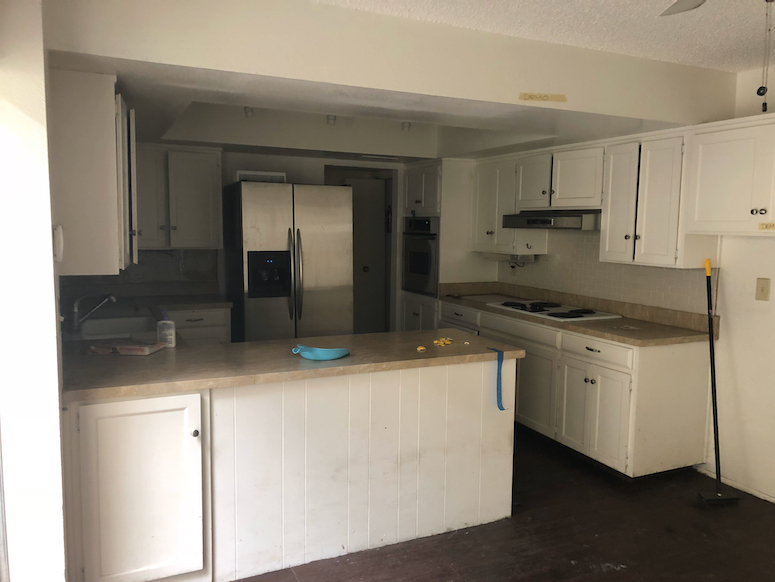 The first thing we did, which we also did in our personal home, was to eliminate all of the soffits so the cabinets can come all the way up to the ceiling. (Soffits are those unnecessary dips in the ceiling that make the room feel much smaller than it actually is.)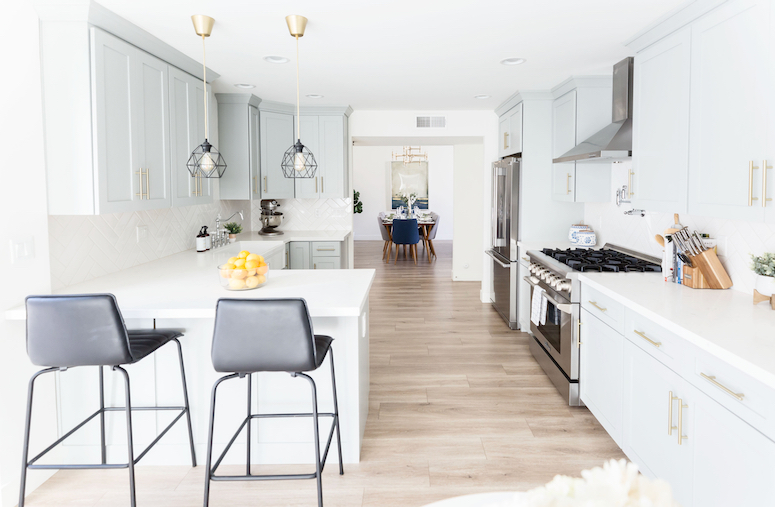 This, overall, makes the room appear much taller and bigger. It's the first thing I eliminate in basically any home renovation!
---
RELATED: AirBnB Before and After Living Room Transformation
---
We also opened up the walkway to make it appear bigger. In the before photos, the fridge is on the wall that we opened up; we simply moved the fridge to another wall and opened up this walkway.
This connects the kitchen to the formal dining room and again, just makes it feel more "open" overall. We did the same thing in our personal home as well and it makes a huge difference.
Choosing a Custom Cabinet Color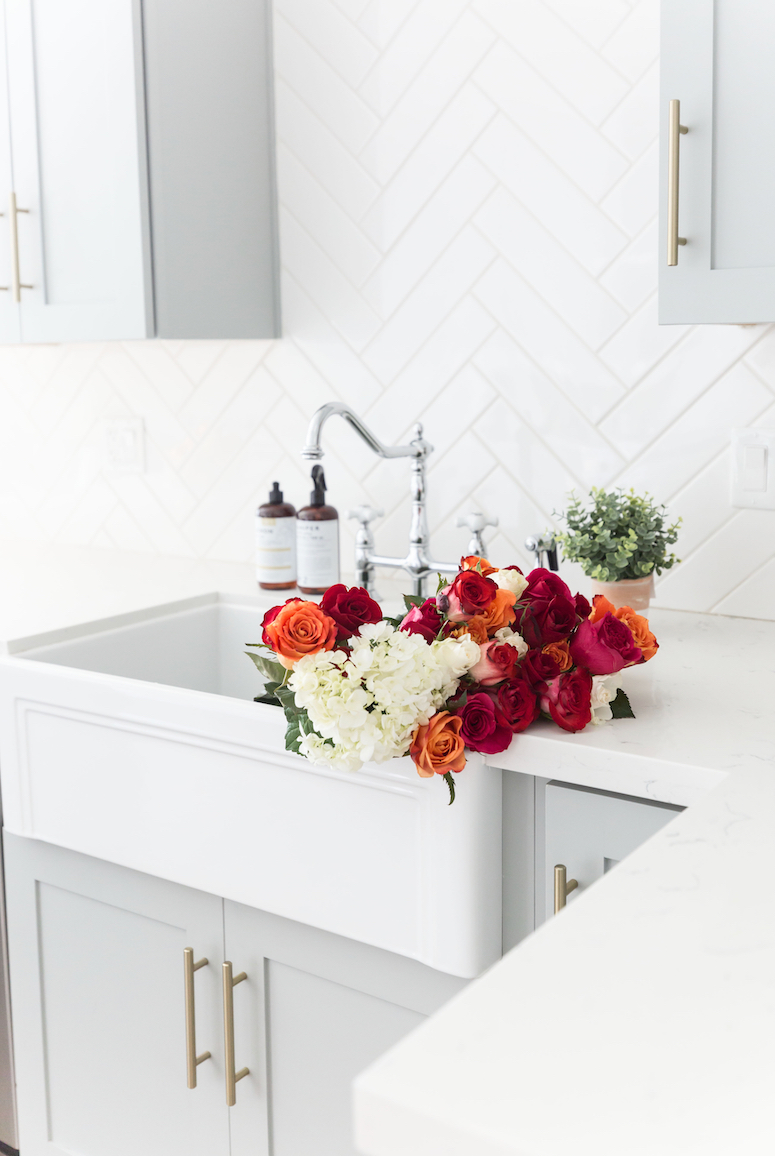 For the cabinets, I knew I wanted a blue-grey look with gold handles. In fact, I was inspired by this kitchen from Addison's Wonderland.
To get the look, we ended up doing a custom paint blend on the cabinets. I was SO happy with the results of our grey blue kitchen cabinets, and even though it felt like a risk at the time (and a little high maintenance of me to request) I would definitely do it again.
If you are considering custom paint for your cabinetry, be sure to take a few swatches and have them painted on wood so you can see for yourself what the color will be like.
Let it DRY. Then, bring it into the space! The way the lighting is in the room will make a huge difference (you don't want to compare swatches outside or in another room).
Laying Out Our Grey Blue Kitchen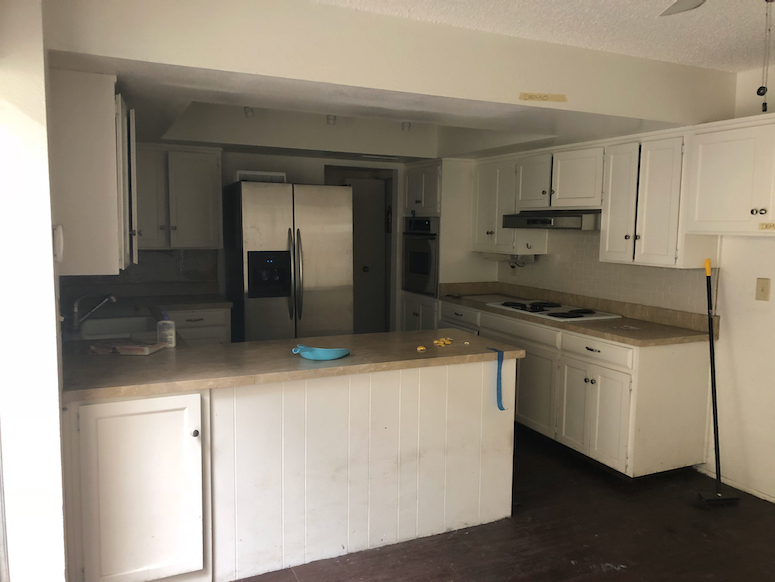 Everything in the kitchen was completely ripped out; new floors, new cabinets; new appliances, the works.
Since we extended the kitchen into the "nook" space, we were also able to install a wine fridge and make use of the L-shaped countertop by making it a useable space people can eat at.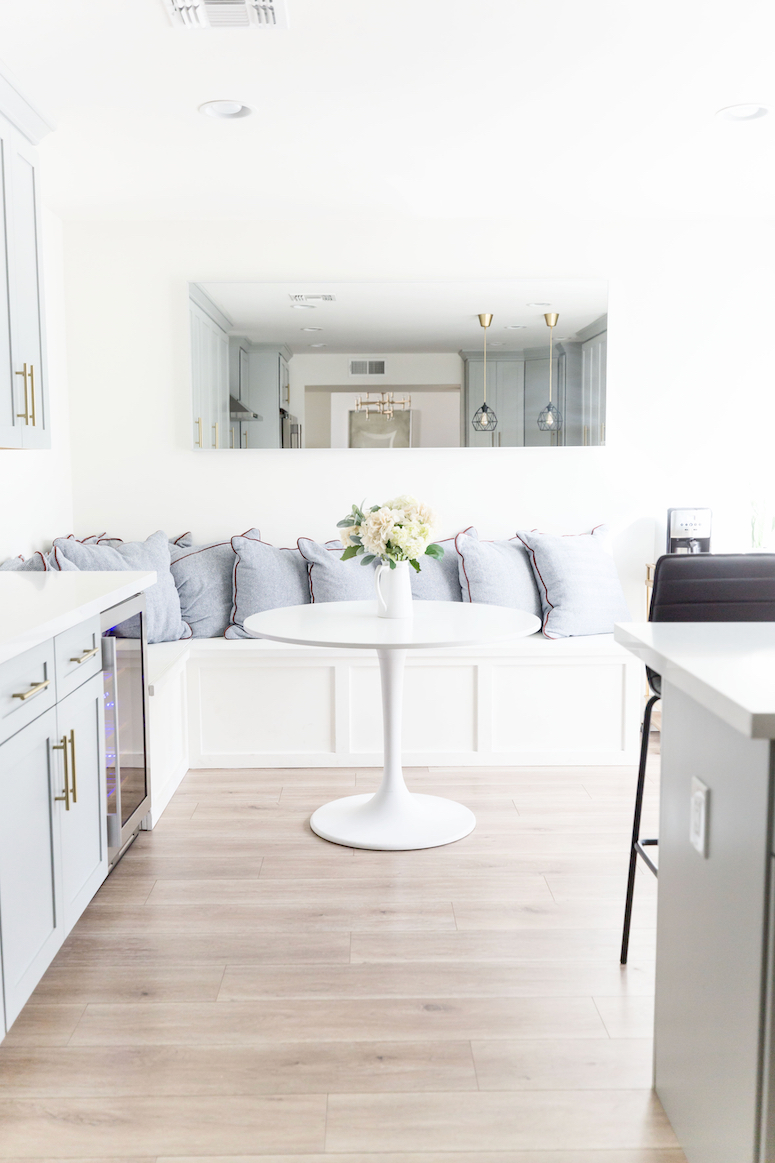 My favorite part of the kitchen renovation was to turn the somewhat dead nook space into an eat-in banquette. I wasn't able to do this in my personal home because our patio is a little different, but we had this sort of awkward, useless space in this home that wasn't really big enough for much seating.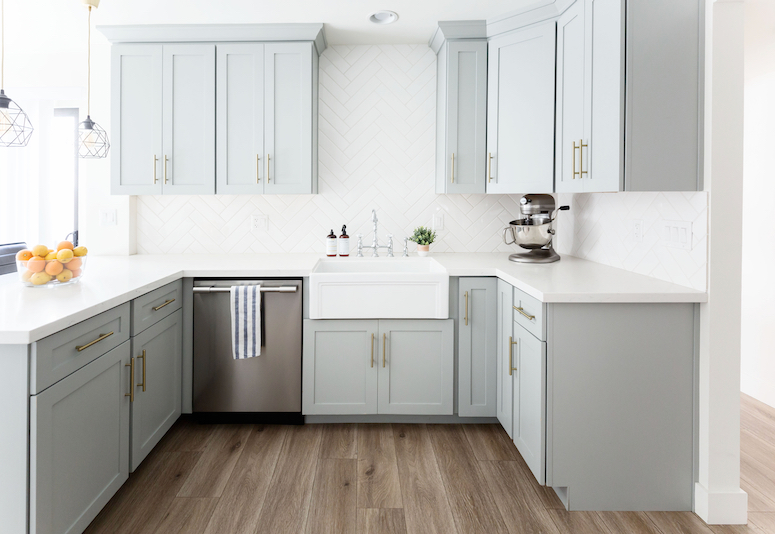 The perfect solution ended up being to get custom benches made and create an eat-in banquette! This really was a great way to take advantage of the small space yet have plenty of seating (about 8 people can fit here if you bring in some chairs.)
The last awkward small space is this little corner next to the eat-in banquette, which I took advantage of to make a little coffee cart.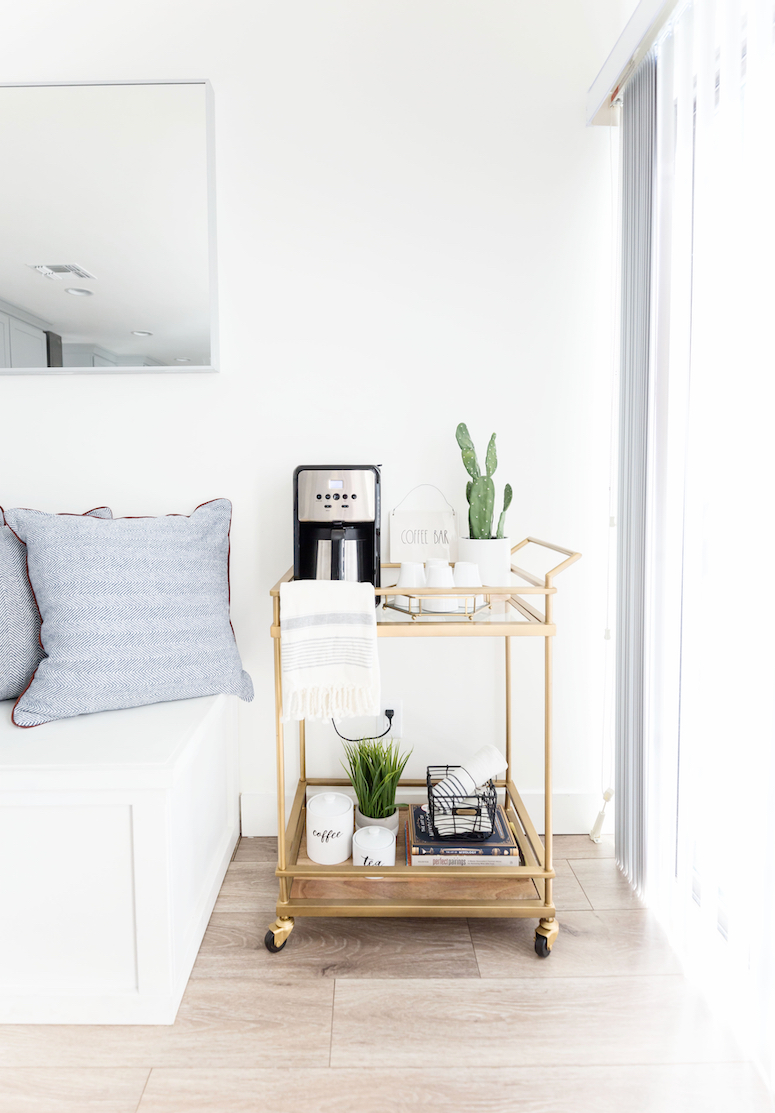 This is the perfect small corner for a coffee cart/bar cart and a cute little amenity for our guests. This gold bar cart is from Target and I decorated it with finds from Target and Home Goods!
Decorating the Kitchen For Our Guests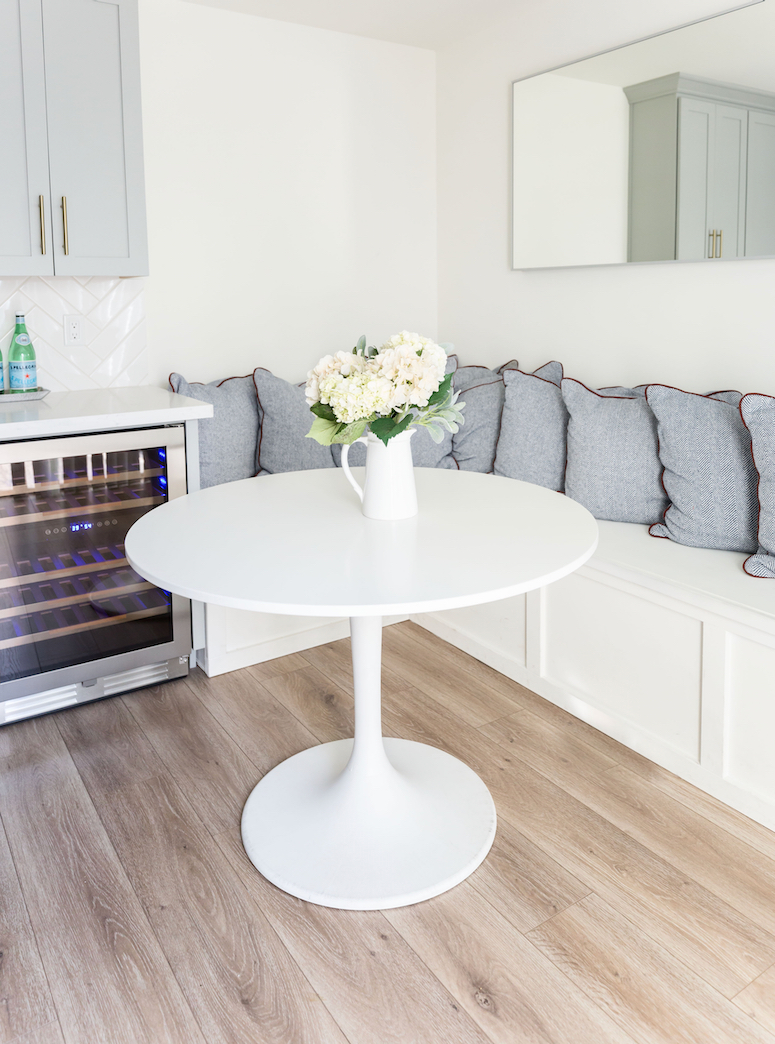 I grabbed some huge pillows from Target and this white table from IKEA for the banquette. I also purchased stools from Target to make the countertop another eating area option.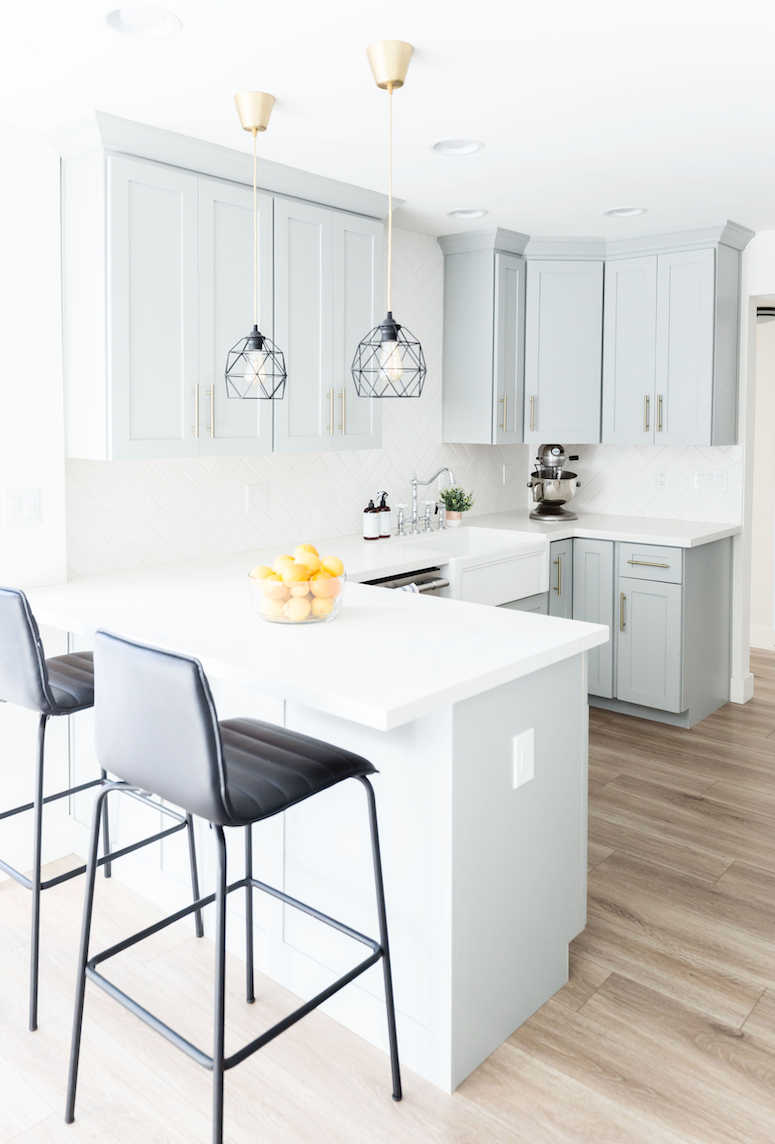 The cabinet guy also offered to turn this into a storage bench that opens, which I 100% would have done if it was my personal home. But honestly for a vacation rental, we really didn't need it.
If you're thinking about doing it for your personal home though, extra storage there would be amazing! I would also recommend getting some custom cushions made to sit on.
---
I hope this before and after kitchen renovation helps you with your house projects. Here are some other home projects you may like to check out: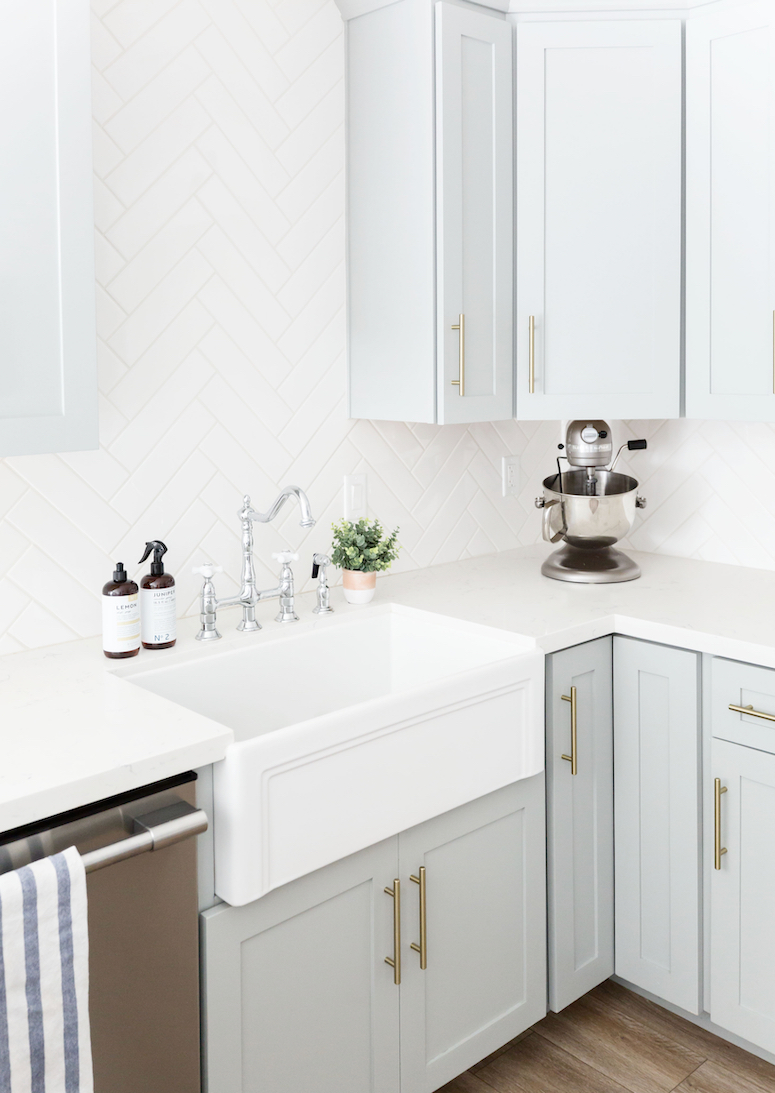 ROOM DETAILS