#ZonaAve Project: Grey and Gold Kitchen Inspo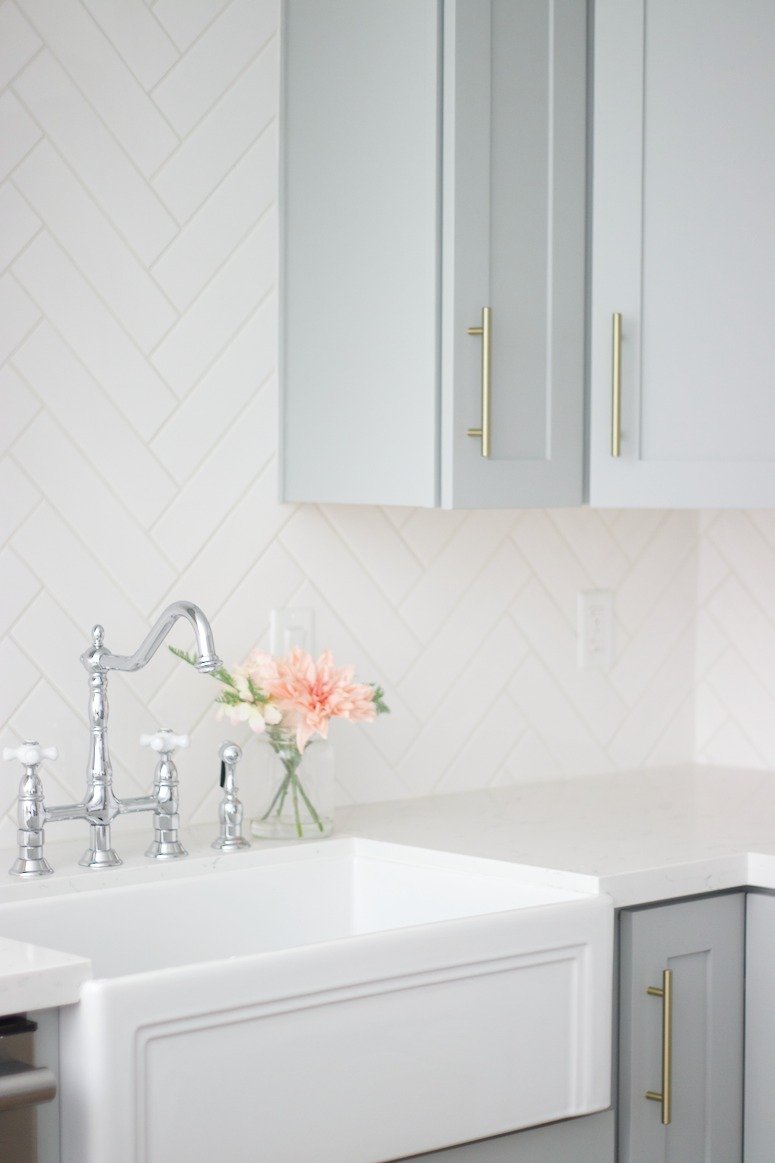 Kitchen Faucet: Wayfair. Pot Filler: Wayfair. Hardware: Wayfair. Sink: Wayfair. Tile: Lowe's.
Cabinet Color: Sherwin Williams Uncertain Grey (50%) + Benjamin Moore Stardew (50%)
---
Finally, I'm ready to start sharing pics and progress on our #ZonaAve project! If you have no clue what I'm talking about, check out my "Home" tab under my Instagram stories.
We're currently renovating another home, and when I say renovating I mean completely gutted and re-done. Instead of flipping it, the intention is to turn it into a vacation rental.
For the kitchen, I knew I didn't want to do all-white again. For whatever reason, I'm a little tired of it (even though my personal kitchen is white). And, although it's classic I really wanted something fresh. Enter, beautiful grey and gold kitchen inspo.
---
UPDATE: CHECK OUT THE FULL KITCHEN REVEAL HERE
---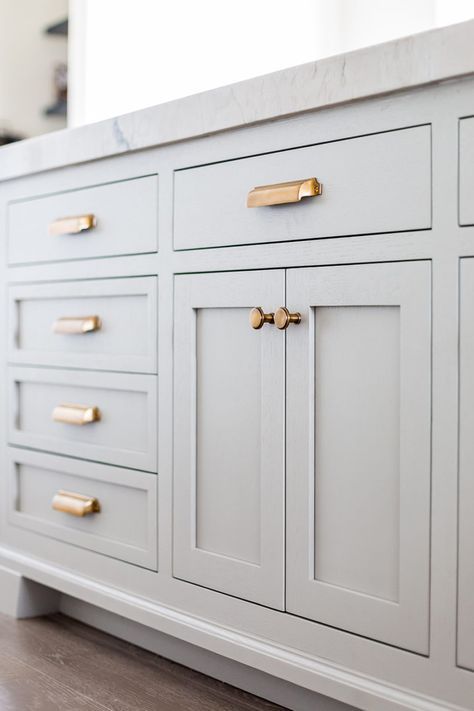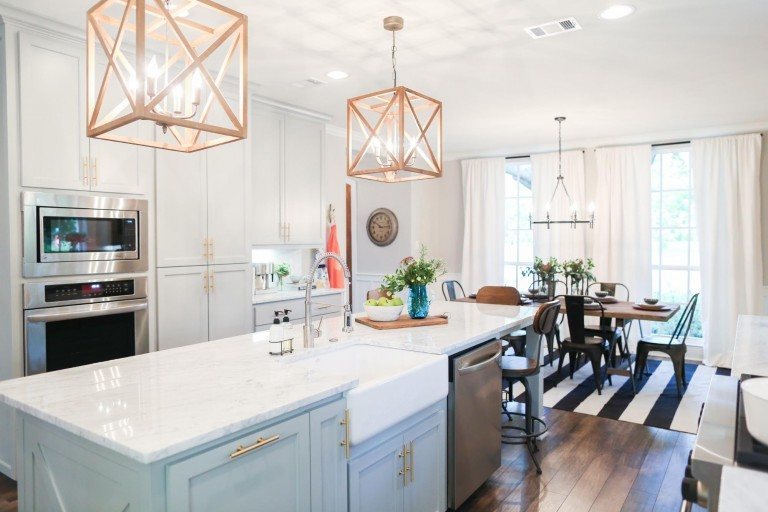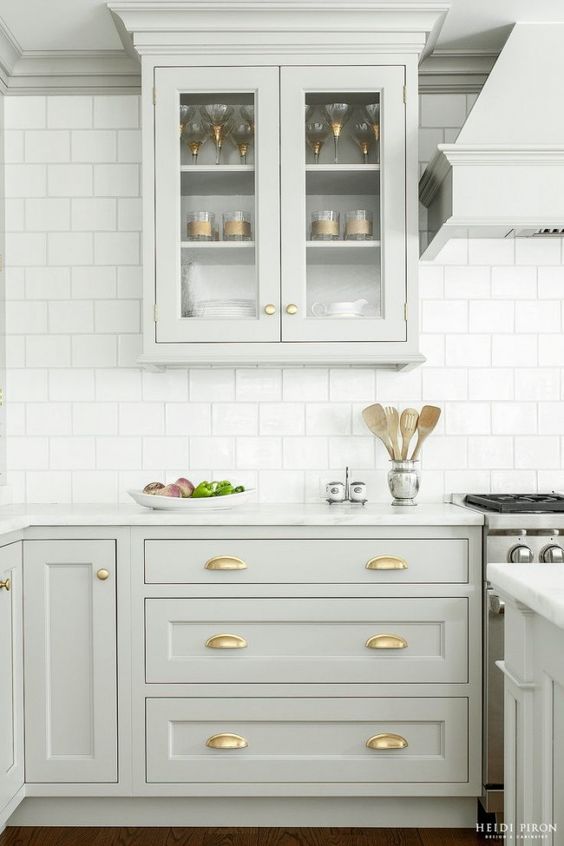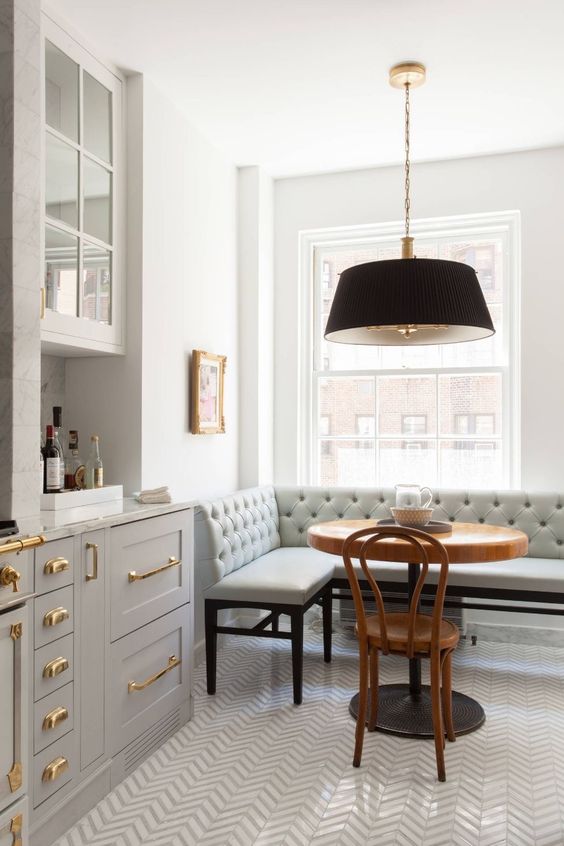 To be honest, I was really torn as to whether to go with grey or blue. I am LOVING some beautiful blue kitchens lately! But choosing the color of your kitchen cabinets isn't just about what you love, it has to work with the house, too. Ultimately, I decided that there may not be enough natural light in the kitchen to go the blue route. While it's beautiful, I wanted the space to feel open, and a darker color in a smaller space–without nice natural lighting–can make a space feel more enclosed.
So I hunted down plenty of grey and gold kitchen inspo! These are some of my ultimate favorites that I used as starting points for our kitchen renovation.
Here is a sneak peek of our kitchen progress: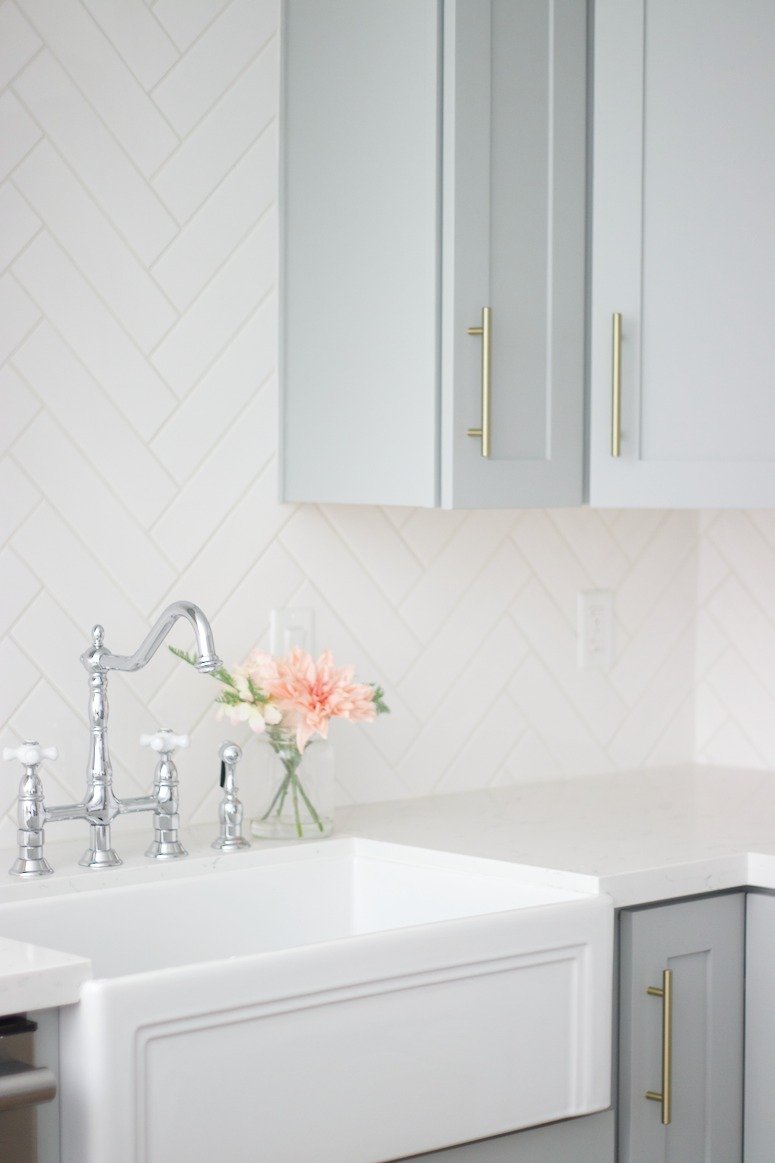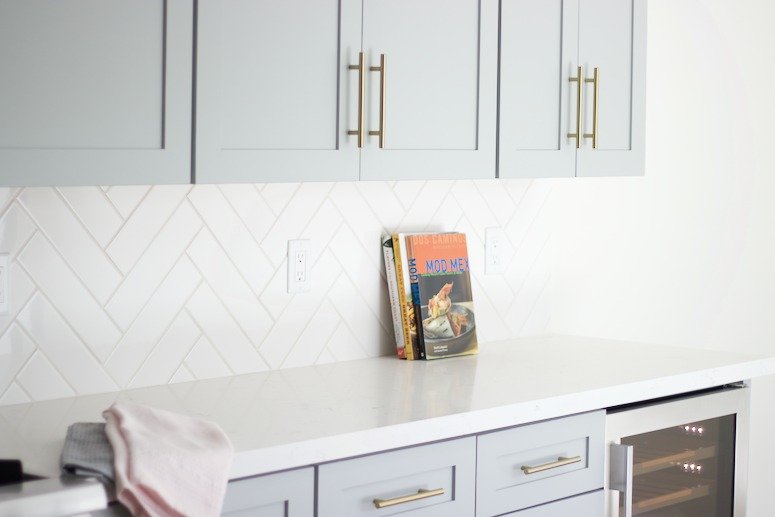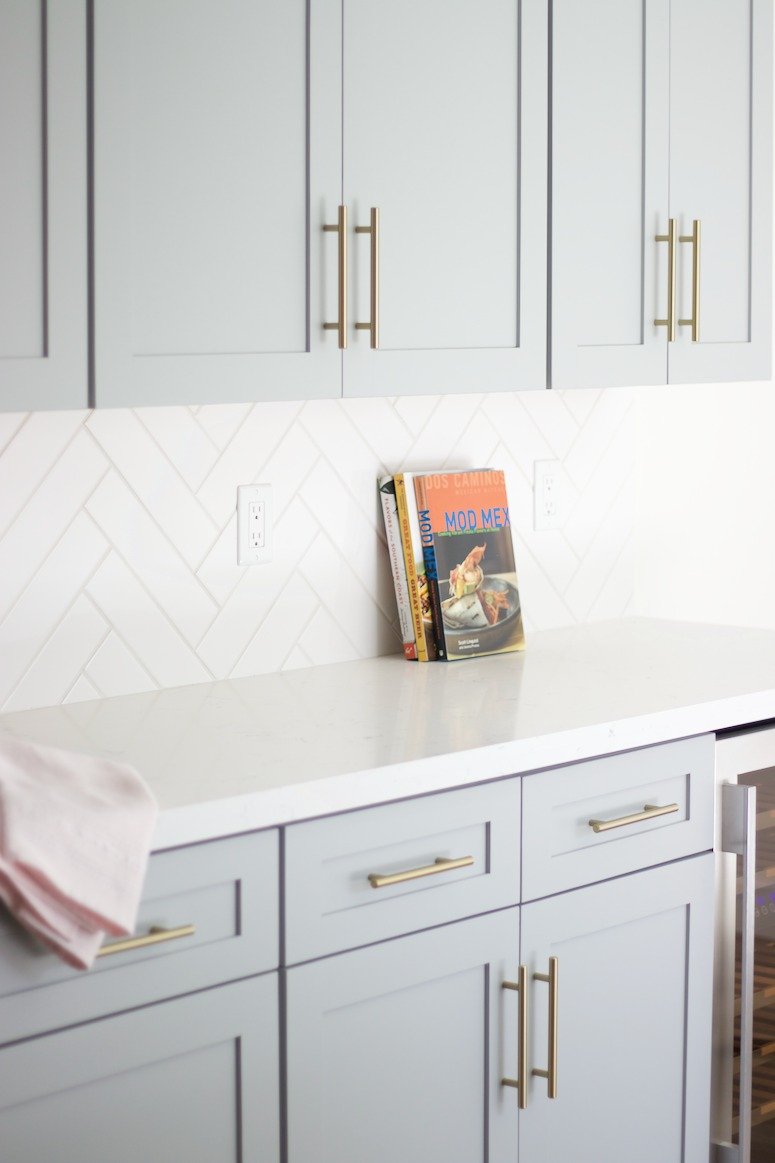 I ultimately ended up doing a custom blend for our kitchen cabinets that's sort of a grey-blue. It looks a little blue in some light and a little grey from other angles, which is exactly what I wanted!
I also went with these gold pulls, which are pretty standard but quite beautiful. And for the backsplash we did the long white subway tile laid out in a herringbone pattern.
One of the things that made me oh-so-happy is the plumbing fixtures. I know, perhaps a weird thing to be excited about but they're so pretty!! I found this gorgeous chrome faucet and pot filler.
I'm so happy with how our grey and gold kitchen turned out and will be sharing soon! We don't have final photos yet–the built-in banquette is still in the works–but you can see more and more of our progress on my Instagram!
---
What do you think of a grey and gold kitchen?
Like this post? Pin me, please!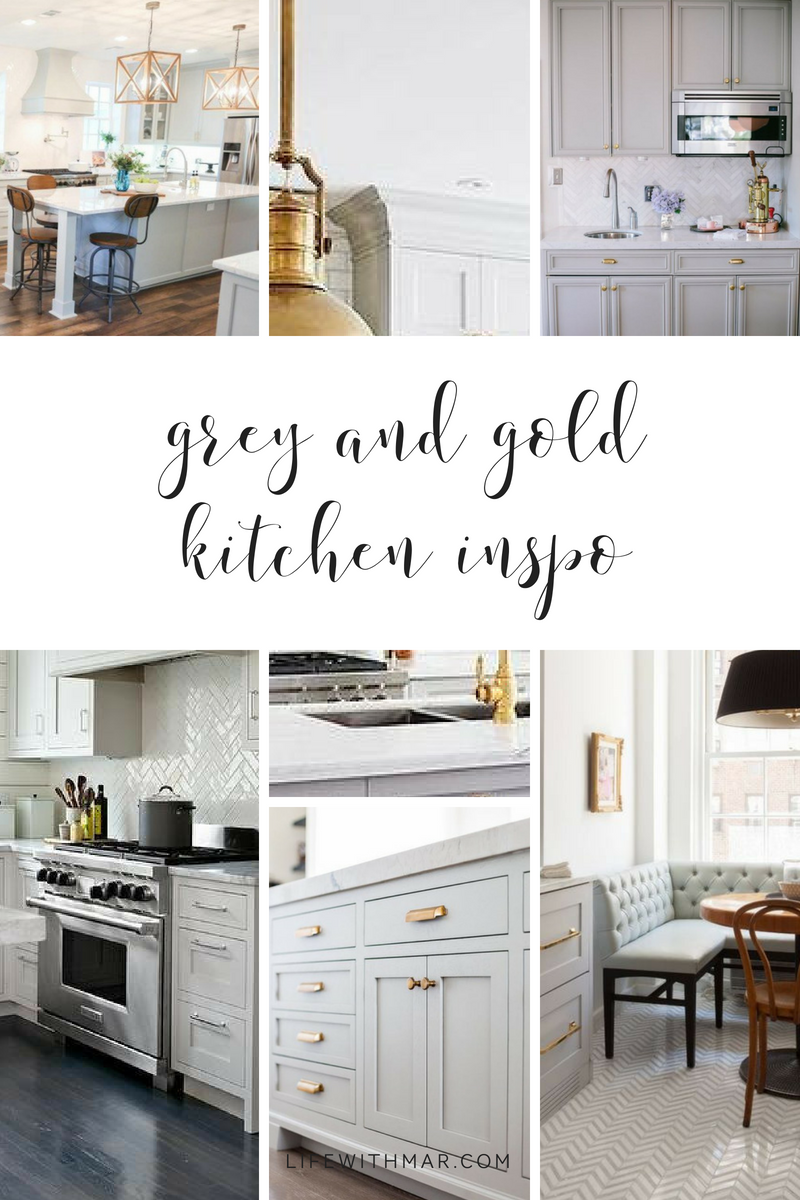 Kitchen Faucet: Wayfair. Pot Filler: Wayfair. Hardware: Wayfair. Sink: Wayfair. Tile: Lowe's.
Cabinet Color: Sherwin Williams Uncertain Grey (50%) + Benjamin Moore Stardew (50%)