An Honest Bellefit Postpartum Girdle Review Including Before and After Transformation!
I received a Bellefit in exchange for this review. All opinions expressed are 100% my own.
I am all about the postpartum girdle, even if you don't have a C-section. I wore one after my first pregnancy and it helped flatten my stomach out quickly. But, I was unhappy with a few things (more on that below.)
 This time around, I did some research on the best postpartum girdle, which is how I learned about the Bellefit postpartum girdle, which is the leading FDA registered postpartum girdle and corset brand. 
Bellefit has a whole range of medical-grade postpartum girdles and corsets; I wore mine for a few weeks before writing this Bellefit postpartum girdle review and am here to share my results and experience here!
Want a Bellefit for yourself? Click here and get $20 off with Bellefit coupon Marlene20!
Bellefit Postpartum Girdle Review
I have a Bellefit Corset in a size small. It's the traditional corset (best seller) featuring three rows of hooks that close across your abdomen and hooks along the crotch, too.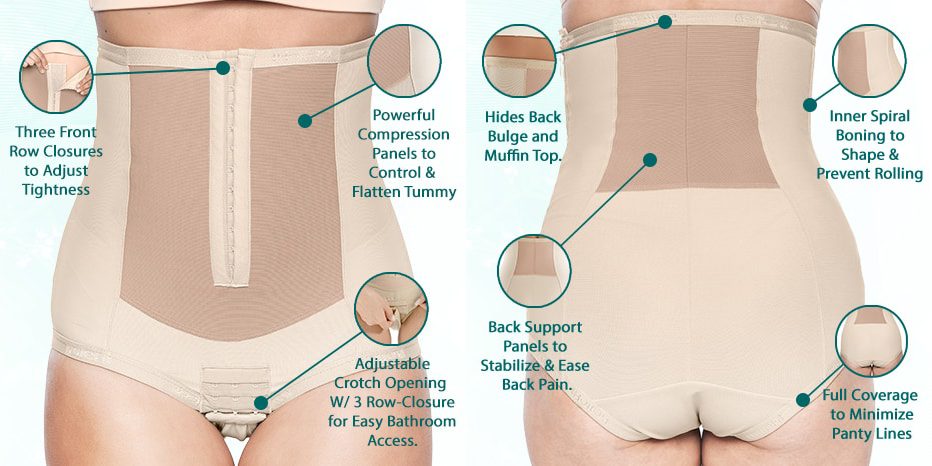 When I first opened the Bellefit, I immediately noticed that it was good quality, featured spinal boning and it came with an extra piece to lengthen if needed.
Here's what I love about the Bellefit postpartum girdle:
The support is amazing. The boning inside gives you incredible posture, which feels so good since your stomach kind of feels like mush after delivery.
Their customer service is fantastic and able to help with sizing and exchanges.
It worked fast! I sized down to the next set of hooks and eyes after about a week.
It comes with an extender in case you don 't fit into it immediately.
It's easy to care for; I hand wash mine with this lingerie detergent.
It's invisible under clothes.
What I don't like about it:
The boning also means you'll have marks on your body. Not a huge deal, just FYI
I loved wearing it while walking, I feel better wearing it than not. But sitting down nursing in it isn't the most comfortable experience.
It gives me a double butt: since it cinches under your crotch it digs into the butt a bit so I really only wore this with tops that would cover my butt, dresses or around the house.
What Size Bellefit Should You Buy?
Bellefit has a sizing chart on their website and I would say it is very accurate. But, you need to be patient. 
I tried it on two days after delivery and almost cried, there was no way in the world it was going to fit. It was SEVERAL INCHES off and I was devasted. I panicked and emailed customer service to send me a replacement size…but it ended up fitting the very next day!
That's the thing about postpartum weight loss, you do lose a lot of water weight in the beginning and quite quickly. So if it doesn't fit immediately, try again the next day.
Bellefit recommends you wear your corset day and night, but I could only put up with it for a few hours at a time in the beginning.
I worked up to wearing it for longer and longer periods of time. It was very snug at first and uncomfortable, but after a few days, it fit like a dream. I REALLY enjoyed wearing it and actually felt better when I had it on!
---
RELATED: Second Baby Must-Haves
---
Bellefit vs. Belly Bandit
When I had my first baby I used a Belly Bandit postpartum, which is another one of the more popular postpartum girdles.
It worked, but I chose not to use one again because of two main reasons: It was bulky and impossible to hide under clothes so I couldn't wear it out of the house, and I couldn't put it on by myself. Those things pretty much made it a deal-breaker for me! Check out Belly Bandit reviews here.
Bellefit Postpartum Girdle Before and After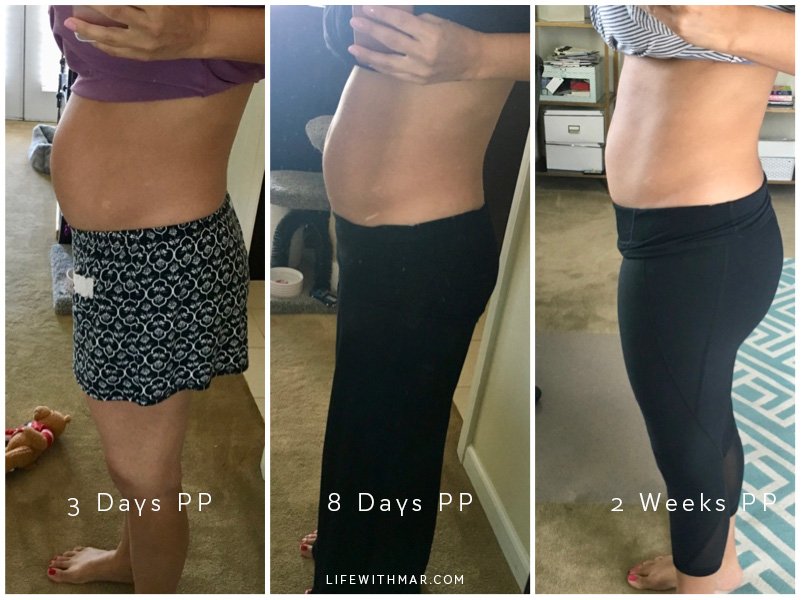 The first photo is me 3 days postpartum, then 8 days and then two weeks. As you can see, my belly went down quite a bit in just two weeks time!
I gained 26 pounds this pregnancy and have 12 to go (15-18 ideally) at 3 weeks postpartum. I haven't been wearing my Bellefit day and night but as I get closer to 6 weeks I am going to use it more.
---
RELATED: Is the DockaTot Worth It? Here's How We Use Ours
---
Which Bellefit Should You Buy?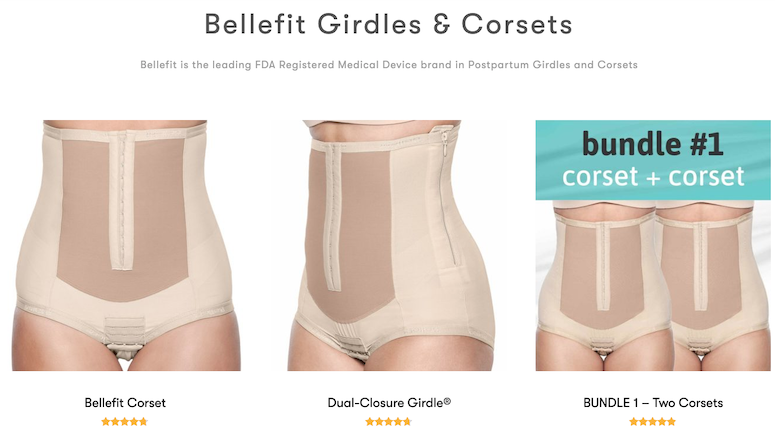 I purchased the Bellefit Corset but there are multiple styles to choose from. I would definitely recommend choosing one with the eye and hook closures vs. the zippers because you are able to use those for longer. As my stomach began to flatten out, I was able to cinch it even tighter until I was finally on the tightest sizing. 
Bellefit is also great if you're recovering from a C-section or experiencing Diastasis recti.
If you have a lot of weight to lose, it may be worth it to go for the two-bundle corset! This bundle gets you two corsets so you can wear them for longer and you end up saving rather than buying one and then another down the road. 
When to Order Your Bellefit Postpartum Corset
I see a lot of women register for a Bellefit at their baby shower—it's a great gift idea! But don't register too early. I would recommend waiting until the last month of pregnancy for the most accurate sizing.
Bellefit does have free exchanges and returns within 30 days so don't worry if you get the wrong size. If you really do want to register for one, you could always register for a gift card! 
---
I hope you've found this Bellefit postpartum girdle review helpful!
If you're thinking of getting a Bellefit postpartum girdle for yourself, I really do recommend it! You can get $20 off by purchasing here and using my Bellefit coupon "Marlene20″.
You can also find Bellefit on Amazon if you prefer to go that route, although the best price I have seen is direct on the Bellefit website. 
Spread the love, Pin me, please!