It's been long overdue, but I'm happy to finally show you inside my feminine blogger office space!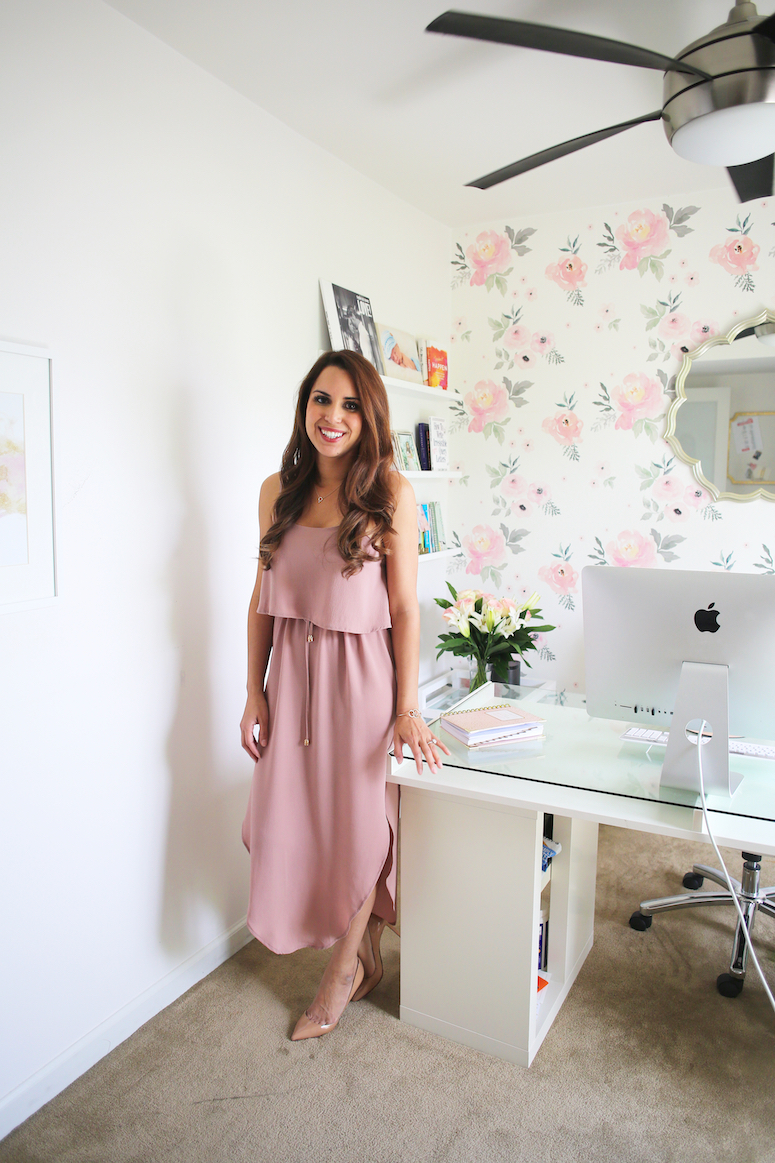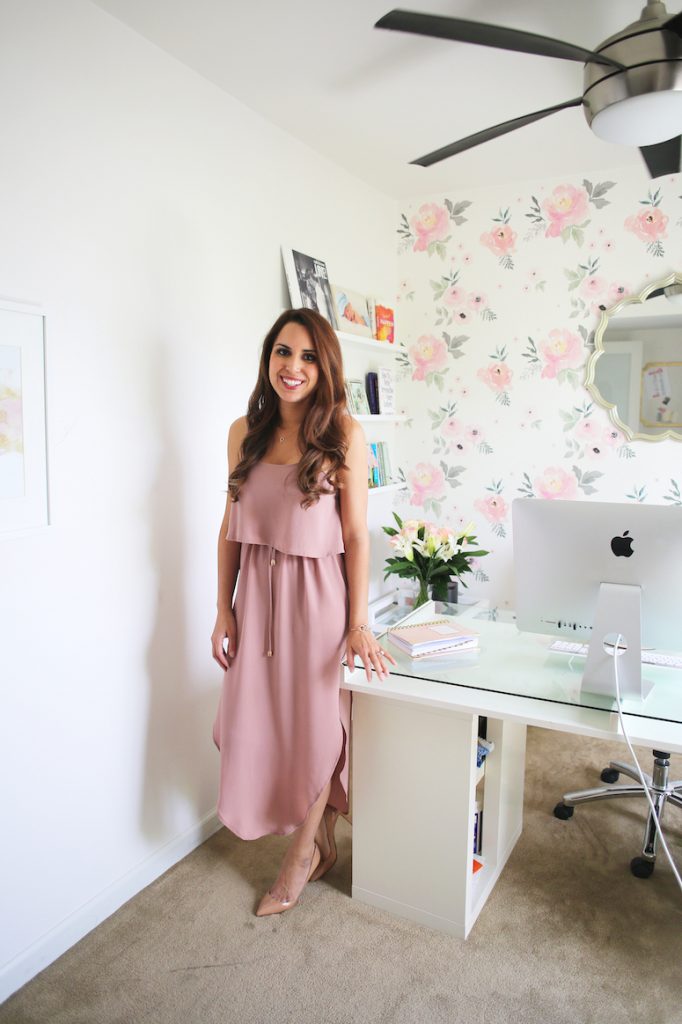 Some of you may recall this room was previously my daughter's floral nursery. Well, the crib moved on out to another room and I ended up needing to keep the floral wallpaper, even though I never intended on it!

Truthfully, I've always had and loved pink office decor, so it wasn't really difficult to make this home office workspace mine.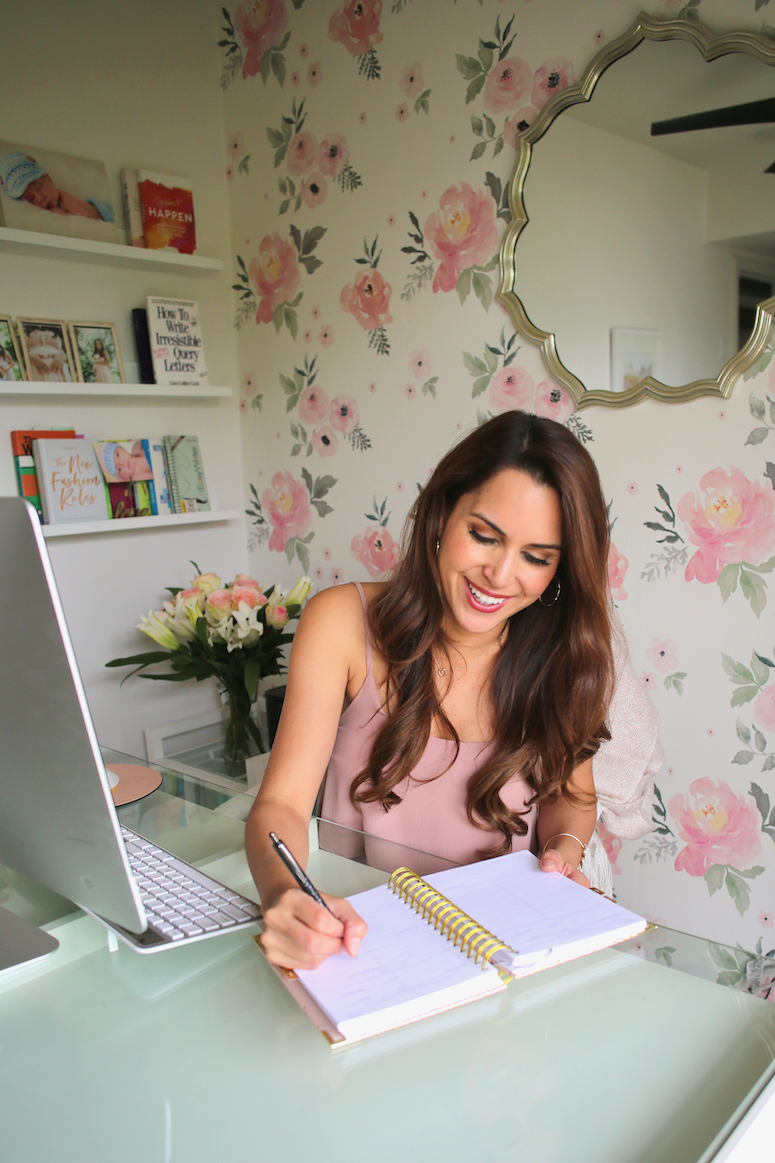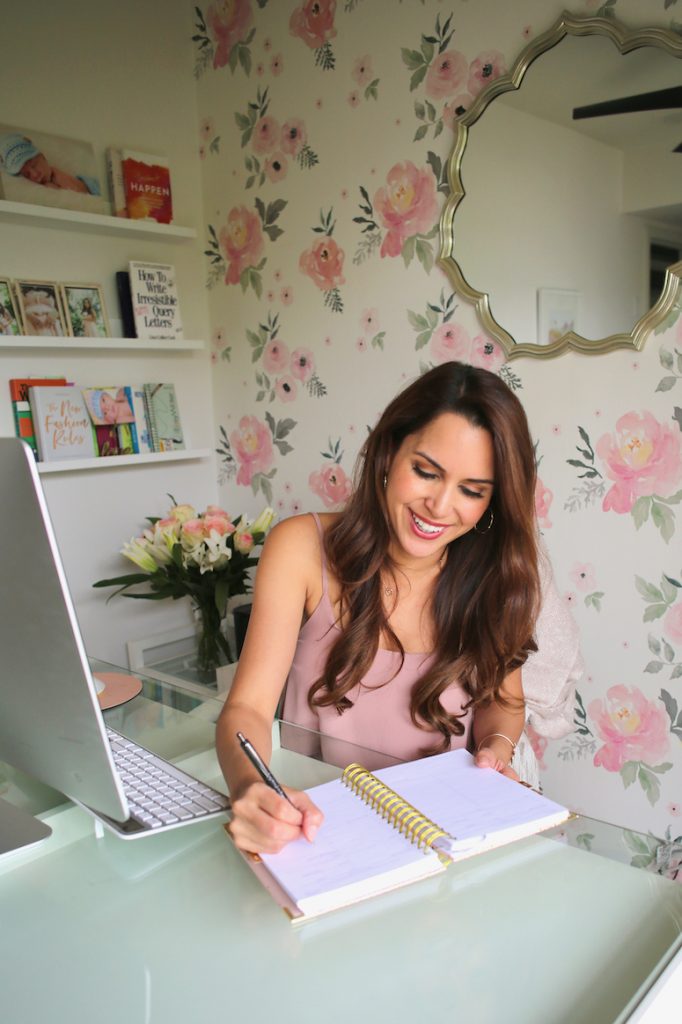 It's super easy to decorate since the wallpaper really does do all the heavy lifting.
This is also a very small home office space so I'm including tips below on how to organize a small home office and what every blogger office needs.
Blogger Office Must-Haves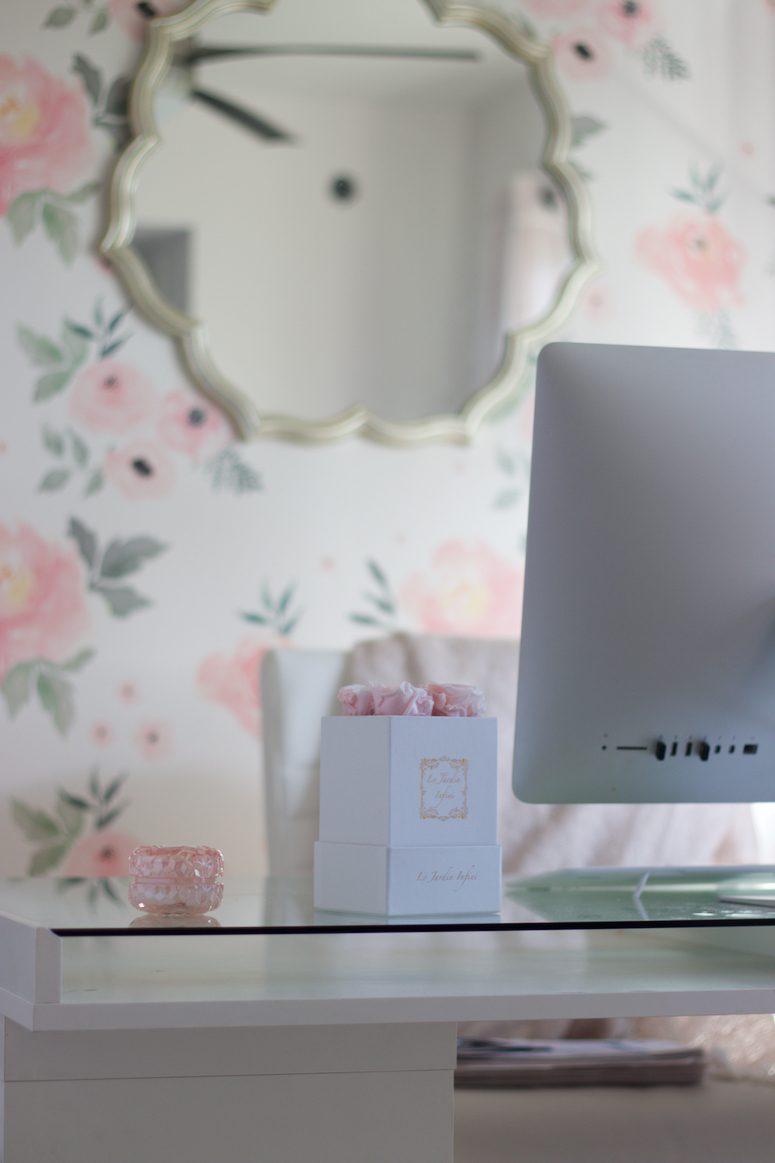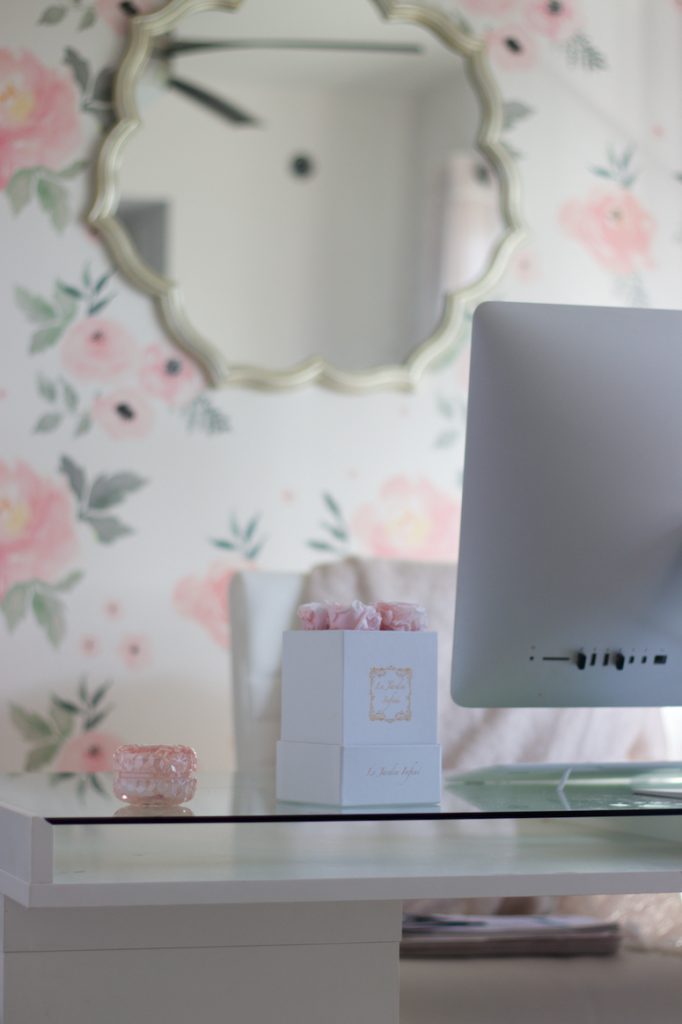 Home office workspaces really don't need a ton these days. A desk, chair, computer and maybe a printer are really all you need!
For a blogger office, there are a few "extras" I like such as a full-length mirror for outfit posts and an organized blogger closet (more on that below.)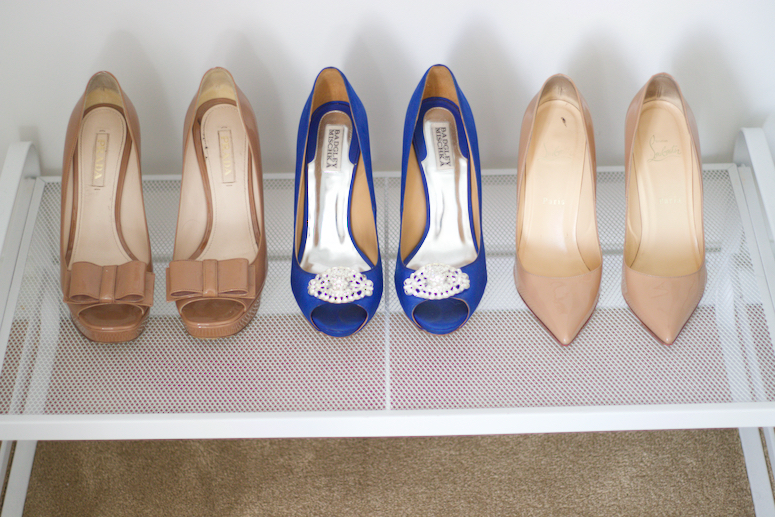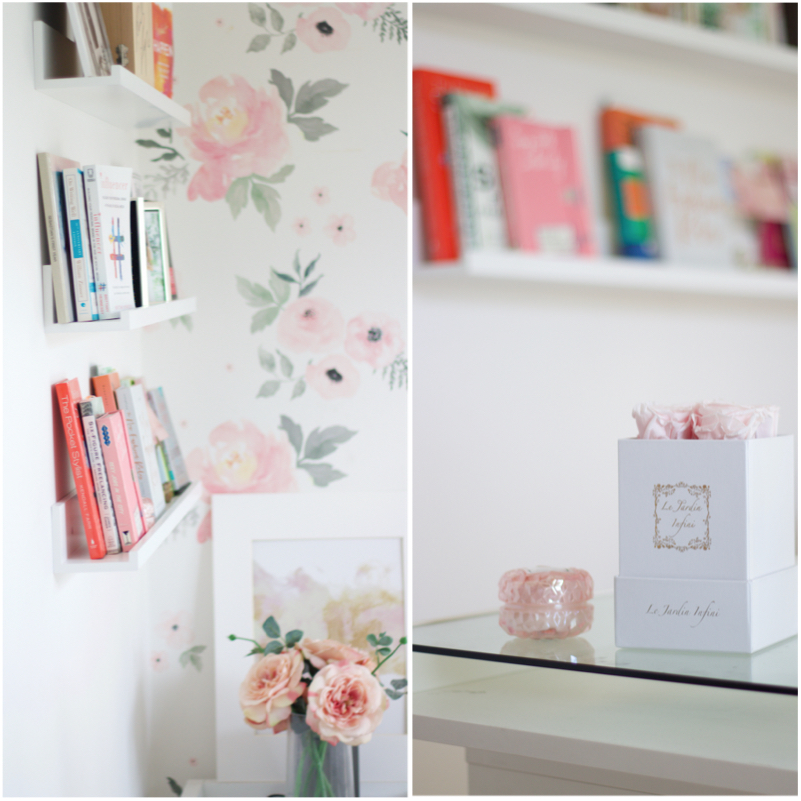 These bookshelves were here from the nursery, so I popped in some of my favorite writing, blogging and business books.
I also think every home office should have some personal touches so I keep these forever flowers from Le Jardin Inifini and a pretty Voluspa candle nearby.
Not pictured but also essential–daily beauty trinkets on my desk shelves that include:
Lotion
Scrunchies
Chapstick
Hydrating mist for my face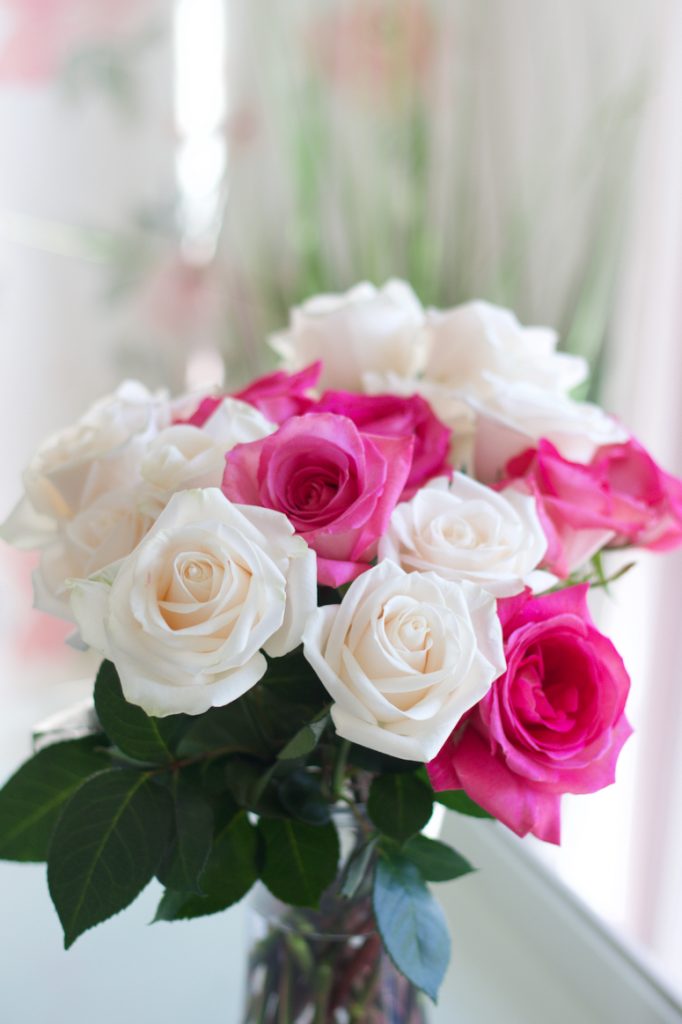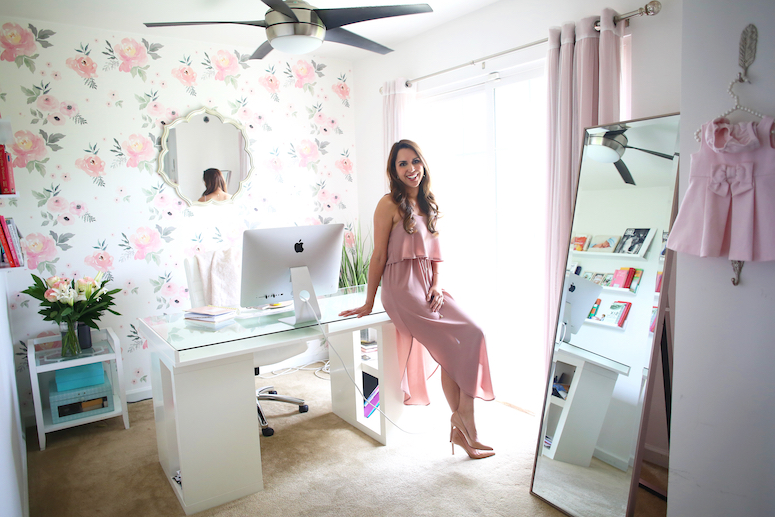 Blogger Office Organization
I have a ridiculously tiny closet in this office. But I do what I can to make it work!
For some extra shelving, I grabbed this shelf with these bins from Target where I store my camera equipment and PR samples I get.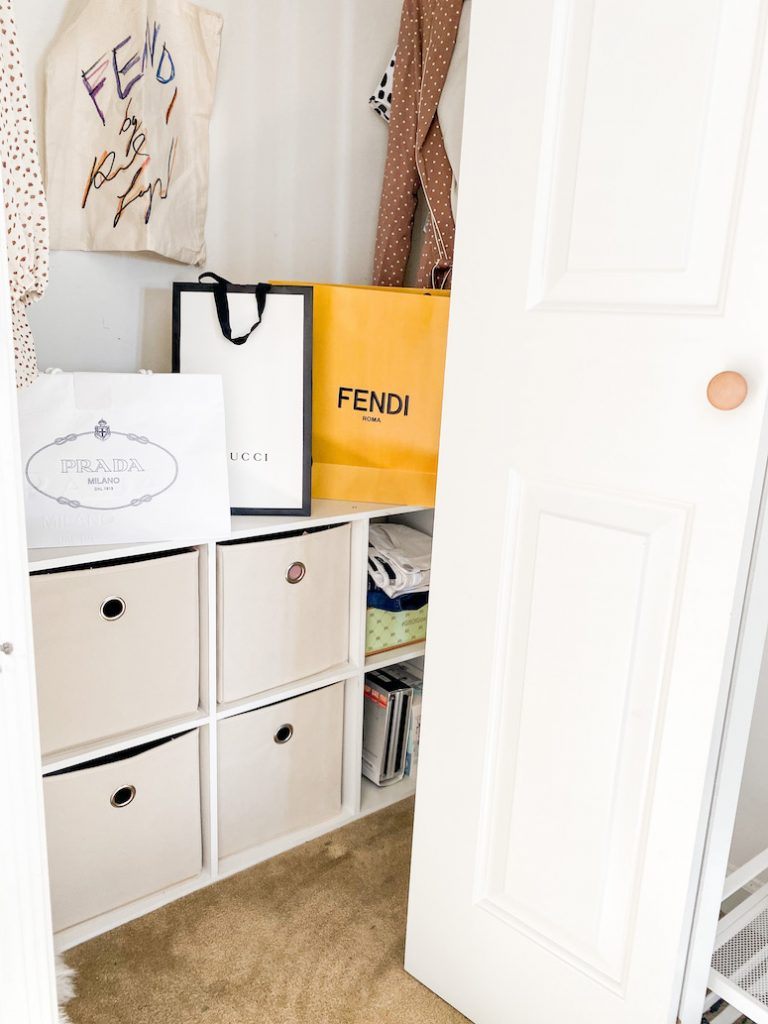 I also keep clothes that are new and need to be shot + clothes that are ready for Poshmark in this closet as well as my photo props.
I hide white poster board and a faux shag rug in here for product shots, my tripod and this steamer.
---
RELATED: Mila's Floral Nursery Tour
---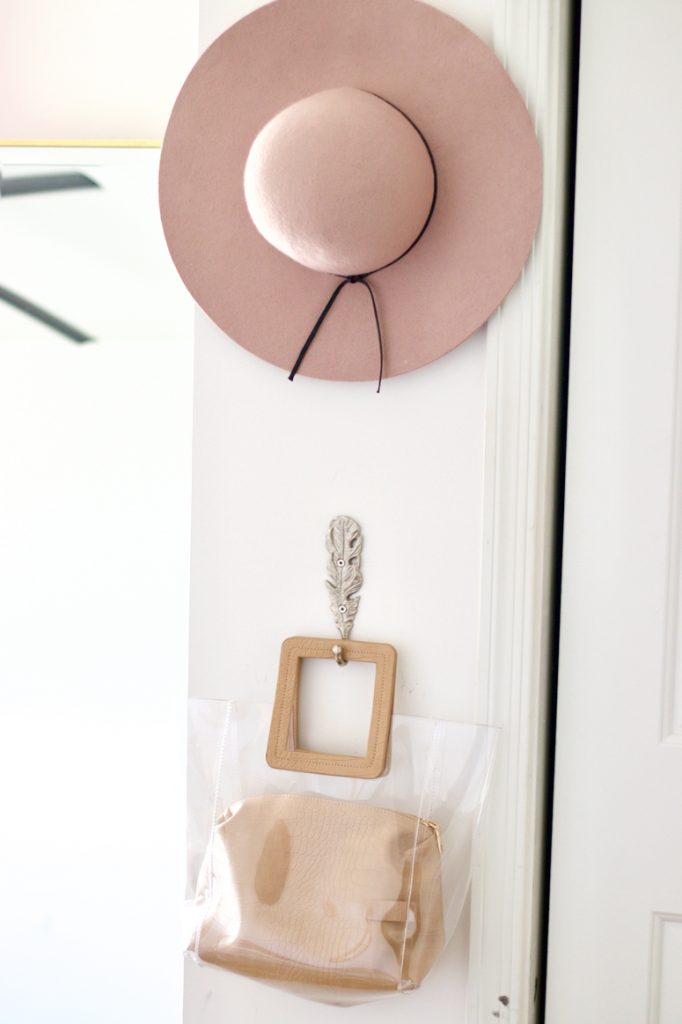 The hooks where the hats hang are actually leftover from when it was the baby's nursery but they come in handy whenever I need to steam my clothes.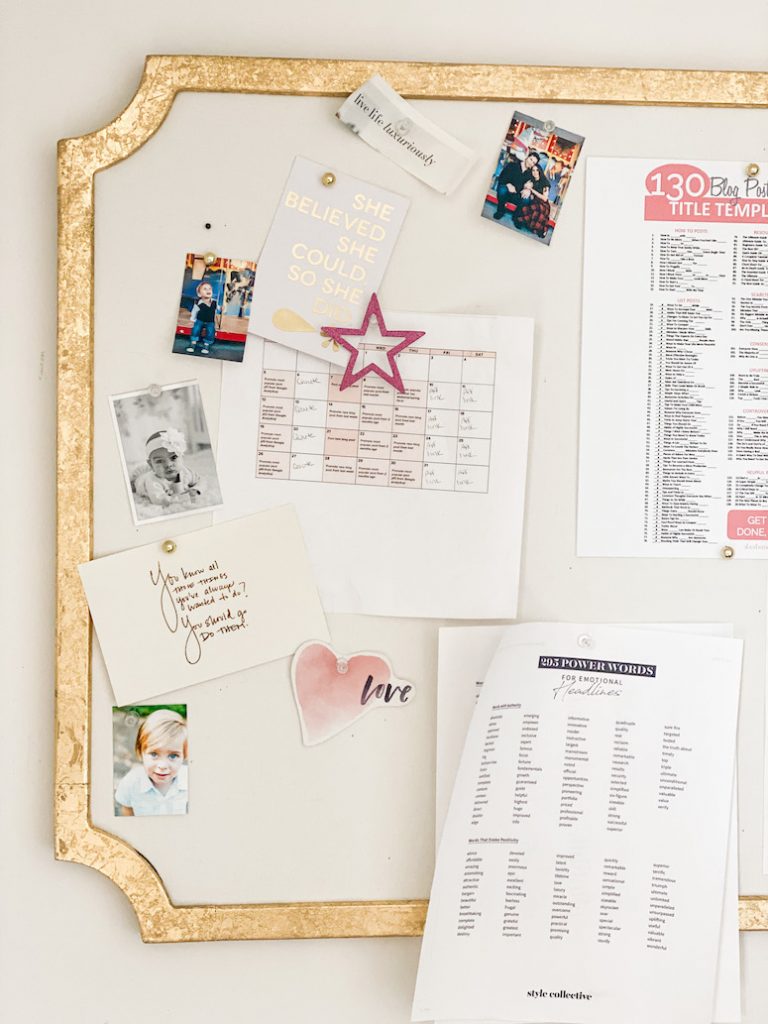 I like to have a pinboard that's a combination vision board and stuff I like to print out and have handy.
You don't need much when it comes to a blogger office, but as your business grows it's nice to invest in a few other pieces of equipment. I just got this Yeti mic for Lives and YouTube videos and this webcam.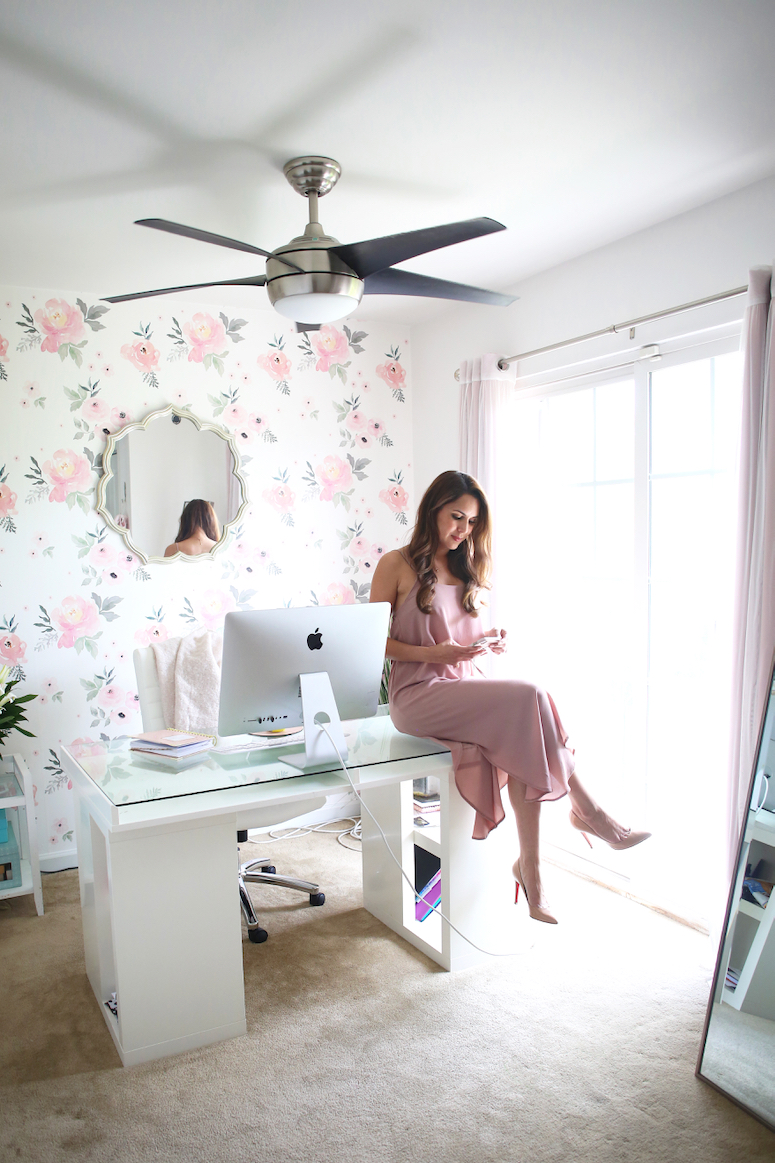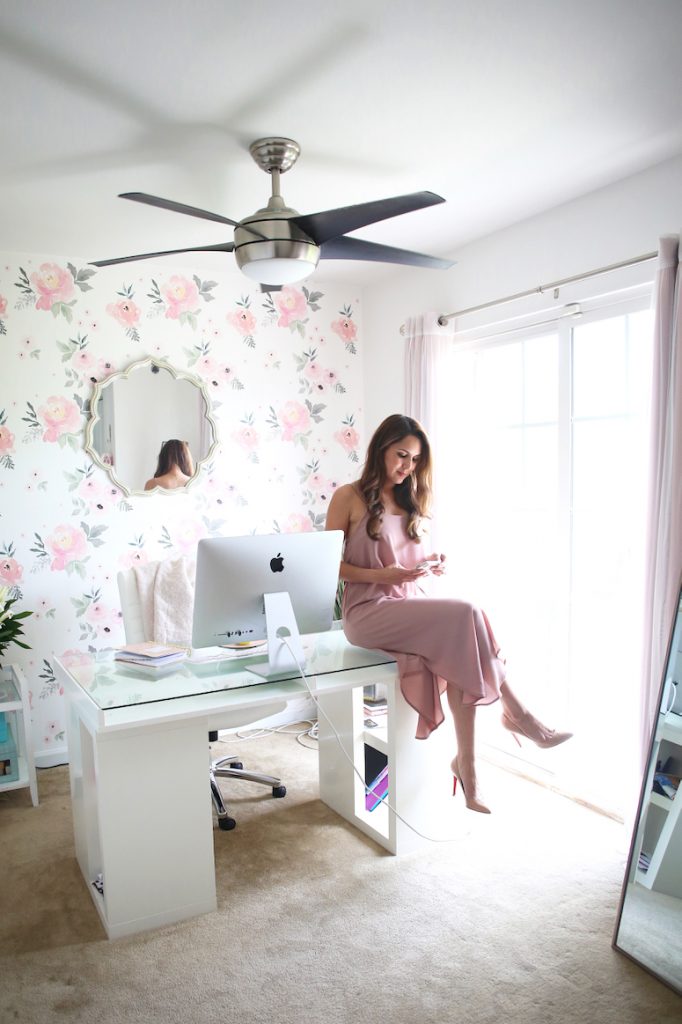 Daily Home Office Essentials
It is SO easy to get distracted when working from home, so if you can it's nice to "stock" your office with some daily essentials.
I like to keep some snacks at my desk like Snappea crisps to graze on throughout the day.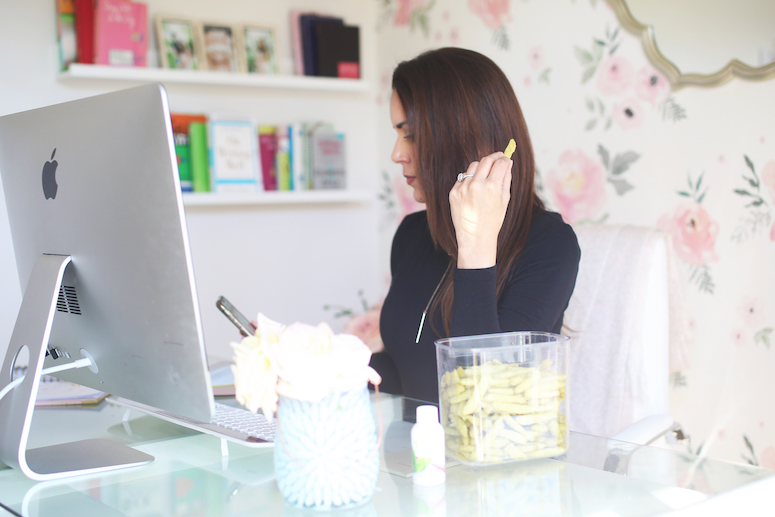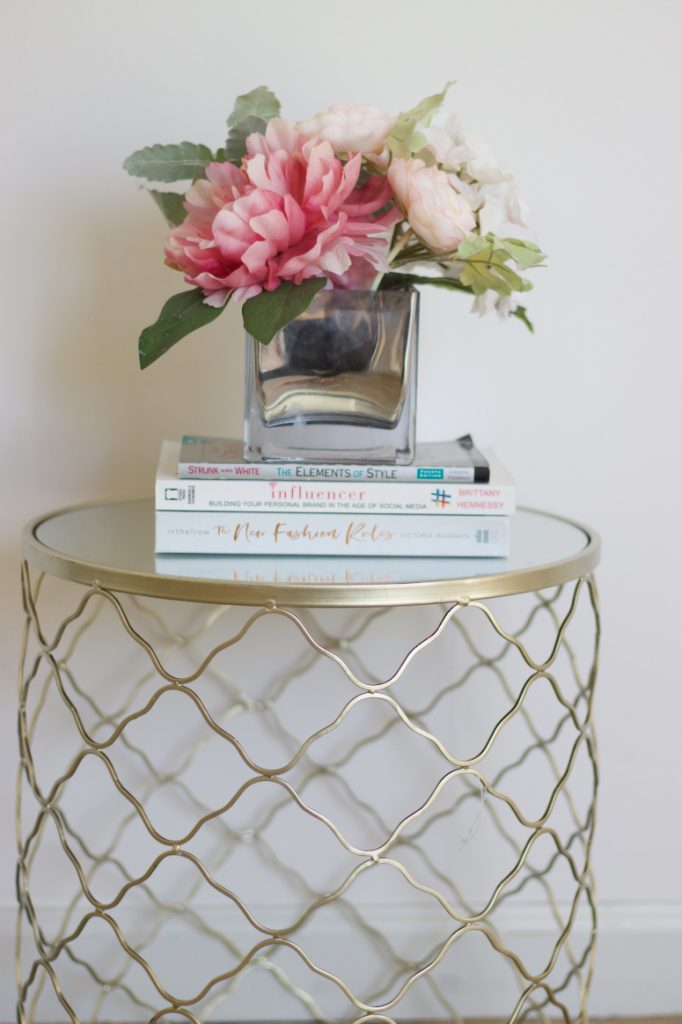 There's also my Yeti with me at all times filled with water and a pretty pink throw blanket on my chair since I often get cold.
But what about all of the other office necessities that aren't as "pretty"? Here are a few tips on how to keep your paperwork tidy and neat: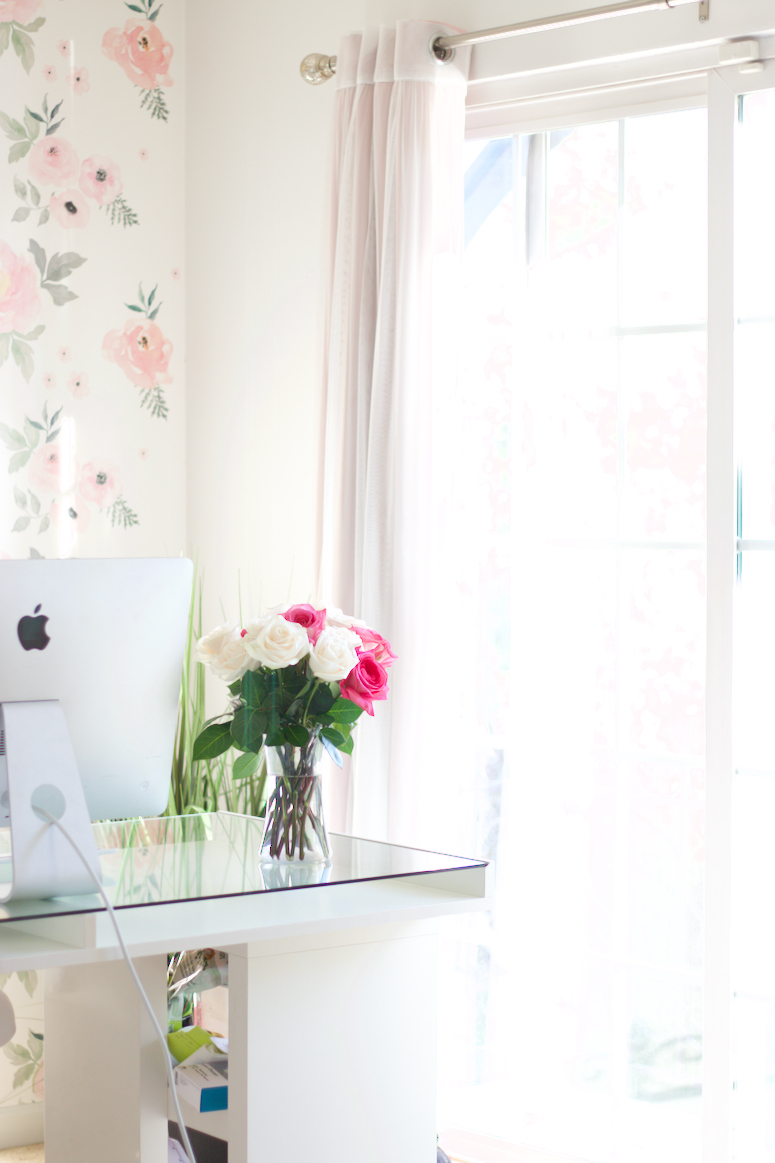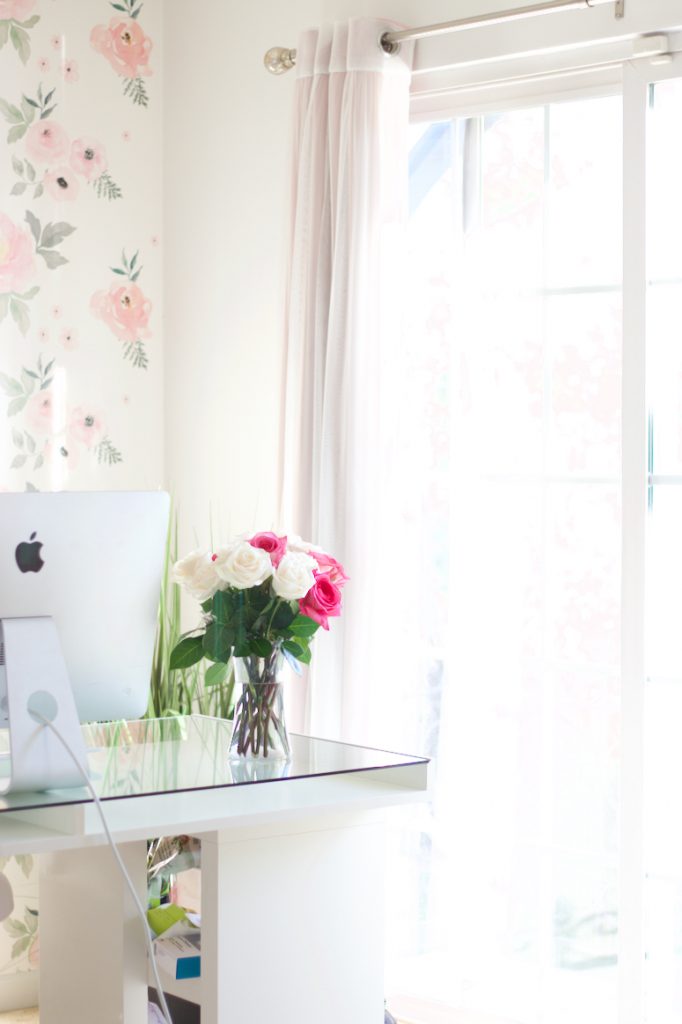 Decide where you are storing your printer.
Mine is in my husband's office since my room is so small. You can sometimes hide these in bins or the closet if there's an outlet in there.
Organize your paperwork.
I got a new iPad this Christmas that's compatible with Apple Pencil in efforts to go a little more digital since I tend to print out workbooks, worksheets and have notebooks everywhere.
Get pretty bins.
I re-purposed some old Tiffany & Co. boxes to hold basic office supplies like a hole punch, post-its, scissors, etc. They're pretty, decorative and corral all the ugly office junk.
Choose inspirational pieces.
You're going to spend all day in your home office so I firmly believe it should be pretty and a space that inspires you.
I have some family photos on my pinboard and bookshelf and just bought this gorgeous card deck by Gabrielle Bernstein with beautiful affirmations.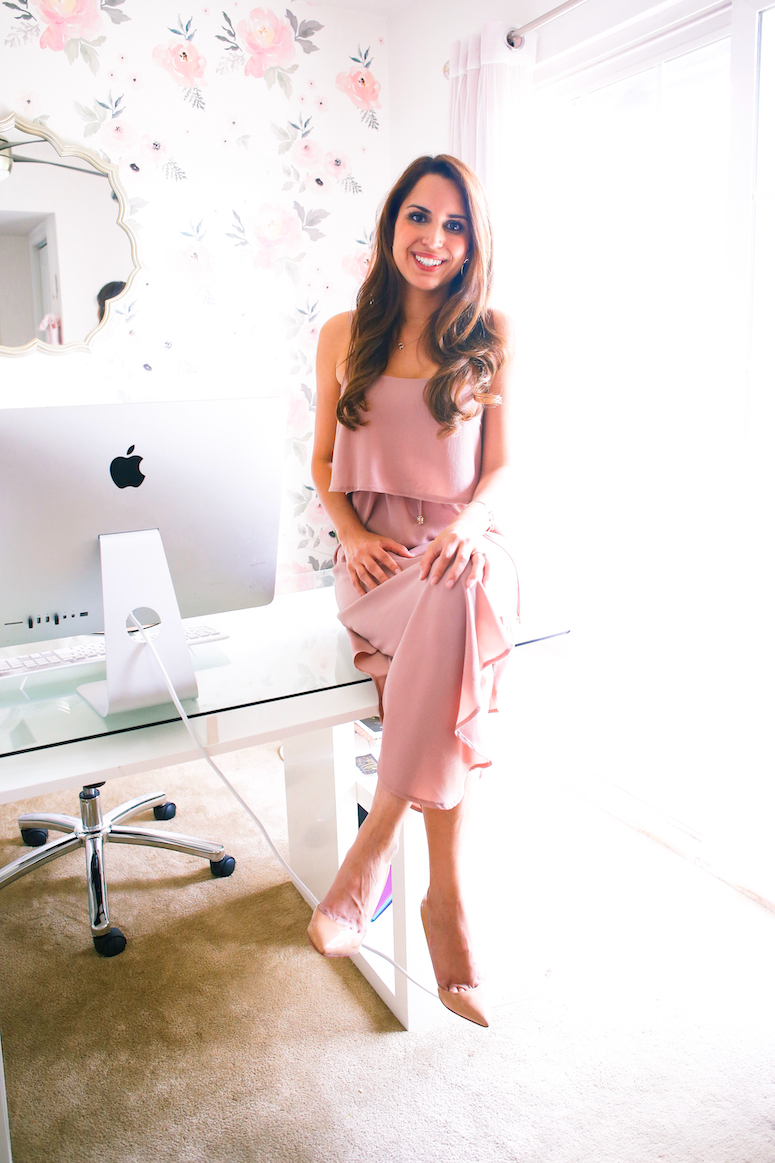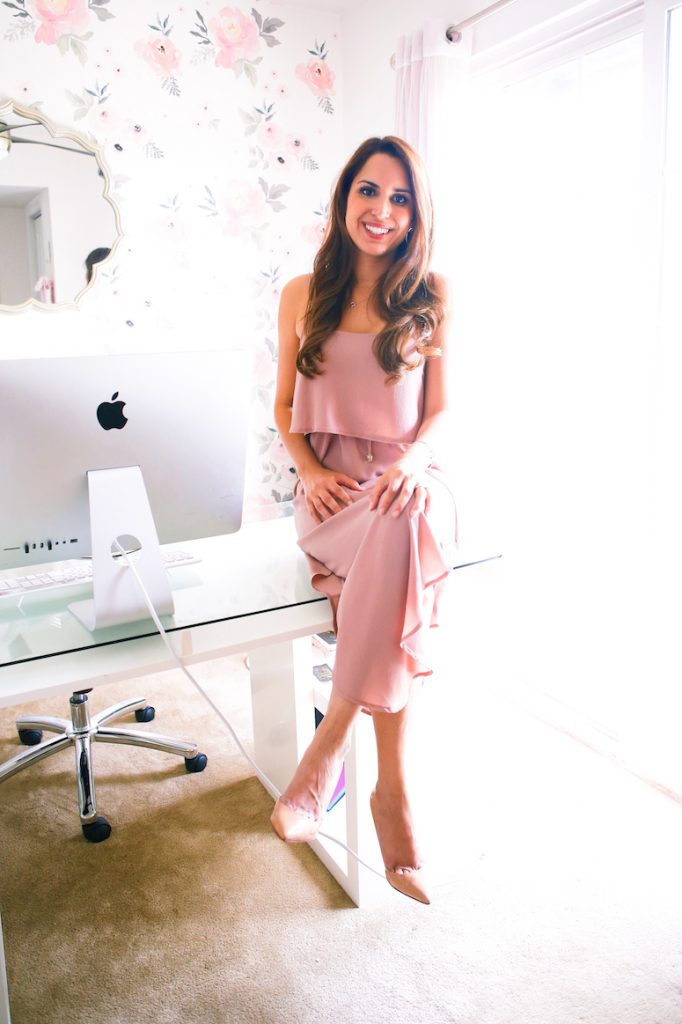 I now have this gorgeous pink rug (not pictured) and a faux plant in the corner. If you have the room, definitely incorporate a little greenery!
---
I hope this home office tour has inspired you with some feminine office ideas and organization tips. And, there's an AMAZING giveaway for you today, too!
Getting excited for Spring? We've got you covered at Nordstrom!
I've teamed up with a group of bloggers to give one lucky winner
a chance to win a $600 Nordstrom Gift Card!
To enter: complete the steps in the rafflecopter below. The more steps you complete,
the more entries you receive, and the better your chance at winning!
This giveaway runs until Wednesday, March 11th at 12am PST
Winner will be announced here. Good Luck!
*this giveaway is in no way sponsored by Nordstrom.
Pink Blogger Office Details
Mirror
Rug
Webcam
Camera
Mic
Computer