5 Kitchen Design Boards to Inspire Your Next Renovation
If you follow me on Instagram you know we recently bought a new house! And with that came a new kitchen renovation project.
I've done and shared a few kitchen renovations projects before including our Airbnb Kitchen renovation and our grey and white kitchen renovation.
For this house, I wanted to bring you through the process a bit more of what goes on when embarking on a kitchen reno.
Follow along this series as I'll share the design inspiration, planning, demo work and, of course, full kitchen reveal!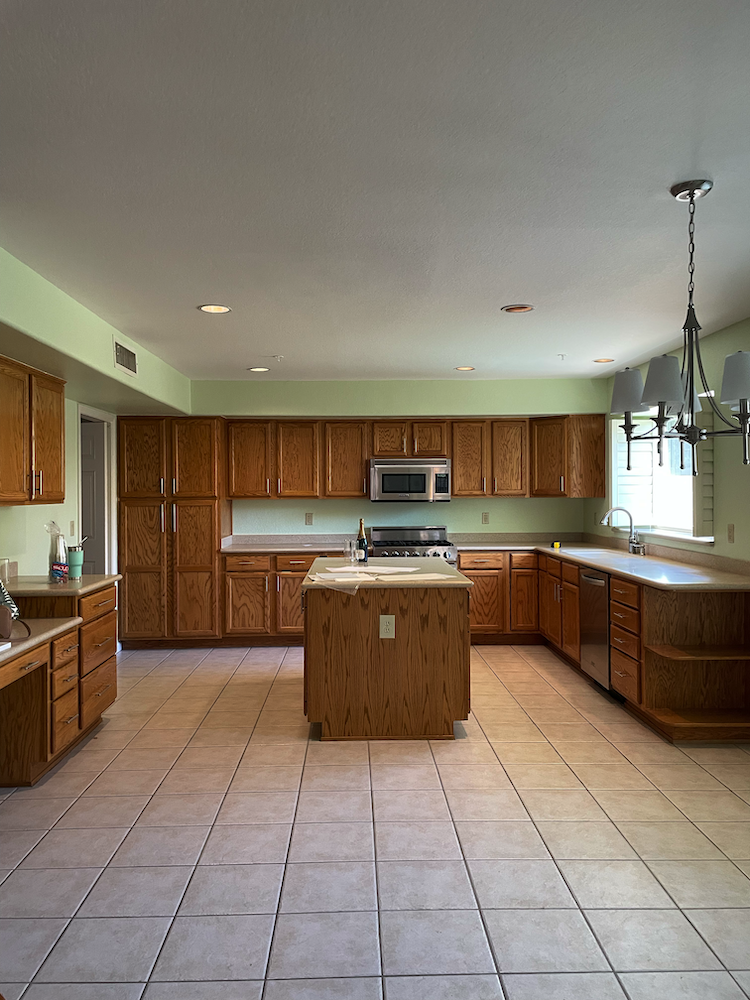 Kitchen Design Mood Boards
Creating a mood board for your kitchen renovation can really help you get a better idea of how everything works together. You can use a free tool likeCanva for this and it's much easier than you think!
Everything from the cabinet hardware to the lighting plays an important role in the final look and a mood board will help you see how things coordinate together.
For this project, I created FIVE mood boards for this kitchen renovation. Yes, five!
A little extra? Definitely. Especially since, in my gut, I was already pretty sure of what I was going to do.
But, it's better to be sure than have doubt, especially when it comes to major design decisions like your kitchen.
Here is a peek at some of the mood boards I designed. Maybe one of these will inspire you for your next project!
White & Baby Blue Kitchen Design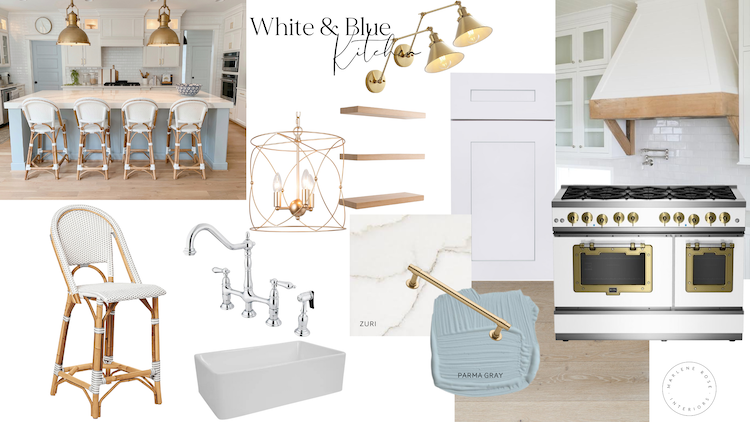 Blue in a kitchen is timeless in my opinion. And baby blue is a classic, yet emerging trend that's here to stay.
Baby blue in the kitchen can have a coastal feel but it can also feel soft and romantic.
We aren't near the coast, but my style is a bit more feminine so this is one idea that I felt really drawn too.
White and Navy Kitchen Design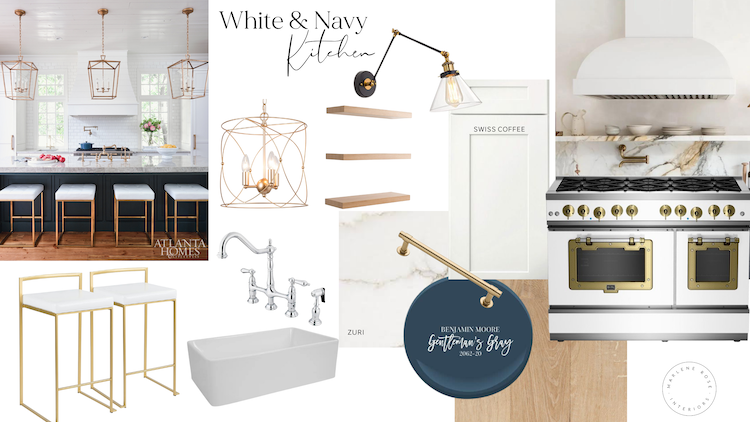 I have always dreamed of having a navy blue kitchen island. It's classic, timeless and oh-so elegant. It also feels luxurious and make quite the statement!
You'll notice in this kitchen design board I changed up some of the details like removing the wood trim off the plaster hood and going with black wall sconces instead of gold.
This is the benefit of creating mood boards for your kitchen renovation; you can easily see the small details that can be swapped out!
White and Neutral Transitional Kitchen Design Board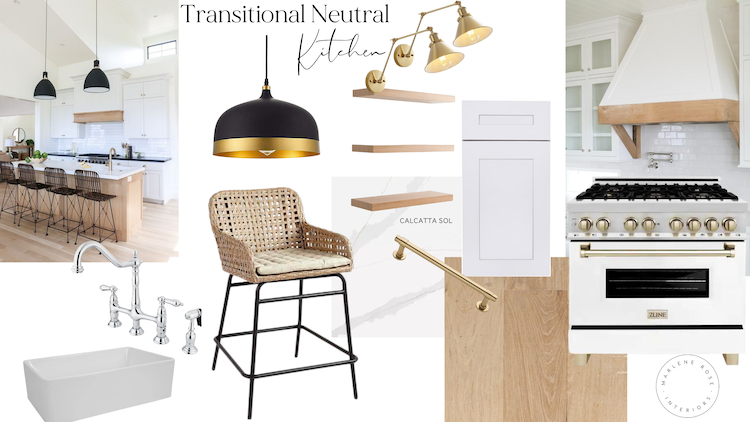 White kitchens with neutral wood-toned islands are a huge 2022 kitchen design trend that definitely has some staying power.
This look is perfect for neutral lovers and definitely a way to play it safe if these other kitchen design ideas scare you.
In this design board, I swapped out the stools for a bit more texture and warmer feel.
MORE KITCHEN DESIGN POSTS YOU MAY LIKE:
Powder Blue Kitchen Design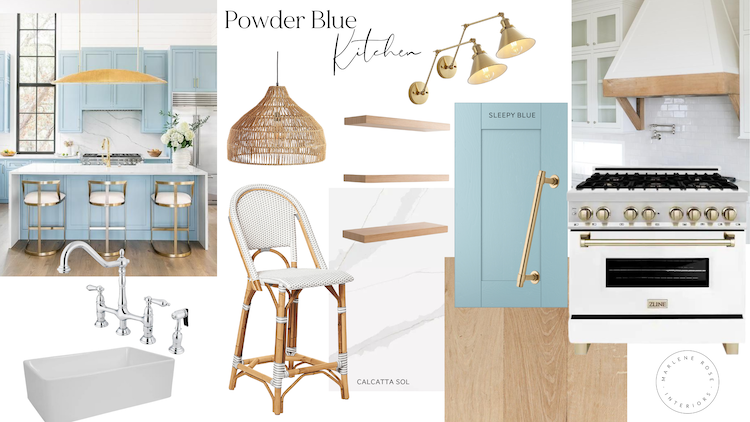 I saw a few powder blue kitchens on YouTube and absolutely fell in love with the statement these kitchens make. You definitely have to embrace color for this, though it is much softer and not as bold as the green kitchen design trend.
All-White Kitchen Design Board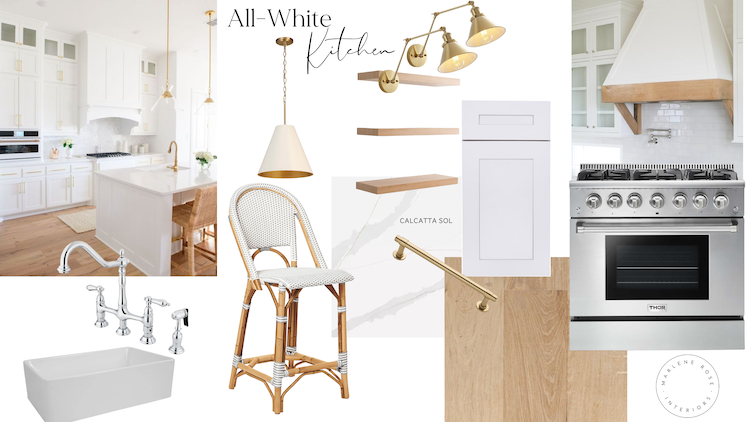 Some people think an all-white kitchen is boring. I'm definitely in the camp that feels this kitchen design will absolutely never go out of style.
It is timeless, classic and definitely chic. For this kitchen design idea, I knew I would want to go with gold or polished brass hardware and accents.
I also swapped out the white range for stainless steel.
Which kitchen design board is your favorite? Let me know in the comments below!
Stay tuned for Part 2 of this kitchen renovation series and for the full before and after reveal! Get on the mailing list to never miss a beat.