35 Pretty in Pink Halloween Decor Ideas
If you're a girly girl who loves Halloween, then you'll love all of these pretty and pink Halloween decor ideas!
These pink and neutral decorations prove you can have bats and ghoulish things, yet make them chic.
Read on for the prettiest pink decorations for Halloween that are sure to inspire!
Halloween Ghost Watercolor Prints
Printables are one of my favorite ways to add some festive fun into your decor. There are so many options for these on the internet, but this set is one of my favorites!
These would be perfect for your little's bedrooms!
BLUSH PINK WALL BATS
Another easy pop of pink for your Halloween decor is this set of pink bats from Etsy! The variety of colors and 3D nature of these add a fun texture and movement to your decor that immediately turns up the fun factor.
PASTEL PINK HALLOWEEN PRINTABLES
This set of printables is a little more classic with touches of orange and black, but still so fun and girly! All 8 of these are adorable and perfect to mix and match throughout your home.
BOO KNOTTED WIRE SIGN
How cute is this customizable knitted Boo sign I came across on Etsy? You can choose from a large variety of colors to make this the perfect little sign for your home's aesthetic.
---
RELATED: 60+ Best Halloween Costume Ideas for a Family of 4
---
mantle with hints of blush
I love the look of this beautiful fireplace mantle because it is so minimal and chic. Adding some pink, dried vase filler, festive garlands, and textures like this black gauzy material is all it takes to create a cute, spooky look!
Pink vase filler
Here is an example of a cute vase filler you can use to add a pop of color to your home! This pink vase filler from Amazon will go beautifully with shades of white, cream, and gray.
Pink LED branches
Another fun way to add a pop of pink, and some spooky lights, to your Halloween decor is this fun vase filler from Walmart.
These LED branches feature pink lights to add an extra spooky element to your Halloween look.
Fun & easy garland
This pack of garlands from Amazon is great for adding a touch of cute, pink, spooky fun to any area in your home. I love these for kids' rooms, outside, or any corner that could use some spooky details!
pink pumpkins
This set of pumpkins is the perfect shade of pink for a neutral decor aesthetic! These come in a set of seven, so you can use them in multiple areas of your home.
Neutral Fireplace with Skulls
This skeleton-filled fireplace is such a unique DIY idea! The color scheme used here is stunning and can be easily recreated.
Keeping the color palette to natural shades of cream, white, beige and blush is all you need to do. What really elevates this look is the use of metallics and texture!
Pink & neutral skulls
Recreate the gorgeous color scheme from the last photo using these adorable pink and neutral skull figurines from Target.
To achieve these festive but girly looks, search for decor pieces that are classic to Halloween without being scary, dark, or gorey. (i.e. skulls, cute ghosts, bats, and candy!)
Ghost wood bead garland
How sweet is this pink and white wood bead garland? I love the spooky twist on the wood bead trend. If you gravitate towards soft, muted tones this will be perfect in your home.
minimal muted pink pumpkins
Via: joyfulhomebody
This entryway is the perfect example of how elevated a very minimal look can be!
Add a few pumpkins in muted colors like blush pink, peach, and cream to your entryway for a festive look that isn't over the top.
I love this option from Target for adding a tiny touch of baby pink! These painted pumpkins will fit into any color scheme you already have in your home.
ghost painting printable
I am obsessed with this adorable ghost painting printable for a girly Halloween look!
This is such a chic option to replace a large piece of art in your home for the Halloween season.
---
RELATED: 13 Spooky Halloween Booed Printables
---
Candles and Skulls
Via: jordynhadwin
This gorgeous display is a great example of how to pair soft pink with even more color in your Halloween decor! Pair it with pastels for a feminine look that is still colorful and fun.
What makes this countertop look so special is the use of texture and height. When shopping for decorations this year, be sure to grab things of varying textures to make your displays more interesting.
Candles and flower arrangements are a great way to add height and variety as well!
Pastel ghosts
Use this pack of pastel ghosts to add some color to your Halloween decor! Mixing these with shades of white, ivory, and cream will create a stunning look.
Pink Halloween boo banner
If you are going with a pastel theme with your Halloween decor, this little 'Boo!' banner is the perfect, easy addition to create that fun look!
Pastel skeletons
Via: jordynhadwin
This is such a fun DIY idea you can easily customize to fit your home's aesthetic.
Choose a shade of pink you want to incorporate and simply spray paint some skeleton friends to create a unique addition to your decor collection!
Floral ghost doormat
A festive doormat is one of the easiest ways to get a fun, Halloween vibe into your decor! I love this one from Etsy.
Layer it with a pink or plaid mat underneath to elevate it even more.
Amazon Pumpkin Bathmat
Another fun floor mat option is this adorable pink pumpkin bathroom mat!
sweet plushes & printables
Via: The Glitzy Pear
Pillows and blankets are a pretty and practical way to add some festive pieces to your decor. This is one of the most fun ways to decorate a kid's room because it really adds to the holiday excitement for them!
Pair these sweet Halloween printables with soft plushes to create a cozy, cute vibe!
Sherpa Ghost Plush
If you have littles in your household, this pink sherpa ghost plush is a must! Trading out some of your throw pillows for festive shapes like this is such an easy and fun way to elevate your holiday decor.
These adorable ghost pillow covers are another super easy way to add some pink (and some cuteness) into your home this Halloween!
stained glass window bat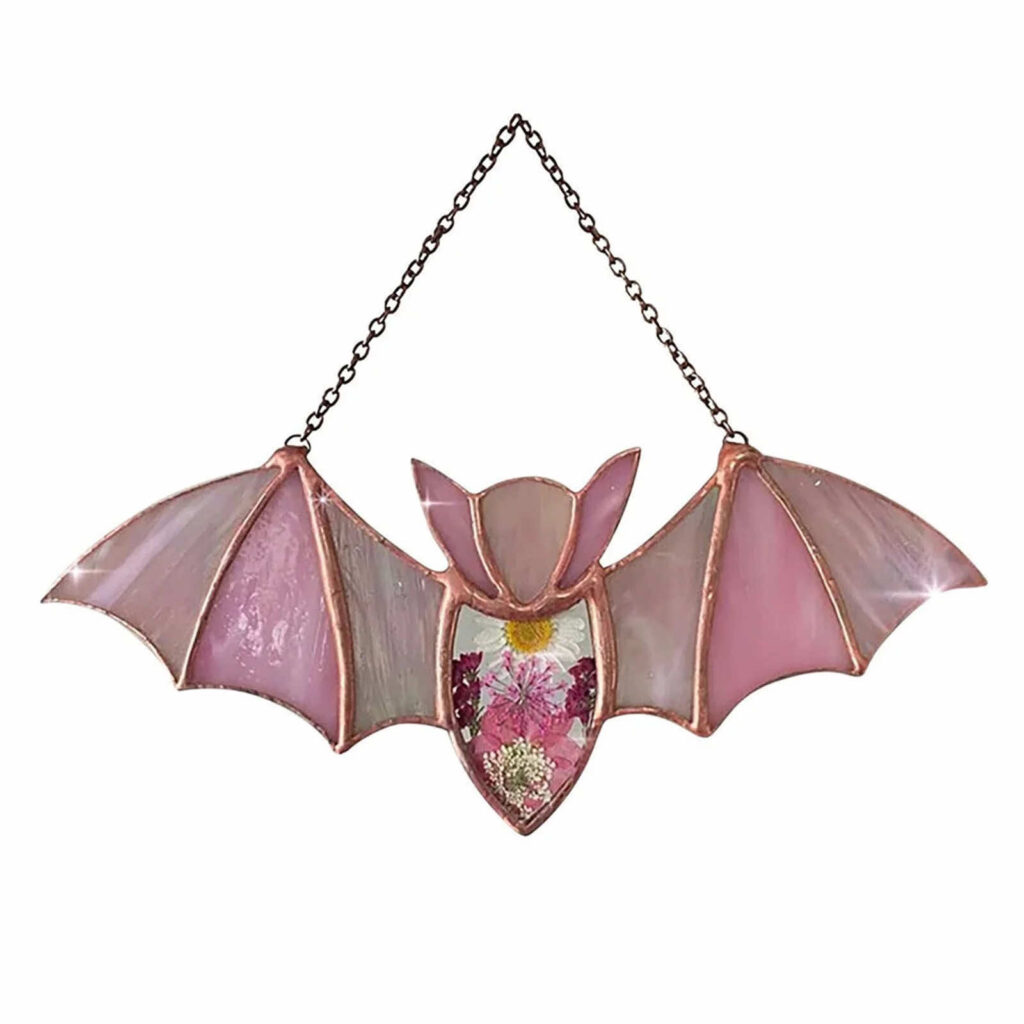 I love how unique and beautiful this stained glass, floral bat is. Add a few of these to your window or front porch to immediately elevate your Halloween decor.
Pink Halloween tree
Via cutefetti
Repurpose your Christmas tree, or purchase a tiny pink one just for Halloween, and go crazy with decorating!
I love this one because it can also turn into a Halloween tradition for you and your family. Decorate with candy, ribbon, and friendly Halloween faces!
playful pink backdrop
Via: kailochic
I am obsessed with the look of these adorable acrylic ghosts used in this display! These can be great to add to a neutral or colorful room.
pink Halloween printables
If you are really going for that pink, bright, girly look with your decor this season, I love this set of pretty pink printables from Etsy.
Printables are a great way to incorporate a design trend you love because they are low-cost and easy to change from year to year.
---
RELATED: 30+ Best Halloween Party Printables
---
Neon ghost sign
Using decorations that incorporate lights is a great way to elevate your spooky season decor. I love this neon ghost sign from Amazon because it's easy and affordable, and you can add it to any Halloween display!
Pink and black bar cart
Via: Giggles Galore
Focusing your decorating on tiny nooks in your home can really make your Halloween decor feel special! I love this Halloween bar cart idea because it allows you to play with so many fun decorating elements.
Use Halloween-themed dishware, printed mugs, and festive drink glasses to add interest to an area like this.
pink and black candles
Via: Dimples and Tangles
The use of candles like these just feels SO festive! You can add these anywhere in your home to create a spooky, but not too spooky, vibe.
Candlestick holders elevate this idea even more. Try thrifting them or painting glass candlestick holders from the dollar store.
Pink Skull prop
This hot pink skull from Target is bright yet spooky. Pair it with black to create a classic Halloween vibe.
Coffin letterboard
This coffin-shaped letterboard is such a great Halloween decor piece because it is so customizable! This is a great decor investment that you and your family will love to play with to get into the Halloween spirit.
velvet Pink pumpkins
These pink velvet pumpkins from Amazon are a great addition to your Halloween decor collection because they are so cute and so easy!
Add a few to your mantle or coffee table to add some color and texture. These come in a variety of colors, so you have options for any color scheme!
---
I hope this list of pink Halloween decor ideas has inspired you to decorate this year in a spooky, yet sophisticated, way!