One of my favorite wardrobe staples is the blanket scarf–a timeless, long scarf that can be worn in so many easy ways. Its versatility makes this accessory a must-have for any woman's wardrobe. But it's so BIG, it can be a bit intimidating, too.
If you don't know how to wear a blanket scarf, you're in luck: I've compiled a list of 21 simple ways that you can wear a blanket scarf.
But wait, what's the difference between regular scarfs and a blanket scarf?
A blanket scarf is pretty much what it sounds like: it's an oversized scarf that's about as big as a small blanket.
The main distinguishing difference, aside from size, is that blanket scarves tend to be square whereas a regular scarf is rectangle in shape.
Yes, there are some rectangular blanket scarves as well. I have one I scored at Target similar to this one that's been great for travel because it pretty much doubles as a blanket.
For the most part, and for these blanket scarf tutorials below, we're looking at big, pretty scarves that resemble a small blanket.
And now, on to the styling…
#1: Half-Tied
If you don't know how to tie a blanket scarf, then the relatively simple half-tie is a great place to start.
To do this, spread your scarf out and wrap it once around your neck; then take one end and loop it through the middle and tie it in a loose knot. Then, take the end of the knotted area and loop it again for a casual, half-tied look.
#2: Classic Wrap Style
If you aren't sure how to wear a rectangle blanket scarf and you're feeling a bit intimidated by the process then this classic look is a great place to start.
Simply unfold your blanket scarf, fold it once into a triangle, loop it around your neck and pull the two loose ends down until the scarf is resting comfortably towards your waist.
P.S. Doesn't it look SO incredibly soft? It's solid brushed wool and you can find it here.
---
RELATED: 30 Cute & Stylish Winter Outfit Ideas for Women
---
#3 Blanket Scarf Worn as a Shirt
You can wear your blanket scarf as a top; just make sure you're wearing something underneath–wrap tops aren't always reliable! It's a comfortable, fun way to wear this extra layer.
Simply wrap the scarf around your shoulders and across your chest. Let the ends hang and close the gap with a pin or belt.
---
RELATED: How to Wear a Summer Scarf
---
#4: Stylish Poncho
Wearing your blanket scarf poncho-style can be AND warm, so you get the best of both worlds.
For this style, first drape the scarf around your shoulders like a wrap;, then take one end and tuck it fully underneath so that it hangs down as much as possible.
This will create a loose yet secure wrap that will keep you warm and stylish without looking too big.
#5: As a Headscarf
Looking for some unique ideas on how to wear a square blanket scarf? This idea keeps your head warm and it's got a classic, vintage look that reminds me of a grown-up version of Little Red Riding Hood.
You'll need to first wrap the blanket scarf around your head like a hood, then tuck the other end underneath to create a shawl.
#6:No-Style-Style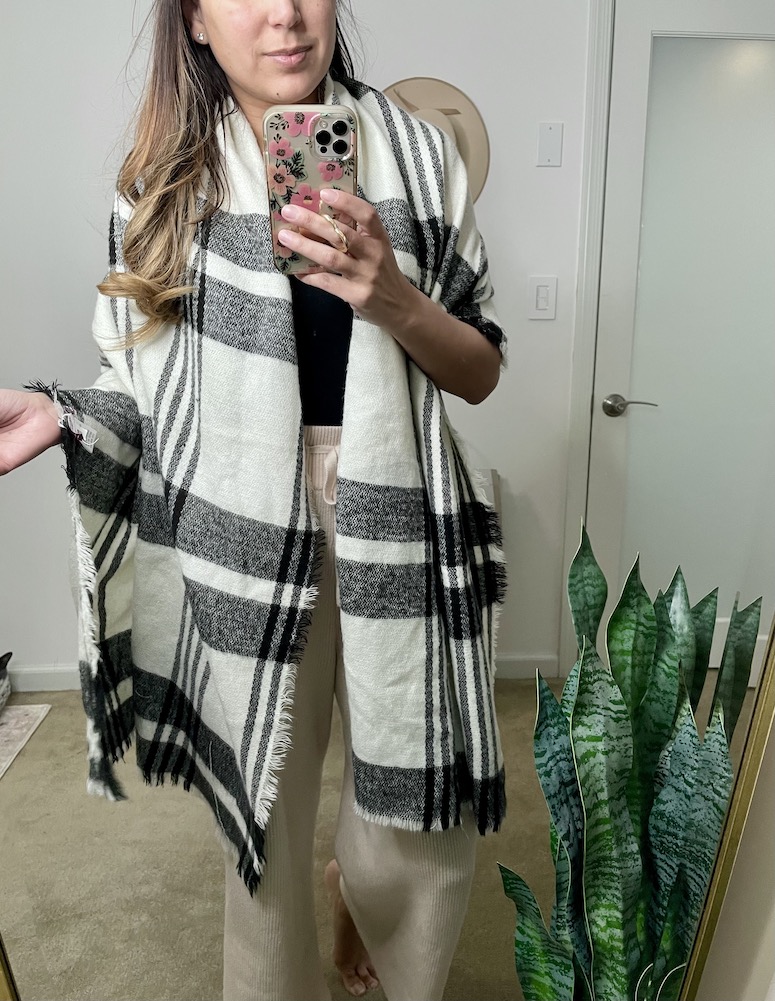 One of my personal favorite ways to wear a blanket scarf (and probably the simplest way) is this no-style style. I mean, can it get any easier than this?
Whether you don't have a lot of time or you just like the look, this style is easy as draping it over your shoulders and continuing about your day. It's the easiest style of all!
#7: Cardigan
One blanket scarf trend I've been loving is wearing it as a cardigan. Cardigans are a great way to add a layer to any outfit, especially during the fall season. And, you can get the cardigan look in two easy steps!
To wear your blanket scarf like a cardigan, drape it around your shoulders so that it hangs open in the front. Keep it open by cinching it with a belt. That's it! It's one of the most stylish ways to wear this trend and crazy-easy.
---
RELATED: CUTE CARDIGAN OUTFITS FOR SPRING
---
#8: Large Kerchief
Wearing your scarf like a kerchief is one of the cutest blanket scarf outfits. This simple look is perfect for the fall or winter season and it's a popular style.
Start with a square blanket scarf and fold it into a triangle. Then, grab the corners of the scarf and cross them around the back of your neck. Tuck in the tails until it forms a longer, hanging triangle. Easy peasy!
#9: Infinity Style
The infinity scarf look is hot, hot, hot–and I'm not talking about the fact that they keep you warm. This method is so easy and it creates a slightly messy, fun look for any occasion. Just wrap the scarf around several times and tuck in the tails for an instant infinity scarf.
#10: Cape
Another one of my favorite ways to wear a blanket scarf is like a cape. It's fun and chic! Not to mention, easy to recreate.
Best of all, you can play around with this style to create a long cape, short cape or something in between.
To get the shaw style look, simply drape a long scarf around your shoulders and tie it in the front in a simple knot. Adjust it as you like to bring the scarf further up or down.
This all-black look with a print scarf is such an easy way to upgrade your entire outfit.
#11: Chic Simple Scarf
Blanket scarves can be bulky, but they don't have to look bulky! For a chic simple scarf, wrap the scarf around your shoulders as if you're going to wear it plain. Then, take each tail and tuck it underneath the side to create a much slimmer, chic look.
#12: Belted Under a Coat
I'm loving this red blanket scarf layered under a long coat, it's perfect for staying stylish even during chilly winter months.
For this style, all you have to do is drape your blanket scarf around your neck, keep it in place with a belt or tie, then wear a coat over the scarf. This works with leather jackets, too! The look will create the illusion that you're wearing a sweater when you're really just in cozy layers. Let the ends of the scarf hang free and you're good to go.
#13: Half-Wrapped
Wearing your blanket scarf half-wrapped pairs wonderfully with simple outfits. Simply fold your blanket scarf into long triangles, drape over your shoulders, then wrap only one tail around the opposite shoulder.
#14: Skirt
Still not convinced a blanket scarf is the ultimate fashion accessory? Try this easy tutorial which involves wearing it as a skirt!
To get this look, wrap your scarf around you like a sarong by holding one corner in one hand and dragging the opposite, diagonal corner to it. Kremb de la Kremb has a great example of this. You can make the skirt as tight or loose as you want, just remember to tie it securely with a knot at the end.
15. Over the Shoulder
One of the easiest ways to wear a blanket scarf is simply thrown over your shoulder! It's chic, simple and impossible to get wrong.
For the rest of your outfit, incorporate colors that are featured in the scarf.
16. Asymmetrical Off the Shoulder
I love how chic and sophisticated this blanket scarf is by Sydne, who was inspired by Kate Beckinsale to create the look!
It's a thrown-over-the-shoulder effortless style that looks elegant against her all-black outfit. You can knot it at the shoulder, or use a brooch to hold it in place.
17. Like a Poncho
There are so many different ways to wear a blanket scarf, but sometimes simple is where it's at!
This big poncho-look is easy to recreate with a large blanket scarf and is surely keeping this fashionista warm throughout a cold winter. An all-black outfit with ankle boots is chic and fashion-forward, yet also effortless.
18. How to Wear a Blanket Wrap as a Shawl
If you love the poncho look but want a bit of variety, fold your scarf and drape it over your shoulders, worn as a shawl. It's one of the easiest ways to tie a big scarf, because there's really no fancy tying involved! This look works best with a square scarf.
19. The Square Wrap
This classic style is popular for a reason! It's a no-fuss no-muss look can take some playing around with; fold the scarf in half and drape it around your shoulders. Let the edgy pieces stick out and arrange until you like it!
20. The Easier-than-it-Looks Knot
Erica from Coming Up Roses has some great tutorials on her blog on how to tie a blanket scarf. This simple knot looks more complicated than it is, but is easy-peasy to pull off!
Start by folding your scarf in half to make a triangle then drape the ends over your neck with the triangle portion on your chest.
Then, cross the tail ends in front of you and knot them. That's it! Fluff and arrange as you please.
What's your favorite way to wear a blanket scarf? Let me know in the comments below!
21. The Double Knot
Start with a rectangular blanket scarf like this tartan one. Fold it in half length-wise once or twice to make it thinner and then drape it around your neck so the tails are hanging in front of you.
Then, do two knots. Start with one knot, arrange, and then knot it again and arrange.
---
Do you own a blanket scarf? What's your favorite way to wear this versatile accessory?