How to Wear a Tulle Skirt
Tulle skirts are one of my all-time favorite skirt outfits. They're fun, feminine and definitely for the girly girls.
If you love tulle skirts too or aren't sure how to style them then you'll love today's post on how to wear a tulle skirt.
From shoes and accessories to the best tops to wear with tulle skirts, you'll find everything you need to know in this guide.
What Tops to Wear with Tulle Skirts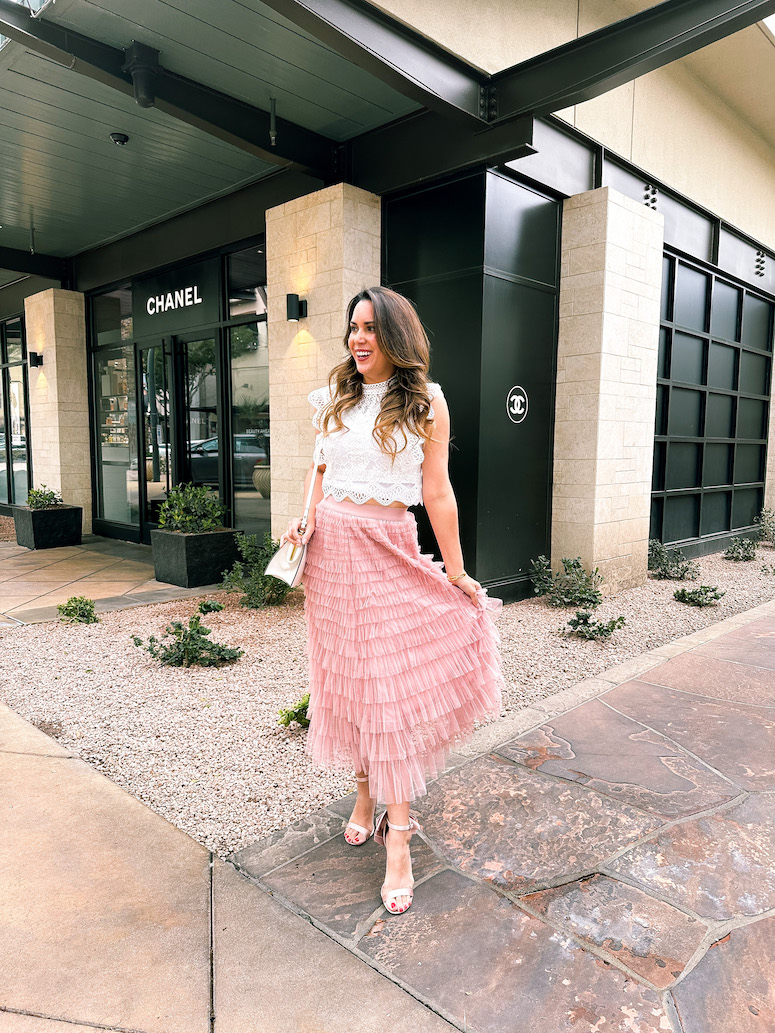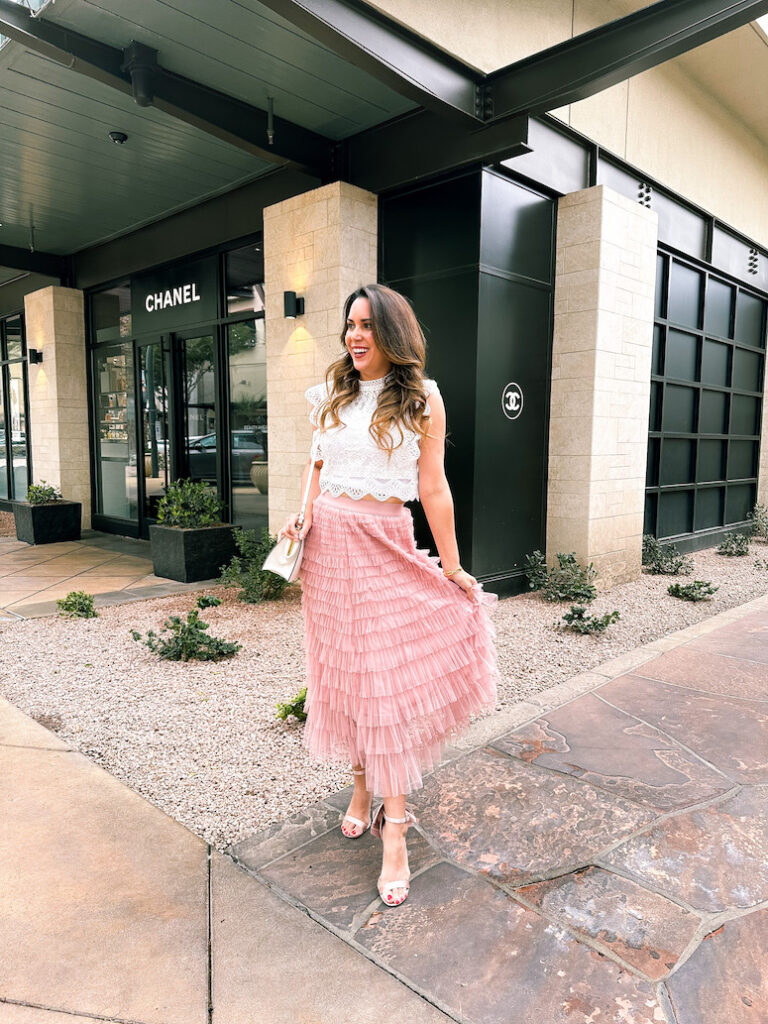 When it comes to tulle skirts, I feel like people automatically default to the ballerina look; a black top, pink tutu skirt and ballet flats.
Or, they think of Carrie Bradshaw.
Really though, there are sooooo many different ways you can style a tulle skirt! The overall look can be very chic and fashion-forward.
And, they can go from a formal event to a casual date outfit in a jiff, all depending on how you style them!
SHOP THE POST

Bodysuit with Tulle Skirt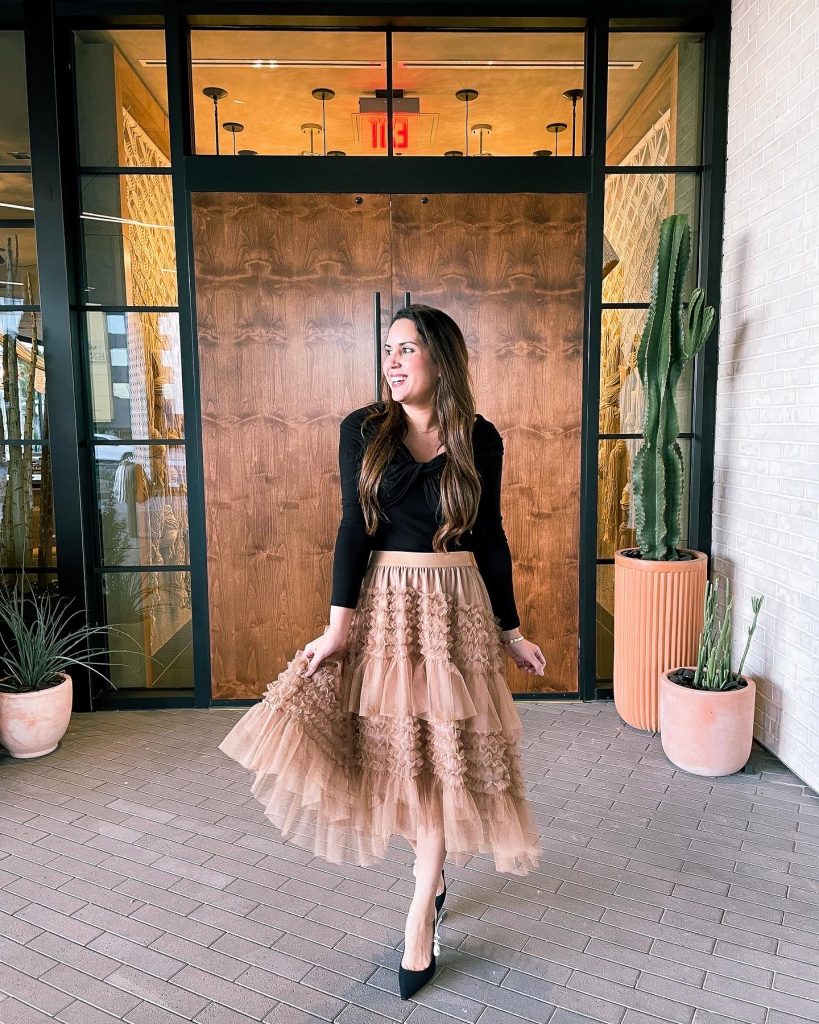 A really simple way to style a tulle skirt is with a bodysuit. In fact, it's one of the best ways to wear a tulle skirt.
Bodysuits are still really on trend and since they're more figure-hugging, they really balance out the look since tulle skirts are fairly voluminous.
From sleeveless bodysuits to longsleeve, pretty much anything goes with this type of top with a tulle skirt.
I paired this with my favorite black heels-my Dior J'Adior slingback heels.

Try a Knit Sweater with a Tulle Skirt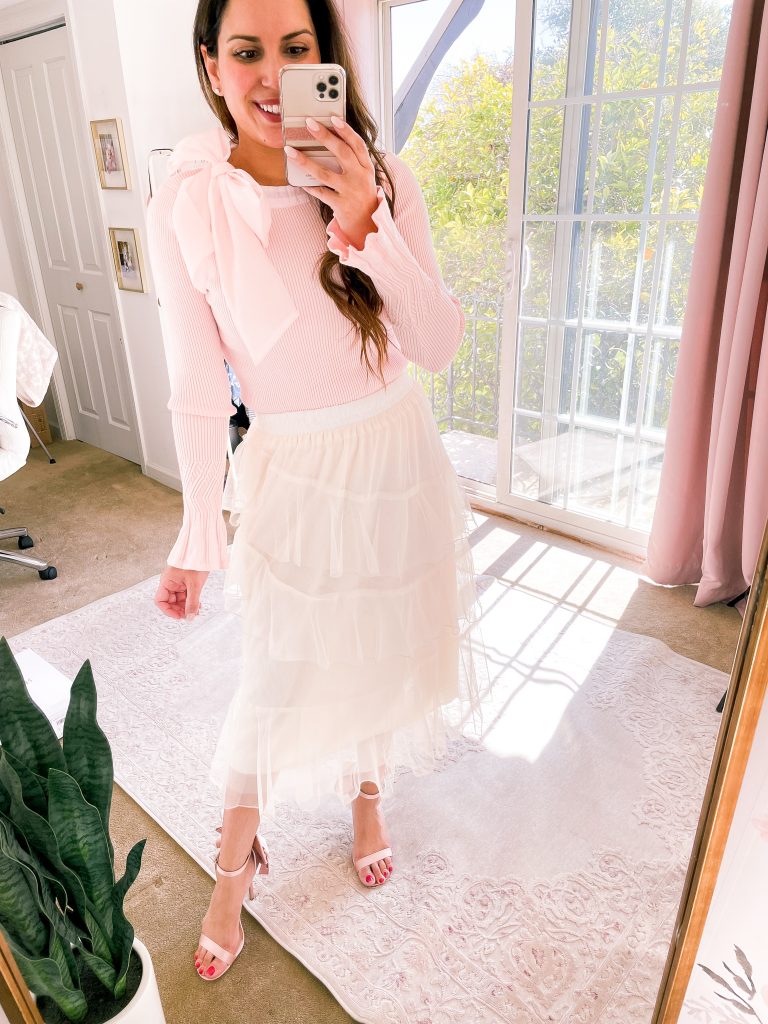 I paired this white midi tulle skirt with a pink knit sweater. It's a very feminine look and I love the elegant style of the bow on the sweater and the bows on the sandals.
This outfit was worn as a Valentine's Day outfit idea but of course, it totally works as a pretty winter outfit idea.
A knit sweater with a tulle skirt is a nice contrast of fabrics. It's also a great way to stay warm when wearing a tulle skirt in the winter months!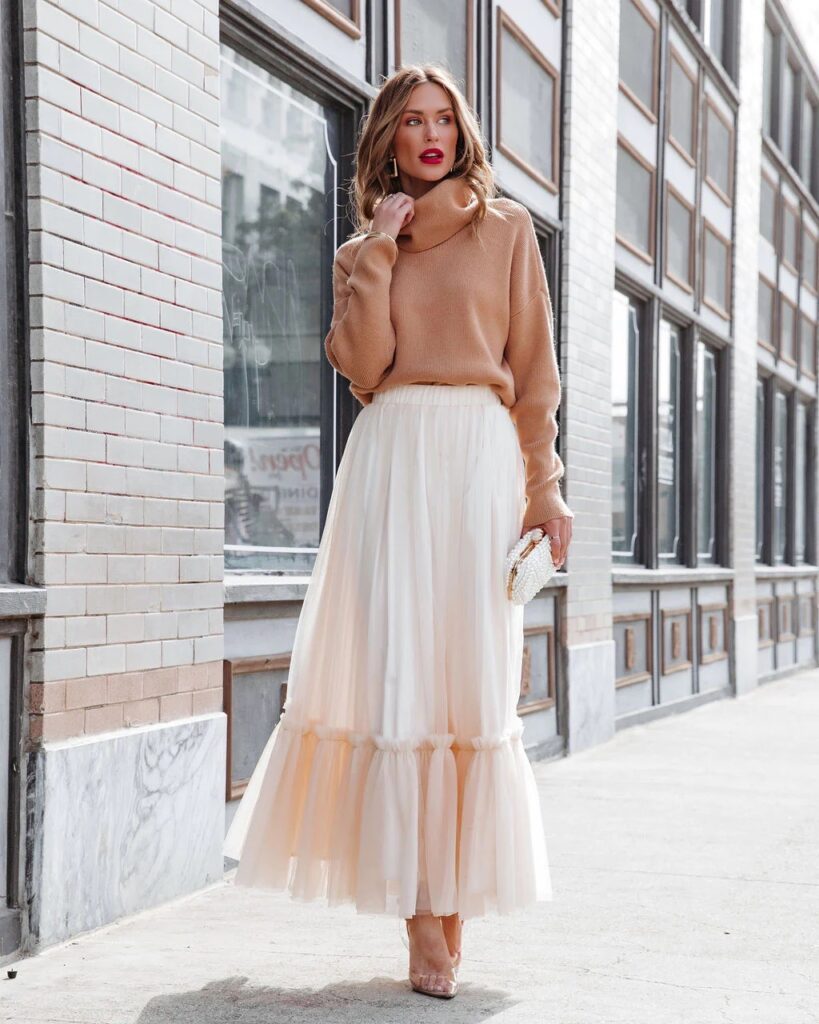 Here is another look at a tulle skirt styled with a knit sweater.
This maxi tulle skirt from VICI is stunning and looks so elegant paired with a warm camel-colored turtleneck and pointed-toe heels.

Pair a Tulle Skirt with a Crop Top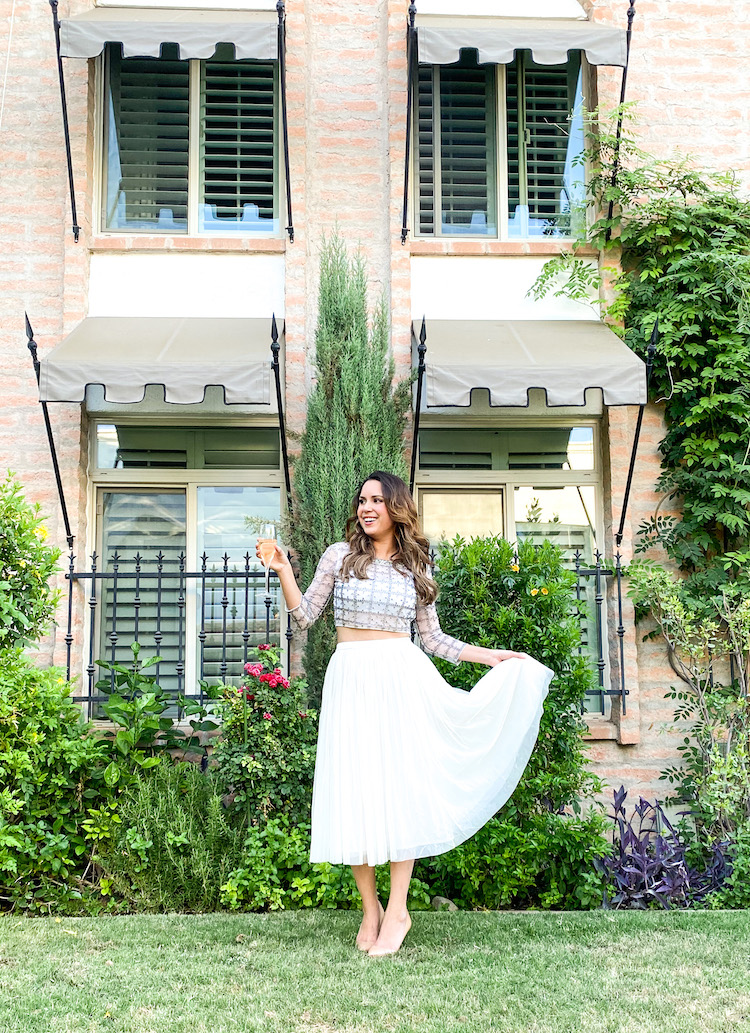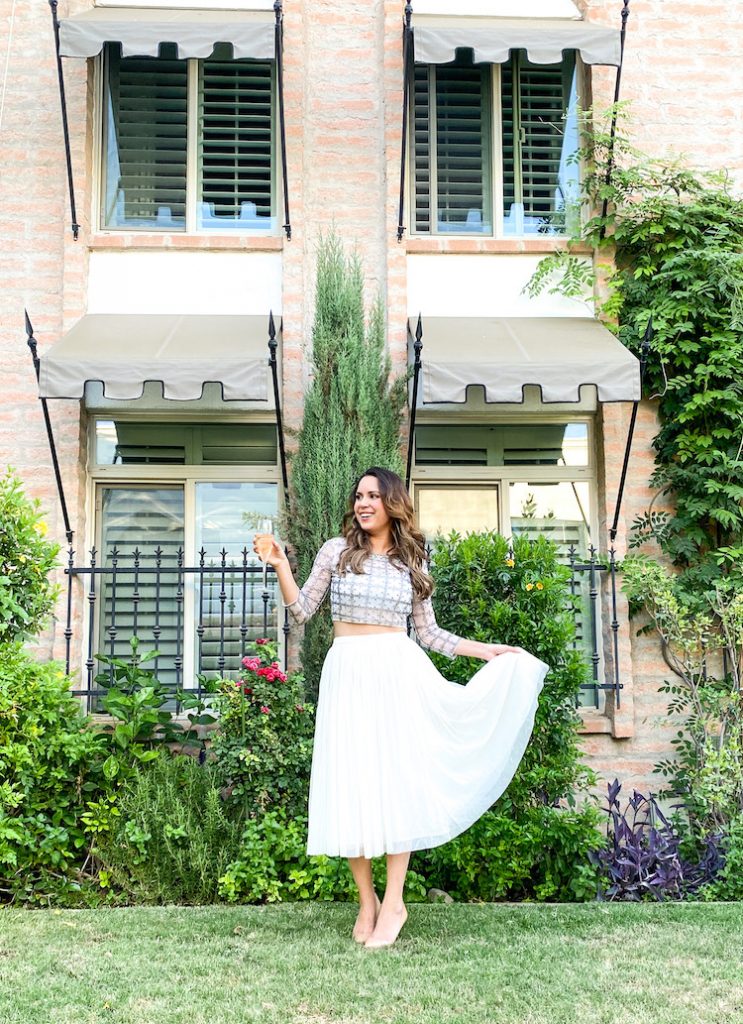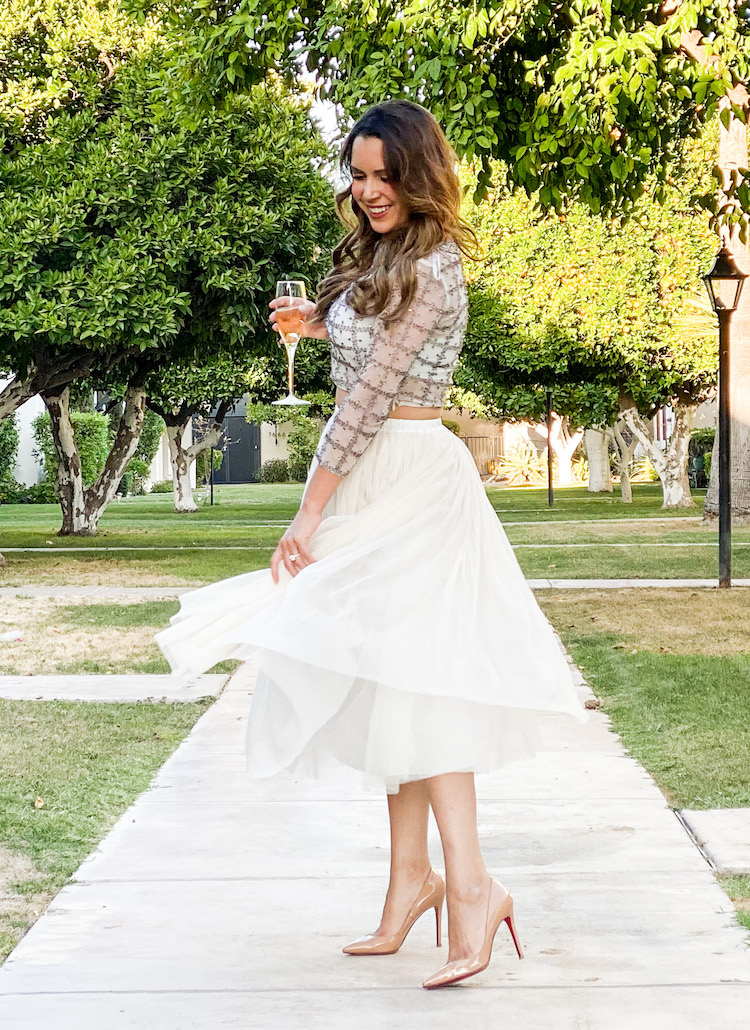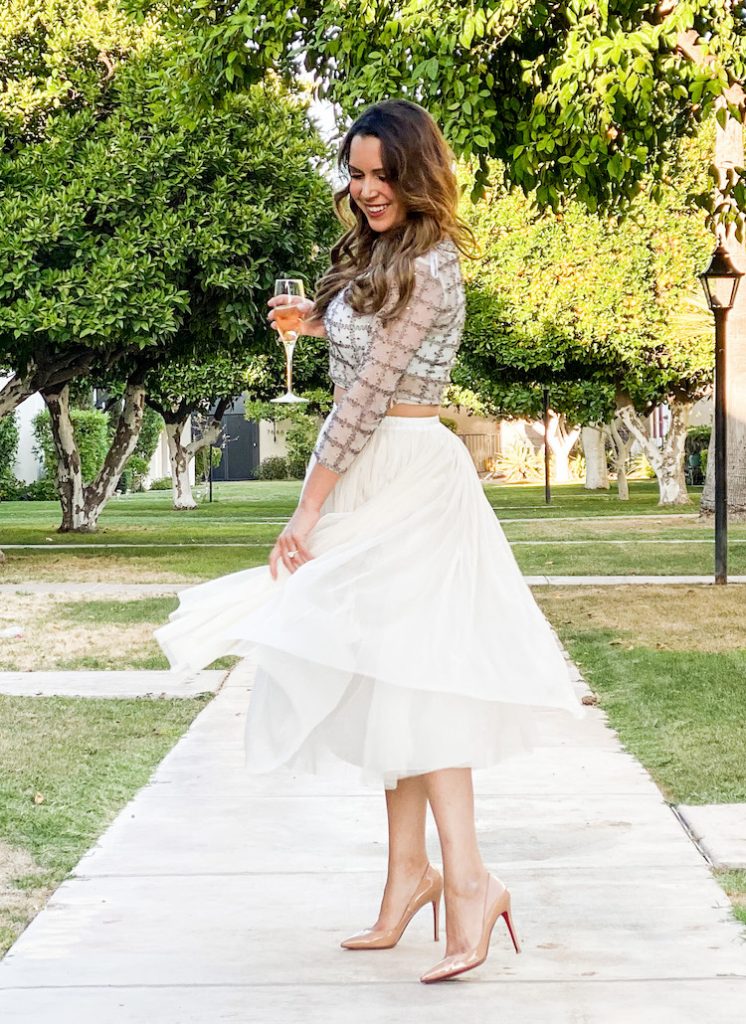 Tulle skirts can be high-waisted so it's really easy to pair them with a crop top.
This white tulle skirt paired with a sequin cropped top is a great look for a special occasion. I actually ended up wearing this for my birthday!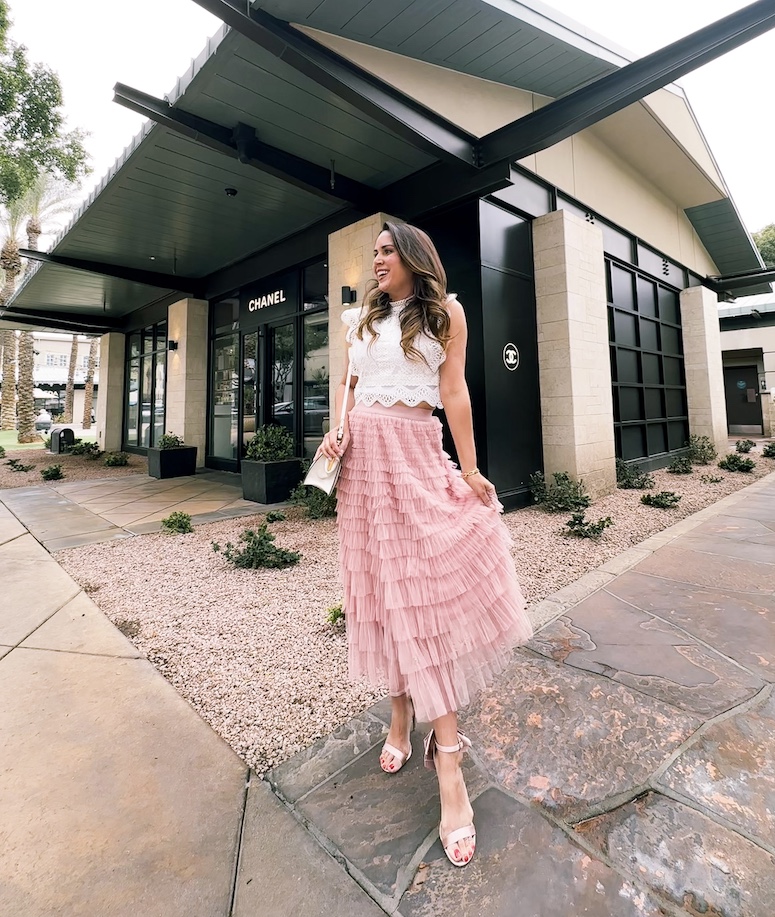 This pink tulle skirt is giving me allll the feels! I paired it with a white lace top, which is a fun way to mix textures.
I would even try this as a wedding guest outfit or for special occasions.

RELATED: 29 Ways to Wear a Pink Skirt
Try a T-shirt with a Tulle Skirt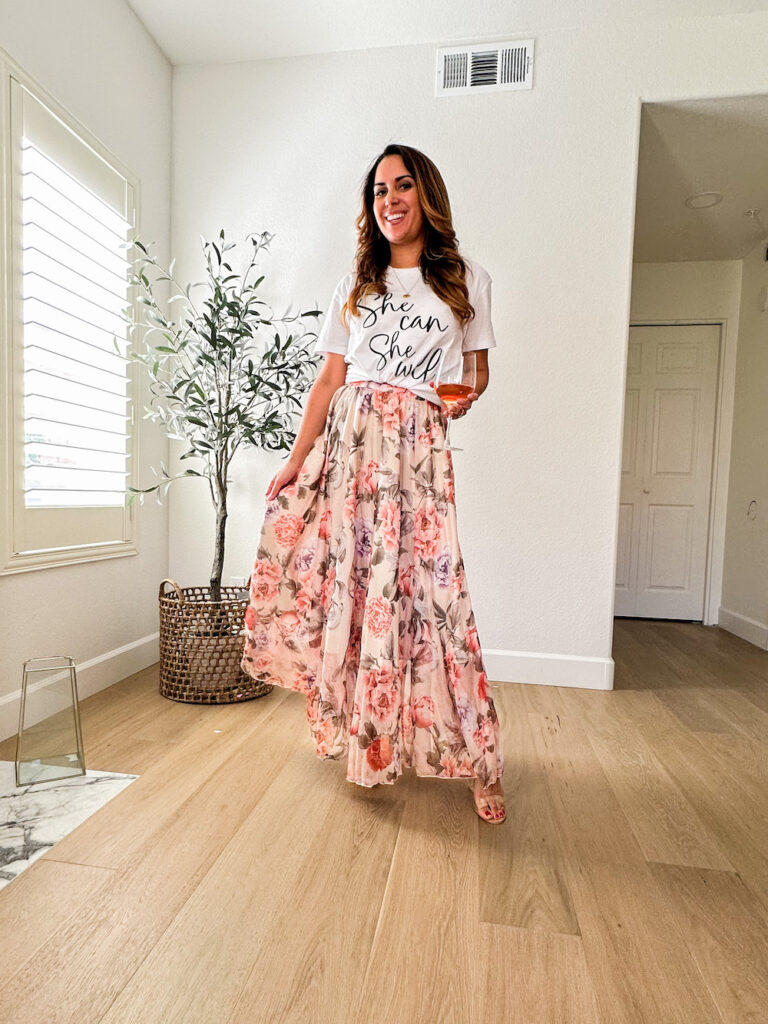 For a more casual look, try wearing a T-shirt with your tulle skirt. It'll look super similar to this maxi skirt outfit.
You can even try a graphic tee and combat boots for an edgy look. I wore a black tulle skirt with heels and a graphic tee for a girls' night out.

Where to Buy Cute Tulle Skirts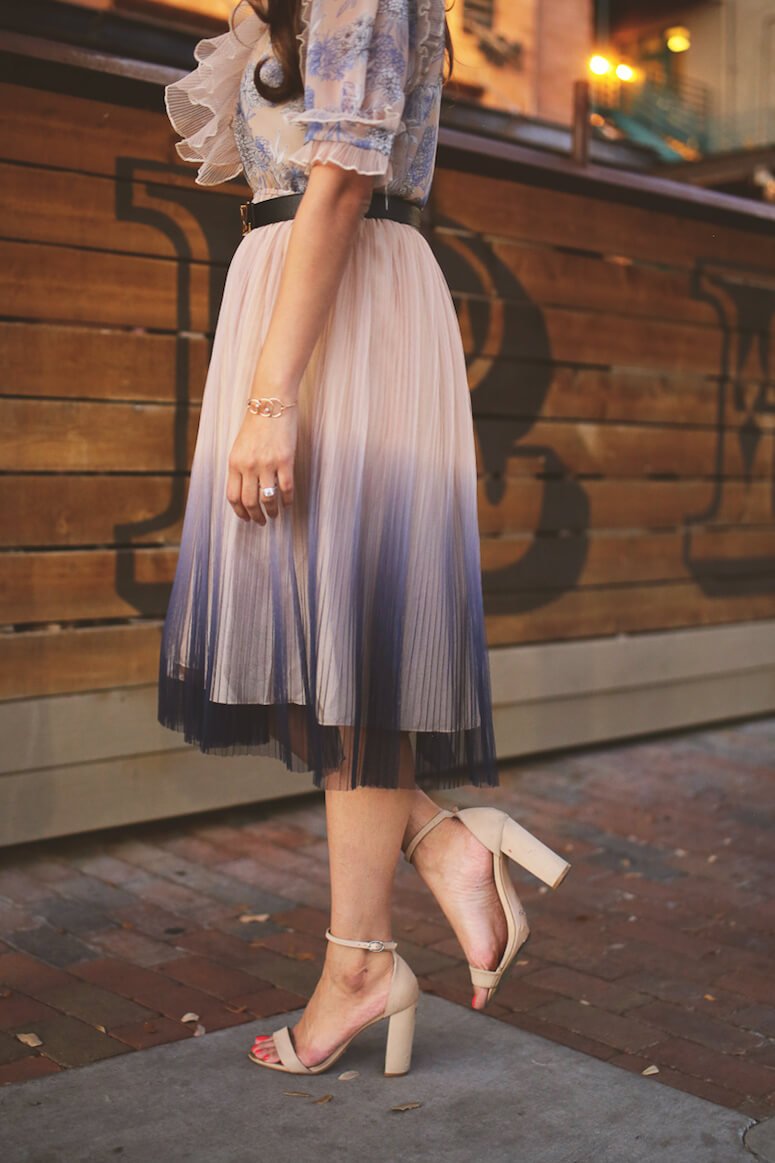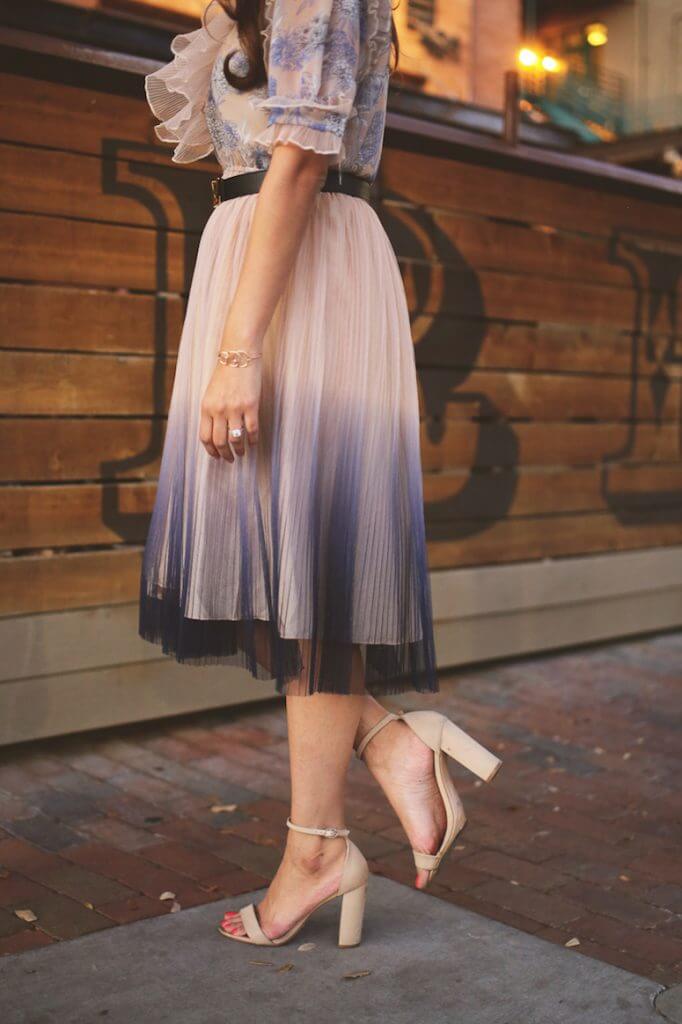 My favorite place to shop for tulle skirts is Chicwish.
Chicwish is a feminine online retailer that has some of THE most gorgeous skirts including plenty of tulle skirt options!
Read my Chicwish review here.
You can also find plenty of tulle skirts on Etsy, Anthropologie and VICI.

What Shoes to Wear with Tulle Skirts?
From the pictures above, you can easily see the most common type of shoes to wear with tulle skirts include heeled sandals and a pointy-toe pump.
However, you can also wear other shoes with tulle skirts like ballet flats, sneakers and even combat boots.
Here are a few examples pics I found from around the web to inspire you: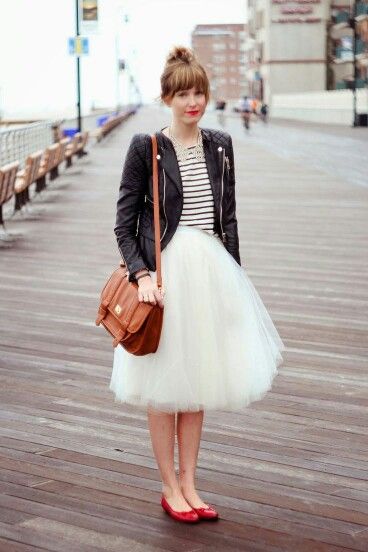 This tulle skirt outfit with ballet flats also shows how you can layer your outfit with a cute leather jacket.
The leather jacket is a fun and edgy contrast to the feminine skirt.
This white tulle skirt, also styled with a little leather jacket, looks playful and adorable styled with sneakers.
When styling a tulle skirt with a leather jacket, go for a cropped style. This adorable tulle skirt is an Etsy find!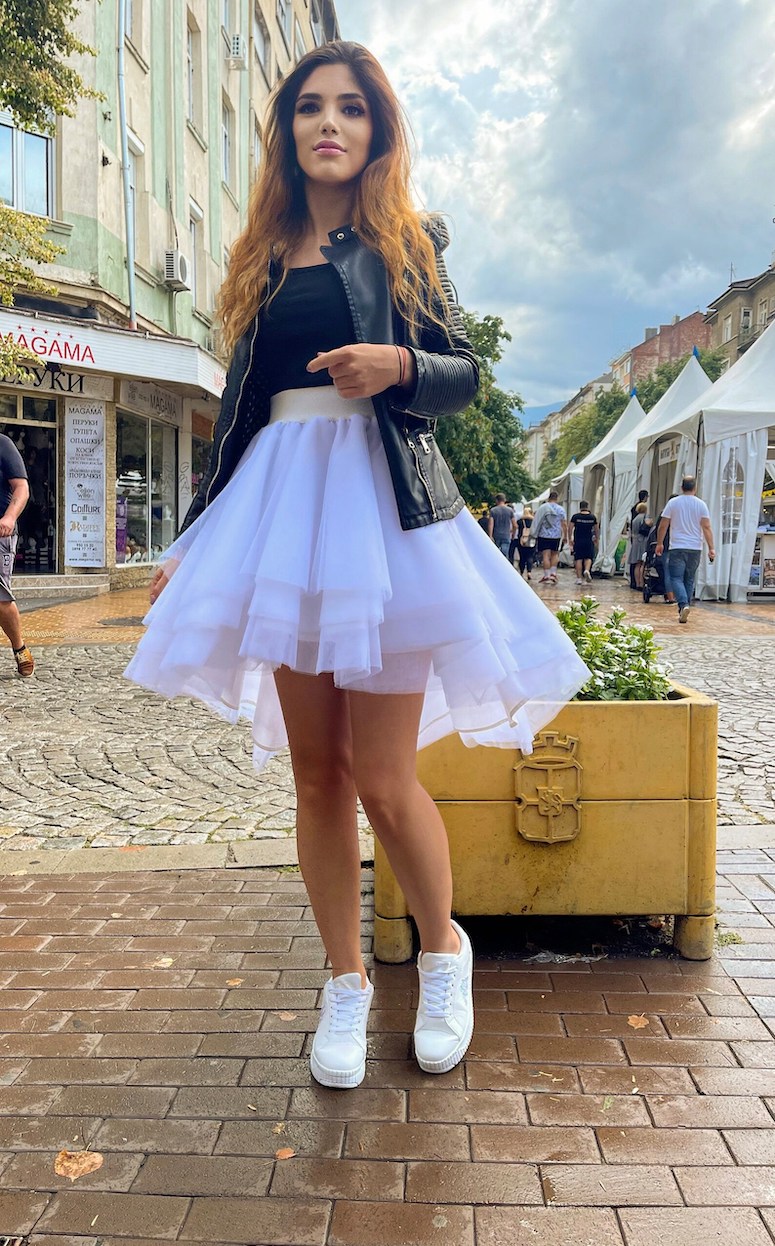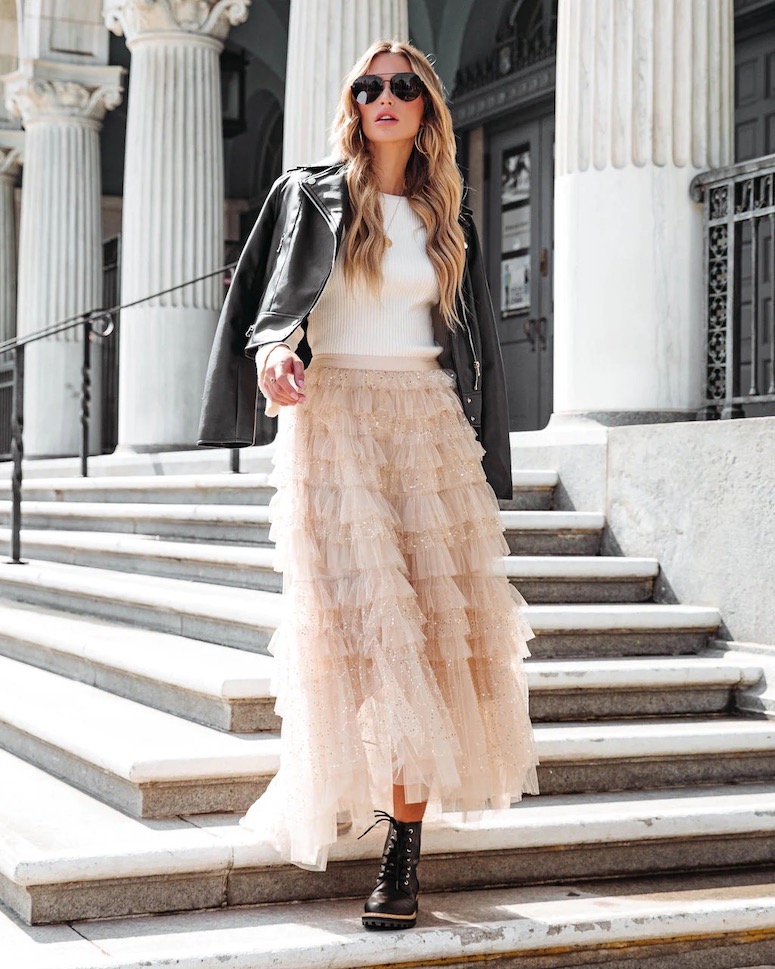 This maxi tulle skirt is giving major cool girl vibes. I love the touch of edge when styled with combat boots and a little leather jacket!
Underneath the skirt is styled with a knit sweater. This long tulle skirt is a VICI find and has some subtle sparkle, too!
RELATED: 110+ Must-See Skirt Outfits
Accessorizing Your Tulle Skirt Outfit
A quick word on accessories….because accessories are ALWAYS good idea!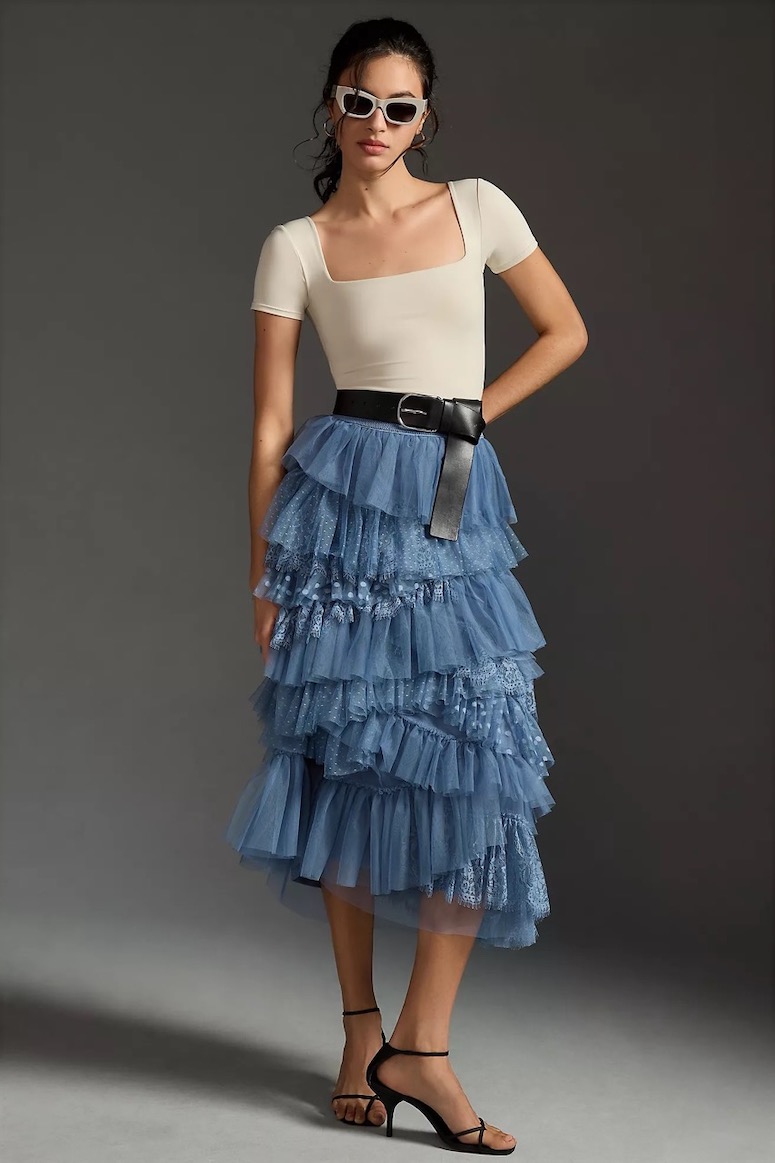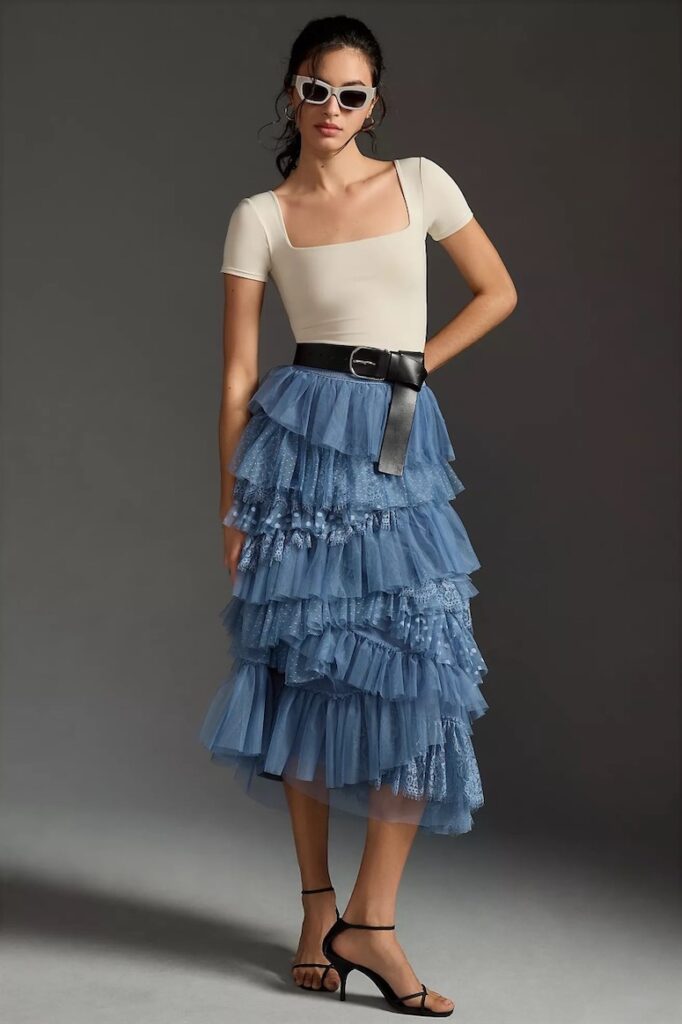 Yes, you can add a belt to your tulle skirt. It cinches the waist and just adds a little something something.
You can also layer with your tulle skirt like in the photos above.
A cropped leather jacket, cropped denim jacket or even a blazer work.
What NOT to Wear with a Tulle Skirt
As you can see, there are so many different outfits you can make with a tulle skirt. So is there anything you SHOULDN'T wear with a tulle skirt?
Honestly, nearly anything goes!
One outfit that comes to mind that has always been popular is wearing a denim jacket or chambray top with a tulle skirt.
This look is a bit outdated in 2023, but you can definitely still rock it if you love it.
A plaid shirt or flannel shirt is another popular way to style a tulle skirt in the fall.
I'm not going to tell you NOT to do this, I'm just personally not a fan of plaid or flannel and this look also feels outdated for 2023 and beyond.
I hope this guide has given you plenty of ideas on how to wear a tulle skirt!
What's your favorite way to style a tulle skirt? Let me know in the comments!
Shop Tulle Skirts