Although some people tend to shy away from it, animal print is a great way of bringing an interesting pattern to an otherwise plain outfit.
From leopard to cheetah to zebra and cow print, there are so many ways to wear animal print.
If you're still new to wearing animal print or are anxious about how to start wearing it, the easiest way to dip your toe into this chic trend is to try animal print shoes!
Keep reading to find some outfit inspiration on how to wear animal print shoes this fall so you can take a walk on the wild side with confidence.
Try Cow Print Shoes
There's no doubt that animal print's popularity has grown exponentially since the leopard print midi-skirt craze back in 2019, and there's no guessing when this trend will slow down.
Cow print has been gaining traction over the last couple of years, and is set to be a huge hit in 2021.
Try pairing cow print boots with another one of this season's hottest trends, fringe. It's a totally western feel.
Shop the look: ARIDER ARiderGirl Dean Women's Western Booties with Cow Print Slip-On V Cut Stacked Heel Boots
For a more neutral take on the cow print trend, you could choose a black skirt and vest combination like Paula did.
You can even go matchy-matchy and go for a black and white purse, too.
Shop the look: Chinese Laundry Bonnie
Go Wild for Outfits with Leopard Shoes
When the season begins to change and the weather becomes a bit chillier, there's nothing like a pair of booties to keep you warm in fall!
This leopard print boots outfit is right on trend for fall and so easy to recreate.
In fact, all you pretty much have to do is swap out your usual black boots with a pair of leopard print boots. Pair them with your favorite pair of distressed jeans for an effortlessly chic look!
Shop the look: IDIFU Women's Fashion Ankle Boots Comfy Pointed Toe High Heels Side Zipper Booties
---
RELATED: 5 Ways to Wear Animal Print This Season
---
For a classy daytime look, you could pair some leopard print heels with a structured shirt dress.
This can be great for either a workday or alternatively on a weekend when you feel like making more of an effort than jeans and a t-shirt. It's one of my favorite outfits with leopard print shoes as it shows the trend can, in fact, be classy!
One thing is for sure: you'll look like a total boss woman in these animal print heels!
Shop the look: Elisabet Tang Women Pumps, Pointed Toe High Heel 4.7 inch/12cm Party Stiletto Heels Shoes
For those chillier fall days, there's nothing chicer than a Parisian-inspired look. Pair some leopard print ballet shoes with some black skinny jeans and a beige trench coat and you'll be ready to take on the day like you're in the city of love!
Grab a pair of your favorite sunglasses to complete the look and I guarantee, this one will become one of your favorites. It's timeless, chic and so easy to recreate.
Shop the look: Women's Classic Ballet Flat Slip On Casual Shoes
---
RELATED: 3 Ways to Style an Animal Print Skirt
---
Go big or go home! This knee-high leopard print boot outfit is such a cute fall look and is right on-trend. Don't overcomplicate it and keep things simple with a chunky sweater and skinny jeans.
This leopard print outfit idea would also be a cute Thanksgiving outfit or other fall occasions!
Cathy from The Middle Page blog is killing it in this look featuring animal print combat boots. It's edgy, it's fun and a great way to really rock this trend.
---
RELATED: How to Wear Combat Boots in 2021
---
Try Zebra-Print Shoes
Everyone is used to seeing leopard and cheetah print by now, but if you want something a little different – why not a pair of try zebra print shoes?
Pair with an oversized jumper and some cream trousers, and you'll look like you're on the way to a show during New York Fashion Week this fall! Why not give it a try?
Shop the look: MaxMuxun Women Shoes Point Toe Kitten Heels Slingback Dress Pumps
The fun thin about any kind of animal print shoes is that you can keep the look simple and let the shoes do all the talking.
Pair your zebra-print heels with some jeans and a cute blouse and call it a day.
Make a Statement in Snakeskin Boots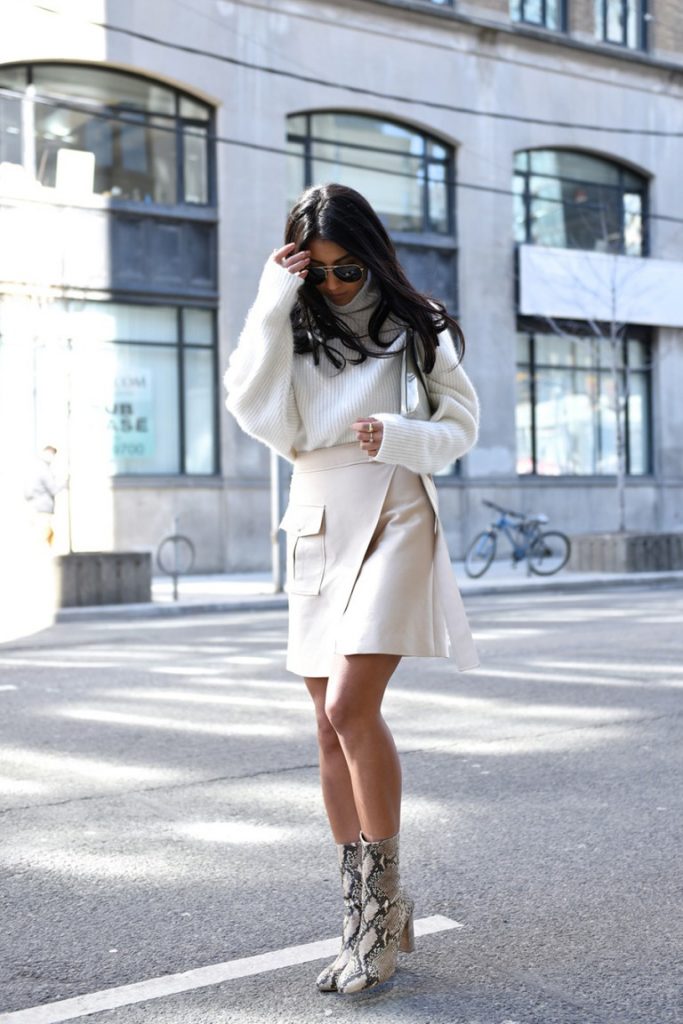 If you're more of a snake print girl, then these booties are going to be the ones for you. Pair a high-waisted cream skirt and soft knit jumper with some snake print boots for a sleek day look this fall.
The monochrome look is chic and lets the snakeskin boots really stand out.
Shop the look: wetkiss Women Snakeskin Booties, Ankle Boots Slip on for Ladies, Snake Print Boots Chunky Block Mid Heels Fashion Shoes
Another popular way to wear the trend is with snakeskin knee-high boots. Paired with your favorite LBD, it's a foolproof look and lets the boots really shine!
How to Wear Animal Print Shoes to Work
If you need some workwear inspiration, try a pair of animal print flats. They look great with a pair of skinny jeans and are still appropriate for the office.
You'll look chic, whilst still looking casual for that effortless style. Not to mention, it's great if you'll be on your feet all day!
Shop the look: Amazon Essentials Women's Buckle Mule
Styling outfits for work can leave you feeling uninspired, especially if you're in a routine of wearing the same thing all the time.
For a chic look for work, you could pair animal print pointed ballet flat shoes with a gingham shirt and your favorite pair of work trousers!
With your hair slicked back into a low ponytail, you'll look professional and effortlessly sleek. What's not to love about this outfit?
Shop the look: Trary Women's Classic Pointed Toe Slip on Ballet Flat Shoes
Can You Wear Animal Print Shoes in the Summer?
Think you can't wear animal print in the spring and summer months? Think again! Try some cute slip-on sneakers like this look paired with a denim skirt. They're the perfect mix of comfy yet stylish.
Shop the look: Dr. Scholl's Shoes Women's Madison Sneaker
---
RELATED: 6 Cute and Comfy Shoe Trends to Try
---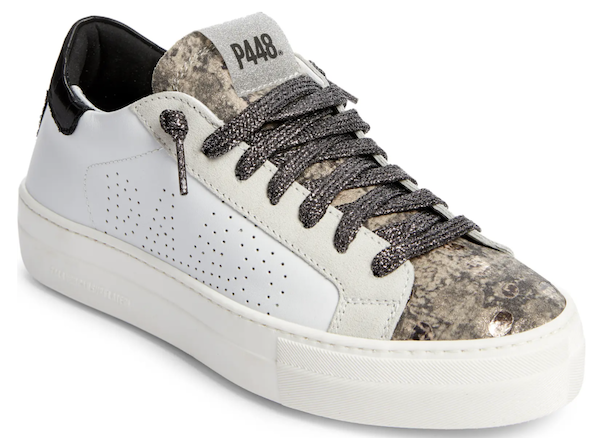 If you're not into an all-over print, try an animal print sneaker with accents of the print, like these cute P448 sneakers.
Final Thoughts
Hopefully you've found plenty of inspo on how to wear animal print shoes this season! Whether you're looking at some cute animal print booties for fall or a way to wear a pop of print in the spring, there are plenty of ways to pull off this trend.