I've gotten a lot of questions and comments about my Saint Laurent Rive Gauche Tote so it's time for a full review!
If you've been eyeing this Saint Laurent linen and leather tote, read on for my honest thoughts and all of the nitty gritty details. Hopefully this review will help you make the decision on whether or not to add this beauty to your designer handbag collection!
More of a video person? Check out my YouTube video below and subscribe to my channel!
Saint Laurent Rive Gauche Tote Review
Let me start off by saying this bag is a workhorse. It functions as a beach bag, travel bag, diaper bag, work bag or possibly even a weekender!
It's large and in charge; the bag itself measures:
18.5″W x 13.75″H x 6.75″D
Dual-top handle, 7.5″ drop
For reference in all of these mod shots, I am 5'4".
I don't carry a large bag on a daily basis, but I don't find it so huge that it overwhelms my frame.
For my purposes, this bag was purchased as a designer beach and travel bag. I did not already have a bag of this size and shape in my collection as the largest tote I currently own is my Louis Vuitton Neverfull MM.
The bag features include:
Snap-button closure
One inside zip pocket
Expandable snap-button sides
Leather trim
Linen material
One of my favorite features of this bag are the snap-button closures. So many totes are giant open holes where everything can easily spill out. Those three buttons really do make a difference! You can toss it in your car or on-the-go and not have to worry about everything falling out of your tote.
As far as small details, you'll find the logo stamped on the buttons and engraved on the zipper of the interior pocket. You can also see the logo on the outside of the interior pocket.
Does the YSL Rive Gauche Bag Stain Easily?
I purchased my YSL tote sometime last fall, so it's been in my possession for about six months and one total trip to the beach.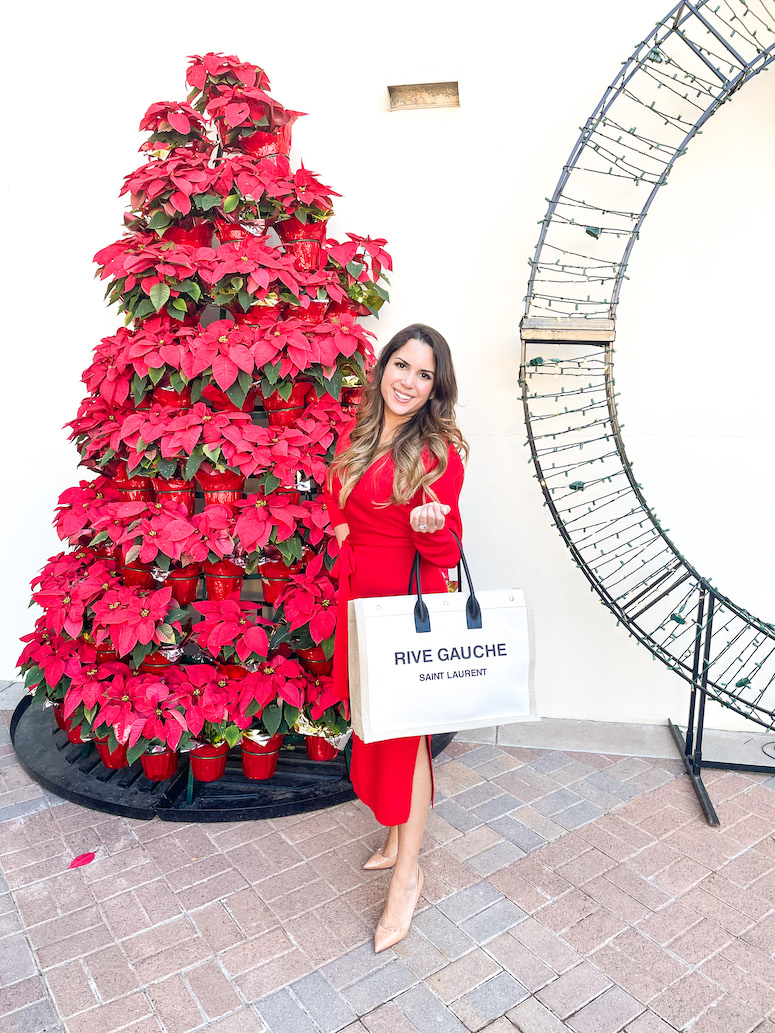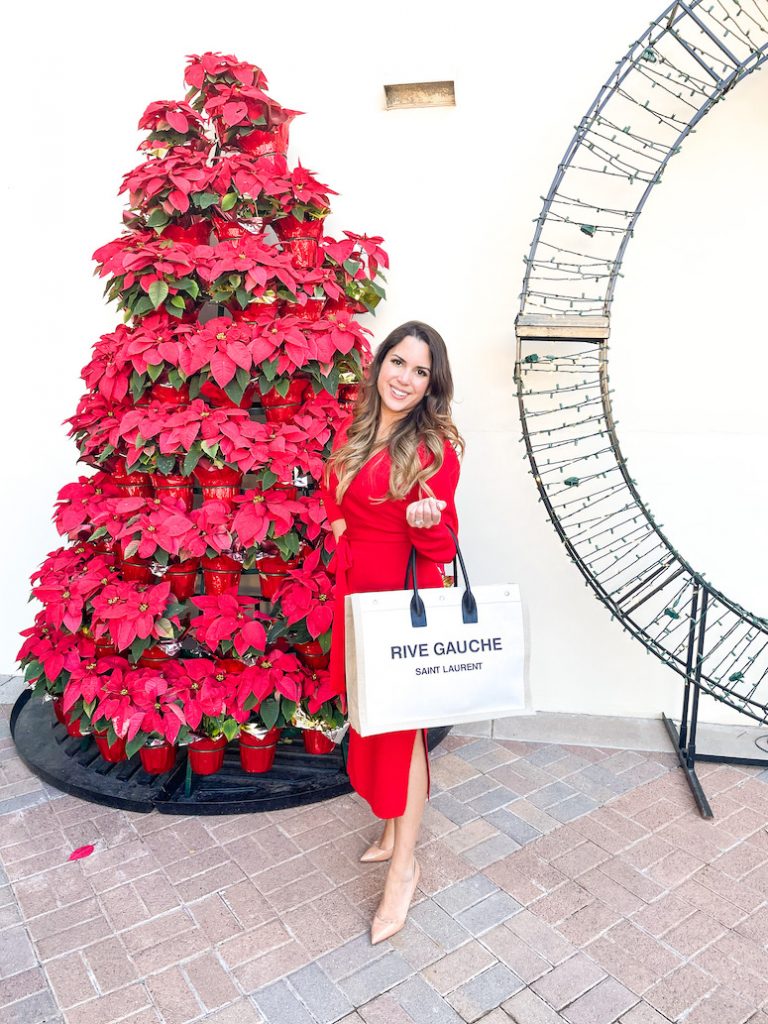 While the fabric is light, it's like a coated linen material so it's not "rough" as you might expect it to be.
However, it's not a glossy coating like what you'll find on the Louis Vuitton canvas bags. But it can be easily wiped down with a damp cloth.
The handles are really sturdy calf leather, and when I called the SA at Saks FIfth Avenue, which is where I purchased my bag, he told me that this bag is meant to be USED! And to not be afraid to use it. I did not pre-treat it with anything additional and was advised that it was not necessary to do so.
PRO TIP: Like any light-colored handbag, don't wear this with dark denim as the color can transfer!
As far as storing the handbag, it actually folds completely flat! If you'd rather store it upright, then grab some air pillows to help your bags keep their shape.
Rive Gauche Color & Size Options
When I purchased my YSL Rive Gauche tote, there was also the option to purchase the black and white version.
This version is mostly black with white lettering and also quite gorgeous.
Ultimately, I chose the tan color because of its versatility; I live in Arizona and the majority of my wardrobe is lighter colors so for me, a lighter-colored bag makes more sense.
If I lived someplace like New York and had a darker wardrobe, I would've opted for the Rive Gauche tote in black.
Now, there are a few additional options to choose from when it comes to the YSL Rive Gauche.
There is a new color, Natural, which I have yet to see in person. Online, it looks like a darker version of my Saint Laurent Rive Gauche tote.
This one has a chocolate handle instead of black and features gold hardware for the snap-buttons instead of silver.
There is also a new Camel/Black color option. I spotted this one at MyTheresa.
This one is a brown linen material with dark brown leather handles. (Sometimes you'll see the YSL tote listed as a men's bag, but it doesn't really matter).
If you like the look of this bag but don't need something this large, you might like the shape of the Rive Gauche Noe.
---
RELATED: Saint Laurent Loulou Review: The BEST Designer Shoulder Bag?!
---
It looks pretty much identical to the Rive Gauche Tote, but is simply taller and thinner.
How to Organize Your Saint Laurent Rive Gauche Tote Bag
Yes, it's one enormous compartment with one small zipper inside. But you always have options on how to organize your tote if that's what you're looking to do.
I found this Rive Gauche Tote organizer on Etsy. It's a typical felt organizer that comes in 25 color options and has nearly 700 5-star reviews.
If you're planning on using this as a designer diaper bag, then a tote organizer is a definite must.
Amazon also has a ton of tote organizers; just be sure to check the measurements before ordering.
I have also heard that the Louis Vuittion Neverfull GG organizer size fits nicely inside the Rive Gauche Tote.
Finally, if you just want something small to organize your toiletries or loose items, consider the matching Rive Gauche pouch. These can also be used as a wristlet making this a versatile piece to coordinate with your tote bag!
It's actually a fairly good size as you can see here on the model and is under $600.
Price and Value
While I purchased my Rive Gauche Tote before the Saint Laurent price increase, it's still listed under $1,300. And that's a great price for a designer bag of this size.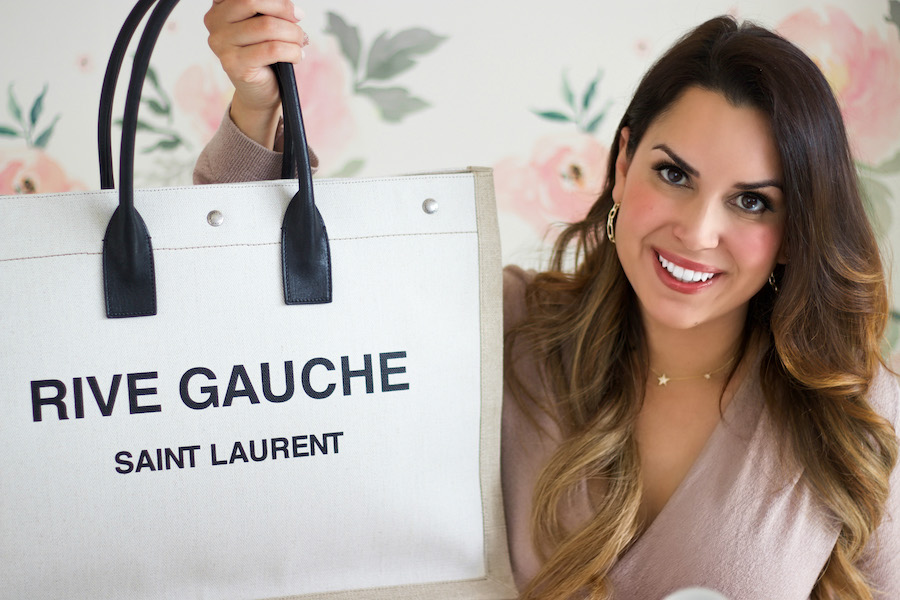 When compared to similar luxury bags like the Dior Booktote, the Chanel Deauville or even the Celine tote, this one is significantly cheaper and quite gorgeous.
I love the timeless, clean look that the YSL tote has. And it's not super trendy, which I prefer!
PRO TIP: While you can't find these bags on sale, you can buy during special events. I scored mine at Saks during a promo that included a $150 gift card with a $1,000+ purchase. They do these a few times a year! 
Rive Gauche Bag Cons
For a bag of this size, I wish there was a strap at least as a detachable option. This would make it easier to carry for long periods of time and I could wear it on my shoulder or give it to my husband if I need help at the airport or something.
The lack of a strap isn't a deal-breaker, but the handles themselves are also a bit on the shorter side. On my body, they are fine but some people have complained that they wish they were longer. 
The only other con I can think of is it can get heavy if you start loading it up. It is heavier than the Louis Vuitton Neverfull (though most everything is) and it is heavier than the Chanel Deauville tote. 
---
RELATED: 7 Luxury Fashion Investment Every Woman in Her 30s Should Make
---
Other Designer Totes I'm Loving
If you love a luxury tote this size but aren't sure if you're getting the Saint Laurent Rive Gauche bag, these beauties are also great options to consider.
Right now I'm crushing hard on the new Chloe Woody Tote. It comes in right under $1,000, which is a great price for this bag!
It's available for pre-order right now and expected to ship early May!
This Fendi tote is another one that's simply drool-worthy. It looks so elegant and I love the black trim and detail.
Burberry also has two cute options under $1300; the Society East/West Tote and the Logo Canvas Tote.
---
I hope this Rive Gauche tote review was helpful! If you have any questions drop them in the comments below.