The kids started school, it's crazy hot out, August is in full swing! So there's no better time than now to bring you this August Target try-on full of cute pre-fall looks.
Target is getting SO good lately. I'm really in love with their A New Day collection, which has tons of great quality pieces that are of the softest material.
If you go to the office, there is a lot of workwear in that collection too. But mostly, I'm just a sucker for great quality, super soft pieces.
This August Target try-on has some summer and pre-fall looks you could easily mix and match. And they're all under $50!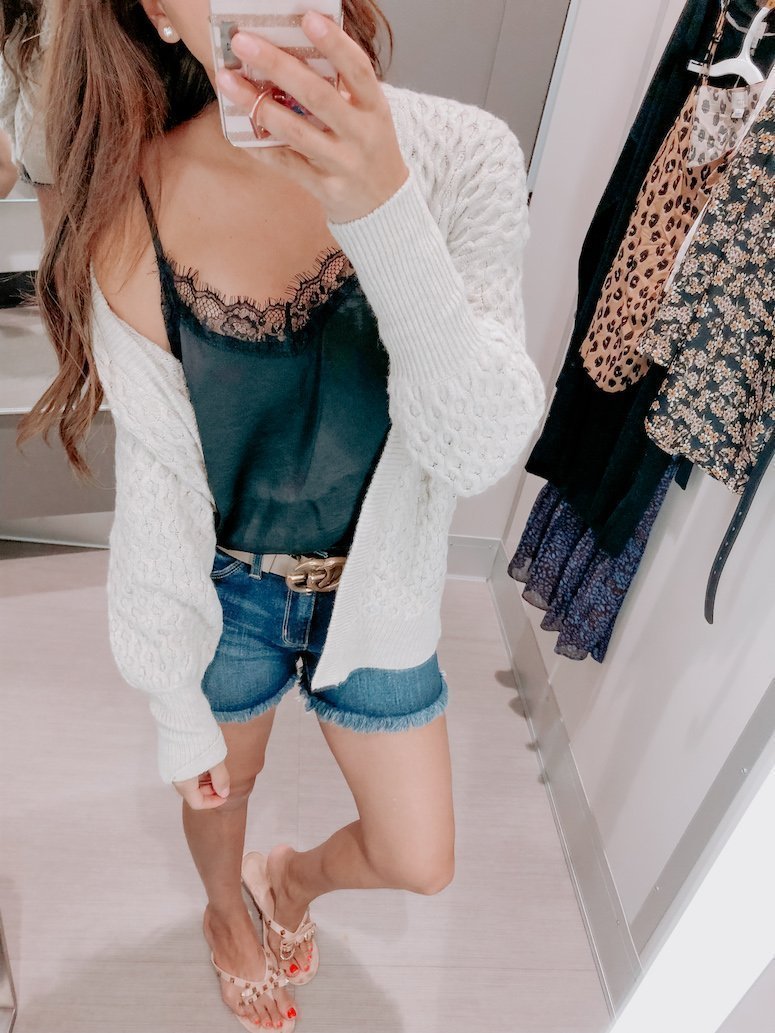 Lace Cami: Wild Fable, XS. Chunky cardigan: Universal Thread, XS. Jean shorts: size down, wearing 0. Gucci belt.
A cute lace cami + cardigan is one of my favorite ways to transition to fall fashion. This cami is a great alternative to the Nordstrom one that sold out, and it's under $15!
RELATED: Why a Lace Cami + Cardigan Should Be Your Go-To Outfit Formula
Dress: Universal Thread, XS. Boots: Paige
Skirt: Wild Fable, size 2. Cami: Wild Fable, XS. Cardigan: A New Day, XS.
This cardigan is a fantastic dupe to this Halogen cardigan I own, and it's half the price under $25!
RELATED: The Most Epic Target Try-On Haul Ever
Shorts: Universal Thread. Tank: Wild Fable, size small.
I wore this outfit over the weekend and it was such a cute casual look, but the waffle-knit makes this a great transition piece, too. You could easily style this with jeans and booties, too.
Turtleneck tank: A New Day. Belt: Gucci. Flip flops: Amazon Shorts: Universal Thread.
Cami: A New Day, XS. Cardigan: A New Day, XS.
This leopard-print cami is such a fun fall basic! And for less than $20 it's such a good buy.
Worth mentioning: I also tried on these jeans and they were AMAZING. I love the raw hem, they were SUPER comfortable and they were under $20 you guys. They're so good! Be sure to size down 1-2 sizes; both the 0 and 00 fit me.
---
Which of these pieces from the August Target try-on is your favorite? Let me know in the comments below!