Saint Laurent Loulou Review: The Best Designer Shoulder Bag?!
Saint Laurent is easily one of my favorite luxury handbag brands at the moment, and the Saint Laurent Loulou bag is, well, a dream!
If you've been eyeing it too, read on for my honest review on the Saint Laurent Loulou Medium bag including wear and tear, a size comparison of the line and what fits inside.
More of a video person? Watch my YouTube video below and subscribe to my channel!
Saint Laurent Loulou First Impressions
I got my YSL Loulou in January of 2020, right before the pandemic started and we entered lockdown. It was a handbag I had been lusting after for awhile; it's classic, a great size, amazing quality and fair price point for a designer bag.
The Loulou line of Saint Laurent handbags has been around since 2017 and it's proven to be a very classic, timeless style for the brand.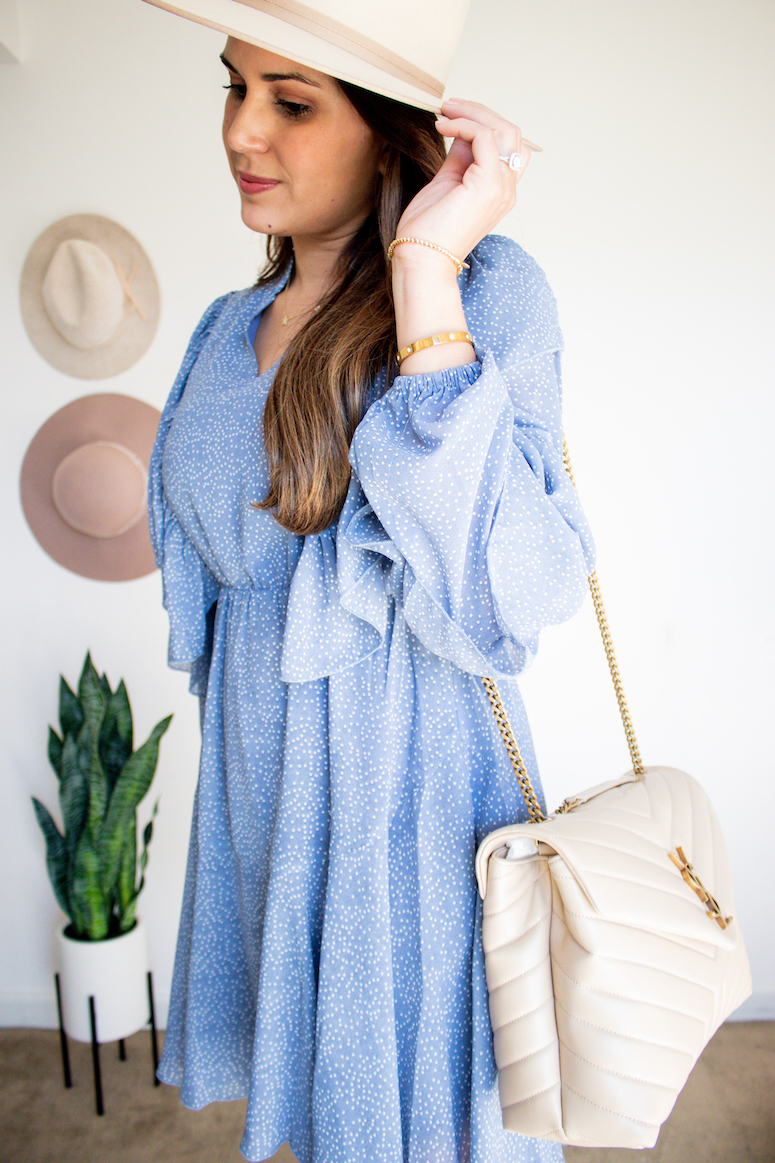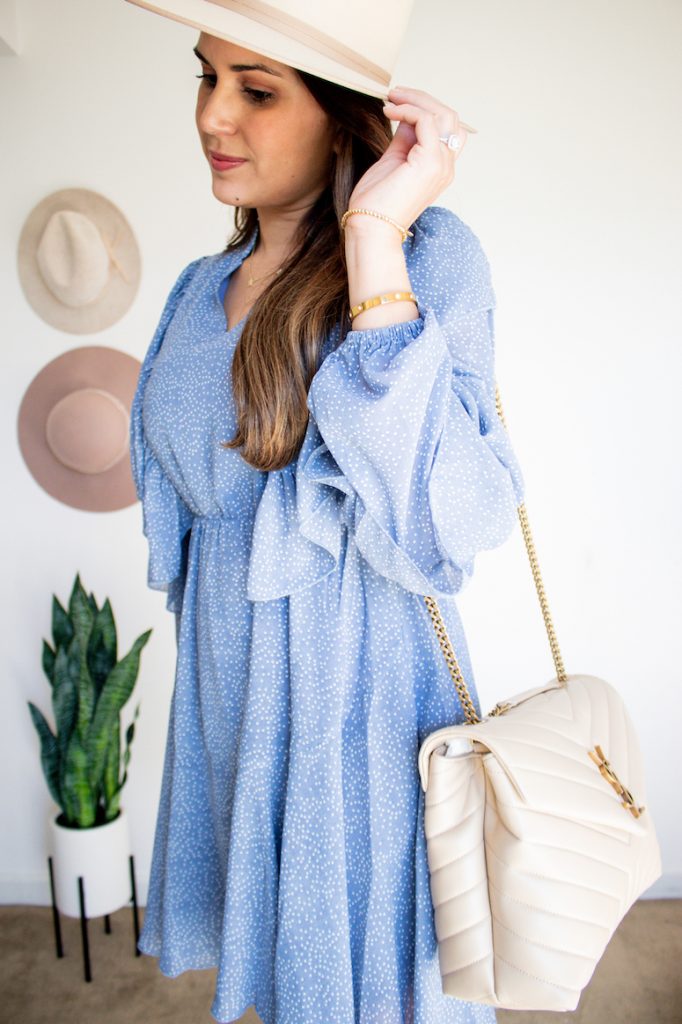 If you're looking for a luxury shoulder bag that goes from day to night with an elegant look, the YSL Loulou is a great bet.
It's also significantly more affordable than a Chanel flap bag, which makes it a great alternative if you've been eyeing one of those but are not wanting to drop $5K on a handbag.
You can purchase the Saint Laurent Loulou at Saint Laurent boutiques or high-end retailers like Farfetch, MyTheresa and Nordstrom. (I purchased mine at Nordstrom because it had the color combination and size I was looking for.)
This particular one is the medium Saint Laurent Loulou in cream with the gold-tone brass hardware. But there are tons of other colors, sizes and hardware options to choose from! More on that below.
In fact, I originally wanted the Small Loulou but after comparing them in person, and realizing the price difference was nominal, I ended up going for the Medium. 
RELATED: Explore More Luxury Fashion & Designer Handbag Posts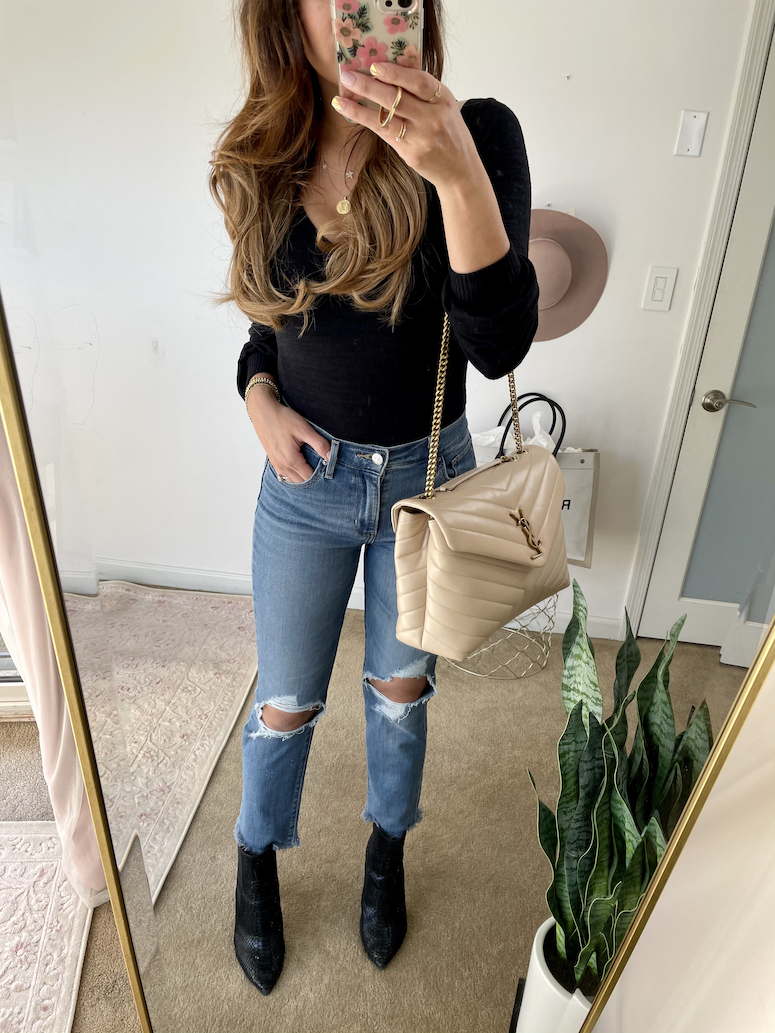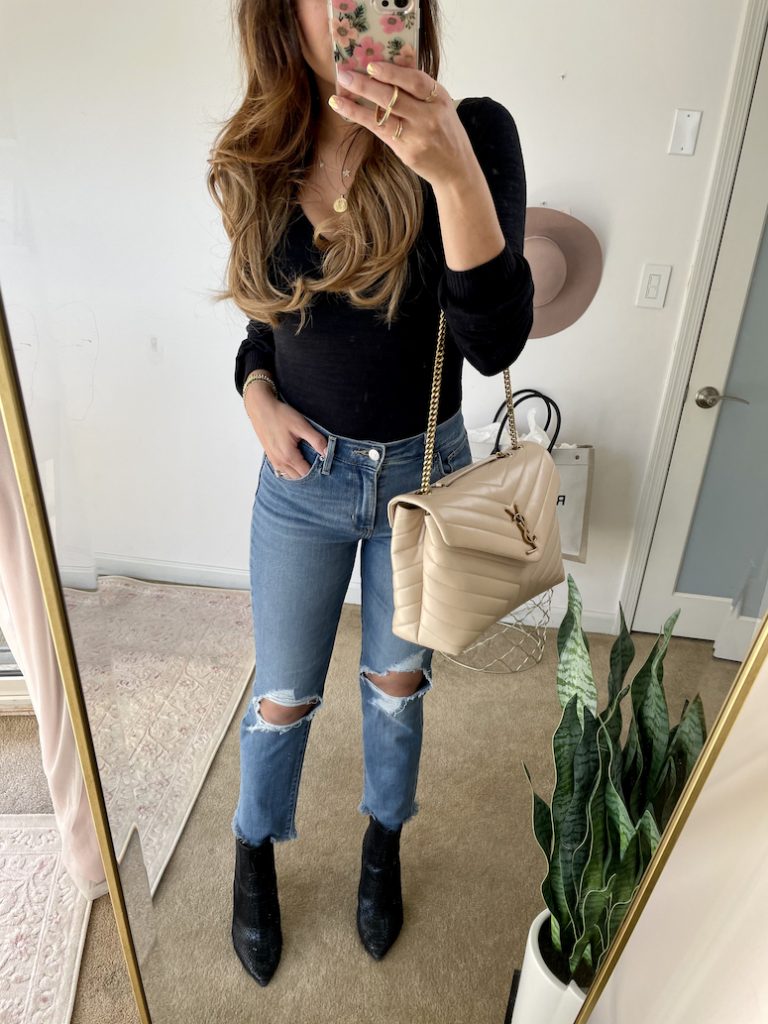 YSL Loulou Sizes, Colors & Hardware Options
This medium Loulou is 100% calfskin leather, but you can also find it in other materials like suede, linen and even patent leather.
Hardware options include:
Matte black
Antique silver
Silver
Brass tone
Metal rope option on brass
Here is a breakdown of the Saint Laurent Loulou sizes and pricing:
| Style | Size (in inches) | Price (July, 2021) |
| --- | --- | --- |
| Saint Laurent Loulou Toy | 7.8 x 5.5 x 2.9 | $1,450 |
| Saint Laurent Loulou Small | 9.8 x 6.6 x 3.5 | $2,090 |
| Saint Laurent Loulou Medium | 12.5 x 8.6 x 4.7 | $2,350 |
| Saint Laurent Loulou Large | 14.9 x 10.6 x 5.5 | $2,650 |
There are also limited edition and seasonal Loulou bags that come out, so those may vary a bit in price point from the table.
Keep in mind, like a lot of other designer fashion houses, Saint Laurent does do price increases. At the time my handbag was purchased, it was a few hundred dollars less than today's current price.
Not sure which size to go for? Let's dig into it a little more. 
Toy Loulou Sizing & What Fits
The Toy Loulou is supercute for day to night, but it is pretty petite! I ultimately decided it wasn't what I was shopping for but it would be great if all you need is a small card holder and your phone.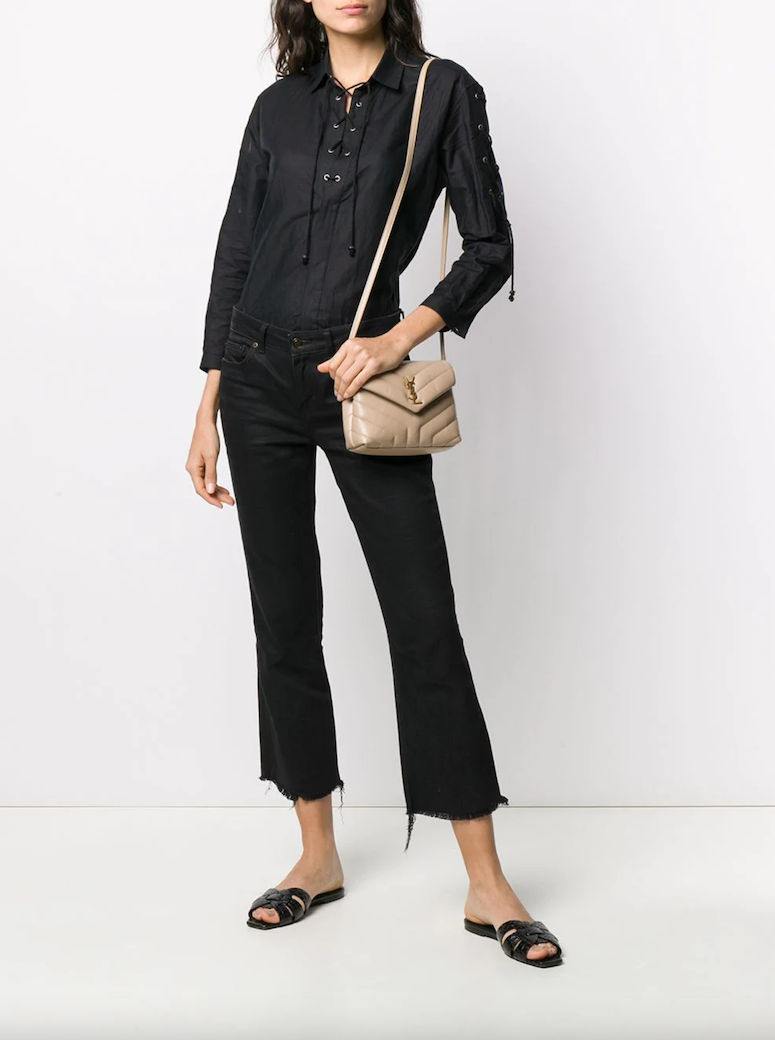 What's unique about the Toy Loulou is that it comes with a full-leather strap while the others are chain-and-leather straps.
The straps are also removable! This means you can wear the Toy Loulou as a clutch, too. I'm all about versatility when it comes to my handbags.
Shop Toy Loulou

Small Loulou Sizing & What Fits
The Small Loulou is similar in size and style to many of the popular camera bags. But, the Loulou is classier and more elegant which, again, makes it a really great choice when dressing from day to night.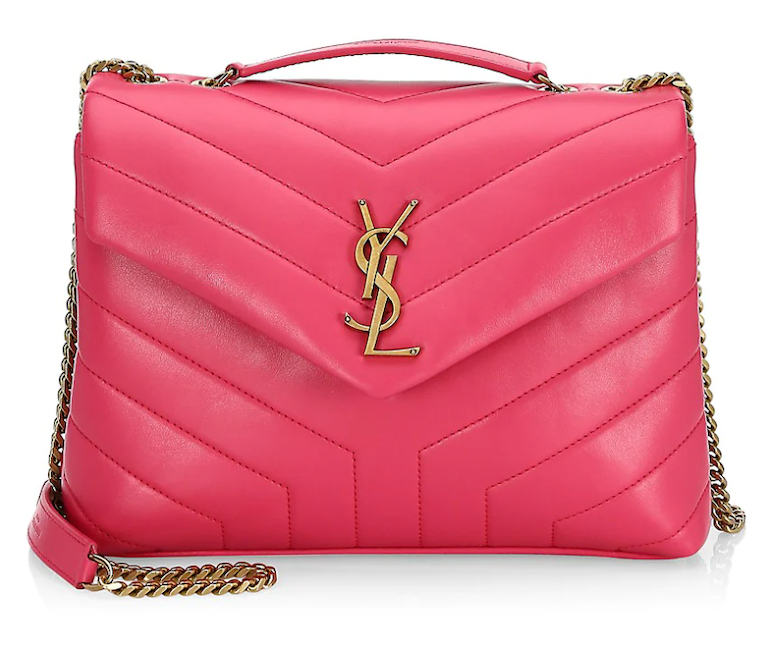 I ultimately found that the Small was a bit of an awkward size. It was only slightly bigger than the Toy, but not by much.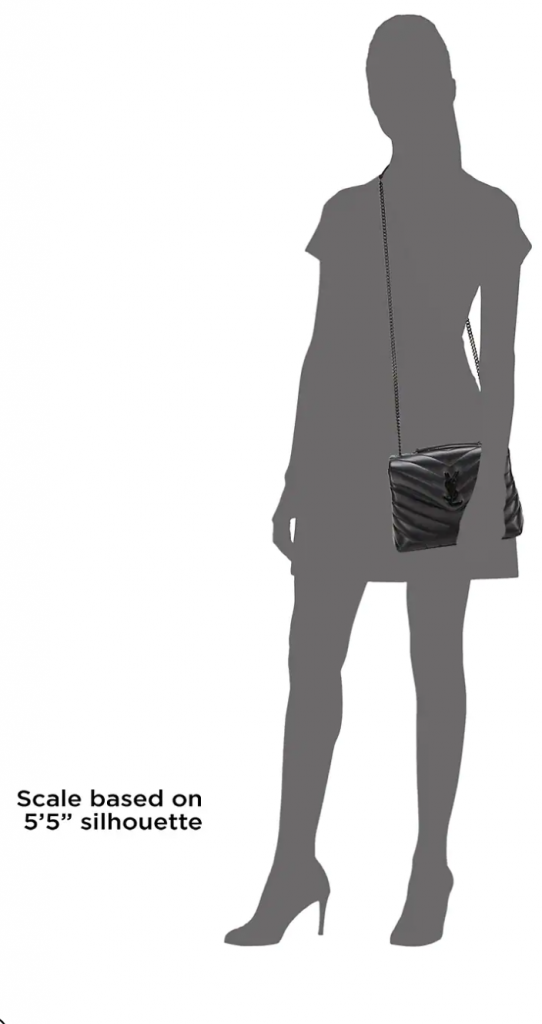 The Medium, on the other hand, was a size that fit plenty and not a handbag size I have in my collection.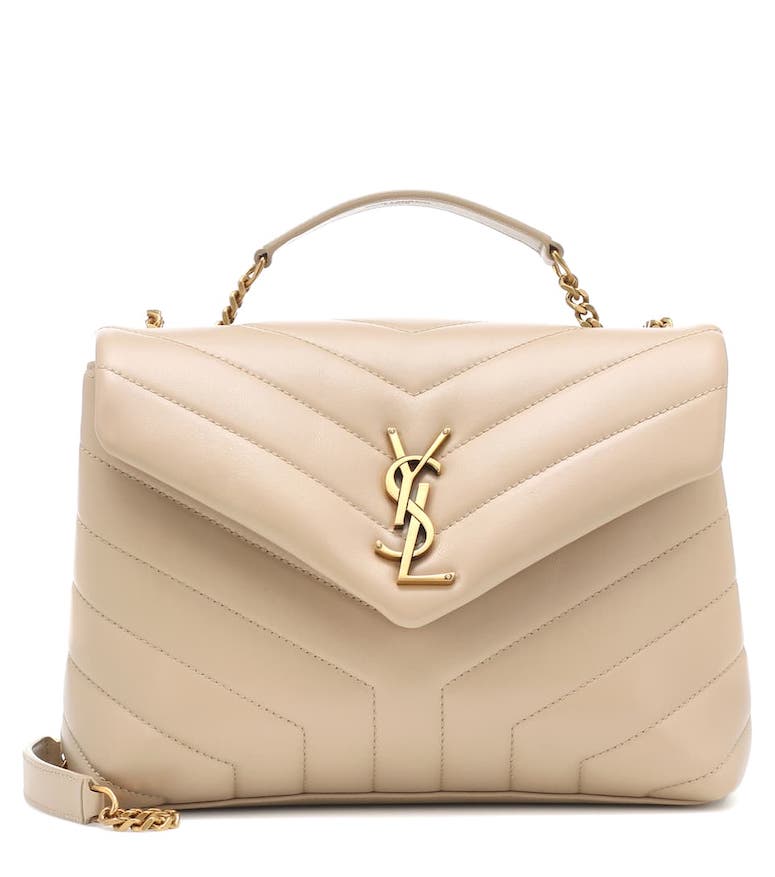 this small Loulou is the same colorway as mine if you love the cream with gold hardware option.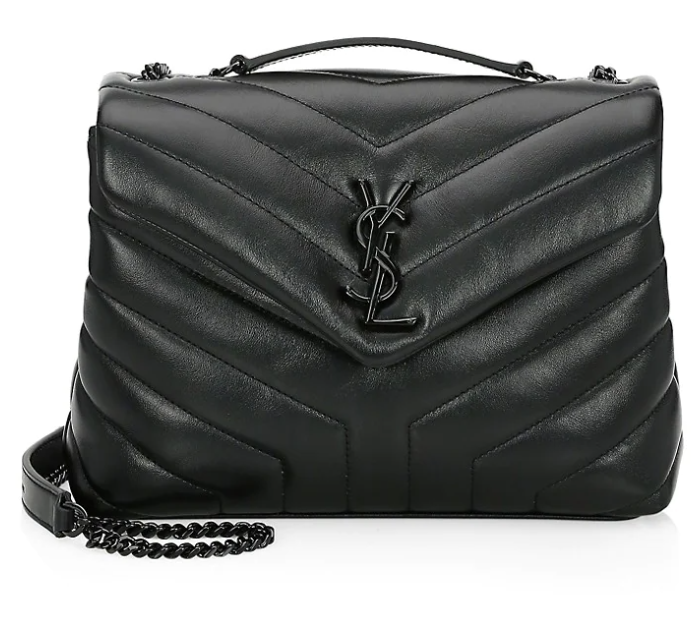 Black on black is also one of my personal favorites and looks just gorgeous on the Loulou.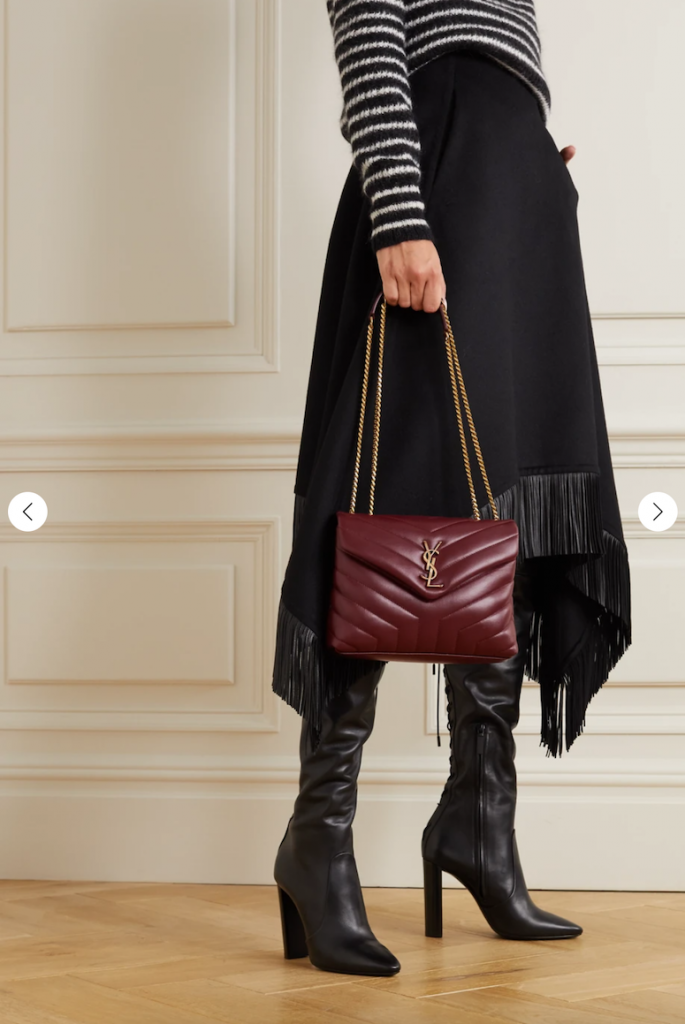 I'm also really loving this burgundy color for fall.
Shop Small Loulou

---
RELATED: Saint Laurent Rive Gauche Tote Review
---
What Fits Inside the Saint Laurent Loulou Medium
You can actually fit soooooo much inside the medium Loulou! Here are a few things I've been able to accommodate in mine:
A full-size YSL wallet
A small toiletry bag
A water bottle
My ipad
Small hair brush
Cell phone, keys, etc.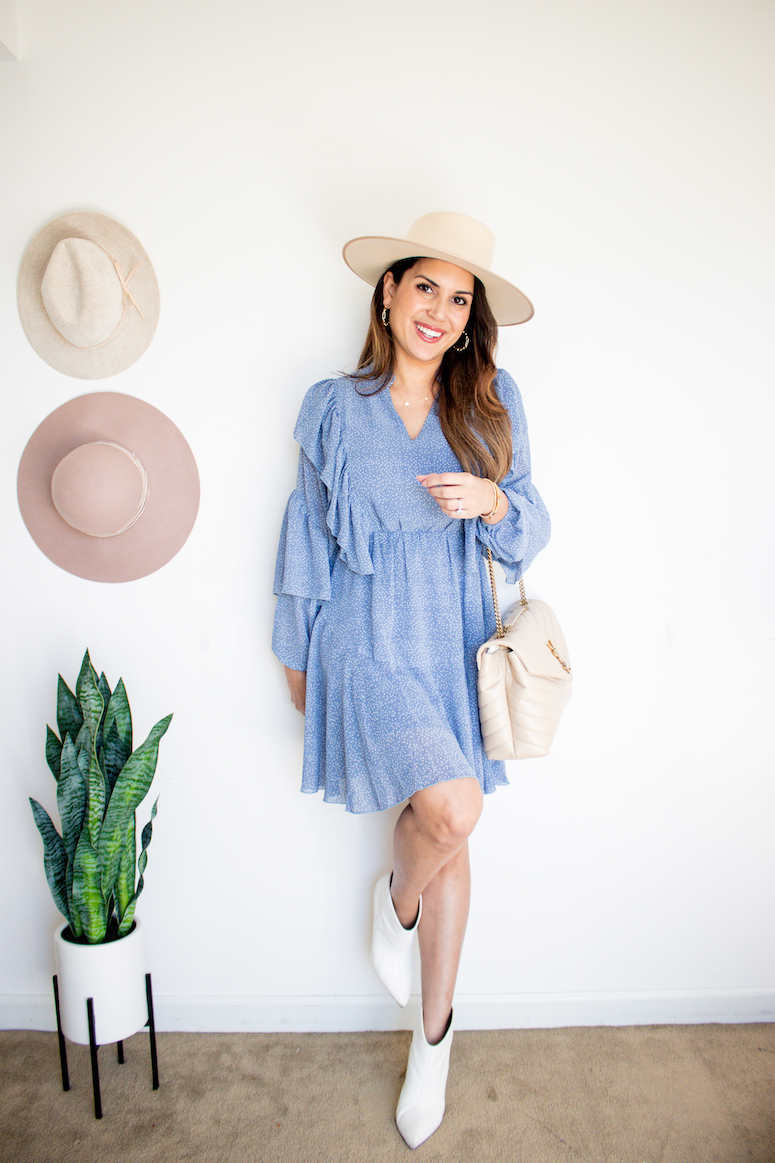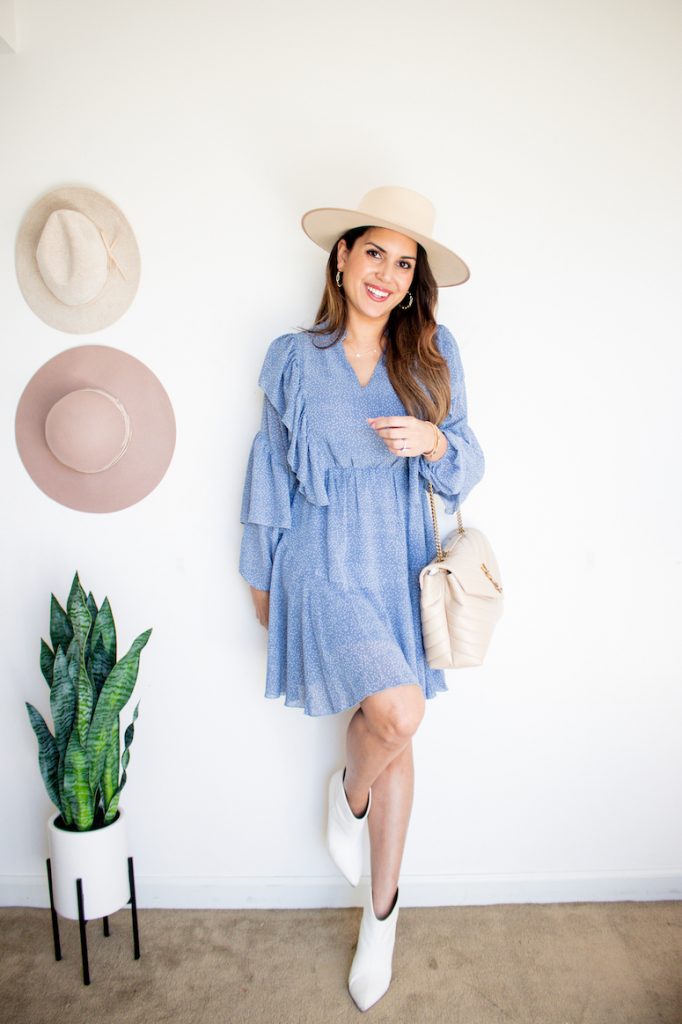 You could even fit a few diapers (if needed) an extra change of clothes for the baby, and more, depending on your needs.
I typically don't carry a full-size wallet anymore, or load the bag up to its full capacity, but it's nice to have the room if needed.
In fact, you may be wondering, is the YSL Loulou heavy? It's not! It isn't nearly as light as my Louis Vuitton Neverfull, but for a good-quality leather handbag, I don't find it heavy at all.
Shop Medium Loulou

Large Saint Laurent Loulou
If you have your eye on a designer handbag like the Jumbo Chanel, then you might like the Large size Saint Laurent Loulou.
I won't go into too much detail about what fits in this one because, well, you can clearly fit A LOT!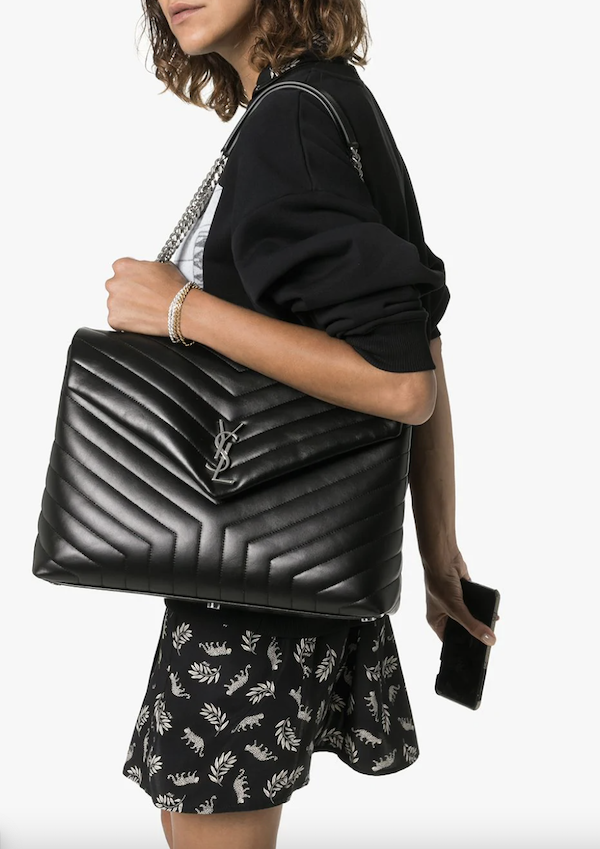 If you want to see more size comparisons, Farfetch has a pretty good guide.
Shop Large Loulou

Inside the Saint Laurent Loulou
There are so many gorgeous details on this bag and this wouldn't be a full Saint Laurent Loulou review without talking about all the little things.
As I mentioned above, this particular bag is made of 100% quilted calfskin leather. It features a beautiful chain strap with leather on the shoulders for comfort and each of the straps has the YSL logo stamped on it.
You'll also find the logo on the gold rivets and on the interior of the bag.
The flap itself is a magnetic closure making it really easy to access everything you need. This type of closure is totally fuss-free and I have the original sticker on it to keep it from scratching (and, no one can see it!).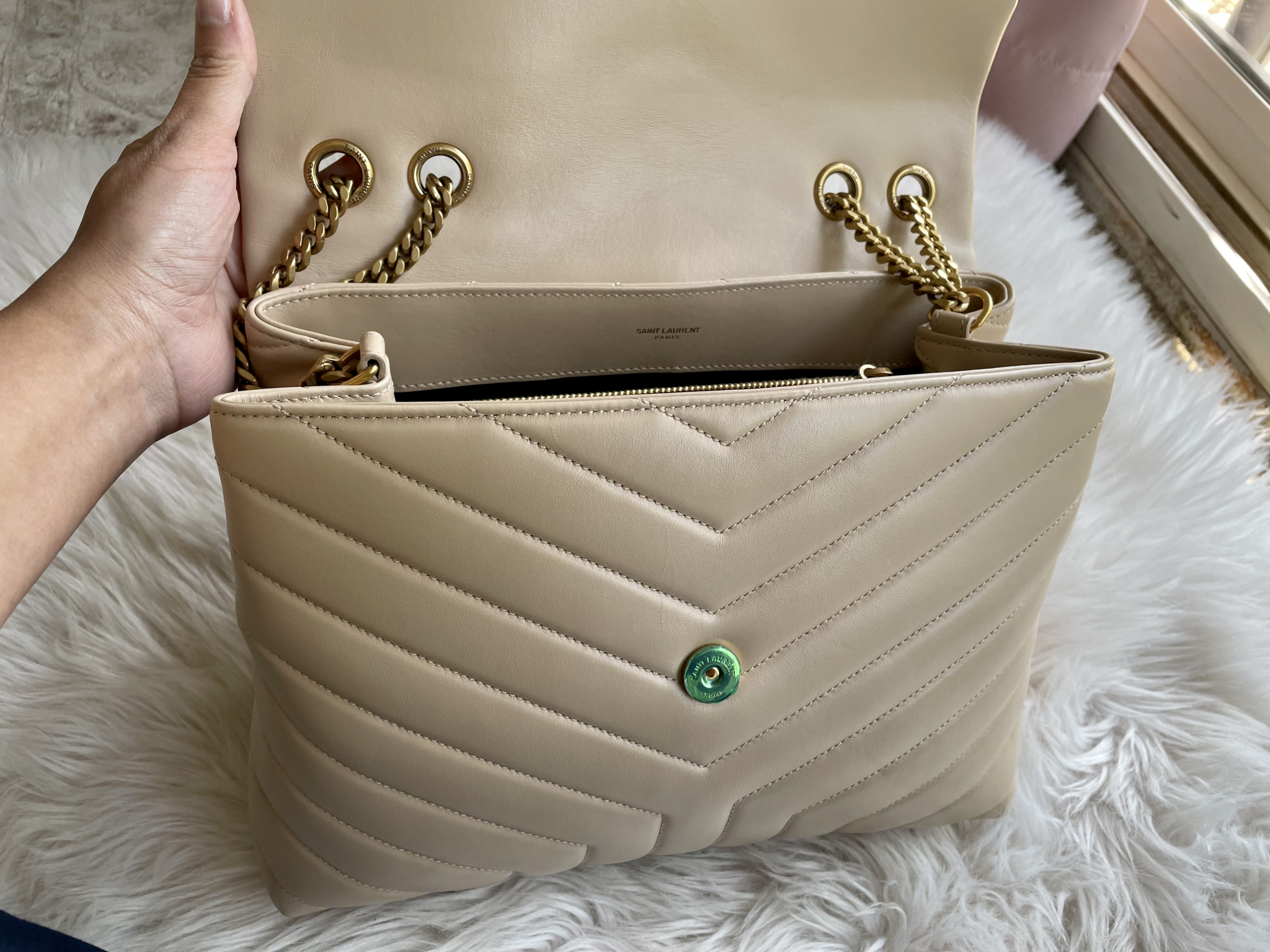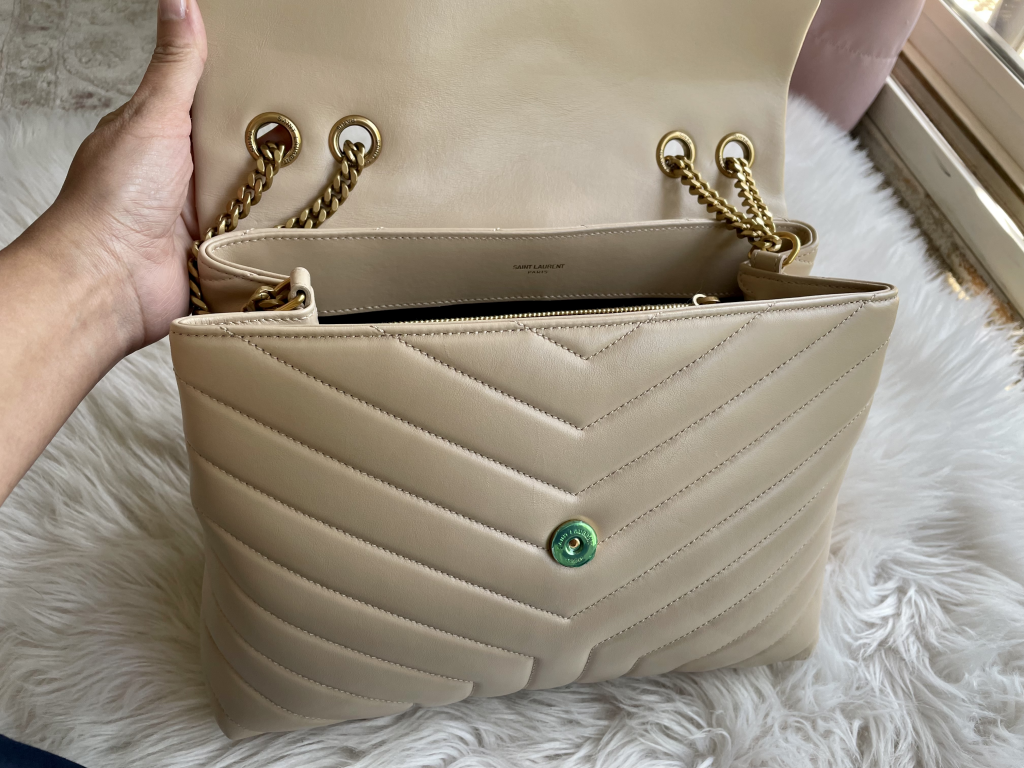 Instead of one big hole, the interior of the medium Saint Laurent Loulou is divided into two main compartments and a zipper pocket in the middle.
The front compartment is quite a bit larger than the one in the back. I use the back one for my iPad and the zipper pocket for things like my keys and cell phone.
Another nice detail that I appreciate about this bag, and really any shoulder bag like this, is that the chain strap can be worn multiple ways. You can wear the Saint Laurent Loulou bag as a crossbody, shoulder bag or just one strap at its longest length. The latter is how I tend to wear this bag.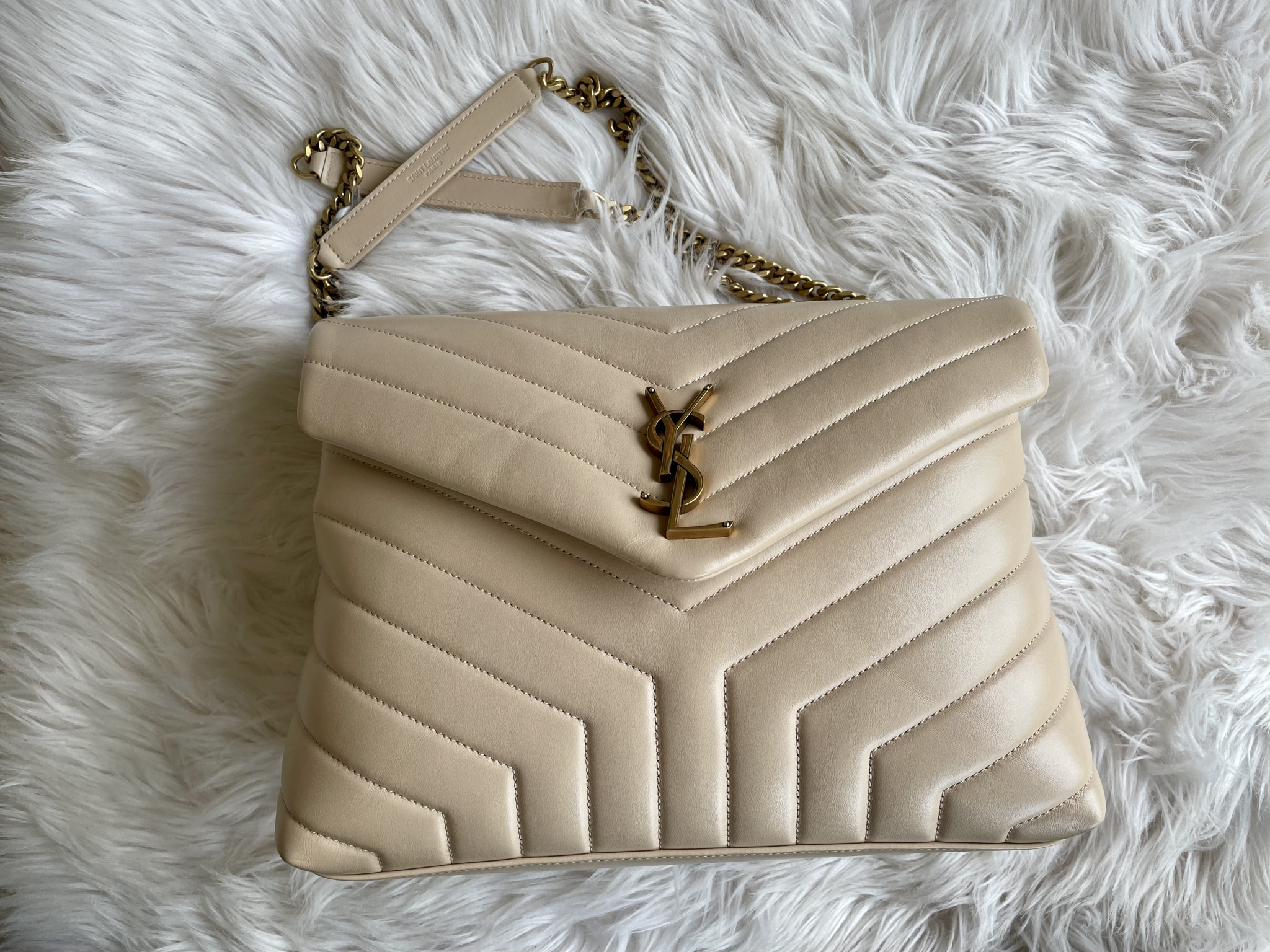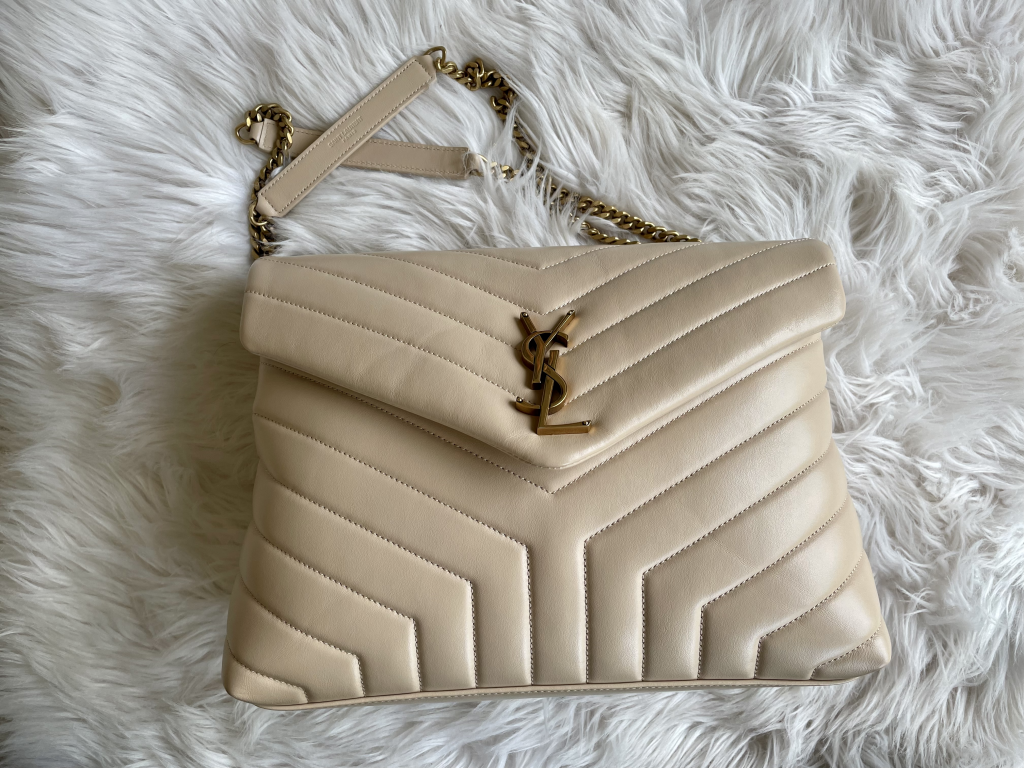 Personally, for the Medium-size Loulou, I find the bag a bit too large on my frame to wear as a crossbody style. (For reference, I'm 5'4").
If I was looking for a designer handbag to wear as a crossbody and into the evening, then I would definitely choose either the Toy or Small Saint Laurent Loulou instead.
---
RELATED: 7 Luxury Fashion Investments Every Woman in Her 30s Should Make
---
Saint Laurent Loulou Bag Cons
Honestly, I LOVE this handbag so it's really hard to think of any cons! But it wouldn't be an honest Saint Laurent Loulou review if I didn't think of at least some negatives.
I do know that some people complain the bag is an awkward length when it's worn as a shoulder bag with both straps up. I usually wear it as a single length anyway so I don't really encounter this "issue".
My only other complaint is that I wish the Toy Loulou was a tad bigger. It's petite and cute but not very practical but I'd love to add a tiny bag like this to my collection.
Handbag Wear & Tear: One Year Later
I've had my Saint Laurent Loulou for about a year and a half now and it's still in amazing condition. There are no scratches on the leather and the interior looks great as well.
As far as caring for it, I am careful to not wear dark denim since it is a light-colored bag and you could likely experience color transfer.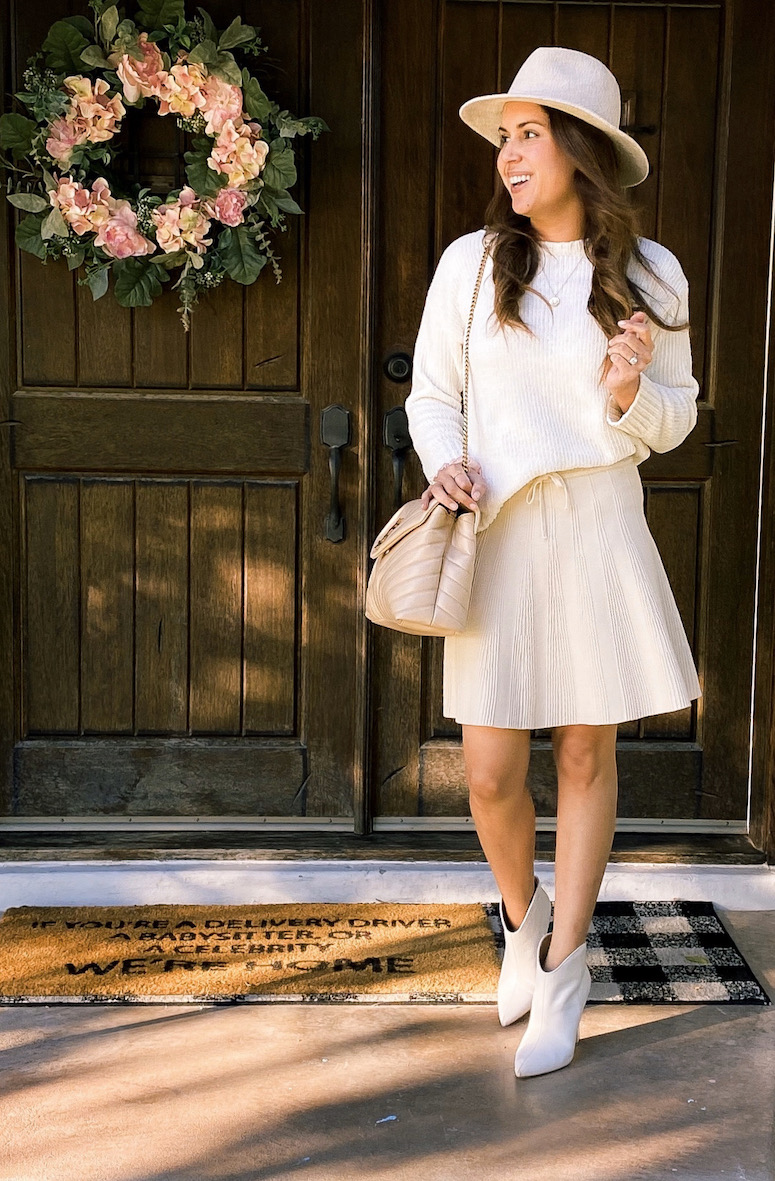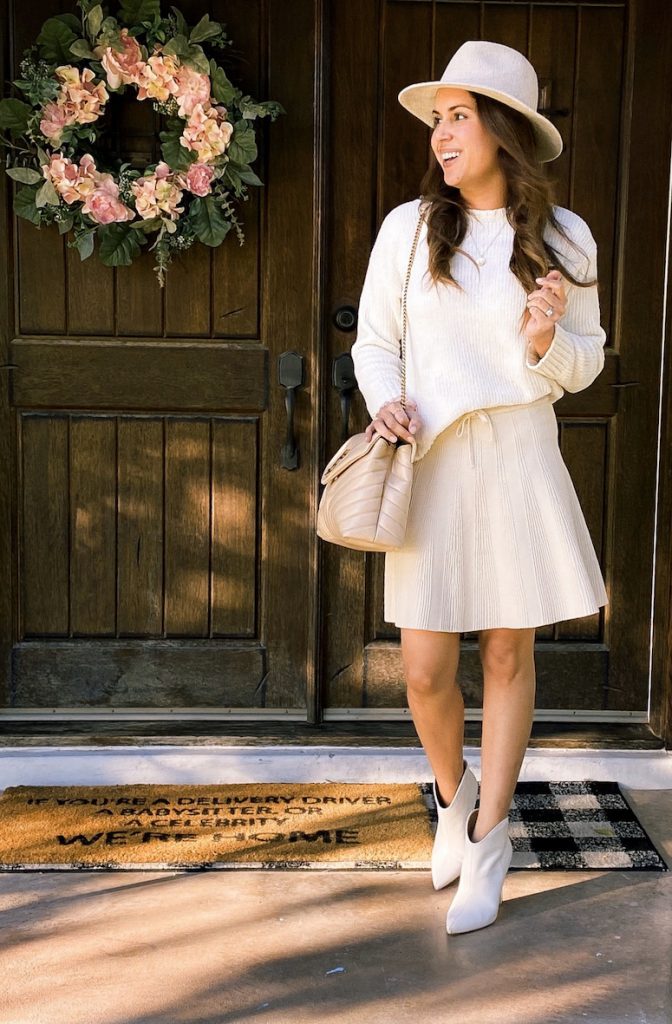 If needed, I'll wipe it down with some water wipes which are made of 100% water.
Like all of my handbags, I don't let it be exposed to natural light while storing it so that the color doesn't fade.
You'll also want to be mindful of the chain strap so that it's not digging into the bag in a weird way while storing it.
Is it a Good Investment?
I 100% think that the Saint Laurent Loulou is one of the best designer handbags you can buy for both quality and value. The leather is gorgeous, quite supple, looks and feels luxurious. And you can get a great size handbag for a fair price point.
The design itself is quite classic and is proving to be a timeless style. I definitely think this one is a bit less trendy than some of the puffer options and will be a style that is here to stay!
---
I hope you found this Saint Laurent Loulou review helpful! Do you have this bag or are you shopping for it? Let me know in the comments below!