If you're looking for some outfit ideas for what to wear in Vegas, look no further! We just got back from a weekend trip to Sin City and I've got plenty of cute outfits to share with you.
Living in Arizona, it's easy to do a quick Vegas trip. And, I've done plenty!
From bachelorette parties to romantic getaways or group trips, there are literally a million and one ways to explore adult Disneyland.
Stumped on what to wear? You'll be happy to hear almost anything goes. And if you've been hiding something glam in your closet or waiting for the perfect occasion to break out something extra—this is it.
Of course, your Vegas packing list will vary depending on the time of year you're going + activities that are planned. So I'll try to cover a mix of everything in this post.
More of a video person? Watch the YouTube video below and subscribe to my channel!

The Little Black Dress: A Vegas Go-To
Whether you're planning on doing a nice dinner or hitting the Las Vegas night clubs, you can't go wrong with a little black dress.
Generally, when it's Vegas, I like to take things up a notch. That might mean a LBD that also has fun cutouts, deep plunges, sexy slits, sequins or maybe even all of the above! There's almost no such thing as too much skin in Vegas 🙂
For our first night out, I wore this black dress from Nordstrom. It has slightly padded shoulders, just the right amount of plunge and hugs in all the right places. (This one is similar and in stock).
I used this fashion tape to secure it and wore it with these crystal-embroidered shoes.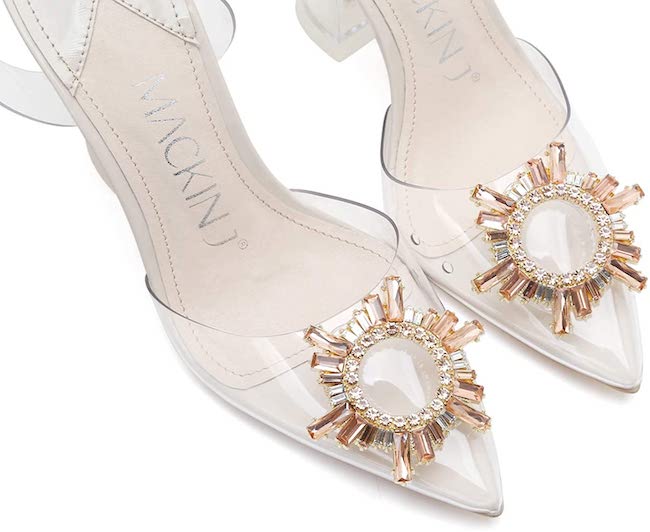 These shoes, by the way, are an Amazon bestseller for a reason! They're absolutely stunning IRL. I recommend sizing up half a size and using a bit of fashion tape on the ankle straps to help them stay up.
Vegas Winter Outfit Idea
On the second night out, I wore this plunging black dress. It is body con and definitely plunges deep—basically screaming Las Vegas all over it!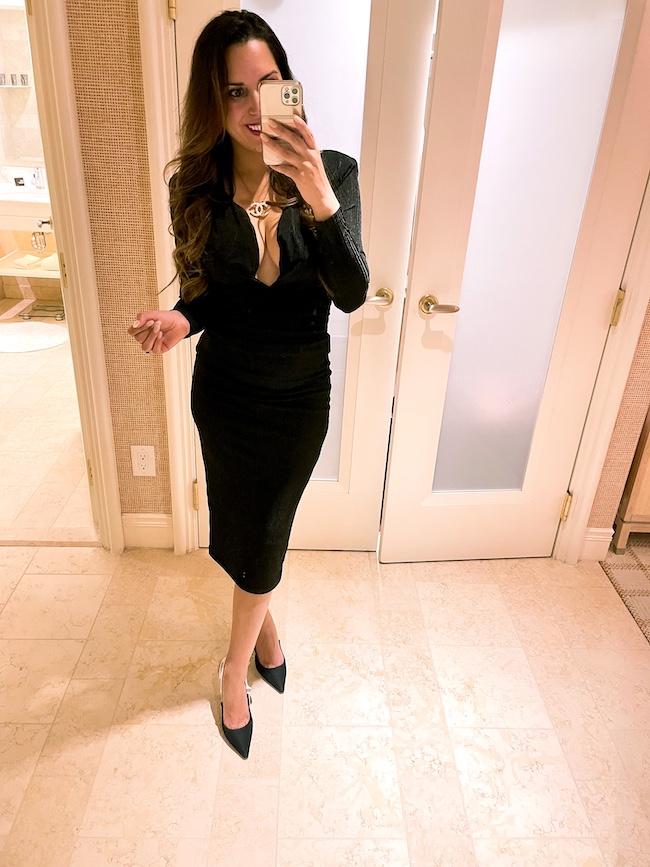 If you're visiting during the winter months like I did, this dress is perfect. It hit me a little long (I am 5'4") so I pulled it up around my waist a bit.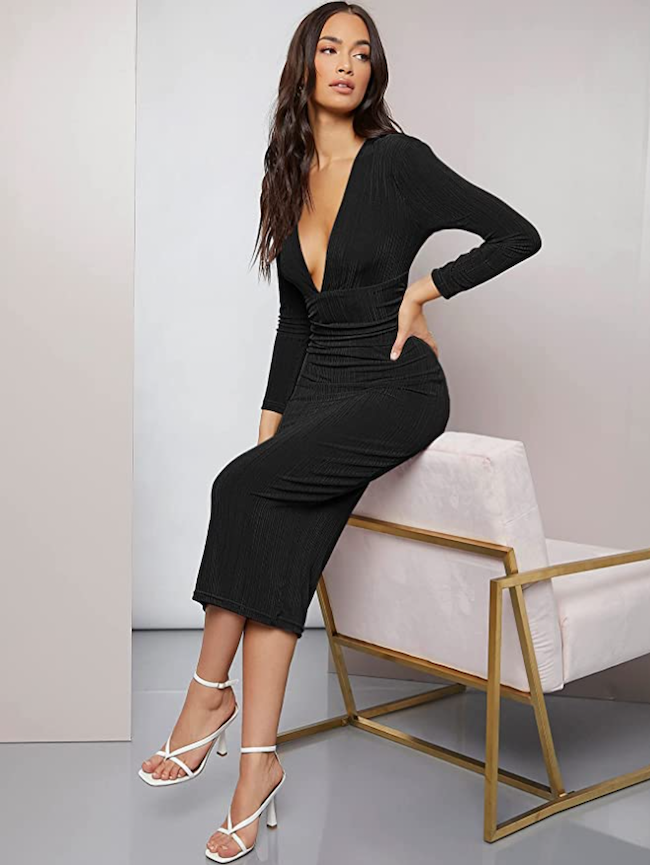 I used fashion tape to make sure nothing slipped out and paired it with my new Dior slingbacks.
The dress isn't too warm if you wanted to wear it during the spring, especially since Vegas casinos can be extremely cold. But it's the perfect mix of sexy yet classy, ideal for a Vegas winter outfit option.
What to Wear in Vegas During the Spring and Summer Months
If you're headed to Las Vegas in the spring or summer, you can definitely bring plenty of shorter cocktail dresses. Or pair one of this season's mini skirt with a cute bodysuit or backless top.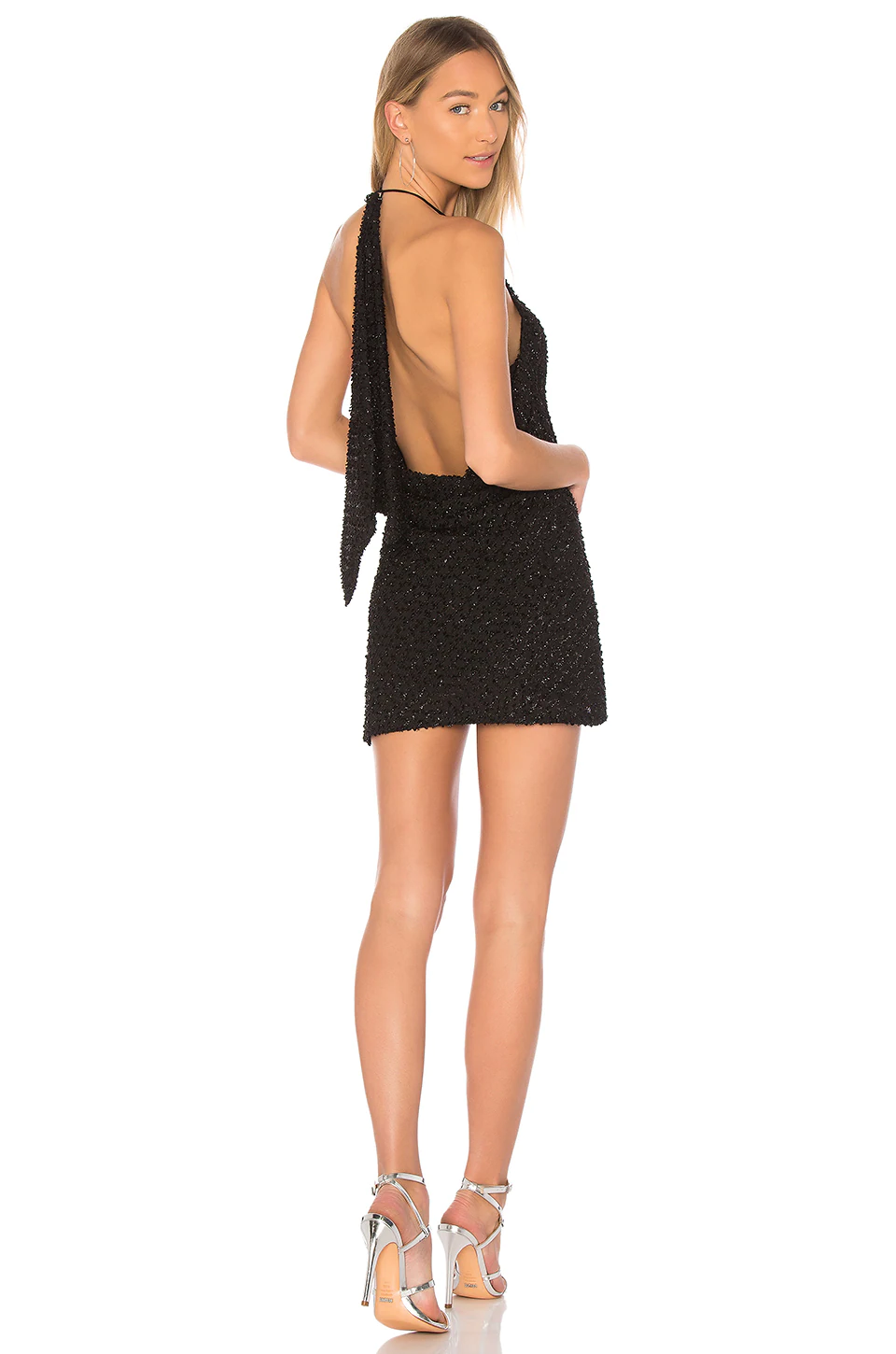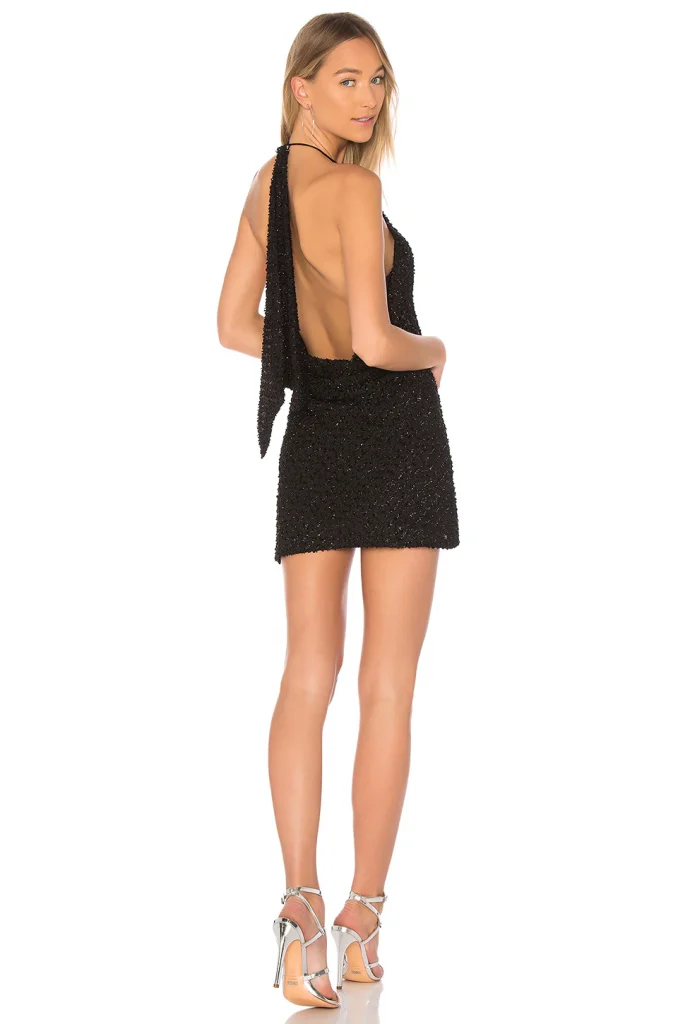 I ordered this backless black dress from Revolve and though it didn't make the final cut, it is a stunner.
It features a subtle sparkle and open back. I took an XS in this one for a better fit. This would also be a great option if you are headed to any Las Vegas night clubs!
Revolve is definitely one of my go-tos for Las Vegas outfit ideas, here are a few other noteworthy picks to try. All of the outfits are linked so you can just click on the one you like to learn more!
PRO TIP: Las Vegas casinos can be pretty cold in the summer months due to blasting air conditioning, so be sure to bring a light jacket or layer!
Las Vegas Daytime Outfits for Walking the Strip
Ok, now that we've covered your nightlife and dinner options, what should you wear during the day?
Of course, that all depends on your plans! If you're walking the strip, a casual outfit is always a good idea. Hitting the blackjack table? Pretty much anything goes!
If your plans include brunch and some shopping, you can dress up a little more with something like jeans and a nice top.
Again, Vegas is a place where you can be a bit more "extra" and "sexy", so keep that in mind when picking your outfit.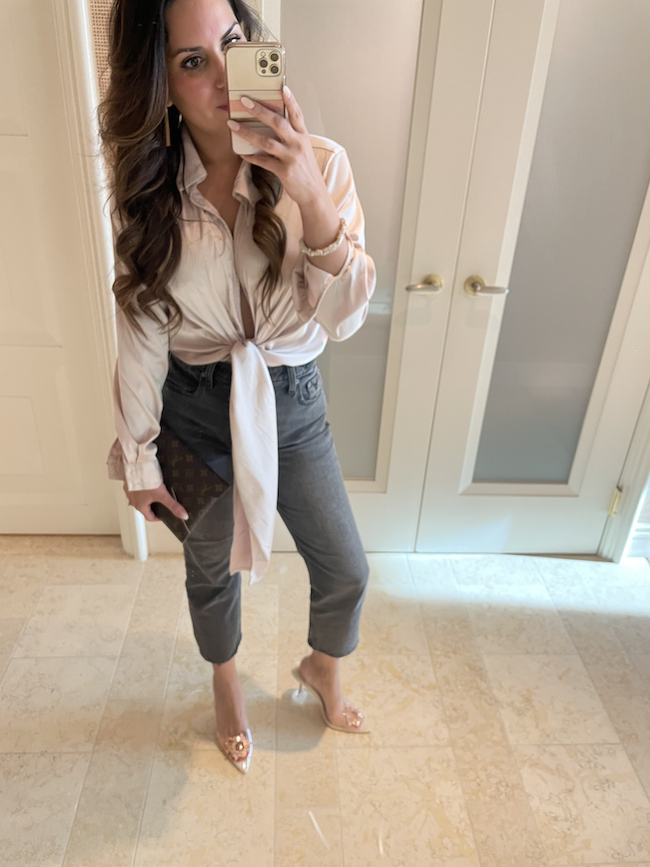 For our first afternoon, I wore this amazing SheIn satin blouse paired with jeans and crystal-embellished high heels.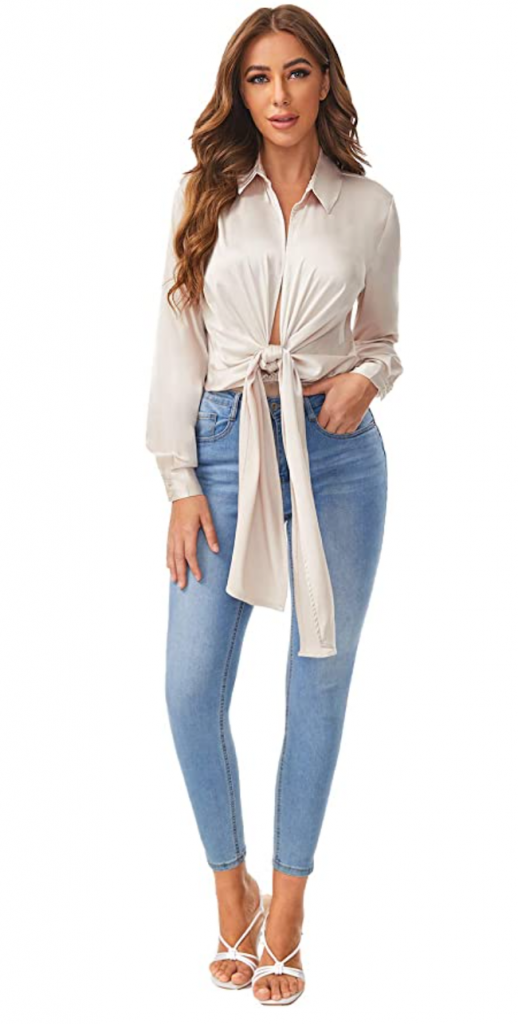 When I first opened this bodysuit, I absolutely hated it. It was SO open I did not have any idea how it would work.
I ended up trying it on again a few weeks later and figured out if you tie it right, it actually DOES work!
It comes in several colors and looks great with a pair of jeans. I highly, highly recommend securing with fashion tape. I bring this roll with me, which acts like a tape dispenser, when on vacation.
If you're going to the casinos a bit later in the evening, you can try a day-to-night look like this one. Swap out the jeans for a miniskirt and you'll be ready for a night on the town in a flash.
PRO TIP: Summer in Vegas can be really hot, so stick to shorts, a skirt or breezy dresses with sandals for your daytime outfit. Don't forget sunnies and a hat for extra protection!
What Kind of Shoes Should You Wear in Vegas During the Daytime?
If you're going to be walking around the Las Vegas strip, then bring casual clothes paired with cute sneakers for the day.
White sneakers are still a strong fashion trend for women and look great paired with cute skirts, shorts, jeans or even a casual dress.
If you're going to Vegas in the fall or winter, a cute pair of ankle boots would be perfect. Wear them with your favorite pair of jeans for a cute and casual look.
Bottom line: Vegas can entail a lot of walking, so comfortable shoes are a must!
---
RELATED: How to Wear Ankle Boots with Jeans
---
What to Wear to a Pool Party in Vegas
Another popular daytime activity in Vegas is, of course, the pool party! And for that, feel free to be a little "extra".
A cute swimsuit and coverup are a must. It's up to you if you'd rather go for a pair of sandals or wedges for some height.
Some women go casual with jean shorts and a swimsuit while others are more glam in gorgeous, long coverups.
Depending on where you go, some of the Vegas pool parties are more like day clubs, they can be as crowded and rowdy as the Las Vegas night clubs! So yes, do your hair and makeup and your A-game.
Big sunglasses, a cute coverup and a bikini or one-piece are a must. Many people are just partying, and not actually swimming, so don't stress about staying dry.
Make sure you travel light if you're hitting up a crowded pool party.
If, however, you have a quiet poolside cabana booked for the day at your hotel, then feel free to bring a big hat and beach tote for lounging around.
---
RELATED: The Cutest Swimsuit Coverups for 2022
---
Bachelorette Party Outfits
Celebrating your bachelorette party in Sin City? Definitely bust out a sexy white dress!
For the daytime, I've seen plenty of groups of girls in matching shirts and sashes. It's fun and an easy way to not have to "think" about what to wear.
Continue the bachelorette theme for your pool day, too, and don a white one-piece or bikini if you're the bride while everyone else wears other colors.
Vegas Outfit Idea for Men
If you're planning on a nice dinner out (and you're in Vegas so you absolutely should), then there typically is a strict dress code. Bring some nice shoes, jeans and a collared shirt at minimum.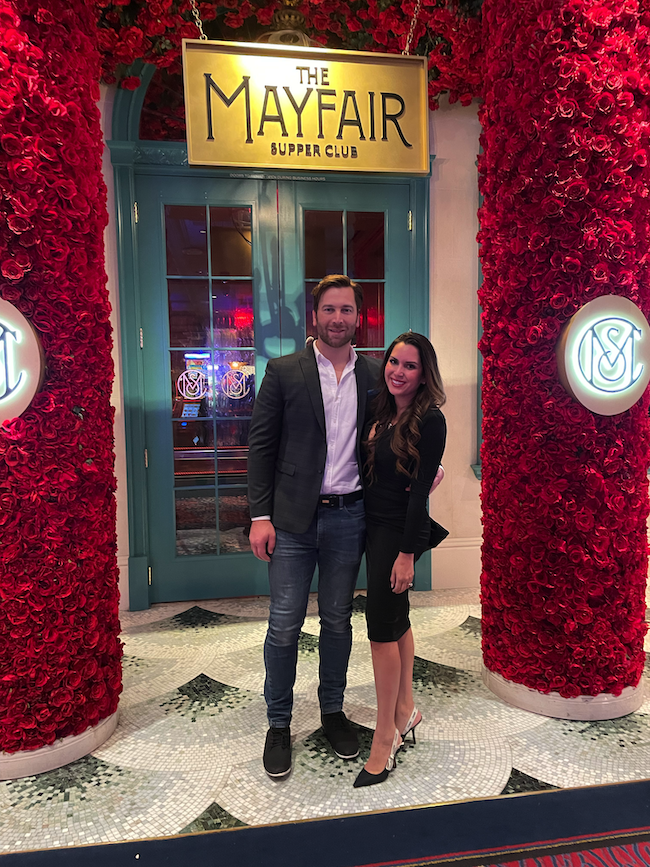 Flip flops are a definite no, as are tank tops. If you're doing any fine dining, you should be fine with jeans, dress shoes, a button-down shirt and blazer.
Of course, you'll want to double check the official dress codes but in most situations, you won't need dress pants (unless you want to).

For daytime outfits, a T-shirt or polo with shorts in the summer would be your best bet. In the fall and winter months, jeans and a sweater or casual shirt would be just fine. You can use your blazer to layer in the evening without having to pack an extra jacket.
More Vegas Packing Tips for Women
Las Vegas can be a quick trip, so try to pack light! Here are a few other tips to help you do so:
Take a small crossbody bag that easily goes from day to night. I like Saint Laurent wocs for this.
Wear your glam accessories in the daytime, too! No need to pack extra.
Own something with sequins? Bring it on! This works for day, night and even poolside!
Vegas can be HOT: Don't forget your sunnies and a hat for the day.
There is no such thing as "too much" in Vegas. Go ahead and bring on the glam if you want to!
---
I hope you have the best time on your Vegas vacation and that these outfit ideas have helped inspire you!
What other questions do you have about what to wear in Vegas? Let me know in the comments below!