30 Winter Outfit Ideas You Can Copy Right Now
Dressing for winter can be frustrating. This is especially true if you live somewhere with very cold winters. In this case, you most likely choose warmth and comfort over style.
But, you definitely don't have to choose between the two. Practicality and style absolutely can go together.
There are plenty of outfits that include lots of layers, faux fur, and excellent knitwear that will actually get you excited for dressing in winter.
With that in mind, here's our guide to the best 30 winter outfit ideas for women.
30 Cute & Stylish Winter Outfits
Bodysuit + Skirt + Boots Outfit
One of my go-to easy winter outfit ideas is to throw on a cute skirt, boots and a basic bodysuit like this one.
It's inexpensive, an easy look to pull together and likely something you have in your closet already.
This is also a great transitional outfit. Just throw on a coat if needed for an extra layer.
A Cute Knitwear Set
It goes without saying that knitwear will be part of your winter wardrobe.
But this doesn't have to only include sweaters. Knitted skirts and dresses allow you to look great and stay warm.
Here is how I recreated the look. I'm currently loving this Quince cashmere sweater and paired it with this cashmere skirt.
For a monochromatic look, style it with brown boots. I'm wearing these RAYE boots (size up half a size!)
A Cute Shacket + Leggings
One of the top 2023 winter fashion trends is the shacket, which is such an easy look to recreate for a cute winter outfit idea!
You can throw on a shacket with your favorite pair of jeans or style it with a pair of luxe leggings like this look.
RELATED: The Best Tops to Wear with Leggings
A Gorgeous Statement Skirt + Outerwear
Maxi skirts are perfect for combining style and warmth. A long skirt adds instant elegance and acts as a barrier against the outside elements.
Style your maxi skirt with some knee-high boots for extra warmth and protection from the elements.
For a truly sophisticated style, drape your coat or blazer over your shoulders. It's fashion-forward and perfect for staying warm in the winter.
You can find a similar maxi skirt here.
---
RELATED: How to Wear a Maxi Skirt (19 outfit ideas!!)
---
A Sweater Vest + Jeans
Another one of the most popular 2023 fashion trends for fall and winter is the sweater vest. And, it's one of my personal favorites!
Sweater vests can be plain or patterned and are easy to style.
Throw it on over your favorite white button-down and style with some jeans.
Add a hat and some cute boots and you've got a stylish and easy winter outfit idea.
A Cutout Sweater Dress + Boots
A cute sweater dress like this one + OTK boots is always a winter fashion favorite.
Embrace one of this year's hottest fashion trends by choosing a sweater dress featuring cutout details.
Just a tad showing won't make you cold and you can top off this look with a long faux fur coat for extra warmth and layers.
This is also a great way to transition from summer to fall fashion.
Winter Florals
Floral dresses don't have to be kept away until spring.
Pair a big coat with some tights or leggings, a big pair of boots, and throw a floral dress on top with a big coat.
A Classic Tweed Skirt
A tweed skirt like this one is a winter wardrobe must! It's a classy and elegant outfit idea that never goes out of style and can be worn into the spring months, too.
To make this look more winter-ready, pair it with some cute knee-high boots.
Go for a solid-color sweater that complements the tweed pattern and lets the skirt stand out on its own.
---
RELATED: 110+ Must-See Skirt Outfits for Women
---
I recreated this similar look with this tweed skirt (runs small) and these nude boots. They've been a favorite fall and winter outfit idea!
This is also a great look to transition to fall fashion.
The Extra Long Sweater
Wearing a longline dress over trousers or leggings is another great way to look good and stay warm.
This chunky knit style looks excellent paired with faux leather leggings. An outfit like this would also be a great ice skating outfit idea!
Recreate the look with this long chunky sweater. It comes in 14 colorways and is typically priced under $50.
---
RELATED: 19+ Cute Oufits to Wear Ice Skating
---
Try a Blanket Scarf
For a super easy winter outfit idea, try a blanket scarf!
This must-have winter accessory can be styled so many ways and can be topped over just about any outfit.
It's a great way to add a pop of print to a solid-colored outfit, too.
---
RELATED: How to Wear a Blanket Scarf 21 Ways
---
A Cute Beanie
Knitwear accessories are another winter must-have. But these don't have to be boring. There are tons of knitted hats, scarves, and gloves that look great, too.
Adding a third piece like a cozy beanie is such a simple way to look more stylish.
The Camel Coat
A camel-colored coat is sophisticated and luxurious. It's perfect for the quiet luxury trend and is absolutely timeless.
This season's camel coat is gorgeous and will stand the test of time. Shop a similar coat here and try this two-piece set.
Get the look for less with this camel coatigan.
Add Some Color To Your Basics
For an easy winter outfit idea, just try adding a pop of color to your basic jeans and top outfit with a cute cardigan.
This chunky cardigan comes in three splashy colors and looks great styled with your favorite basics.
A Winter Suit
Women's suits can often be quite limited in style. But, if you find one that suits you, they are great for layering up and looking smart.
Flare Pants + Chunky Knit
For an alternative to your typical jeans outfit, try a cute pair of flare-legged pants!
This look is fun and fashion-forward.
Top it with a chunky sweater like this one for a stylish cold-weather look.
A Corduroy Skirt
This corduroy skirt is a great winter outfit idea that comes back in style season after season.
I own a similar one (also in green) and wear it with ankle boots or knee-high boots like this look.
Super Casual Layers
Casual wear is also great for layering up. Wearing a top under a hoodie under a coat will keep you warm and still look cool.
Velvet
For a fancy or formal event, velvet is definitely the way to go.
Or, just add a velvet jacket with your jeans for some semi-formal warmth.
Easy Layers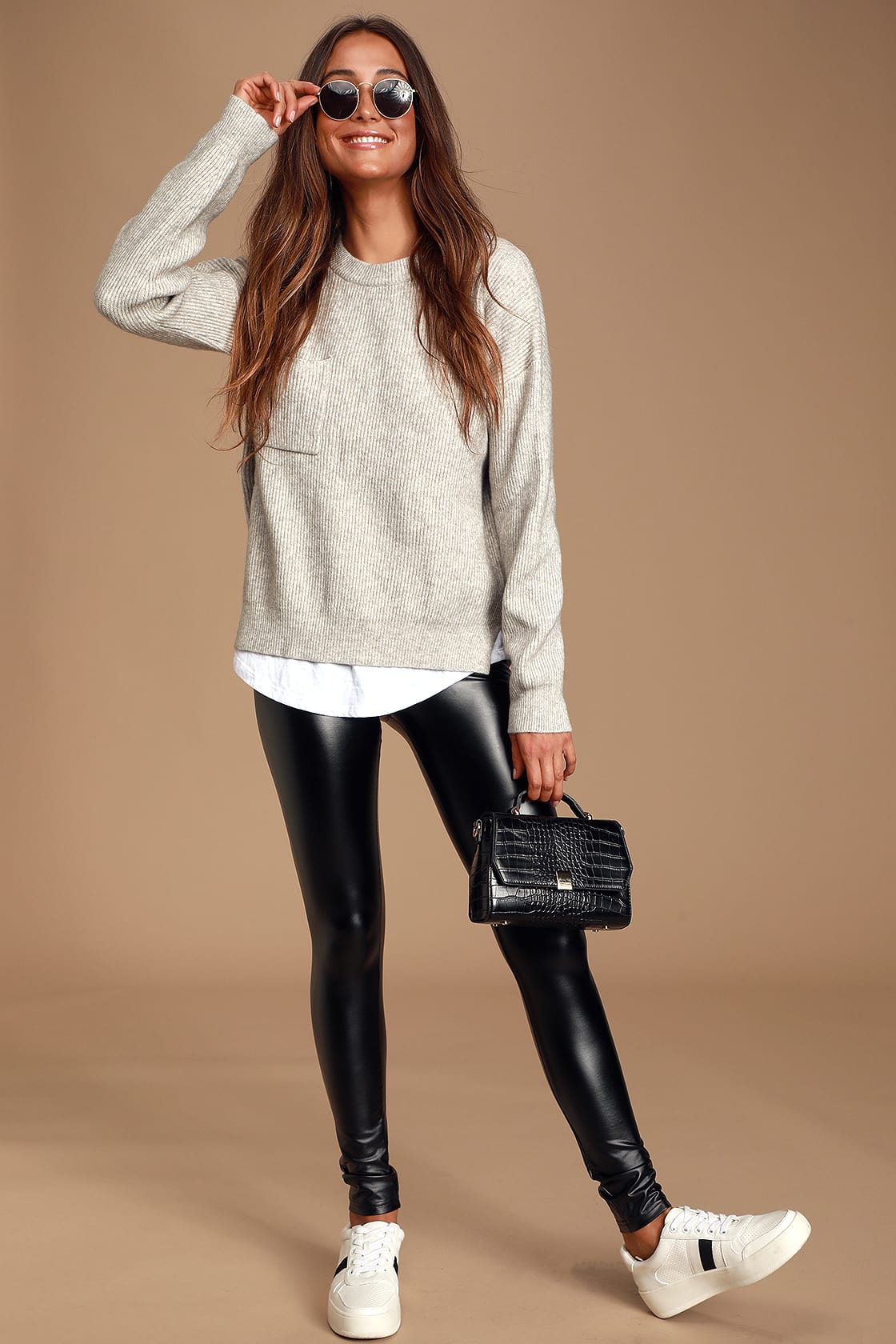 For a casual winter look that's perfect for the mom-on-the-go, add some layers over your favorite vegan leather leggings.
This is a great outfit for running errands or living that busy mom life.
A Patterned Sweater
Patterned sweaters are another great way to add some color and stay warm.
They also look super cute and festive.
A Puffer Jacket + Joggers
Puffer jackets are very fashionable but also very practical. They go with pretty much everything and keep you super warm.
Sweater Dress + Scarf Outfit
Winter hats don't have to be knitted. They can still be formal or stylish.
Top With a Poncho
Another essential winter layering piece is a cute poncho like this one.
You can use this as a second layer over a sweater dress, styled with jeans and a cute top or wear with your favorite pair of leggings.
The Teddy Coat
If faux fur isn't your thing, try a teddy coat like this one. They are just as warm (and sometimes even warmer) and more casual too.
The Holiday Sweater Dress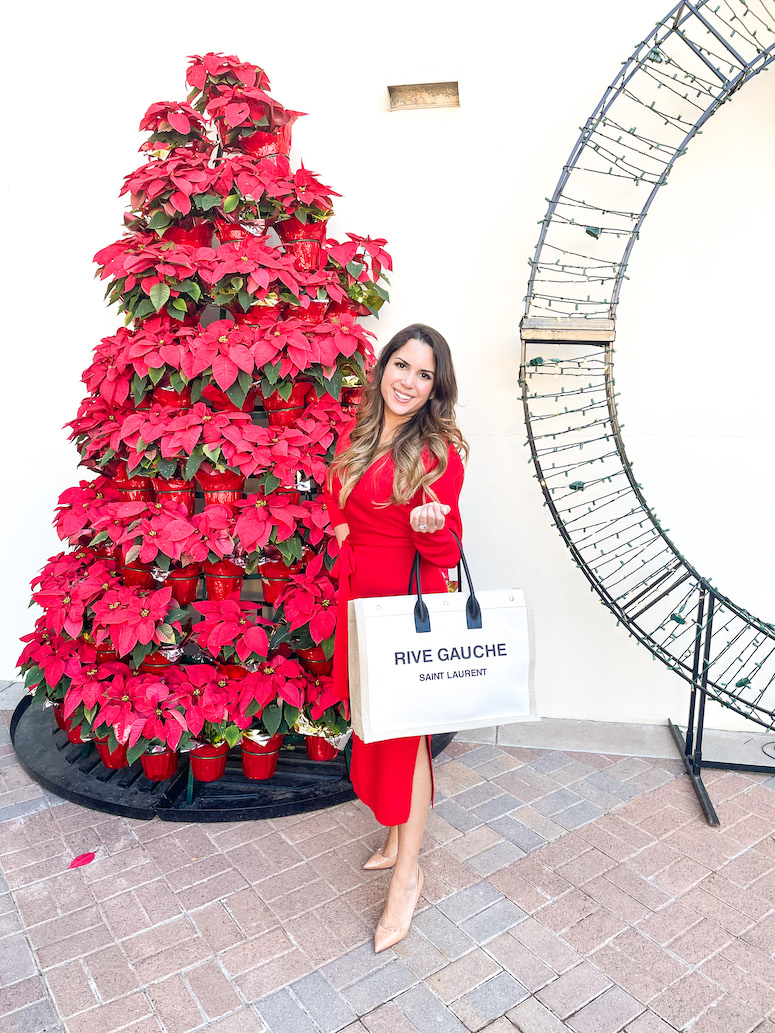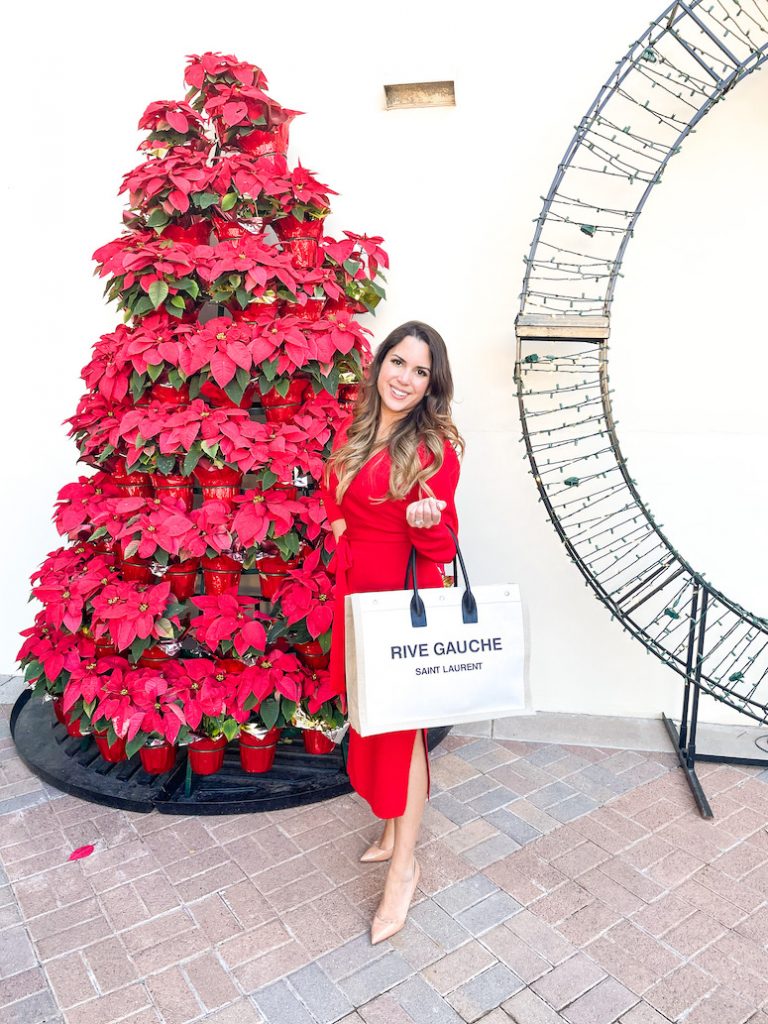 A red dress for the holiday season is always a good idea! And this sweater dress I grabbed from Amazon is a great one.
You can style it with heels or add some boots for extra warmth.
I also wore this for our family Christmas photos.
Not sure what shoes to style it with? Check out the best shoes to wear with a red dress.
---
RELATED: These are the BEST Amazon Sweater Dresses to Try
---
The Puff Sleeve Sweater
If you're shopping for some new sweater styles this season, try a puff-sleeved top like this one I found on Amazon.
It's a great way to update a wardrobe basic this winter season and can easily be worn with a cute skirt, pants or denim.
---
RELATED: The Best Amazon Sweaters Under $50
---
The Coatigan
When it's not quite cold enough for your big coat, try a coatigan.
This cross between a coat and cardigan is perfect for the tail-end of winter.
A Chunky Turtleneck + Jeans
Oversized knitted sweaters are perfect for winter. You can wear them as they are or add layers underneath when you need extra warmth.
Do a front tuck and pair with your favorite jeans and ankle boots.
---
RELATED: How to Wear Jeans with Ankle Boots; The Ultimate Guide
---
Turtleneck Sweater Dress
Another classic winter outfit idea is a solid-colored turtleneck sweater dress like this one.
It looks great on its own, paired with boots or topped with a cute cropped jacket.
Off the Shoulder Sweaters
Just because it's winter doesn't mean you can't still choose sexy pieces that show a little skin!
I'm loving this off-the-shoulder sweater, which is fun and flirty. Style it with your favorite pair of high-waist jeans.
---
I hope this list of winter outfit ideas inspired you with plenty of ways to stay warm and stylish this winter season!