Fall isn't just for pumpkin spice lattes, fall-scented candles and cozy nights by the fire. It's also the season to dust off your leggings because it's now legging season, too!
Leggings are such a versatile piece because they can be styled a variety of ways. Whether you like to dress them up or dress them down, they're a great wardrobe staple. (And yes, leggings are absolutely still in style for 2022!)
So, what kind of tops should you wear with leggings?
Well, in past years the formula was long tops or long sweaters paired with leggings. For 2022, it's time to upgrade that look. Read on to see and shop the best shirts to wear with leggings.
Shop the Post

The Best Tops to Wear with Leggings
Whether you're wanting a cute outfit to run errands in or a flirty date night look, black leggings can be paired with a variety of tops, and a fun alternative to blue jeans. You can create endless outfit ideas with this fashion staple.
Layer a Shacket Over Leggings
Shop the Look

The fall season calls for all the warm and cozy layers. A great on-trend option is to layer a shacket over a plain white tee for an effortlessly chic look. Shackets are a mix between a shirt and a jacket.
You could wear this look shown above to run errands on the weekends, coffee with the your friends or to volunteer at your kids' school. The shacket gives the look an edgy-cool vibe while the mules give the look a chic finish.
The accessories with this look are neutral and subtle, but definitely complete the overall outfit. This quilted YSL has a beautiful leather that is the perfect material to feature on your handbag throughout the fall and winter.
Shop Shackets

---
Related: 15 Best Designer Crossbody Bags Under $1,500
---
Upgrade Your Style with Cardigans
Shop the Look

The next best top to wear with leggings is a cardigan. This open front long cardigan is a versatile piece that hits around the mid thigh. The beautiful cognac color is perfect for the fall season.
To complete this business casual look, add a quilted bag. This one is from H&M and at an affordable price point. If it's chilly, you could trade the cardigan for a denim jacket for a night out.
You could also do a chunky button-up sweater with a plain white t-shirt or a tee with long sleeves and white sneakers for a more casual, laid-back look.
Keep it Casual with Graphic Tees
A graphic tee is a fun way to show off a little personality with casual wear.
There are so many options with the design and what they say. Whether it's a favorite band you listened to in your younger years or one that says mama, there's a graphic tee for everyone.
When styling a graphic tee with leggings, you can opt for a long shirt that provides coverage to your backside. Or, you can opt for a crop top style.
Looking for a happy medium? Take an oversized t-shirt like the one above and tie it in a knot!
It's an easy outfit to style for your weekend plans.
For an extra layer, a leather jacket looks super chic with a graphic tee. It's the perfect combination to wear to your next concert.
Because leggings are generally high-waisted, you don't have to worry about your stomach showing oftentimes when wearing a crop top, if you like the extra coverage.
Shop Graphic Tees

Wear a Blazer with Leggings
Shop the Look

The next cute leggings outfit is a classic look that never goes out of style. Style a blazer with black leather leggings, and layer a stylish top underneath.
This stunning lilac herringbone blazer provides a little pop of color without overdoing it. The big, bold golden hardware gives the jacket a high-end look.
Mules are a great shoe to pair with leggings. You could also do black high heels for a dressier look.
With blazers, you don't have to opt for a dressy look when you pair them with leggings. If you want to create a fun, night-out look, you can wear a sleek bodysuit underneath your blazer and pair with pumps or heeled sandals to complete the look.
Shop Blazers

Pair Your Oversized Sweatshirt with Leggings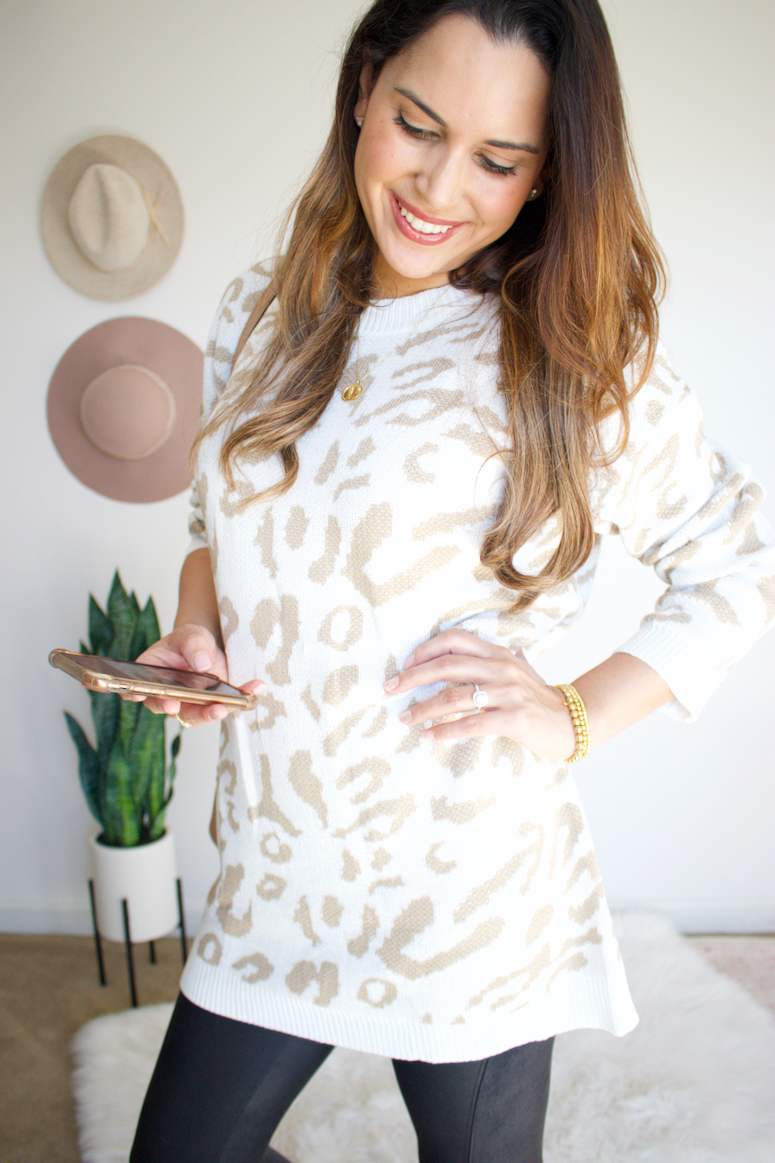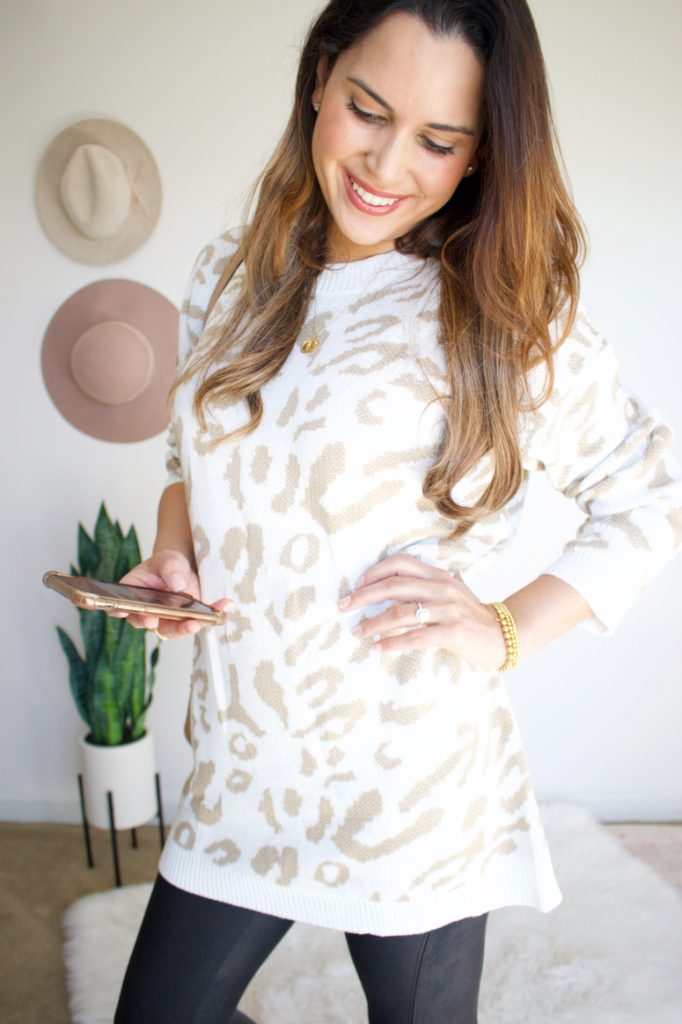 The next top included in this best tops to wear with leggings roundup is an oversized sweatshirt. This one is especially great for the colder months!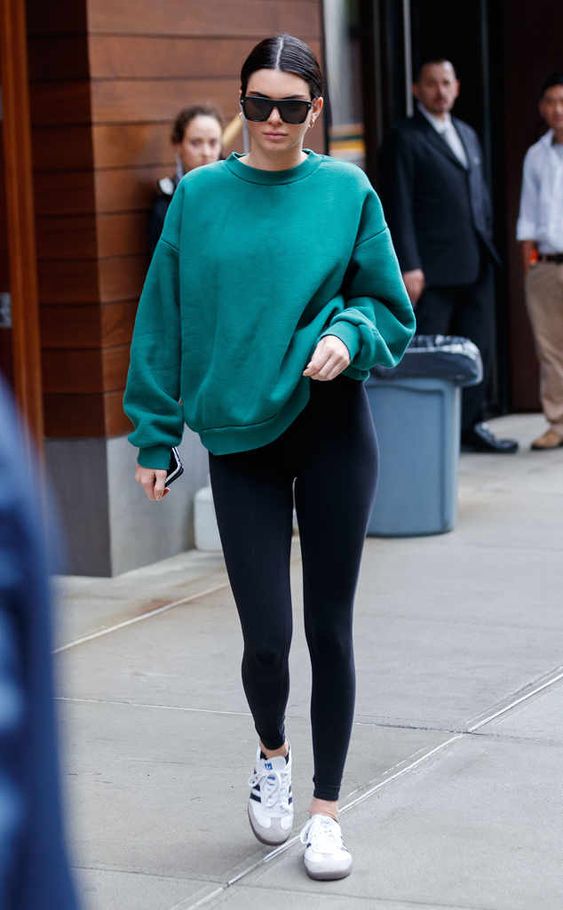 If you're looking for an athleisure look to style throughout the fall and winter, an oversized sweater or sweatshirt with leggings and white sneakers (or slippers) is the perfect outfit combo for everyday wear.
To dress the look down a bit, you can opt for plain black leggings; my favorite leggings are the lululemon align or Zella leggings.
Though it's a comfortable look, you'll still feel put together, and it doesn't sacrifice on style. The look can take you from reading with a coffee on your couch to running to the grocery store.
It's all about the details with this crewneck sweatshirt with the split hem. The lived-in look with the textured fabric and cuff details elevates this sweatshirt and covers your backside with its long hemline. This sweatshirt also comes in several colors!
Shop Sweatshirts

Try Boxy Cropped Shirts
Shop the Look

Speaking of athleisure, this is outfit combination with the boxy cropped sweatshirt is another on-trend and casual look to style with leggings.
Cropped, boxy t-shirts and sweatshirts have been an on-trend top option for the last year or two. The styles continue to evolve, but in a good way.
This cropped sweatshirt has an elastic waistband to keep the top in place while wearing it. You can layer a cropped, fitted tank underneath for another casual outfit to wear on the weekends.
Finish the look with these pink On Cloud sneakers for a little pop of color.
If you don't necessarily want to wear a cropped jacket, you can also wear a plain cropped t-shirt with your leggings. It's an easy look to style, and the perfect look to wear to a weekend sporting event for your kids.
Shop Cropped T-Shirts

Keep it Classic with The Button-Down Poplin
The next in this best tops to wear with leggings roundup is a button down poplin shirt. There's nothing more classic or sophisticated to pair with black leggings than a crisp white button down.
Roll the cuffs up and pair with gold jewelry to complete the chic look.
For shoes, mules or booties would both be perfect to complete the look. This style of shirt also makes a great layering piece to pair with blazers or cardigans.
If you're headed out for a day of shopping or going to lunch with friends, reach for a button down poplin. You can easily glam this up with some bold, gold jewelry and a stylish bag. This style of shirt would also be bump and nursing-friendly!
Shop Poplin Shirts

Pair Chambray Shirts with Leggings
Similar to a white poplin top, you can pair a chambray shirt with leggings as well. Chambray is generally light blue in color, and a great option for an on-trend look.
You'll find chambray tops in all different styles with pearl buttons, plain buttons and pockets. To style a chambray top with black leggings casually, wear the shirt untucked with cotton material leggings and sneakers.
You can even leave a few buttons undone at the bottom of the shirt and use the two ends to tie a knot to create more of a cropped top look.
If you want to jazz up your look, pair the shirt with faux leather leggings, knee-high boots and a chambray shirt that has a more fitted style like this one.
To add an extra layer of warmth, add a woven cardigan over the top of the chambray shirt.
Shop Chambray Shirts

Plaid Shirts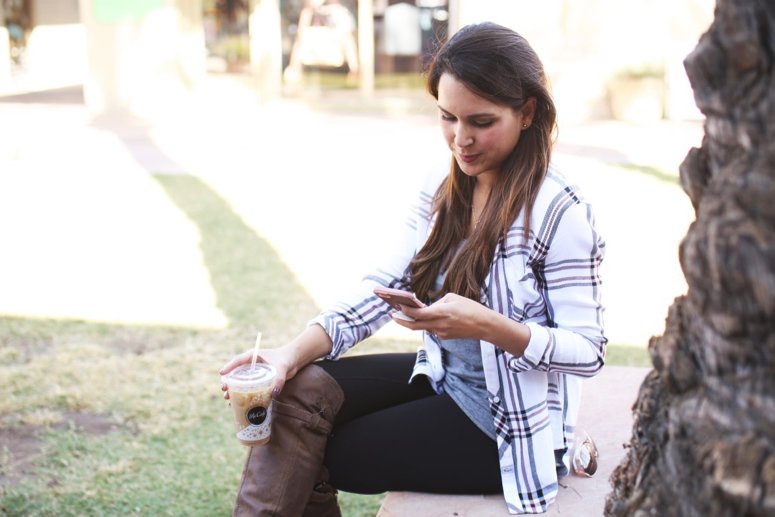 Plaid is a fun fall pattern to wear throughout the season. This shirt pattern comes in different materials from flannel to cotton. If it's still in between warm and cool weather, opt for a light cotton-style plaid shirt to pair with your leggings.
Aside from the material, plaid shirts also come in a variety of colors and patterns. If you wear more neutral colors, you'll love this muted color pattern.
To dress up a plaid shirt, layer a crewneck sweater over the top and pop the collar out and let the hemline of the plaid shirt hang out from the sweater. Wear tall boots to complete this chic and sophisticated look.
If you're headed to a fall festival, a plaid shirt paired with black leggings is the perfect combo to wear too.
Finish the look with combat boots and a leather crossbody.
Shop Plaid Shirts

---
Related: How to Wear Combat Boots in 2022
---
Style Your Bodysuit with Faux Leather Leggings
Shop The Look

Finally, but certainly not least are bodysuits. These have to be included in the best tops to wear with leggings because they create a seamless look underneath leggings.
Typically when you think of a bodysuit, you think of a bodycon, seamless-style top.
These are great staples to wear alone with leggings or underneath cardigans, blazers, shackets or plaid shirts.
However, now that bodysuits are all the rage, there are many bodysuits that look like a regular blouse, but are actually bodysuits. These types of blouses make them ideal for wearing leggings because they don't bunch up underneath clothing.
Some of my personal favorite bodysuits as of late are the bodysuits at Abercrombie. They're really nice quality and have plenty of blouse-like styles to choose from!
Shop Bodysuits

---
Is your favorite top to wear with leggings included in this roundup? Let me know in the comments below!