How to transition from summer to fall fashion is a topic that's near and dear to my heart.
You see, it's easy to get "season confused" when you live in the desert. After all, it's technically "fall" in Arizona, but we're still in the triple digits.
So what you'll see is a pretty big mish-mash of styles. Some gals will still be in summer shorts while others will be in leggings already, regardless of the heat!
Listen, if it's unreasonably hot, there's no reason to pull out your over-the-knee boots. But hopefully these ideas on how to transition from summer to fall fashion will help you feel stylish, in the "season" yet comfortable, too.
7 Ways to Transition From Summer to Fall Fashion (The Right Way!)
Bust Out the Booties
One of my favorite tricks for transitioning my summer clothes into fall is pairing my summer dresses and skirts with booties.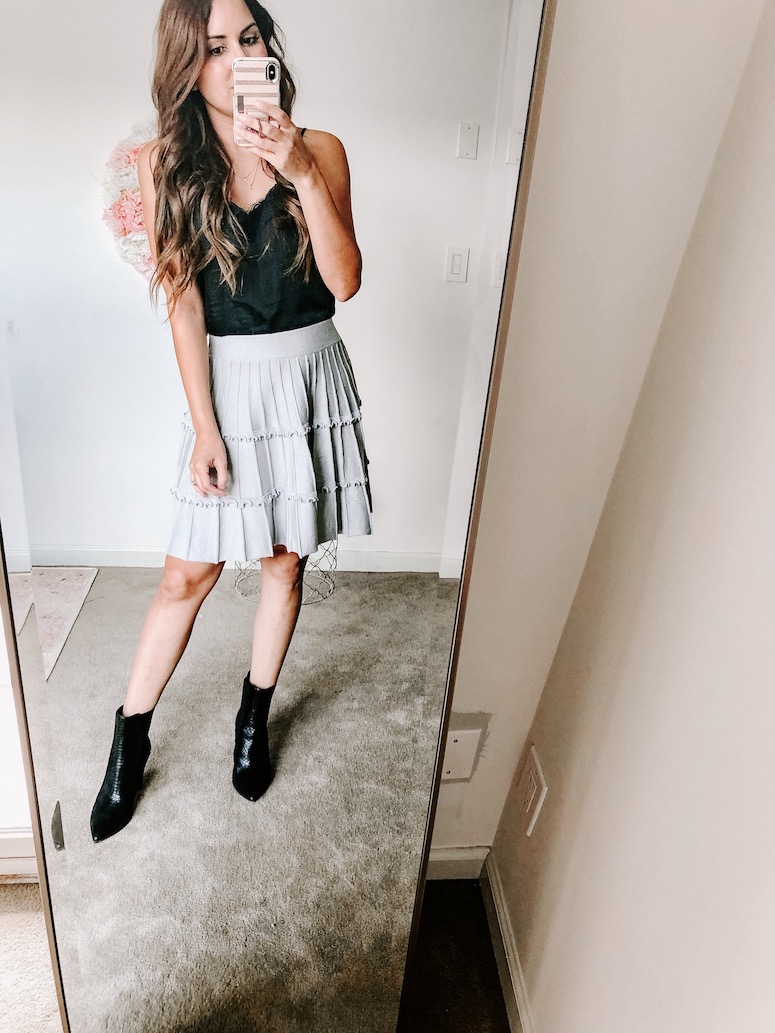 This skirt, for example, comes in grey, pink and black, making it so easy to style now and later!
Layer, Layer, Layer
The most-used item in my wardrobe is a great cardigan. Which is why I can never resist stocking up on several! They're the easiest way to layer like a pro and look great with summer tops, camis and those little dresses.
Here, I layered a cardigan with black leggings and a black tank–such an easy outfit! I can wear it while working from home and throw on some heels to dress it up a bit.
---
Related: Cute Cardigan Outfits to Try
---

Wear Your Summer Shorts with a Sweater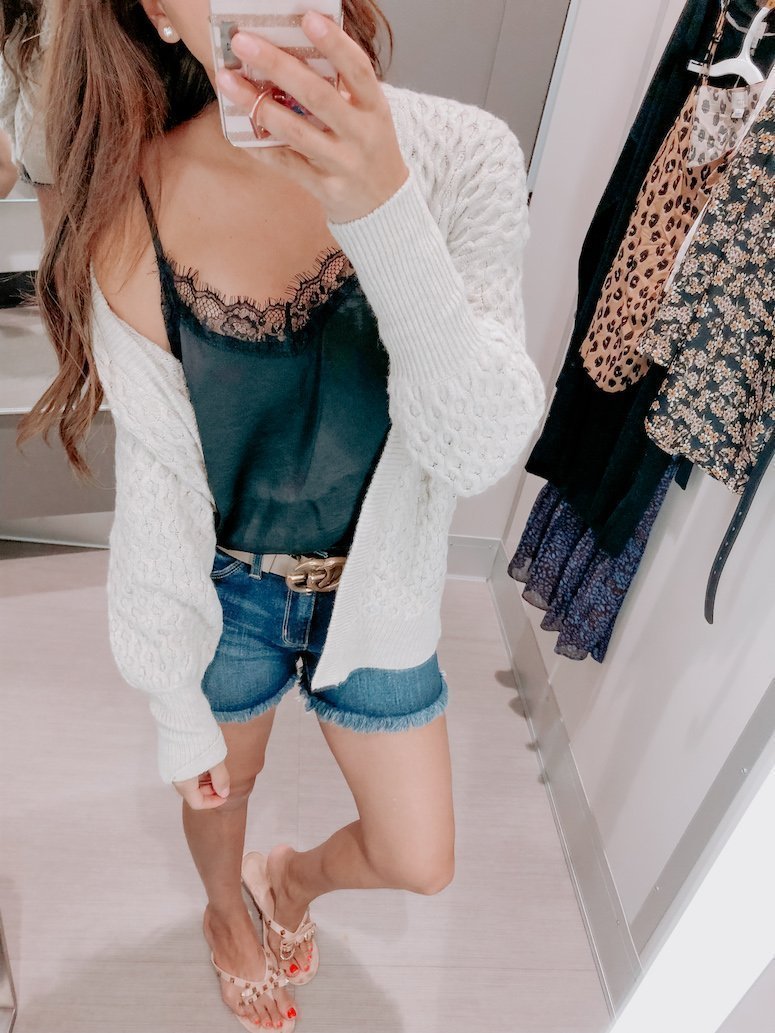 This sweater + shorts + lace cami combo is a great transitional outfit that will keep you cozy yet still cool for a warm fall! This chunky sweater, by the way, is a fab Target find! As is this black lace cami. You could also wear this outfit with a pair of cute booties.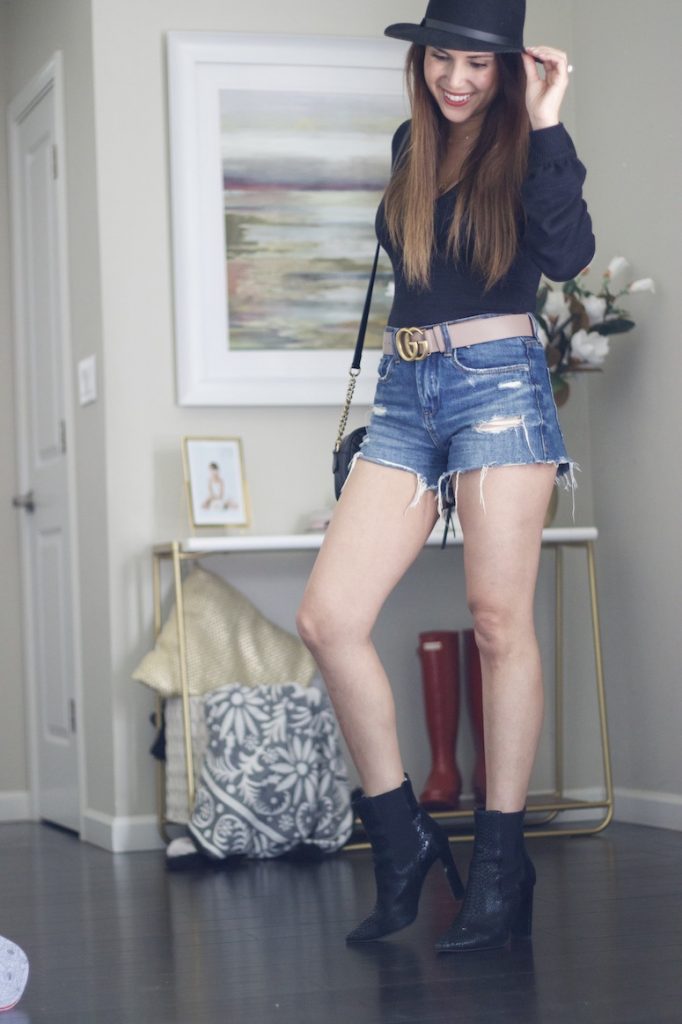 Another way to try this trend is with a bodysuit. I love a great pair of distressed shorts with a longsleeve top or bodysuit, and this is a great way to transition into fall.

Pair Your Dresses with Booties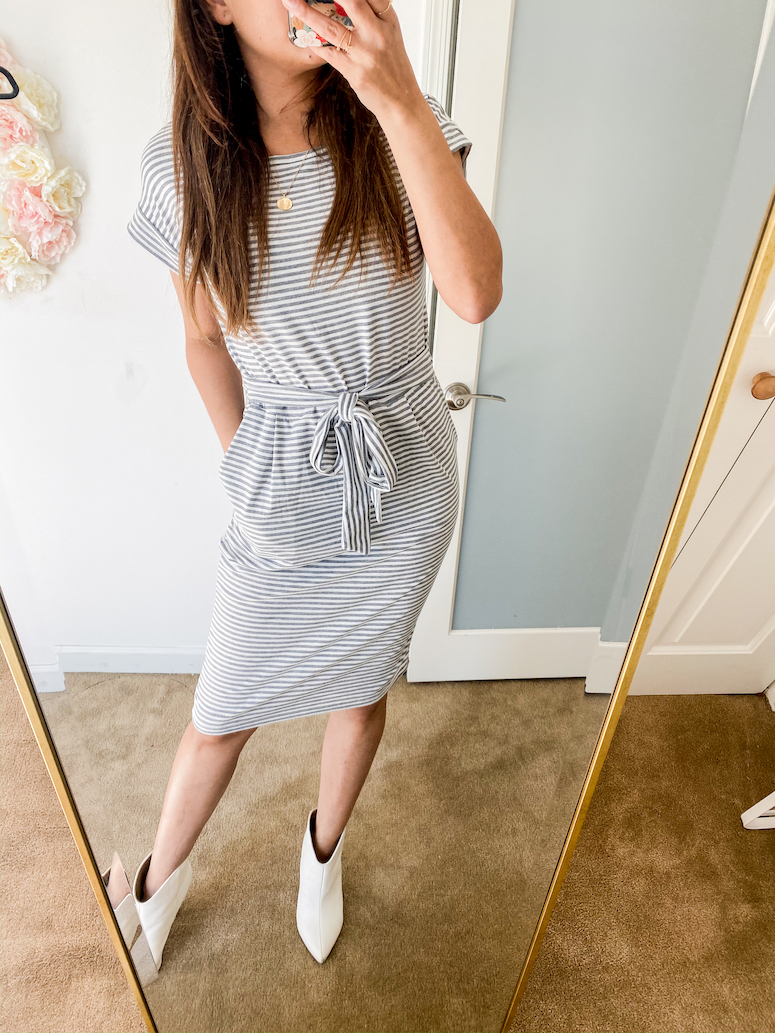 This dress from Amazon is the perfect way to transition from summer to fall fashion. The fabric is breathable enough to wear if it's still warm with a cute pair of wedges, but you can easily layer on a coat if needed. Pair it with some cute booties like these and you've got a great transitional outfit.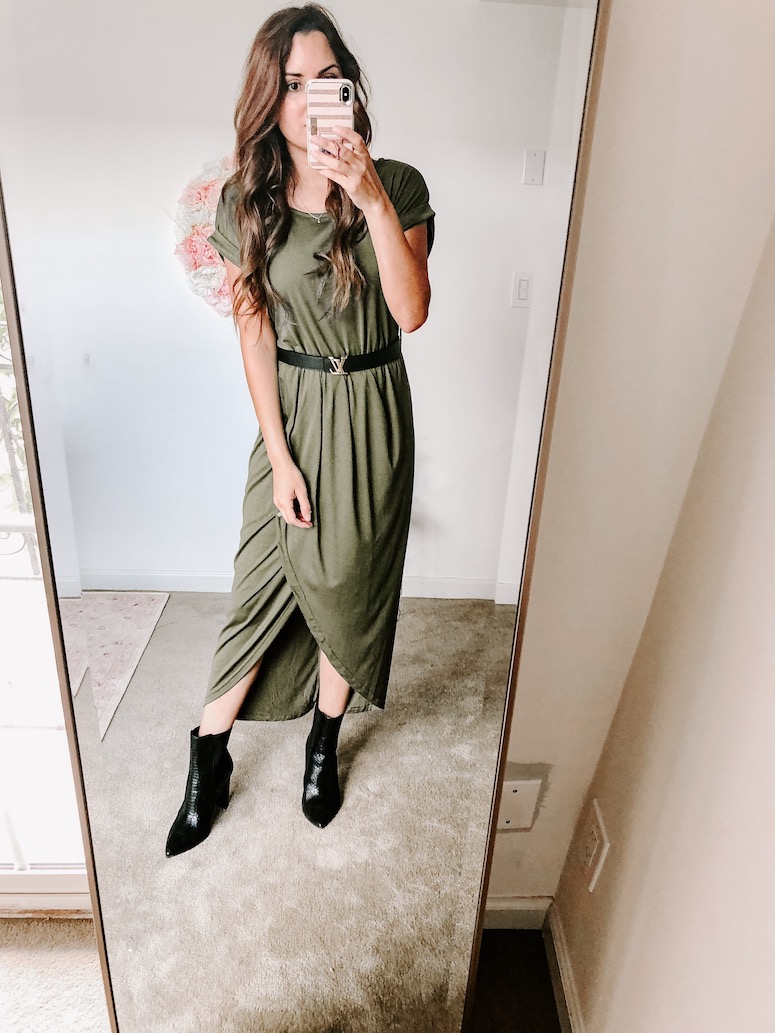 This dress is another Amazon find that can work to transition to the fall season. It comes in several colors so you can go with something lighter and the fabric is also lightweight if the weather is still warm around you.
---
RELATED: Cute Fall Fashion Picks from Amazon
---
Try Fall Colors and Textures
Sometimes all you need to transition from summer to fall fashion is to incorporate fall colors and fall trends.
This rust-colored dress (currently 50% off!) is sleeveless so you can wear it now if it's still hot out, but you can easily transition it to fall with booties and a sweater.

Embrace Fall Trends Now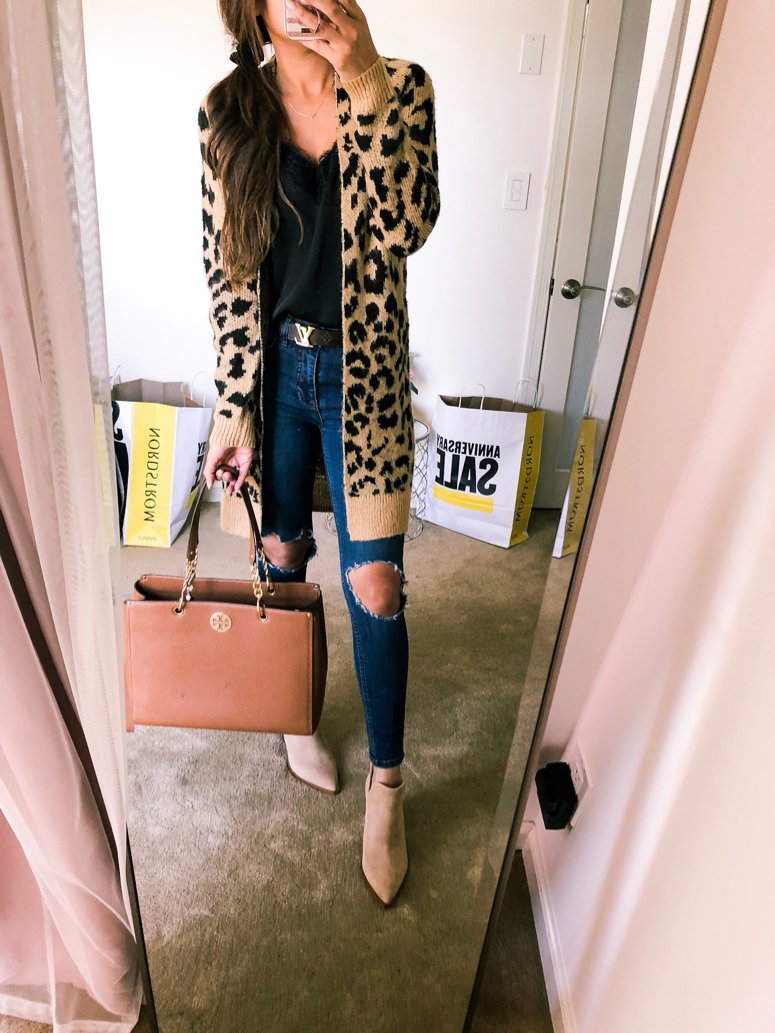 Leopard print is still a strong fall fashion trend, and it's one you can definitely start incorporating into your outfits now!
This leopard-print cami (amazing Target find under $20!) can be worn with and without a sweater right into fall.
If you're looking for an outer layer, a leopard print cardigan (linked similar) layered over a lace cami will do the trick.
It's such an easy way to upgrade your everyday jeans + cami outfit. It's foolproof, fashionable and effortlessly stylish.
---
RELATED: 5 Ways to Wear Animal Print This Season
---
Pair Your Skirts with Booties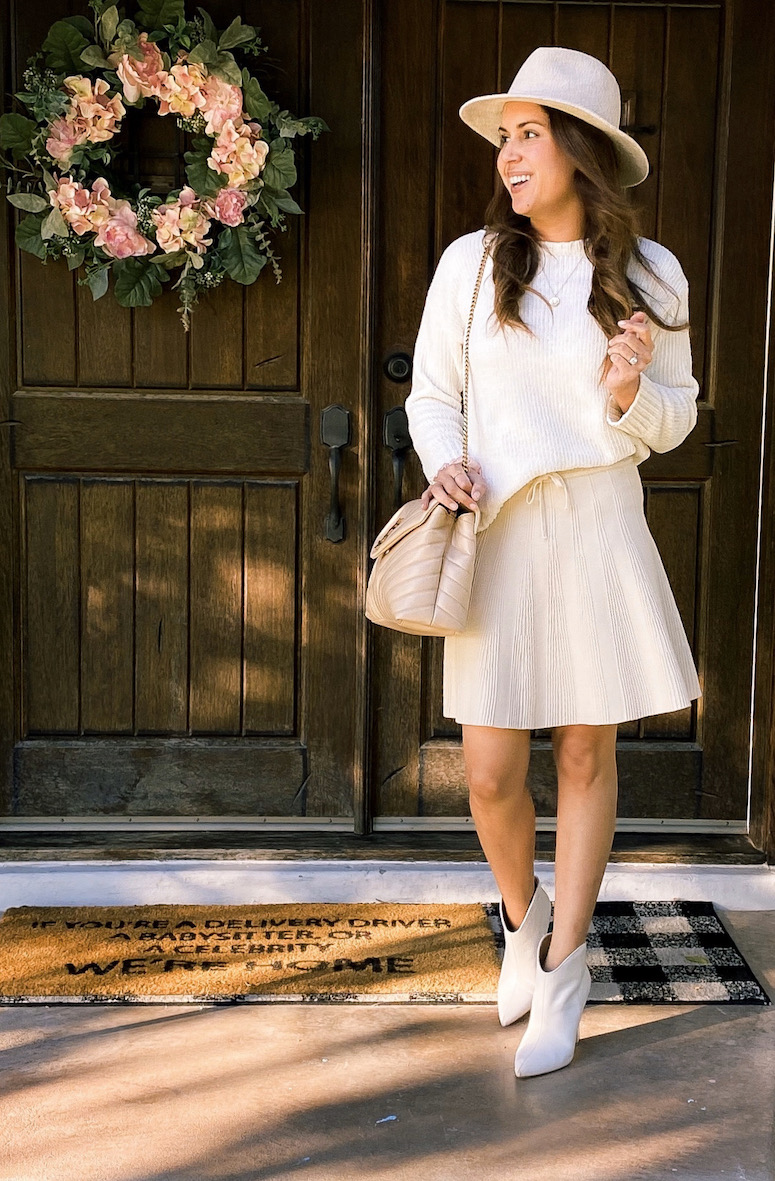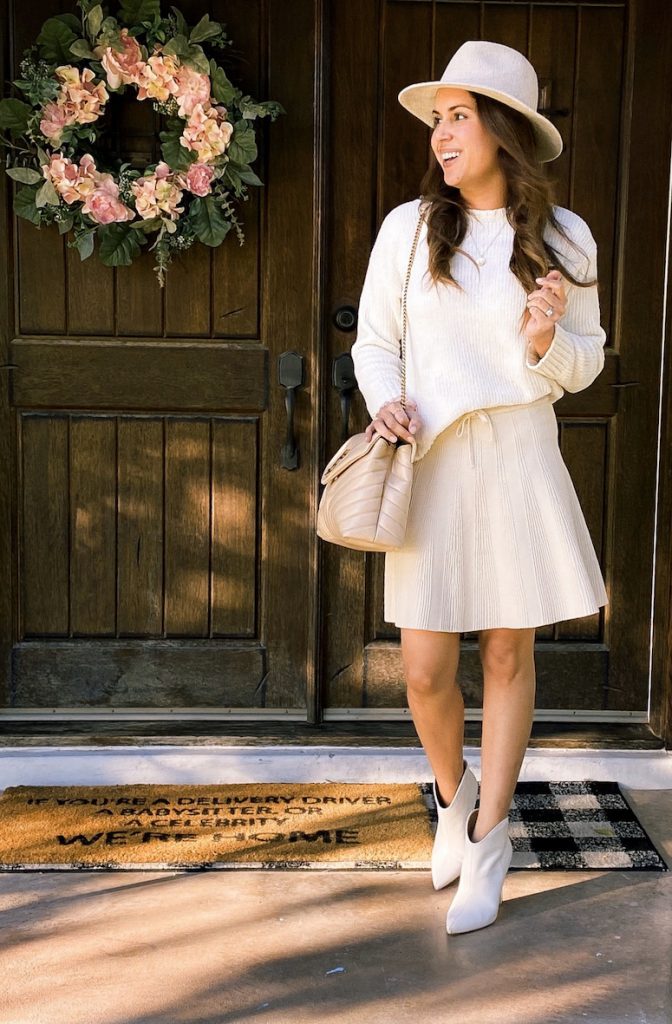 Just like you do with your shorts, pairing your skirts with fall pieces like cardigans and booties are a great way to transition to fall fashion.
There's not need to bust out the tights just yet, but a few fall items will make you feel in the season yet temperature-appropriate. Especially for those of us still sweating it out in the desert!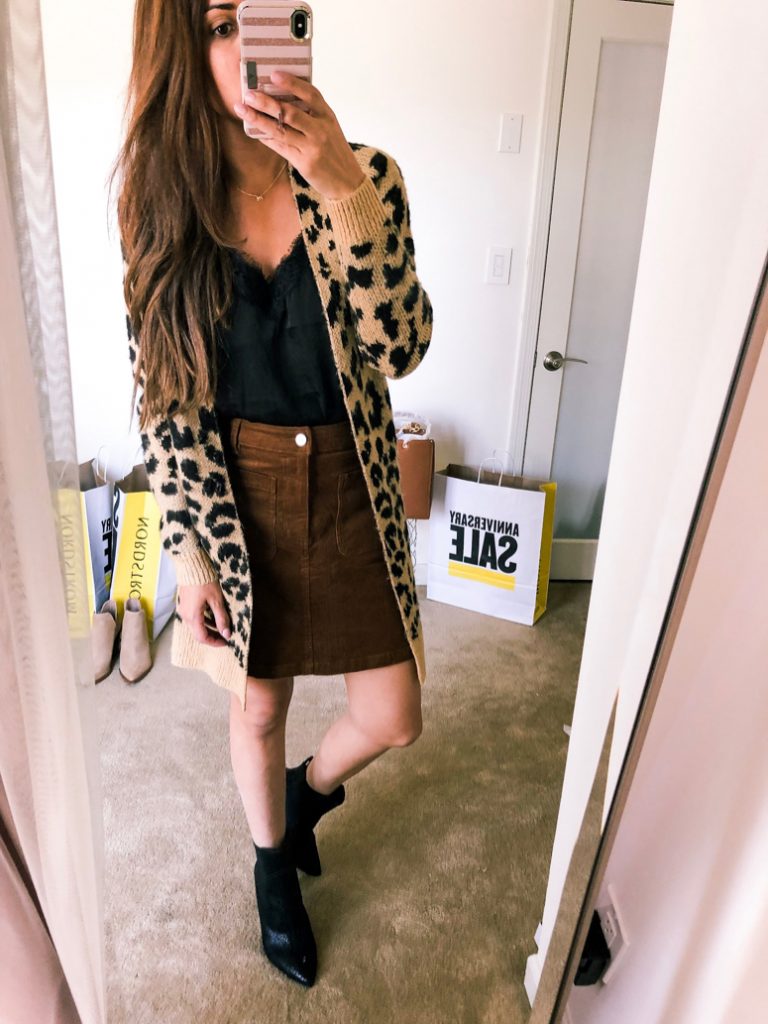 ---
I hope this post has given you some great ideas on how to transition from summer to fall fashion—even if it's still hot out!
Which one is your favorite look? Do you have any favorite tips or secrets on transitioning to fall fashion? Share them below!
This post was featured on Links à la Mode fashion roundup by Independent Fashion Bloggers.
Take a look at other fashion articles:
SPONSOR: Shopbop, Alexander Wang, Mother Jeans, Jennifer Meyer Jewelry, Jordache, LAST, Mansur Gavriel, Turtlenecks, Belts, Mid-calf Boots, Men's New Balance